XFX decided the stock 675mhz core, 1,450mhz shader, and 1,000mhz (Remember that is 2,000mhz effective) memory was to simply far to paltry and is launching their "XXX" Edition 8600GTS with factory overclocks of 730mhz on the core, 1566mhz shaders, and a whopping 1,130mhz (2,260mhz effective) memory clockspeed!
INTRODUCTION
At long last and amidst plenty of speculation there are finally midrange DX10 graphics cards out on the market, even if DX10 has yet to arrive to the party. Yesterday NVIDIA announced the launch of thier 8600GTS, 8600GT, and the 8500GT cards. The 8400-series is reportedly OEM only and is not geared for retail sales. As the 8500GT won't offer much performance anyway, that just leaves us with the 8600GTS and 8600GT for our review today.
XFX has kindly provided Bjorn3D with two of their best XXX Edition cards featuring some very aggressive factory overclocks that I would be surprised to see the competition match! Infact after taking a look around, XFX appears to offering by far the highest factory overclocked cards out there, and even so their 8600GT is still the cheapest card on the block!
Finally the hype and speculation these cards have generated can be put to the test, as in this review we'll have a 7800GT, 7950GT 512mb, and 8800GTS 320mb to solidly gauge just how well both the XFX 8600GTS XXX and XFX 8600GT XXX cards can perform.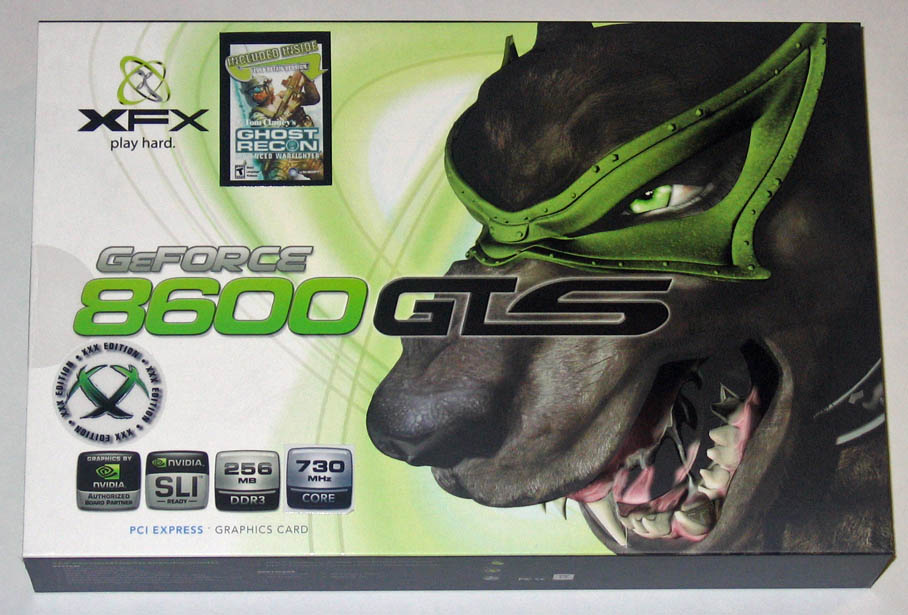 About XFX
XFX dares to go where the competition would like to, but can't. That's because, at XFX, we don't just create great digital video components–we build all-out, mind-blowing, performance crushing, competition-obliterating video cards and motherboards. Oh, and not only are they amazing, you don't have to live on dry noodles and peanut butter to afford them.

XFX is a division of PINE Technologies, a leading manufacturer of state-of-the-art processing components. To learn more about PINE, click here.
SPECFICATIONS
All of the 8600 model cards feature a 128bit-wide memory bus with 256mb of onboard RAM, a single slot cooler, and of course the main feature full DirectX 10 with Shader Model 4.0 support. As with the popular 8800 series these cards feature a unified architecture which uses "Stream Processors", 32 to be exact, while the 8500GT only receives a meager 16 Stream Processors. For those looking for more technical details please see the Geforce 8-Series table below.
XFX decided the stock 675mhz core, 1,450mhz shader, and 1,000mhz (Remember that is 2,000mhz effective) memory was to simply far to paltry and is launching their "XXX" Edition 8600GTS with factory overclocks of 730mhz on the core, 1566mhz shaders, and a whopping 1,130mhz (2,260mhz effective) memory clockspeed! For a detailed breakdown on the specific clockspeed differences on both the XXX 8600GTS and GT cards please see the below table.
Some other important changes is all NVIDIA 8600 model cards will offer two Dual-Link DVI ports, which will allow for any single 8600 card to run up to a 2560by1600 resolution on two separate displays at the same time. Unfortunately HDCP support is only optional however, and will depend on the individual NVIDIA partner on if it is supported or not. In this case the XFX "PV-T84G-UDD" 8600GTS XXX Edition is confirmed to to HDCP ready, while the XFX 8600GT XXX Edition is not.
Since only us nerds, er enthusiasts enjoy reading the nitty-gritty hardware details anyway, I thought I'd spruce the page up by borrowing this from XFX's website instead of listing the multitude of marketing hype that is usually not worth the time spent being read anyway.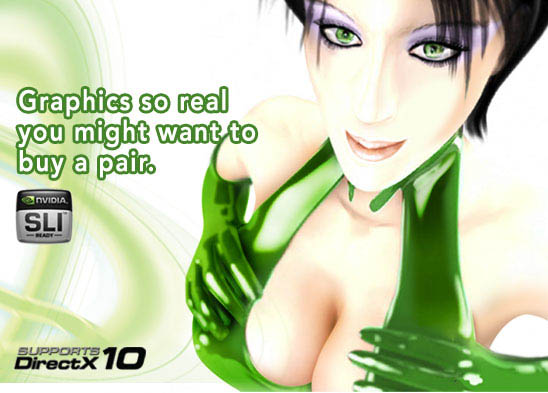 Geforce 8-Series Specifications

NVIDIA® GeForce

8600GTS

8600GT

 8500GT

XFX 8600GTS "XXX"

XFX 8600GT "XXX"

Stream Processors
32
32
16
32
32

Core Clock (MHz)

675
540

450

730
620

Shader Clock (MHz)

1450
1180

900

1566
1566

Memory Clock (MHz)

1000 (2000 Effective)
700 (1400 Effective)

400 (800 Effective)

1130 (2260 Effective)
800 (1600 Effective)

Memory Interface

128-bit
128-bit

128-bit

128-bit

128-bit

Memory Bandwidth

32 (GB/sec)
22.4 (GB/sec)

12.8 (GB/sec)

36.2 (GB/sec)
25.6 (GB/sec)

Memory Type

GDDR3

GDDR3

GDDR3

GDDR3
GDDR3

Memory Size (mb)

256
256

256

256
256

MSRP ($)

$199.99
$149.99

$109.99

$239.99
$169.99

Graphics Bus Technology

PCI Express x16

PCI Express x16

PCI Express x16

PCI Express x16

PCI Express x16

Cooler

Fansink (1-slot)

Fansink (1-slot)

Fansink (1-slot)

Fansink (1-slot)

Fansink (1-slot)

Power Connector
PCIe 6-pin
PCIe 6-pin
NONE
PCIe 6-pin
PCIe 6-pin

Connectors

Dual Dual-Link DVI + HDTV-Out

Dual Dual-Link DVI + HDTV-Out

VGA + Dual-Link DVI + HDTV-Out

Dual Dual-Link DVI + HDTV-Out

Dual Dual-Link DVI + HDTV-Out

Special Features

DirectX®  10

Shader Model 4.0

NVIDIA® PureVideo™ HD Support
NVIDIA® SLI™ Support

DirectX®  10

Shader Model 4.0

NVIDIA® PureVideo™ HD Support
NVIDIA® SLI™ Support

DirectX®  10

Shader Model 4.0

NVIDIA® PureVideo™ HD Support
NVIDIA® SLI™ Support

DirectX®  10

Shader Model 4.0

NVIDIA® PureVideo™ HD Support
NVIDIA® SLI™ Support

HDCP Ready

DirectX®  10

Shader Model 4.0

NVIDIA® PureVideo™ HD Support
NVIDIA® SLI™ Support
THE PACKAGE
The retail box the XFX 8600GTS arrived in was amazingly small, so small that I mistakenly thought it might be OEM packaging. XFX decided to go with a minimalist approach to their packaging, designing their boxes to just be large enough for the clamshell holding the video card and any accessories.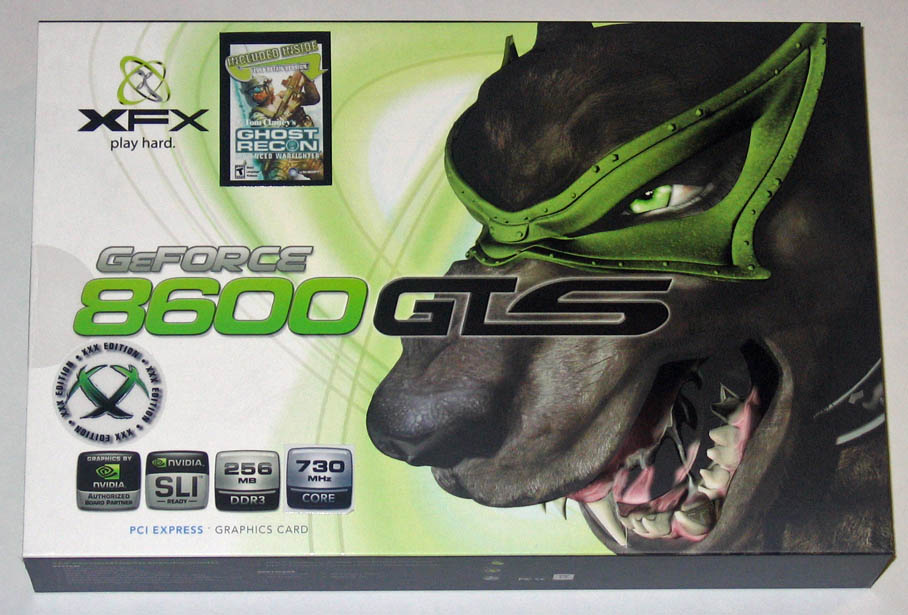 Thats one of the better renditions of the XFX wolf that I've seen yet on their packaging. I hope little red riding-err, ATI stayed home today. Okay, nonsense aside note the "INCLUDED" sticker for Tom Clancy's Ghost Recon Advanced Warfighter. Then the sticker below the "8" to signify this is XFX's best "XXX" Edition model. Then the sticker by the wolf's nose which helpfully gives you the current factory overclocked speed of the card inside! XFX loves their stickers, but at least they are being quite useful with them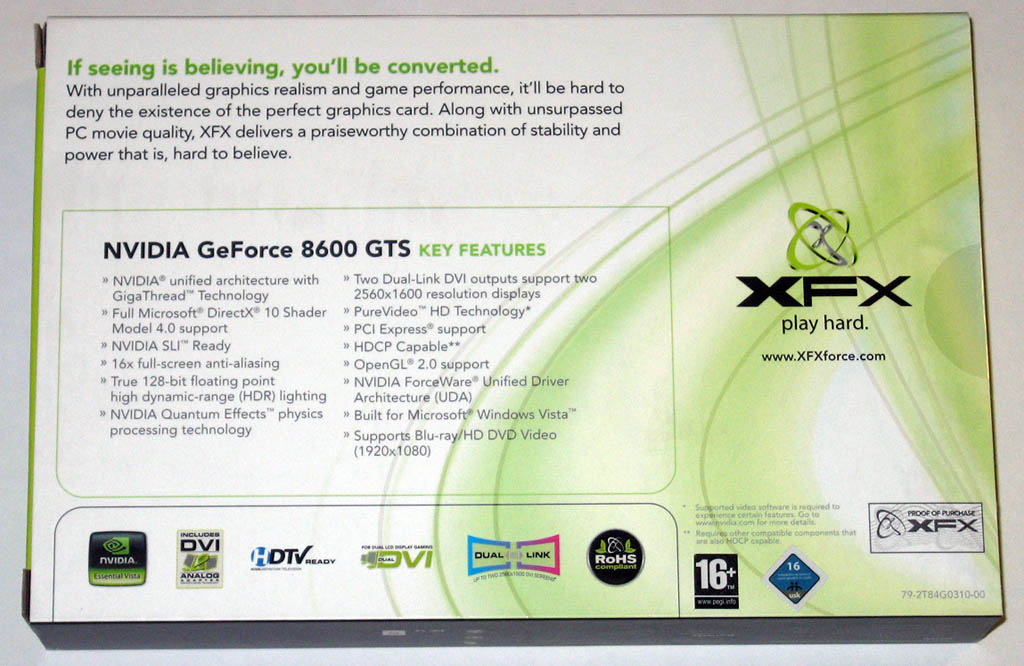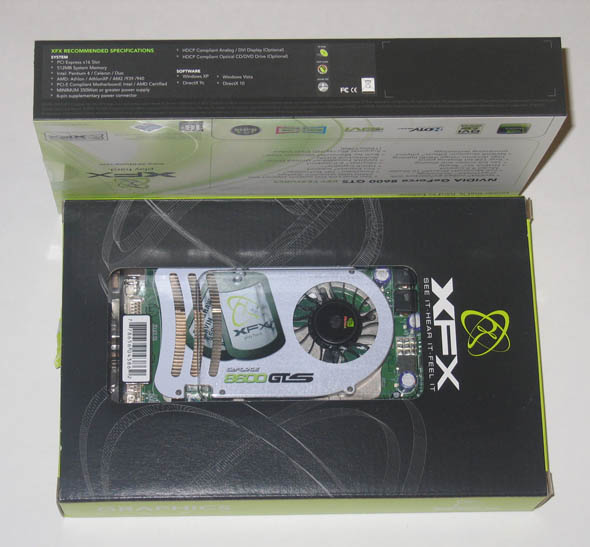 While there is no sticker for it, this is a fully HDCP Ready card unlike the XFX 8600GT on the next page. Also here you can see what I was saying about the size and thickness of the box, it is just large enough for the protective clamshell and a couple accessories to be tucked along one side of the card!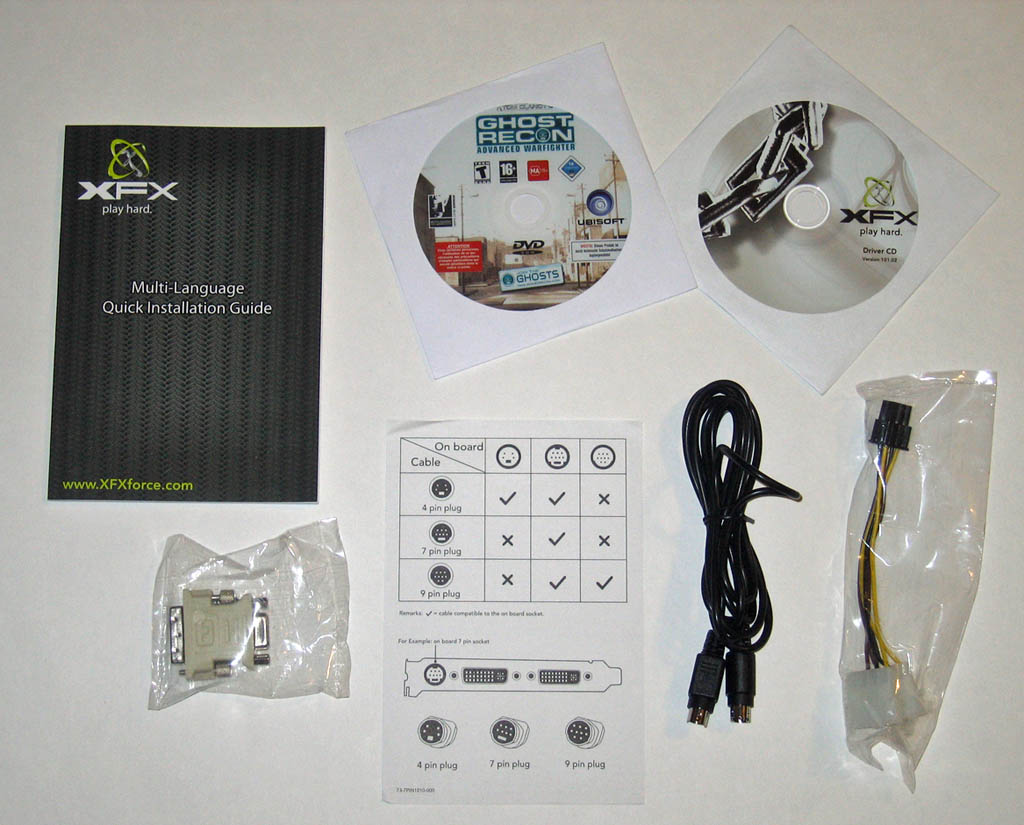 I already mentioned the bundled copy of Ghost Recon. The rest is the usual 4-pin molex to 6-pin PCIe power adapter, the v101 driver CD, DVI to VGA adapter, S-video cable, manual, and last but not least an interesting sheet of paper regarding the three S-video connection types.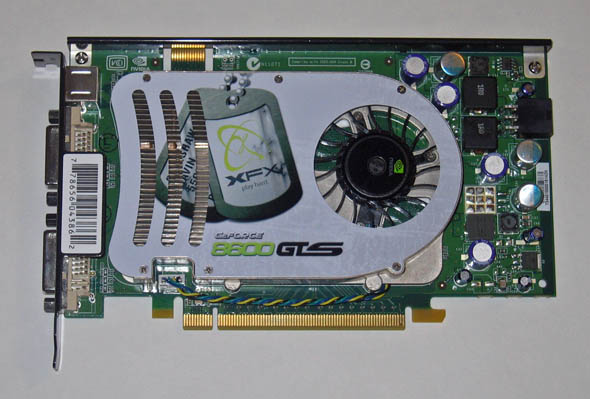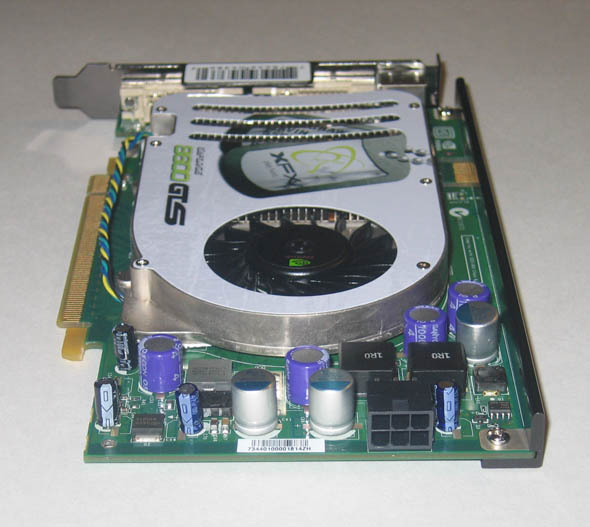 Above you can best see the solid aluminum bar that completely keeps the card from flexing or bending. Also the rear I/O cover indeed does have a black chrome finish. I strongly suspect final editions to offer a black PCB to match, so I would not assume future XFX 8600GTS "XXX" Edition cards to be green unless shown. Below is the now mandatory RoHS sticker, along with eight more stickers that list the exact make, model, and BIOS version of this particular card. They also state the card was "Made in China" three times just to make sure you can't miss it. 😉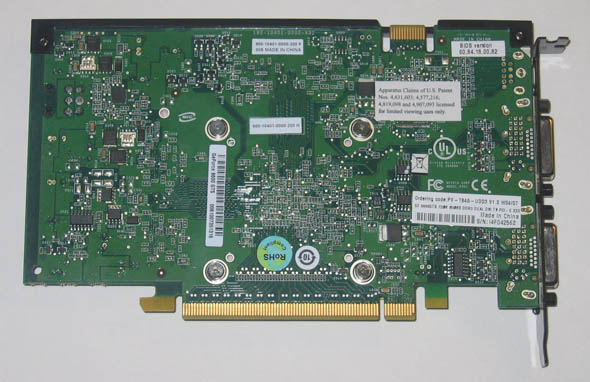 THE PACKAGE
This should look familiar to you now! The box is all but identical to the previous one, but note the missing Ghost Recon sticker and the different sticker for the core MHz. This XFX 8600GT is also an "XXX" version as denoted by the sticker under the "8" in "8600".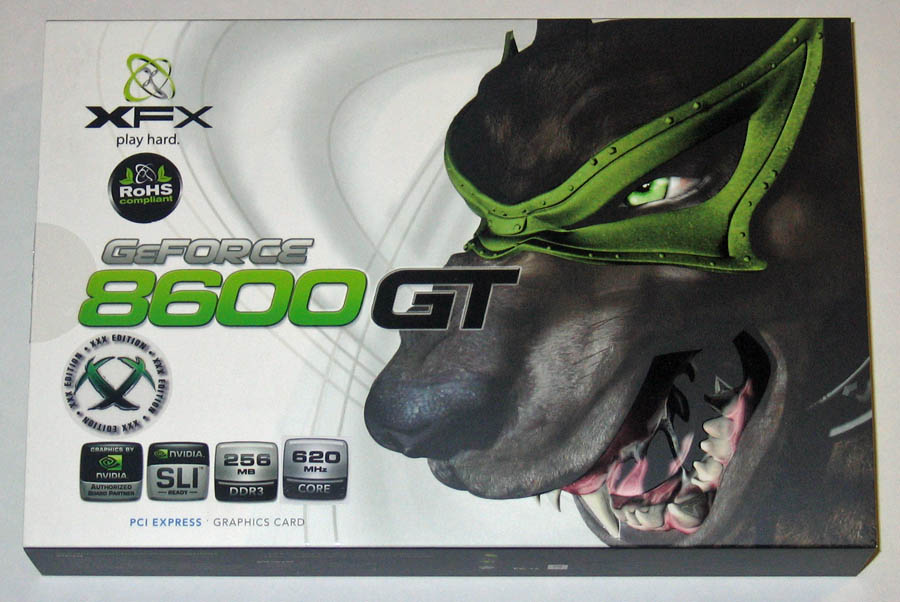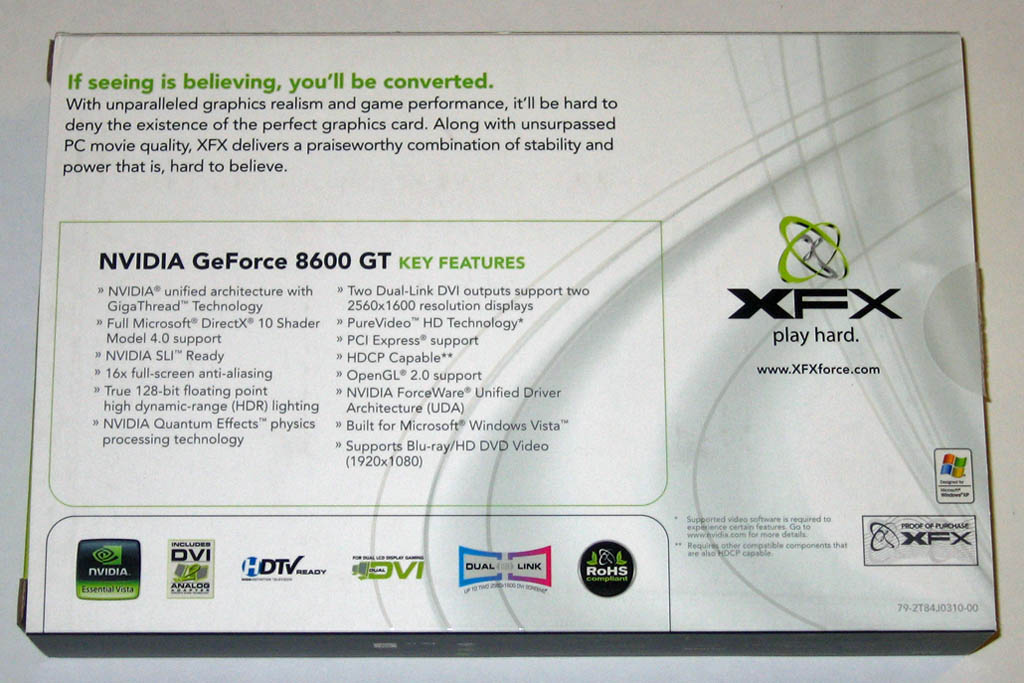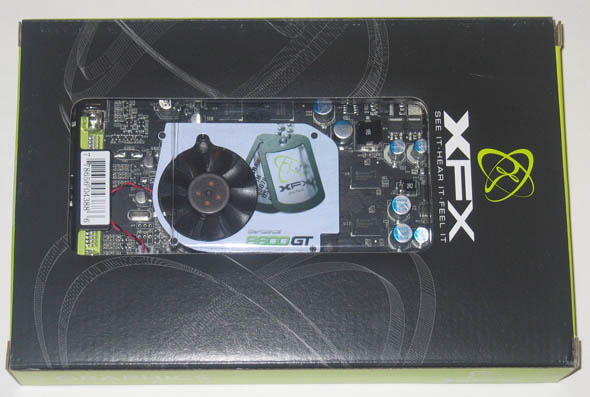 Same clamshell design as before, modified slightly to better hold this smaller profile card. This one does feature the neon yellow DVI connectors and black PCB one expects to find on XFX triple-x edition cards.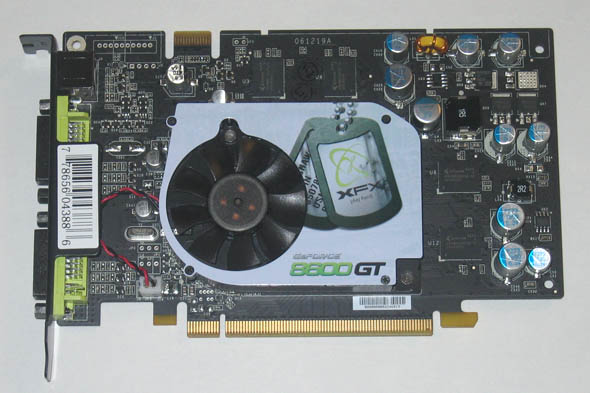 Right off we notice the cooler is much smaller and oriented the other way, unfortunately leaving all the DDR3 RAM bare. Despite this fan using a 2-pin connector the fan ran completely silent even under load. Last but certainly not least, you won't find a PCIe 6-pin connector anywhere on this card!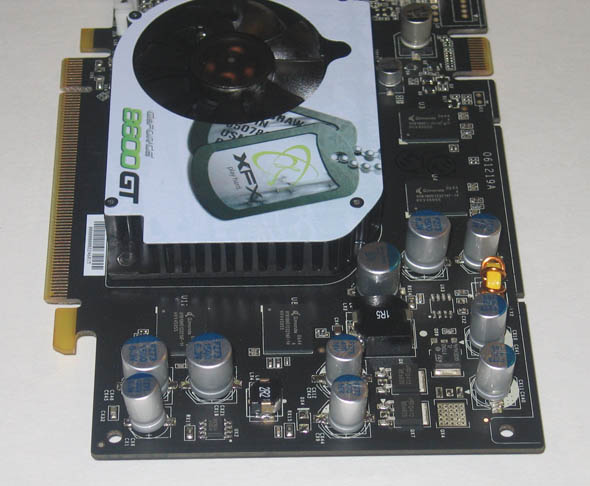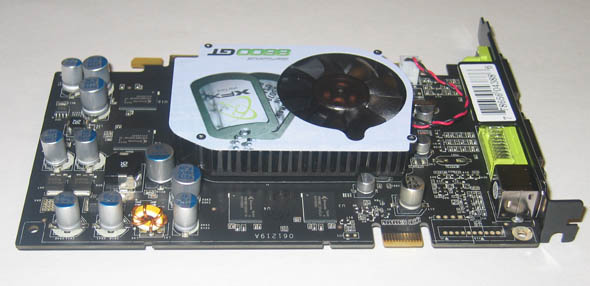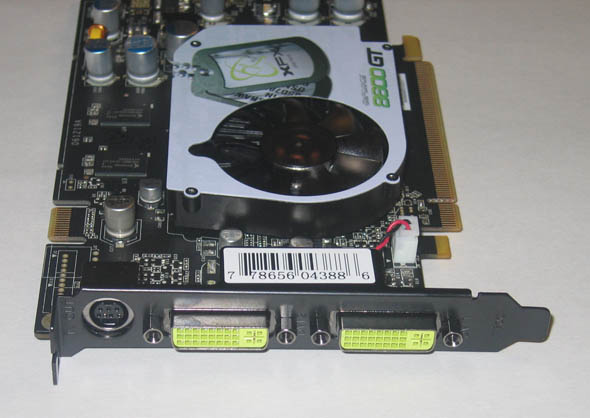 There is only a single sticker this time, however it still contains the exact make, model, and BIOS version of this card, very handy information to have when it is needed.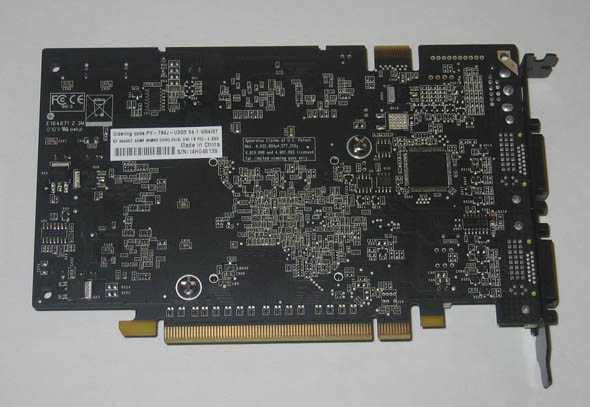 The XFX 8600GT comes with Qimonda HYB18H512321AF-14 chips, which after a lookup are officially rated for 1,400MHz speed. Again so you don't have to flip back to the specifications table this card comes with 1,600MHz speed RAM.
I did not have time for overclocking, but I can attest 1,700MHz worked without visible artifacting for several minutes, but again "a few minutes" is not any kind of official stability test. 😉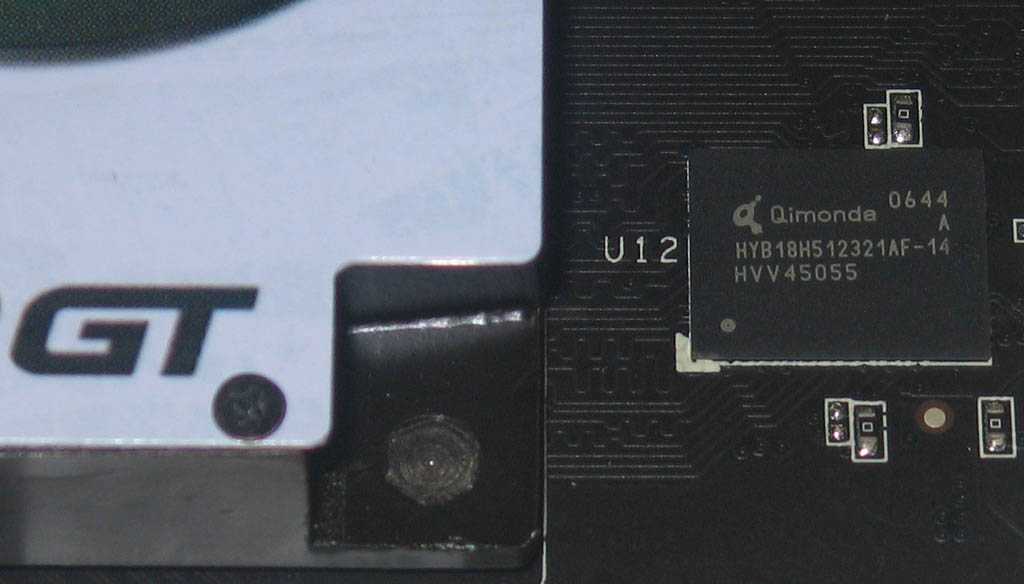 The included bundle for the XFX 8600GT XXX Edition consists of just the bare necessities, which is an S-video cable, manual, driver disc, DVI->VGA adapter, and again the info sheet warning users regarding the various S-video like connectors and their incompatibilities.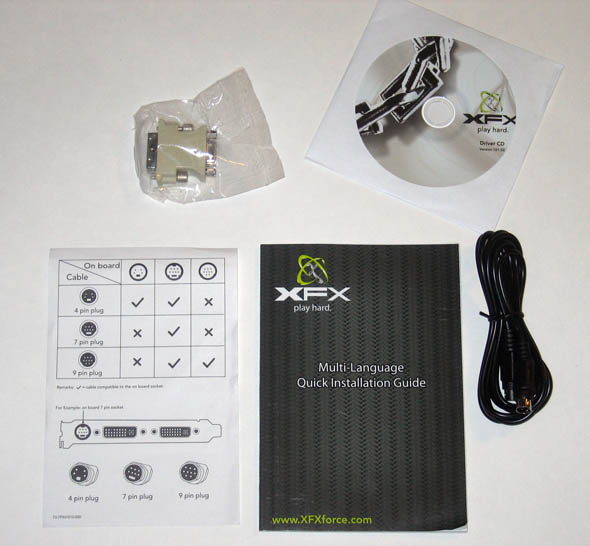 A CLOSER LOOK
First a look at the boxes themselves, then the actual good stuff. You can easily see the PCB layouts are actually fairly different along with the difference in coolers, the power connector & bracing arm on the 8600GTS, and finally that the 8600GT is indeed just a little shorter in overall length. That "S" amounts to a great deal of difference between these cards, from the included free game to some much higher clocked hardware.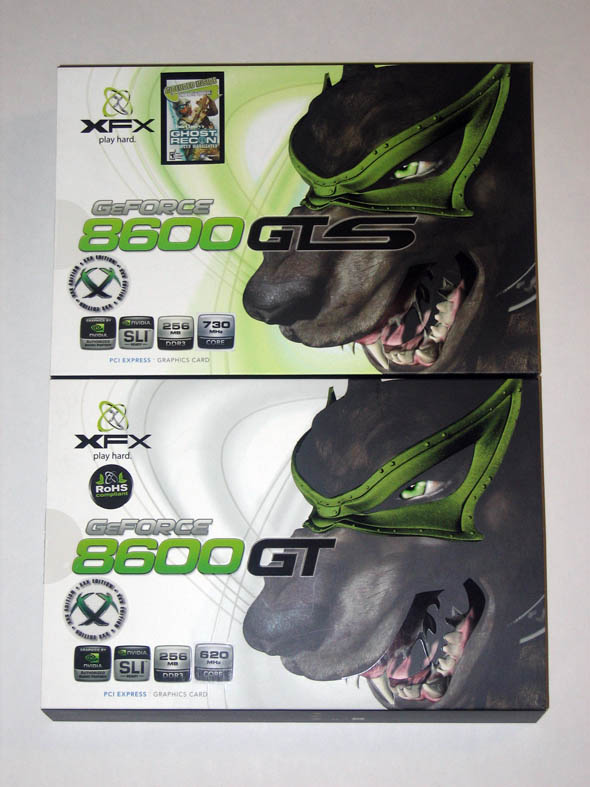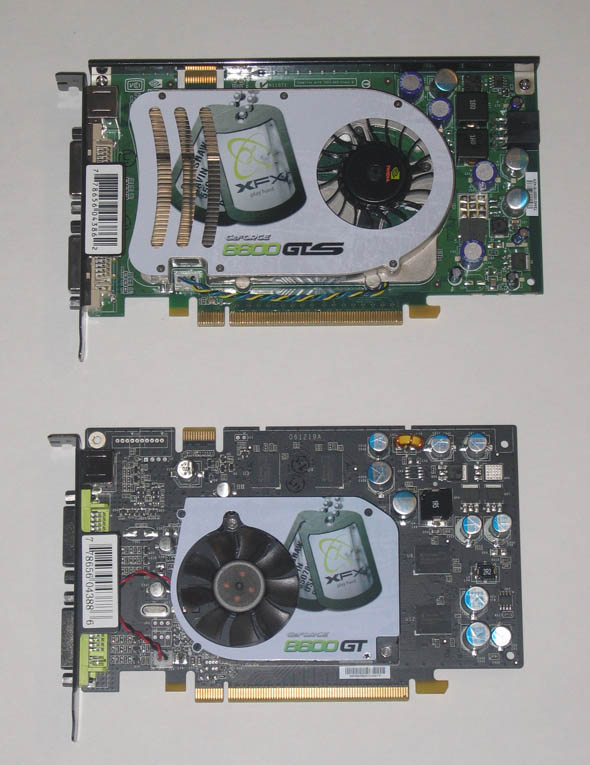 Below is a clickable thumbnail of all the cards in today's roundup except for the XFX 7800GT. The FOXCONN 7950GT 512mb is the 2nd to bottom card, so it is interesting to note overall length between the 7900 series and the 8600GTS has shrunk slightly. The 8800GTS comes in at 9-9.5 inches (22.86-24.13cm) depending at what point you are measuring from, while the 8600GT comes in at a mere 7 inches (17.78cm). We'll also measure total system power draw with all of these cards on the second-to-last page!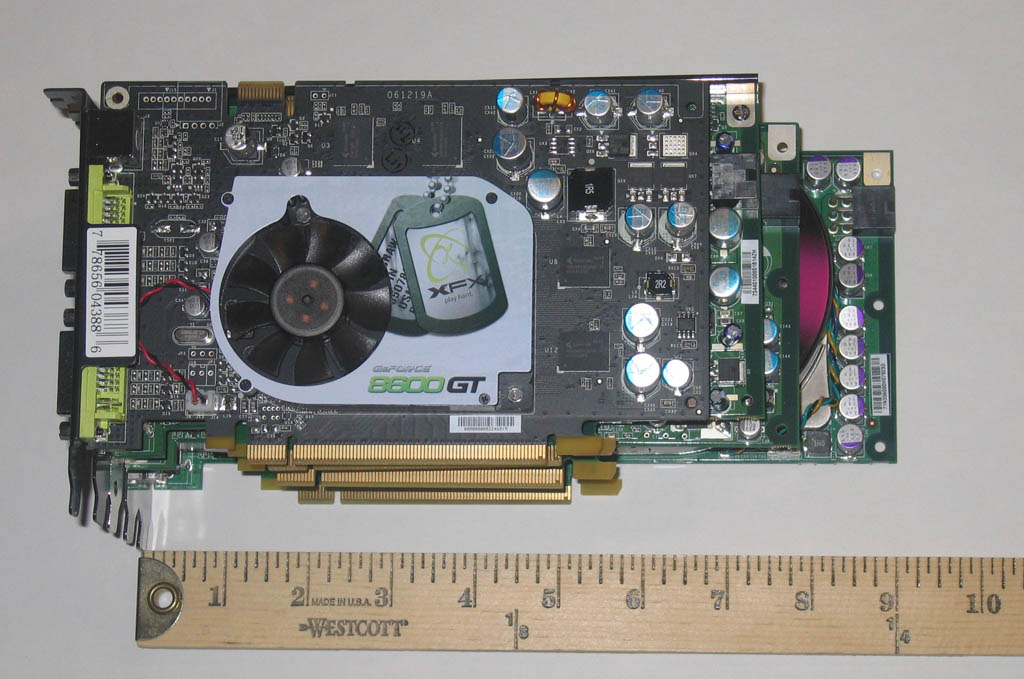 TEST SETUP
Test Platform

Processor

Intel Core 2 Duo E6300 1.86GHz @ 3.3ghz

(475FSB, 1:1 ratio, 1.4v)

Motherboard

Gigabyte GA-965P-DS3 Rev 1, BIOS 10

Memory

Corsair DDR2-800mhz 2x2GB @ 5-5-5-15 (950MHz 2.1v)

Drive(s)

Seagate 320GB Barracuda SATA Hard Drive

Lite-On SATA  DVD+/-RW

Graphics

Test Card 1:   XFX 8600GTS "XXX" Edition (158.16)

Test Card 2:   XFX 8600GT "XXX" Edition (158.16)

Test Card 3:   XFX 7800GT  (93.71)

Test Card 4:   FOXCONN 7950GT 512MB "OC Edition" (93.71)
Test Card 5:   FOXCONN 8800GTS 320MB "OC Edition" (97.94)

Case

Antec P180-B

Power Supply

Antec NeoHE 550watt PSU

Operating System

Windows XP Pro w/ SP2
While some may be doubting the stability of the test platform I specifically downclocked it for this review. This system has tested Othos Blend stable for a 24 hour, 24 minute run @ 3.5ghz with the above hardware configuration, and a stability was double-checked again before benchmarking to be absolutely sure. 507FSB (DDR2-1,014MHz) is the stability limit of this platform due to the ProMOS RAM.
Getting myself back on topic, all cards were tested with the most recent available drivers at the time of testing, which means the 7800/7950 are using the now 6 month old 93.71 XP drivers. (!) There are no driver updates for Geforce 7-series cards as of yet for Windows XP users.
Synthetic & Gaming Benchmarks
3DMark06 v1.1.0 Pro
F.E.A.R v1.08
Quake 4 v1.2
Prey v1.3
Half Life 2: The Lost Coast
Half Life 2: Episode One
Company of Heroes v1.5.1
A clean, defragmented install of Windows XP SP2 was used with the most up to date motherboard drivers and BIOS installed. No Anti-virus was present. All tests were performed four consecutive times with the first results thrown out due to system caching, then the results averaged.
For those readers desiring specific results, due to unavoidable slight variations in CPU clock speed between reboots I would suggest using the CPU score on the 3DMark06 results to compare the CPU score on video card "A" to to the CPU score for the desired graphics card to gauge how much difference, if any, was present.
TEST RESULTS
3DMark06
To start off with we have our only synthetic benchmark for this review. 3DMark06 really favors the new 8600-series hardware by giving the XFX 8600GTS a not to shabby 6307 3DMark06s as the average of three runs.
3DMark06 more than likely favors the extremely high clockspeeds of both the core and onboard memory of the "XXX" 8600GTS as the "XXX" 8600GT scores below the 7950GT by a sizeable margin. The next upcoming 3Dmark program will include Shader Model 4 tests, and therefore will favor the 8600 cards even more.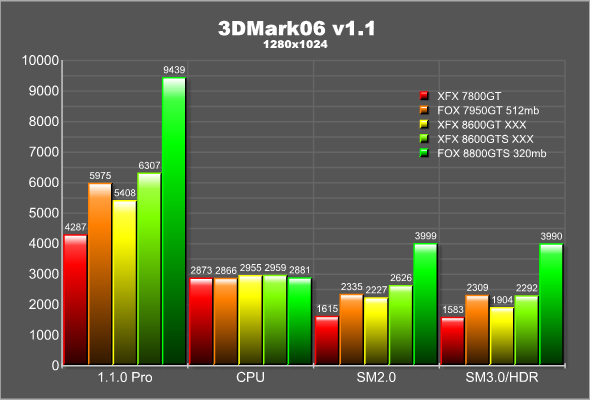 As will be seen in our game results, there are reasons why most reviewers will advise against judging graphics cards on synthetic testing alone, it does not always translate into equivalent performance.
Please note the CPU benchmark is included for reference purposes as CPU speed when overclocked will always be slightly variable, therefore these numbers give a point of reference regarding the CPU between all of the cards tested.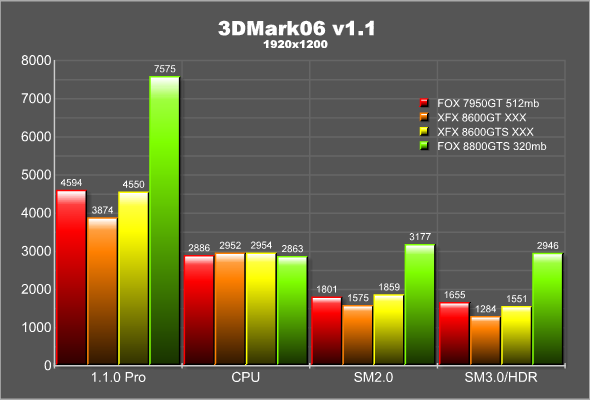 Quake 4
First up we have Quake 4. Due to the desire to have useful benchmark numbers all settings were set to their highest, however "High" instead of "Ultra" mode was used. Ultra mode requires a bare minimum of 512mb of RAM and made the game unplayable at most resolutions on every card except the 512mb 7950GT. Ultra mode uses roughly 500mb of non-compressed game textures, which in reality don't bring any visible image improvements to the table anyway.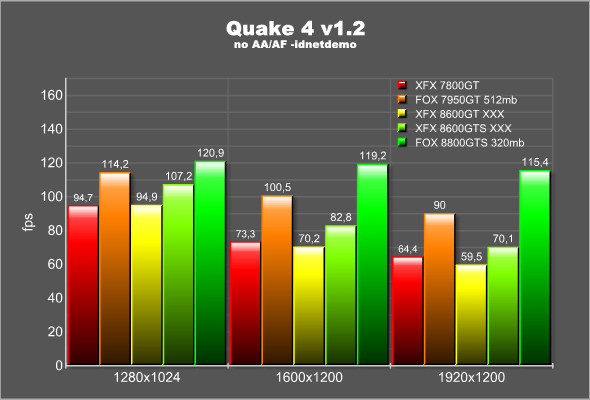 As can be seen Quake 4 is at first mostly CPU bound by these cards, although once the resolution is increased the group begins to split apart. The XFX 8600GTS comes in slightly ahead of the 7800GT, putting in performance better than this cards predecessor, the 7600GT.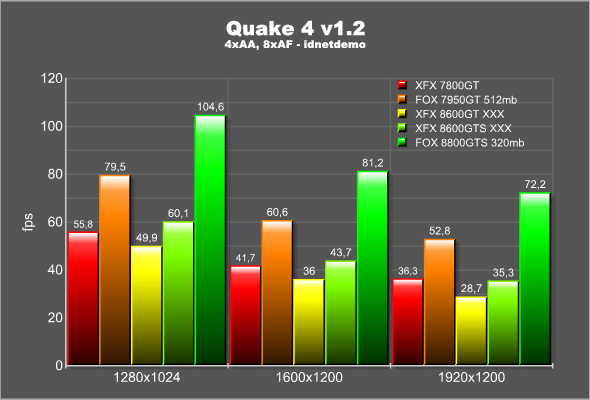 FEAR
Here the 8600-series cards put in one of their better showings with even the slower XFX 8600GT outperforming the 7800GT card. The second and fourth charts show the lowest framerate count, one without AA/AF and the one with. FEAR was tested with Soft Shadows disabled.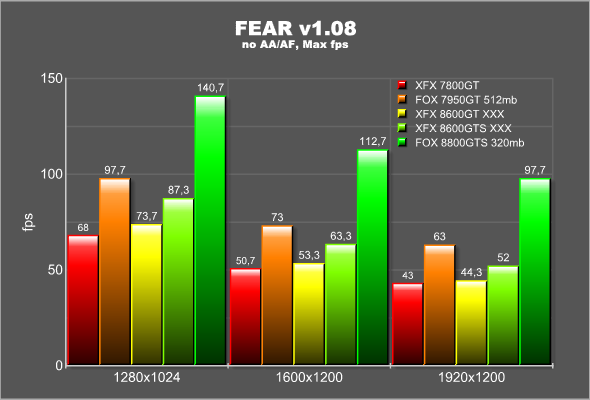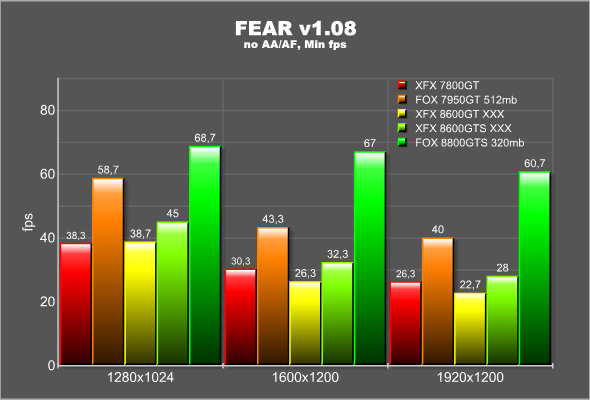 Again with 4xAA & 8xAF results are consistent and the 8600-series is able to provide higher average frames while keeping the gameplay from slowing to a crawl.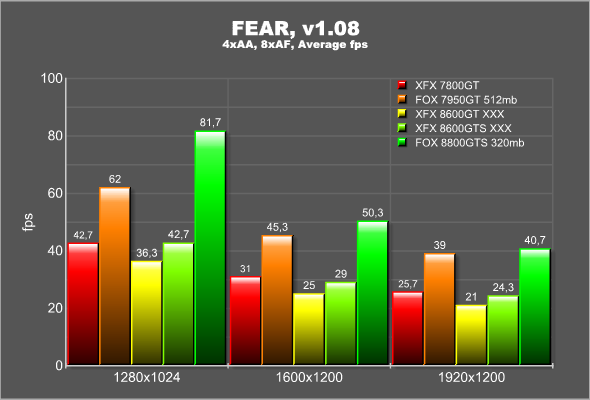 Prey
Here is our second OpenGL game, and it seems that the 8600-series doesn't appear to favor this game very well, as the 7800GT is managing to hold its own here against the 8600GTS with the 8600GT trailing a bit.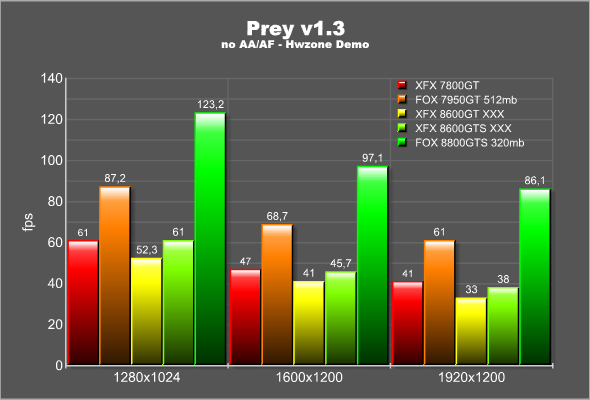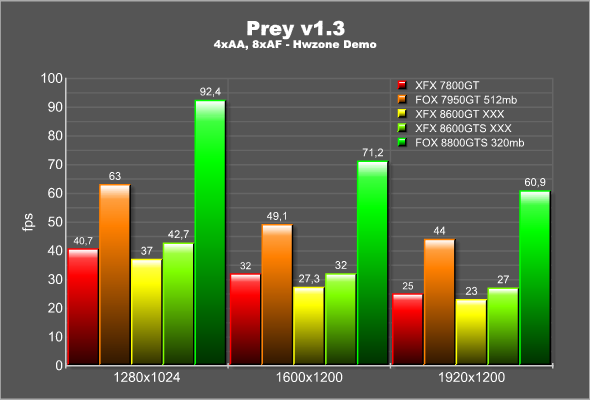 HL2: Episode One
Again here's another very good showing with even the 8600GT keeping a slight edge over the 7800GT this time.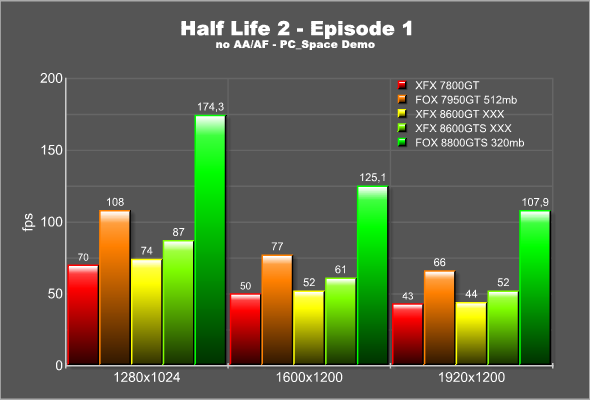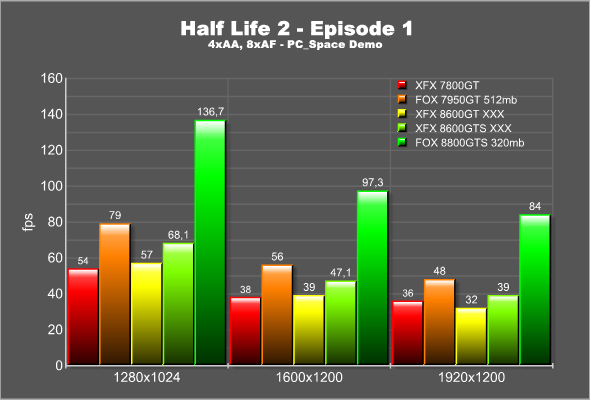 HL2: The Lost Coast
Yes, here's a second benchmark using the HL2 engine. While more of a technical demo rather than a game and it is becoming dated, in actuality it is a fairly brutal benchmark that can even stress an 8800 card at the higher resolutions.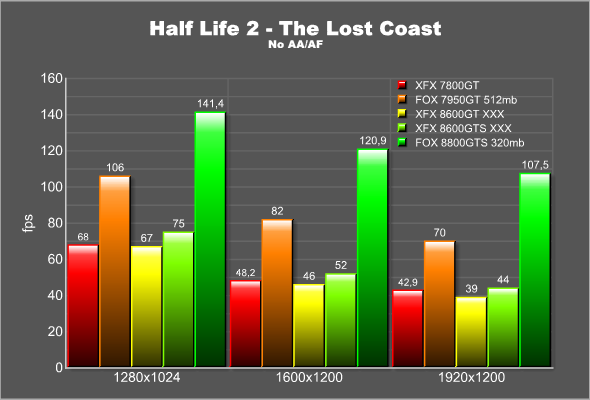 I am honestly not sure what was with the 7950GT results here, but results were repeatable every time. It might appear that AA/AF was left off in the drivers, however a quick check of the above chart shows much higher framerates with AA/AF disabled, so that can't be it. That leave me wondering if the 7950GT's larger onboard memory might have something to do with it, just like in Q4 when "Ultra" mode is enabled where the 7950GT can outperform even an 8800GTS 320mb.

Company of Heroes
I saved this game for last due to the inconsistency of the game results. Despite taking advantage of the game's static built in performance benchmark our results varied wildly at times for no discernable reason, which unfortunately is nothing new with this game.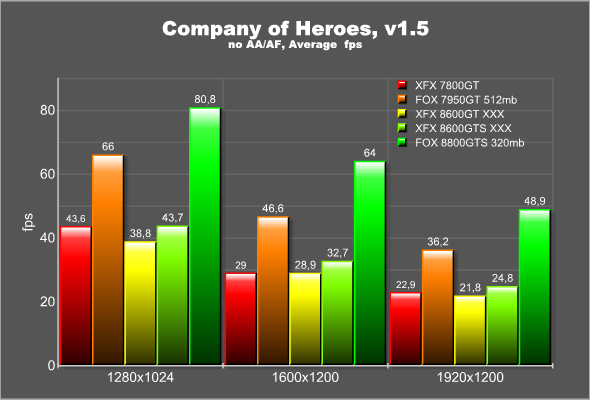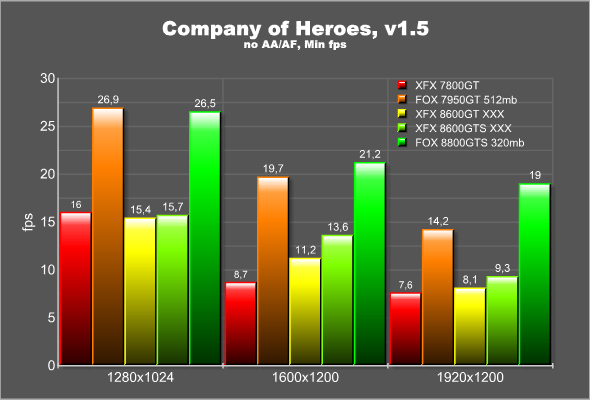 Also the 8600GT and 8600GTS scores with AA/AF enabled have flip-flopped what they should be, so I would suggest only using these numbers as a general ballpark figure as we did not have time to go back and restest them.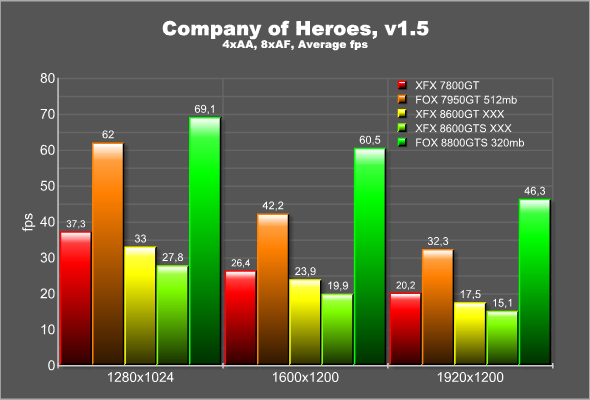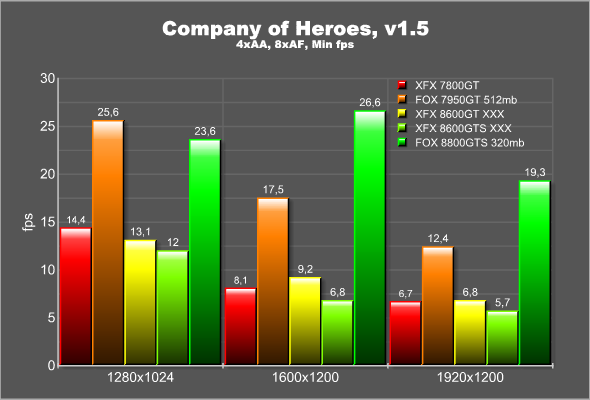 Power Consumption & Temps
Just out of curiosity I took total system power consumption figures with all of these cards, first after three minutes of windows sitting idle, and then again after three minutes of load with Orthos and ATI Tool open and running to fully load the system.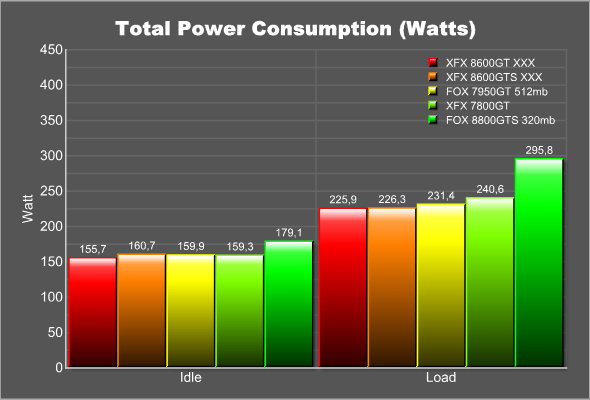 Interesting to note is that the reference 7800GT consumes the most power other than the 8800GTS. General system specs are again on the Test Setup page.
Temperature

 

Idle

Load

XFX 8600GTS XXX

53c

78c

XFX 8600GT XXX

51c

80c
These cards to run fairly "warm" in my personal opinion, but the blame can be laid on the small and silent coolers. I don't know about other manufacturers, but XFX seems to have taken its customer's feedback to heart and designed both of these cards to run totally silent. I should note that the 8600GTS requires the installed driver to regulate it's own fan though, and therefore will be the usual leafblower when in DOS or the BIOS screens. Median room temp during tests fell within 22.2c.
CONCLUSION
While these scores may come as a surprise to some computer enthusiasts, they really shouldn't be. The XFX 8600GTS "XXX" Edition completely outperforms its actual predecessor, namely the 7600GT, even though it is still limited by the same 128-bit wide bus.
Additionally it should be noted the particular 7950GT used in this review does offer 512mb of onboard RAM, however if was limited to 256mb of RAM like some 7950GT cards it would not be dominating the charts as well as it is. Especially for 1600×1200 resolution and higher most games can now take good advantage of 512mb of RAM, and it will be needed for Ant-aliasing and Anisotropic Filtering modes. While 512mb 8600 cards are probably only a matter of time, due to the 128-bit wide bus I am simply not sure if they will offer any performance improvements worth their increase in price.
Also I would be remiss to not state that these cards are designed for DX10 under Windows Vista. We already know that DirectX 10 will be a much, much more efficient API than DirectX 9c could ever hope to become, and it is possible that with the drastically reduced overhead the 128-bit memory bottleneck and 256mb memory may become less of an issue. We can only wait and see how things will be once DX10 finally arrives.
The XFX 8600GTS "XXX" Edition (PV-T84G-UDD)
This card is definitely no slouch when it comes to performance, even if it doesn't quite live up to the hype that predated its launch. The power consumption, card size, and silent self-regulated fan are all plusses on this card, and I certainly can't forget XFX's excellent Double-Lifetime warranty and customer support here either.
By long and far however, the biggest drawback to this otherwise great card is simply, price. Why would anyone pay $249 for this card when for just $10 more they can buy a 8800GTS 320mb (Also with lifetime warranty)? Power consumption aside, you cannot argue with double the performance in almost every benchmark, which infact makes the power consumption fairly efficient if judging by performance per watt. The latest prices show this card to be selling for $239, which is still only $20 less than a full 8800GTS 320mb even if this card comes with Ghost Recon Advanced Warfighter bundled in.
All of that said, this card is by long and far the highest overclocked 8600GTS available with a warranty to back it up, as far as I know 2,260mhz DDR3 RAM is unprecedented on a graphics card, and the core is a respectable 730mhz. as well. So while it may not be the most sensible card to buy, it'll be the best performing 8600GTS out there! 
Pros:
+  Solid Midrange Performance
+  XFX Double-Lifetime Warranty
+  Runs silent (Once in Windows)
+  Highest Factory Overclock on the market
+  HDCP Ready
Cons:
–  Price
–  Not a sensible buy ($20 more for an 8800GTS?)
Final Score: 6.5 (Pretty Good) out of 10. 
The XFX 8600GT "XXX" Edition (PV-T84J-UDD)
While there is no bundled game with this card and it does not require a power connecter it amazingly offers close performance to that of its bigger brother the GTS. Oh and did I mention it does so at a much more palatable price, currently $169 shipped (At launch day) from some online retailers for this exact "XXX" Edition model.
Gamers wishing to play 1600×1200 and higher resolutions will likely have to forgo simply putting all game settings at there maximums in order to avoid lag, but hey, it's a midrange card. I can honestly recommend this card to be on anyone's shortlist to anyone who is building a computer that lacks a card already. If considering upgrading for DirectX 10 and SM4 support however, then unless using an 7600GS or x1600Pro or lower you will not be receiving much to any performance improvement.
When all is said and done this card can offer close to the performance of a full 8600GTS at much less the price. Infact this specific XFX "XXX" Edition 8600GT is the cheapest 8600GT listed right now, despite also being the highest factory overclocked model. Despite the tiny cooler it runs silent and offers a Double-Lifetime warranty, as usual for XFX, which is a good thing due to the memory not receiving cooling from the fansink. 
Until prices on the 8600GTS drop to more reasonable levels, the XFX 8600GT "XXX" edition is the current best buy… if considering any of the near $200 or higher 8600GTS models then you would be far better off simply purchasing a $259 8800GTS instead for double (even triple) the performance.
Pros:
+  Solid Midrange Performance
+  XFX Double-Lifetime Warranty
+  Runs Silent
+  High Factory Overclock
+  No Extra Power Plug Required
+  Small 7″ (17.78cm) length
Cons:
–  No Memory Cooling!
–  Poor For High Resolutions
–  No HDCP Support
Final Score: 8.5 (Excellent) out of 10. 
UPDATE: 
It has been brought to my attention that XFX has just now changed their North American Double-Lifetime warranty policy. XFX is now very proud to support the requests of the overclocking and modding community, and has announced overclocking and aftermarket cooling will no longer void the excellent XFX Double-Lifetime warranty! For further details please click here.
Word of Thanks
I'd like to personally extend my appreciation to XFX for sending in both of their absolute best XXX Edition 8600 cards in for review. Without companies like them willing to take the risk, time, and cost to send in products for review, sites like Bjorn3d wouldn't be nearly where they are at today!