The ECS AMD690GM-M2 uses the AMD690 chipset which is the first chipset coming out from AMD since the acquisition of ATI. The motherboard comes in a small form factor and yet has nice features like integrated DX9 graphics, HDPC over DVI and the addition of AVIVO.
INTRODUCTION
For a long time NVIDIA's nForce chipset was the chipset to have if you were using AMD CPU's. True, there were some alternatives including a few chipsets from ATI, but they did not have much of a chance in pushing NVIDIA away from the AMD chipset top spot. This all changed when AMD bought ATI. While NVIDIA pledged to continue to support the AMD platform it quickly became obvious that their focus shifted to the Intel platform. This left AMD with a problem. It left them with a void. After a partner that has been providing the foundation for your CPU's and also been a large part of the success for those CPUs leaves a void, how do you fill that void?
With the purchase of ATI, AMD also got their hands on ATI's expertise in chipsets and thus it is no surprise that AMD's first own chipset, the AMD 690, is the chipset that ATI would have released last year if the acquisition hadn't happened, the RS690.
Today I am reviewing the ECS-690G, a very competent small form factor motherboard which uses the RS690 chipset.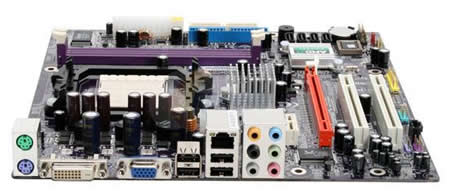 ABOUT ECS
ECS, the Elitegroup Computer Systems, has been building motherboards since 1987. In the last few years they also have started to design and manufacture barebone and complete systems, such as notebook computers and high-end servers. Their headquarter lies in Taiwan and then distribute their products to over 60 countries in the world.
Simply Smart

For many years, ECS has been making complex design simple and simply designed products smart. The company engineered smart ideas into unique products while keeping the design simple. Its Simply Smart philosophy in design helped ECS won over 150 awards and recognitions worldwide. Today, the design philosophy has evolved, extended and become a part of the company's corporate culture. Generating smart ideas to simplify work for increasing productivity has become an everyday task at ECS. It is through this practice, the company believes it can continue to bring its customers the best products and services.
FEATURES AND SPECIFICATIONS
When I first heard about the AMD690 I envisioned AMD bringing out a chipset that was intended to go head-to-head with the nForce680. What we got instead was a completely different beast. The targets for the AMD690 chipsets are motherboards with integrated graphics like the NVIDIA's GeForce6100 motherboards and Intel 965 based motherboards.
Feature/Specification

 ECS- AMD690GM-M2

CPU 

• Socket AM2 for AMD Athlon 64 X2 Dual Core/ Athlon 64 FX/Athlon 64 processor
• High-performance Hyper Transport CPU interface.
• Support transfer rate of 2000/1600/1200/800/400 mega-transfers per second.

CHIPSET 

• AMD® 690G & AMD® SB600
• North Bridge: AMD® 690G
• South Bridge: AMD® SB600

MEMORY

• Dual-channel DDR memory architecture
• 2 x 240-pin DDR2 DIMM socket support up to 16 GB
• DDR2 800/533/400 DDR2 SDRAM

EXPANSION SLOT

• 1 x PCI Express x16 slot
• 1 x PCI Express x1 slot
• 2 x PCI slots

STORAGE

Supported by SB600 
• 2 x Ultra DMA133/100/66 devices
• 4 x Serial ATAII 3.0Gb/s devices
• RAID0, RAID1, RAID10 configuration

AUDIO 

Realtek ALC883 support 8-ch HD Audio

LAN 

Realtek RTL8110SC Giga LAN Controller

REAR PANEL I/O 

1 x PS/2 keyboard & PS/2 mouse connectors
1 x VGA port
1 x RJ45 LAN connector
1 x DVI connector
4 x USB ports
1 x Audio port (Line-in,4x Line-out, Mic_in)

INTERNAL I/O CONNECTORS & HEADERS

1 x 24-pin ATX Power Supply connector
1 x 4-pin ATX 12V connector
1 x FDD connector
1 x IDE connector
4 x Serial ATA connectors
1 x SPDIF out header
3 x USB 2.0 headers support additional 6 USB ports
1 x Front panel switch/LED header
1 x Front panel audio header
1 x CD in header
1 x TV out header
1 x COM1 header
CPUFAN/SYSFAN connectors

FORM FACTOR

Micro-ATX Size, 244mm*244mm
As mentioned earlier, the AMD690 combines the SB600 south bridge with the new RS690. Inside the RS690 we find the new integrated graphics core called the X1250. This core is based on the X700, albeit with some nice new additions. While of course this is no high-end, or even mid-end, chipset, the X1250 is an integrated graphics solution that actually has some very neat features.
2D Acceleration Features
• Highly optimized 128-bit engine, capable or processing multiple pixels per clock
• Supports a maximum resolution of 2048×1536 @ 32bpp
• Game acceleration including support for Microsoft's DirectDraw
The motherboard supports dual-link DVI meaning you can use it on that 30″ DELL LCD monitor you just bought.
3D Acceleration Features
• Full DirectX 9.0 support
• 3D Texture support, including projective 3D textures
• Anti-aliasing using multi-sampling algorithm with support for 2,4, and 6 samples
• New generation rendering engine provides top 3D performance
• Support for OpenGL format for Indirect Vertices in Vertex Walker
The chip has 4 pixel shaders but no vertex shaders. These are handled by the CPU.
Motion Video Acceleration Features
• Enhanced MPEG-2 hardware decode acceleration
• MPEG-4 decode support
• Hardware acceleration for WMV9 playback
• Supports top quality DVD and time-shifted SDTV/HDTV television playback with low CPU usage
The chip now has AVIVO support which means you get ATI's excellent image quality directly from the motherboard.
TV Out
• Integrated TV encoder from Xilleon products with integrated Avivo™
• Supports Macrovision 7.1 copy protection standard (required by DVD players)
• Supports the formats of component, composite and S-video outputs

Multiple Display Features
• Dual independent displays including two digital outputs
• Resolution, refresh rates, and display data can be completely independent for the two display paths
• Supports both interlaced and non-interlaced displays
• Integrated HD Audio controller for HDMI audio data
The chipset supports two independent digital outputs meaning you can use both HDMI and DVI at the same time (if the motherboard supports it). By adding a discrete graphics adapter you can drive up to 4 displays at the same time.
DVI/HDMI
• Supports a TMDS interface, enabling DVI or HDMI 1.2 <1650 Mbps/channel with 165 MHz pixel clock rate per link
• HDCP 1.1 support on data stream with on-chip key storage
The motherboard I am testing today is the ECS- AMD690GM-M2. It comes with a VGA and a DVI output. The DVI-output fully supports HDCP. 
THE ECS AMD690GM-M2
The motherboard comes in a small white box. After all sorts of gloomy dark boxes with fantasy motifs that many companies seem to favor these days, it is quite nice to see a nice light packaging full of photos of the product.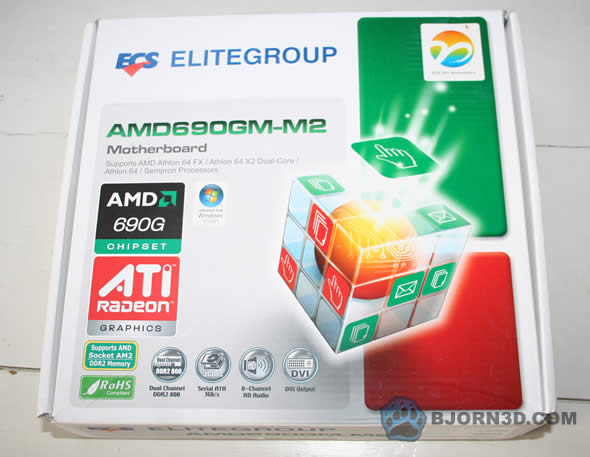 While the box is small, the motherboard still sits firmly in it and even after a trip through the Swedish mail service, there were no indications that the motherboard easily could be damaged inside it.
Inside the package we do not find very much:
The motherboard
Two manuals, a quick start guide and a proper manual
Backplate
IDE-cable
SATA-cable
Serial connector
CD with drivers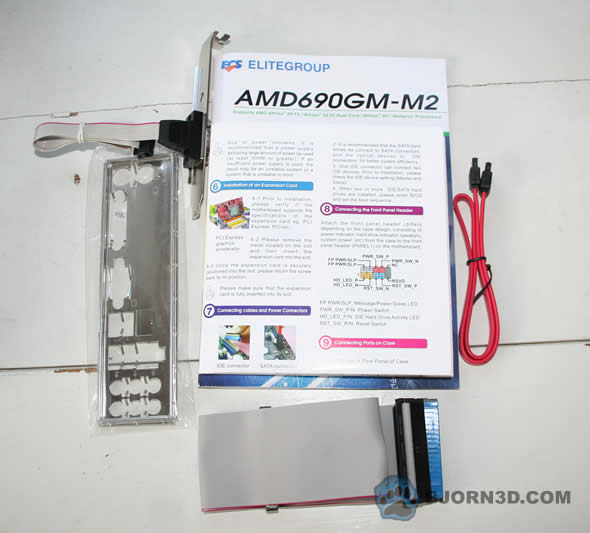 ECS has made a pretty anemic bundle, something which is especially obvious when counting the very few SATA-cables. On the plus side though is that the included driver CD actually has Vista drivers on it.
The actual motherboard is of micro-ATC form factor and thus very small. In fact, as soon as I saw it I knew where this motherboard would fit in perfectly: in a HTPC.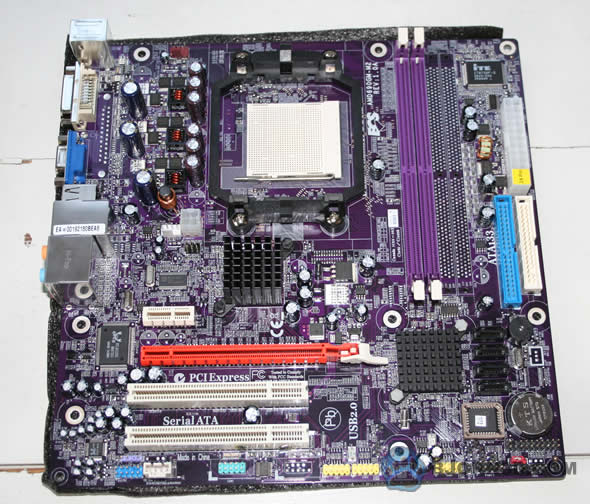 The smaller size of course means that you have to accept fewer features. That is why you only find one PCI-Ex16 slot, one PCI-Ex1 slot and two regular PCI-slots.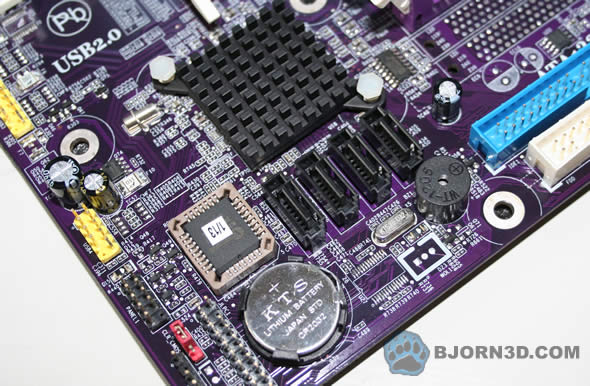 Only 4 SATA connectors
The motherboard also only supports 4 SATA ports, something that might be limiting when you want to add more hard drives to your system. In my case I had to remove a few for the test since I normally have 6 drives in my review system.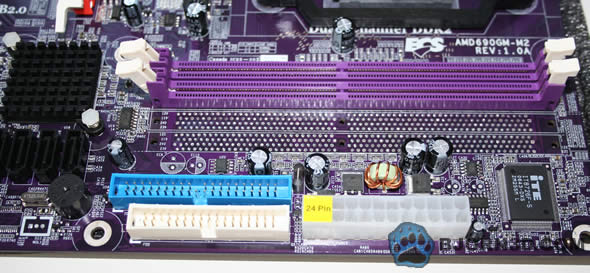 This particular motherboard only has support for two DIMMS, again limiting what you can put in it compared to other motherboards.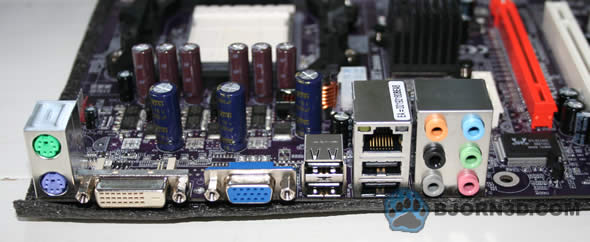 In the back of the motherboard we find both a DVI and a VGA connector. We also find 4 USB-ports and the connectors for sound. Something we do not find, and which I realized does not have a header on the motherboard, is Firewire. I am a bit surprised that they seem to have removed the Firewire support.
THE BIOS
The fact that this motherboard is not intended for the enthusiasts is evident when looking at the bios. It contains all the necessary settings but does not give you much control over things like memory timings and voltage settings.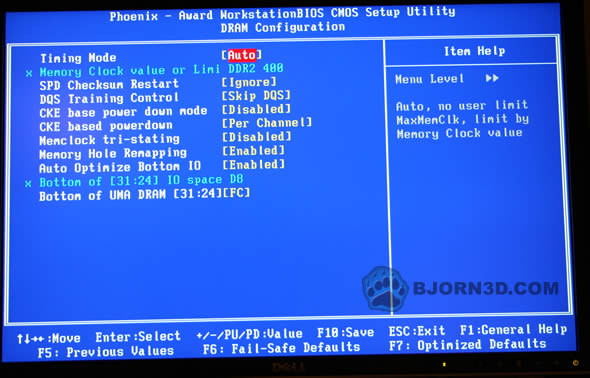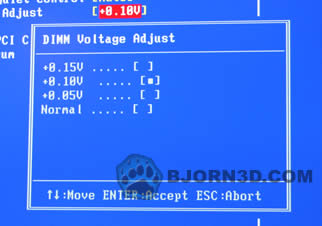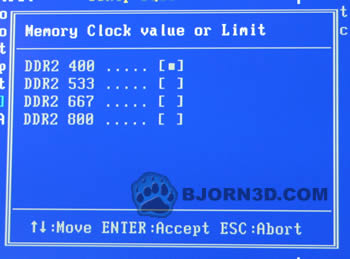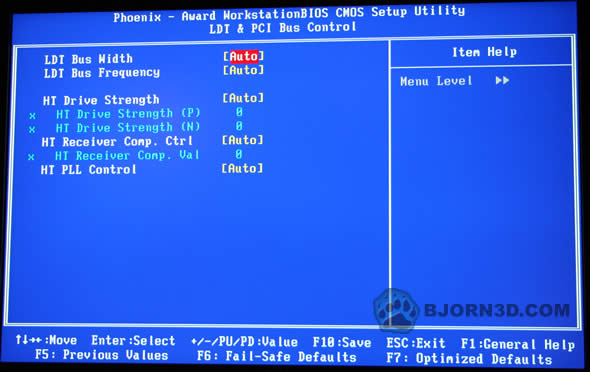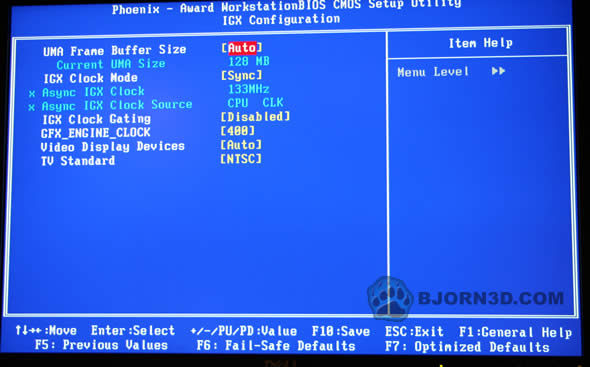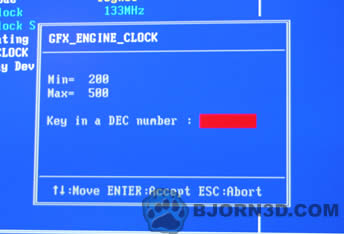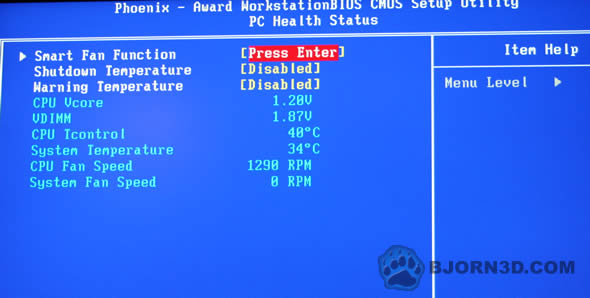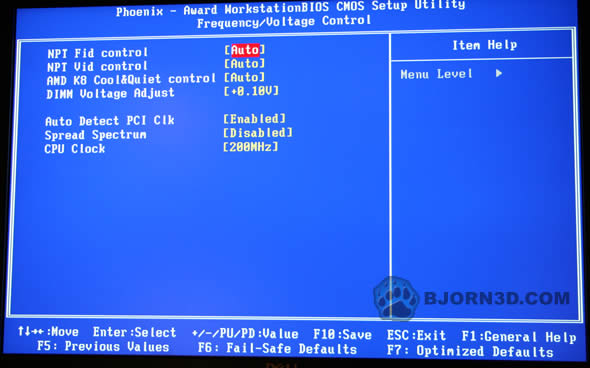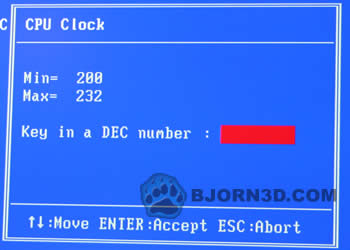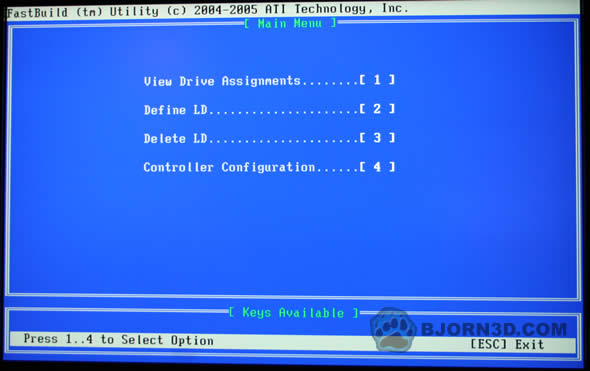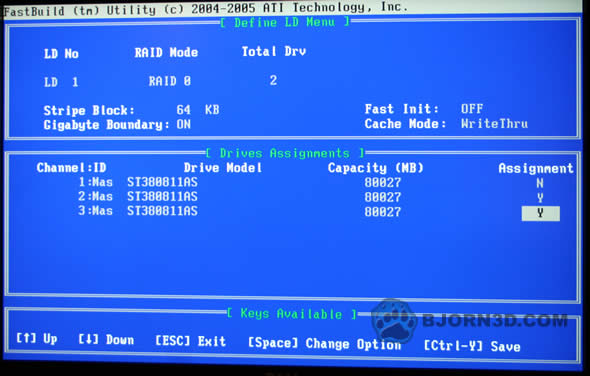 PERFORMANCE – HOW THE MOTHERBOARD WAS TESTED
The system that was set up to test this motherboard consisted of the following parts:
Review System
CPU 
AMD X2 5200+
Intel Core 2 Duo [email protected] GHz

Motherboards

ECS AMD690GM-M2
ASUS P5B-VM

Memory

Corsair XMS2 Xtreme 2048MB DDR2 XMS-1066

HDD

4×320 GB SATA

Video cards

Integrated graphics, 256 MB assigned memory

HD-player

Xbox 360 HD-DVD drive with Power DVD Ultra

Software

Windows Vista (32bit)
Unfortunately, I did not have access to a NVIDIA 6100 series motherboard at the time of testing for comparision.

The Software
As I wanted to see how well this motherboard would fit into the role of a HTPC-motherboard I chose to test it not only in the regular software like SiSoft Sandra and PCMark, but also how well the integrated graphics could handle video playback, both SD and HD.
Software
SiSoft Sandra XI 
CPU and memory

3Dmark05

Graphics performance

PCMark05

Overall performance
CPU, memory, GFX and HDD

Cinebench 9.5

CPU

PI

CPU/memory

HD-Tach

HDD

HD-Tune

HDD

Prey

Graphics performance

Passmark Performance Test 6.1

Network performance

HD-video

Video playback

Other

Power consumption
PERFORMANCE – CPU AND MEMORY
It is always hard to compare motherboards that use different types of CPU's since you never can get an direct apples-to-apples comparison. I chose to include the ASUS P5B-VM in the testing as I see the i965+integrated graphics as a direct competitor to the AMD690. For the CPU I chose to use a Core2Duo 6300 as it, at the time of writing, is priced similar to the AMD X2 5200+ that I am using in the ECS motherboard.
SiSoft Sandra XI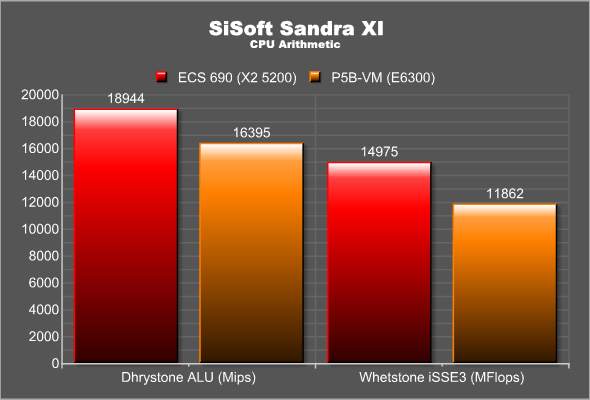 (Note, the Integer 8x result for the ECS seems unusual low.
Unfortuantely I had shipped back the motherboard when I noticed the suspicious value)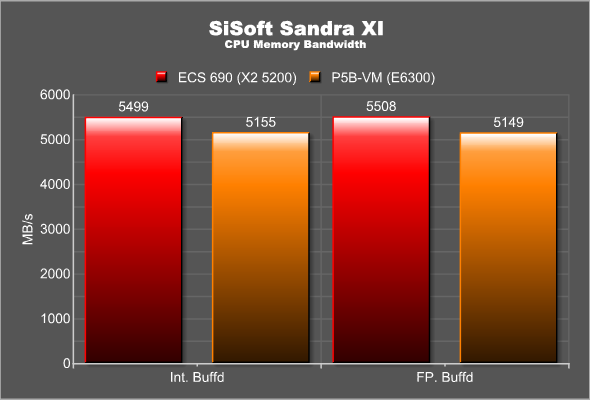 PCMark05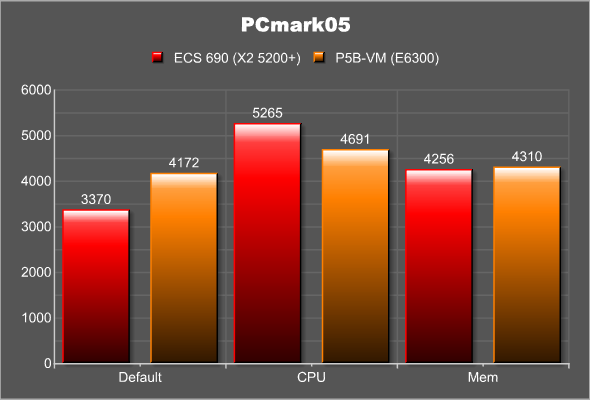 Cinebench 9.5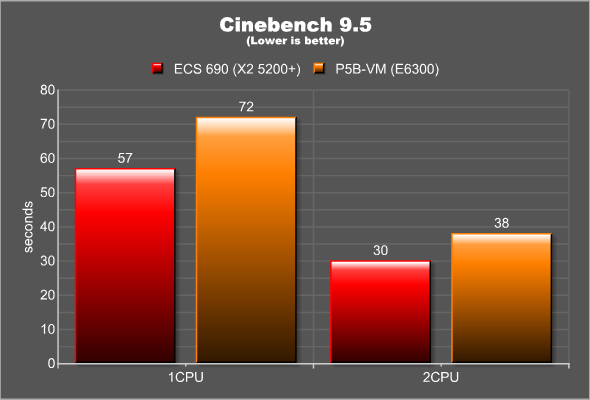 PI Mod 1.5XS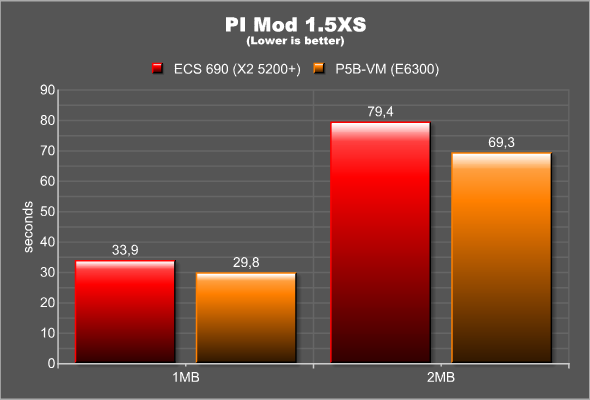 PERFORMANCE – HDD
PCMark05, HD-Tach and HD-Tune were used to measure the performance of the SATA hard drives in the system. On the ECS AMD690GM-M2, I easily could set up a RAID 0 array with two 320 GB drives but unfortuantely I never got it to work on the ASUS P5B-VM.
PCMark05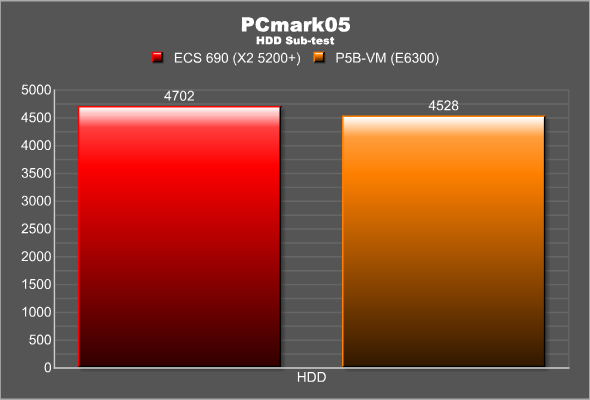 HD-Tach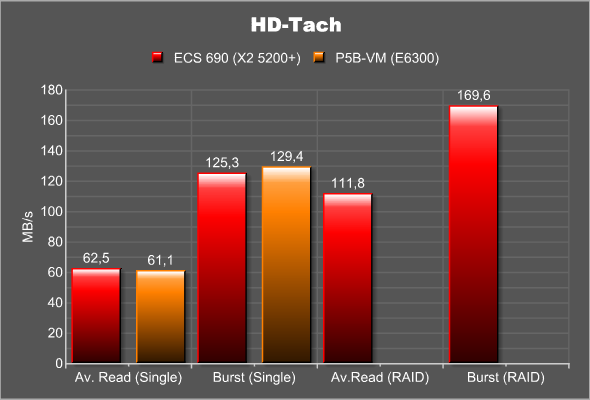 HD-Tune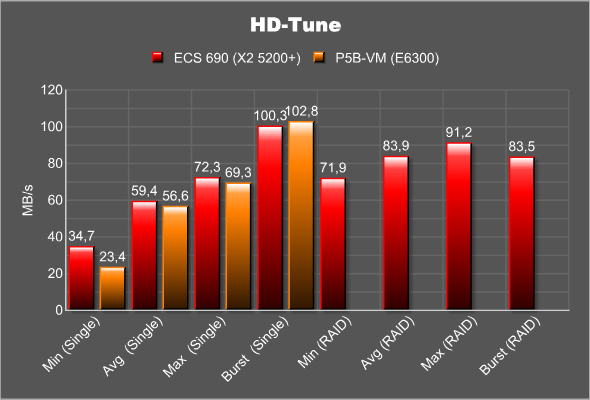 Summary
The SATA performance of the two motherboards is quite similar. The ECS AMD690 motherboard overall has a slight edge in all tests except the Burst speed tests.
PERFORMANCE – GRAPHICS
No one expects integrated graphics to perform as well as a discrete graphics card. The problem is that not only has integrated graphics, especially from Intel, in the past been slow, they have also lacked a lot of functionality forcing game developers to trade-offs when developing games. This is a big deal for all gamers considering that the first quarter of 2007, 33.6 million integrated graphics solutions were sold compared to 21.2 million discrete graphics cards. Thus it is in all our interest that the integrated graphics products start supporting more advanced features. Both the X1250 and the Intel GMAX3000, which can be found in the ASUS P5B, supports more advanced features like Shader Model 2.0b (X1250) and Shader Model 3 (Intel GMAX3000) so that is a step in the right direction.
To see how well these two products perform I chose to run the GFX-test in PCMark05 (tests mainly 2D), 3dmark05 and Prey.
PCMark05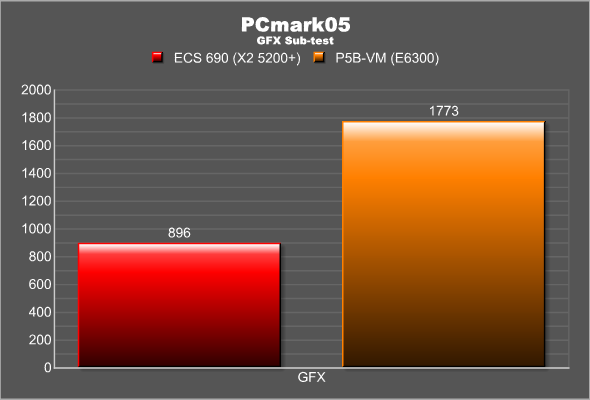 3Dmark05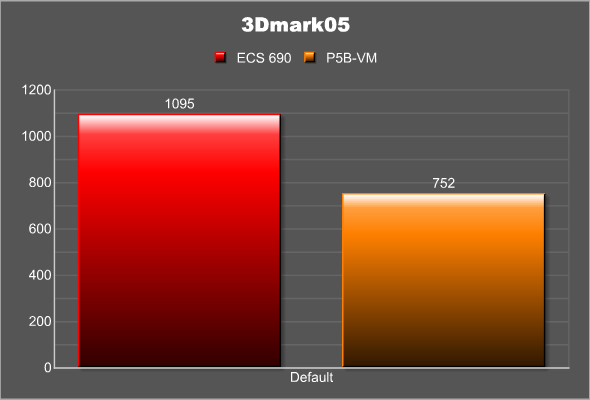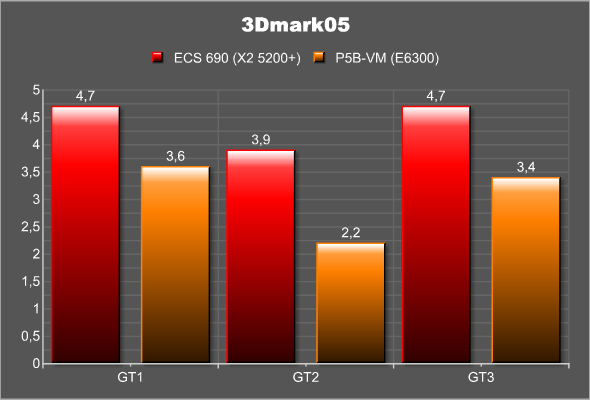 Prey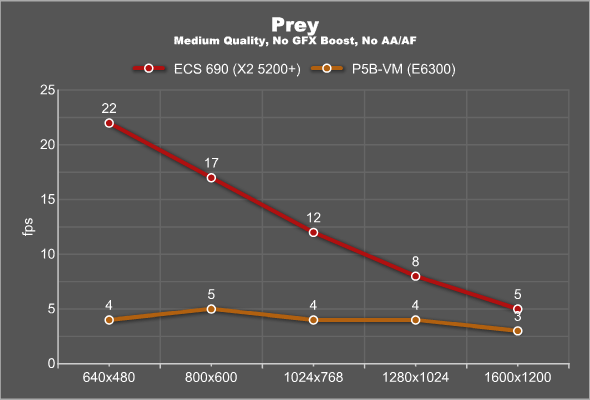 Summary
Overall the X1250 performs a lot better than the Intel GMA X3000, except for some strange reason in the PCMark05 GFX test. The performance is adequate for non-gaming but if you plan on doing more than casual gaming you definitely need a separate video card.
PERFORMANCE – NETWORK
Both motherboards come with a single Gigabit LAN-port. To test the performance of the port, I hooked the review system up to a Gigabit switch (netgear) which then was hooked up to my main computer which has a ASUS Crosshair AM2 motherboard (nForce5) with Dual Gigabit LAN ports.
Passmark Performance 6.1
This program lets me test both the TCP and UDP transfer speed by running as a server on the receiving computer and as a client on the computer that sends the data, in my case the review system. Each test was run for 120 seconds.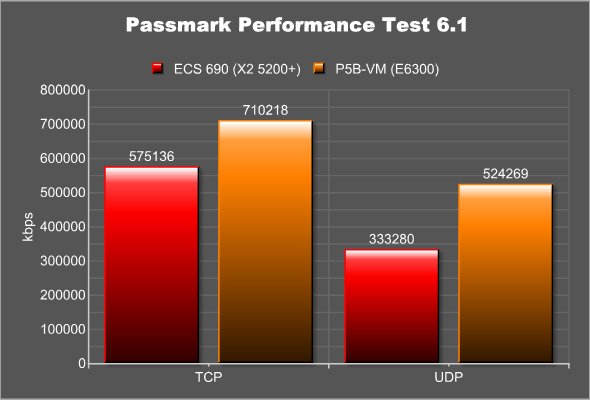 File transfer
To test the Gigabit LAN in a real-life situation, I transfered a 293716 KB big file (3dmark05 1.3) from my main computer to the review system and measured the time it took.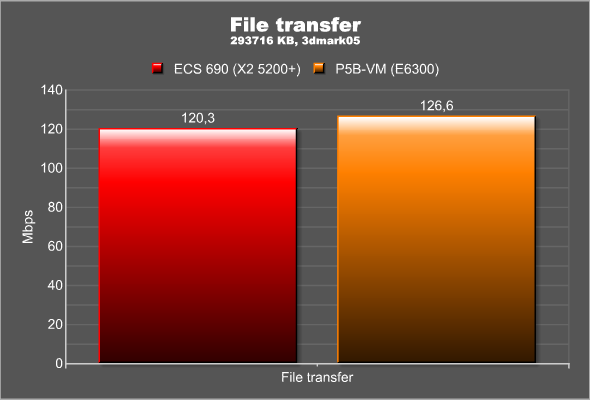 Summary
 In the synthetic test, the ASUS P5B-VM beats the Gigabit LAN in the ECS AMD690 with a quite large margin. Both still shuffle data at a pace that easily is enough for HD-content. When we move over to an actual file the two motherboards perform almost exactly the same.
PERFORMANCE – MEDIA PLAYBACK, POWER CONSUMPTION
Media Playback
With its small form factor and integrated HDCP-support, the ECS AMD690GM-M2 sounds perfect for a HTPC. To see if my theory also holds in real-life I choose to play back a variety of HD-material both in the forms of QuickTime movies (HD-Trailers from Apple), WMVHD (from Microsoft) and HD-DVD movies (on a Xbox360 HD-DVD drive). The resolution of the screen was set to either 1280×720 (when testing 720p playback) or 1920×1080 (when testing 1080p playback).
Due to the fact that it is missing a HDCP capable Digital output I could not test the HD-DVD playback on the ASUS P5B-VM. In fact, even though the Intel GMA X3000 is supposed to support HDMI, I have not found a single motherboard that includes a DVI-port.
Movie/Video clip 

 ECS AMD690GM-M2 Core 1/Core 2
ASUS P5B-VM
Core 1/Core 2

Alexander Trailer, WMVHD, 
~6 Mbit/s 1080p

~60%/~40%
~60%/~40%

Spiderman 3 Trailer, QuickTime h.254, 720p

~50%/~50%
~50%/~50%

Mission Impossible III, HD-DVD, VC-1, ~15-25 Mbit/s, 720p

~70%/~70%
No

Mission Impossible III, HD-DVD, VC-1, ~15-25 Mbit/s, 1080p

~90-95%
Play back works but fast forwarding/rewinding makes everything choppy

No
The limit for the X1250 seems to be with HD-material at 1080p when it is encoded at a high bitrate. I do not have access to a Blueray player but I would expect the same result when playing one of the better Blueray movies that are encoded at 25-35 Mbit/s. HD-content with a lower bitrate seems to play just fine even at 1080p though.
Power consumption
Using the integrated graphics means that you can get away with a very low power consumption, perfect for a HTPC. I measured the Power consumption at the wall both at the Windows desktop (after letting the system rest for 1 hour),when running 3dmark06 and when playing Mission Impossible III (HD-DVD) at 720p.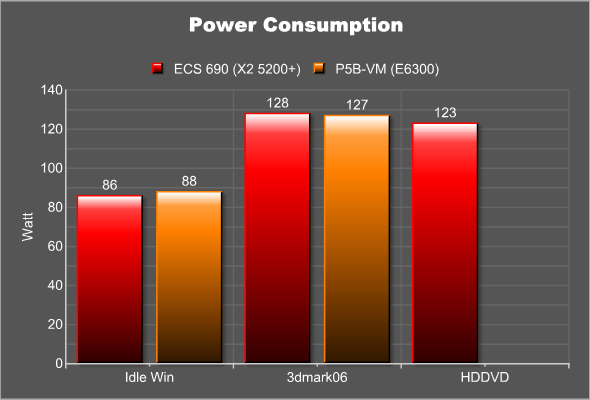 CONCLUSION
I was pleasantly surprised with the ECS AMD690GM-M2 that I could actually use the on-board graphics even when watching an HD-DVD, albeit at 720p. And if I hadn't sent it back, it would definitely already be sitting in a new little silent Media-center computer ready to stream video over the network and display it on our LCD-TV upstairs. If your needs require more graphical power, I can see this motherboard working very nicely together with one of AMD's new fanless low-end DX10-cards. The price of the motherboard also is really good. At around $65 (Newegg) / 600 SEK (Datorbutiken), the motherboard will not break the bank. As long as you are aware of its limitation, the ECS AMD690GM-M2 is a really nice motherboard. It is not aimed at the enthusiast users who want tons of features. Instead the ECS AMD690GM-M2 is a perfect motherboard for casual users, business users and, as I mentioned several times, HTPC's.
Pros
Cheap
Avivo giving excellent video quality
Multi-monitor support
HDPC-support on both DVI and HDMI
Dual-link DVI
Small form factor
Usable Vista drivers out of the box
Decent on-board graphics performance that work well for office work, Media Center and casual gaming 
Cons
Limited features
No Firewire onboard
On-board graphics not suitable for anything but low-res gaming
Needs a good CPU for playback of higher bitrate Blueray and HD-DVD moveis at 1080p
I award the ECS AMD690GM-M2 a score of 8 out of 10 and the Bjorn3D Seal of Approval award.