In a nutshell: If you're looking for quality gaming gear or simply upgrading your input devices I strongly consider you have a look at Revoltec's offer. These items are available in the United States, Europe and Asia you just have to find an online store that carries these.
Introduction
Today I'll be presenting some of the latest gaming gear from Listan. If you're not familiar with this company, don't worry. You must have heard of Revoltec or be quiet! right? These are the subsidiary brands of Listan. The first one offers PC accessories, various cases and gaming gear. If you read our reviews on regular basis you probably know about the be quiet! power supplies. We've reviewed a few already, but if you haven't seen any of them go right ahead and check them out: be quiet! Dark Power PRO 850W, be quiet! Straight Power 450W & 600W and be quiet! Dark Power Pro 430W.
We have a slew of cool gaming products for your reading pleasure today. They were all introduced at this years CeBIT, annual trade show for information and telecommunications technology. The gear includes:
Revoltec FightMouse
Revoltec Lightboard XL2
Revoltec Gamepad Precision Advanced
Revoltec Gamepad Precision PRO
You can gather more information on Revoltec's gaming website: FightPatrol. The site is devoted to the latest gaming gear announced by Listan. It gives you a good look at each FightProduct including latest drivers and news.
Are you ready for the Revoltec FightPatrol?

»Gamers, a t t e n t i o n! This is Sergeant Revoltec speaking!

Starting now, you're only gonna play with the battle gear I give you! Do I make myself clear?

I can't afford to have any losers in my brigade! If you can get that through your skull, then answer with »Sir, yes, Sir!« and say it so loud that I can actually h e a r you.

I might even be able to make winners out of you yet! Playing around is a thing of the p a s t. Now it's time to f i g h t! Your virtual opponents will come to fear you.

And starting now, you're gonna use the most efficient gaming hardware around: my FightProducts. Your game is going to be quicker and more exact than ever before by using the Revoltec FightMouse. If you use the Revoltec FightBoard, you'll definitely end up as a winner. And don't think for a second that I don't control you: my FightPatrol and I will find you!

So if you've got any guts, then inform your sergeant what you need for your game! What do you expect from good gaming hardware? Have courage soldier! I'm waiting for your constructive criticism: [email protected] As compensation, you'll get a friggin' Revoltec key holder

Yours,

Sergeant Revoltec
[email protected]
Are you ready for some Fight action? First up, Revoltec FightMouse ->
Revoltec FightMouse
It comes by no surprise that gamers have been seeking for a perfect fragging device. Mice are probably the most important devices when it comes to online gaming and tournaments.
This is why FightMouse has been designed for gamers. With that in mind Listan went a bit further and made this product stand out of the crowd. The specs are top notch and will definitely catch anyone's attention. You really can't go wrong with hardware resolution of 2000 dpi and if that does not suite you, FightMouse will allow for additional software acceleration up to 2400 dpi.
Below you'll find major features of this incredibly fast and stylish mouse.
Features & tech specs

Resolution
2000 dpi (hardware)
2400 dpi (software)
Image processing
6.4 Megapixels/sec
dpi modes
Level 1 (400-800 dpi)
Level 2 (800-1600 dpi)
Level 3 (1600-2400 dpi)
Level 4 (2000-2400 dpi)
Max. acceleration
20G
Mouse weight
100g
Exchangeable accessory weights
10g / 15g / 20g
Connection
USB
Cable length
2 metres
Sliders
Teflon
Bottom illumination
Blue
Lighting dpi switch
Off (Level 1)
Red (Level 2)
Purple (Level 3)
Blue (Level 4)
Programmable buttons
3 buttons (scroll wheel and side buttons)
Laser sensor
Agilent ADNS-601
Closer Look
Because speed isn't everything, let's concentrate a little on ergonomics and the overall feel to the mouse. Before we get to it however, we shall unpack it first. Inside the carton you will find plenty of goodies.
Mouse
Drivers (I suggest getting the latest drivers from Listan's website)
Weights: 10g, 15g and 20g (can't be used together)
Pouch
There are a few bugs with the included drivers so as I suggested above, get the latest ones. If you don't then your mouse will suffer from scrolling and button issues.
The mouse presents itself really well. It's large yet very light. The important thing is, Listan wanted to make sure your whole paw could easily come in contact with the mouse reducing any sort of fatigue and potential strain. Please be aware however that this mouse is designed for right-handed people. As a result, the position of the side buttons kind of bothers me — not that I'm left handed, but I'm not used to that scheme and some people might find it hard to use. The sides of the mouse are made out of rough material to make sure your hand gets a perfect grip and doesn't accidentally slip off.
Click a picture to see a larger view
---
---
The top of the mouse sports fiber-like plastic though it looks good and goes with the whole design. The middle of the mouse is where you put your accessory weights. It improves your movements depending on what type of games you're playing. The bad thing is, those cannot be used together. In other words, you can either use 10, 15 or 20g weight. The second image in second row shows additional button. It's a dpi selection switch which can be used anytime you like. You click it once, roll your wheel up or down and select the desired dpi. By default it is set to red color (level 2), click it second time and your scroll wheel works just as usual. Pretty neat isn't it? The cord is 2 meters long so should be enough even for hardcore enthusiast with eagle like eyes. The bottom of the mouse illuminates in blue color. The good thing is, the illumination doesn't bother at all. It's nice and delicate. FightMouse feet are made out of teflon though only three sides are covered with it which is rather weird to say the least. The mouse slides smoothly on most surfaces though the best effect can be achieved on a quality mouse pad.

Software and Conclusion
As I've mentioned earlier the included software is a little buggy and Listan suggests an update to version 1.1 from their website. The application integrates itself into mouse settings available via Windows Control Panel. It's very easy to use and intuitive on the other hand. Additionally you can bring your mouse properties via system tray icon which sits there after software installation.
Here you can configure your three buttons (wheel, and 2 side buttons), set number of lines to scroll and tick two more settings. The last one you might want to leave on otherwise your wheel won't work in Windows applications.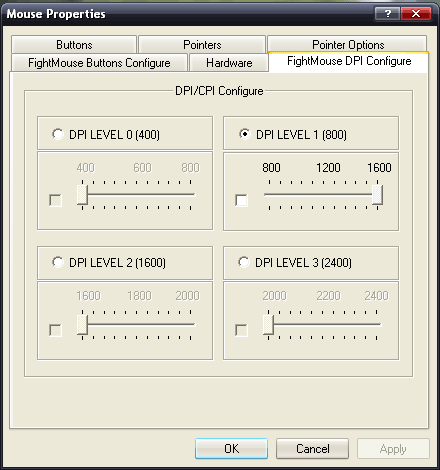 Next up we move on to dpi settings. There are 4 dpi levels you can configure:
Level 1 (400-800 dpi)
Level 2 (800-1600 dpi)
Level 3 (1600-2400 dpi)
Level 4 (2000-2400 dpi)
The dpi switch button on the mouse will then allow you change between various levels. This is really a great feature if you need to swiftly adjust mouse precision.
Testing the mouse with Counter-Strike: Source revealed a lot about this product. Put it simply, it's a very precise device. Fragging wasn't a problem, but you have to get used to it if your current mouse supports let's say 800 dpi. The ability to change dpi modes on the fly makes this mouse stand out from the rest that don't have that feature. Ergonomics are great though the mouse just feels too big and only right-handed users will be able to play with it. As for design, I can't say anything bad; FightMouse looks great and doesn't scare people off with its characteristics.
Revoltec FightMouse is available in both Europe and United States and can be had for as low as $31.99
Pros:
+ High resolution
+ Ergonomic
+ dpi switch button
+ Intuitive software
+ Mouse pouch
+ Additional weights
+ Vista ready drivers
+ Cheap
Cons:
– Might be too big for small hands
– Position of side buttons
– No more than 1 weight can be inserted
– Loud side buttons
Revoltec Lightboard XL 2
There are so many keyboard on the market, it's really hard to chose anything at all. Different designs, features, prices. Some have useful buttons, some have just too many. Some look ugly, some carry beautiful design but come with crippled functionality. These are problems everyone had wrestled with in the past and most likely will in the near future when it comes to buying a keyboard. I myself look for simplicity and ergonomics, nothing fancy that would throw me away.
Revoltec Lightboard XL 2 is a keyboard made for those who love fancy gadgets, bright neon lights and weird designs. There are however things that even pragmatics will appreciate. Let's take a look shall we?
Features & tech specs

Color:
Silver
Dimensions:
465mm x 200mm x 28mm
Weight:
1kg
Key layout:
104 keys + 6 hot-keys
Connectivity:
USB / PS2 adapter
Listan had sent us a silver colored Lightboard XL 2, however there are black ones depending on your liking. White / almost transparent keys immediately identify this keyboard with backlight. The packaging is simple. In addition the keyboard is covered with plastic and is visible to potential buyers.
Click a picture to see a larger view
---
---
Lightboard comes with standard key set and additional ones on top of that. They include volume control, playback and on / off backlight button. The board itself is very slim which is plus as you can take it in your back pack and not worry about it being heavy or anything. The cord is long enough and comes with USB to PS2 connector. Inside the package you'll find instruction manual and CD with drivers. The layout is standard and key strokes are almost silent though it may feel it's hard to type for the first time. Once you hit a key, it pops back almost instantaneously so the response is pretty good. Listan also allows the user to turn off the backlight when not needed — it's a nice touch as you probably won't need it 24/7.
Conclusion
Overall Listan made a nice and slim keyboard with backlight. The color scheme (silver / white) is definitely working here, though I'd rather not have those decals on the top, but a small word "Revoltec". I understand it portrays their logo, but I'm not fond with it at all. The backlight works on every key and is evenly distributed. One thing you have to get used to is key stroking as it requires a little power. Extra multimedia keys add up to the whole package in a positive and non-intrusive way.
If you're looking for a backlight keyboard, this product should definitely be on your potential buy list. It's worth the €25.
Pros:
+ Good backlight
+ Nice color scheme
+ Slim
+ Awesome key response
+ Stylish
Cons:
– Revoltec decals not fitting in the overall design
– Cheap plastic
Revoltec Gamepad Precision Advanced
Most mice (optical / laser) nowadays work fine on home desks and hard surfaces. It was just the opposite with old school ball mice where everyone used some sort of a mat with material surface. As everything PC related, mice keep evolving and the technology inside them as well.
Usually it's online gamers who look for precision and ergonomics. To be frank with you, gaming communities were the ones who started this gaming accessory chaos. Accessory manufacturers on the other hand saw an opportunity and without any hesitation went into the market with their own products and solutions.
After reviewing the FightMouse and Lightboard XL 2 it's time to check out Revoltec mouse pads right? Revoltec Gamepad Precision Advanced will be covered on this page and the PRO model will be up next.
Features & tech specs

Structured, smooth-running surface
Highly precise movements and low friction resistance
Including glide tapes for optimal slip characteristics
Specially rubberized and slip-resistant underside
Material:
Plastic
Dimensions:
319mm x 265mm x 1,5 mm
Compatibility:
Compatible with all standard mouse types, including laser tech
The mouse pad has been packed in a thin paper box and sleeved in a plastic foil wrap. It's 1.5mm thick and sports Revoltec logo in the bottom right corner.
Click a picture to see a larger view
---
---
Gamepad Precision Advanced is made out of plastic as it's a standard material for today's mouse pads — nothing out of ordinary. It's large and does its job well, however my previous experience with such pads leads me to a conclusion that the surface wears out too fast. The same goes for the bottom of the mouse pad. The third picture shows rubber bubbles which prevent the pad from sliding back and forth. It's a thought out solution, but again with intensive usage it will wear out and won't grip so well with your desk.
I don't expect mouse pads to last forever that's why above arguments shouldn't be taken so seriously by the reader. It's true that the surface wears out, but that happens to 99% of pads on today's market. Revoltec Gamepad Precision Advanced is good addition to the FightMouse. It's large, thin and the mouse works very well on it — I guess that's all you care about right?
Pros:
+ Large
+ Good mouse surface
+ Grips well
+ Thin
Cons:
– Material that wears out fast
Revoltec Gamepad Precision PRO
Previous Revoltec mouse pad was designed for those seeking inexpensive way to improve mouse precision. It was a perfect solution for casual and maybe more mature gamers. Gamepad Precision PRO has been mainly designed with hardcore gamers in mind. The pad sports two different surfaces, each with unique design. Below you will find more information on this mouse pad.
Features & tech specs

Two unique surfaces
Highly precise movements and low friction resistance
Special slip-resistant rubber frame and rest for the heel of the hand
Delivered with a high-quality and robust LAN carrying bag, including glide tapes
Material:
Plastic
Dimensions:
275mm x 225mm x 3.5mm
Compatibility:
Compatible with all standard mouse types, including laser tech
Let's have a look at the Gamepad Precision PRO. The pad arrived in the same box as the Advanced model — just a bit thicker. What you immediately notice is the included pouch / carrying bag. It's a nice freebie if you often attend LAN parties and want your mouse pad to be in great shape.
Click a picture to see a larger view
---
---
Revoltec Gamepad Precision PRO consists of two different parts. First it's the slip-resistant rubber frame featuring a wrist rest. This is basically a rubber surface on which the mouse pad is laid out. Because it's made out of rubber it won't slip a bit. The wrist rest doesn't appeal to me however. It's very narrow and thin which in my opinion disqualifies it from being there at all. It is very soft indeed, but again I'd really like it to see it wider. The frame as well as the mouse pad are rather small comparing it to Gamepad Precision Advanced. I would have thought the size would be much bigger. I'm guessing Listan thought that their mice are precise enough and big pad isn't necessary.
The pad itself is similar to the Advanced model though it sports two different sides: high sense and low sense. To be honest with you, I haven't noticed much difference between sides but it could be seen when mouse resolution is set over 2000 dpi. Playing both RTS and FPS titles revealed no advantages between two sides. Movements and precision were similar. The other side (which ever you prefer) could serve as a backup surface in case your main side wears off. Just make sure you use the included glide tape for your mouse — it makes a difference.
The PRO model is a bit more expensive than the Gamepad Precision Advanced however you get some extra stuff along with it: dual sides, anti-slippery frame with rest heel and a gliding tape. It's smaller in size though it's perfect for LAN gamers where space seems scarce.
Pros:
+ Dual sides: low & high sense
+ Anti-slippery frame which grips well
+ Carrying pouch
+ Glide tape included
Cons:
– Material that wears out fast
– A bit small
– Felt no difference between low & high sense
Conclusions
There are quite a few aspects when it comes to gaming effectiveness. First one and most important is gamers' skills. Without it, even having the best gaming equipment on the planet won't cut it. Next up are all sorts of devices and accessories. Buying a fast and ergonomic mouse, a pad and a keyboard, gamer will become more proficient with its skills.
Revoltec brings you all you need to spice up your gaming experience and become a master. The items I've reviewed today are flagship Listan products when it comes to gaming gear. There is more to it than just mice, pads and regular looking keyboards. Check Revoltec.net for more good stuff.
Let me quickly summarize these products. FightMouse is an adorable mouse, ergonomic, very fast and stylish. It's only available for right handed folks however so that's definitely a minus. I'm also questioning the size of the mouse. It is simply too big — not everyone has paws like mine. When it comes to the input device, Revoltec Lightboard XL 2 is a fun looking keyboard with great response times and great backlight though the overall design does not appeal to me at all. As for the pads, Gamepad Precision Advanced is a cheap solution if you don't want to use your computer desk. It's large and will serve you some time. The PRO model on the other hand should be considered by the hardcore gamers. With its variety of features including dual sides, anti-slippery frame and wrist rest it's a perfect solution for LAN battles. It's smaller than the other pad, but you can carry it almost anywhere with the included pouch.
In a nutshell, if you're looking for quality gaming gear or simply upgrading your input devices I strongly consider you have a look at Revoltec's offer. These items are available in the United States, Europe and Asia you just have to find an online store that carries these.
Cumulative score: 8 out of 10 (Very Good) and Bjorn3D Seal of Approval