As we get more and more computers in our homes, the need for a simple solution for sharing files amongst them increases. The Vantec NexStar LX is a NAS-solution that offers the basic features for a low price.
INTRODUCTION
As we get more and more computers in the homes, there is a need to be able to share data between them all. While you can solved it by simply sharing folders on each computer it quickly becomes complicated as each computer needs to be on all the time.
A simpler solution is to get a get a NAS – Network Attached Storage – that can be accessed independently of any computer. Today I am reviewing a NAS-solution from Vantec, the NexStar LX NAS Hard Drive enclosure.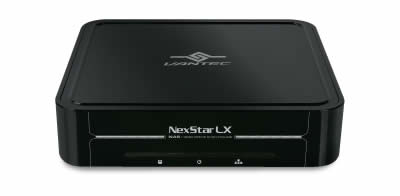 ABOUT VANTEC
Vantec has a wide range of products. We at Bjorn3d.com have reviewed several of their products before including the Vantec NexStar 3 NST-260SU-BK eSATA Enclosure and the Vantec Piano 101 Notebook Cooler.
Founded in 1994, Vantec is recognized as one of the premier thermal solutions leaders. We are devoted to manufacturing and developing total PC solutions for every computer user, from mainstream to enthusiast. Utilizing our technical expertise and innovative designs, we are constantly expanding our product line to offer advanced computer peripheral to meet the personal and industrial needs of modern computer users. Our primary goal is to create viable solutions to satisfy the consumer's needs. Offering complete and affordable ways to upgrade and maintain your personal computer, Vantec is a name you can trust for quality and reliability.

At Vantec, our mission is to produce the best thermal solutions on the market. Vantec produces quality products that help you keep your system cool. However, that is only the beginning. We produce two of the quietest power supplies on the market in our Stealth Power Supply and ION Power Supply. Our Multi-function Panel (NXP-101) and fan controllers (NXP-201 and NXP-205) give you a variety of options to monitor and control the temperature and noise of your computer. We also provide cold cathode lights in a myriad of colors, including UV, for you to light up your computer. And with our new Fan and Light controller (NXP-301 and NXP-305), you can control your fan speed and lights all with one convenient unit.

Adhering to the theory of both form and functionality, Vantec has the end-user's best interest in mind. Though the computer scene is constantly changing, you can rely on Vantec to provide quality components to improve, enhance, and insure your computing experience.
WHAT IS A NAS?
As the name implies, Network-attached Storage is all about a device that sits on the network sharing data without the need for an additional computer. A NAS usually runs a stripped down operating system that provides functionality like different network protocols and a way to set up different access methods to the storage. Some consumer NAS even include a web server, an email server, a torrent client and media functionality. Others just share data.
SPECIFICATION & FEATURES
The specifications of the NextStar LX are.
Feature/Specification

 Videocard1

Model

NST 375LX-BK(BLACK)
NST 375LX-WH(WHITE)

Application

3.5¨ IDE (Parallel ATA) Hard Drive,
ATA-6 Compatible

Interface

IDE to USB 2.0 or RJ-45 Ethernet

Power Supply

Universal auto-switching external power adapter
Input: AC 100-240V, 1.2A, 50-60Hz
Output: DC +5/1.5A, +12V/1.5A

Enclosure Dimensions

16.51 x 16.51 x 5.08cm
 
The features of the NextStar LX are:

Smart Cooling
Built in temperature-controlled cooling system

USB2.0 / Ethernet
Equipped with USB2.0 to directly connect to your PC when no network is available. 10/100 Ethernet connection to connect to your network.

Passive Heatsink
Large contact area heatsink radiates excess heat to the outside of the enclosure.

FTP & SMB Server
Remote access for storage. Web based management: simple configuration for data management.

Micro security lock
Equipped with kensington lock to able you to hardware secure you NAS system.
The NexStar LX NAS Hard Drive enclosure does not have any of the more advanced features like a Torrent client or media streaming software. It does however include an ftp server, an SMB server and web based management making it perfect as a file server.
THE HARDWARE
The NexStar LX comes well packed inside a yellow box.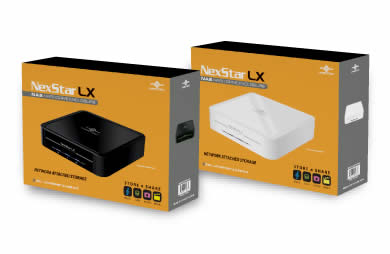 Inside the box we find the following content:
User Manual
NexStar LX External 3.5" HDD NAS Enclosure
Power Adapter (Input: 100-240VAC; Output: 5V/1.5A, 12V/1.5A)
Power Cable
USB Cable
Ethernet Patch Cable
Screws
Driver CD (USB driver required for Windows 98/SE Only)
The NexStar LX is available in black or white.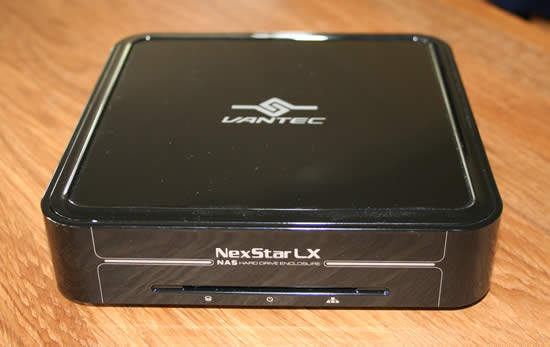 The enclosure actually is made of plastic but it still looks very good. This is an NAS that you will not need to hide.
As this is an enclosure it means you have to add a hard drive to it. This version only accepts EIDE-drives but Vantec are working on a version for SATA-drives to.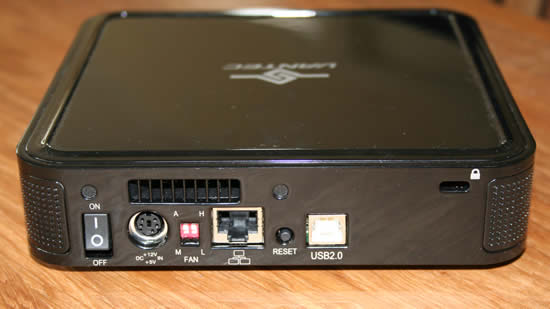 In the back of the NexStar LX you find a connector for power, an RJ-45 ethernet port, an USB-port, the pins to adjust the inbuilt fan and the hole for a Kingston lock which makes it possible to secure the NexStar LX so it cannot be stolen.
INSTALLATION
Installing the drive is pretty straight-forward. You pop up the lid, hook up the drive, make sure the temperature sensor is placed correctly and then just put back the lid. It only took me 5 minutes to hook up my old 320 GB Seagate EIDE drive and 1 minutes of those was spent on figuring out how to get the lid up without scratching it. It should be noted that only partitions formatted with FAT32 will be recognized when accessing the unit over LAN. This means a file size limit of 4 GB.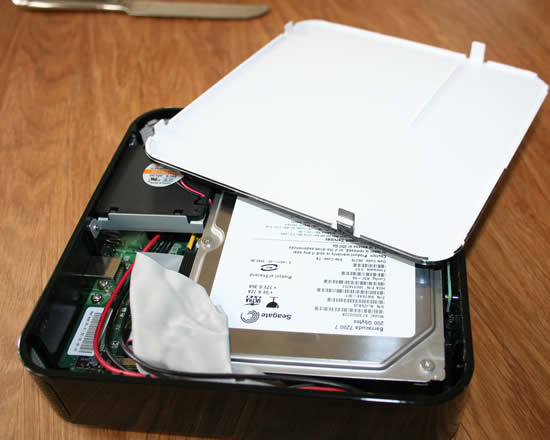 It is obvious the lid is made out of plastic when you open it. 
They have not bothered paiting the inside.
Inside the NAS you also find a fan that help keep the NAS cool during usage. This fan comes from Y.S Tech.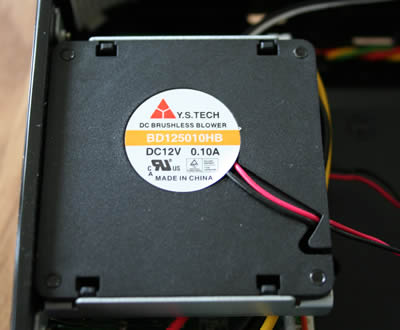 I looked it up on the net and found the following specifications:
| | |
| --- | --- |
| Feature/Specification |  BD125010HB |
| Speed  | 6500RPM |
| Max Airflow  | 3.3 CFM Max Airflow |
| Noise Level  | 32 dBA |
The fan is thermally controlled although you can choose to set it to high or low speed. To help take away the heat, there is also a heatsink in the bottom of the unit that takes away heat. The fan never bothered me during the month I used the unit.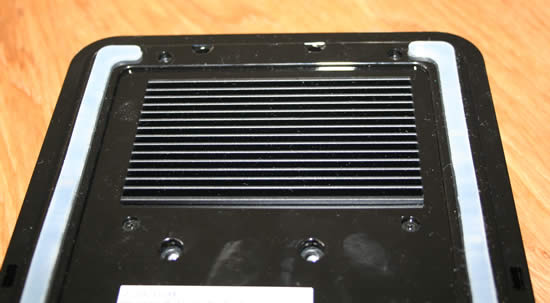 The heatsink in the bottom of the unit.
While this enclosure also can be accessed through USB like a regular external hard drive, it of course is more interesting to hook it up to the network to see how well it works there. The NexStar LX is managed over the network through a web page. You can access it the first time either through its name, STORAGE, or through a special IP-address (only if it is hooked up to the computer directly). This opens up a web interface which allows you to set up a variety of settings in the NAS.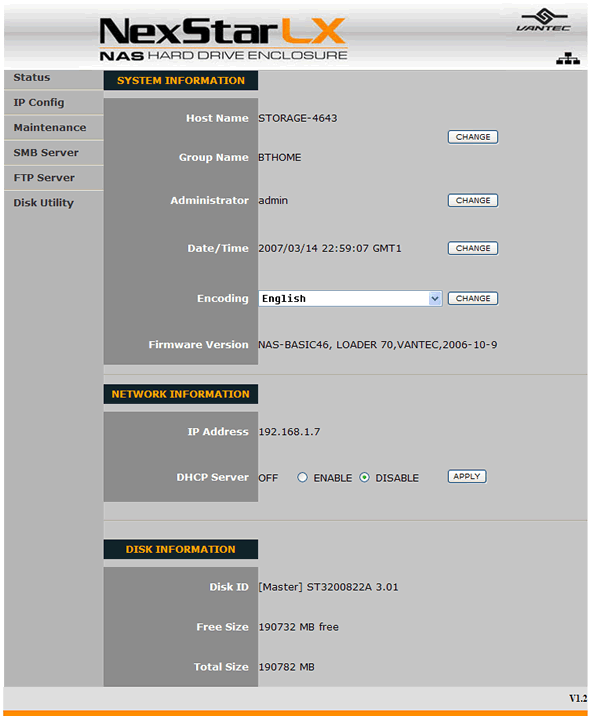 This page allows you to change the name of the unit, choose a workgroup, select the encoding and turn the built in DHCP server on or off.
Here you can set up the IP-configuration for the unit.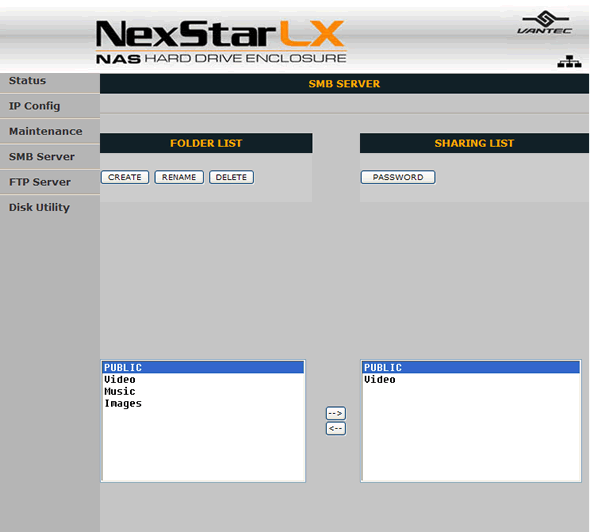 The folders shared with the SMB-server are set up here.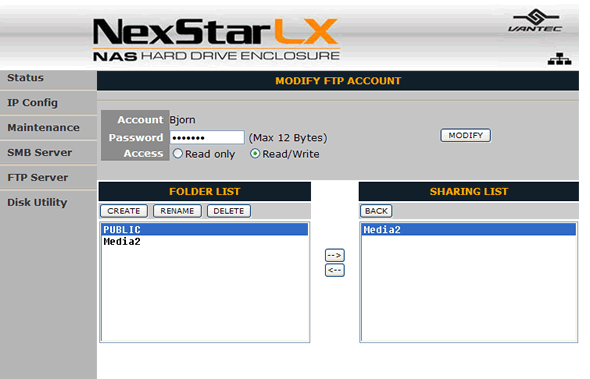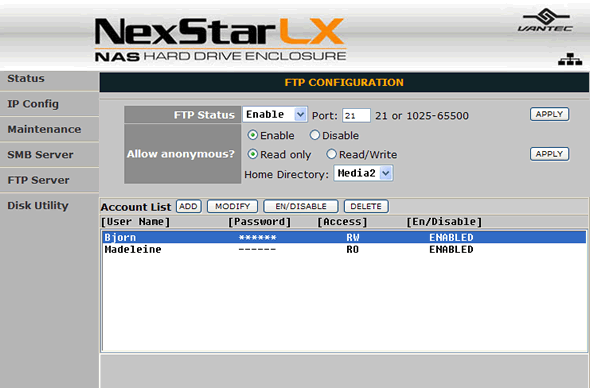 Accounts for the ftp-server are set up here and then given permissions. Unfortunately there is no group-management so all the permissions needs to be given on a per-account basis.
PERFORMANCE – TEST SETUP
The performance of the NexStar LX was measured in three ways:
File copy. A large file was copied over to the devices and the time it took noted down. The file used was 3Dmark06 v1.02 (559 731 KB). 
Passmark PerfTest 6.1. The Disk benchmark in PerformanceTest 6.1 was run on the different devices.
iozone 3.263 (www.iozone.org). The program iozone was used to test the transfer speeds of the devices. 
The NexStar LX was compared to the 320 GB Lacie Ethernet Disk Mini (10/100 MBit/s version). Both disks were connected to a Netgear Gigabit switch. The computer from which all the files were transferred had the following specs:
Computer
CPU 
AMD FX-62 AM2

Motherboards

ASUS Crosshair nForce5

Memory

2 GB DDR-800

HDD

4×320 GB SATA

Video card

ATI X1800 Reference

Software

Windows XP Pro with SP2
PERFORMANCE – FILE TRANSFER 
The file used in the transfer test was 3Dmark06 v.102. The file size was 590 731 KB.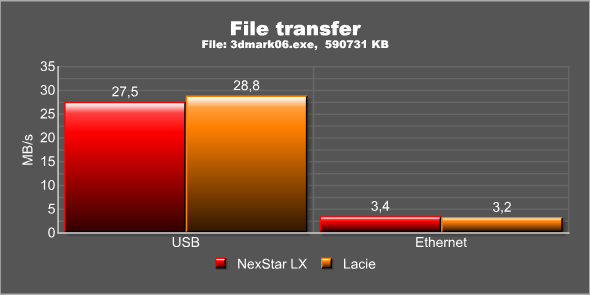 As expected there is a big differences between accessing the drive over USB compared to ethernet. Both drives perform pretty similar, both in USB mode and ethernet mode.
PERFORMANCE – PASSMARK PERFORMANCE TEST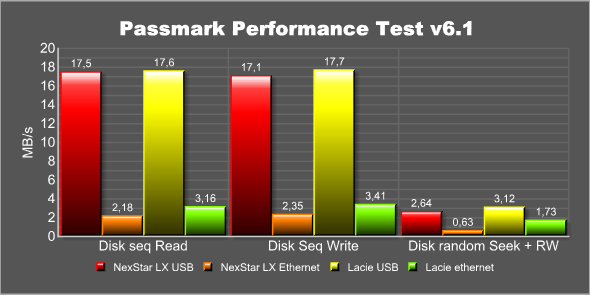 The NexStar LX falls behind the Lacie Ethernet Disk Mini in these tests.
PERFORMANCE – IOZONE
The following command was used when testing the drives with iozone:
iozone -Rab -i 0 -i 1 -+u -f -q 64k -n 32M -g 1G –z 
This command tests the record size of 64kbytes and transferred file sizes of 32, 64, 128, 512 and 1024 Mbytes. The Iozone's Write test tests the performance of writing a new file. The Rewrite tests measures the performance of writing a file that already existed. The Rewrite performance is expected to be better than Write due to the less demanding task of rewriting the file with the metadata already existed in the file. The Read tests measures the performance of reading an existing file while the Reread test measures the performance of reading a file that was recently read. We often see performance of Reread to be better than Read as the file may be cached.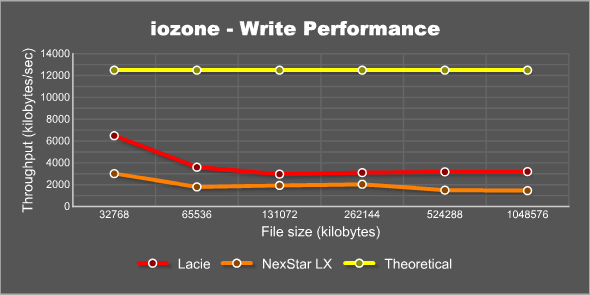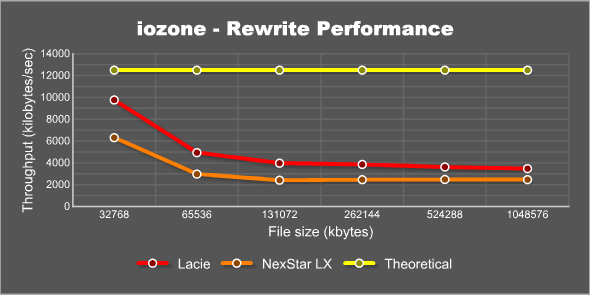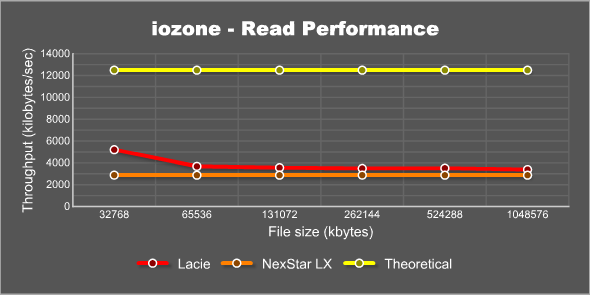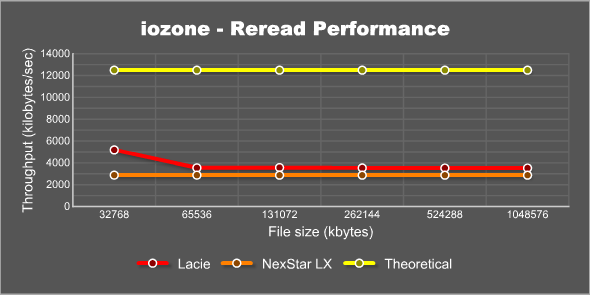 Iozone verifies what we have seen with Passmark. The NexStar LX performs a bit worse than the Lacie Ethernet Disk Mini. While they have different drives inside of them, the performance of both is far below what the drives are capable of (as shown by the performance of the NexStar LX when using USB in earlier tests) so that should not account for the difference.
PERFORMANCE – SUMMARY
Overall the NexStar LX performs a bit worse than the Lacie Ethernet Disk Mini with the same interface (10/100 MBit/s). That does not mean it feels slow to use. I have used it for various tasks like backup and video streaming and the slower performance is not really apparent.
CONCLUSION
The Vantec NexStar LX is a good product that offers interesting features for a low price. At just around $60/€79 it is far cheaper than other more advanced NAS-solutions and yet still offers the most important features like FTP and SMB server support. It is easy to use and even looks pretty good.
Pros
+ Cheap
+ Looks good
+ SMB and FTP server with easy administration interface
+ Silent fan
+ Decent performance, at least for the price
Cons
– No group management
– FAT32 limits file size to 4 GB
– Performance far below the theoretical maximum of 100 MBit/s Ethernet
Summary: The Vantec NexStar LX is a nice affordable NAS-solution with basic features for the home network.
The Vantec NexStar LX gets a rating of 7.5 out of 10 and a Bjorn3D Seal of Approval.