There hasn't ever been a better time than now to be in the market to buy a kit of high performance DDR2 RAM. Unless having been hiding under the proverbial rock it has been hard to miss that prices of high-end DDR2 RAM has not just fallen, they've simply collapsed. Kits priced at over $300 (Such as the RAM in this review!) can now be had for just a third of the price, and some very good but not quite as fast kits can be had for even less than that. Is Crucial's 1067Mhz Ballistix a good choice for your next RAM?
INTRODUCTION
There's never been a better time then now to be in the market to buy a kit of high performance DDR2 RAM. Unless you have been hiding under the proverbial rock it has been hard to miss that prices of high-end DDR2 RAM have not just fallen, they've simply collapsed. Kits priced at over $300 (such as the RAM in this review) can now be had for just a third of the price, and some very good but not quite as fast kits can be had for even less than that.
For those curious to know the current price situation is from a strong oversupply of memory chips coordinated with somewhat lower than anticipated demand, which has created the current abundance of mail-in-rebates and price slashing that can be found in general. Word is that some memory manufacturers are now cutting production rather than risk taking losses. Prices are currently as low as they can go and should actually climb a little once the supply situation stabilizes, so don't wait to long if looking for that new kit of RAM!
So with that in mind today we will take a look at the Crucial Ballistix DDR2 1067MHz (PC2-8500) 2 x 1GB memory kit. During this review the price on this kit indeed did drop by roughly 66%, making it a veritable steal at just $119 after MIR at some online merchants.

Crucial: The Company 
Crucial Technology is of course the brand name extension of Micron Technology, the company that not only designs and builds the actual memory chips and the PCBs they go on but also whose latest call to fame has been the Micron D9 series of chips. After being a long time company that served the value and mission critical memory markets with their ultra dependable RAM, Crucial was one of the first to introduce high-performance RAM to the DDR2 market under their Ballistix name.
Recently they have quietly slipped back out of the limelight as Corsair and OCZ surged ahead with their neverending duel to out-clock each other, with 1300MHz and still higher clocked DDR2 modules now becoming a reality. Micron is currently working on developing the first native DDR2 1067MHz speed grade memory, as currently any RAM rated above 800MHz is in actuality just overclocked 800MHz RAM!
The Crucial story starts with Micron Technology, Inc., one of the largest dynamic random access memory (DRAM) manufacturers in the world and the only one based in the U.S. Headquartered in Boise, Idaho, Micron manufactures DRAM chips and assembles them into high-quality memory modules for sale to original equipment manufacturers ("OEMs") worldwide.

For nearly three decades, Micron has learned that when you make some of the very best memory in the world, lots of companies want it, from computer makers to wireless device manufacturers to printer producers. (And we're really glad that they do!)

But then Micron asked, well, what about the end user? What about the everyday folks who want to upgrade their existing systems with OEM-quality memory — the home desktop user, the IT network guy, the student notebook user? Why don't we offer our memory to the public, at factory-direct pricing?

So in 1996, Micron responded to a growing demand for high-quality memory upgrades among end users who wanted the best possible performance from their systems. Micron launched Crucial Technology in September of that year, and for the first time, end users had the opportunity to buy directly from the manufacturer the same memory modules bought by the world's major OEMs for original installation in their systems.

Having a direct sales division focused on selling Micron's DRAM to the public was apparently an idea whose time had come, and 10 successful years later, we have expanded our product line to include graphics cards, flash cards and readers, and USB flash drives.
SPECFICATIONS
Speed: DDR2-1066 (PC2 8500)
Model: BL2KIT12864AA1065
Module Size: 2 x 1GB (128Meg x 64)
Timings: 5-5-5-15 
Voltage: 2.2v
EPP Support: Yes
PCB: Black Levin PCB
Chips: Micron D9's
Package: 2x Ballistix 240-pin DIMMs
Misc: UNBUFFERED, NON-ECC
Warranty: Lifetime
A CLOSER LOOK
Crucial Technology apparently won't be caught dead using the typical plastic blister packaging on their RAM, electing instead to ensure it is properly packaged in an anti-ESD bag and protected within a specially designed small box. And no, broken seals complete with translucent packaging tape is not part of their standard shipping policy, that is simply because I was not the original recipient of this RAM. 😉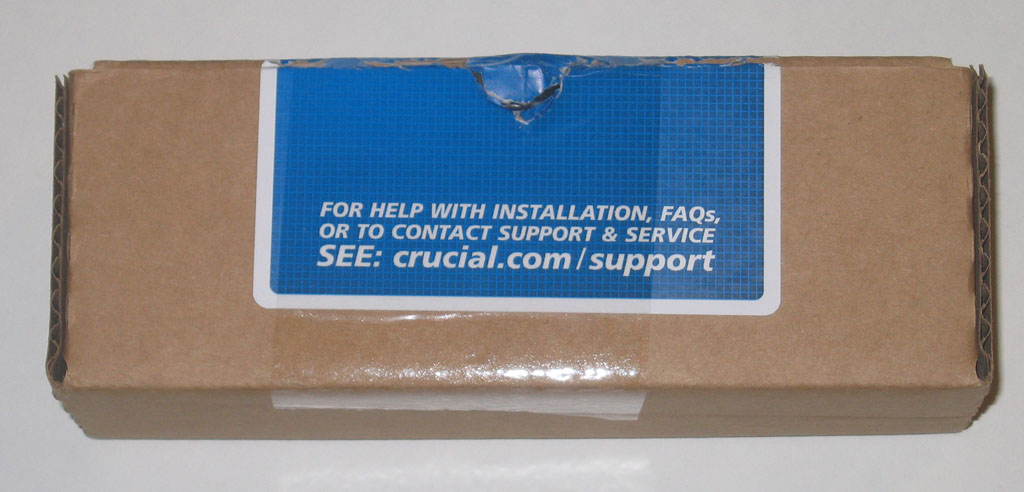 Not even UPS can easily damage these, and thanks to the sealed waterproof anti-ESD (electrostatic discharge) bag, if DHL decided to leave your package on the back patio just before a thunderstorm only the instructions would be a lost cause.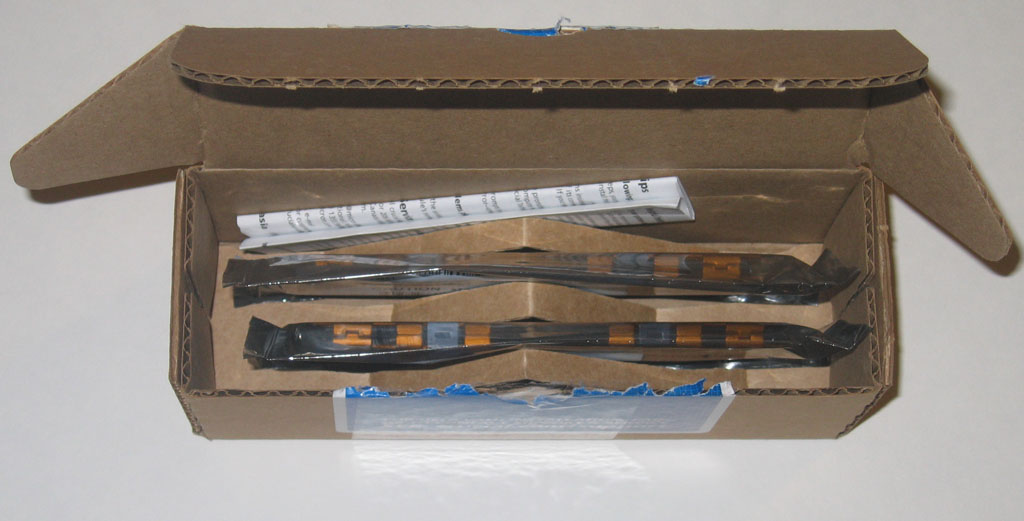 Crucial takes their Lifetime Warranty Seriously
Ironically this is the one photo that the engraving on the aluminum border to the heat spreaders is most noticeable. The textured feel is a nice touch, and tends to look much better in person rather than in the photos. Of interest is that Crucial has even labeled the bag and modules with the specific batch number, in this case "CL1117K.11".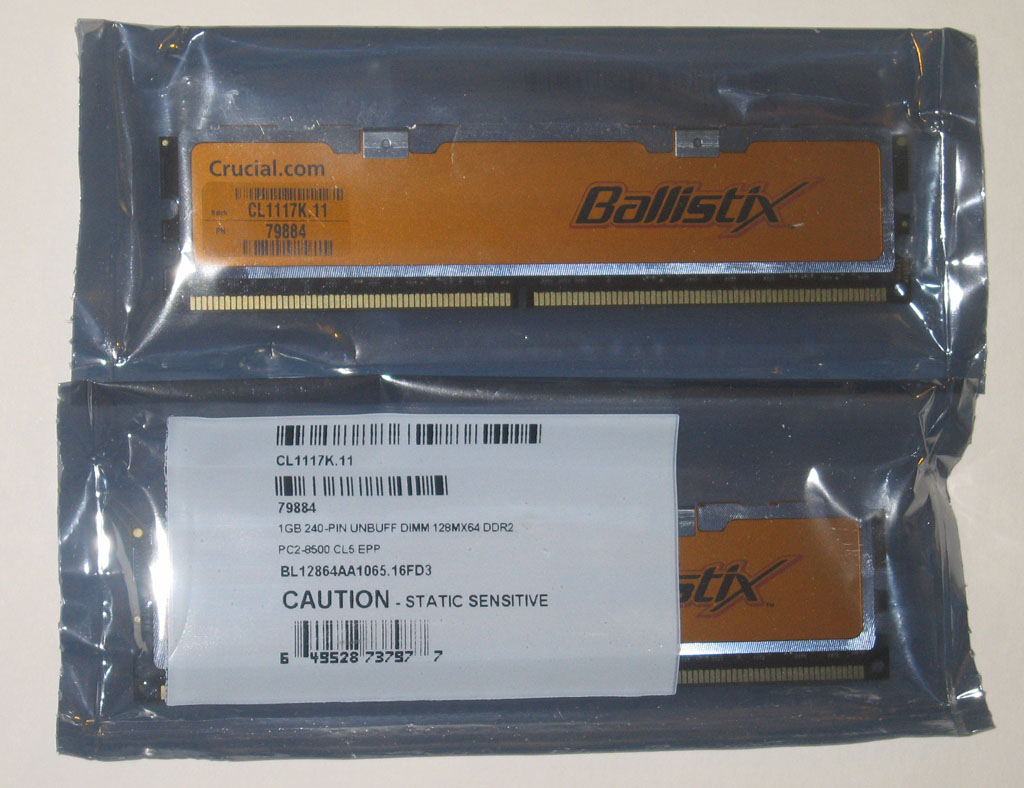 These great looking modules use Micron's black Levin PCB, and the yellow/orange heat spreader will subtly change depending on how the light reflects off of it.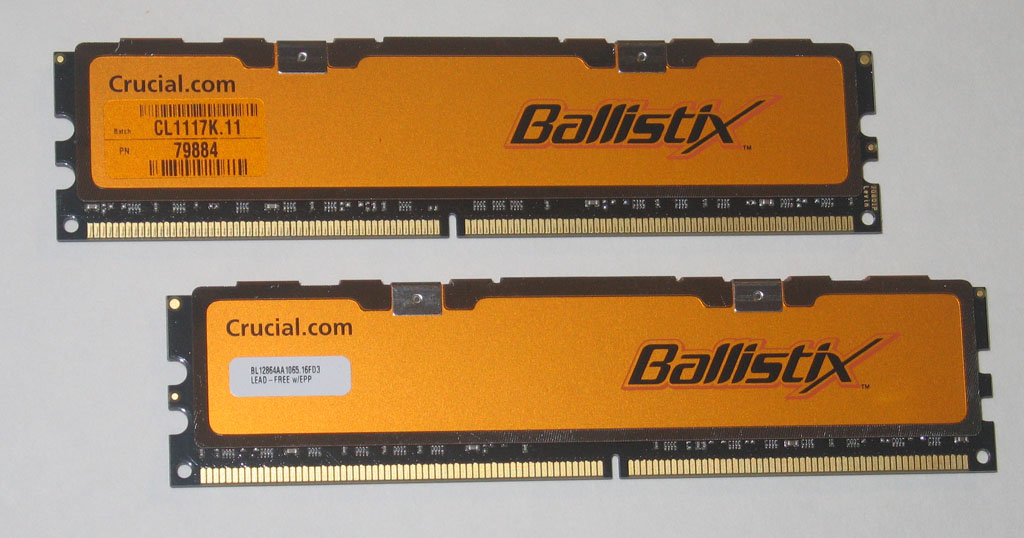 Crucial Ballistix Memory Modules, Front & Back
There has always been contention about the effectiveness of heat spreaders on RAM, and personally I tend to agree that they do not always work sometimes insulating more than diffusing the heat. While there is evidence to show that most typical heat spreaders only insulate the RAM, I believe Crucial has devised a heat spreader design that actually works as they were intended!
Instead of a heat spreader that is molded to fully wrap around the modules there are decent sized air gaps along all four sides allowing for ample airflow. If looking directly down onto the module as below, you can see the atypically large air gap that further helps the heat spreaders effectively transfer the heat into the surrounding air.
While not exactly a quantative analysis, these modules seemed to run much cooler to the touch at 2.2v when comparing to the 2.1v Corsair RAM that features the more typical solid metal heatspreader design, and as such has quite impressed me. Again Crucial differs from the pack not only in their packaging, but the effectiveness of their module design.

Did they forget some memory chips? I guess that explains the low price (Click to Enlarge)
Installation is straight forward, although these modules were a very snug fit. As always ensure both clasps are locked fully in place before assuming the modules are fully inserted, as these will take a bit more force to slide into place than usual thanks to the custom Levin PCB.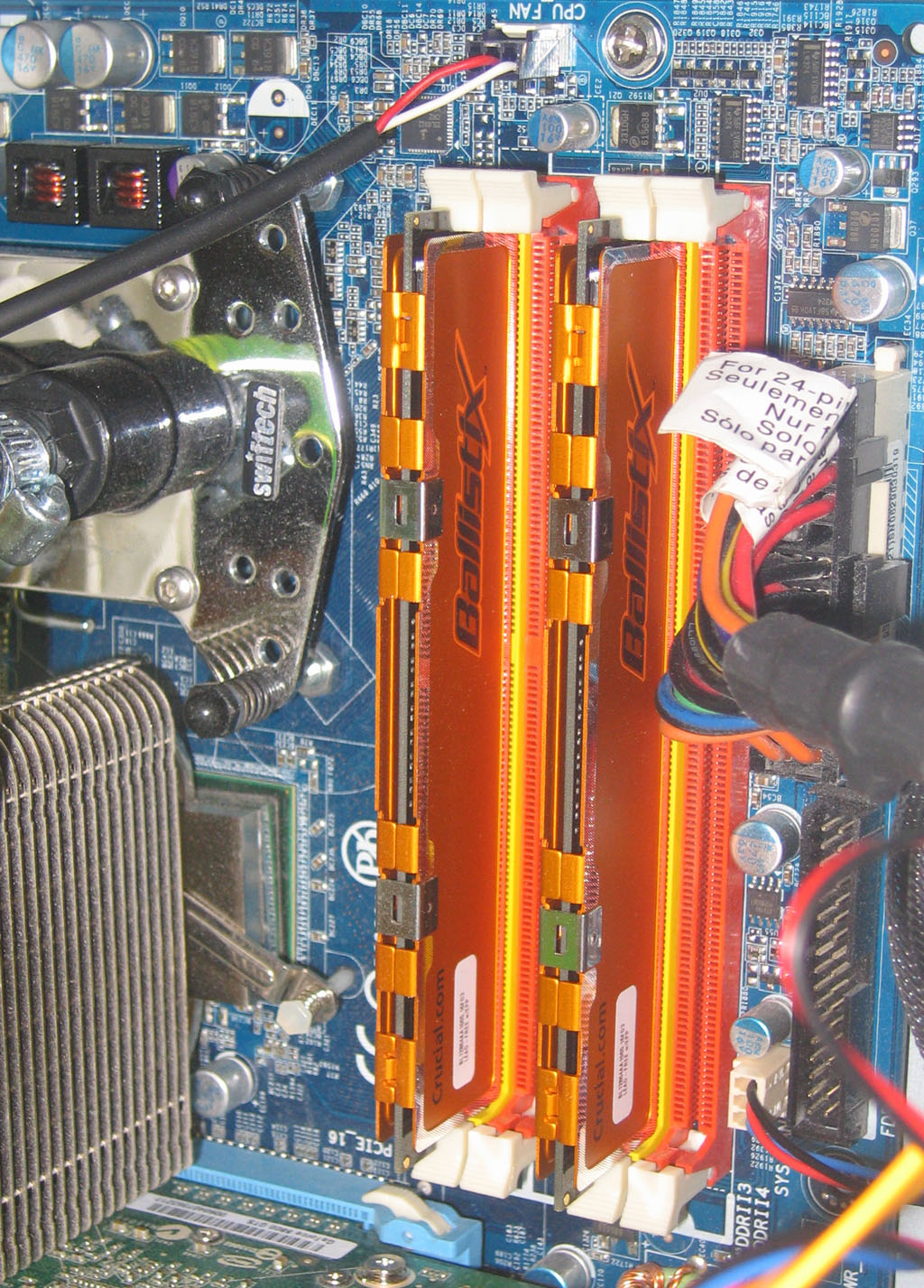 TEST SETUP
Since many potential buyers are also upgraders, it makes sense to test just how much of an advantage (if any) 1067MHz RAM would offer over slower frequency RAM that features tighter timings, especially since 800MHz RAM can be found for a fair bit cheaper even after the recent price slashing.
Test Platform

Processor

Intel Core 2 Duo E6300 1.86GHz

Motherboard

Gigabyte GA-965P-DS3 Rev 1, BIOS 10

Memory

1: Crucial DDR2-1067 MHz (PC2-8500) 2x1GB @ 5-5-5-15

2: Corsair DDR2-800 MHz (PC2-6400c4) 2x2GB @ 4-4-4-12

Drives

Seagate Barracuda 320GB 16MB Cache 7200.10 SATA

Lite-On SATA  DVD+/-RW

Graphics (Driver)

FOXCONN 8800GTS 320MB "OC Edition" (158.22)

Case

Antec P180-B

Power Supply

Antec NeoHE 550watt PSU

Operating System

Windows XP Pro w/ SP2
As I will get to at the end of the article the Crucial RAM unfortunately was already at its highest attainable clockspeed, and so results with the Crucial Ballistix overclocked therefore can not be included for comparison. Additionally tighter timings were not possible even at 2.3 volts with this memory. All tests were rerun three times with the results averaged.
Benchmarks
SiSoft Sandra Pro SP1 2007
Everest Ultimate 4
SuperPI 1.5 mod XS
Supreme Commander
Half Life 2: Episode One
Quake 4 v1.4.1
CPU-Z
Below is the screenshot of the setup for the Crucial Ballistix RAM. Observant readers may have spotted the "Max Bandwidth: PC2-6400" which is not a bug, hence my comments regarding all RAM above 800MHz simply being overclocked parts.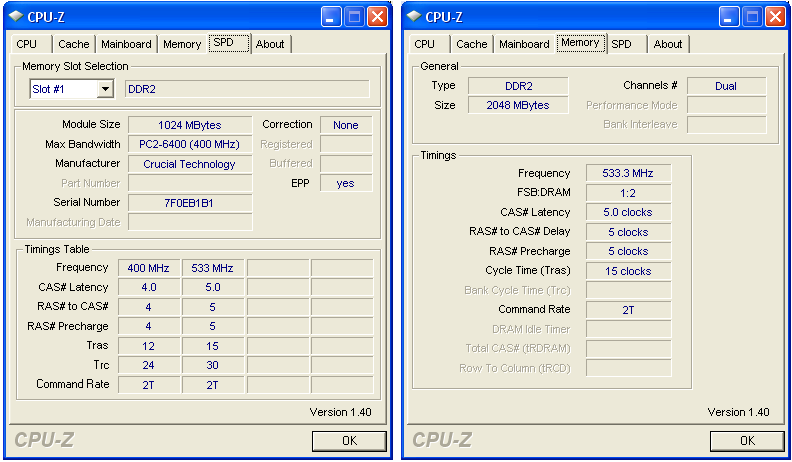 Click to Enlarge
And below is the screenshot of the Corsair memory configuration used for comparison in the following benchmarks.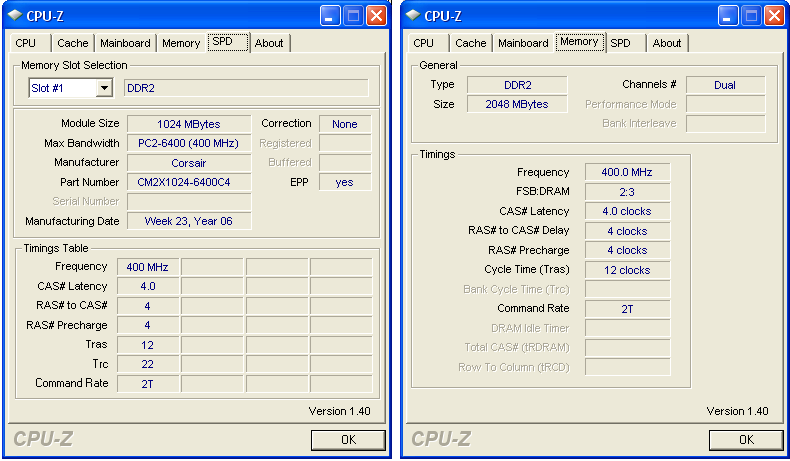 Click to Enlarge
TEST RESULTS
As bar charts are not well suited for showing minute differences between results, I've elected to stick with tables. If you have an alternate preference feel free to voice it in our forums, we at Bjorn3D are always open to new ideas.
SiSoft Sandra
Onto the results, and as expected the higher frequency RAM offers higher bandwidth despite the higher timings. According to SiSoft Sandra, latency is identical between both types of memory.  To try and prevent confusion with the Everest benchmark this value is only a measure of the actual latency of the memory itself.
SiSoft Sandra Pro SP1 2007

Higher is Better Unless Noted*

 

Crucial 1067MHz

@ 5-5-5-15

Corsair 800Mhz

@ 4-4-4-12 

Int Buffered

5692 MB/s

5446 MB/s

Float Buffered

5696 MB/s

5421 MB/s

Time Latency*

13 ns

13 ns
Everest Ultimate 4
Everest Ultimate 4 is one program that has proven its value in the past, and version 4 is the latest update to the Everest utility. While the Crucial RAM again takes the scores by offering higher bandwidth, the Memory Write test is almost a toss up between both the Crucial and Corsair modules despite the differences in frequency and timings. Unlike in SiSoft Sandra the Memory Latency here represents the length of time for the CPU to access the memory, and thanks to the higher frequency the Crucial Ballistix again takes another win.
Everest Ultimate 4

Higher is Better Unless Noted*

 

Crucial 1067MHz

@ 5-5-5-15

Corsair 800Mhz

@ 4-4-4-12 

Memory Read

7152 MB/s

6571 MB/s

Memory Write

4845 MB/s

4840 MB/s

Memory Copy

5429 MB/s

5369 MB/s

Memory Latency*

68.8 ns

 72.6 ns
SuperPI 1.5
SuperPI is a program familiar to almost any overclocker. It is an extremely CPU and memory intensive program that will cacluate PI up to 16 million digits and time how long it takes until completion. As such it is not a synthetic test, and should be considered the first of the actual program benchmarks.
Here we've run the standard 2 million test, however since the results were surprisingly within just a half-second of each other the 8 million test was also used! Even then there is only a difference of three seconds total, which is neglible when considering the entire run took over 5 minutes in both instances!
SuperPI 1.5 mod XS

Lower is Better

 

Crucial 1067MHz

@ 5-5-5-15

Corsair 800Mhz

@ 4-4-4-12 

2M (seconds)

67.1

67.6

8M (min:sec) 

05:13

05:16
Supreme Commander
As real life tests are always preferred for their more tangible results, here we have our first game benchmark. Supreme Commander is the latest hit RTS game and is not only addicting but extremely time consuming to play.  It is therefore only fitting that it is even more system resource consuming than most games. In fact the game was fairly laggy and full of stuttering with just an E6300 left at stock speed. It is not uncommon to find the game easily using up a solid 1.5GB of RAM after just an hour of gameplay!
Crucial's picture got just a bit less rosey as the Corsair RAM ekes out it's first win here. Keep in mind these tests were run three times with the average FPS results from each run averaged together for for the final result.
Supreme Commander

1280×1024 4xAA 16xAF
Higher is Better

 

Crucial 1067MHz

@ 5-5-5-15

Corsair 800Mhz

@ 4-4-4-12 

Average FPS

29.24 

30.59
Quake 4
Quake is  getting to be an older staple to the benchmarks but is still a fairly system intensive OpenGL based game. The latest 1.4.1 beta patch was utilized here. Interestingly we have a tie, and although the benchmark will give the final result to the hundredths place it turned out the same whole number during testing. Again the results were the average of three consecutive runs.
Quake 4 

1280×1024 4xAA 16xAF
Higher is Better

 

Crucial 1067MHz

@ 5-5-5-15

Corsair 800Mhz

@ 4-4-4-12 

Average FPS

64

64
Half Life 2: Episode One
Here we utilized a demo from within the reactor core at the start of the game. It won't be too much longer before Valve's Episode Two is out, so we've included Episode One to get a feel if higher frequency RAM at loose timings will offer any benefits with Valve's line of games.
This test gives results to the tenths place, and finally Crucial's Ballistix RAM shows some tangible value with this game. It is a safe bet that the same results will be seen with Episode Two and Portals once they are released.
Half Life 2: Episode One

1280×1024 4xAA 16xAF
Higher is Better

 

Crucial 1067MHz

@ 5-5-5-15

Corsair 800Mhz

@ 4-4-4-12 

Average FPS

138

133.8
OVERCLOCKING
Updated: Please see below. For those readers that skipped to this section just for the overclocking results, I am sorry to disappoint but this specific batch of RAM did not want to overclock beyond 1102MHz, and even that was a chore to achieve!
I first attempted what I thought to be a simple overclock to 1100MHz, and then after several hours of stable Orthos testing I sucessfully loaded Windows at 1120MHz. However after some instability I booted into Memtest86+ 1.7v (01/14/07 build) which was able to detect errors , and kept detecting errors  within the same specific section of memory repeatedly as far down as 1090Mhz even though the system had tested stable in Orthos. I was first clued in when a couple applications crashed or would crash the system for no explicable reason.
After some suggestions from fellow Bjorn3D reviews I retested the kit using voltages from 2.1-2.4v and using memory multipliers 2, 2.5, 3, and 4 (These equate to the memory ratios 1:1, 4:5, 2:3, & 1:2 respectively) to see if the ratios themselves would make a difference.
Strangely when using 2.1v (This Ballistix kit is rated for 2.2v) I could reach a stable overclock of 1102MHz as verified by both several passes in Memtest and Orthos set up to use LargeFFTs. It has been theorized that the Gigabyte 965P-DS3 motherboard might already be overvolting the RAM more than indicated or is set to in the BIOS, which is possible and does at least fit the facts. Use of 2.4v was completely unstable at even stock settings, which obviously should not be the case because Micron D9 chips thrive on the higher voltage.
To make a longer than necesary story short, I unfortunately must conclude that either the motherboard itself is incapable of handling the extreme RAM frequencies needed to go above 1102MHz, or I received a rather "bad" sample as typical results with similar Crucial Ballistix RAM will easily clock to higher frequencies with higher voltages. I regret to leave the overclockability of this kit in question but I simply do not have a single Nvidia chipset motherboard available to test with to answer this question. Even so I was able to reach fairly blistering speeds (By DDR2 standards anyway!) of 1102MHz using the 1:1, 2:3, and 4:5 ratios while keeping the default 5-5-5-15 timings.
UPDATE: After some short testing with a P35 chipset motherboard (GA-P35-DQ6) I was able to easily overclock this RAM beyond 1200MHz using 2.4V. Using a full pass of Memtest and stock 5-5-5-15 timings this kit was stable to at least 1220MHz with 2.4V. This kit tested stable at 1200MHz using a lower voltage of 2.35V, and finally without any voltage changes the kit was able to attain a stable overclock of 1120Mhz on stock voltages. Additionally with 2.3v the RAM is fully stable at 4-4-4-12 timings at stock speeds! Voltages above 2.4V were not tested.
Caveat for Gigabyte 965P Motherboards
Some sharp-eyed readers may have noticed I was using Micron D9 chips on a Gigabyte 965P-DS3 Rev 1 motherboard, and may be wondering if this reviewer even had a clue (I plead the 5th!). It so happens Gigabyte has solved the incompatibility issues with D9 memory in their motherboards when running above 1,000MHz thanks to their F10 BIOS. Gigabyte included a new option in the BIOS to change the PLL settings (The chip that controls the RAM signal clocks), and simply labels this setting "Option 1" and "Option 2". Please note that at fully stock settings "Option 1" is default, and was not fully stable. Gigabyte 965P chipset based motherboard users will most likely want to change this setting to "Option 2" with this RAM before they will have a stable system with this memory! I might suspect this rule will also apply to most other brands of D9 chip based RAM clocked near 1067MHz or higher frequencies.
Even so unlike earlier BIOS releases CPU overclocking was not adersely affected by the use of Micron D9 based modules. I was able to increase the FSB as high as 515 FSB stable thanks to these particular modules, and still further to 551FSB once I lowered the CPU multiplier to "6". Users simply looking for 1067MHz RAM so they may use a 533 FSB in a 1:1 ratio should be very happy with this kit.
CONCLUSION
DDR2-1067MHz RAM may instinctively sound like it will offer higher performance than DDR2-800MHz RAM but as with everything there are exceptions to the rule. Going by the benchmark results one can't go wrong with higher speed memory, however even today low latency 800MHz RAM can be found at cheaper prices. If looking to buy a new kit then I can certainly recommend Crucial's excellent Ballistix modules. However if you are simply upgrading from 4-4-4-12 800MHz RAM then the slight performance gain is simply not warranted as there is only a marginal increase in performance at best.
Another reason for consideration are users that desire the extra overclocking headroom.  Especially on motherboards such as Gigabyte's which use "memory multipliers" in place of dividers, and as such a multiplier of "2" is the lowest possible selection. For Intel based systems Crucial's 1067MHz Ballistix kit will ensure the FSB can climb to 533 before it again risks becoming an overclocking bottleneck.
One thing is for sure, DDR2 RAM prices are not going to stay as low as they currently are and with DDR3 RAM already here, the writing is on the wall for the future of DDR2 memory. Despite the high 2.2 volts these Ballistix modules ran apreciably cooler than expected thanks in part to their effective heat spreader design. Crucial's Lifetime warranty not only covers defects but end user satisfaction, so if you purchase a kit of Ballistix memory and are not happy with it then that is all the reason you need for their warranty. If you are set on picking up a kit of PC2-8500 speed RAM on the cheap then Crucial's Ballistix memory is just the kit you should look for.
Pros:
+ Effective Heatspreader Design
+ Black PCB
+ Lifetime Warranty
+ Excellent Overclocking
Cons:
–  Average "stock" 5-5-5-15 timings
Final Score: 9 (Extremely Good) out of 10 paws and the Bjorn3D Golden Bear Award!
Word of Thanks
I'd like to personally extend my appreciation to Crucial Technology for sending in a retail sample of this product for review. Without companies like them willing to take the risk, time, and cost to send in products for review, sites like Bjorn3d wouldn't be nearly where they are at today!