The Vantec AVOC Jukebox is a small device with lots of capabilities. Not only is it able to play back a variety of media files, it also can be used as a portable storage disk as well as a host USB device. But is it any good in any or all of these functions?
INTRODUCTION
Regardless what the people at the media companies want, it is obvious that more and more people store their media in digital form. I myself have digitized most of our CD's and recently started to rip all our DVD's to our media server. It is just so convenient to have everything in one place. This however creates a small problem as you need to be able to get the media to a TV or a stereo if you want to enjoy it.
The Vantec AVOC Jukebox is a small device intended for this purpose. Not only is it able to play back a variety of media files, it also can be used as a portable storage disk as well as a host USB device. But is it any good in any or all of these functions? That is what this review is intended to find out.
ABOUT VANTEC
Vantec was founded 1994 and has concentrated itself on thermal solutions.
Founded in 1994, Vantec is recognized as one of the premier thermal solutions leaders. We are devoted to manufacturing and developing total PC solutions for every computer user, from mainstream to enthusiast. Utilizing our technical expertise and innovative designs, we are constantly expanding our product line to offer advanced computer peripheral to meet the personal and industrial needs of modern computer users. Our primary goal is to create viable solutions to satisfy the consumer's needs. Offering complete and affordable ways to upgrade and maintain your personal computer, Vantec is a name you can trust for quality and reliability.

At Vantec, our mission is to produce the best thermal solutions on the market. Vantec produces quality products that help you keep your system cool. However, that is only the beginning. We produce two of the quietest power supplies on the market in our Stealth Power Supply and ION Power Supply. Our Multi-function Panel (NXP-101) and fan controllers (NXP-201 and NXP-205) give you a variety of options to monitor and control the temperature and noise of your computer. We also provide cold cathode lights in a myriad of colors, including UV, for you to light up your computer. And with our new Fan and Light controller (NXP-301 and NXP-305), you can control your fan speed and lights all with one convenient unit.
FEATURES AND SPECIFICATIONS
Before I list the specifications, a word of warning. Vantec has really screwed up with their naming convention. As I was preparing for this product and reading up on it I went to www.vantecusa.com to look at the specifications. As expected they listed an AVOX Jukebox on there. This enclosure has support for HD (480p, 720p and 1080i) over component as well as 5.1 channel audio. The catch is this is not the same AVOX Jukebox that I got for review or that is featured on the Global or Taiwanese site. The AVOX Jukebox there has the model number AVOX-100 while the one on the US site is called AVX-100TX. Confusing isn't it?
The main difference between the AVOX Jukebox-100 I am reviewing and the AVOX Jukebox-100TX is that mine has more humble video playback support, only supports S-Video Out and composite out but on the other hand has USB-host support.
Application: HDD: Type2.5″ IDE HDD

Interface/Ports: USB Interface: 480Mbps USB 2.0 (USB 1.1 Compatible) / Slave

Power Supply:
Universal auto-switching external power adapter
Input: AC 100-240V, 0.3A, 50-60Hz
Output: DC +5V/2A

Dimensions:
132 x 77 x 14 mm
HDD File System: NTFS / FAT32
TV Type: NTSC / PAL
The features are:
Digital Multimedia Player via Home/Car TV
USB 2.0 External Storage via PC(NTFS, FAT32)
Audio – Stores and manage thousands of MP3 music, play them in Normal / Pop / Classic / Jazz / Rock / Ballet sound effects.
Video – Supports multiple MPEG formats: MPEG1 (AVI/MPG/DAT), MPEG2 (AVI/VOB) and MPEG4 (AVI/Divx/XivD/ASF/3GP).
DVD Manager – Playback of DVD File same as Original DVD Title
Easy Firmware Upgrade.
OTG – backup files directly from any USB devices and more without requiring any desktop or laptop PC.
THE PACKAGE
The Vantex Jukebox comes in a box displaying the AVOX Jukebox itself plus a remote (which incidentally turns out not be the remote that actually comes with the unit). The main features are prominently displayed on the front while all the important specifications can be found on the back.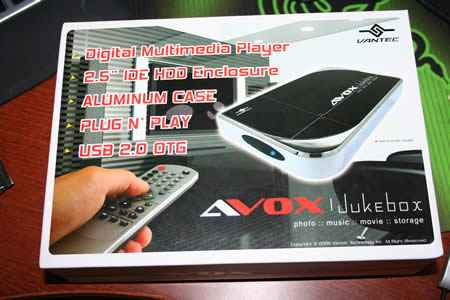 Inside the package we find quite a lot of things:
The AVOX Jukebox enclosure
A carrying bag for the AVOX Jukebox.
A stand so you can put it in vertical position
A battery holder (more on that later)
A small power adapter
USB cable
Video cable
Audio cable
Remote control
Driver CD and manual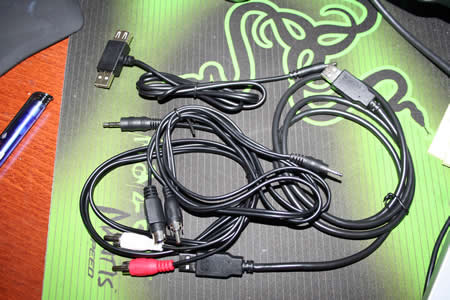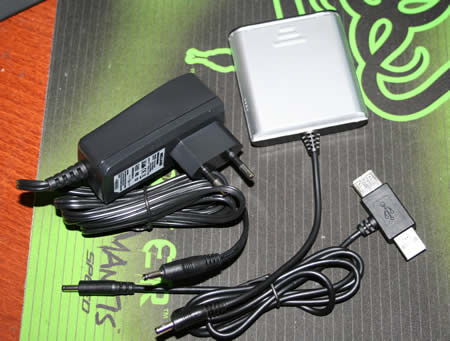 It's a pretty impressive bundle with everything you could possibly need for the enclosure. The carrying bag is large enough to house the AVOX Jukebox, the power adapter and cables.
THE ENCLOSURE
This is a very nice looking enclosure. As this is an enclosure for a 2.5" hard drive it is very small.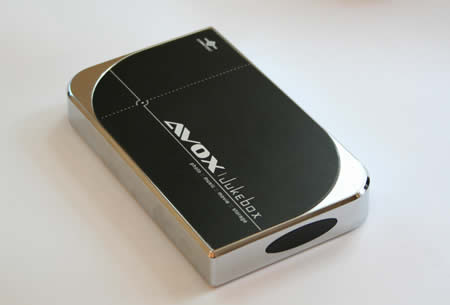 At the back of the AVOX Jukebox we find the connectors for the cables.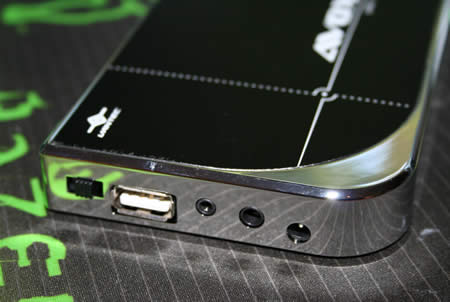 The USB connector is a regular female connector. The reason they do not use a regular mini-USB connector is that the AVOX also serves as a USB host. This means you have to be able to hook a camera or other item up to the AVOX with a regular USB cable. This also means you have to use a special USB-cable for the AVOX with male connectors on both ends. The video connector uses its own format and end in a composite/S-Video connector.
INSTALLATION
To use this enclosure you need a hard drive. Any 2.5" hard drive will fit as well as the Hitachi 1.8" drive. For this review I bought a 60 GB Seagate drive.
Installation is pretty easy. All you need to do is open the enclosure up, take the circuit board out and fasten the hard drive to it and then put everything back together.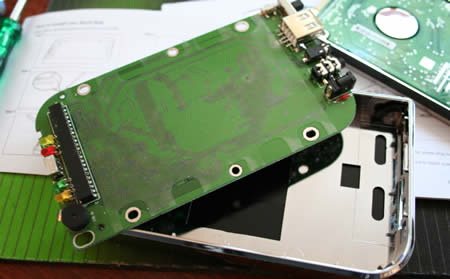 In my case I used a new hard drive which means I had to partition and format it. While the AVOX Jukebox works with NTFS partitions, they only show up when using it as a USB hard drive, not when using it with a TV where a FAT32 partition was needed. So in my case it meant partitioning and formatting the drive into two FAT32 partitions. While XP only supports 32 GB FAT32 partitions. Vantec includes links to utilities that allow larger partitions.
That's all you need to do to get the AVOX Jukebox to work.
USING THE AVOX JUKEBOX
The AVOX Jukebox can be used in three different ways:
As a USB hard drive
As a USB Host
As a media player
You choose which mode the AVOX jukebox works in by flipping a switch.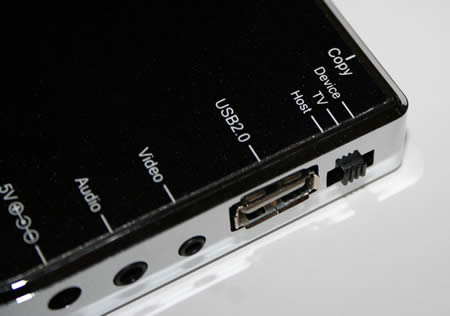 AVOX Jukebox as a hard drive
In this mode the AVOX Jukebox works as any other USB hard drive. All the partitions pop up under "My Computer" and you can transfer files to and from it. The drive supports USB 2.0 which means file transfer is quite speedy.
AVOX Jukebox as a USB Host device
I was pretty excited for this feature as it is something I have use of. Basically the AVOX Jukebox can be used to store data from USB sticks, card readers, cameras and other devices that use USB to transfer their data to a computer. In my case it means I can now just bring the AVOX Jukebox with me when heading out with my camera and then continously copy all images over to it without the need for a computer.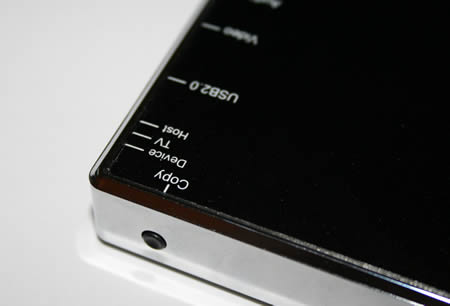 After you have hooked up the device to the AVOX, all you need to do is push the copy button on the side of the AVOX. This starts a copy. I tested this on several devices (Canon EOD350, various USB sticks and a card reader with a SD card) and it all worked fine. The AVOX uses sound to notify what is happening and at first I had some issues with it beeping, indicating an error, but the copy worked anyway. 
I am sure a few of you are wondering how you are supposed to keep the AVOX powered when you are out on the road with no way to connect it to the power. Well, that is what the battery holder is for. With 4 AA batteries it gives the AVOX Jukebox enough power to allow it to act as a USB host when you cannot use any other power source. This is a very good solution that also works well.
AVOX Jukebox as a media player
The main use of the AVOX Jukebox is as a media player. As detailed earlier, the Jukebox supports the play back of a number of media formats.
The Image Quality
The AVOX Jukebox connects up to a TV, either through a composite or a S-Video connection. As expected, the image quality is below what you expect from a component connection but I still found it was pretty good. While playing a VOB-file from a ripped DVD I found that the SVideo connection had some weird noise in the image while the composite connection actually was much better. As I have a 1080p Samsung 40" LCD TV any noise in the image will be much more obvious than on a smaller HDTV or an SDTV so the image quality from the AVOX Jukebox should be adequate for most users.
Controlling the AVOX Jukebox
The AVOX Jukebox that I am reviewing has not the same remote as is shown on the front of the box. Instead of a displayed larger remote, Vantec ships a small plastic remote with the unit.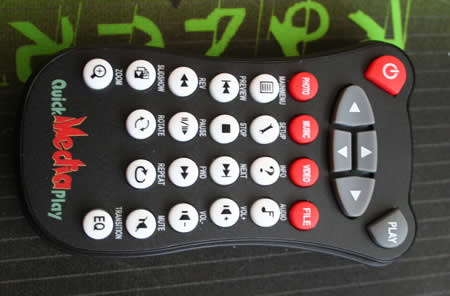 The remote both looks and feels cheap. It is made of plastic and uses the same small battery that you use in motherboards. This means it is very light. The buttons are small and cramped into a small area. I would have preferred a more traditional larger remote with the same amount of buttons or a few less on this remote. I also had some issues when controlling the AVOX from the couch. Since it uses IR it is very important to have a direct line of sight between the AVOX Jukebox and the remote. I ran into a few issues where I had to press a button several times to get it to register.
The user interface 
After you turn on the AVOX Jukebox in the TV-mode you are greeted by an interface where you can select either Photo, Music, Video or File. Photo mode shows you all the images that are stored on the AVOX. As far as I can figure out it takes all the JPG-images it finds on the Jukebox and display them in a list. You can choose to look at them one by one or as a slideshow. The image quality is really good on a good quality TV.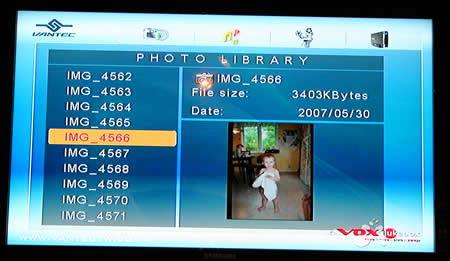 Music mode lets you play MP3 files stored on the AVOX Jukebox. In this mode all the MP3 files that are stored on the AVOX Jukebox are listed in one large list. There is no way to set up a playlist. In fact, as far as I can see there is no way to order the music. Basically this mode is useless if you have more than the music files you want to play on the AVOX.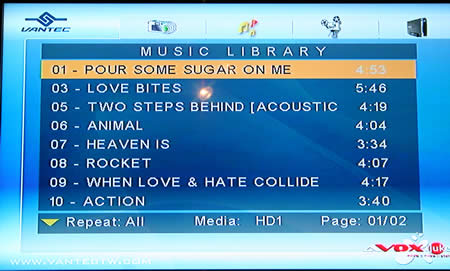 Video mode is the same as music mode, but for video files. Again every file is listed in some kind of order. This means that if you have a number of video files on the AVOX Jukebox, which I would expect you will have, it becomes very tedious to navigate and find them in this mode.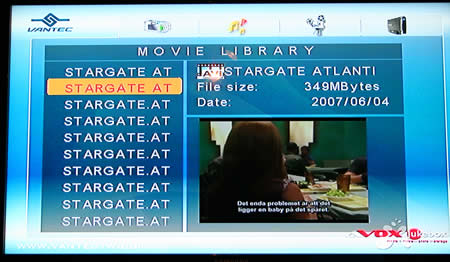 To some extent the shortcomings of the other modes are rectified in file mode. Here you can browse through the hard drive and play music, watch videos and look at photos.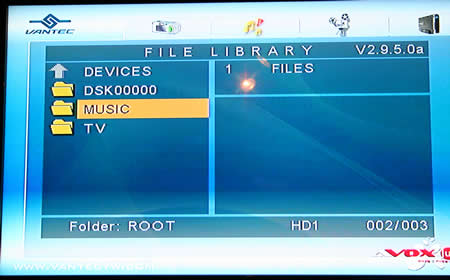 There are a few big issues with the user interface in all modes that I haven't brought up yet.
1. Only 11-15 characters are shown of the filename. Regardless of how long your actual filename is, only 11 characters in the main list and 15 characters in the info field are shown. It does not scroll through the whole name or show the whole name in the info field, it just cuts it off after 11 characters. Imagine how irritating it is to have 20 videos all called "SG ATLANTIS" and nothing more even though the actual filename includes the season and the episode number. How hard would it have been to let the filename scroll when you hover the cursor on it?
2. Everything auto plays when you select it. Regardless if you are stepping through a list of photos, MP3's or videos, the AVOX Jukebox wants to start showing or playing the file automatically in the little preview window. This is not so bad when it comes to photos and music (although I rather choose what to play than to have to listen to a few seconds of each song) but when it comes to videos it has the effect of making the user interface feel very laggy and slow.
3. So far I have not managed to update the firmware. I've followed the instructions but it will not recognize the firmware file.
4. In my case, the second partition turns up as a "Security Partition" which requiers a 4-number password. The default password is 0000 but can of course be changed. However, even when you change it, in addition to the new password the number 0000 still will work. Who at Vantec came up with that idea I am curious about.
CONCLUSION
The AVOX Jukebox has both high points and low points. As a USB hard drive and a USB host it works fine. I've used it to store photos while away from my computer at a few occasions with not problems. As a media player it is merely adequate. The quality of playback is ok considering it only supports S-Video and composite output and it is nice that it supports both DivX/Xvid and DVD VOB's. However the big letdown is the user interface. It simply is counter-intuitive. The "other" AVOX Jukebox (the one with component HD-output but no USB Host support) seems to have a much better user interface so maybe there is hope that Vantec can update the firmware and fix some of these issues.
Pros
+ Small
+ Very nice looking
+ USB Host support
+ Good image quality on photos and video
+ Good media support, MPEG1 (AVI/MPG/DAT), MPEG2 (AVI/VOB) and MPEG4 (AVI/Divx/XivD/ASF/3GP) support
Cons
– Only S-Video and composite Video out
– Rubbish user interface in the Media mode
– Only supports MP3
– Does not support Video_TS folders