Anyone playing games on the PC knows how important it is to have a good keyboard. There are a lot of gaming keyboards to choose from, like the Logitech G15 and the Razer Tarantula keyboard, and today I am testing Revoltecs contribution: the Revoltec Fightboard Advanced.
INTRODUCTION
Anyone playing games on the PC knows how important it is to have a good keyboard. There are a lot of gaming keyboards to choose from, like the Logitech G15 and the Razer Tarantula keyboard, and today I am testing Revoltecs contribution: the Revoltec Fightboard Advanced Steel grip.
The Fightboard is part of Revoltecs Fight Patrol product line. This product line consists of the Fightmouse, the FightBoard, the FightMat, the FightPad and the FightFittings. They even got a website, http://www.fightpatrol.net. "To Serve and Protect the best Gaming Hardware available". That is our mission. Gamers need hardware that they can win with! It's our duty to develop and protect efficient hardware for you. That's what I – Sergeant Revoltec – und my FightPatrol stand for." I personally find the whole setup quite cheesy.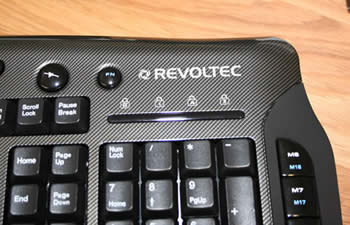 ABOUT REVOLTEC
Revoltec is one of those companies that sell a lot of different types of products. They sell cables, fans, cases, enclosures, mice, and keyboards, just to name a few. The complete product list can be found here.
FEATURES AND SPECIFICATIONS
Let us first look at the specifications:
Dimensions: 495 x 200 x 28 mm (L x B x H)
Weight: 0.9 Kg
Layout: 104 keys
Connection: USB 2.0 (compatible with USB 1.1)
Compatibility: Windows Vista / XP 64 / XP / 2000
And then the features:
Hotkeys: 11
Macro keys: 10 (20 with dual allocation)
Steel Grid Design
Windows Deactivation Key
Exchangable keys
THE KEYBOARD
The keyboard comes in a small box with a translucent plastic front which shows off the keyboard. Just as all the other Fight Patrol products, the box has a tribal pattern on it.
Inside the box we find:
The keyboard
Extra keys with alternative print
Key removal tool
CD with Software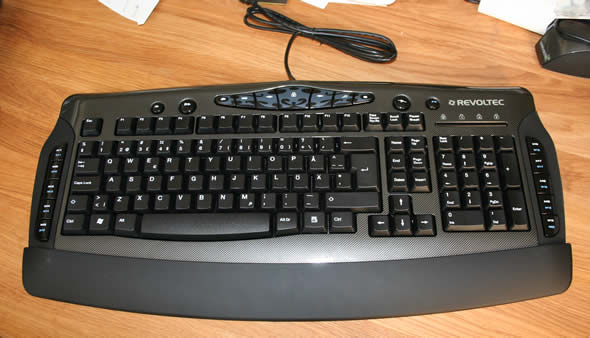 The keyboard is quite large as it has two rows of macro keys but it still is not as wide as the Logitech G15. Most of the keyboard has a high quality "steel grid" finish which is smooth and both looks and feels quite nice.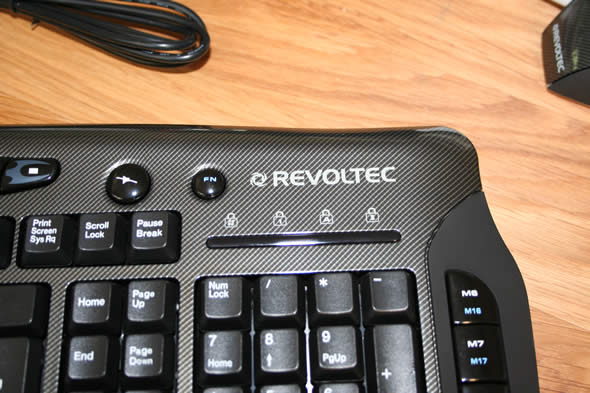 On each side of the keyboard we find 5 macro keys. Each key can be programmed with two different commands. This effectively makes it possible to program up to 20 macros. Above the regular keys we also find a set of multimedia keys plus the key to turn off the Windows key.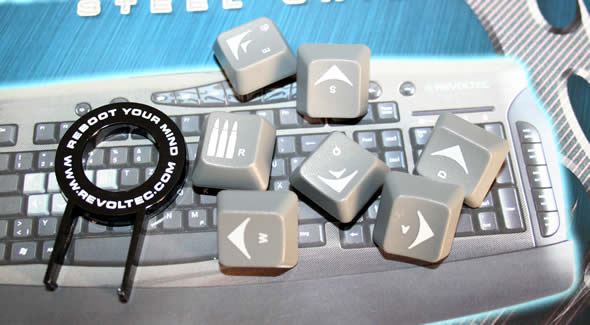 Inside the box you find a bunch of extra keys. These keys can be put in the place of the QWEASDR-keys and simply are there to make it easier to see which key to press in fps games.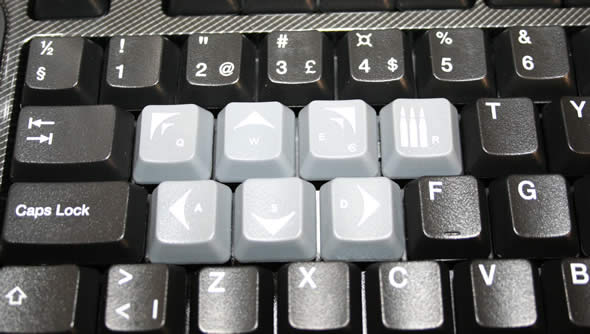 I'm pretty sure that seasoned gamers will not need these extra keys as they do not need to look down on the keyboard but it still is a very nice tough to include them. With the included key removal tool it literary takes a second to change a key. I am guessing it also will make it easy to clean the keyboard from all the dirt that accumulates inside it.
INSTALLATION AND SOFTWARE
As expected the keyboard works fine without any drivers although this means that the extra keys do not work. It is detected as a regular USB keyboard.
To get access to the extra keys you need to install the software from Revoltec. It is supplied on a CD but I suggest dumping the CD far far away from the computer and then head over to http://www.fightpatrol.net and get the latest software. The version on the CD is buggy and crashed every time I tried to save a setting. It crashed so hard that Windows could not even close it, even when I told it to close it by force. The version on their website however works fine.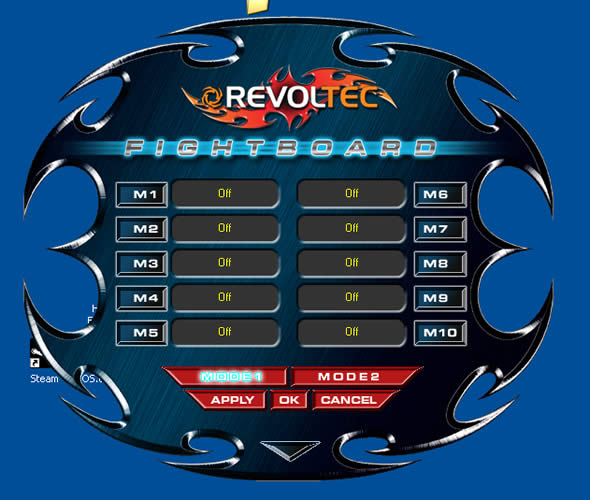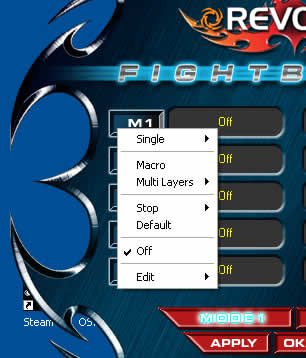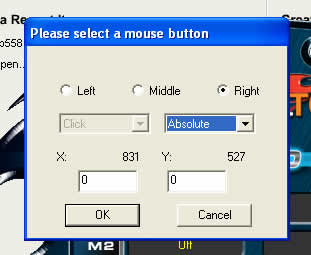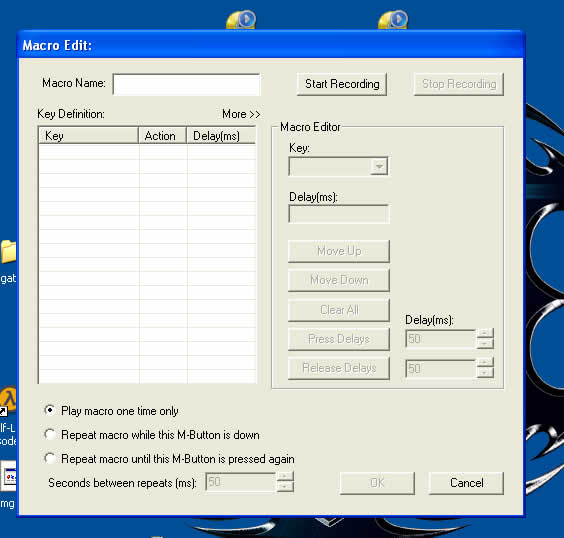 The software lets you map all the macro buttons on the site. You can map single keystrokes, mouse buttons, mouse clicks on specific coordinates, either positioned absolute or relative to the cursor, multi-layered keystrokes as well as complete macros. You can also save different layouts so that you can load it up before starting a game. It would have been nice to have the settings automatically load when you start the game, like you see on the G15.
USING THE KEYBOARD
The keyboard was tested in Windows XP for a few weeks. During that time I played games like Company of Heroes, Half Life 2 and World of Warcraft as well as wrote reviews, coded in Dreamweaver and generally just using the computer.
Passmark Keyboardtest
Surprisingly enough a synthetic benchmark for keyboards actually exists. Passmark KeyboardTest allows you to test the keys on the keyboard. This might sound odd but it turns out that not necessarily all keys work when other keys are being pressed. As FPS-gamers swear by the mouse-keyboard combo I felt it would be important to test what happens when you press combinations of the WASD-keys.

What this test shows is that while a high end gaming keyboard like the Logitech G15 performs flawlessly, making every keystroke count regardless which other keys are being pressed, the Revoltec FightBoard Advanced actually does not perform better than my cheap Logitech UltraX Keyboard. To be honest however I did not really run into any situations where I noticed a keystroke not being recorded but the risk is there. The funny thing is that if you map one of the non-working keys to a macro-key it works. So for example, while pressing S+D the F1 key does not work but if you map F1 to one of the macro keys it will register F1 even when you hold down S+D.
General Feel
The overall feel of the keys are good. I think the keys have the right "bounce". After typing a lot on laptop keyboards it is nice to go back to keys like this. The only complaint I have is that the Z-key not feels right on this particular keyboard. It also gets stuck sometimes. I do not expect all keyboards to have that issue but if you buy it make sure to check all keys out and return it if you find a "mute" key.
CONCLUSION
This is actually not a bad keyboard, in fact it is a great keyboard. It looks very nice and has an exclusive air about it. The keys have the right "feel" to them and there is enough macro keys for any gamer. The software, while looking silly, allows you to easily set up all the macro keys and easily configure it for any game you like. While it does not work as well as the Logitech G15 in the Passmark KeyboardTest it still worked fine in the games I tested it with. It also costs half of what you have to pay for a G15 (~40$) so if you are on a budget you cannot go wrong with this keyboard.
Pro
+ Exclusive look and feel
+ Keys have the right "feel" to them
+ Cheap
+ Lots of macro-keys
+ Exchangeable keys
Con
– Not better than other budget keyboards when it comes to the Passmark KeyboardTest.
– The USB cable is shorter than optimal
– For not much more money you can get a Logitech G15 or a Razer Tarantula Gaming Keyboard
Summary: The Revoltec FightBoard Advanced is a great budget gaming keyboard that looks much more expensive than it is.
The Revoltec FightBoard Advanced gets a rating of 8 out of 10 (Very Good) and a Bjorn3D Seal of Approval Award.