The design however isn't average to say the least — some of you will like it and some will hate it. Personally I have mixed feelings about its looks. I would substitute drive doors for something more standard looking and operational. It's just silly taking off the panel just to install an optical device, neither is it tool-less as you have to unscrew the top to pull out the front.
INTRODUCTION
With variety of cases we are faced with today it isn't easy to pick one. Companies tend to outclass each other in design, latest trends, comfort and price. We see more and more enclosures that take the shape of our hi-fi systems — size and style wise. Beige and white aren't the only colors being used anymore. Todays scheme concentrates more on black and silver tones with various tints and shades.
Personally, I've been quite anxious to see Listans take on this project. The case has been introduced at this years CeBIT with availability being early July. At first sight, Zirconium looks interesting and I have to say it would definitely fit into my living room.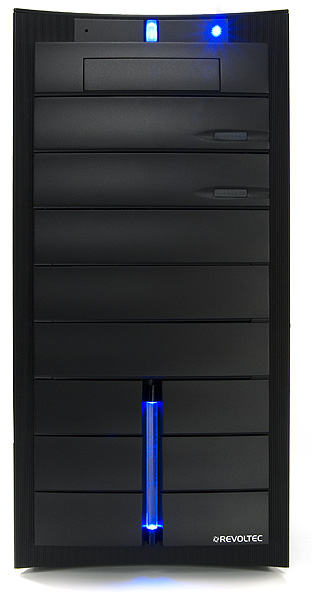 However as the story is being told it wouldn't be fair to say it's all that perfect. Checking out the rest reveals a lot of issues and unwanted ideas that Zirconium offers. I don't want to desiquality this case in the beginning as there are good sides to it. If you're a casual PC user you'll either like it or hate it. Enthusiasts will most likely pass on to something from Antec, Thermaltake or Silverstone instead.
FEATURES 
As far as features are concerned, Zirconium isn't anything special. It's an ordinary case when it comes to look and feel though one may believe the front panel is a crock. There are things worth mentioning such as tool-free expansion slot locks as well as bay locking mechanism which works pretty well to say the least.
Revoltec Zirconium comes preinstalled with 120 mm fan situated in the back. The weird thing is, Listan relinguished to include the front panel fan. Kind of cheap of them if you ask me — 2 fans out of the box is todays standard.
SPECIFICATIONS
Below you'll find more detailed specs of the case.
Technical specs
Model
Revoltec Zirconium Tower
Type
Midi Tower Case
Mainboard

Micro-ATX, ATX

LED Light Guide
Inclusive (blue LED)
Drive bays
5.25″ x 4 (external), 3.5″ x 2 (external), 3.5″ x 4 (internal)
Material
0,8 mm SECC
Power Supply
PS/ll (optional)
Case fan
1 x 12 cm rear Revoltec fan, 1 x 12 cm front fan (optional)
Slots
7
Top I/O Panel
 USB 2.0 x 2, IEEE1394 Firewire, Audio
Dimensions
490 x 190 (Front 215) x 431 mm ( LxBxH)
Compliance
 CE, FCC, RoHS, WEEE
Package
Revoltec Zirconium
1x 120mm Revoltec Air Guard pre-installed
Fastening material

Installation instructions
The case is made of out 0,8 mm thick steel pieces, although I'd love to see an aluminum version. Front panel recoils from cheap plastic look and unusual design. As for space inside, there are 4 external 5.25″ drive bays, 2 external 3.5″ bays and 4 internal ones. At the top of the case Listan decided to slap the I/O panel which in my opinion isn't a great place. More on these bits and quirks later on so keep on reading.
EXTERNAL LOOKS
The case had arrived in an ordinary box which did not reveal much about the product anyway. When it has finally seen the light, I got little irritated mainly about the overall finish.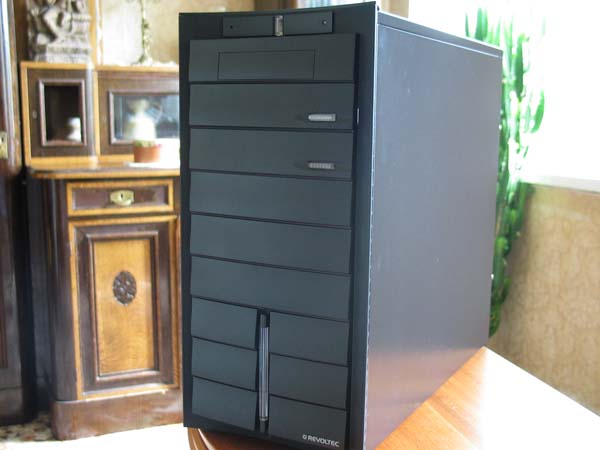 The front panel being made out of plastic did not feel well at all. Not only that, drive bay doors just don't appeal to me anymore. When installing device such as DVD-RW you have to first unscrew the panel on the top and pull it out, then you can slide the burner in. Not to mention those door covers often get damaged easily.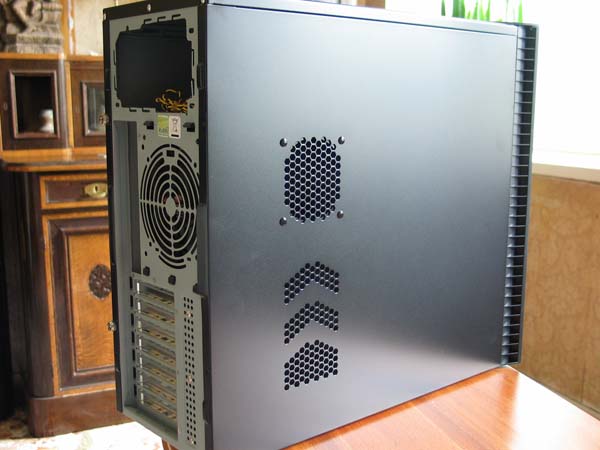 As for side panel, it's nothing special either. There is a duct inside (removable) which isn't compatible with aftermarket CPU HSFs such as Thermaltake TMG or any other heatsink that is taller than retail. In my case the duct had to be removed.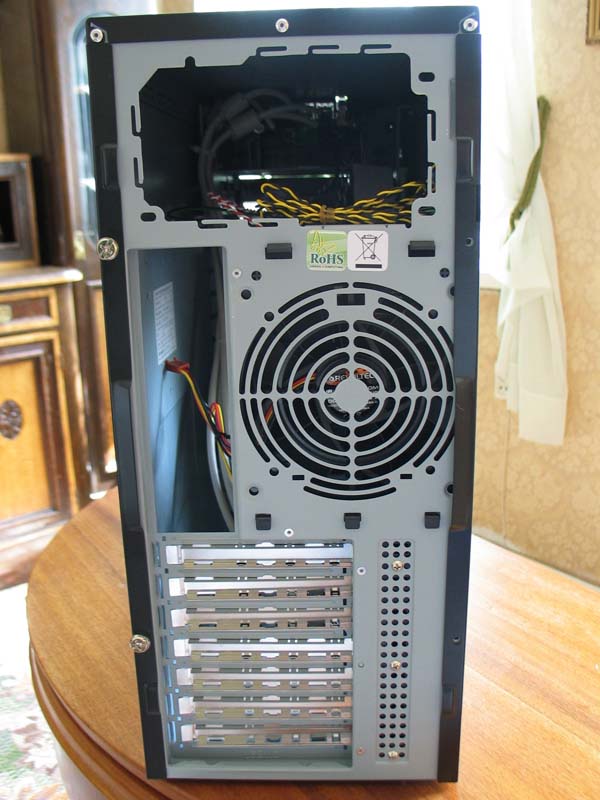 Back of the Zirconium strains from anything fancy. PSU hole has been layed out horizontally and the included 120 mm fan was fitted in a standard location. Worth noting were (only) 2 thumbscrews that were included. Funny thing was, they were screwed to the other side panel — the one that rarely gets used.
EXTERNAL LOOKS CONT.
Power switch (with LED) has been placed vertiacally on the top. The upper bay is dedicated for those of you that are still using floppy drives. Many of us do, believe me.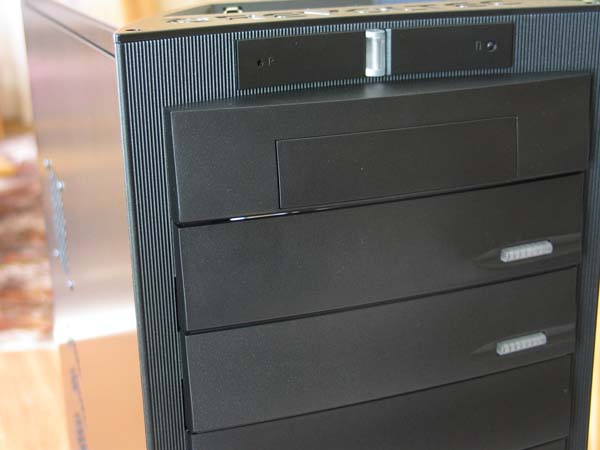 As I've mentioned earlier, Zirconium comes with two cover type doors that open up when CD/DVD tray slides out. I'm not fond with such solution, but will 'ok' it for the sake of others that may find this handy.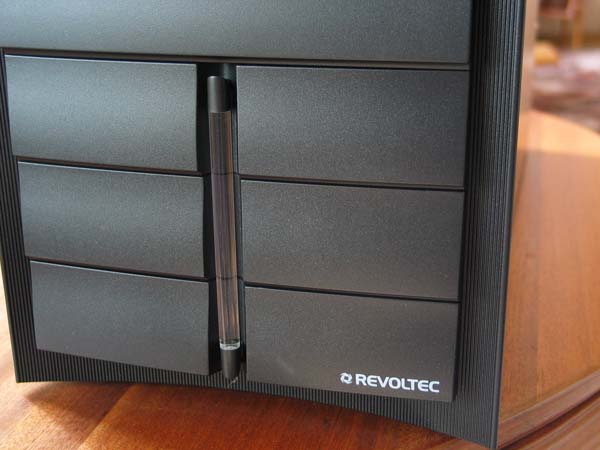 The bottom three "covers" are divided in half and in the middle Revoltec decided to slap a neon like tube. It's really an LED which gives pretty good light. If you're thinking "the heck do I need it for?" you have a choice of connecting this or not. Because this gives Zirconium the feel of a lustrous gem, I had decided to switch it. I did quite like it as it didn't burn my eyes that much.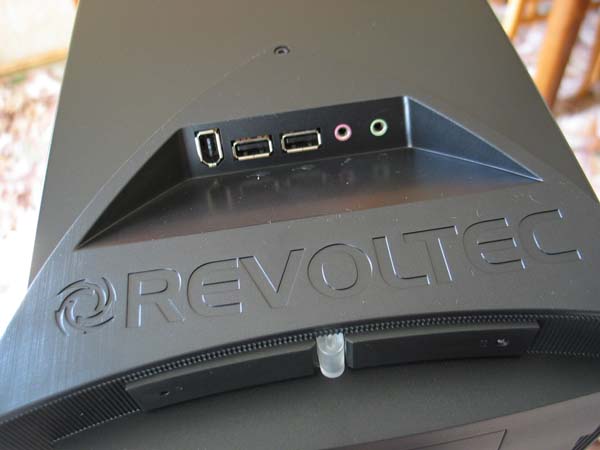 Now the front I/O panel is something Revoltec had experimented with it seems. The location of it is bizzare and not friendly to say the least. Most of us are used to having those ports on either front or side panel, but never top. I would have ignored the fact they are placed there, but it's inconvenient to reach and operate.
INTERNAL LOOKS
Removing the side panel reveals what I like to call "the guts" Obviously not literally, but you could find similarities if you know what I mean.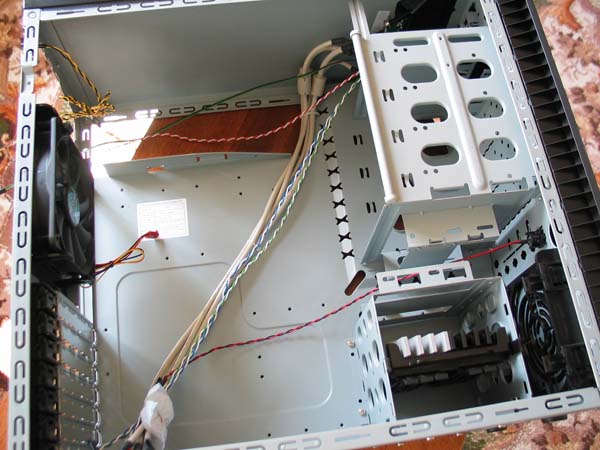 Zirconium features a clean internal design. There are things though I do not like: no removable motherboard tray for example. It seems a lot of companies do not realize customers appreciate such solution. It's weird because it doesn't seem to cost more to implement.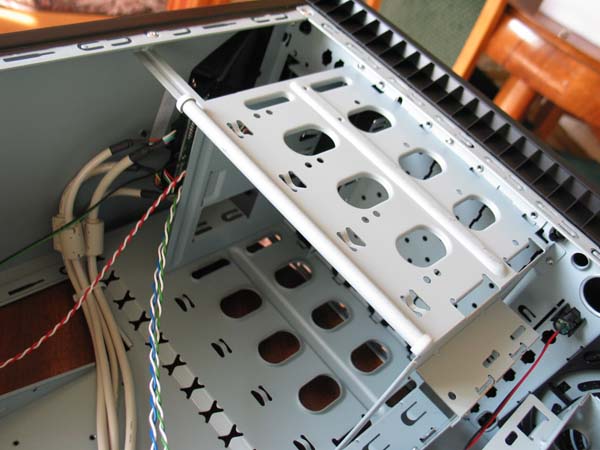 There are four 5.25″ external drive bays which come equipped with tool-free mounting kits. They are located in the HD bracket at the bottom of the case. It's needless to say, but mounting your DVD for example is really easy — not the case when trying to install one! Removing the front panel is a must. Below (and above) the 5.25″ bays we have an external 3.5″ rack which is rarely used anyway.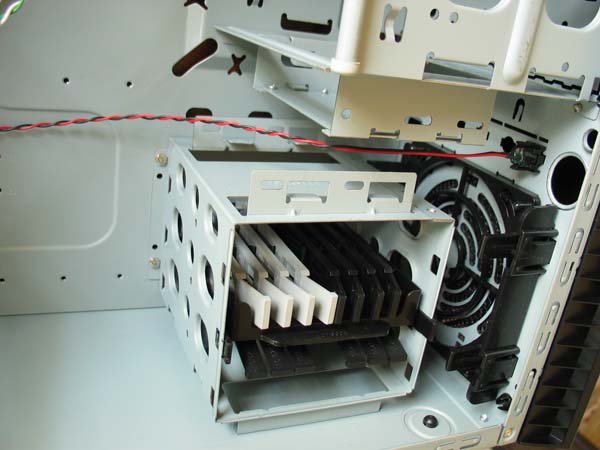 The hard drive rack is mounted to the motherboard tray and comes with four mounting bays. To the right of it you can install a 120 mm fan which is not included by the way (mesh filter included).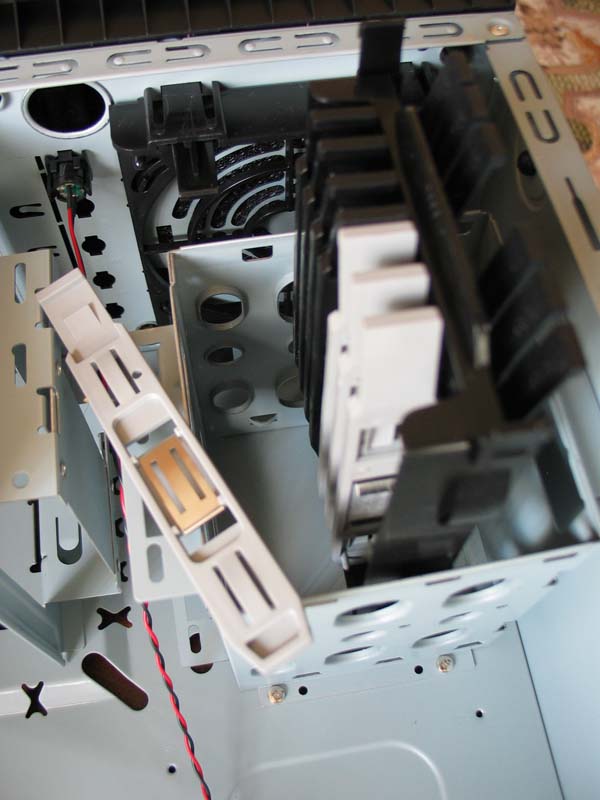 Gray mounting clips are used for the top two 5.25″ drive bays and black ones for the rest of your devices. What's great about them is they will hold your DVD/hard drive very well. There is no need to apply additional screws.
INTERNAL LOOKS CONT.
There are couple of more things I'd like to mention before we move on to the next page. We already know that Revoltec Zirconium isn't really a tool-free design. The inside however comes with all kinds of clips and screwless solutions.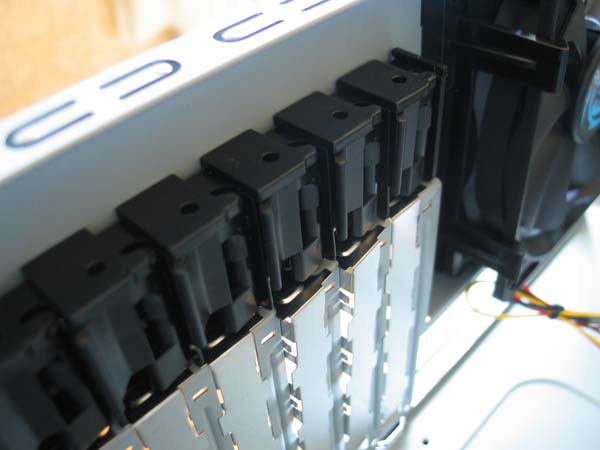 The locking mechanism on the back panel works pretty well and doesn't require additional screws. Even with dual bracket graphic cards these locks will hold your device in place.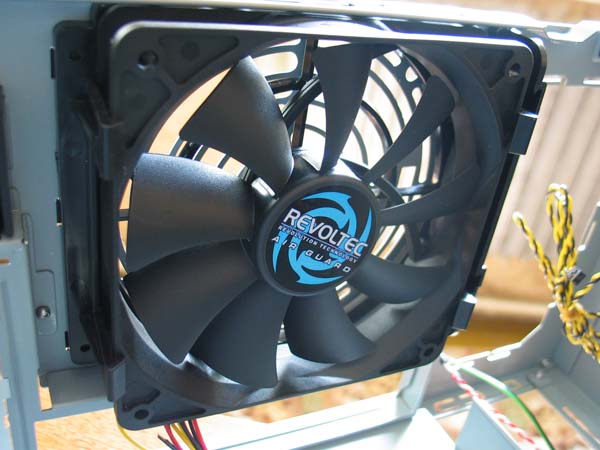 Above you can see the Revoltec Air Guard 120 mm fan which guarantees low noise and long lasting operating time. Here are the specs for it:
Fan size: 120x120x25mm
Noise level: 23.94 dBA
Airflow: 51.54 CFM
Fan speed: 1200 RPM
Connector: 3-Pin Molex
Operating Voltage: 7 Volt – 12 Volt DC
Input Power: 0.18 A
Lifetime: 50.000 hours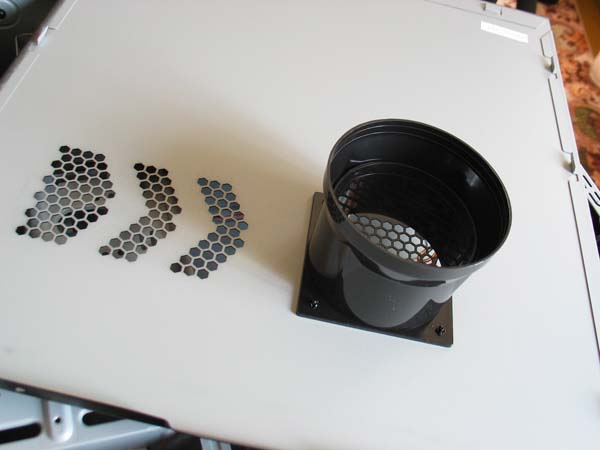 The duct on the side panel is useful only with retail coolers. Most OEM and aftermarket HSFs are not compatible with this as they are simply too tall. Most of you will want to take this off anyway.
INSTALLATION
Upon installing the system inside the case I always consult with the manual, if included of course. I do this just to check for any unusual solutions used by the manufacturers. In case of Zirconium it was only a matter of tool-free installation brackets which use a different workaround. Revoltec did include short instructions in three different languages so if you get stuck do not hesitate to open it. Along with it came I/O bracket and bunch of screws.
One thing that caught my attention right away was lack of removable motherboard tray. Unfortunately that's a feature that companies resent to include — it saves time and hassle when dealing with system swap. Fitting the motherboard was a pieace of cake. It started to get funky with 5.25″ device installation which required removal of both case and DVD panels. The rest of installation went smooth until I started connecting front panel ports. That's when Zirconium started to irritate the heck out of me. First of all, most respected manufacturers cramp audio / USB cables into 1 single connector. This solution alleviates the need of diving into your case and wasting your time looking for pins and correct position. This applies to both audio and USB which in my opinion should have been wired into a single connector for easier installation.
CONCLUSIONS
Not until later this year Listan started making PC cases under the Revoltec brand. Up until now, they've been known for their be quiet! Straightpower and Darkpower power supplies and PC accessories including the latest FightMouse, Lightboard, Gamepad and FightPad Advanced. The Revoltec Zirconium case I've tested for you today is a mid-range product with standard features that can be found in most PC enclosures nowadays. The design however isn't average to say the least — some of you will like it and some will hate it. Personally I have mixed feelings about its looks. I would substitute drive doors for something more standard looking and operational. It's just silly taking off the panel just to install an optical device, neither is it tool-less as you have to unscrew the top to pull out the front. Weight is another characteristic that doesn't go along with the look of the case. Not only it feels heavy, but it actually is. The inside finish, tool-less mounting is not bad though Listan should have put more effort into I/O panel cables which are horrible to connect.
Pros:

+ Overall clean look
+ 120 mm fan
+ Removable HD cage
+ Good mounting clips

Cons:
– Drive doors
– Horrible I/O panel cabling
– Not so "tool-free"
– All steel thus heavy
The final score for Revoltec Zirconium is
6.5 (Pretty good) out of 10.