When choosing a water block for your GPU you want the very best. With compatibility for the newest cards as well as previous generations the MCW-60 should be atop your short list.
INTRODUCTION
Desperate times call for desperate measures. You may have heard this saying spoken throughout history and while those who have uttered these words may have been referring to periods of great struggle I am sure seeing the current state of video cards this quote applies here. As GPU's continue to hunger for more and more power they will continue to generate more and more heat. Gone are the days when a simple piece of metal would suffice. Even mid-range cards such as the 8800GTS require a dual-slot cooling solution to tame the beast within. What is an enthusiast to do? Sure you can get a nice large cooler if you can live with the noise it generates. What about water cooling? Ya know, that stuff you're NOT supposed to bring near expensive electronics. Before you decide me mad and click that little red 'X' what if I told you that you need not be so desperate to try water cooling. That a company with higher quality standards than most car manufacturers has a waterblock that destroys the competition and keeps your video card nice and chilly. With no more ado I give you the MCW-60 from Swiftech, a waterblock that delivers were it counts.

Serious cooling power
Swiftech: The company

Known as a company for providing the very best in cooling products, Swiftech's forte lies within their water cooling products. From CPU blocks to GPU and chipset cooling you can be sure to here this name mentioned among the very best. For a bit more history of the company a quick visit to the web site reveals the following info:
Founded in 1994 by Gabriel Rouchon, Swiftech™ has emerged in the last seven years as one of the leading forces driving the high-end thermal management scene in the personal computer industry. Pioneering work, innovation, and an uncompromising dedication to high performance and quality have resulted in award winning products setting standards for others to follow.

Swiftech was established in 1994 and incorporated in 2001. Its sales skyrocketed in early 2001 following the release of the MC370 line of heatsinks. Reviews of the heatsink in the Internet Press propelled Swiftech into the limelight as the number one source for high-performance heatsinks in the aftermarket computer parts Industry.
I would like to send out a special thanks to Nick and the rest of the crew at CrazyPC.com for supplying us with today's sample. Check them out for your custom build needs.
PACKAGING
The MCW-60 is packaged very well in its plastic shell. I also greatly appreciate that the package is sealed by the two tabs at the top and not around the entire package as is the case with blister packaging. This makes it much easier (and less dangerous) to open. It also gives some quick information regarding the unit's compatibility.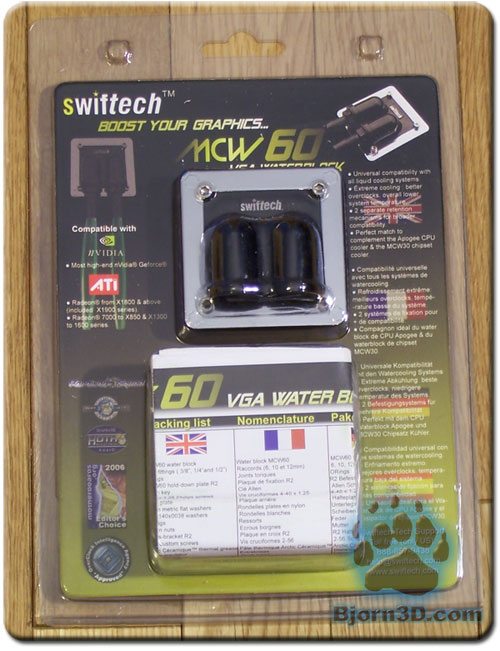 MCW-60 Packaging – front
Turning to the rear we see more in-depth information regarding the supported cards as well as different configuration options and items contained in the package..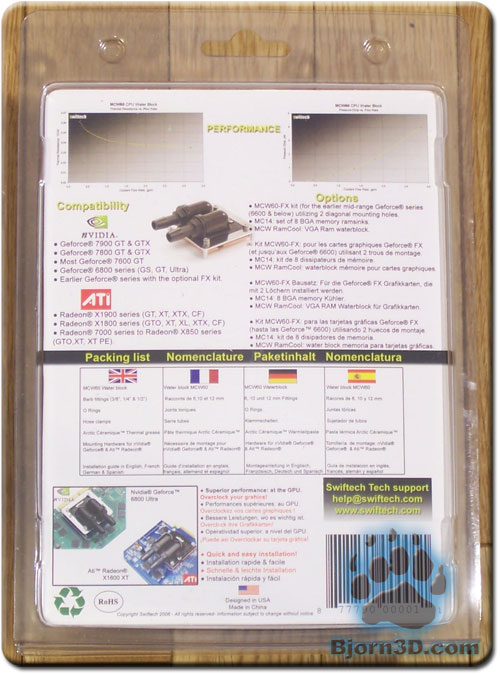 MCW-60 Packaging – rear
CONTENTS
Swiftech really makes sure you are equipped no matter what configuration you may be using. With parts for many Nvidia and ATi cards chances are good that this waterblock will fit your cards.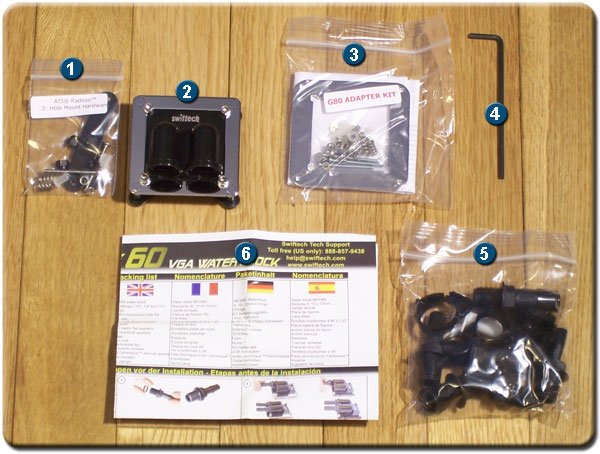 MCW-60 accessories
Radeon 2-hole mounting kit – For ATi cards not using a 4-hole mounting system
MCW-60 water block – The water block
Adapter kit for the Nvidia G80 cards – For Nvidia Geforce 8800 series video cards
Allen wrench – Used to open the MCW-60
Barbs and clamps – Includes 1/2″, 3/8″, 1/4″ barbs for various water cooling tubes
Install guide – Easy to follow with color photos and step by step instructions
Thermal paste – Not pictured here is the thermal paste Swiftech includes. No not your ordinary generic paste but Arctic Silver Ceramique!
FEATURES
The MCW-60 from Swiftech has many features built into it that can easily be overlooked by all but the most sharp-eyed enthusiast. Here is a list taken from Swiftech's website to illustrate just a few of the more useful features found in the MCW-60.
Features and Benefits at a glance
Versatility
VGA compatibility: the improved mounting system provides compatibility with most ATI® Radeon® and most high-end nVidia® GeForce® graphics adapters (see compatibility section for details).
Water-cooling system compatibility: The water-block ships with 1/2″, 3/8″ and 1/4″ barbs for universal compatibility with any liquid cooling circuit.
Low water-block profile allows installation with nVidia's SLI and ATI's CrossFire™ systems.
The NPSM thread used in the MCW60 is BSPP and G 1/4 fittings compatible (see technical note on Fittings Compatibility)
Performance Mode
The thermal performance model focuses extreme cooling where it is in fact the most needed: at the GPU level. This will afford better overclocks, and overall lower system temperature. Efficient and silent memory cooling is handled by using individual Ramsinks.
Water-block Performance
The MCW60 waterblock inherits all its thermal and hydraulic characteristics from the Apogee CPU water-block, in particular the Patent Pending Diamond Pin Matrix cold plate, proven for its thermal efficiency with today's high end CPUs.
Memory performance
Greater thermal efficiency is obtained thanks to the superior mechanical joint afforded by individual heatsinks compared to monolithic memory cooling solutions.
Reliability
The housing is injection molded from POM (Acetal Co-polymer) resulting in complete reliability compared to machined Acrylic tops which tend to crack.
All hydraulic joints (housing to cold-plate and fittings) use o-rings for complete reliability and leak-free operations.
The mounting system includes a strong stiffening back-plate with a soft rubber center pad to prevent the circuit-board from bending .
Cosmetic Appeal
In its black and chrome trim, the MCW60 VGA cooler is a perfect match to complement the Apogee CPU cooler, and the MCW30 Chipset cooler.
Lower cost of ownership
The injection molded water-block housing results in economies of scale, whereas the individual memory Ramsinks provide significant material savings compared to monolithic solutions. Cost of ownership is thus reduced by up to 50% compared to monolithic solutions, with superior performance where it really counts, and complete freedom in terms of graphics cards upgradeability.
COMPATIBILITY
The MCW60™ is shipped with three separate retention mechanisms composed of spring loaded screws and back plates providing off-the-shelf compatibility with all ATI® Radeon™ and most nVidia® GeForce™ families of products as follows:
Pre-assembled retention mechanism using the four holes surrounding the processor:
Most high-end nVidia® GeForce™ series from 6800 and above (incl. latest 7900 series). See compatibility list below.
ATI® Radeon™ series from X1800 and above (incl. latest X1900 series) – Please note that Master cards for Crossfire™ Systems feature a compositing chip requiring an extra MC14 heatsink for cooling, not provided with the kit.
Retention mechanism for all ATI® Radeon® 7000 to X850, and X1300 to X1600 series using the two alternate mounting holes:
X1600XT Series Note: Depending on the circuit board maker, some X1600XT are not compatible. See compatibility list
Retention mechanism for nVidia GeForce 8800 series
Earlier mid-range GeForce™ series (6600 and below) utilizing two diagonal mounting holes (3.12″ spacing as shown below) require the optional MCW60-FX kit.

The MCW60 FX kit provides compatibility with earlier GeForce models
INSTALLATION
The water block was installed on an Albatron 8600GTS. While this card is not technically listed as being supported it does have the same four hole mounting position of the 7900GT which is supported. No issues arose during installation and overall I was very pleased with the ease of the entire process.
The actual process of installing the water block is the same as any aftermarket heatsink. Remove the screws holding on the original cooler. After gently removing the old cooler clean the GPU and surrounding memory chips with rubbing alcohol. Apply your favorite thermal paste to the GPU and place the new cooler on the GPU finishing up by tightening the screws to keep it in place.
In case you were wondering (I know our readers are very sharp-eyed) the heatsinks covering the RAM modules are from the Zalman VF900-cu. These were used to provide a more direct comparison since the default cooler also provides cooling for the memory chips while the MCW-60 does not come with them unless purchased separately.
TEST SETUP
Test Platform
Processor
Intel Core 2 Duo E6420
Motherboard
XFX 650i Ultra
Memory
2 GB (2 x 1 GB) of G.Skill DDR2-800
Drive(s)
1 – Seagate 7200.9 Barracuda SATA
1 – Samsung HD501LJ SATA
Graphics
Albatron 8600GTS @ 675/1000 MHz & 711/1120 MHz
Sound
Creative Soundblaster Audigy2 ZS
Thermal Paste
Arctic Silver Ceramique
Cooling
Corsair Nautilus 500
GPU Cooler 1- Stock
GPU Cooler 2- Zalman VF900-CU
GPU Cooler 3- Swiftech MCW-60
Power Supply
OCZ GameXStream 850 watts
Display
Westinghouse 37″ LVM-37W3
Case
Outside case
OS
Windows XP Pro SP2
Methodology
In order to test this water block we will first connect only the GPU to the water loop and test our temps. After which we will connect the CPU and GPU as this is more likely the setup most people will use when water cooling.
Idle temps will be recorded after logging into the OS with a period of inactivity no less then fifteen minutes. To place a load on the video card ATiTool will be run for a minimum of fifteen minutes.
TEST RESULTS
These graphs really don't need any explanation do they. The raw cooling of water is harnessed by the sleek and efficient MCW-60.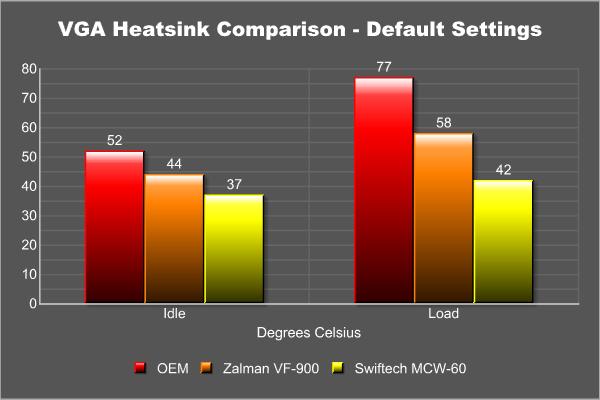 Turning to overclocked settings we see more of the same. You'll notice the load temp of the water block hasn't changed here. This is not a typo. It is also unsurprising as we are not adding more voltage, only increasing clock speed which adds small amounts of heat. While the air coolers see the effects of this the water cooling block takes it in stride. In case you were wondering, by utilizing the MCW-60 I was able to increase my overclock on the GPU from 711MHz up to 735MHz. I am sure with more voltage this can go even higher.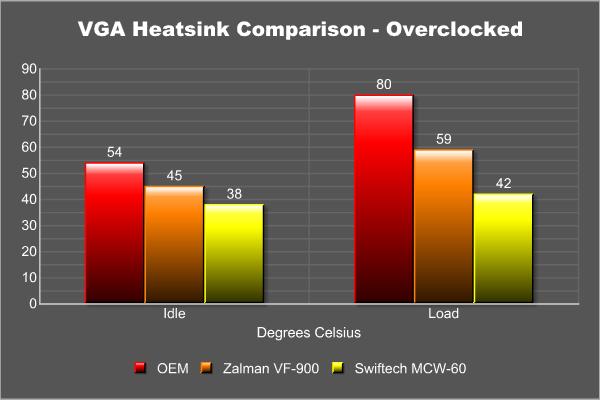 CONCLUSION
The temperatures scores were going to be a mismatch and I knew that from that start. But to see just how much better cooling is provided by this waterblock is astonishing. It allowed me to push the GPU further then before and keep the temps nice and cool. Besides the benefit of better cooling is the ease of installation. A good cooler is nice but if it a beast of burden trying to install it then its value diminishes. Gladly, this was not the case as I had no trouble at all installing this block on my card multiple times, testing for proper contact. While it does put more heat into the water loop this is to be expected so you need to make sure your kit can handle the added stress. With its micro-channel design, copper block, and adapter kits for various GPU's this unit raises the bar by which all others are judged.
Pros:
+  Excellent cooling power
+  Slim profile allows for use in SLI / CrossFire
+  Easy to install
+  Versatile – multiple barbs, multiple fittings
Cons:
–  Increases load on water loop
–  No RAM sinks included
–  G80 kit requires additional hardware for proper use