Although a young company, Tagan is determined to make world class products. Does the CS-A380 continue the tradition of the Black Pearl? Read on to find out.
INTRODUCTION
In the quest for more and more silence without compromising airflow some people will go to great lengths to keep their PC quiet. Some people even have the PC in a different room of the house and run cables to it for the sake of silence. Fans get bigger, CPU's shrink and time marches on. Today we have Tagan's newest addition to their line of A+ cases. Named the CS-A380, the name may not roll of the tongue quite as smoothly as Black Pearl but what it lacks in title it surely makes up for with a monstrous 250mm front fan. With the great success of the Black Pearl Tagan has set a high standard for itself. Can the CS-A380 match the level of the Black Pearl and more importantly, the scrutiny of our readers or will it crash and burn? Let's find out.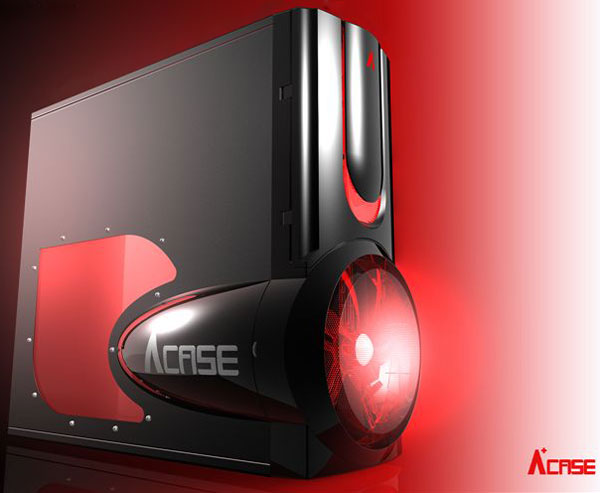 Tagan CS-A380
Tagan: The company

Our simple reason to give TAGAN's birth:

We are a group of professional technical guys living in different countries –Germany, Japan and Silicon Valley (USA). All of us have had a couple of negative experience implementing Power Supply (PS) into systems. It is frustrating, time consuming and risky! By a very valuable opportunity, 2001 in Taipei`s Computex show, all of us met each other at a dinner party, we occasionally sat together and discussed about the power supply problems.

Based on our professional background and know-how, we suddenly all decided to study more about power supply and conduct some testing for finding out the best one. After almost a year`s teamwork in discussion, design, and developing, our team of international experts have designed some of the best and reliable power supplies for the PC as well as all the various systems. Consequently, all of us have become the founders of TAGAN. We are more than happy to share these products and experiences with you.
Since the creation of Tagan shortly after the turn of the millennium they have come to be the number one recognized brand in Germany. This is in part to their philosophy. To carry out state-of-art technologies for the best quality power supplies and to offer them to all users. What does it mean to have brand recognition? If I ask you who does the 'golden arches' belong to, would you know the answer? If you answer McDonald's you now have an idea of the importance of brand recognition.
FEATURES AND SPECIFICATIONS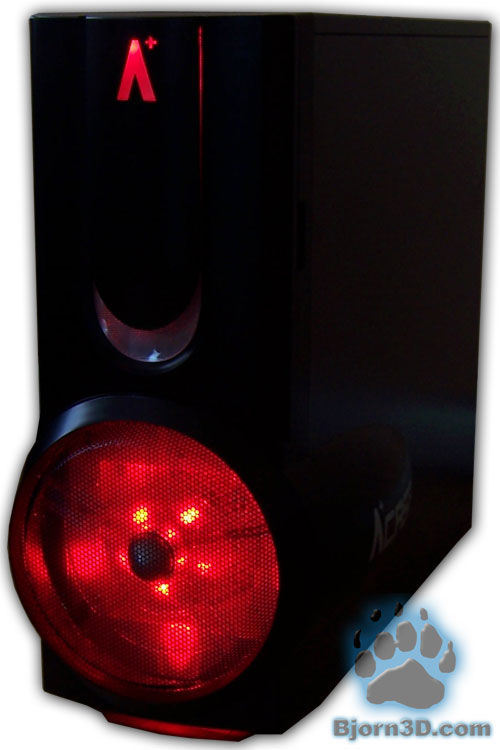 Brushed metal 1.0 mm aluminum case with acrylic side window
Red illuminated A+ logo and backlit front door
Adjustable external fan controller for easy access
Top mounted ports for easy access

2 x USB 2.0
Audio (Headphone / Microphone)
1 x Firewire (IEEE 1394)

13 Drive Bays

5.25″ Bays – 5 external
3.5″Bays – 1 external, 7 internal
Capable of holding 13 disk drives.

Cooling

Giant adjustable 25 cm fan in the front to guide the air flow inside the case
Optional cooling includes rear mount for one 120mm fan

RoHS compliant
Motherboard support for Micro ATX, Standard ATX and Extended ATX
7 expansion slots
Dimensions (W x D x H) – 12.2 x 24.4 x 23.6 in (31 x 62 x 60 cm)
Weight – 25.92 lbs (11.76 kgs)
PACKAGING
Anytime I get a new product delivered I always inspect the packaging very carefully. Why, you ask? Well if the company takes extra steps to ensure the safe arrival of its product to you then it tells me they will care about their product and they have good attention to detail. Two traits I highly value.
I am glad to report that this box made here with only superficial dents and cuts. The case inside is well protected and free from any damage. A good start I would say.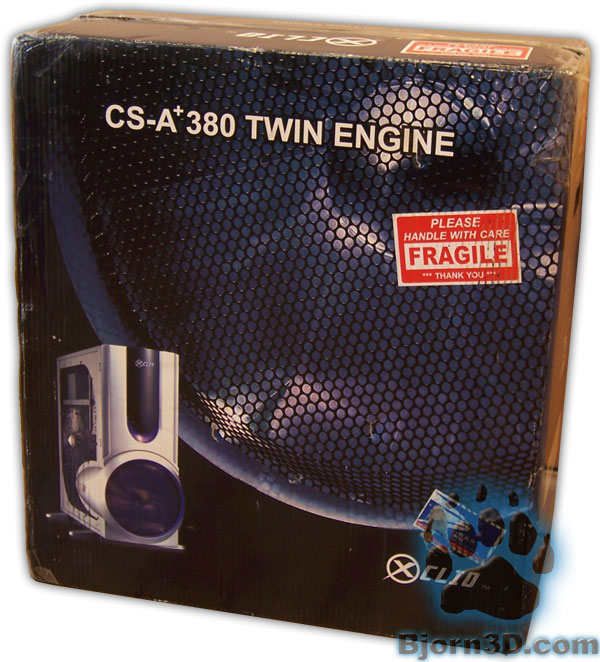 Tagan CS-A380 box
You may have noticed we have been calling this case the CS-A380 and not by the name on the box; "Twin Engine". Speaking with Tagan about this, they informed me that after extensive testing they concluded the second fan to interfere with video cards running in SLI or Crossfire. Additionally, the airflow without the side fan was determined to be more efficient. We will be testing temperatures a bit later so we'll see how good the air flow is or isn't.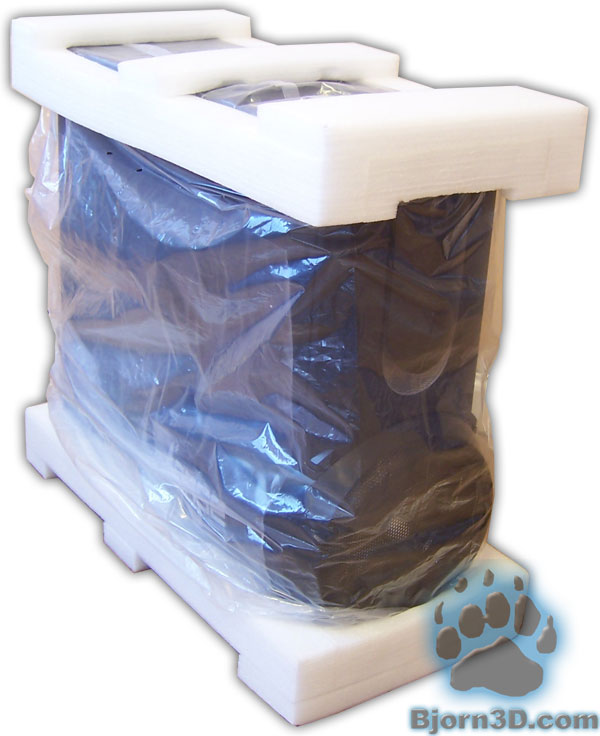 Tagan CS-A380 packaging
CONTENTS
As seen in the Black Pearl, Tagan takes a different approach to the normal inclusion of accessories. Rather then toss in a little cardboard box with parts, Tagan includes a nice little compartment to house all the screws and rails needed for installation. While this does take up two spots that would normally be used for hard drives there are still plenty of other spots and it is nice to keep your parts so close and not have to go looking all over for them.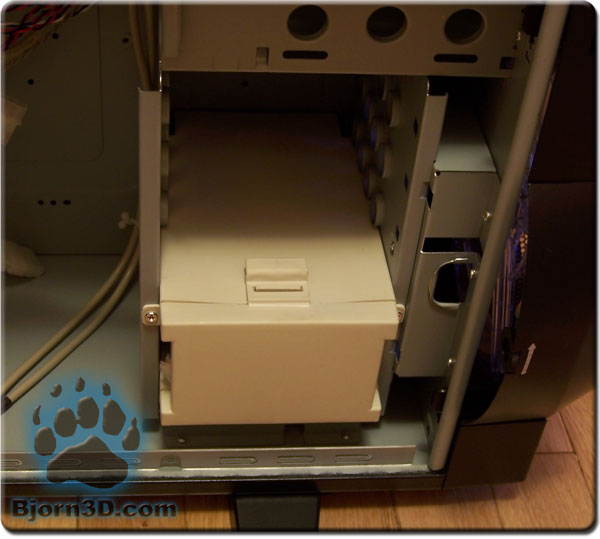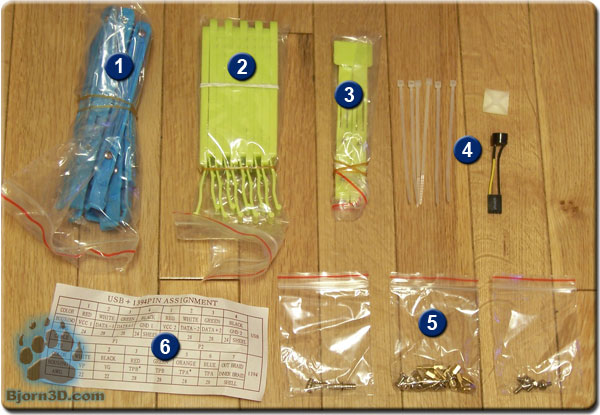 HDD rails – Used when installing hard drives into the case
5.25″ rails – For installing components in the 5.25″ bays
FDD rails – Used to install a floppy drive
Zip ties & speaker – For cable management and beep codes
Mounting screws & standoffs – Mounts the motherboard to the case and extra screws for a fan
USB pin assignment – Instructions to install the USB ports. More on this in a bit
EXTERNAL
Starting at the front of the case we see the monstrous 250mm fan and the front door. The door is held on by two magnets and has a solid feel to it. When closed it sits flush against the case and takes enough force to open that you wouldn't worry about it swinging open on its own. The door swings open a bit past ninety degrees which is plenty to access anything on the front panel. Speaking of the front panel, they are very easy to remove for installing components. Grabbing either side and squeezing releases the latches holding it on. Pull forward and viola!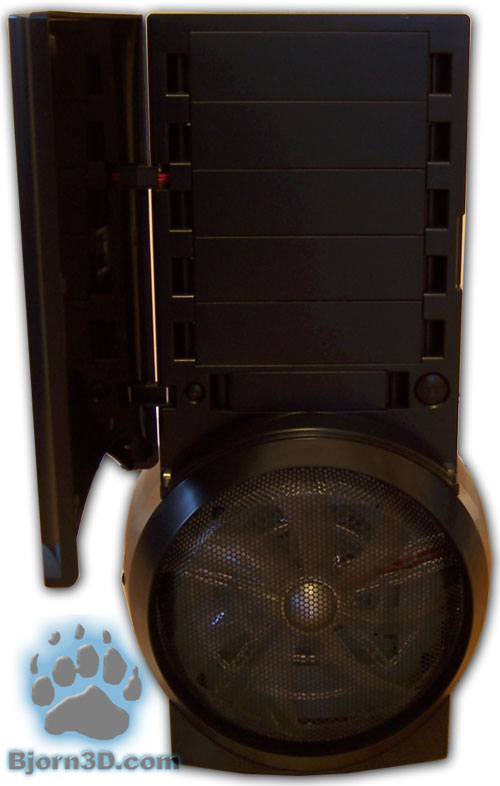 Tagan CS-A380 front panel
Next up we see the front door closed and the rear of the case. The back of the case supports one fan ranging in size from 80mm up through 120mm. I was hoping to see some pre-punched holes for water cooling here, perhaps right beneath the ROHS sticker, but no luck this time. Perhaps in future revisions maybe. (Hint, hint Tagan)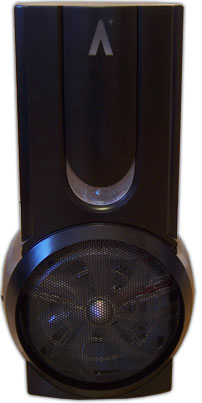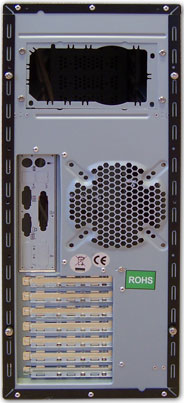 Tagan CS-A380 front & rear
(Click to enlarge)
The sides of the case are your basic side panels. The left side of the case has a half window for showing off your video card or having lights for that extra 'wow' factor. Given how hot some of today's CPU's can get I was surprised to see no fan or even a CPU duct on the side panel here. Tagan must be really confident in the airflow the front fan can provide. We will make sure to thoroughly test out how well that lone fan can cool the entire PC.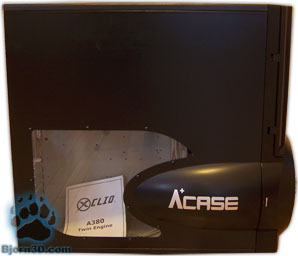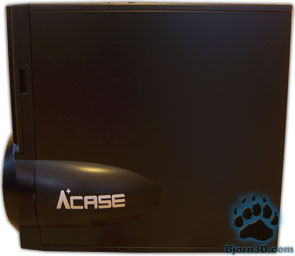 Tagan CS-A380 left & right
(Click to enlarge)
Looking to the top of the case we find the USB and Firewire ports. The first thing that strikes me is the placement of the ports. Being on top like this makes it so if you have the case on top of your desk it will be tricky to reach all the way up there. Also having it towards the middle means placing the case underneath your desk will cause you to have to reach underneath in order to find the ports. No microphone or earphone jack is included either making this setup a little out of the ordinary in my mind.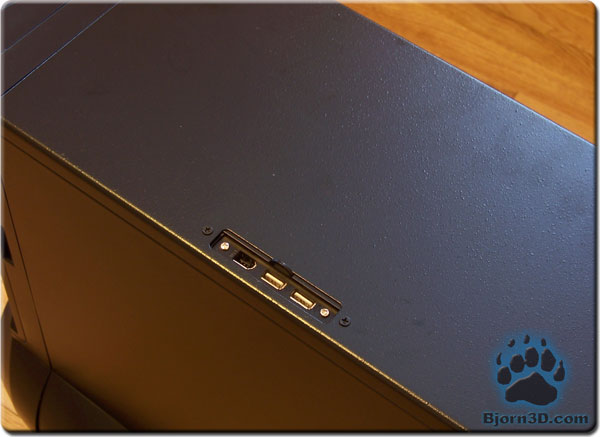 Tagan CS-A380 top ports
Flipping the case over to get a look underneath we see the CS-A380's fold out feet. These provide ample stability and prevent the case from toppling over should a wild cat/dog/toddler decide to run into it. I would have liked to have seen some rubber on the bottom to help dampen any vibrations coming through the case. The lack of rubber feet is not an issue on carpet floors though if you place the unit on a desk or hardwood floor it may become a problem.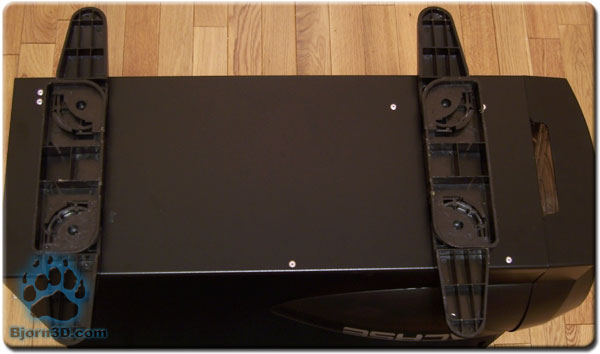 Tagan CS-A380 feet
INTERNAL
The inside of the CS-A380 is spacious enough to handle up to an extended ATX motherboard. Feeling around the edges I was pleased (and relieved) not to come across any sharp edges here. Looking a bit closer you can see there are also some holes built into the back plate here that will allow you to run your cables behind the motherboard should you chose to do so.
You can see here how to compartment that holds the rails fits into the case. It is removable if you need the extra space.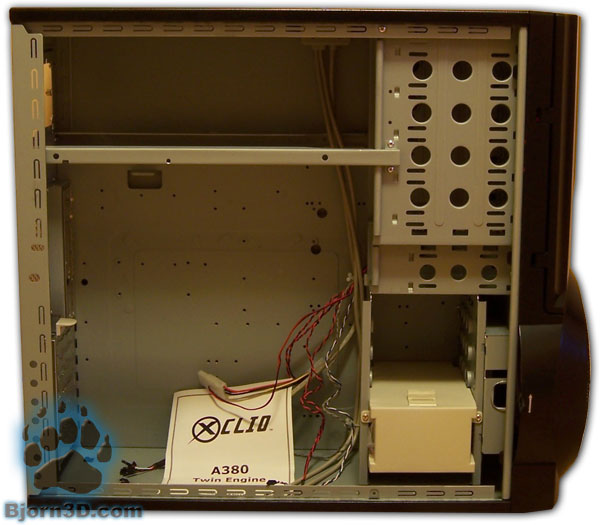 Tagan CS-A380 interior
Looking to the inside portion of the front we see how the extra large fan on the front over hangs the side of the case. This is what gives the case its distinct jet-engine shape to it. Also, since the tips of a fan turn the fastest they would also provide the most airflow at a given speed if they are allowed to do so.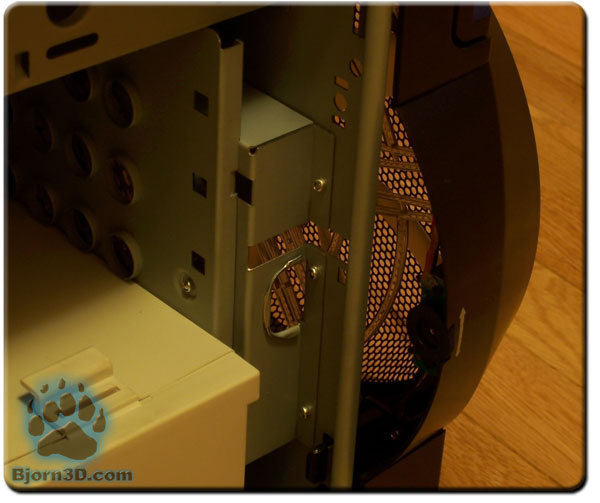 250mm fan from the inside
And allowed they are not. I wrongly assumed when I first looked at this case that these bevels on either side of the case are hollow and acted as a sort of duct to allow cool air to pass directly towards the motherboard. Sounds like a good idea right? Style AND function. Unfortunately though, as you can see here, the path of the air is blocked by a side bevel that is not hollow. It actually acts to stop the air that would be passing by. While I am sure this is the 'easier' method to building this case I can only theorize as to why such a great opportunity was passed up here.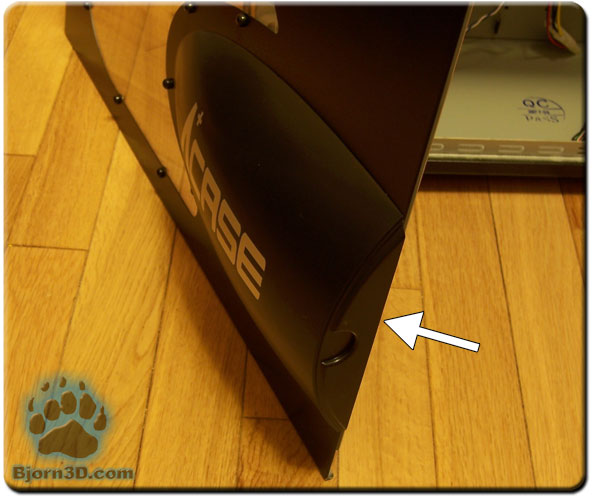 Do not pass go
At this point let me just say that I am concerned about how this case will perform temperature wise. With only one fan providing the air flow for the entire case it does not bode well that it is blocked at the points that generate the most airflow. I will reserve judgment for the final testing.
INSTALLATION
The first point I always look at before installing any hardware in a case is the length of cables. This will tell me how creative I can be in routing the wires for better airflow. While the length of the front panel wires are long enough to remain out of the way it was the USB and Firewire cables that made me pause.
When cases started to come with built in USB ports these were the types of cables that were included. They were a pain to install back then and I truly thought these went extinct with USB wire standards. Lining up the wires is tedious and making sure you don't plug the wrong wire onto the wrong pin is helped by the included instructions but even so it shouldn't be an issue. I am not sure why this type of cable was installed but I can only hope this is an oversight that will quickly be fixed.
EDIT: After speaking with Tagan, they informed me that these cables have been updated to the plug style and the oversight corrected. It is nice to see a company that listens to its customers. Though I will wait to see if these new cables make there way into the cases as promised.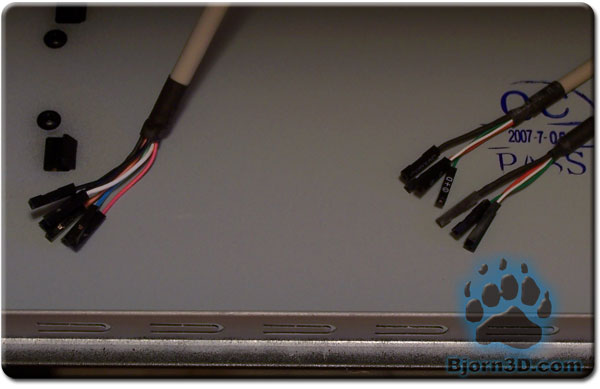 Nimble fingers required
I have seen a few cases in my time that try to remove screws from securing expansion cards. Some implementations have been disastrous while others have worked adequately. I was surprised to find out that the mechanism used on the CS-A380 is very strong and also very easy to use. After securing in the video card I had one of those "that's it?" moments. Yup, it really is that easy.
Grab the white handle as shown in the first picture below. Turn it outwards towards you and remove the PCI bracket (Picture 2). Insert your card and close the handle. (Picture 3) That's it. No screws, screwdrivers or hassle. Very nice.
Installation of optical drives and disk drives is also made easier (and tooless) by the included rails. Place the rails on either side of your drive (optical or disk) and slide the unit into its designated area. Push it in until you hear the click of the rails being secured in place and you're finished.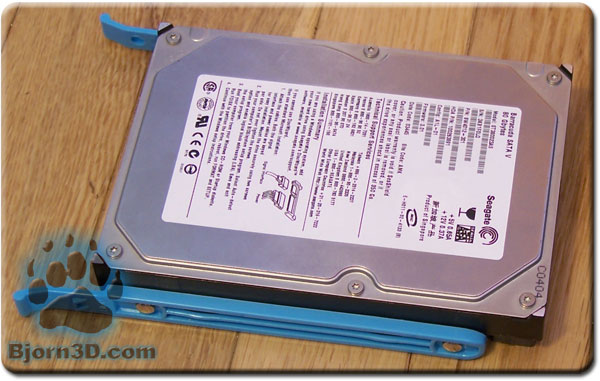 Hard drive with rails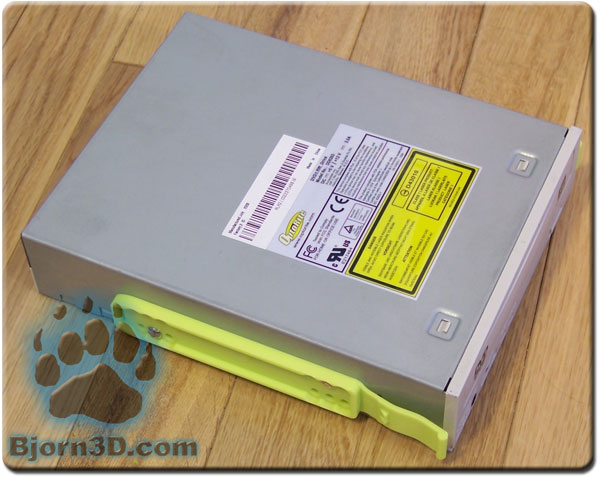 Optical drive with rails
TEST SETUP
All tests will be conducted on the following platform. As a comparison I will first test the platform outside the case in the open air with one fan blowing over the chipset and one fan blowing over the pwm's. While this is the best case scenario for airflow it is also rather loud. As such it will be used as the standard which we will test against. It will be interesting to see how efficient the airflow is inside the CS-A380 given the large intake fan.
Test Platform
Processor
AMD Opteron 165 @ 2.7 GHz
Motherboard
ASUS A8N-SLI Deluxe
Memory
2 GB (2 x 1 GB) of Patriot DDR-500
Drive(s)
Seagate 80GB Barracuda SATA
Graphics
MSI 7900 GT @ 675/1800
Sound
On board sound processor
Cooling
Stock AMD cooler
Power Supply
Antec Truepower 2.0 – 430 watts
Display
Vison 19″ LCD
Case

1 – No case (open air)
2 – Tagan A+ Black Pearl
3 – Tagan CS-A380

OS
Windows XP Pro SP2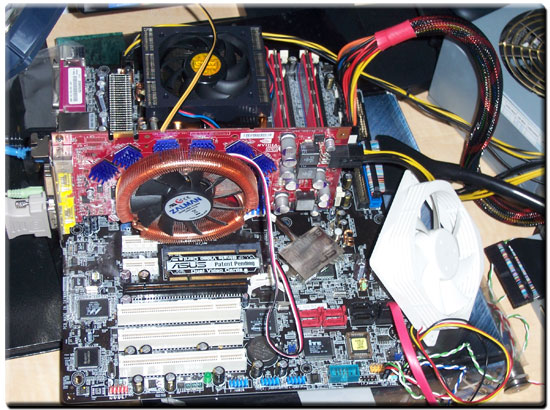 Best (no) case scenario
TESTING METHOD
In order to put the CS-A380 through its paces I will test the case in various configurations.
Configuration 1:  I will test the case with the side panel closed and no fan in the rear.
Configuration 2:  I will test the case with the side panel closed with a fan in the rear exhausting air.
Configuration 3:  I will test the case with the side panel open for maximum airflow to see if the platform is starved for more air.
All temps are measured with the built in Asus Probe software and double checked with a non-contact infrared thermometer were applicable. Internal case temp and ambient temperature are measured with a digital Radio Shack thermometer.
We will measure the temperature of the CPU, Northbridge, VGA, and the internal temps of the case. While the CS-A380 has a the capability to adjust the speed of the front intake fan I will test if adjusting its speed has any impact on noise and temperature levels.
RESULTS
I always try to visualize the path air will travel and plan accordingly. To help illustrate my thoughts I whipped up this quick diagram of air flow to show you what I try to create with any case I setup.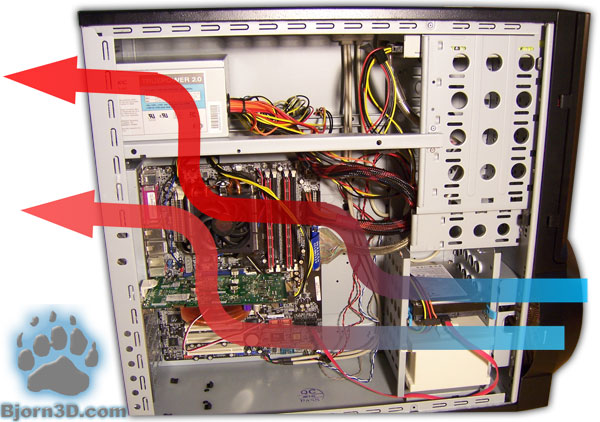 Path of air
Temperature
During testing the ambient temperature of the room was maintained at 28C.
Configuration 1:  Side panel closed with no fan in the rear.
Configuration 2:  Side panel closed with fan in the rear exhausting.
Configuration 3:  Side panel open for maximum airflow.
Right off the bat we see the CS-A380 providing better temps for the Northbridge. This is due to the heatpipe cooling system used. By being in a vertical position it works much more efficiently than in an inverted position as with the Black Pearl. Adding a rear case fan as seen in configuration 2 helps to cool off the video card some but since it is pulling more hot air across the Northbridge heatpipe cooling fins we see a one degree rise in temps here. Removing the side panel provides a breath of fresh air as we see that the front fan may not be providing enough air flow for the entire system. In case you were wondering (and I know our sharp eyed readers are quick to spot oversights) I also tested temps with the front fan set to its slowest speed. Surprisingly I saw no change in temps.
Temperature Results at Idle (Celsius)
 
No case
Black Pearl
Config #1
Config #2
Config #3
Processor
35
34
39
39
37
Northbridge
30
42
39
40
39
VGA
41
47
47
46
45
Ambient
28C
The trend continues as we load our system to the max. The video card has cooler temps than the Black Pearl since it blows the hot air upwards and away from the card. In the Black Pearl it blows the air downwards (inverted ATX ) and the hot air rises only to be blown down again. Again we see good temps on the Northbridge and warmer temps on the CPU. Removing the side panel again lowered the temperature all around.
Temperature Results at Load (Celsius)
 
No case
Black Pearl
Config #1
Config #2
Config #3
Processor
51
51
57
56
54
Northbridge
31
45
42
42
41
VGA
51
65
58
56
55
Ambient
28C
Noise level
Everyone interprets noises a bit differently. What may be loud to me may be perfectly acceptable for you. With that said I will share with you my relative experiences with this case.
With the front fan running at full speed you can hear the air and it is noticeable in a quiet room. There are many blockages to the air flow and this causes a lot of turbulence and thus noise. This case is not designed with the home theatre users in mind so the noise it does generate in my mind is acceptable. Turning the fan to its lowest setting made it very hard to hear at all and as a bonus I noticed no increase it temperature. Listening to music and playing games made this case impossible to hear and thus kept me immersed in my activity.
CONCLUSION
The CS-A380 is a new mid-range case from Tagan and there is a lot to like about it. Its unique design is eye catching while the colored lights, in my opinion, are well done and not too over the top. The few annoyances that did exist were not terrible in my mind. The USB ports are placed in an odd place to be sure and this is something that hopefully gets updated in the future. The case has a quality feel to it and installing a PC was on par with what I expected a case this size should provide.
In the beginning I posed the question 'Can the CS-A380 match the level of the Black Pearl?'. These cases are in different classes and should be treated as such. The Black Pearl is the crowning jewel of the high-end, money is no object, give me all you got crowd. While the CS-A380 is a good case I don't feel it is the creme of the crop for the mid-range crowd. While I would be quick to place it among the quality cases in this group it does not stand out like the Black Pearl does. It performed well in temperature testing but with limited options for fans if you have hotter equipment than this you could be in for some serious overheating.
FINAL WORDS
Installation: 8.0 – Installing a motherboard inside the case was straight forward with no major complications. Optical drives and disk drives went in easy enough. The only points that lowered the score here are the USB cables and no removeable motherboard tray.
Features: 7.0 – This case is very attractive on the outside but a bit on the baren side internally.
Price: 8.0 – With an MSRP of $119.99 USD this case is priced for the mid-range enthusiast which is about where I would place it.
Value: 7.0 – A good case with some nice features that is worth a look.
Pros:
+  250mm of cooling goodnss
+  Glowing red light (Coolness factor)
+  Lightweight
+  Modern look
+  Plenty of space
+  Competitively priced
Cons:
–  USB cables are tricky to install
–  No removable motherboard tray
–  Bottom feet are not padded for noise dampening
Final score: 7.5 out of 10