We've taken Corsairs latest and greatst DDR3-kit and put it to the test to see what those 1800MHz actually can do to your system.
INTRODUCTION
One of the computer world's most famous quotes (although he probably never said it) is of course Bill Gates saying that "we will never need more than 640 Kb of memory". As we all know there can never be "enough" memory in a computer system. As memory gets cheaper and the upper limit of what the processor can address has increased, the memory need of the software we use somehow keeps increasing. Not only that, as the performance of the other components in a system increases, so does the demands on the memory.
While we have seen DDR3-memory for a while on video cards it is just now that this standard has started to appear in the regular system memory. Currently the only chipset that supports the new memory type is the P35 chipset from Intel but in the not so distant future (or even now depending on when you read this) Intel's new X38 chipset will also have support for it.
Today I am reviewing a high-end DDR3 memory kit from Corsair: the TWIN3X2048-1800C7DF G DDR3 1800 MHz CAS DOMINATOR (I challenge anyone to say that really fast three times), from now on called the DOMINATOR Twin3X2048-1800C7D. While the highest official speed of DDR3 is 1333 MHz, Corsair has already managed to get even more speed out of it getting it to run at 1800MHz.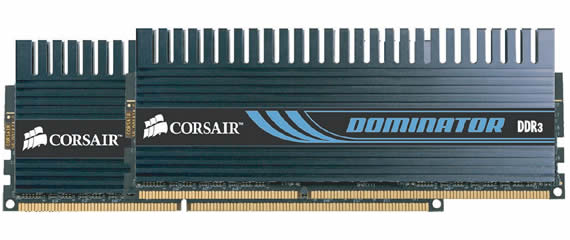 ABOUT CORSAIR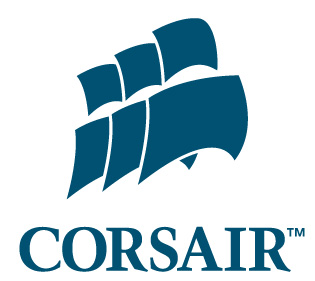 Corsair has been a leader in the design and manufacture of high-speed modules since 1994. Our focus has always been on supporting the special demands of mission-critical servers and high-end workstations, as well as the performance demands of extreme gamers. While maintaining this core focus, in recent years, we've also brought our expertise, technology leadership and legendary quality and reliability to memory and other technology products for the more mainstream consumer.
DDR VS DDR2 VS DDR3
Before we take a look at the specifications of this memory kit, let us look at the difference between DDR, DDR2 and DDR3.
Items

 DDR SDRAM

 DDR2 SDRAM

DDR3 SDRAM

Clock frequency 

100/133/166/200 MHz

200/266/333/400 MHz

533/667/800+ MHz

Effective Clock Speed 

DDR2-400/533/667/800

DDR3-1066/1333/1600+ (1800 Mhz) 

Theoretical BW 

PC-1600/2100/2600/3200

PC2-3200/4200/5300/6400

PC3-8500/10600/
12800+ (14400)

Discreet Density

64 Mb, 128 Mb, 256 Mb, 512 Mb, 1 Gb

256 Mb, 512 Mb, 1 Gb, 2 Gb

512 Mb, 1 Gb, 2 Gb, 4 Gb, 8 Gb

Module Density 

32MB-1GB, 2GB

128MB-2GB, 4GB

256MB-4GB, 8GB, 16GB

Supply Voltage 

2.5V

1.8V

1.5V

CAS latency (CL) 

2,2.5,3 clock

3,4,5,6 clock

5,6,7,8,9,10 clock

Prefetch buffer 

2-bits

4-bits

8-bits

Burst lengh 

2,4,8

4,8

4 (Burst chop, 8)

On Die Termination

No

Yes

Yes (Dynamic ODT)

Data Strobe 

Single ended

Single ended / Differential

Differential Default

Master reset 

No

No

Yes
Information provided by Corsair.
The reason we are seeing DDR3 memory now is the same reason that we saw a shift from DDR to DDR2 a couple of years ago: the technology has almost reached its maximum (in frequency, latencies, and significantly increased heat release owing to much higher voltages). As Dual Core CPU's needed memory with higher bandwidth and thus needed DDR2, the new Quad-Core CPU's need even faster memory.
FEATURES AND SPECIFICATIONS
As this is one of Corsairs high-end memory kits, it is packed with features and excellent specifications.
Specifications
Each module pair is tested together at 1800MHz
Tested and packaged in pairs
– Packaged together immediately following system test
Tested together at 1800MHz, Vdimm = 2.0V, at latency settings of 7-7-7-20 on ASUS P5K3 motherboards (Must use sockets DIMM A2 and DIMM B2 ("black sockets") to achieve this performance)
SPD programmed at: JEDEC standard 9-9-9-24 values at 1333MHz
While the timings cannot be compared to the best DDR2 memory kits, 7-7-7-7-20 at 1800MHz is still pretty impressive when compared to the other DDR3 memory kits out on the market.
Features
Dual-path Heat Xchange (DHX)Dual-path Heat Xchange is Corsairs heat sink technology that increases the memory module's thermal dissipation so that the heat generated by the Ram cells can be more efficiently removed from the module.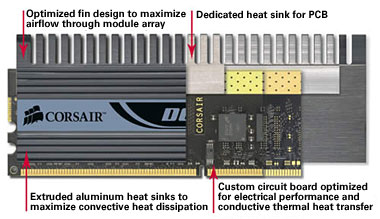 Heat is removed both through the outer heat sinks 
and the smaller top heat sink.
Airflow fan
Included with the kit is an airflow fan unit which clicks onto the memory, cooling it with three tachometer-controlled 40mm fans.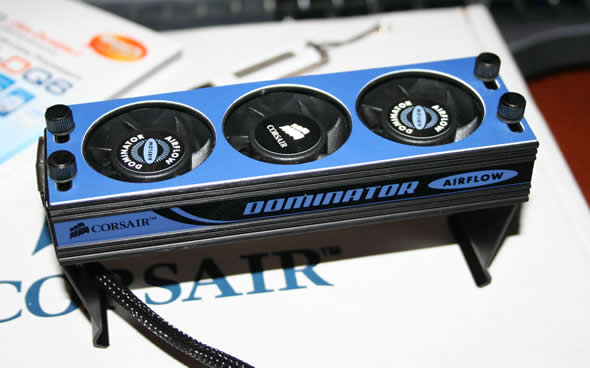 THE MEMORY
It is quite obvious from the look of the memory that this is no ordinary memory for just any user. Everything with this memory screams high-end, enthusiast and hard-core.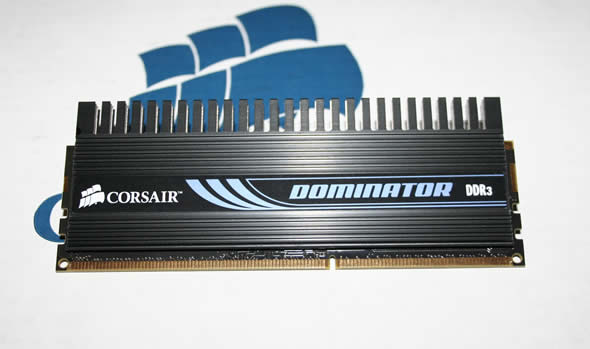 The memory modules are covered with 4 separate aluminum heat sinks. It might be hard to see but take a look at the following close-up of one of the memory modules.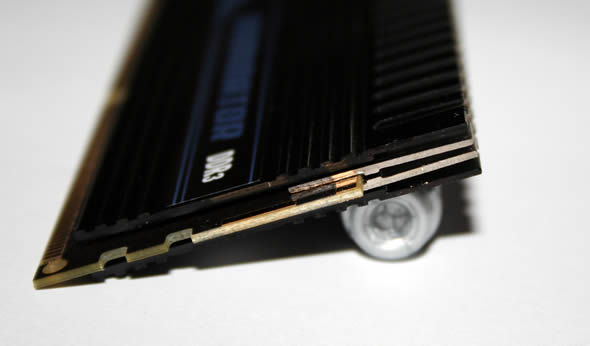 One each side of the memory we have a large heat sink that draws away heat from the memory chips. At the top however, inside the two outside heat sinks, we have two smaller heat sinks that are used to take away the heat that comes from the circuit board. This heat originates from the BGA-chips but moves through the solders into the PCB. To make sure that this heat can be removed, Corsair has increased the height of the PCB to accommodate these smaller heat sinks.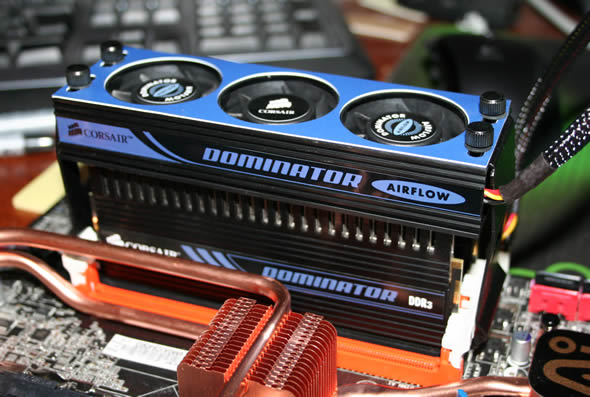 In addition to the special PCB and heat sinks, Corsair adds another way to keep the memory modules cool. With this kit (and also sold separately) you get the Corsair Airflow fan unit. This consists of three small 40mm fans that are tachometer-controlled. They run at such a low speed that I found them virtually noiseless during all my testing.
TESTING – THE SETUP
As this is my first DDR3 review I had to get a completely new setup of components for the review system used. A new Quad-Core Q6600 CPU was purchased, a new Gigabyte motherboard was bought to serve as my reference DDR3 motherboard and finally ASUS sent over a few extra DDR3-motherboards for me to test and include in this review.
Review System
CPU 
Intel Quad-Core Q6600 @ 2.4 GHz

Motherboards

ASUS P5K3 Premium
ASUS P5K3 Deluxe

Memory

Built-in DDR3 in ASUS P5K3 Premium
Corsair TWIN3X2048-1800C7DF G

HDD

1×320 GB SATA

Video cards

ASUS 8800GTS

Optical

Toshiba HD-DVD drive

Operating System

Windows Vista (32-bit)
The Test software
The following software and games were used for testing:
PCMark05
SiSoft Sandra XII Lite
Everest Ultimate Edition 2006
WinRar
Half Life 2:Lost Coast
Company of Heroes
TESTING – OVERCLOCKING
One of the major features with this memory is that Corsair guarantees that it runs at 1800 MHz. Overclocking my computer to this speed meant that I also overclocked the CPU to 2.7 GHz (from 2.4 GHz). I therefore also choose to set my system to 400×6 (2,4 GHz) to keep the CPU at the same speed as the baseline while just overclocking the memory, now to 1600 Mhz. I had no issues at all overclocking and running the memory at either speeds. The system breezed through 24 hours of stress-testing without any issues.
In addition to run the memory at 1800MHz, which Corsair guarantees it can handle, I also tried to increase the frequency even higher. This was however a bit trickier. I first got it up to 1860 MHz but constantly got a BSOD at boot at 1900Mhz (475×6). I first thought my Q6600 was at fault but a quick test with a high FSB (475 Mhz) and a low memory multiplier quickly proved that the memory itself had issues while the CPU had no problems with the higher speed. After increasing the memory voltage a bit more (to 2.15V) I managed to get the system to run through several of my benchmarks without any errors except some display driver stop errors from the NVIDIA driver in HL2:LC. These errors definitely are related to high clock speeds but do also seem to be a driver issue that I hope NVIDIA will find a solution to.
TESTING – SISOFT SANDRA XII LITE, EVEREST ULTIMATE EDITION 2006
SiSoft Sandra XII Lite
The synthetic benchmark from SiSoftware, SiSoft Sandra XII Lite, was used to measure the memory bandwidth.
As expected the memory bandwidth increases as we raise the frequency of the memory.
Everest Ultimate 2006 Edition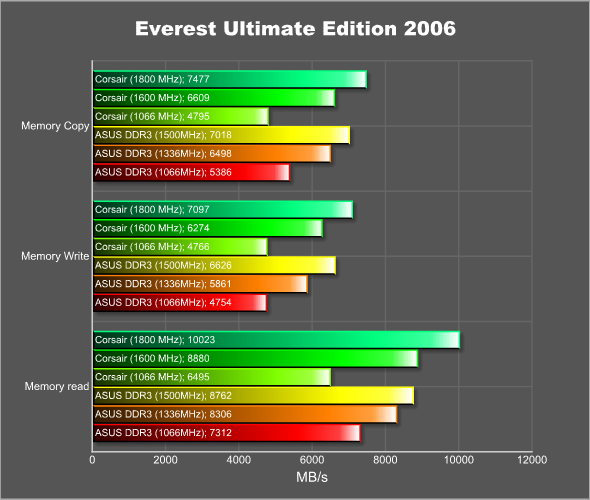 We see the same results as with SiSoft Sandra. Higher frequency means much higher bandwidth. It is interesting to see that the built-in memory on the ASUS P5K3 Premium motherboard manages to perform better when running at the same frequency as the Corsair memory. It cannot keep up though when we press the Corsair memory up to 1800 MHz.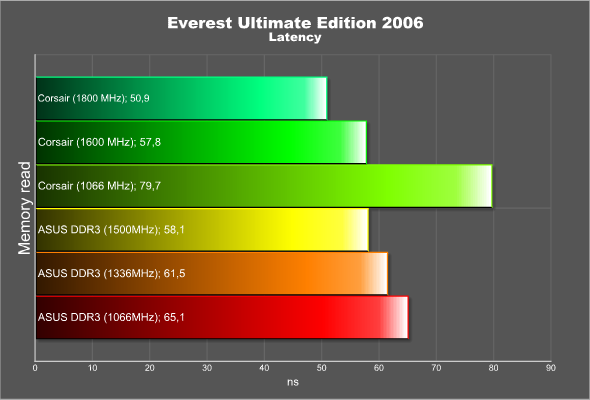 The latency drops as we increases the frequency.
TESTING – WINRAR AND PCMARK05
WinRar
WinRAR 3.71 beta 1 was used to create archives from two different files and folders. The time it took tocompress the two test folders below was recorded and then the total size was divided with the seconds giving us the compression speed (KB/s).
Test 1: Folder with Cinebench10 benchmark. The benchmark was downloaded from Guru3D.com and extracted into a folder which then was compressed with WinRAR. The total size of the folder was 123 MB.
Test 2: Episode of SG1 (Star Gate) in DivX format. Size of the file was 349 MB.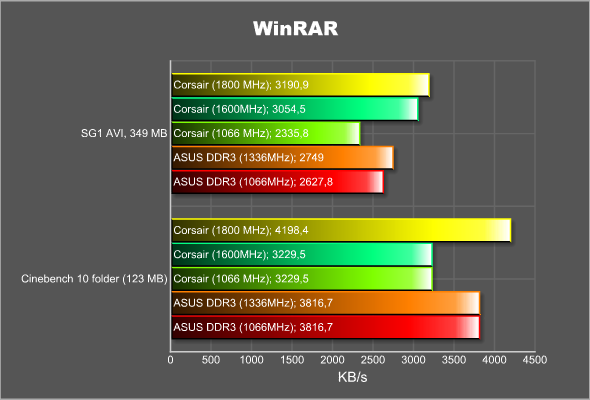 It is quite obvious that an increased frequency of the memory, in addition to the modest 10% overclock of the CPU, benefits the compression in WinRAR, at least when compressing the larger divx-file.
PCMARK05
The overall PCMark score as well as the separate memory score was recorded.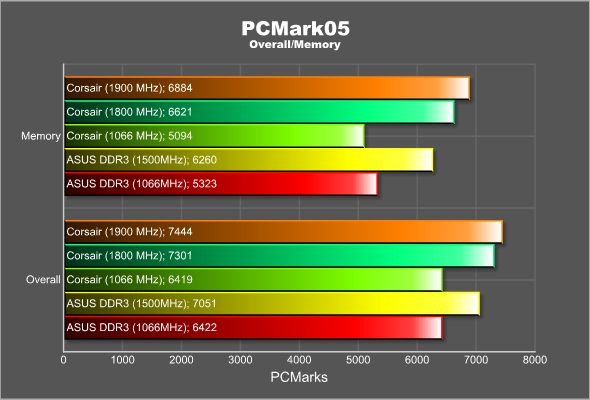 Same story as the other synthetic benchmarks. Higher frequency equals higher memory scores.
TESTING – HALF FILE 2:LOST COAST AND COMPANY OF HEROES V1.7
How much does faster memory affect gaming performance? To give a partial answer to this question I chose to test my system at the different speeds with Half Life 2:Lost Coast and Company of Heroes v1.7.
Half Life 2:Lost Coast
The HardwareOC benchmarking program was used to test the system with the game. 4xAA and 8xAF was turned on and the rest of the settings were set to high quality. HDR-rendering was turned off.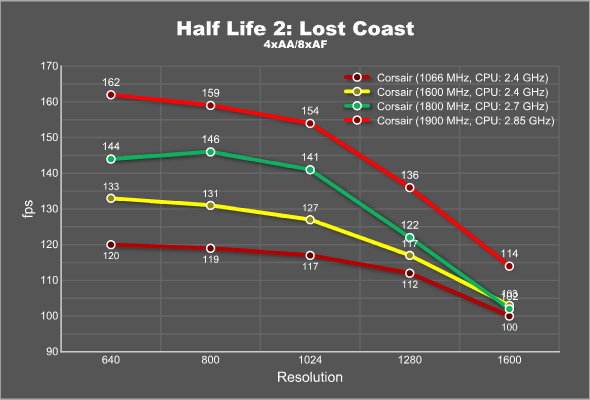 We have seen in other memory reviews on this site that the Half Life 2 engine really likes faster memory. My own test confirms this. While the benefit of faster ram shrinks as we increase the resolution it is quite clear from the results that there is a clear benefit at the lower resolutions up to 1024×768. Remember that the 1800 MHz and 1900 MHz results also has a faster CPU helping with the performance. At 1600 MHz, a 50% increase in memory clockspeed results in a 10% increase in framerate.  
Company of Heroes v1.7
The built-in benchmark in the full game was used. All settings were set to high. AA and AF was turned off.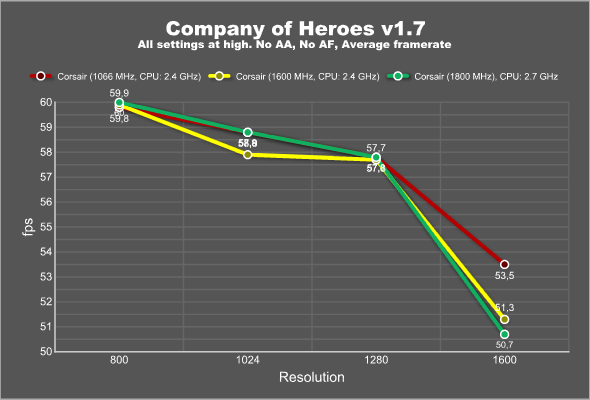 In contrast Company of Heroes does not really benefit at all from faster memory. I am aware that the scores might be hard to read but this was left intentionally so you can see how close the performance is even at 800×600 where the GPU will not be the limiting factor. In fact, we even see that the higher the memory clock, the lower the performance at 1600×1200. It it not a huge difference but it is there.
CONCLUSION
At around $650/€650 this is not a cheap kit. In fact, it is expensive. So who would buy a kit like this? I see the target audience to be the people who buy the expensive Core 2 Extreme CPU's or the GeForce 8800 Ultra. These enthusiasts are ready to sell a kidney to have the best components in their system, regardless of the cost. And this is one of the best memory kits you can have in your system at this time, at least if you are going for DDR3 memory. The fact that the memory right away can run at 1800 MHz means that you will have plenty of room when overclocking the rest of the system and it does this at a, for DDR3 memory, impressive timing of 7-7-7-20.
However, as good as it is, the benchmarks does indeed show that the speed of the memory does not necessarily have a great impact of the overall system performance at this time, either in general Windows tasks or in games. This certainly will change as the >2 Core CPU's gain in popularity and new memory hungry games emerge.
If the question is whether to spend $650 to upgrade to a fast video card or a fast CPU or to keep the slower CPU/video card and buy this kit, I would suggest getting the former first. If you however already have a high-end system (preferably a Quad-Core CPU) then this kit certainly will be the icing of the cake.
Pro
+ Impressive cooling setup
+ Very quiet fans
+ Impressive clock speed
+ Great theoretical performance
Con
– Expensive
– Needs a good quality motherboard and a fast CPU to get the most out of it
– Faster memory does not necessarily have a great impact on system performance in today's games.
– Bad price/performance value
The TWIN3X2048-1800C7DF G DDR3 1800 MHz CAS DOMINATOR kit gets a rating of 8 out of 10 and a Bjorn3D Seal of Approval award.