The only thing that stops me from saying 'forget about that card and grab an X1950 PRO / 7900 GT instead' is HD video playback. These mid-range / entry-level cards use almost no power yet they come with dual-link, HDMI with audio and UVD support. Think about that when building your home media PC.
INTRODUCTION
It's been quite hectic lately with these Shader Model 4.0 cards being out. Not only NVIDIA came up as a winner here in terms of availability, the performance of G80 cards was more than standard when compared against R600 boards. The end of June marked AMD's launch of ATI Radeon HD 2600 and 2400 series which were pretty late anyway. Take a note though that mainstream and entry level cards are always overdue and flagship high-end products come first to the game.
For todays reading pleasure we have Powercolor HD 2600 XT with 256 MB of onboard 128-bit GDDR3 memory. There is GDDR4 model, but it wasn't available at that time. It may not be a bleeding edge performer, nonetheless it looks like an interesting DirectX® 10 product with HD-ready output.
Because the first card I had received was defective, it took a while before this review could see the daylight. Believe me though, it had nothing to do with AMD accidentally shipping bad HD 2600 / 2400 cards into the market. Some say that was a rumor, but sources close to Bjorn3D claim there was a batch of broken Radeons in one of the warehouses.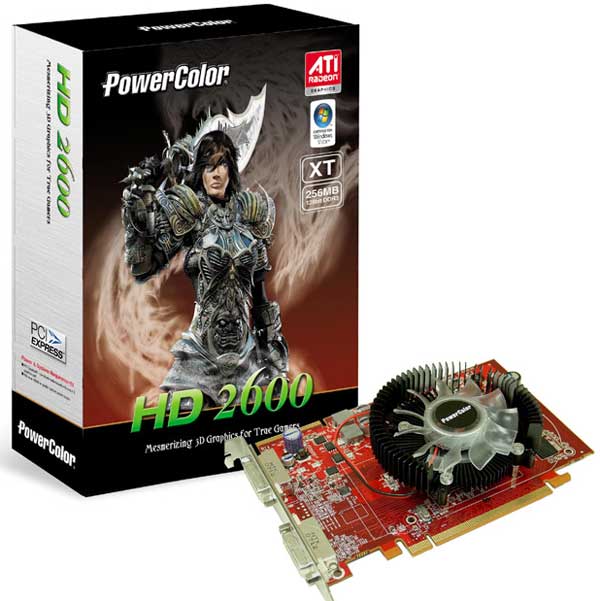 KEY FEATURES
Hardware processed 1080p video playback of Blu-ray™ and HD DVDs
Plug-n-play CrossFire™ upgradeability
HDMI with 5.1 surround sound audio
DirectX® 10 support
Should you require more detailed information on about HD 2000 products, please revisit our article: HD 2000 – The First GPU's Under the AMD Name
For those of you that are not aware, Tul Corporation is a Tier-1 provider of AMD-based graphic cards. They are AMD's business partner, AIB by definition.
What is an ATI Add-In-Board (AIB) Partner? AIB partners produce graphics cards that have Graphics by ATI inside. Partner boards come with added features that are unique to each partner and serve the unique needs of gamers worldwide. These boards are equipped with ATI technology, but are enhanced with additional board features aimed to satisfy your every gaming desire. AIB partners offer many interesting packages and promotions just for you. Stay tuned to find out when AIB partners will be shipping the new line-up of PCI Express products.
PowerColor is a consumer brand focused on providing cutting-edge graphics card products to retail customers. Our goal for the Tul brand is to be the industry's number one provider of technology product solutions. Our goal for the PowerColor brand is to be the world's number one brand of graphics cards. PowerColor is in effect owned by Tul Corporation, however the brands are operated independently of each other.
VPU SPECIFICATION
This particular SKU will be appreciated the most — at least until HD 2900 PRO gets here. At a low price of $100 Radeon HD 2600 XT will give you the ability to play HD movies and latest games with reasonable framerates. Theoretically that is, until we go into some benchmarks and prove the theory.
R600 is the base for the rest of SKUs. Enthusiast, mainstream and entry level cards share a lot of characteristics. In fact, R6XX chips are first graphic processors based on Xbox 360 GPU — Xenos. They feature unified shader architecture that can process variety of shader type operations. Basically now, R6XX cores can compute geometry, vertex and pixel shader operations as it's drafted in DX10 specification for SM4 (Shader Model 4.0).
The main advantage of both RV610 and RV630 is UVD (Universal Video Decoder) which is NOT present in the high-end HD 2900 GPU. However, that doesn't mean HD 2900 cannot playback HD content. It just might not be able to playback *certain* video content via its hardware. To be blunt, UVD is the selling point for HD 2400 and 2600 series.
As I've mentioned already all three SKUs feature very similar technology (except for the above). The way these chips are distinguished from each other (performance / price wise) is really simple. RV630 for example performs (theoretically) 63% worse than R600 (SPU ratio between both GPUs). That number isn't written in stone however as RAM type and other things come into play. All three chips are now scaled with ROPs so it's pretty easy for AMD to get the right performance / price ratio. Obviously the whole R600 family support dual-link DVI and HDMI with audio support.
Video card

PowerColor HD 2600 XT

GPU (256-bit)
RV630
Process

65nm (TSMC fab)
Transistors
~390 Million
Memory Architecture
128-bit
Frame Buffer Size
256 MB GDDR-3
Pipeline architecture
(5-way scalar)

Stream Processing Units: 120 (24*5)
Shader Processors: 24 (8*3)
SIMD units: 3 (clusters)
Shader ALUs: 8 (4*2)
Pixels per clock: 4
Texture units: 2
ROPs: 1 quad ROP


Engine
Unified Shader Architecture
Bus Type
PCI-e 16x
Core Clock
800 MHz

Memory Clock
1400 MHz DDR

RAMDACs
2x 400 MHz DACs
Memory Bandwidth

22.4 GB / sec

Pixel Fillrate
3.2 GPixels / sec

Texture Fillrate
6.4 GTexels / sec
DirectX Version
10
Pixel Shader
4.0
Vertex Shader
4.0
 ATI Radeon™ HD 2600 Features
390 million transistors on 65nm fabrication process
128-bit DDR2/GDDR3/GDDR4 memory interface
Ring Bus Memory Controller

Fully distributed design with 256-bit internal ring bus for memory reads and writes

Unified Superscalar Shader Architecture

120 stream processing units

Dynamic load balancing and resource allocation for vertex, geometry, and pixel shaders
Common instruction set and texture unit access supported for all types of shaders
Dedicated branch execution units and texture address processors

128-bit floating point precision for all operations
Command processor for reduced CPU overhead
Shader instruction and constant caches
Up to 40 texture fetches per clock cycle
Up to 128 textures per pixel
Fully associative multi-level texture cache design
DXTC and 3Dc+ texture compression
High resolution texture support (up to 8192 x 8192)
Fully associative texture Z/stencil cache designs
Double-sided hierarchical Z/stencil buffer
Early Z test, Re-Z, Z Range optimization, and Fast Z Clear
Lossless Z & stencil compression (up to 128:1)
Lossless color compression (up to 8:1)
8 render targets (MRTs) with anti-aliasing support
Physics processing support

Full support for Microsoft® DirectX® 10.0

Shader Model 4.0
Geometry Shaders
Stream Output
Integer and Bitwise Operations
Alpha to Coverage
Constant Buffers
State Objects
Texture Arrays

Dynamic Geometry Acceleration

High performance vertex cache
Programmable tessellation unit
Accelerated geometry shader path for geometry amplification
Memory read/write cache for improved stream output performance

Anti-aliasing features

Multi-sample anti-aliasing (up to 8 samples per pixel)
Up to 24x Custom Filter Anti-Aliasing (CFAA) for improved quality
Adaptive super-sampling and multi-sampling
Temporal anti-aliasing
Gamma correct
Super AA (CrossFire configurations only)
All anti-aliasing features compatible with HDR rendering

Texture filtering features

2x/4x/8x/16x high quality adaptive anisotropic filtering modes (up to 128 taps per pixel)
128-bit floating point HDR texture filtering
Bicubic filtering
sRGB filtering (gamma/degamma)
Percentage Closer Filtering (PCF)
Depth & stencil texture (DST) format support
Shared exponent HDR (RGBE 9:9:9:5) texture format support

CrossFire™ Multi-GPU Technology

Scale up rendering performance and image quality with 2 or more GPUs
Integrated compositing engine
High performance dual channel interconnect

ATI Avivo™ HD Video and Display Platform

Dedicated unified video decoder (UVD) for H.264/AVC and VC-1 video formats

High definition (HD) playback of both Blu-ray and HD DVD formats

Hardware MPEG-1, MPEG-2, MPEG-4/DivX video decode acceleration

Motion compensation and iDCT (inverse discrete cosine transform)

Avivo Video Post Processor

Color space conversion
Chroma subsampling format conversion
Horizontal and vertical scaling
Gamma correction

High Quality Video Post Processing

Advanced vector adaptive per-pixel de-interlacing
De-blocking and noise reduction filtering
Detail enhancement
Inverse telecine (2:2 and 3:2 pull-down correction)
Bad edit correction

Two independent display controllers

Drive two displays simultaneously with independent resolutions, refresh rates, color controls and video overlays for each display
Full 30-bit display processing
Programmable piecewise linear gamma correction, color correction, and color space conversion
Spatial/temporal dithering provides 30-bit color quality on 24-bit and 18-bit displays
High quality pre- and post-scaling engines, with underscan support for all display outputs
Content-adaptive de-flicker filtering for interlaced displays
Fast, glitch-free mode switching
Hardware cursor

Two integrated dual-link DVI display outputs

Each supports 18-, 24-, and 30-bit digital displays at all resolutions up to 1920×1200 (single-link DVI) or 2560×1600 (dual-link DVI)1
Each includes a dual-link HDCP encoder with on-chip key storage for high resolution playback of protected content2

Two integrated 400 MHz 30-bit RAMDACs

Each supports analog displays connected by VGA at all resolutions up to 2048×15361

HDMI output support

Supports all display resolutions up to 1920×10801
Integrated HD audio controller with multi-channel (5.1) AC3 support, enabling a plug-and-play cable-less audio solution

Integrated AMD Xilleon™ HDTV encoder

Provides high quality analog TV output (component/S-video/composite)
Supports SDTV and HDTV resolutions
Underscan and overscan compensation

MPEG-2, MPEG-4, DivX, WMV9, VC-1, and H.264/AVC encoding and transcoding
Seamless integration of pixel shaders with video in real time
VGA mode support on all display outputs

PCI Express x16 bus interface
OpenGL 2.0 support
1 Some custom resolutions require user configuration
2 HDCP support for playback of protected content requires connection to a HDCP capable display
THE CARD
PowerColor HD 2600 XT does not feature a standard cooling system. Instead it comes with a huge heatsink + blower which is in fact noise free. Just like X1600, it does not carry an external power supply connector which is a good thing — smaller fab process, draws less power. There aren't any RAM chips on the back though as always I'd like to see heatsinks on the front ones.
Click a picture to see a larger view
---
---
This aftermarket cooler may raise a bit of a concern especially in media PCs where space is a dominating factor. Because the HSF is rather large, it will occupy two slots. Moving along, the card exhibits dual DVI-I outputs (HDCP / HDMI ready) as well as S-Video out. PowerColor did not include HDMI adapter which is kind of ironic as the box clearly states "HDMI ready" — renders the point of this particular feature useless. However, you should not worry as retail boxes include it. The board carries standard display support: VGA compatible, VESA compatible BIOS for SVGA and DDC 1/2b/2b+. Modules used come from Hynix: HY5RS123235BFP-14
BUNDLE
The front and back of the box highlight cards specifications and features. The back of the box sports specs. The sides show system requirements. Additionally you'll find major features being listed in 6 different languages.
Click a picture to see a larger view
---
---
When you open up the white box you face the retail bundle (which wasn't present in our test sample). The  below stuff is what you will get:
DVI dongle
Quick installation guide
HDMI adapter
Driver CD
TESTING METHODOLOGY
All gaming tests were performed using two different image settings: 0aa0af and 4aa8af. Because we are not dealing with entry level video card, we will use the following resolutions: 1024×768, 1280×1024 and 1600×1200. Except for DiRT where 16×12 was simply too much. As far as driver settings are concerned, the card was clocked at 800 MHz core and 1400 MHz DDR for memory. High quality AF was used for anisotropic filtering. CATALYST A.I was set to standard and mipmap detail level set to high quality. All other settings were at their default states.
PLATFORM
All of our benchmarks were ran on an Intel Core 2 Duo platform clocked at 2.4GHz. I'll be checking out the differences between HD 2600 XT and a bit higher-end cards: X1950 PRO and 7900 GT. The table below shows test system configuration as well benchmarks used throughout this comparison.
As far as installation goes, the first card was defective. One or two capacitors had to be replaced due to instability issues. Other than that I cannot report any problems. The card booted without any glitches. However when overclocked using ATI's Overdrive, screen flickers. Used ATITool instead.
Testing Platform

Processor
Intel Core 2 Duo E6600
Motherboard
Gigabyte 965P-DS4
Memory
GeIL PC2-6400 DDR2 Ultra 2GB kit
Video card(s)
PowerColor HD 2600 XT GDDR3
PowerColor X1950 PRO SCS3 256 MB
XFX GeForce 7900 GT
Hard drive(s)
Seagate SATA II ST3250620AS
Western Digital WD120JB
CPU Cooling
Retail Intel HSF
Power supply
Thermaltake Toughpower 850W
Case
 Thermaltake Mozart TX
Operating System
 Windows XP SP2
Drivers
DirectX 9.0c
CATALYST 7.7

Benchmarks

Synthetic
3DMark 2005 v1.2.0
3DMark 2006
D3D Right Mark
Games
Company of Heroes / ingame benchmark
F.E.A.R / ingame benchmark
Half-Life 2: Episode 1 / Bjorn3D custom timedemo
Quake 4 / id NET timedemo
Colin McRae: DiRT
S.T.A.L.K.E.R.: Shadow of Chernobyl
THEORETICAL THROUGHPUT
The cards throughput was measured using 3DMark05 application. I'll be comparing it to regular X1950 PRO and X1900 GT.

PowerColor HD 2600 XT does damn well in throughput tests, especially Vertex Shading where it scores much better than the higher end cards. Single texturing test spit out 2120 MPixels / sec where as the multi texturing test gave a bit lower results than theoretical fillrate of 6400 MTexels / sec.
3DMARK05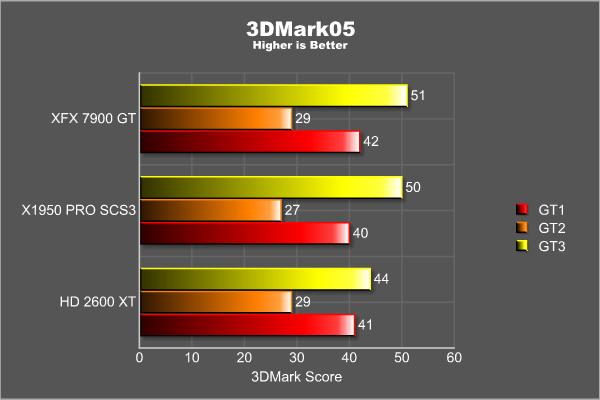 Radeon HD 2600 XT does quite good in 3DMark05 synthetic game tests. It scores tad lower than X1950 PRO and 7900 GT, but overall it doesn't stay back at all.
3DMARK06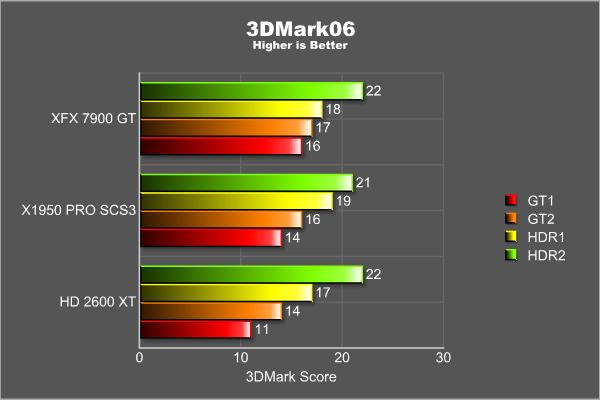 Things change a little with 3DMark06 benchmark where GT1 and GT2 scores are obviously lower than with the other two higher end cards. Considering the theoretical performance gap, PowerColor HD 2600 XT keeps up fairly well in synthetic benchmarks.
COMPANY OF HEROES
CoH is one of the best WWII RTS games that happened to appear on shelves in 2006. As Yaniv would say it's THE WWII game.
Company of heroes is the first game from Relic that is using the new "Essence" graphics engine. This engine brings all the new features of next-generation graphics cards into the game and makes it a genuine eye candy. When a tank's shell will hit the ground, a huge visual explosion accompanied with pieces of dirt, mud and thick smoke will rock your screen, making your speakers roar.

You will understand what I am talking about right within the first minute you'll play. Each soldier has about 2000 different animations and you'll be able to see their mood and feeling according to these animations. Zoom into the battlefield to see how your jeep driver turns the wheel towards the direction you pointed. Watch how soldiers exchange shells and magazines while shooting at enemy's forces.
This is just an excerpt from our review so be sure to check it all out. The cards that I'm testing today will be benched using CoH's ingame performance benchmark and believe me, it gives your video card a rough ride!
With no AA/AF eyecandy, Radeon HD 2600 XT comes up really great in terms of performance. At 10×7 it stick well X1950 PRO and 7900 GT. As we increase the res, FPS drops dramatically.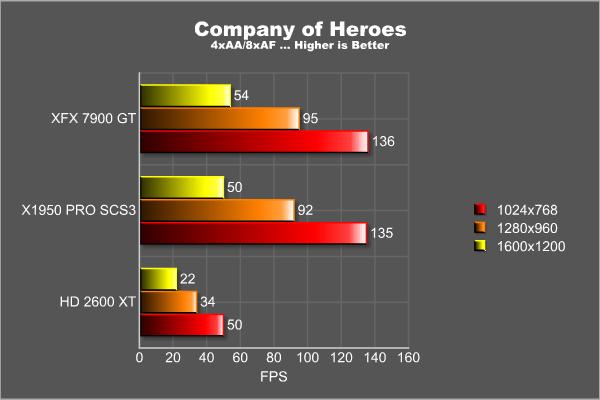 With 4x FSAA and 8x anisotropic filtering the performance drop is very notable during the actual gameplay. However, I would rather play with 10×7 resolution than 12×9 even though the card produces healthy 34 FPS on average.
F.E.A.R
The game has been out for sometime now and is being admired by a lot of gamers all over the planet. It's scary, dark, gloomy and best of all addictive!
Game Overview
An unidentified paramilitary force infiltrates a multi-billion dollar aerospace compound, taking hostages but issuing no demands. The government responds by sending in special forces, but loses contact as an eerie signal interrupts radio communications. When the interference subsides moments later, the team has been obliterated. As part of a classified strike team created to deal with threats no one else can handle, your mission is simple: Eliminate the intruders at any cost. Determine the origin of the signal. And contain the crisis before it spirals out of control.
As you probably know, F.E.A.R uses a very sophisticated game engine (FEAR).
Rendering

FEAR is powered by a new flexible, extensible, and data driven DirectX 9 renderer that uses materials for rendering all visual objects. Each material associates an HLSL shader with artist-editable parameters used for rendering, including texture maps (normal, specular, emissive, etc.), colors, and numeric constants.

Lightning Model

FEAR features a unified Blinn-Phong per-pixel lighting model, allowing each light to generate both diffuse and specular lighting consistently across all solid objects in the environment. The lighting pipeline uses the following passes:

Emissive: The emissive pass allows objects to display a glow effect and establishes the depth buffer to improve performance.

Lighting: The lighting pass renders each light, first by generating shadows and then by applying the lighting onto any pixels that are visible and not shadowed.
Translucency: The translucent pass blends all translucent objects into the scene using back to front sorting.

Visual Effects

FEAR features a new optimized, data driven effects system that allows for the creation of key-framed effects that can be comprised of dynamic lights, particle systems, models, and sounds. Examples of the effects that can be created using this system include weapon muzzle flashes, explosions, footsteps, fire, snow, steam, smoke, dust, and debris.

Sample Lights

FEAR's lighting model is very flexible and allows developers to easily add new lights. Existing lights include:

Point Light: The point light is a single point that emits light equally in all directions.
Spotlight: Similar to a flashlight, the spotlight projects light within a specified field of view. The spotlight can also use a texture to tint the color of the lighting on a per pixel basis.
Cube Projector: Similar to the point light, the cube projector uses a cubic texture to tint each lit pixel.
Directional Light: This lighting is emitted from a rectangular plane and is used to simulate directional lights like sunlight.

Point Fill: Although similar to the point light, the point fill is an efficient option because it does not utilize specular lighting or cast shadows.
A more detailed overview of other F.E.A.R technologies can be found over at Touchdown Entertainment. These include: Havok Physics Engine and Modeling / Animations System.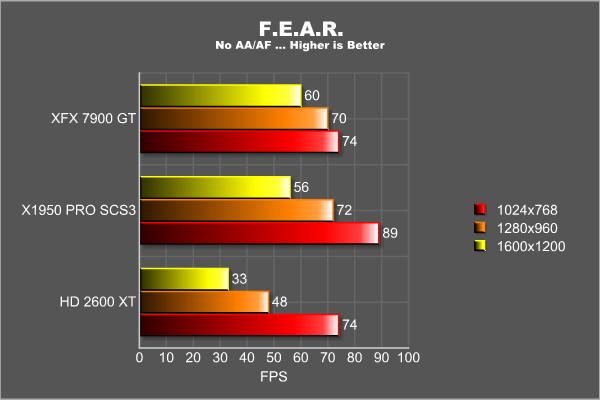 The same situation as seen in CoH. Much lower bandwidth kills the frame rate at higher resolutions.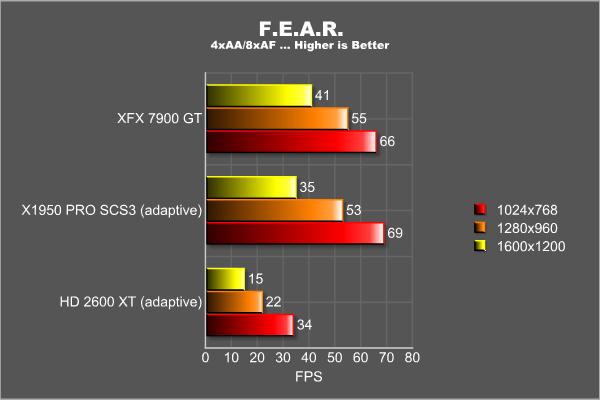 With 4x AA and 8x AF, PowerColor HD 2600 XT barely struggles at 10×7 producing about 34 FPS.
HALF-LIFE 2: EPISODE 1
A great Half-Life 2 GOTY sequel. It's short yet concrete with a lot of new stuff from Valve. These include:
An all-new episode for one of the best-selling action games of all time.
Discover what's become of City 17, Dr. Breen, and the G-Man.
Incredibly advanced Artificial Intelligence (AI).
Highly detailed environments, featuring High Dynamic Range lighting, provide amazing gameplay settings.
Digital Actors: The most sophisticated in-game characters ever witnessed.
Physical Gameplay: Objects obey the laws of gravity, friction, and buoyancy.
Design Team Commentary Mode.
Also includes two multiplayer games: Half-Life 2 Deathmatch and Half-Life Deathmatch: SourceTM.
Half-Life 2 not required to play.
Episode One exposes Alyx's combat skills and knowledge of City 17. Battle side-by-side with her through Valve's first episodic game, a four-to-six hour adventure of greater density and detail than non-episodic releases.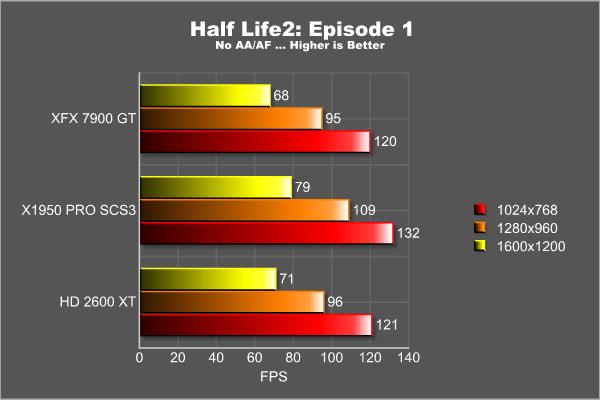 Anybody expecting low scores with HD 2600 XT in Half-Life 2 should really get their head checked. Although this isn't top notch technology the card does really well across all resolutions
Even with antialiasing and anisotropic filtering our mid-range friend does not struggle at all. The game is playable even at 16×12 doing around 40 frames per second.
QUAKE 4
This is another good title worth looking at. With success of Quake 3, id Software decided (after few years) it would be proper to have a sequel. Designed over at Raven Software's farm, Q4 features rich single player as well as intensive and popular multiplayer mode.
It uses Doom 3 engine so you should be familiar with available effects. In any case, I listed them below
Unified lightning and shadowing engine

Dynamic per-pixel lightning
Stencil shadowing
Specular lightning

Realistic bumpmapping
Dynamic and ambient six-channel audio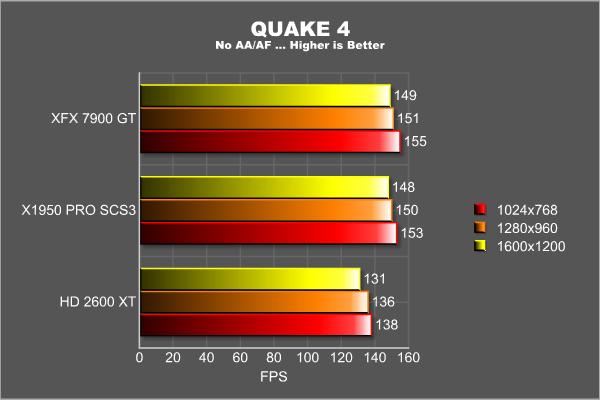 Quake 4 plays the best on NVIDIA hardware, regardless the chipset — just like HL2 performs better with ATI GPUs. Although HD 2600 XT lacks the punch, it keeps its head high and goes crazy across all tested resolutions.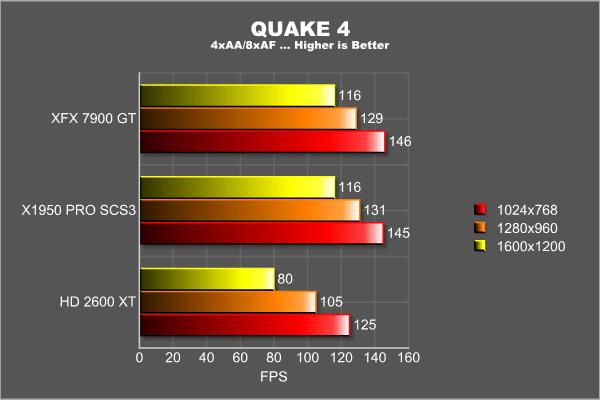 Scores drop a little when I crank up AA and AF, but not like it's not playable. Healthy 80 FPS at 16×12 is enough to enjoy Quake 4 at high details.
COLIN MCRAE: DiRT
I have to say this is one of the best rally games I have ever played. As much as I enjoyed Richard Burns, earlier Colin McRae's just didn't appeal to me at all. I would compare it with Microsoft's RalliSport Challange in terms of gameplay. Graphics wise it truly r.o.c.k.s and I can't stop playing it. Although it's a bit more arcadish I enjoy every bit of the DiRT.
DiRT is very graphic intensive game. To play it with max details and high res you need a card that performs more than average. Obviously you will also need a high-end C2D / X2 platform to go with it.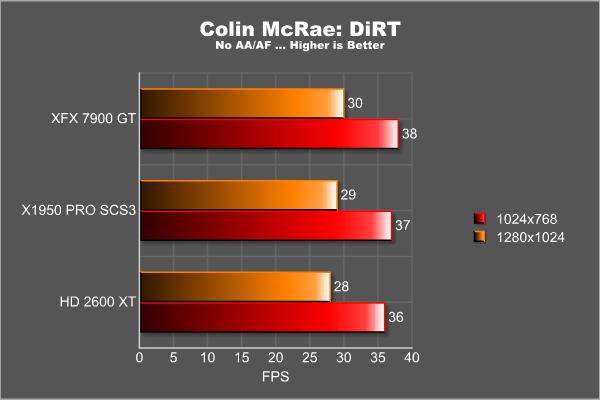 With this title I have only tested 10×7 and 12×10 resolutions as 16×12 brough a lot of dissatisfaction performance wise. Without AA and AF turned on, all cards do okay though 12×10 for HD 2600 XT might be a bit much.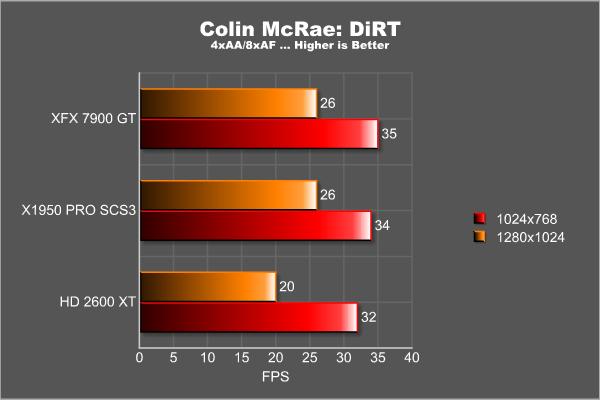 Scores do not differ that much with 4x AA and 8x AF being applied although 20 FPS is unplayable with PowerColor's HD 2600 XT.
S.T.A.L.K.E.R: SHADOW OF CHERNOBYL
This game had to be one of the most anticipated titles in 2007. Because it's been postponed numerous times, my anticipation decreased when playing it more. Graphics are great and the whole environment including physics is wonderful, but the game simply isn't what I thought it would be. Improvements should be deployed in a lot of areas, but overall it's a great title to benchmark with.
All in all, S.T.A.L.K.E.R is an innovative, appealing and refreshing action / RPG title that took me by surprise in a few aspects. It blends a few genres, and although such a mix-up can turn out pretty badly, GSC Game World made wise decisions and did an impressive job, creating a very unique and versatile game. It brings constantly changing world of the Zone and unique life simulation system. Also, it supplies perfect atmosphere to backup a deep and mysterious story line. All that is wrapped up with an impressive graphical package with a few of the most beautiful landscapes I ever witnessed in a video game

– Yaniv Perry, Bjorn3D.com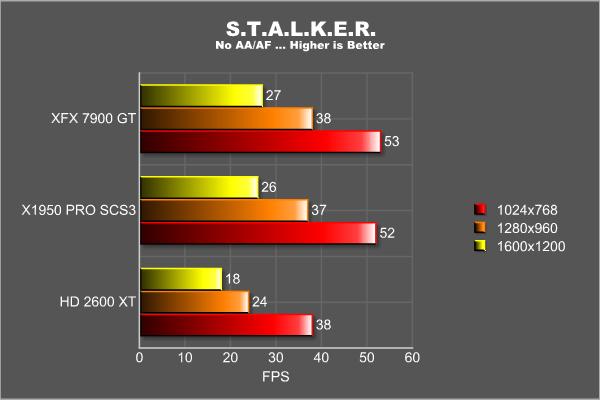 Although I did not expect HD 2600 XT to shine in this title at high details, it performed suprprisingly well with lower res. The game was playable @ 10×7, but beyond that it was like watching slides.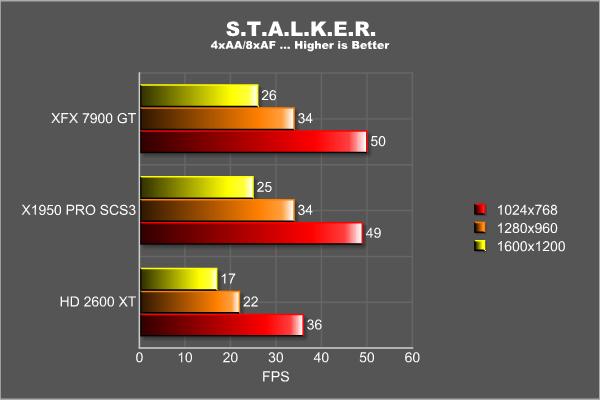 Applying 4x AA and 8x AF did no major damage to performance at 10×7. Frame wise it scored 36 FPS, but going into 12×9 and 16×12 proved that these modes aren't necessarily enjoyable.
OVERCLOCKING
Overclocking headroom was definitely not on my mind with this product though I certainly did not expect the card to flunk on me when changing clocks. Any clock change resulted in screen garbling so I thought I'd just skip that part.
POWER & TEMPS
Power consumption is really low considering the cards performance isn't so bad after all. With C2D system, 2 GBs  of RAM, a lot of coolers, HDs the system idles at around 115 Watts. Playing a game for about 20 minutes causes the power to go up to 146 Watts — not bad.
| | |
| --- | --- |
| PowerColor HD 2600 XT | PowerColor  X1950 PRO |
| idle: 115 | idle: 121 |
| load: 146 | load: 202 |
Low temperature is definitely a plus for PowerColor HD 2600 XT. With such cooler it would make a great media center PC, though again the HSF is quite large.
CONCLUSIONS
Judging by the specs alone, I thought HD 2000 family would perform a whole lot better. Reading various articles and checking out benchmarks concludes that AMD didn't do well in terms of improving overall performance. Enabling AA / AF across all HD series takes framerates down to a ground where as previous generaion of Radeons coped much better with this extra eye-candy. PowerColor Radeon HD 2600 XT GDDR3 does deliver acceptable gaming performance, but looking at GeForce 8600 GT it's a much better buy when it comes to price / performance ratio.
AMD did quite well when it comes to scalability of R600 family of products. Because mainstream and mid-range products are so popular they needed to be precisely apart from each other in terms of price / performance. The flexibility of unified shader architecture has helped AMD in this field as it's now a much easier task to drop ALUs, texture operations or z to color operations — all about ratio tweaking.
The only thing that stops me from saying 'forget about that card and grab an X1950 PRO / 7900 GT instead' is HD video playback which we did test across all three Radeon HD platforms. These mid-range / entry-level cards use almost no power yet they come with dual-link, HDMI with audio and UVD support. Think about that when building your home media PC. The other thing is the actual price which varies between $95-110 USD. If you are a casual gamer and love to watch HD content you should seriously consider PowerColor Radeon HD 2600 XT GDDR3. On the other hand if you're just looking for more framerates and DX10 support grab Radeon HD 2900 XT or GeForce 8800 GTX.
Pros:
+ Ok performance
+ Cheap
+ A lot of media features
+ DX10 ready
+ Low noise aftermarket cooler
+ Perfect HTPC solution
+ Low power draw
Cons:
– No overclocking potential at all
– Poor bundle
For its media features, good performance and low power draw, PowerColor HD 2600 XT gets the rating of 8 (Very Good) out of 10 and Bjorn3D Seal of Approval.