The Thermaltake SwingRS 100 is a very good looking case. With a Piano Mirror coating finnish in the front and a large case window it definitely is not a case that you would like to hide away. But is the beauty just skin-deep or do the case also have some nice features inside? Come and read our review to find out.
INTRODUCTION
Do you remember the first PC computer case you had? Mine belonged to an IBM-PS1 desktop and, while practical, was beige, bland and pretty dull looking. As the years went by and I started to build my own computers, I started to try to mod my cases, not only to make them look better but also to improve cooling and other features. I still remember the first case window kit I bought and how much time I spent first cutting the hole out and then get the window to fit in. Does anyone actually put in their own case window anymore? I doubt it.
Today cases come in all sorts of designs and sizes and there really is no reason to do all that stuff anymore. Thermaltake is a company that is well known for their wide range of cases and today it is my turn to take one of their latest cases for a test spin. The case in question is the new Thermaltake SwingRS 100, a case that not only looks good but also has some cool features inside.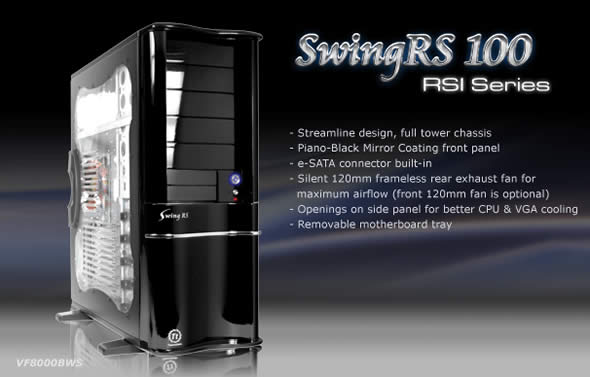 ABOUT THERMALTAKE
Thermaltake is a company well known for a wide range of products including PSU's, cases and cooling solutions. We have reviewed a lot of products from Thermaltake including their Aquila case, the Thermaltake Extreme Volcano 12 cooler and the Purepower Express 250W. For a full list over our Thermaltake reviews use this Google search.
Thermaltake Technology Co., Ltd.
started its core business based on our extensive knowledge of PC thermal management during the era where the area of performance CPU cooling was only exclusive for "overclockers" orPC enthusiasts. With the company's initial launch of Orb coolers, it created waves of shocks and appraisals throughout the gaming and overclocking communities. Thermaltake quickly became the name gamers turn to when they need high-end and reliable thermal solutions.

With company's core business of CPU cooling still growing at a vast rate, Thermaltake made another grand entry to the PC chassis industry. To date, Thermaltake has always been considered as the pioneering company that revolutionized the PC chassis industry with Xaser series enclosures. The typical and traditional beige and plastic front panel design was outdone by Xaser series chassis's atypical gaming red and aluminum front panel. It was also the first enclosure available to public with Hardcano unti which provided users full control over computer's thermal management system.

In the year 2002, Thermaltake announced Purepower line of power supply unti for the ever-growing power-hungry PCs. Purepower series PSU quickly gained recognition with its extensive warranty and high-reliability guaranty.

Today, Thermaltake has grown into a world-class company with state-of-the-art testing and R&D facility based in Taiwan along with 60+ engineers and ID team covering each application segment such as Liquid Cooling, Air Cooling, PC Enclosure and Power Supply for main-stream users, high-end solutions, system integrators and industrial applications; thus achieve Thermaltake's company motto, " COOLall YOUR LIFE " !
FEATURES AND SPECIFICATIONS
The specifications of this case are:
Feature/Specification

 VF8000BWS

Case type 

Full Tower

Side 

Transparent window

Net Weight 

12.3 kg (27.1lb)

Dimension (H*W*D)

540.0 x 205.0 x 500.0 mm
(21.3 x 8.1 x 19.7 inch)

Cooling System

Front (intake) :
120x120x25mm (optional)
Rear (exhaust) :
120x120x38mm,1200rpm, 17dBA

Drive Bays
– Accessible
– Hidden 

12
5 x 5.25'', 2 x 3.5''
5 x 3.5''

Material

SECC

Color

Black

Expansion Slots

7

Motherboards

Micro ATX , Standard ATX

I/O Ports 

USB 2.0 x 2, e-SATA connector x 1, HD audio
The case is labelled as a Full Tower even though it is just 3 cm higher than the Revoltec Rhodium that was called a "Super Midi Tower". It isn't as big as some other Full Towers I've seen so do not let that scare you away.

The main features of the case are:
Simple and clean
Piano-black Mirror Coating front panel
e-SATA connector built-in
Silent 120mm frameless rear exhaust fan for maximum airflow (front 120mm fan is optional)
Openings on side panel for better CPU & VGA cooling
Removable motherboard tray
I must admit I like the "simple and clean" feature. I am not sure what they actually mean with it but it does sound nice, doesn't it?

THE BOX
The case comes in a big box featuring a picture of the case. The case itself was well packed and had no dents or scratches after the long journey even though the box itself looked a bit worn.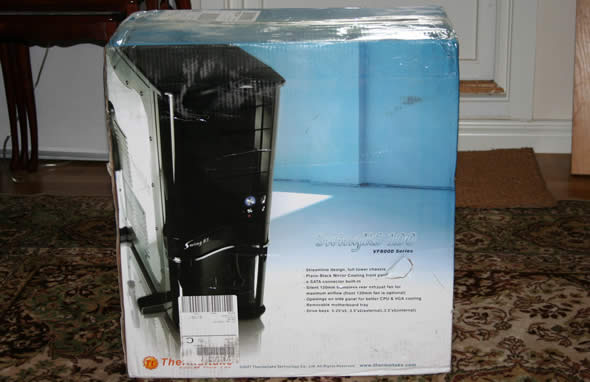 Thermaltake has put a lot of plastic on and around the case to protect it from scratches.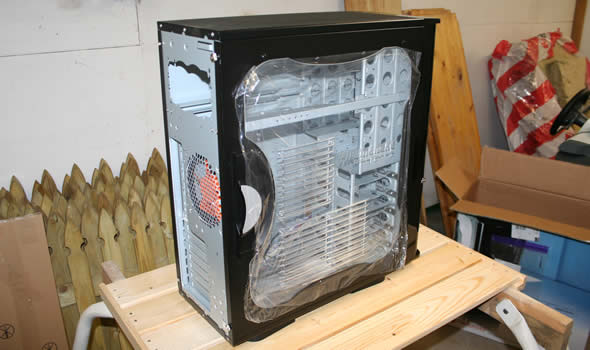 With the case you get:
A manual
A bag with various screws
A extra fan filter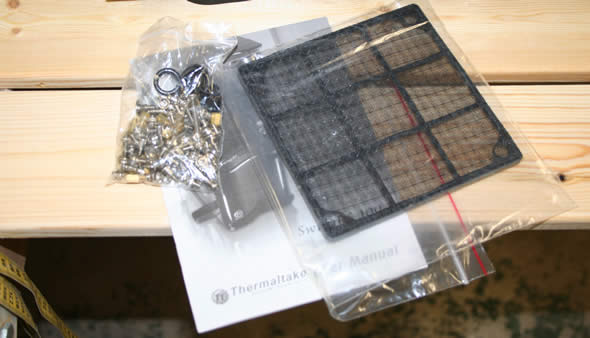 The manual does a good job in describing how to install everything in the case. The bag contains all sorts of screws and stand-offs including some black plastic rings that can be used in the holes intended for water cooling hoses at the back of the case, to prevent them to be slied by the case. 
CLOSER LOOK: EXTERNAL
This is in my opinion an absolutely stunning looking case.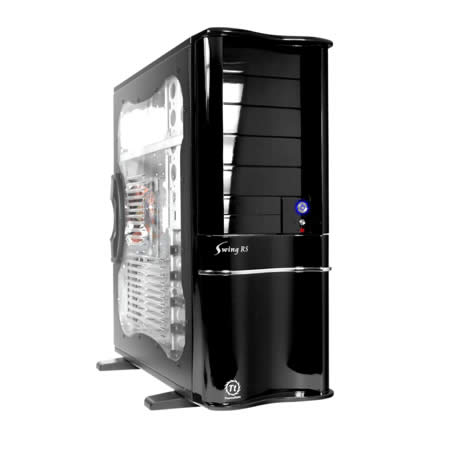 The front has a gentle curve and a piano black mirror coating that gives it a very cool look.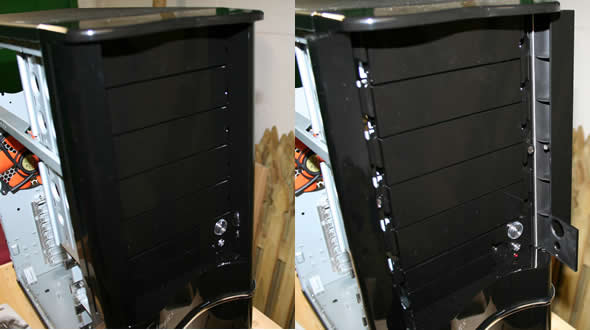 Left: Closed, Right: Open
An interesting feature is the fact that you fold out the sides of the front to access the drive bays. With the sides folded in you still can open drive sitting there but only with the sides folded out can you insert/take them out. It is a very interesting solution and it works well.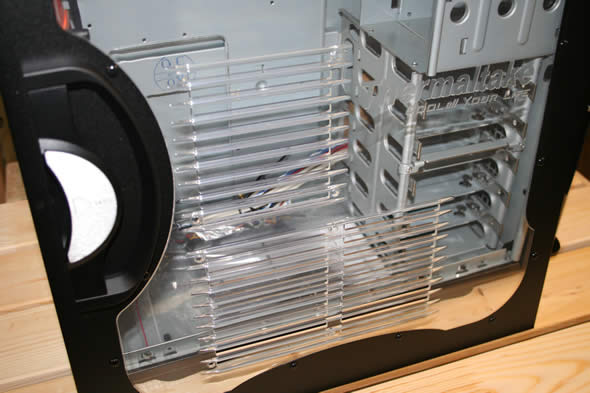 The case is available both with a regular side window and with a honeycomb side window. The version I am reviewing has the regular side window. The window is large and has lots of room for extra fans inside. The openings are angled downward.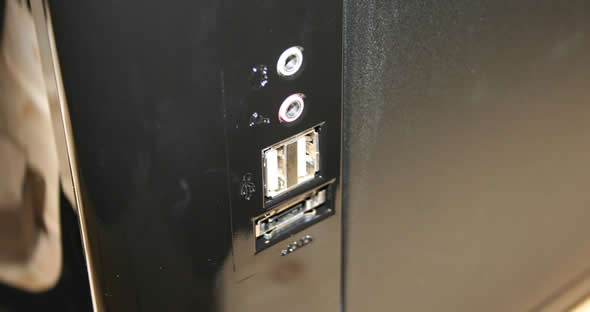 On the right side of the case we find the external I/O connectors. There are connectors for USB, audio and an eSATA connector. I prefer external connectors to be higher up or at the top as I have my cases on the floor.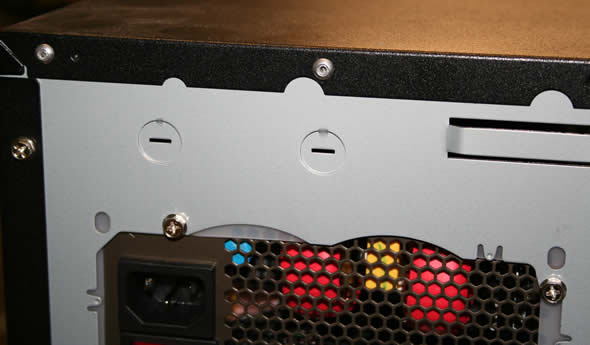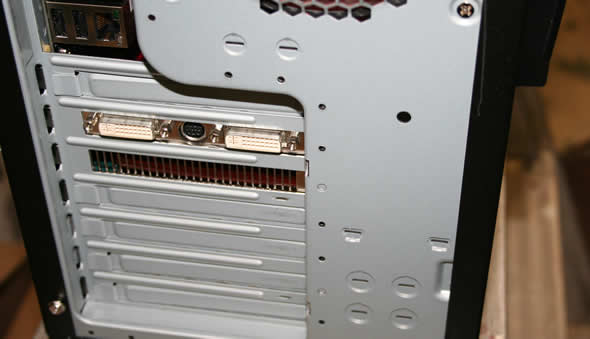 The back of the case at first glance looks just like on most cases. Thermaltake however has also thought of everyone who uses water cooling and include a bunch of pre-made holes where you can route cables and hoses through. You still need to cut them open but that should not be a problem.
CLOSER LOOK: INTERNAL
The left side of the case is fastened with a thumbscrew making it easy to take it off. The right side however is fastened with regular screws. Normally you will not need to remove it but if you want to take the whole front off then it will be needed.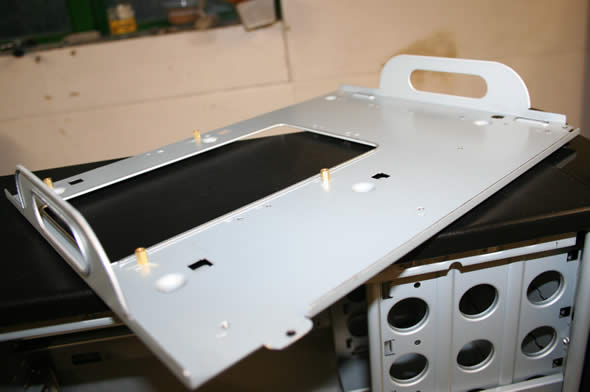 Inside the case we find one feature that you do not know you are missing until you tried it: the motherboard tray. If you rarely swap motherboards or change the CPU, then you can live without a motherboard tray. But for any enthusiast a tray is really a great invention. The motherboard tray in the Swing-case is fastened with two thumbscrews making it really easy to take out and put back.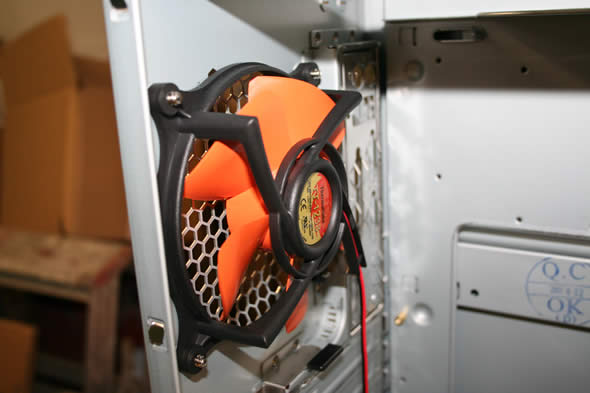 The case is shipped with one Thermaltake TT-1238 120mm fan (120x120x38mm,1200rpm, 17dBA) situated in the back. There is space for on fan in the front but strangely enough it isn't shipped with one. I feel that is a bit cheap, especially since it is quite cumbersome to add a fan there. In addition to these fans, there is room for 3 fans on the side panel making it possible to give the case ample cooling if needed.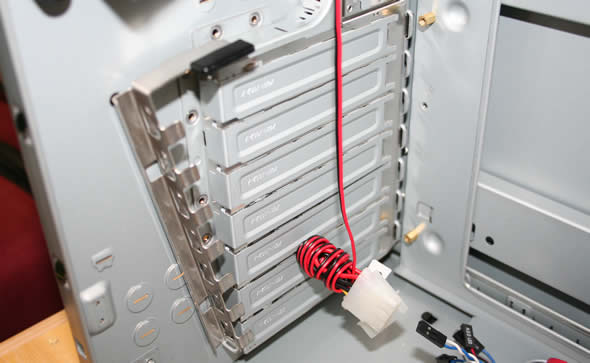 Add-on cards are fastened with a tool-free design.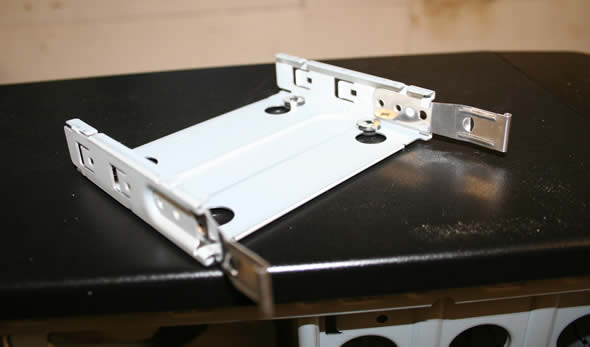 There is room for up to 5 internal 3.5" drives in the case. They sit angled outwards toward the side and are cooled by the front fan (if installed). The drives are screwed onto a holder which then is slid into the drive bays. The holder has rubber fittings on them to take up any vibrations from the drive.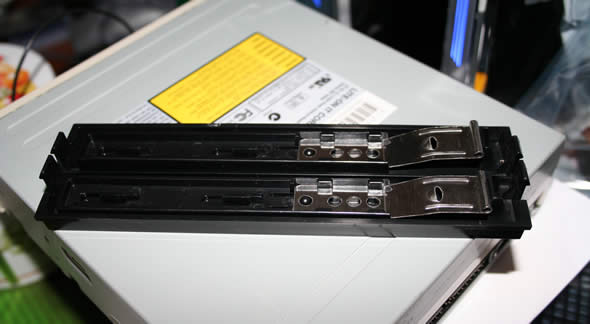 The case has 5 bays for larger 5.25" hardware. These can be slid in from the front without having to remove the front.
Thermaltake actually claim a tool-free mounting of both 3.5" and 5.25" drives. However, since you have to screw on those mountings on the drives with a regular screwdriver I think it is a stretch to claim this. A true tool-free design would not even require you to screw on the mountings (example: the Revoltec Rhodium).
INSTALLATION
This is a heavy case. As it is made completely out of steel it weights 12.3 kg (27.1lb). This means it takes a bit of heavy lifting to haul it around when installing everything. Opening the side is really simple. Just push and pull on the handle and the door swings open. As far as I can see there is no way to lock the case.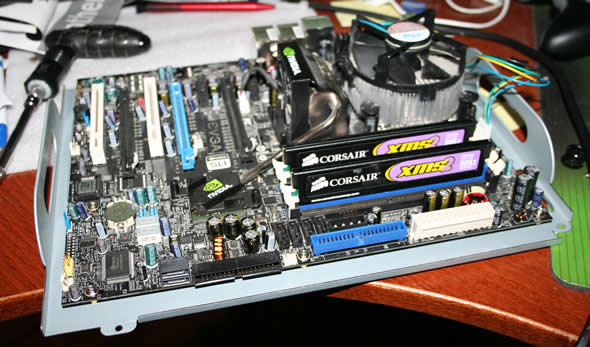 Taking out the motherboard tray is no harder than unscrewing the two thumbscrews and pulling the tray out. On the tray there are a bunch of holes and a few stand-offs already present. This case does only support ATX and Micro-ATX motherboards and thus only have holes for these two types of motherboards. The holes are marked A, M or AM to indicate which holes that will be used. Oddly enough I noticed that a few holes that were marked AM did not exist on the eVGA 680i motherboard that I installed in the case.
Even though the case is labelled a "Full Tower" it feels smaller inside than the Revoltec Rhodium that is labelled a "Super Midi Tower". The motherboard tray slips just in and it is lucky it has two handles so you do not have hold it in the sides. It is really easy though to attach it back to the case and fasten it with screws. I've seen other solutions where you have to open the other side and screw it on from that side but this solution is much better.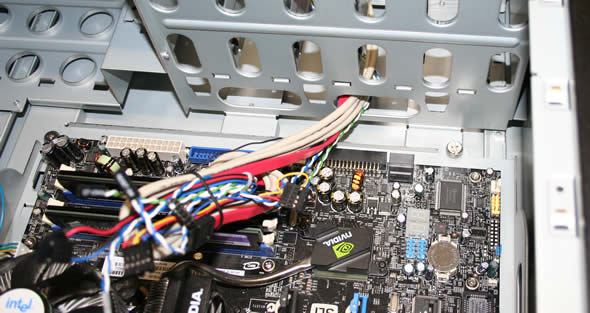 As the external connectors are placed on the side towards the bottom of the case the cables come in towards the bottom of the case. This makes it easier to reach the connectors on most motherboards as the USB/Firewire/Audio connectors tend to be placed there. In this case we find one USB cable, one Audio cable that splits up to one AC97 connector and one HD-audio connector and a SATA-cable. The connectors are all proper connectors and not split up. This makes it a doodle to hook them up to the motherboard.
The cables for the front panel (reset, power switch etc.) also come in from the bottom of the case and are clearly labelled.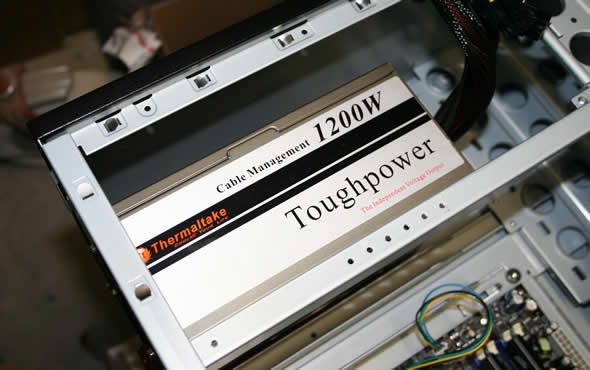 The space for the PSU is quite large and even with a larger PSU like the 1200W Thermaltake there is plenty of room around it. As the PSU isn't resting on anything I had some minor problems holding it up while I tried to attach it to the case but with a bit of hand-gymnastics I managed to fasten it.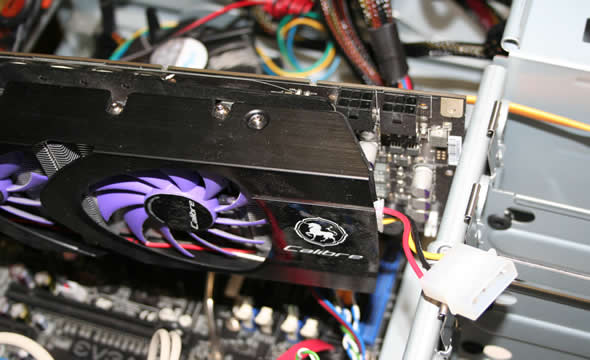 Having installed almost everything the turn came to the video card. For this build I had planned to use the Calibre 8800GTX card. As all GeForce 8800GTX cards, this is a very long card and it turns out it was too long for this case. As you can see from the image the card just didn't fit. In the end I had to use another card.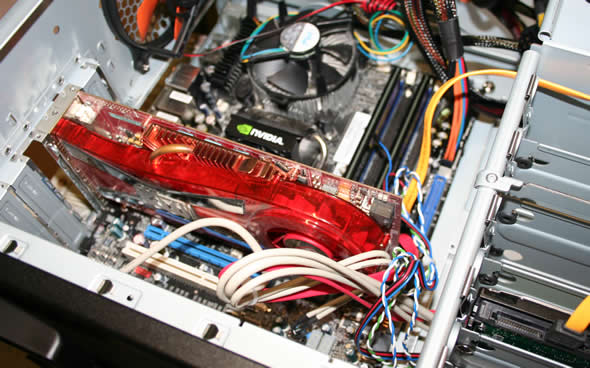 An ATI 1950XT, also a big card, fit in without any problems so it is just the extremely long cards that can be a problem. The method used to hold down add-on cards on this case works well with multi-slot cards.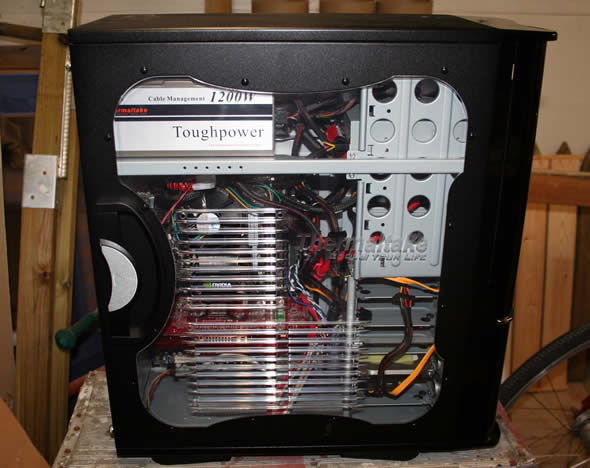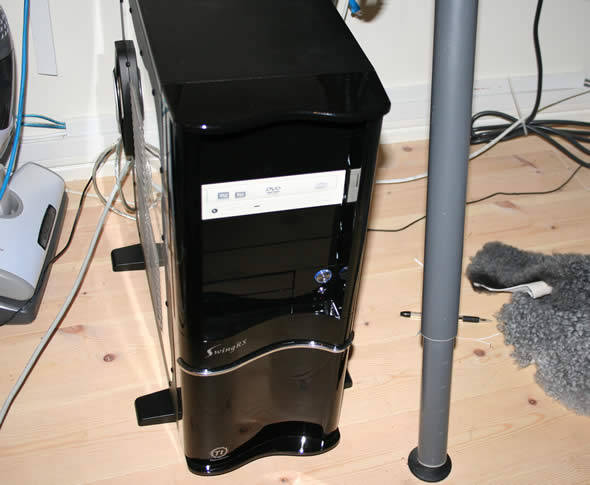 The case does look very nice when fully assembled. I guess you could argue that the window is a bit too big showing the various drive bays which can be hard to make look good. But it certainly will let you show off all the stuff inside your case without hiding anything. A few well placed cathode-tubes and some better cable management and the case with look as good inside as outside. I of course also need a DVD-RW drive with a black front.
USING THE CASE
In actual use the case has performed well. I choose to just use the fan included and not add any more fans and the noise level is really silent. In fact, I had to lean close towards the case on the floor to hear anything from it. Adding more fans will undoubtely increase the noise level but as always there is a balance between cooling and noise that you have to find yourself.
CONCLUSION
Some cases look great on the outside but cut corners on the inside. The Thermaltake SwingRS 100 does no such thing.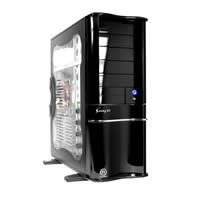 On the outside it looks stunning. It might not be a look that pleases everyone but I love the Piano-black Mirror Coating and the big case window. On the inside there is little to complain about. The motherboard tray works well and will make it easy to take out the motherboard when you need to upgrade something. The five internal 3.5" drive bays should be plenty for almost everyone and if needed you can get access to at least 2 more in the external 3.5 drive bays.
If I really have to complain about something it would be the weight, the lack of included front fan, the issues the case has with the extra long VGA-cards and that they placed the external I/O ports at the bottom of the right side.
According to Thermaltake the MSRO of the case is $130 for the case with the window (the one I reviewed) and $122 for the case without the window. This is a very good price for a case of this quality. 
Pros
+ Very good looking
+ Motherboard tray
+ Plenty of drive bays
+ Plenty of room for extra fans
+ Silent (with included fan)
+ external eSATA connector
+ Nice price
Cons
– Heavy!
– External I/O-ports at the bottom of the case
– Extremely long cards, like the 8800GTX, can have problems fitting
– No front fan included with the case
– No external Firewire connector
The Thermaltake SwingRS 100 gets a rating of 9 out of 10 and a Golden Bear Award.