The Voyager GT's mission; To boldly go where no drive has gone before. Under a tire, out the window and submersed in water. Let's find out if this drive is as rugged as it is fast.
INTRODUCTION
Flash drives sure have come a long way haven't they? When they first appeared back in 2000 they carried 8MB (That's megabyte with an 'M') and could transfer only a few hundred kilobytes per second. Today's drives are faster, larger and in some cases much more exotic. They can store countless songs, movies and even be used to run applications. They have become a necessary gadget for every technology user. But amidst all the splendor that is the thumb drive there are also perils to be avoided. Flash drives are typically fragile and can't stand up to a lot of bumping and dropping. Well Corsair thinks it time to make these drives as rugged as they are useful. Designed to be durable, stylish, compact, and reliable the Voyager GT series of flash drives from Corsair sets to raise the bar for what these drives are capable of.


The Voyager GT by Corsair
Corsair: The company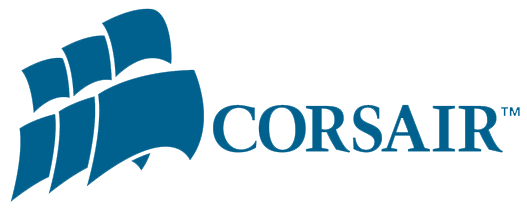 In case you have been living under a rock for the last decade I will catch you up to speed. Corsair has become a premier manufacturer of memory, power supplies, water cooling kits and more. The performance of their memory kits is legendary and their power supplies are fast becoming world renowned. Here is an excerpt from their web site:
Corsair has been a leader in the design and manufacture of high-speed modules since 1994. Our focus has always been on supporting the special demands of mission-critical servers and high-end workstations, as well as the performance demands of extreme gamers. While maintaining this core focus, in recent years, we've also brought our expertise, technology leadership and legendary quality and reliability to memory and other technology products for the more mainstream consumer.
FEATURES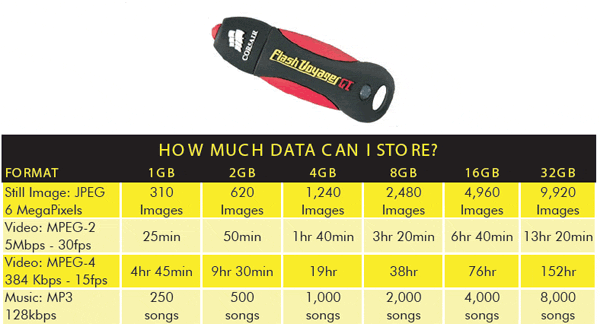 Plug & Play functionality in Windows® Vista, XP, 2000, ME, Linux 2.4 and later, Mac OS 9, X and later
Includes the True Crypt security application (Windows Vista/XP/2000 compatible only) allowing for a virtual encrypted drive using AES-256 encryption
Lanyard and USB extension cable included
ReadyBoost™ compatible
Limited 10-year warranty
CONTENTS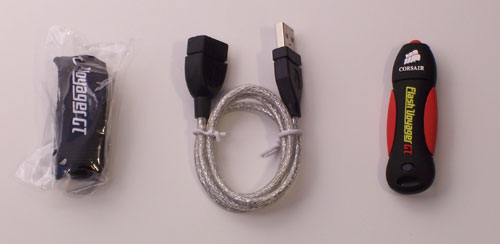 Lanyard
USB Extension cable
Voyager GT
The extension cable has never been more useful than with this drive. Due to the larger dimensions of the drive it creates a problem with adjacent USB slots and in many cases renders them unusable. While this is an annoyance to be sure, using the extension cable provided a fast and easy solution and presented no further problems.
PACKAGING
The Voyager GT comes in a heat sealed blister pack. The kind that dare you to open it with any sharp object you can find. Often times this will leave sharp edges and I have found on more than one occasion that keeping bandages nearby will help out a lot. With the level of durability this unit is advertised to have it would be fun to see Corsair just toss this thing in a brown paper bag with some nails and barbed wire. Seriously though, the nails and barbed wire wouldn't make it.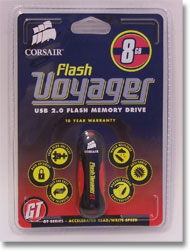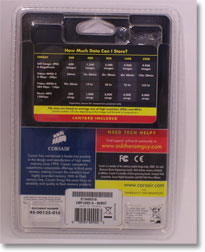 Voyager GT packaging – Front & Back
(Click to enlarge)
External View
Here are a few pictures to help illustrate the size of the Voyager GT. While it is not as large as some of the behemoth's that exist out there the Voyager GT is a bit wider on all sides than a standard USB drive.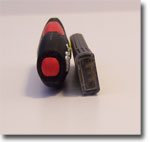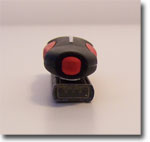 Voyager GT – Dimensions
(Click to enlarge)
TEST SETUP
Platform
Test Platform
Processor
Intel Core 2 Duo E6420 @ 2.1 GHz
Motherboard
XFX 650i Ultra
Memory
2 GB (2 x 1 GB) of G.Skill DDR2-800
Drive(s)
1 – Seagate 7200.9 Barracuda SATA
1 – Samsung HD501LJ SATA
Graphics
Albatron 8600GTS @ 675/1000 MHz
Sound
Creative Soundblaster Audigy2 ZS
Thermal Paste
Arctic Silver Ceramique
Cooling
CPU – Thermaltake Big Typhoon
GPU – Zalman VF900-CU
Power Supply
OCZ GameXStream 850 watts
Display
Westinghouse 37″ LVM-37W3
Case
Tagan A+ Black Pearl
OS
Windows XP Pro SP2
USB Drive
Drive 1 – Corsair Voyager GT (8 GB)
Drive 2 – OCZ Rally (2 GB)
To test the various capabilities of the Voyager GT I have come up with the following suite of tests. While some of these may not be industry standards I feel it's important to think outside of the box and come up with new methods for testing various advertised features. I hope you like.
TESTS
Software
HD-Tach 3.04
Large file transfer
Small file transfer
Hardware
2002 Nissan Sentra GXE
Gravity
9.8 m/s @ 25ft.
Fluids
2 liters H2O for 10 minutes
The drive will be subjected to a battery of tests to measure its theoretical performance (HD-Tach), its ability to transfer a single large file and its speed at transferring many small files. Additionally, the Voyager GT will be placed under the front tire of a car, dropped out of a window and submersed in water for ten minutes. Just another day at the office.
TEST RESULTS
A format of each drive was performed prior to each test. A single 1.03 GB archive was copied to each drive to test write speeds after which it was then copied back to the hard drive to measure read speeds. Five hundred and five files contained within fifty four folders totaling 856MB were written to each USB drive after which they were copied back to the hard drive in a similar manner as the previous test to see how the flash drives handle many read/write requests. All times were measured with the second hand of a watch to test for any noticeable difference.
First up will be the theoretical speeds possible for each drive as shown by HD-Tach.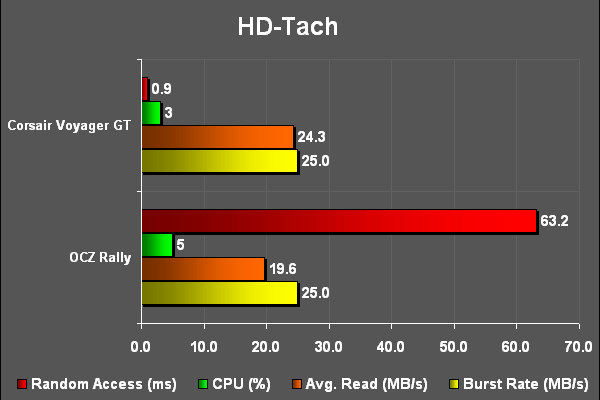 The Voyager GT is off to a very good start. While the average read speed of the Voyager GT is nearly 25% faster, the bigger impact is the random access speed. I ran this test multiple times to confirm the results and came back with the same score each time. With such a low time for random access the Corsair drive should perform well with many small files being transferred. Let's see.
Results in Seconds
 
Corsair Voyager GT
(8 GB)
OCZ Rally
(2 GB)
Read
Write
Read
Write
Large file transfer
(1 file / 1.03 GB)
44 sec.
56 sec.
50 sec.
67 sec.
Actual Speed
23.4 (MB/s)
18.4 (MB/s)
20.6 (MB/s)
15.4 (MB/s)
Small file transfer
(505 files / 856 MB)
43 sec.
70 sec.
45 sec.
110 sec.
Actual Speed
19.9 (MB/s)
12.2 (MB/s)
19.0 (MB/s)
7.8 (MB/s)
There it is. With real world testing of read/write speeds we see just how awesome that low random access speed is. In writing many small files the Voyager GT was almost a full 40% faster than the competition. OK, so we know the drive is up to spec in a 'safe' environment but what about out in the field?? Next page please.
TEST RESULTS
For these tests there can be no mistake. We are going to subject the device to more punishment than it should see in its lifetime of use. Why are we doing this? In a word, because it's fun. But to be more specific, if the Voyager GT can pass these tests then you'll know this drive can handle the every day bumps, drops, splashes of water and the occasional being stepped on. For these tests there will be a simple PASS/FAIL score. After each test the drive will be connected to a PC and its contents downloaded. If ANY files are corrupted are cannot be accessed the test is considered a failure.
Gravity
From a height of 25ft. the USB drive will be dropped.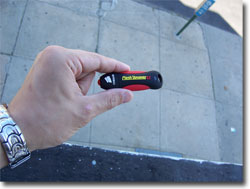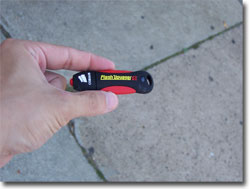 Can a USB drive feel fear?
(Click to enlarge)
Results: PASS
Absolutely no ill effects were caused by the dropping of the drive. Though I get the distinct feeling the drive is mad at me.
Water
Submersed in two liters of water for ten minutes.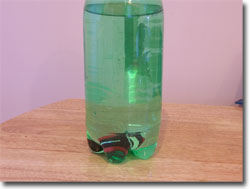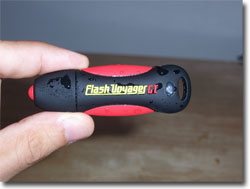 Can a USB drive hold its breath?
(Click to enlarge)
Results: PASS
Even after being submersed in water for ten minutes the drive continues to work flawlessly. I noticed after the test the drive was trying to make a run for the door but was stopped before it could escape.
Impact
Run over by the front tire of a 2002 Nissan Sentra.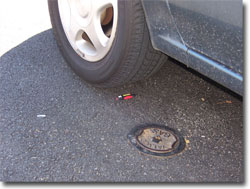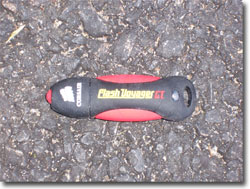 Can a USB drive duck and cover?
(Click to enlarge)
Results: PASS (with damage)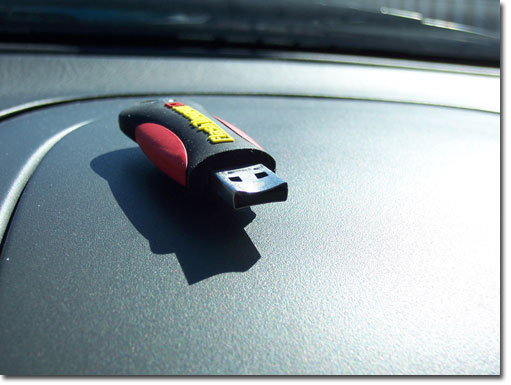 A bit worse for the wear
The drive survived being run over by the front tire of a car. While the front connector of the drive was bent, a bit of gentle tugging straightened it out and no other problems were noticed. Well done Voyager GT, well done.
CONCLUSION
Corsair has a first rate flash drive on their hands and it was a lot of fun putting it through the gauntlet of tests. In the end it took each test, chewed it up, spit it out and asked for more. To say this drive is durable would be an understatement. Short of working in a radioactive environment or the harshest climates on the planet I would bet this drive will handle anything you throw at it. Not to mention that Corsair backs up its product with a ten year warranty. Now I doubt I will still be using this drive in ten years as we will all be living on the moon and driving around in flying cars by then (Got to love the promises of the 1960's) but it is reassuring to know that the company is willing to put its money where its mouth is. You will have to make sure to keep the extension cable handy as the large size of the casing is sure to create a problem with most neighboring slots.
But what about value? There are a lot of other drives out there that can offer the same amount of storage space for much less money. And sure they will get the job done. But if you want more than just getting the job done then the value of this drive starts to become clear. Besides I doubt few, if any, of the other drives could take the punishment we placed on the Voyager GT and keep going. Could you put a dollar amount on your data?
FINAL WORDS
To give you a clear picture of how I rated this product I chose three distinct areas of interest and scored them out of a possible 10.
Durability: 10.0 – At the start of the testing phase I fully expected to have to explain to Corsair why the drive is flat, wet and dead. No such call needed to be made.
Speed: 9.0 – Able to sustain a fast transfer rate and keep the random access time to less than one millisecond, this drive won't keep you waiting.
Value: 8.0 – Not the cheapest drive out there but certainly one that will get the job done come rain or shine (or gravity and cars).
Pros:
+  Tons of capacity
+  Tough as nails
+  Fast as lightning
+  10 year warranty
+  Included encryption software
Cons:
–  Large size could block adjacent ports
–  More expensive than other 8 GB models
Final score: 9.0 out of 10 paws and the Bjorn3D seal of approval.