From the company that brought you 2000MHz of DDR3 leetness comes a power supply with the same level of commitment to quality and performance. Introducing the VX450 by Corsair. High quality at a low price.
INTRODUCTION
Why is it that in order to get quality from a product you have pay through the nose for it? What ever happened to the days when quality came as a standard and you didn't pay extra to get it? I suppose when you spend close to $700 on a video card there are certain expectations of quality that come with such a purchase but shouldn't the same apply if you're buying a power supply for $80 USD? Well my friends I can tell you that you no longer have to ask why, Corsair has the answer. Bringing the same level of quality they instill in their memory chips Corsair is determined to provide a top notch product at a bargain basement price. So while those of you who may be looking to buy 1300 watts of extreme goodness can expect a high level of quality now that same level can be found in 450 watt versions.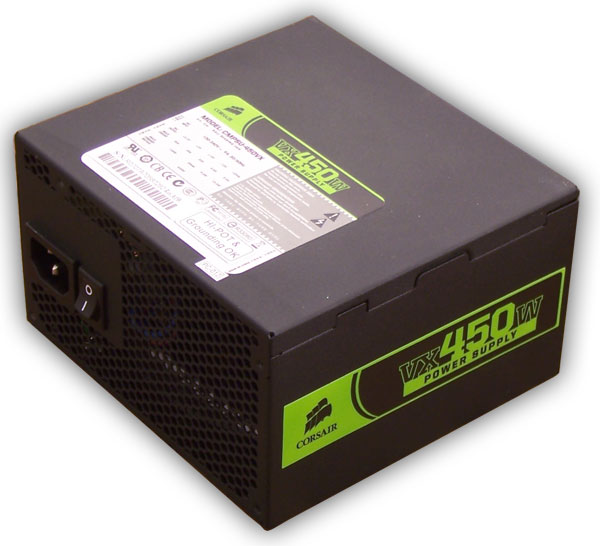 The VX450 by Corsair
Corsair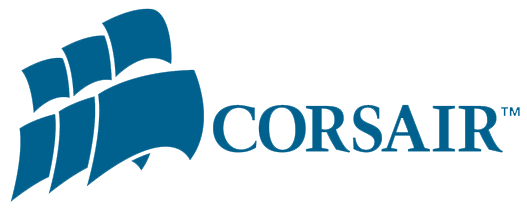 In case you have been living under a rock for the last decade I will catch you up to speed. Corsair has become a premier manufacturer of memory and power supplies. The performance of their memory kits is legendary and their power supplies are fast becoming world renowned. Here is an excerpt from their web site:
Corsair has been a leader in the design and manufacture of high-speed modules since 1994. Our focus has always been on supporting the special demands of mission-critical servers and high-end workstations, as well as the performance demands of extreme gamers. While maintaining this core focus, in recent years, we've also brought our expertise, technology leadership and legendary quality and reliability to memory and other technology products for the more mainstream consumer.
There in the second sentence is the reason for the VX450. "…as well as the performance demands of extreme gamers." Good enough for me. Let's get to it.
FEATURES & SPECIFICATIONS

Features
Active PFC (Power Factor Correction)
80+ Certified
Single Channel 12v output
Extra long cables support full tower size chassis
Ultra-quiet 120mm double ball-bearing fan
6 Serial ATA connectors
Connectors
To view a larger image of each connector click the image.
 
20+4 Pin Main x 1
This is the main connection that powers the motherboard. It has support for older boards (20P) as well as new generation boards (24P)
 
 
 
 
4 Pin CPU x 1
This connector powers the CPU. Use this connector OR the 8-pin connector if your motherboard requires it but not both.
 
 
 
 
8 Pin CPU x 1
This connector powers the CPU. Use this connector OR the 8-pin connector if your motherboard requires it but not both.
 
 
 
 
4 Pin Molex x 6
This connector powers PATA hard drives, optical drives and fans.
 
 
 
 
6 Pin PEG (PCI Express Graphics) x 1
This connector powers today's graphics cards. They provide an extra 75 watts.
 
 
 
 
4 Pin Floppy x 2
This connector powers internal floppy drives.
 
 
 
 
SATA x 6
This connector powers the latest Serial ATA drives.
With no shortage of connectors to be found you can trust that this unit will handle all of your hardware. Now let's take a quick look at how the power is broken down in this beast.
Specifications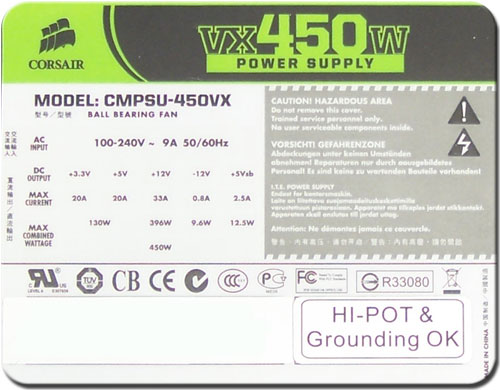 Corsair VX450 Watt PSU
DC Output Specifications

AC Input Rating
90 – 264VAC
Input Current
5 – 9A
Frequency
47Hz – 63Hz
Output Voltage
Max Load
Max Output
+3.3V
20A
130W
+5V
20 A
+12V
33 A
396W
-12V
0.8 A
9.6W
+5Vsb
2.5 A
12.5W
Total Power
450W
Power Factor
0.99 Typical
Dimensions
150mm(W) x 140mm(L) x 86mm(H)
PACKAGING
As rough and tough as power supplies can be (ever drop one on your foot?) I still like to check out how the company packages them to ensure their safety. The VX450 came in a very thick and rigid cardboard packaging. This is pretty much the standard in the industry.

The Front
Turning the package around lets us see some of the core features of the unit. Useful for those who may pick one up in a store.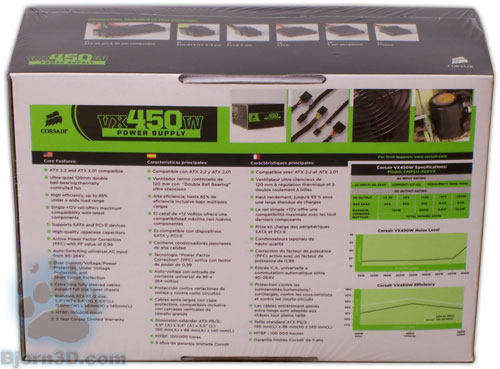 The Back
Opening open the box reveals the entire contents along with further steps taken by Corsair to ensure the safety of their product. Besides wrapping the unit in bubble wrap which is useful to say the least Corsair took it up a notch and places the unit inside a cloth bad to further aid in limiting any scratches on your new unit. Bravo Corsair, bravo.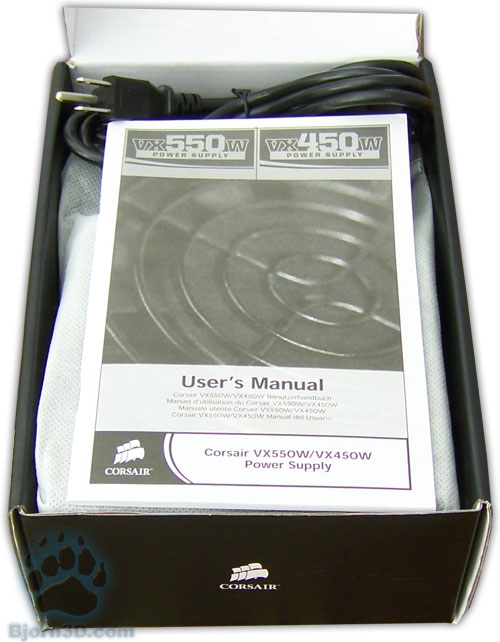 Internal Packaging
All in all a fine job on the part of Corsair to protect your new power supply. It's nice to see a company take the extra steps to ensure the unit's safe arrival.
Contents
Inside the packaging you'll find the PSU, manual, power cable, mounting screws, case badge and zip ties. I was pleased to see the included zip ties. It shows how the company understands the user and how this product will be used. Things can get messy in a computer case and using the included zip ties can go a long way to making things tidy and efficient.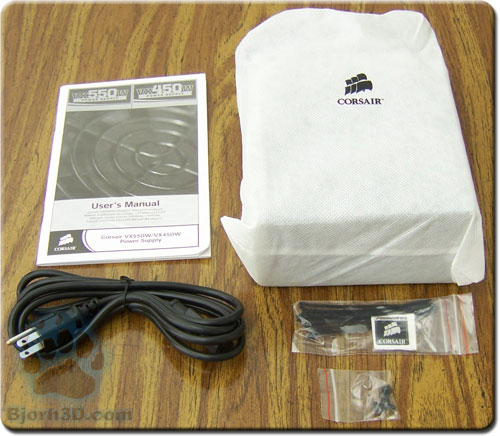 Package Contents
EXTERIOR
Here is a quick breakdown of the connections on the VX450w. There are two sets of cables for the SATA connections as well as the 4-pin molex. Since the connections are at the same point on each I listed them only once here.
Corsair VX450 Connection Length
Type
1st
2nd
3rd
4th
ATX
25in.
–
–
–
CPU 4-pin
25in.
–
–
–
CPU 8-pin
25in.
–
–
–
PCIe
26in.
–
–
–
4-pin Molex
17in.
23in.
29in.
34in. (FDD)
SATA
17in.
23in.
29in.
–
Speaking of connections, the VX450 comes with these quick-disconnect molex plugs. For anyone who has tried to wrestle the power plug from a hard drive or cd-rom drive in a cramped case these are a godsend. Simply squeeze the top and bottom tab and the plug will be pushed outwards making it very easy to remove.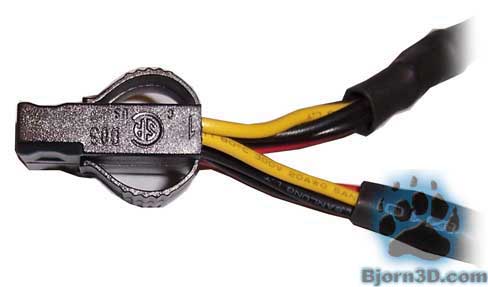 Quick disconnect molex plug
Looking a bit closer at the finish of this unit we see that not only is it a matte black but it isn't smooth. It has a special scratch resistant coating over it to protect it from, yup you guessed it, scratches. It also gives the unit some grip so I guess if you fealt the need to carry it around with you there is less of a chance of you dropping it. <shrug> Moving on.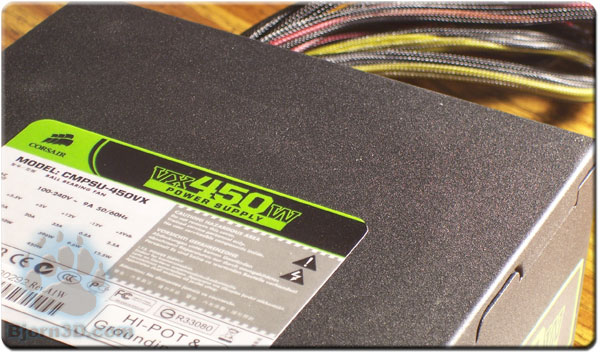 Scratch resistant
Flipping the unit over we the see the matching black 120mm fan. During operation this fan was extremely quiet and any sound generated by it could not be heard over the other case fans.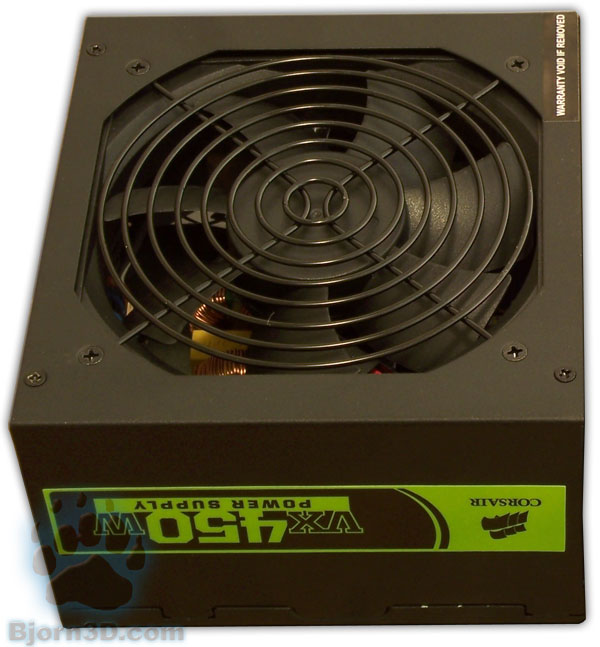 Intake fan
INTERIOR
Opening up this PSU is a simple affair but one that should not be taken lightly. A power supply is not a component that should be serviced by the user. There are high voltages inside that can remain after the unit is powered off. Only attempt opening up the unit if you are comfortable around electrical components and are familiar with the proper safety standards.
Turning to the inside we start with the cooling system. An ADDA Electric AD1212MB-A71GL 120mm fan controlled by an internal fan speed controller provides the cooling. Rated to push a maximum of 80.5CFM at 2050RPM with 38dBA this fan is sure to keep the PSU nice and chilly. At no point during testing did the fan have to reach its full speed. As a matter of fact at no time during testing was I able to discern an increase in speed or volume from the fan. Cool AND quiet, a nice combination.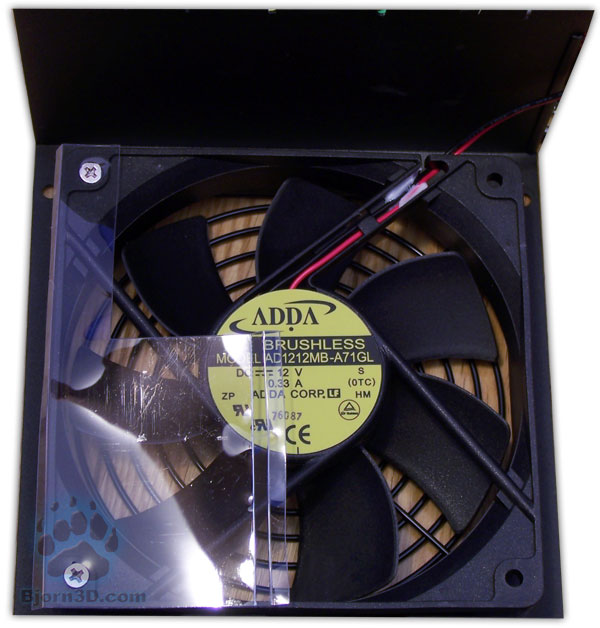 ADDA Electric AD1212MB-A71GL 120mm fan
Looking at the components of the power supply it is a straight forward setup. Inside we find the following items:
Smoothing Capacitors – When we get DC rectified from AC, we find that the voltage is far from steady. Since electronic circuits need to have steady voltages, smoothing of the rectified AC is accomplished with this capacitor.
Power Transformer – Computers require six different voltages to operate (+12v, +5v, +3.3v, -5v, -12v, and +5v of the standby mode). Because it's not possible to pack two independent high-power regulators into a power supply, this component creates the various voltages required.
Heatsink – Used to cool different components to prevent damage to the unit and ensures optimal performance.
Output Wires – These are the wires that connect the various components of you PC to the power supply.
Group Regulation Choke – When the current in one coil goes up, the voltage increase in the other coils due to this current is subtracted from the corresponding output voltages. This ensures an acceptable regulation of all output voltages in a wide range of loads.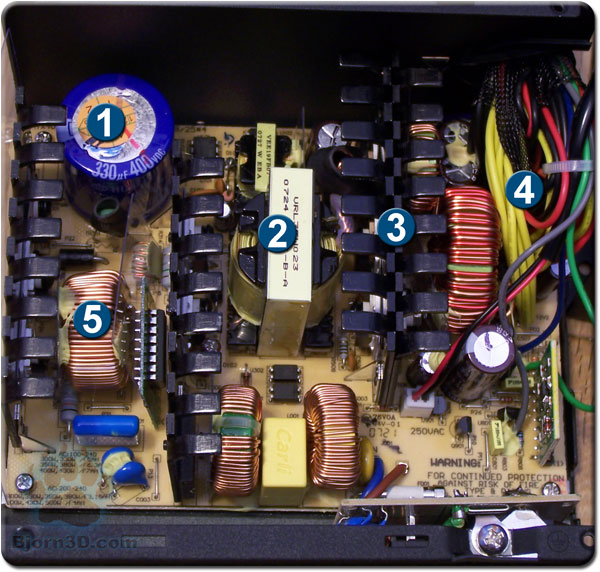 TEST SETUP
Platform
Test Platform
Processor
Intel e6420 @ 2.1 GHz
Motherboard
GIGABYTE GA-G33M-S2H
Memory
2GB of G.Skill DDR2-800
Drive(s)
1 – Seagate 80GB Barracuda SATA Drive (OS)
1 – Samsung HD501LJ 500GB SATA Drive (Games)
Graphics
MSI 7900GTX
Cooling
CPU – Thermaltake Big Typhoon (Passive)
Case – 2 x Antec TriCool 120mm fans
Power Supply
PSU 1: Antec Earthwatts – 430 watts

PSU 2: Corsair VX450- 450 watts

Display
Westinghouse 37″ LVM-37W3
Case
Antec Fusion Black 430
Operating System
Windows XP Pro SP2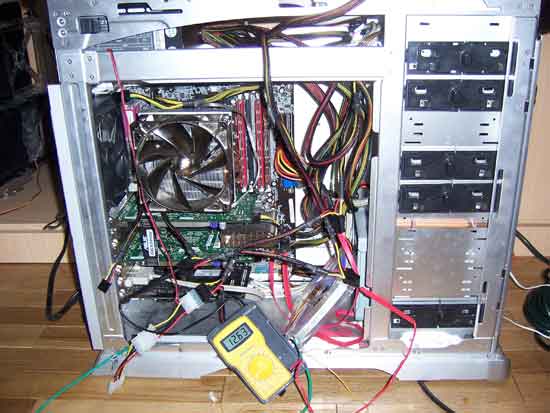 How we test
Test Methodology
To break in the Corsair VX450 I would use it for several days in the above test system. Usage would range from surfing the web, to some gaming and some image editing. To establish load conditions we ran a variety of different processes on the test system to create as much power demand on the VX450 as the components of the test system would allow.
All electrical measurements were measured using a new Radio Shack digital multimeter and a Kill-A-Watt power meter. You should never rely on software measurement applications as these readings can be very inaccurate.
While it is relatively simple these days to overload a 450 watt power supply I thought it more useful to create a system that will be more in line with what this PSU was designed for. Ideally a load simulator would be used to test the theoretical maximum this unit can handle, at this time Bjorn3D doesn't presently own an electronic load simulator to drive these devices to their maximum output. Hopefully we'll have one of these devices in the not to distant future. While measurements taken using one of these devices show the true and ultimate capabilities of the power supply being tested, it's not "real world". By this I simply mean other than for bragging rights, why measure something you'll never practically attain. The question then arises why buy a power supply that provides more than you need? Many Computer Enthusiasts subscribe to the premise that a power supply should never be driven in a real life environment to more than 75% – 80% of it's capable output for obvious system performance reasons. I personally like a cooler quieter system so I feel the 60% – 70% range gives me more of a performance comfort zone.
TEST RESULTS
Idle Results – Measured after a fifteen minute period of inactivity with no applications running and no open windows.
Load Results – Measured while running Intel's Thermal Analysis Tool, ATiTool 3D view, transferring a 2GB file between disks, and playing a DVD.
Results(V) Measured with Radio Shack Digital Multimeter
Power Supply
Antec Earthwatts 430w
Corsair VX 450w
Idle
Load
Idle
Load
3.3v
3.3
3.31
3.3
3.3
5v
5.07
5.1
5.02
5.04
12v1
12.37
12.29
12.25
12.15
12v2
12.35
12.23
–
–
Wattage Used
106W
194W
104W
192W
PF
.97
.99
.97
.98
Ambient Temp
25C
Exhaust Temp
31.1
31.6
31.6
33.7
Turning in some rock solid numbers here I am very impressed to see how stable the 3.3 and 5v lines are. The excellent PFC numbers and low wattage used confirms this unit to be a rock solid piece of equipment.
NOISE
Everyone interprets noises a bit differently. What may be loud to me may be perfectly acceptable for you. With that said I will share with you my relative experiences with this unit.
I know there is a fan on this unit, I took a picture of it. I know it is large and spins slowly but it still is supposed to make noise right? I just couldn't hear it. In a quiet room with no sound or music being played this unit just could not be heard. Even at load I assumed there must be something wrong. The fan must not be spin…nope, it's spinning merrily away. It must be me then. Call my wife in to have a listen, nothing. Friends come over, not a peep. This unit truly is this quiet. Now while this unit can handle a nice sized gaming machine it will more often find itself at home in a HTPC and silence is a MUST. So to those who are considering this unit for such a task I applaud your choice of power supplies. Let's wrap things up shall we?
CONCLUSION
I have been using the VX450 for a little over a week now and have had a very positive experiences with it. I really like the fact that this PSU is as efficient as it is. 450 watts may not seem like enough power for even today's mainstream computers and while that may be true it is important to remember that this PSU is geared towards budget and HTPC's (Home Theatre PC) that don't require nearly that much power. The finish on this piece is a love/hate sort of thing. I personally love the look of it as it reminds me that this power supply is ready to work. Others may prefer a more stylized look. Even so this PSU has it where it counts. Rock solid lines and ultra quiet cooling makes this a serious contender for any enthusaists Home Theatre PC.
FINAL WORDS
Pros:
+  Active PFC
+  Silent operation
+  Fully sleeved cables
+  High efficiency rating
+  Scratch resistant finish
+  5-year warranty
Cons:
–  Separate 4-pin / 8-pin cable for the CPU adds cost, complexity and a bit of confusion
Final Score: 9.0 out of 10 – A solid product delivered at a great price.