If you are planning to upgrade your system to the Core 2 Duo and wish to do some overclocking, then you are probably deciding bewteen into a motherboard based on either NVIDIA's 680i or Intel's P35 chipset. Both chipsets offers good mix of features and overclocking ability. We have previously reviewed the EVGA 680i board and today, we will take a look at the Gigabyte's GA-P35-DS4. Join us as we take a closer look at this board and put it against the EVGA 680i motherboard.
INTRODUCTION
The Intel P35 has been on the market for a few months now.  It is a fantastic chip and has put a huge challenge to the NVIDIA's 680i chipset, which also offers some great overclocking results and excellent features.  Although, the top of the line Intel's upcoming X38 (the chipset maybe released by the time you read this review), most users may not wish to spend that insane amount of money on a motherboard while they can get a similar performance at much cheaper price.  That's why choosing a motherboard based on the P35 or even the NVIDIA 680i chipset would make sense.  Both of the chipsets have been on the market for awhile now and they have matured and run stable with excellent features and performance.  Today, we will take a closer look at the Gigabyte's GA-P35-DS4 (rev. 1.2) and put it against the EVGA 680i and hopefully we can determine who would be the performance king of the $150~$200 motherboard price segment.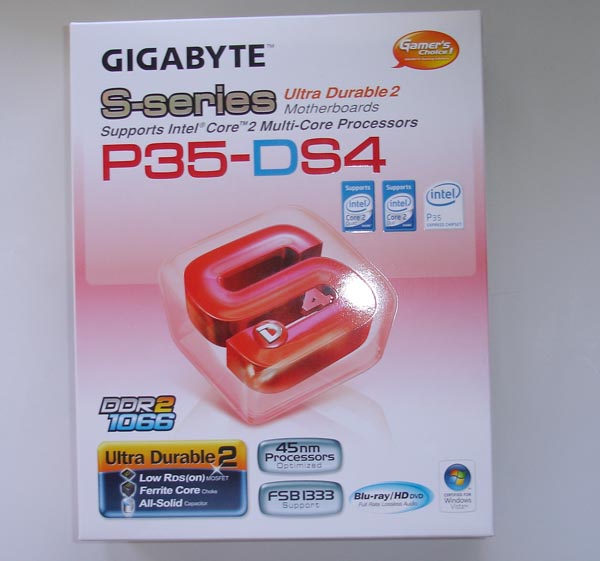 The Gigabyte has been a huge manufacturer of motherboards.  In fact, they have total of 13 motherboards (when I counted) with Intel P35 chipset.  The GA-P35-DS4 is their mainstream segment motherboard that is virtually identical to their top of the line GA-P35-DQ6 but with six phases switching voltage regulator rather than twelve phases found in the DQ6.  The GA-P35-DS4 actually has gone through four revisions, 1.x, 1.0, 1.2, and 2.0.  The difference between the revisions are not being specified at Gigabyte's website but after carefully examine the specifications, I think the difference among the 1.x revisions are the different heat sink designs; while the 2.0 revision actually has more dramatic design changes.  Gigabyte took out the Serial and Parallel port from the back of the IO ports and replace them with four more USB ports given the motherboard total of eight USB ports (as opposed to the 4 found with the 1.x revisions).  We have received the 1.2 revision board that we will put it through the test.
GIGABYTE: The company

GIGABYTE is known throughout the industry as a leader in mainboard and VGA technology. Pioneering such technologies as the i-Ram and all solid capacitor design of their motherboards, it easy to see why they have grown to be a world class provider of technology to the home user. Here is an excerpt taken from their web site:
GIGABYTE, one of the most well-known IT brands in the industry, started as a motherboard technology research laboratory with the passion of a few young engineers two decades ago. With the vision and insights to the market, GIGABYTE has become one of the world's largest manufacturers. On top of motherboards and graphics accelerators, GIGABYTE has further expanded its product portfolio to include notebook and desktop PC's, digital home entertainment appliances, networking servers, communications, mobile and handheld devices. GIGABYTE has risen from an eight-man office to a world class enterprise in the IT industry.
FEATURES
Supports Intel® Core™ 2 multi-core and upcoming 45nm processors
Supports DDR2 1066* memory for outstanding system performance.
Ultimate graphics performance with dual PCI-E x16 interface
Integrated SATA 3Gb/s with RAID function
Features high speed Gigabit Ethernet and IEEE1394
Ultra Durable 2 motherboard features High Quality CPU Power design with Ferrite core chokes, Low RDS (on) MOSFET and Solid Capacitors.
Durable Capacitors that take advantage of Japanese manufactured solid capacitors
All New Copper SILENT-PIPE and Crazy Cool covering CPU zone, the north bridge and the south bridge.
Audio controller from ALC 889A codec and DTS Connect, featuring 106 dB Signal to Noise ratio and supporting for both Blu-ray and HD DVD formats.
Quality Components
Here is a quick list of some of the components GIGABYTE uses in its P35-DS4 board to ensure its long life and solid performance.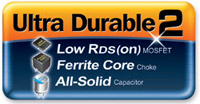 (Click for further info)
Ultra Cooling – Low RDS(on) MOSFET Design


Low RDS(on) MOSFETs specially designed to produce lower switching resistance for faster electric current charging and discharging.

Low Power Loss – Ferrite Core Choke Design


Ferrite core chokes comprised of a compound of iron oxide and other metal elements whose properties hold energy much longer than common iron core at high frequency.

Longer Life – All-Solid Capacitor Design


Solid capacitors contain a solid organic polymer, while electrolytic capacitors use a common liquid electrolyte, hence, the terms solid capacitor versus electrolytic capacitors.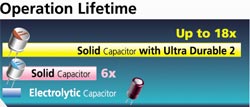 SPECIFICATION
Gigabyte® GA-P35-DS4
Detailed Features & Specifications
CPU
LGA775 socket for:
Supports Intel® Core™2 Extreme Quad-Core / Core™2 Duo / Intel® Pentium® Extreme/ Intel® Pentium® D processors
Supports1333/1066/800 MHz FSB 
Chipset
Northbridge: Intel® P35 Express Chipset
Southbridge: Intel® ICH9R
T.I IEEE 1394 Controller
Gigabit Lan Controller
8 Channels ALC889A Audio controller
Front Side Bus
1333 / 1066 / 800 MHz
Memory
Supports DDR2 1066/800/667 memory
Dual Channel architecture supports up to 8GB by 4 DIMM slots
Expansion Slots
2 PCI Express X16 slot(x16, x4)
3 PCI Express X1 slots
2 PCI slots
CrossFire
Supports ATI CrossFire™ graphics cards (both at x16 and x4 mode)
Storage
South Bridge:– 6 x SATA 3Gb/s connectors (SATAII0, SATAII1, SATAII2, SATAII3,
SATAII4, SATAII5) supporting up to 6 SATA 3Gb/s devices
– Support for SATA RAID 0, RAID 1, RAID 5, and RAID 10
GIGABYTE SATA2 chip:
– 1 x IDE connector supporting ATA-133/100/66/33 and up to 2 IDE devices
– 2 x SATA 3Gb/s connectors (GSATAII0, GSATAII1) supporting up to
2 SATA 3Gb/s devices
– Support for SATA RAID 0, RAID 1, and JBOD
iTE IT8718 chip:
– 1 x floppy disk drive connector supporting up to 1 floppy disk drive
LAN
Realtek 8111B chip (10/100/1000 Mbit)
High Definition Audio
Realtek ALC889A codec
High Definition Audio
2/4/5.1/7.1-channel
Support for DTS (dts NEO:PC)
Support for S/PDIF In/Out
Support for CD In
IEEE 1394a

T.I. TSB43AB23 chip Up to 2 IEEE 1394a ports (1 on the back panel, 1 via the IEEE 1394 bracket connected to the internal IEEE 1394 header)

USB
Integrated in the South Bridge
Up to 12 USB 2.0/1.1 ports (4 on the back panel, 8 via the USB brackets connected to the internal USB headers)
Overclocking Features
Voltage adjustments in BIOS Setup (CPU/DDR2/PCIe/FSB/(G)MCH)
allow you to:
– Increase CPU voltage (Note 4)
– Increase DDR2 voltage by 0.05V to 1.55V with 0.05V increment
– Increase PCIe voltage by 0.05V to 0.35V with 0.05V increment
– Increase FSB voltage by 0.05V to 0.35V with 0.05V increment
– Increase (G)MCH voltage by 0.025V to 0.375V with 0.025V increment
Frequency adjustments in BIOS Setup (CPU/DDR2/PCIe) allow you to:– Adjust CPU host frequency from 100 MHz to 700 MHz with 1 MHz
increment
– Adjust DDR2 frequency
– Adjust PCI Express x16 frequency from 90 MHz to 150 MHz with
1 MHz increment 
Special Features
Ultra Durable 2 Motherboard
All Copper Silent Pipe and Crazy Cool
All Japanese manufactured solid
Over-clocking Enhanced
Back Panel I/O Ports
4 USB 2.0/1.1 ports
2 SPDIF Out port (coaxial+ optical)
1 IEEE 1394 port
1 LPT Port
1 COM Port
1 RJ45 port
6 audio jacks
PS/2 Keyboard/Mouse
Internal I/O Connectors
8 Serial ATA 3Gb/s connectors
1 UDMA ATA 133/100/66/33 connector
1 FDD connector
2 IEEE 1394 connectors 
4 USB 2.0/1.1 connectors (supports 8 ports)
1 audio pin header (supports 8-Channel)
1 S/PDIF In pin header
BIOS
Supports DualBIOS Plus
2 x 8 Mbit flash ROM
Use of licensed AWARD BIOS
PnP 1.0a, DMI 2.0, SM BIOS 2.3, ACPI 1.0b.
Manageability
WOL by PME, WOR by PME, Chasis Intrusion, PXE
O/S Compatibility
Window XP / Vista
Accessories
Motherboard driver disk
User's Manual
Quick Installation Guide
Intel® LGA775 CPU Installation Guide
One IDE cable and one floppy disk drive cable
Four SATA 3Gb/s cables
One SATA bracket
I/O Shield
2-port USB 2.0 bracket
A case badge
Software
Norton Internet Security (OEM version)
Easy Tune
Form Factor
ATX form factor, 305 x 244mm
CLOSER LOOK AT GA-P35-DS4
The motherboard is very well-designed with all the components color-coded and labeled.  Gigabyte choose to use dark blue PCB on their motherboard; though it may not be as flashy as some motherboards like DFI's UV sensitive LanParty board, I really do not care too much about the pizzazz looks but the performance.
The motherboard features "High Quality CPU Power design with Ferrite core chokes, Low RDS (on) MOSFET and Solid Capacitors."  According to Gigabyte, the Low RDS MOSFET design produces lower switching resistance for faster electro-current charging and discharging and the Ferrite Core Core Choke allows up to 25% less power loss compare to the Iron Core Choke.  This has become a trend lately with many high-end and enthusiast's motherboards to utilize solid capacitors which prolongs the lifespan of the components and avoids the burst capacitor that was common found in older liquid capacitors.  Although Gigabyte claims that their design will produce cooler boards, lower EMI interference, and resist rust better than standard iron core chokes, we cannot verify these claims.
Looking at the CPU area, we see that Gigabyte chooses to place the eight pin CPU power behind the I/O ports, next to the CPU area.  The location is good but it does come slightly too close to the heat pipes so it could be slightly hard to access the connector if the motherboard is installed inside the case with the CPU heat sink is installed, so I would recommend you plug in the power cable first before you mount install the motherboard to the case.  I believe that Gigabyte designs the motherboard to work with both 4-pin or 8-pin power connector as there is a cover which covers four of the eight pins.  The board comes with six-phase switching voltage regulator, though not as much as other enthusiasts boards like 680i, it should offer plenty of overclocking potential. 
The CPU area is clean without much obstruction for even the biggest heat sink on the market.  We can see that Gigabyte choose all silent heat pipe design for the Northbridge and Southbridge cooling.  The heat pipe is made with copper and it spans across the Northbridge, Southbridge and CPU power components.  The heat sinks above the Northbridge and the CPU power components are about the same height as the I/O ports so they are not overly large like other heat sinks.  Gigabyte uses very small size and short Southbridge which should not cause any clearance problem with long graphic cards.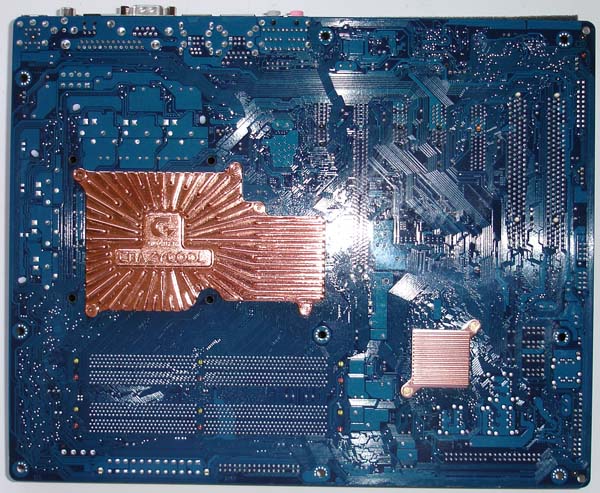 As many other high-end Gigabyte motherboards, the GA-P35-DS4 also has a big metal plate underneath the CPU mounting area and the chipsets.  The metal plates will help to dissipate heat which may in turn provide a much higher overclocking.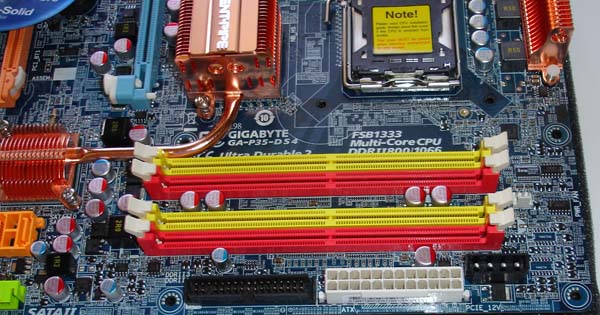 The main ATX power is located at top right edge of the board with the PCIE 12V power connector and the floppy connector placed next to it.  We also see the four memory slots nearby which are color coded for dual channel.  The board supports maximum of 8GB of DDR2 with transfer speed of 1066/800/667 MHz though faster speed will work without any issue.  Gigabyte places the dual channel memory in banks that are far away from each other, so if you are running two sticks of RAM with huge memory heat sink, you will not run into any clearance issue.  However, the slot sits literary next to the each other and if you are using all 4 slots it could be a problem with large heat spreader.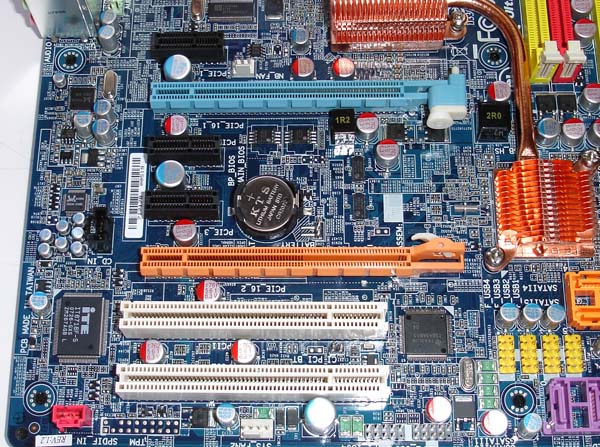 There are plenty of expansion slots for the GA-P35-DS4: three X1 PCIE, two X16 PCIEs, and two PCI slots.  The primary X16 PCIE slot has plenty of space for even the largest GPU cooler.  Despite the fact that there are two X16 PCIE slot, only the primary slot supports 16 lanes while the secondary slot only supports 4 lanes.  The motherboard does support ATI Crossfire but it is in the 16+4 configuration.  In addition, the first x1 PCIE slot is being blocked by the Northbridge so it won't be able to take full-length expansion card.  Next to the secondary PCIE slot, we see the CMOS battery and the jumper for clear the CMOS.  The Clear CMOS only has 2 pins and oddly enough, I did not find the jumper in the package at all.
 
Many of current X16 PCIE slot comes with a retention mechanism to secure the PCIE graphic card.  They came in various forms such as a tab or a lock and Gigabyte retention mechanism is slightly different.  It is a tab where you pull the tab to release the card.  I like the fact Gigabyte places the release tab on the left side of the board where there's plenty of working space.  Many manufactures place the tab on the right, closer to the Northbridge, which makes it harder to access.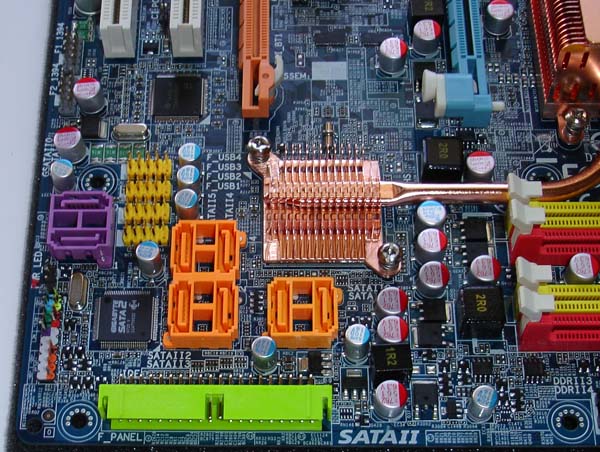 Down on the bottom left, we can see there are eight SATA ports consists of six orange colored ports controlled by Intel ICH9R and two purple colored ports controlled by Gigabyte's GASATA2 controller.  In addition, we see four USB headers, two Firewire headers, and an IDE connector which has been rotated to 90 degrees from the motherboard.  On the bottom of the motherboard is where we find the front I/O headers that have been color coded for easy installation.
The motherboard comes with total of five fan headers: one for CPU fan, one for the Northbridge fan, and three system fans.  One of the system fan and the CPU fan are 4-pin type connector while the rest of the fans are using 3-pin connector. 
The Gigabyte GA-P35-DS4 lacks the LED error code indicator like many of the enthusiasts motherboards which is quite unfortunate as it is somewhat expected to find it given to the price of this motherboard.  In addition, there's no internal Reset and clear CMOS button which you found in many of other motherboards in the same price range.
CLOSER LOOK, cont

Turn to the back and you will find that Gigabyte has included a mix of old and new connectors on the GA-P35-DS4.  The board comes with one PS/2 keyboard and one PS/2 mouse port, one parallel port, one coaxial S/PDIF out connector, one optical S/PDIF out connector, one serial port, four USB 2.0/1.1 ports, one IEEE 1394a port (Firewire), one RJ-45 Gigabit Lan port, and the audio connectors.  The included four USB ports is a little on the shorter side and the lack of secondary Gigabit LAN ports is slightly disappointing as it is often found on other similar priced motherboards.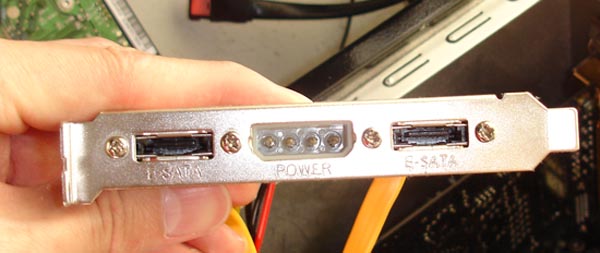 I believe Gigabyte knows that people will complain about its lacking of USB ports, that's why they have included an expansion bracket for two additional USB ports.  In addition, Gigabyte also includes an eSATA expansion bracket for two eSATA ports.  The eSATA bracket also has a 4 pin molex to be used in conjunction with the included 4 pin molex to SATA adapter to power any internal SATA devices externally.  Gigabyte also includes a rather unique eSATA to SATA cable to allow users to use internal hard drives externally.  This is got to be the most versatile eSATA design that I have seen on a motherboard.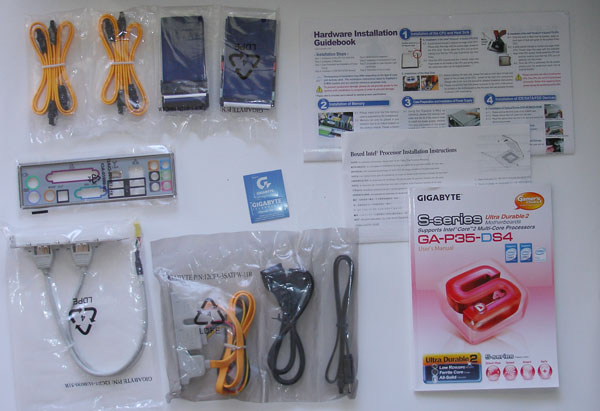 In addition to the two brackets, the motherboard also comes with four SATA cables, one floppy cable, and one IDE cable, I/O shield, an CPU installation guide, a hardware installation guide, a manual, a driver DVD (yep, you read it right, it's a DVD), and a case badge.  Gigabyte has include an Xpress Installation button to facilitate the driver installation.  In addition, you will find a wide range of software included though I am not sure if they are trial-ware or full version.
Special Features
In addition, there are few unique features found with Gigabyte's motherboard.
Xpress Recovery2
Xpress Recovery2 is an utility that allows you to quickly compress and back up your system data and perform restoration of it. Supporting NTFS, FAT32, and FAT16 file systems, Xpress Recovery2 can back up data on PATA and SATA hard drives and restore it.
Unfortunately, this option does not work if the hard drive is set in RAID/AHCI mode.  Still, it's a really nice feature which is not found in any other motherboard that I have seen.
Q-Flash and @BIOS
Gigabyte offers two ways of flashing the BIOS: Q-Flash and @BIOS. 
What is Q-FlashTM?
With Q-Flash you can update the system BIOS without having to enter operating systems like MS-DOS or Window first. Embedded in the BIOS, the Q-Flash tool frees you from the hassles of going through complicated BIOS flashing process.
What is @BIOSTM?
@BIOS allows you to update the system BIOS while in the Windows environment. @BIOS will download the latest BIOS file from the nearest @BIOS server site and update the BIOS.
Overclocking Software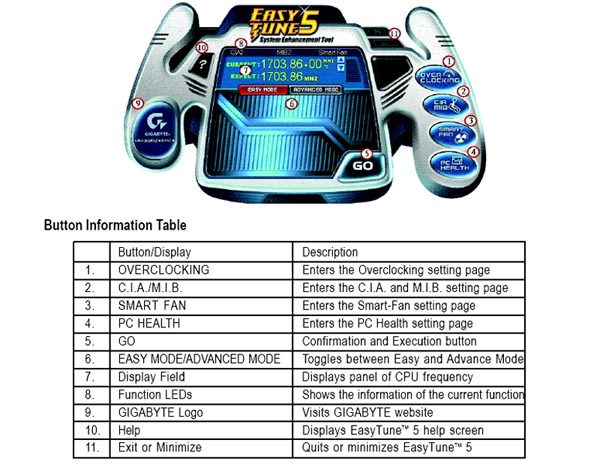 In addition to the driver, the DVD also comes with a handy tool called EaxyTune.  It is an Windows overclocking/system monitoring application much like the NVIDIA's nTune. 
BIOS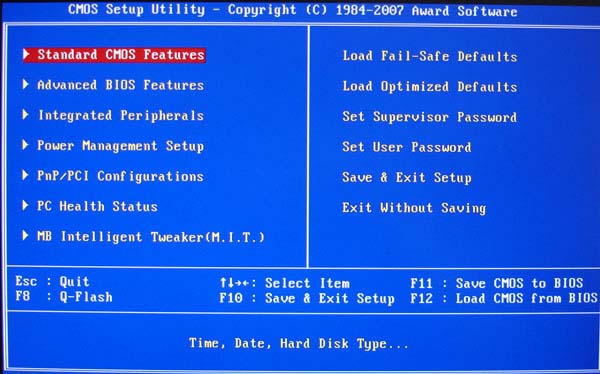 The Gigabyte GA-P35-DS4 uses Award BIOS.  The interface should come pretty familiar.  The settings are split into seven categories.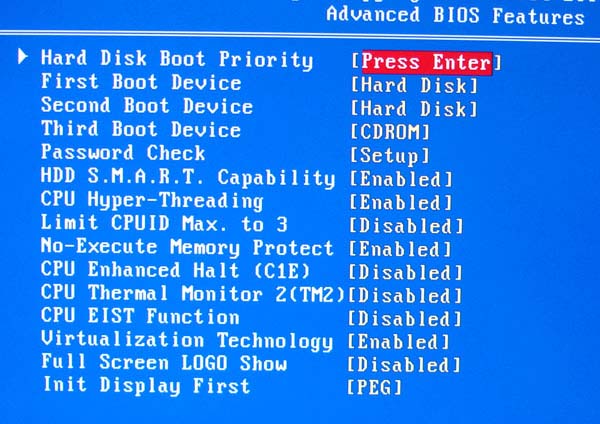 Under Advanced BIOS features, you will find boot devices priority.  It's a bit out of place to find CPU settings such as Hyper-Threading, Intel Thermal Monitor, EIST function, and Virtualization, under here.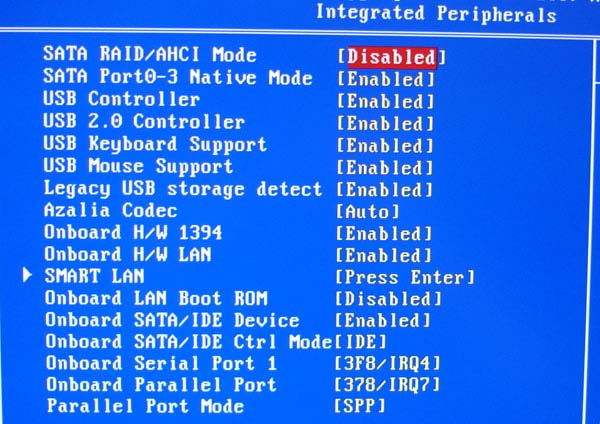 The Integrated Peripherals has all the options that's needed to set the integrated ports such as USB, audio, SATA RAID/AHCI, and LAN.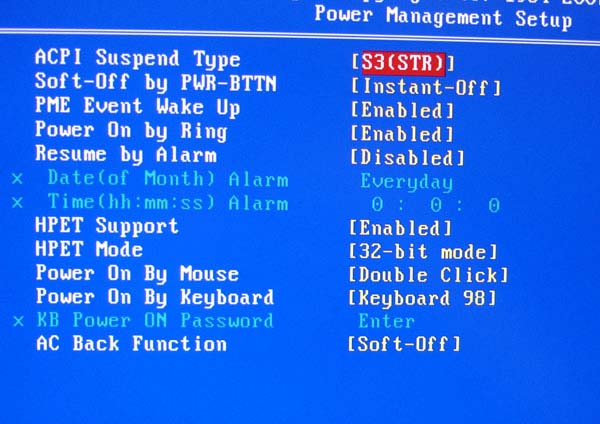 Nothing unusual is found under the Power Management Menu.  We see that the GA-P35-DS4 supports Power by Keyboard and Power Mouse.  I am slightly disappointed to see that the Power by Keyboard does not have "Any Key" option.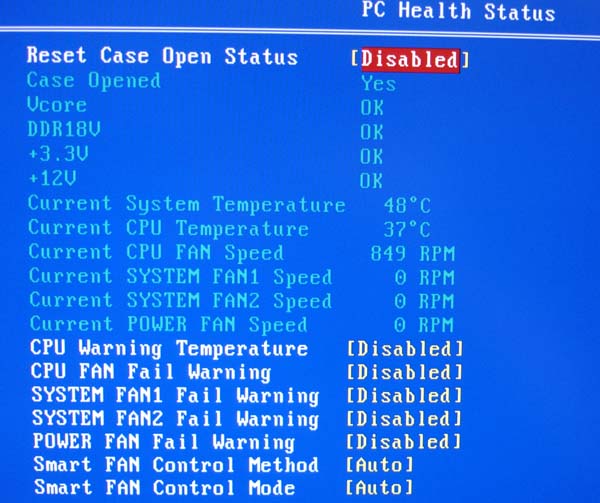 PC Health Status shows the system voltage and fan speed.  I do not particularly like how Gigabyte uses OK rather than display the real voltage for the components.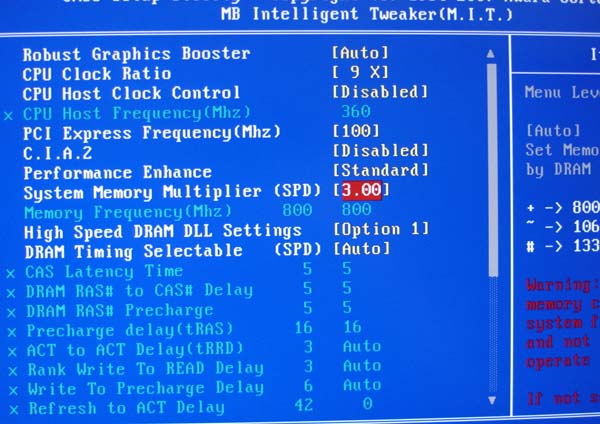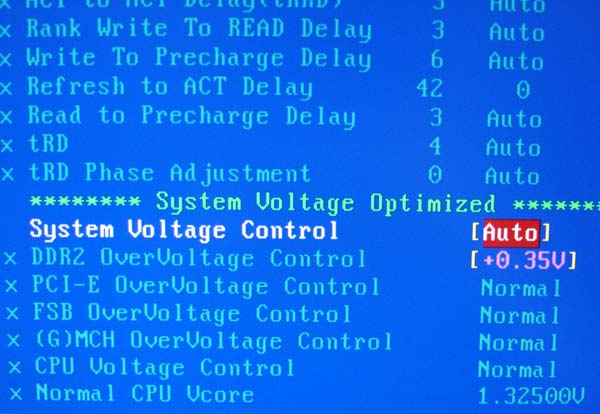 Here comes what we all want to see, the MB Intelligent Tweaker (M.I.T) Menu.  Here is where any overclocker will spend hours tweaking his/her motherboard to get the best performance.  At first glance, I thought, something is missing.  There is no memory timing setting.  Gigabyte actually hides these options.  In order to enable memory timing settings, you would have to press CTL+F1 at the Main BIOS menu then you will enable Memory Timing Settings.  I am not sure why would Gigabyte chooses to hide these options as I think most people who spend close to $200 for a motherboard knows a thing or two about BIOS and expect to mess with these settings.
In addition to the hidden options, Gigabyte also uses slightly different terminology which could be slightly confusing for a new overclocker, the Clock Ratio (CPU Multiplier) and CPU Host Frequency (CPU FSB) are a few examples.  Nonetheless, the board provides plenty of options for anyone who wishes to tweak their system.  The GA-P35-DS3 comes with a few automatic overclcoking settings:
Robust Graphics BoosterRobust Graphics Booster (R.G.B.) helps to enhance the performance of the graphics chip and memory. Auto allows the BIOS to automatically set the R.G.B. mode based on system configurations. Options are: Auto (default), Fast, Turbo.
C.I.A.2
CPU Intelligent Accelerator 2 (C.I.A.2) is designed to automatically adjust CPU computing power to maximize system performance. C.I.A.2 allows your system bus to be changed dynamically based on CPU loading through the use of 5 preset states.  It will automatically overclock the CPU frequency 5% to 19% depends on which one of the five preset states you select.
In addition, here are other options which are user adjustable:
Gigabyte GA-P35-DS4 BIOS Adjustments

FSB Strap to Northbridge
200MHz, 266MHz, & 333MHz
FSB Frequency
100MHz to 700MHz in 1MHz increments
PCIE Frequency
100MHz to 150MHz in 1MHz increments
System Memory Multiplier

Auto, 2.5, 3, 4~, 2, 2.4, 3.2, 3.33, 4+

~: 1066 MHz strapping, +: 800 Strapping MHz, #: 1333 MHz strapping 

CPU Voltage
1.5000V ~ 2.3500V in varying increments
FSB OverVoltage Control
+0.1V ~ +0.3V Increases FSB voltage by 0.1V to 0.3V at 0.1V increment.
(G) MCH (Northbridge) Voltage
+0.1V ~ +0.3V Increases North Bridge voltage by 0.1V to 0.3V at 0.1V increment.
DDR2 /DDR3 OverVoltage Control
+0.1V ~ +0.7V Increases memory voltage by 0.1V to 0.7V at 0.1V increment.
PCI-E OverVoltage Control
+0.1V ~ +0.3V Increases PCIe bus voltage by 0.1V to 0.3V at 0.1V increment.
DRAM Voltage
Auto & 1.80V – 3.4V in 0.02V increments
One thing which I found to be slightly limited is the System Memory Multiplier.  Unlike the 680i based motherboard where users have an option to adjust the FSB and the memory clock separately and the motherboard will automatically adjust the FSB:Memory ratio.  The Gigabyte board still uses FSB:Memory ratio and the preset ratio is somewhat limited as we will show later with out overclocking result.
INSTALLATION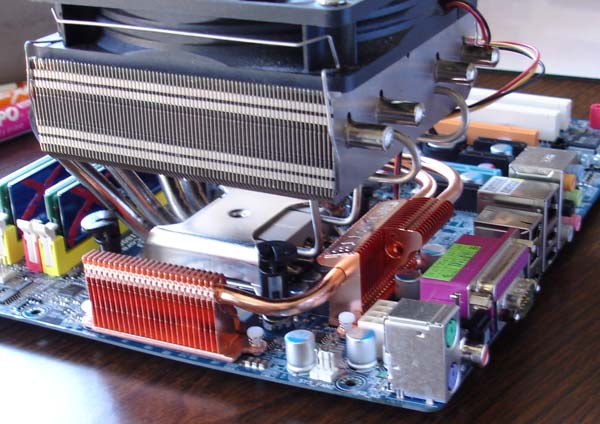 Even with the Thermalright SI-128, there's still plenty of space around the CPU area.
I did not encounter any problem installing components to the GA-P35-DS4.  There are two issues which I think some users may face.  One of them would be the closeness of the DIMM slots, as mentioned earlier, which could cause problem for users who wish to install 4 DIMMs.  Another issue which I think could be an issue would be the metal backplate would be a problem for users with heat sinks and fan that requires a backplate to be installed.  Other than these problems, I think the installation should be a breeze as everything is clearly labeled.
TEST CONFIGURATION
We will put the Gigabyte GA-P35-DS4 against the EVGA 680i SLI motherboard.  Both boards are targeted toward the same users as they both packed with overclocking features and priced at similar range. 
Test Platform

Processor

Intel E660 Core 2 Duo at 2.4GHz

Motherboard

Test Board #1:  EVGA 122-CK-NF68-AR
Test Board #2:  Gigabyte GA-P35-DS4 BIOS F11

Memory

2GB of XTREEM TXDD1024M800HC4-D DDRII-800MHz (4-4-4-12)

Drive(s)

Western Digital Caviar SE16 250GB (WD2500KS-00MJB0)

Graphics

Foxconn GeForce® 8600 GTS with ForceWare 163.69

Cooling

Thermalright SI-128 with Scythe S-FLEX SFF21F

Power Supply

NZXT PRECISE 1000W

Display

Gateway FPD2485W

Case

NZXT ZERO

Operating System

Windows Vista Ultimate 32-bit
Synthetic Benchmarks
PCMark 05 v. 1.2.0
3DMark06 v. 1.1.0
SiSoft SANDRA 2008 XI Professional
Cinebench 9.5 (Daylight)
Cinebench 10 (Daylight)
Everest 4.10.1090beta
SuperPi Mod 1.5XS
HD Tach RW 3.0.1.0
Games
Company of Heroes DX10
TEST RESULTS–CPU
For the CPU test, we have selected to test the motherboards with PCMark05, SisSoft Sandra 2008, CineBench 9.5, CineBench 10, and Everest.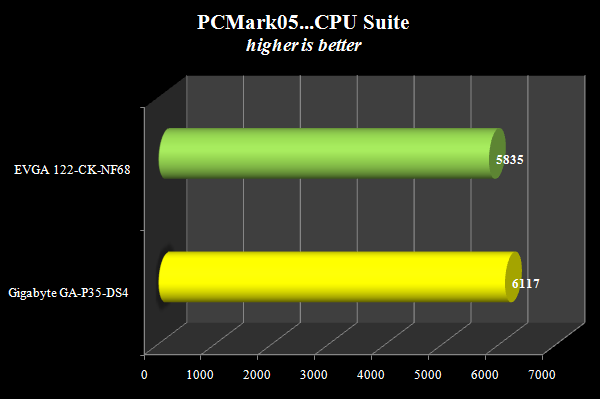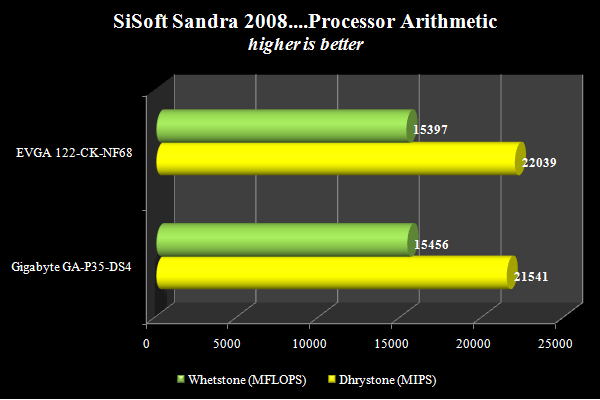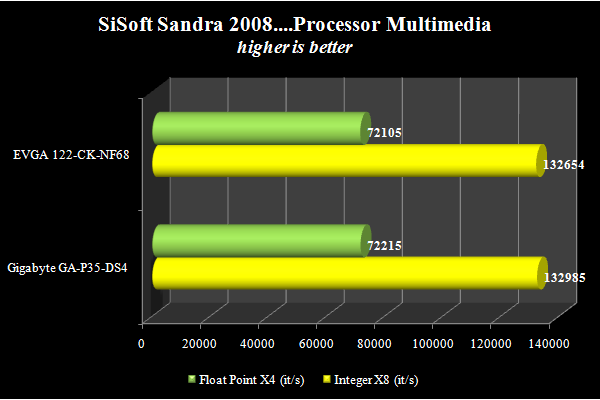 The GA-P35-DS4 has a significant leads over the EVGA 680i motherboard in the PCMark05's CPU benchmark.  SiSoftware Sandra 2008's result of both motherboards are very close to each other.  The GA-P35-DS4 seems to have a slight lead in the multimedia benchmark.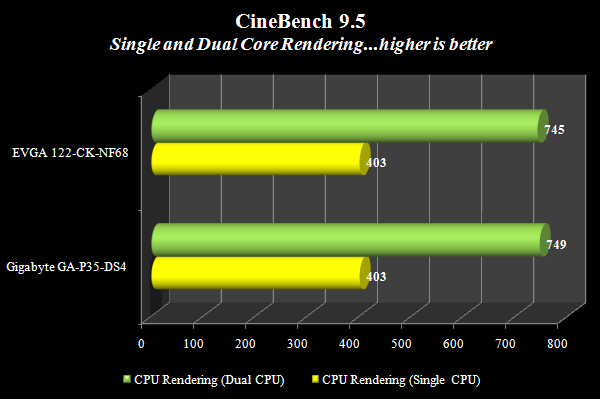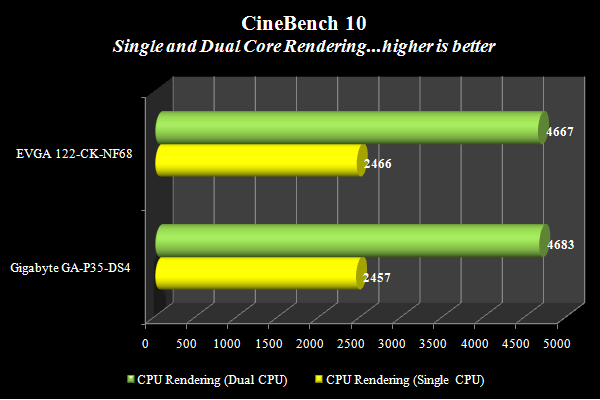 CineBench once again shows that the GA-P35-DS4 has a slightly leads over the EVGA 680i, especially with the dual-core rendering.  It is possible that the Intel processor simply prefer Intel Chipsets slightly over other chipsets.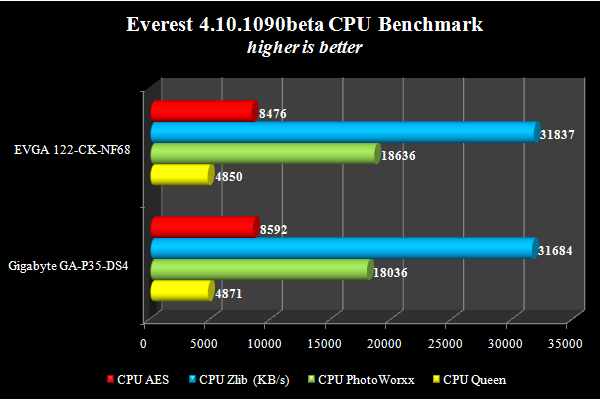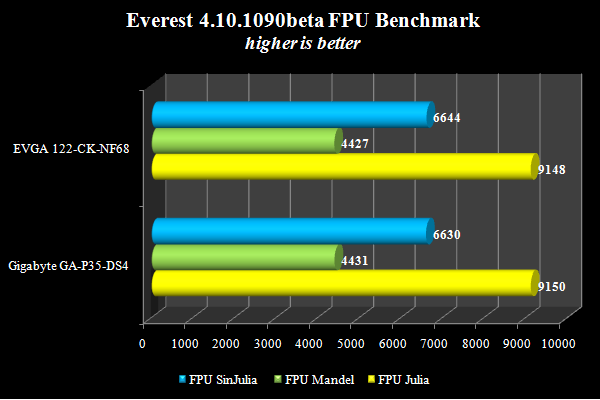 Evrest's benchmarks do not reveal anything out of ordinary.  Once again, both boards perform equally well.  We see that the GA-P35-DS4 performs better in the CPU Queen and CPU AES benchmarks while the EVAG 680i performs better in the CPU Zlib and CPU Photo Worxx.  The Everest FPU benchmark shows that both motherboards performs very close to each other in terms of CPU performance.
TEST RESULTS–MEMORY
For the memory bandwidth test, we selected Everest Memory Suite, PCMark05, and Sandara 2008 to test on both motherboards.  The memory that was used in the benchmarks (XTREEM TXDD1024M800HC4-D) was able to run at default 4-4-4-12-1T with the 680i motherboard but since the GA-P35-DS4 does allow user to change the command rate, I can only run the benchmark at 4-4-4-12-2T.  Thus, the result below is shown with the EVGA board running at 1T command rate while the Gigabyte board running at 2T command rate.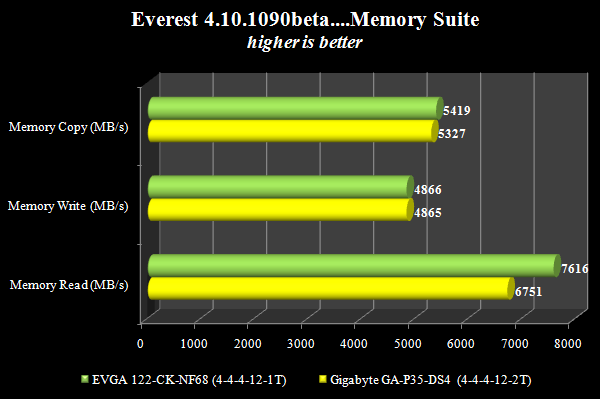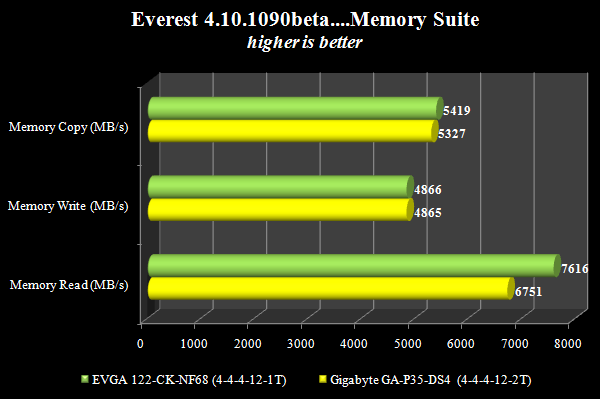 The EVGA 680i board definitely has a better bandwidth compare to the GA-P35-DS4.  The lead is especially noticeable with the memory read as it is shown with the Everest, a whopping 13%.  Looking at the memory latency, we can see that the EVGA 680i also fares much better latency than the GA-P35-DS4, 62.3 compre to the 72.3 respectively.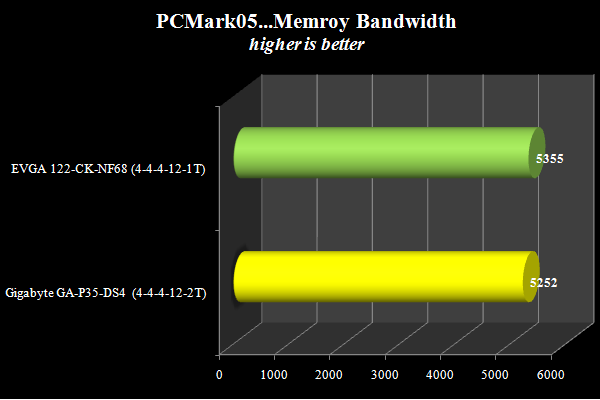 Both PCMark05 and Sandra 2008 show that EVGA 680i motherboard has on the average of 2-3% of better memory performance over the Gigabyte GA-P35-DS4.  The slight performance gain may simply due to the 2T vs 1T command rate.
TEST RESULTS–STORAGE
The storage performance is tests with the PCMark05 and HD Tach.  The test is first done with the Western Digital WD2500KS which contains the Operating System to see the maximum transfer speed obtained by the 680i and Intel ICH9R SATA controller.  Since the Gigabyte motherboard comes with another SATA controller, the GSATAII, in addition to the Intel ICH9R, I decided to test the SATA performance on both of the ICH9R and the GSATAII controller found on the GA-P35-DS4.  Rather than reinstall Windows with the hard drive connected to the GSATAII, I decided to use a 2.5'' Seagate ST96023AS and run HD Tach again to compare the performance between the SATA controllers.
680i vs ICH9R SATA Transfer Speed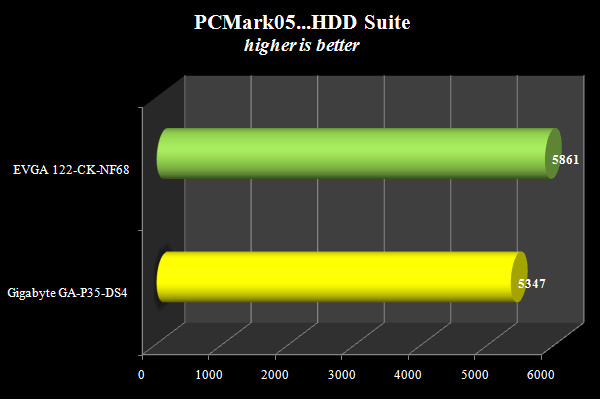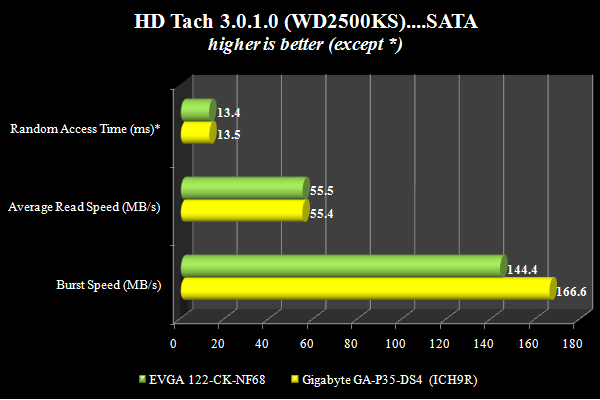 PCMark05 shows that the 680i SATA controller has about 10% higher performance than the ICH9R controller.  On the other hand, HD Tach shows that the average read access time for both boards are about the same.  However, HD Tach shows that the ICH9R actually has a much better burst speed than the 680i, 166.6 MB/s compare to the 144.4 MB/s.
680i vs ICH9R vs GSATAII Transfer Speed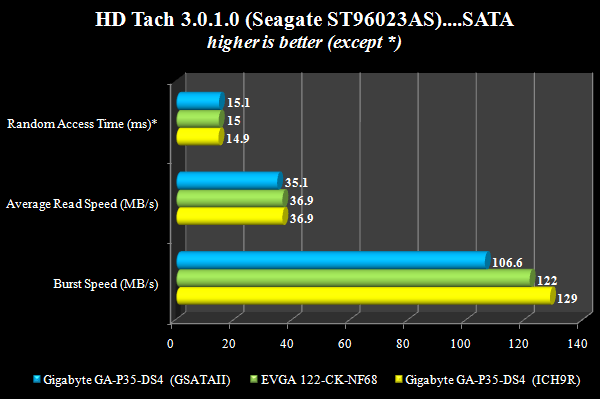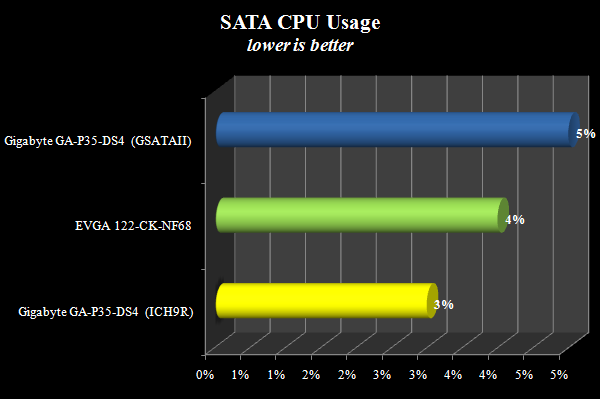 The result reveals that the Intel ICH9R has the best burst speed, follow by the 680i and in the third place, the GSATAII.  Not only that GSATAII does not have the best burst speed, it also lags slightly with the average read compared to the other two chipsets. 
The CPU usage for all three chipsets are fairly equal while the ICH9R consumes the least amount of CPU cycle, 3%, follow by the 680i, 4%, and then the GSATAII, 5%.
USB Transfer Speed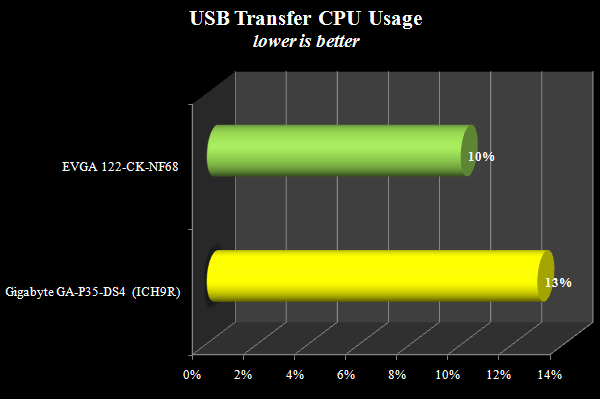 Switching to the USB performance, I installed the same hard drive that was used to test the HD transfer speed to an external USB enclosure.  We can see that both boards have similar transfer speed.  However, the GA-P34-DS4 actually consumes slightly higher CPU cycles compare to the EVGA 680i.
TEST RESULTS–GRAPHICS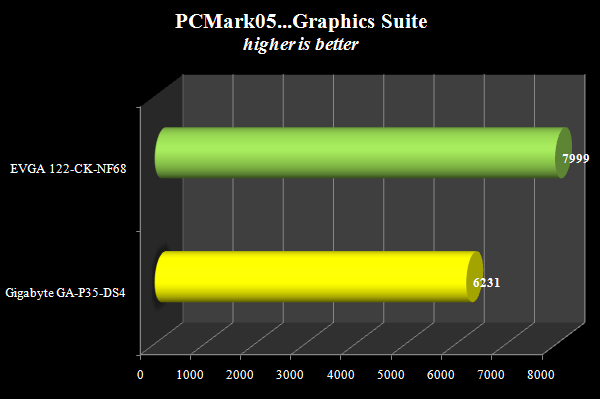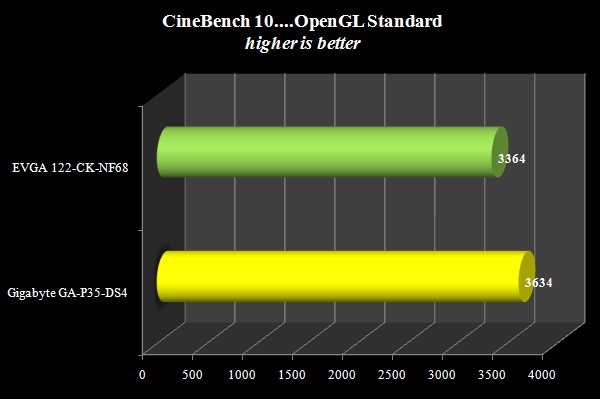 The PCMark05 shows that the EVGA 680i has a significant lead in the graphic performance over the GA-P35-DS4.  It is slightly surprising to see about 24% performance gain with the 680i Chipset.  It is possible that the NVIDIA 8600GTS graphic card that is used simply works better with the NVIDIA Chipset board.  Turning to the CineBench's OpenGL test, which is less dependable to the plateform, we can see that the Gigabyte board actually out-performs the EVGA board (with the exception of the C4D shading benchmark).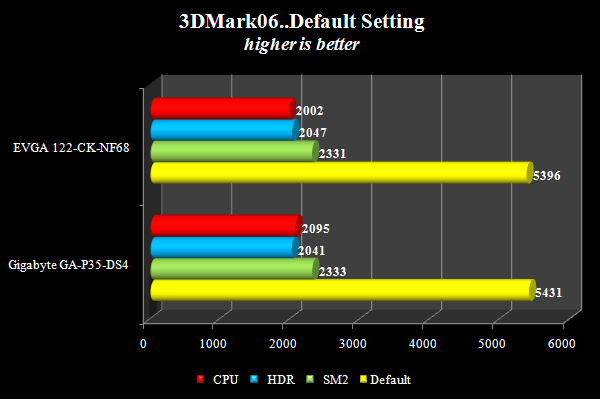 In the gaming performance, we can see that 3DMark06 score for both board is virtually identical.  It is good to see that despite the fact that the memory on the GA-P35-DS4 is running at 2T command rate rather than 1T that is with the 680i board, the performance is not being affected.  In Company of Heroes, we can get a better sense that in the real-world gaming, the GA-P35-DS4 is able to perform slightly better than the EVAG 680i.
TEST RESULTS–OVERALL SYSTEM PERFORMANCE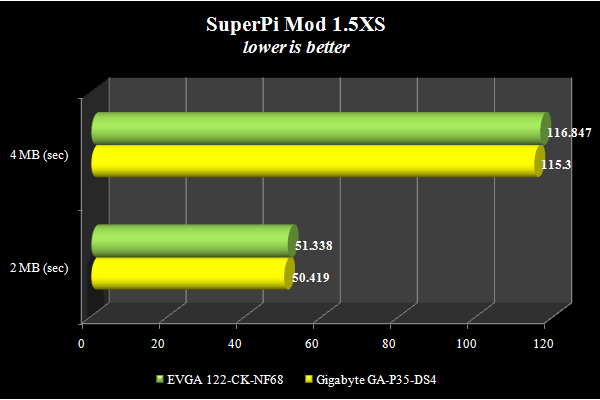 To assess the "real-world" performance of the memroy and CPU, we test both boards with SuperPi.  We ran 2MB and 4MB calculations.  We can see from the result, the performance of both boards are very close with the Gigabyte performs slightly better than the EVGA board.
The synthetic benchmark of PCMark05 shows that the EVGA 680i actually performs much better than the Gigabyte GA-P35-DS4.  This goes to show you that the synthetic benchmark does not always represent the real-life performance and each benchmark can vary.  As we have seen with other benchmarks, the performance difference between the GA-P35-DS4 and 680i is not as big as the score represents.  The 680i board do win a few benchmarks but the lead is usually small and the GA-P35-DS4 do outperforms the 680i, especially in the storage and real-world gaming performance.
OVERCLOCKING
Overclocking is always highly depended on various components and there is never a guarantee even with the same system configuration.  I set out to find the highest FSB attainable for the GA-P35-DS4.  I first set the Vcore to 1.45v and Vdimm to 2.2V then started to increase the FSB.  With the multiplier set at 9x, I was able to get a 340 MHz with 2.4 FSB:Memory ratio.  Te system would boot into BIOS but it will crash during Windows welcoming screen.  I then lower the FSB to 330MHz and the system would boot into Windows and ran Orthos without any issue.  To see what is the maximum FSB attainable, I then lower the CPU multiplier to 6x.  With multiplier set at 6x, I was able to boot into BIOS at 450MHz with FSB:Memory ratio set at 2.0 but once again it failed to boot into Windows.  I then lower the FSB to 440 and was able to boot into Windows and ran Orthos without any issue.  Further increasing the voltage of the memory and the chipset do not seem to help much of the overclocking.  I believe that the Team Group Xtreem DDR2-800 memory that was used is limiting the maximum overclocking slightly due to the fact that it can only be overclocked to 960MHz based on my previous experience.  Since the GA-P35-DS4 only offers a limited selection of FSB:Memory ratio, it would limited the FSB options slightly.  Still, a 440MHz overclocking of the FSB from the default 266MHz is not too bad.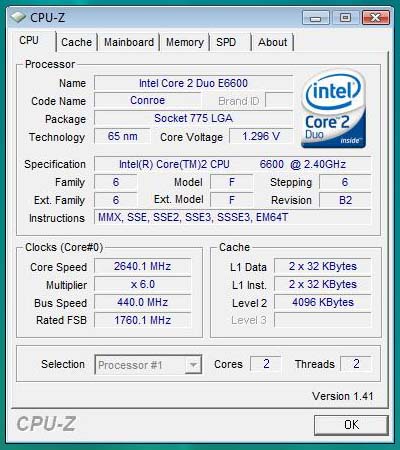 With the maximum FSB obtained, I set out to overclock the E6600.  I was able to overclock the processor to 3.24GHz (9×360) with the Vcore set at 1.4v and the memory set at 2.2v,FSB at +.2v , and FSB:memory at 1:1.  Lowering the CPU multiplier to 8x does not seem to yield any better result.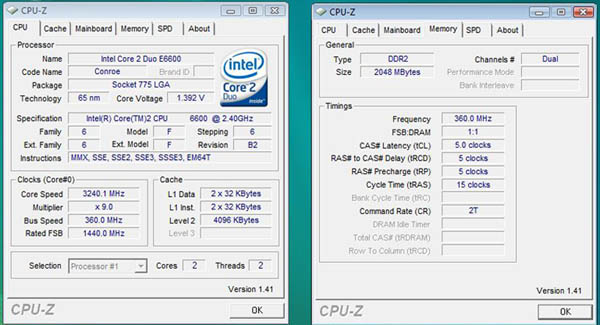 Overclocking with the GA-P35-DS4 is fairly easy although the limited FSB:Memory ratio means that if you wish to attain the best result, a pair of good overclocking memory and a good overclockable CPU are a must.  The EVGA 680i has the ability to overclock the FSB and the memory independently and the motherboard will automatically set the appropriate ratio.  Thus, it would be easier to overclock with the 680i board and would even be able to pair it with a mainstream memory and obtain a higher overclocking result (as I was able to get 3.4GHz fairly easily with the same sticks of memory with the 680i board as oppose to the 3.24GHz achieved with the P35-DS4).  Still the 440MHz maximum FSB bus speed on the P35-DS4 should satisfy any overclockers out there.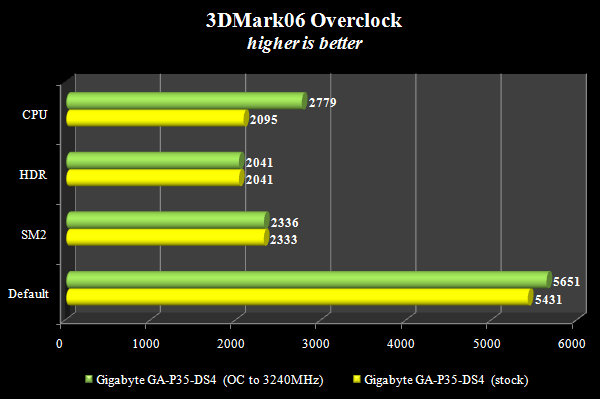 A quick test with 3DMark06 with the CPU overclocked to 3.24GHz.
POWER CONSUMPTION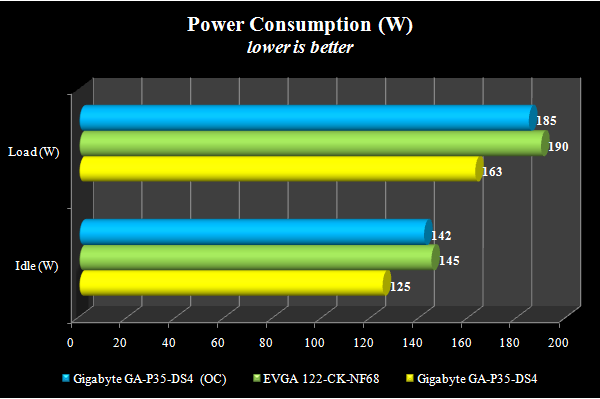 We use the Kill-A-Watt Model P4400 to measure the overall system power consumption.  The power consumption of the GA-P35-DS4 is an area where the EVGA 680i motherboard simply cannot compete with.  Under idle condition, the GA-P35-DS4 consumes a whopping 20W less than the 680i motherboard.  Under load, it consumes 27W less than the 680i board.  Even when the board is overclocked, the Gigabyte board still consumes less power than the 680i in both idle and load condition.
CONCLUSION
The Gigabyte GA-P35-DS4 is a good performance board with nice features.   The Intel P35 chipset has proven to be a mature chipset and offers good performance that is able to compete with the NVIDIA 680i chipset.  Looking at the performance, we can see that both chipsets perform equally well across the board with small differences.  Though the P35 chipset does not offer much of performance gain over the 680i, it does bring a few features that are not available with the 680i, mainly the Crossfire and support for upcoming Penryn processors (680i board may support Penryn with a BIOS update but the information has not officially being released).
Gigabyte has designed a nice motherboard with their GA-P35-DS4.  Not only it has good performance and nice features, the fact that it consumes much less power than the EVGA 680i motherboard is a huge plus.  The included eight SATA II ports would serve most users' needs and the versatile eSATA ports would be a great tool to use.  What we love the most is the silent heat pipe which works efficiently keeping the chipsets running cool while keeping the noise to absolutely silent. 
There is not much fault that can be found with the GA-P35-DS4 except it only comes with four USB ports on the back panel (though the revision 2.0 has rectified this problem and has included six USB ports).  The closeness of the memory slots could cause problem for users with four sticks who wishes to overclock.  In addition, the slightly limited FSB:Memory ratio could hinder maximum overclocking potential unless it is paired with a pair of good RAM.  However, all these are minor complaints to a well-designed, feature-riched motherboard.
Users with 680i based motherboard probably will not be looking into switch to the GA-P35-DS4 board unless they plan to run Crossfire.  For those who are considering upgrading their system to the latest technology, the GA-P35-DS4 is a great choice as it offers a good balance of price and performance and not to mention that it will support future processor upgrade.  Be sure to look into the revision 2.0 board which comes with six USB ports rather than four found with the 1.x revisions if you plan to buy the GA-P35-DS4.

 The Gigabyte GA-P35-DS4 will receive a score of 8 out of 10 and Bjorn3D's Seal of Approval for the excellent feature and performance.
Pros:
+ Consumes less power than 680i
+ Versatile eSATA bracket
+ Eight SATA ports with RAID ability
+ Silent heat pipe
+ Supports upcoming Penryn processors
+ All solid capacitor
Cons:
– Limited FSB: memory ratio
– Crossfire only runs at x16+x4
– Only comes with four USB port (rev 2.0 has fix this problem)
– No LED error indicator
– No reset/clear CMOS button