As more and more motherboards and computers come with a external eSATA connector it is becoming more interesting to get a external hard drive enclosure that supports this interface. The AluBox eSATA not only supports eSATA but also USB2.0, making it a good choice even if you have to move it around to computers that lacks eSATA.
INTRODUCTION
I recently reviewed the A.C. Ryan AluBox Duo LAN, an interesting NDAS external enclosure that could house up to 2 hard drives and even RAID them together with more AluBox LAN enclosures. Not everyone needs such a beast so today I am taking a look at a slightly more conventional external hard drive enclosure, the AluBox eSATA enclosure that allows you to insert a SATA or an IDE-drive and then hook the drive up to the computer over USB2.0 or eSATA.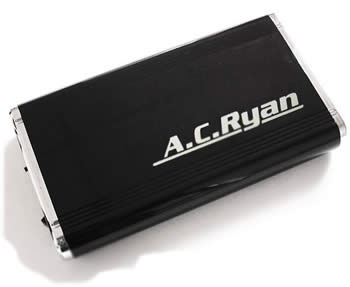 ABOUT A.C. RYAN
A.C. Ryan is a company mainly known for their modding products. They sell everything from UV Reactive cable sleeves to special limited edition reservoirs for water cooling. They are very active in the modding world and even run a contest each year for the coolest modded computer.
In addition to their modding products they now also sell various storage related products including the AluBox hard drive enclosures that we are reviewing today
FEATURES AND SPECIFICATIONS
The AluBox eSATA is an enclosure that can hold one SATA or IDE drive and connect them to a computer through either USB2.0 or eSATA.
The specifications are:
USB2.0 480mbps. Also compatible with USB 1.1
eSATA interface (enables a longer max. cable length of 2m) up to 3Gbps with SATA2 harddisk
Internal connection: SATA or IDE 3.5"
Supports up to 1024 MB and 10000RPM
Material: 1.8mm aluminium
Dimensions : 205 x 125 x 30mm
Weight : 545g
The main features of the AluBox eSATA are:
connect to PC via USB2.0 or eSATA
USB2.0 480mbps / compatible with USB1.1
eSATA interface (enables a longer max. cable length of 2m) up to 3Gbps with SATA2 harddisk

for both IDE or SATA / SATA2 harddisk
use SATA harddisk on eSATA or USB
use IDE harddisk on USB
enjoy the blazing speed of SATA as fast as an internal harddisk!!
supports all 3.5″ harddisk up to 10000RPM
supports all 3.5″ harddisk max capacity 1024GB

True HotSwap Plug-n-Play
Simply Plug n Play even while your system is on

1.8mm solid aluminium
keeps harddisk cool
Ultra lightweight solid construction
shock resistance up to 90cm freefall
high quality mirror polish
sleek & slim 30mm height

Horizontal Stackable or Vertical designed for horizontal or vertical placement
vertical placement with vertical stand
multiple box can be stacked on each other
Front BlueLED light indicates HDD activity
A CLOSER LOOK AT THE ALUBOX ESATA
The AluBox eSATA comes in the typical blue-white-black box as all A.C. Ryan AluBox enclosures come in. It cannot be accused of looking good but it does it work well giving you all the relevant information about what the enclosure supports.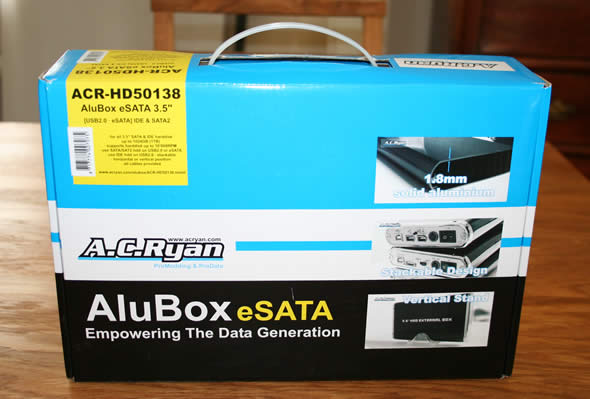 Inside the box we find the following items:
AluBox
Vertical Stand
AC Power Adaptor
AC Power Adaptor Power Cord
USB2.0 cable 1m
eSATA to eSATA cable 1m
Mounting Screws for harddisk
User Manual
Driver CD for Windows 98SE*( no drivers needed for Windows Me/2000/XP/Vista, no drivers needed for Mac OS 9.0 or above)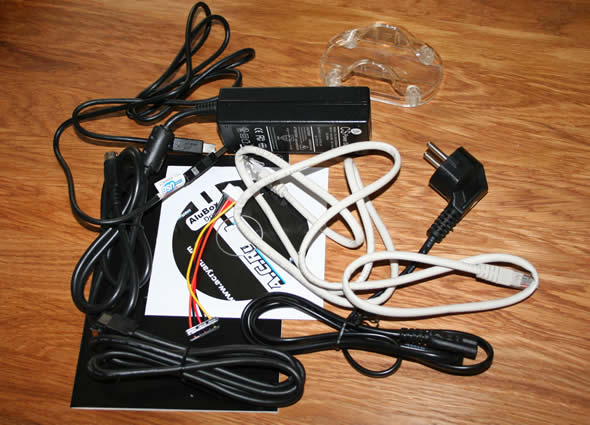 (can you spot the cable that does not belong in this shot??)
It is not a lot of stuff but enough to get you going. It is nice that A.C. Ryan includes both a USB and an eSATA cable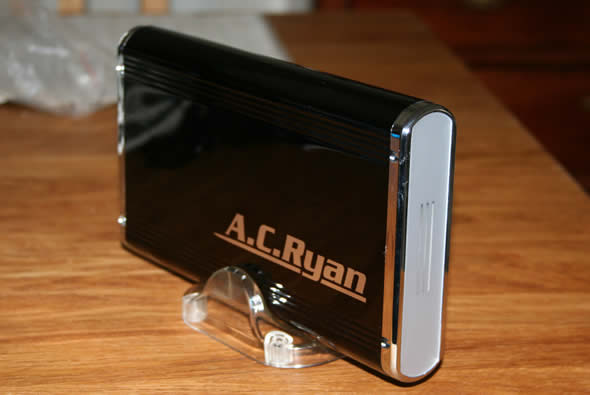 The AluBox eSATA does look very stylish. The whole enclosure is in black and aluminium and is definitely not an enclosure you will want to hide away. The only minor complaint is that they decided to put A.C.Ryan in big letters on the side. Without that text it would look even better. Luckily it's just visible on one side.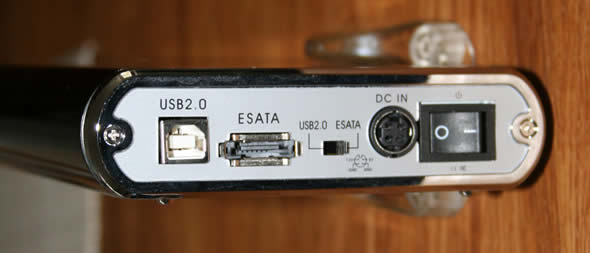 The front has a three stripe light which lights up when the enclosure is turned on, the hard drive is accessed and/or there is an error. At the back we find the USB 2.0 connector, the eSATA connector, a switch to switch between the two connectors as well as a connector for the power brick.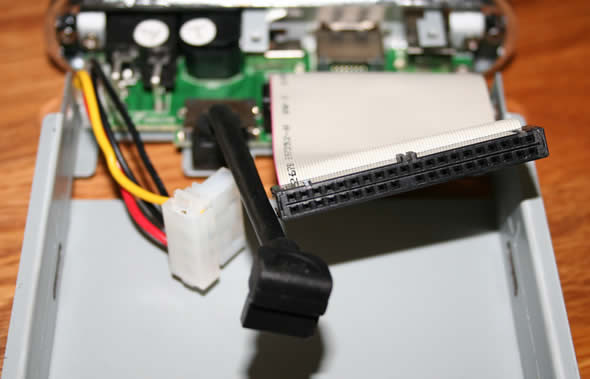 The enclosure is opened up by removing two screws. You then slide the steel skeleton out, disconnecting the cable for the front led and then screw the hard drive to the steel skeleton.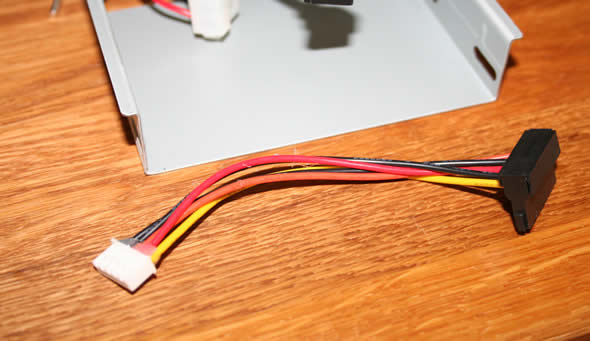 Depending on if you are going to use an IDE-drive or an SATA drive you can exchange the power cable for the drive to one that fits the hard drive.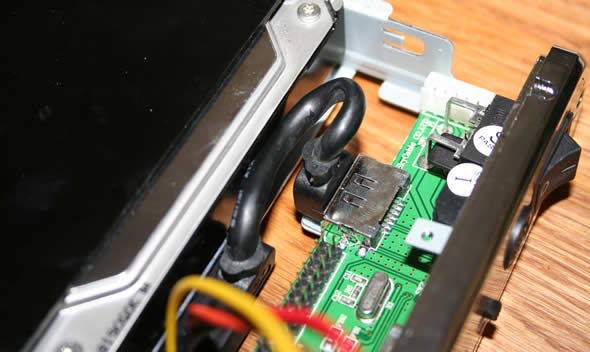 There is not much room for the cables when you put the enclosure together.
After seeing how easy other companies make it to install a drive (QNAP , ICY Dock) it does feel like A.C. Ryan is making it unnecessarily hard to install a drive in the AluBox. After you inserted the hard drive it is quite tricky to hook it up to the cables as you want it to get as close as possible. After that is done you then have to slide the skeleton back into the enclosure and try hooking up the power cable for the front LED again.
Once everything is hooked up and the enclosure put together again all you have to do is choose what interface you want to use, turn the switch and connect the enclosure to the computer. If the drive is not formatted you will have to format it in Windows, possibly after first finding it in the hard drive manager. After that the enclosure will work as a regular drive.
HOW WE TESTED THE ALUBOX ESATA
The AluBOx eSATA was tested with the following system:
Review System
CPU 
Intel Quad-Core Q6600 @ 2.4 GHz

Motherboards

ASUS P5K3 Deluxe

Memory

Corsair TWIN3X2048-1800C7DF

Storage

1×320 GB SATA
1x 80 GB SATA
1×80 GB SATA in A.C. Ryan eSATA enclosure

Video cards

ASUS 8800GTS

Optical

Toshiba HD-DVD drive

Operating System

Windows Vista (32-bit)
It was hooked up to the computer, both using USB and eSATA connection. The same drive used in the enclosure also was tested hooked up directly to one of the SATA ports on the system.
We used the following two benchmarks to test the drive performance:
SiSoft Sandra XII Lite
HDTach
TESTING – SISOFT SANDRA XII LITE, HD TACH, TEMPERATURE
SiSoftware's SiSoft Sandra has long been a favourite amongst reviewers for testing and benchmarking components in a system. The program allows you to test each component separately and while the result of course only gives a theoretical performance it nonetheless allows you to spot any bottlenecks in the system.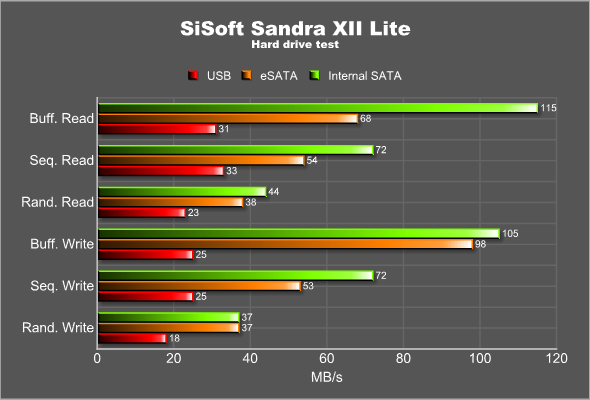 While the A.C. Ryan enclosure performs much better in eSATA mode compared to USB mode, highlighting the difference in the maximum transfer speeds of the two interfaces, it still does not manage to perform as well as the same drive hooked up directly to the motherboard with a SATA cable.
HDTach RW is another software that has been around for a long time and which is used to measure the average and the burst transfer speed of hard drives.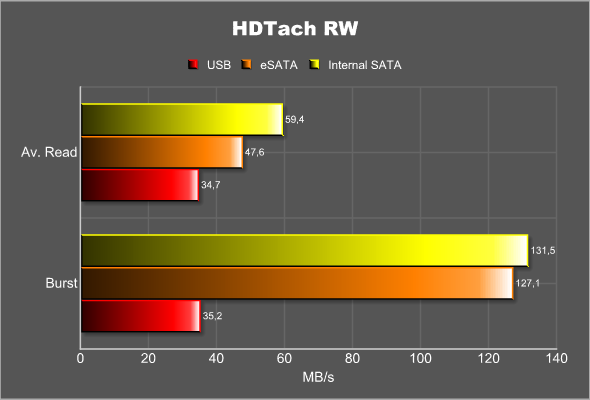 HD Tach RW confirms what SiSoft Sandra already has shown us – there is a difference between the drive using the eSATA interface and the SATA-interface on the motherboard.
In the end it is still quite obvious that you will win a lot of performance by using the eSATA interface if it is supported by the computer. The drive appears just as any other SATA-drive and I used it to backup a lot of files and even install some programs on it. Installing applications probably is not such a good idea as the you will undoubtedly want to move the enclosure between computers from time to time but the performance at least is not a reason not to do it.
When I reviewed the AluBox DuoLAN a while back I noticed that the drives got very hot inside. The AluBox eSATA is built in the same way and thus I expected to have similar temperature issues when running the drive hot. I was thus pleasantly surprised that the aluminium shell of the AluBox eSATA managed to remove a lot of heat from the hard drive even when it was running at full speed doing benchmarks over the course of 1 hour. The idle temperature of the drive was 40C (measured with HD Tune) while the temperature rose to around 48C after a 60 minute period of non-stop benchmarking and access to the drive using the new PCMark Vantage HDD test. In my book that is a very good result.
CONCLUSION
In a market full of competitors an enclosure has to offer something special to be noticed. The A.C Ryan AluBox eSATA only partly succeeds with that task. It has a great look and good performance, both using the eSATA interface and the USB interface. It also manages to keep relatively cool even when being accessed a lot. It does however still fall short of the performance of other eSATA enclosures, like the ICY DOCK MB664US-1S, and the installation process still is unnecessary complicated compared to other solutions where you just slide the drive in. Part of this is due to the ability to use both EIDE and SATA-drives but it should be able to be done easier. In fact, it looks like A.C. Ryan already has a new enclosure, the AluBox TFX eSATA, which offers a "tool free xperience" when it comes to installation. I haven't tried that yet but will see if I can pick one up soon.
At around $40 the A.C Ryan AluBox eSATA is priced very competitive and low enough to warrant a buy just in case you need to move a large part of data and want to use the faster eSATA interface.
Pros
+ Looks great
+ Good cooling without a fan
+ Good performance
+ Both eSATA and USB2 interface
+ Supports both EIDE and SATA drives
Cons
– Even with good performance it still is a bit below "true" SATA-performance
– Complicated installation
The A.C. Ryan AluBox eSATA gets a rating of 7 paws out of 10