If you have a high-end system odds are you need a lot of power. The PSU in this review has enough power to last a long time but is it any good? Read the review to find out.
INTRODUCTION
The year 2007 probably will be viewed as the year that people really got their eye up on the whole environmental issue, regardless if you believe in our impending doom or not. No one can deny that wasting energy is not exactly a good thing and if you, like me, live in a country where electricity comes at quite a high price you would want to keep the power usage down. Unfortunately it still seems that the price to pay for being at the technological bloody edge is that you consume electricity at the same rate as a small third-world nation.
When AMD released their HD2900XT's it was noted that you not only had to use 2 PCI-E connectors on it but even had to use a new 8-pin PCI-E connector if you wanted to overclock it. Combine one or two of these (or for that matter a couple of GeForce 8800 Ultra) with a Quad-Core CPU and a bunch of hard drives and your local power company will be able to afford yet another luxurious Christmas party this year.
Of course the PSU-makers have followed suit and are now offering even more powerful PSU's just to satisfy our need for power. Today I am testing the High Power 1000W PSU from Sirtec with the goal to find out whether it is any good and also if this kind of power is actually needed even on a high-end system.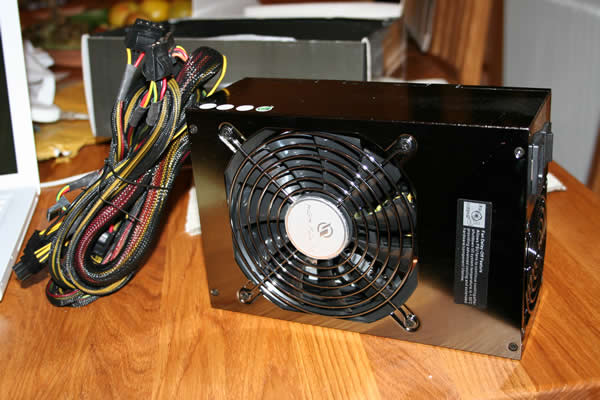 ABOUT SIRTEC
The company Sirtec probably is quite unknown among the average computer user. They however are one of the largest OEM's when it comes to PSU's and deliver a lot of PSU's to be branded by other companies. Among their customers we find both Thermaltake and Chieftec.
If OEM is not a new word to you, you will find High Power is also not new to you, and probably you had or have one of it in your computer. Sirtec is one of the biggest OEM power supply manufacturers in Taiwan, millions of High Power power supplies are supplied into the market under different brand name in the past 12 years.
Sirtec, established in 1968, begin with plastic injection and tooling manufacture. The high quality standard attract well-known world wide companies such as RCA, Zenith, General Instruments, and Panasonic to be their plastic products partner. The high dedication and performance gratify the extreme demands, and result in strong corporation growth with our customers.
Entering the switching power supply manufacturing filed 12 years ago. Sirtec is the OEM partner for most of A brand computer case suppliers. With the plastic and electronic engineering background, Sirtec is now providing the Electronic Manufacturing Services to Mortorla and Alpine.
Computer has become part of our life, environmental friendly is required, noises are no longer tolerated. Sirtec is one of the few manufacturers started to focus on reducing the noise 5 years ago. Our power supply has given high satisfaction to the customers who have low tolerance to the noise. We wish you Enjoy the Silence with High Power power supplies.
 
FEATURES AND SPECIFICATIONS
The High Power 1000W is a big PSU with some impressive specifications:
1000W
Silent performance
NVIDIA SLI certified
ATI CrossFire ready
80PLUS certified Green Power (>80% at all loadings)
Fan Delay-Off feature for extended product life *
Modular cable management design
13,5cm ultra silent fan & 8cm Golf-Surface fan
Quad +12V output (900W)
Overall Protection Design; OCP/OVP/UVP/SCP/OTP/OPP
6x PCI-E connector (PCI-E 6pin x4 & PCI-E 8pin x2)
It is part of the "Rock Solid" line but strangely enough it is not featured on their website. They are however working on a new website so maybe they are waiting on that before adding this PSU.
AC INPUT : 100-240V
Frequency: 50-60Hz

Max Load: 1000W

DC OUTPUT

+3.3V

+12V1

+12V2

+12V3

+12V4

-12V

+5VSB

30A

20A

20A

25A

25A

0.8A

6A

900W

9.6W

30W
As far as I can see there is no way to combine the 12V lines into one big 12V line, as we have seen on some other PSU's.

A CLOSER LOOK AT THE HIGH POWER 1000W
The PSU comes in a huge and heavy box. In fact, I was very surprised on how heavy it was when I first got it.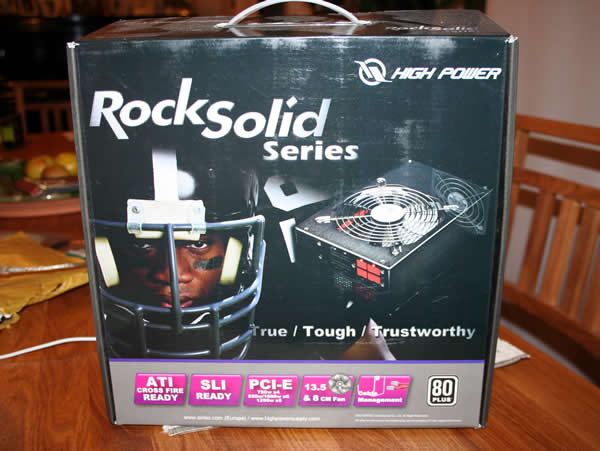 Opening up the box we quickly see why the box was so heavy; the PSU is huge. The measurements of this PSU are 150x87x220mm and it weights 3.3kg. That's how much the average new-born baby weights.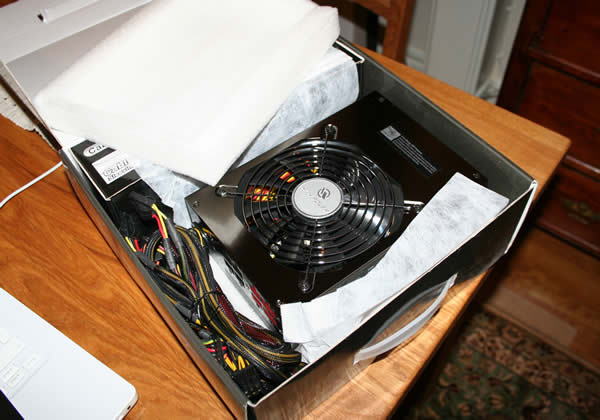 The PSU has a large 13.5 cm fan on the side.
In comparison, the Thermaltake 850W I have at home is much smaller and lighter. Even the Thermaltake 1200W PSU is a bit smaller. This baby needs lots of room in your case.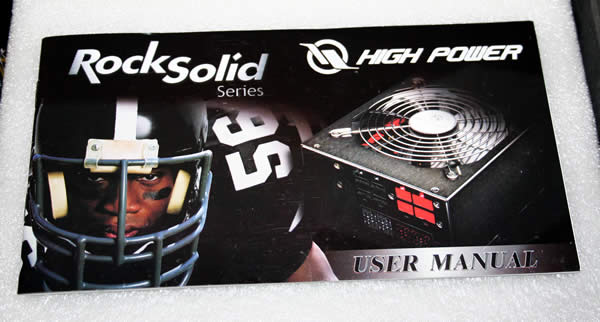 Inside the box you find the following content:
The PSU
A bunch of cables
A manual
The PSU has both fixed cables and modular cables.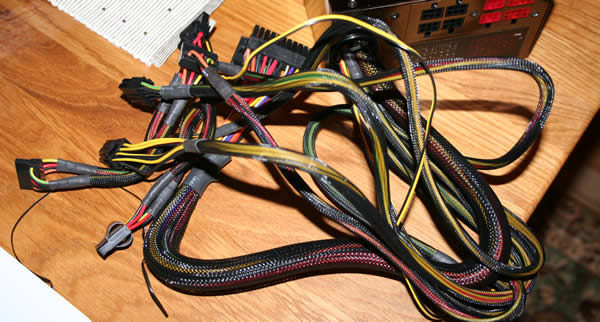 The fixed cables:
ATX Power (~55cm)
4+4 Pin CPU (~55cm)
8 Pin CPU (~55cm)
2xPCI-E 6 pin (~55cm)
Cable with 3 SATA power connectors (~80 cm)
Cable with 3 Molex power connectors (~80 cm)
Fan monitor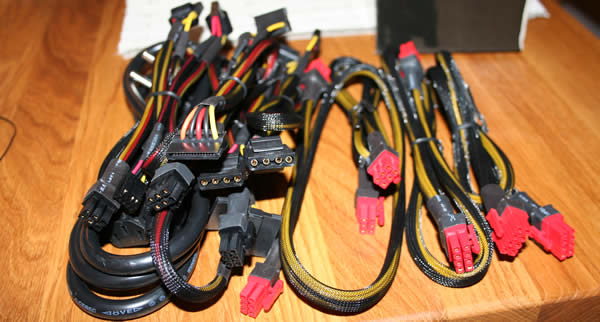 The modular cables:
2xCable with 3 Molex power connectors and 1 floppy power connector (~95cm)
2xPCI-E 8-pin
2xPCI-E 6-pin
The fixed cables should be enough for most users.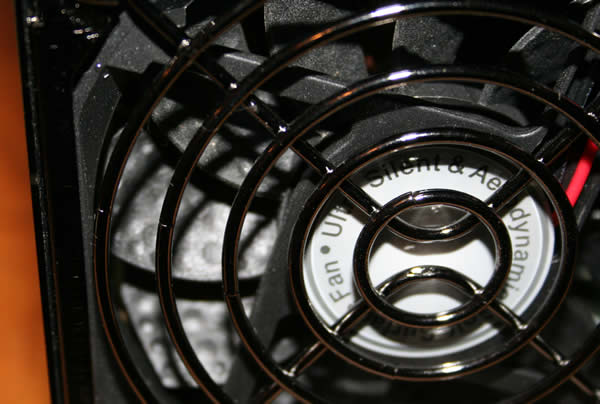 The fan blade has the same kind of bumps you find on golf balls.
The actual PSU looks pretty ordinary. On the back of the PSU we see the ordinary stuff: power on/off, connector for the power cord and, behind a fan-cover, a small fan. Looking a bit closer at the fan you notice that it has the same surface as a golf-ball. The reason is that this apparently makes it less noisy.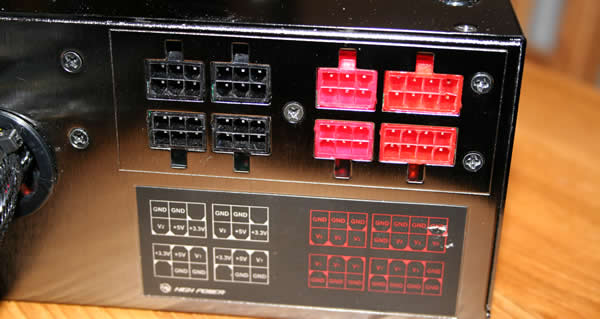 On the other side we find both the fixed cables as well as the connections for the modular cables. One interesting thing you quickly notice is that in addition to the two 6-pin PCI-E connectors that are fixed, you can hook up 4 more PCI-E cables, two of which are the new 8-pin PCI-E connectors, meaning you will be able to run 3 dual power cards in your system with this PSU. True, no-one has any use for this right now but both NVIDIA and AMD are moving towards multi-GPU Crossfire/SLI so pretty soon it will be a important feature for a PSU.
TESTING THE HIGH POWER 1000W PSU
As we do not have access to a professional PSU-loading system I have to test this PSU the old-fashioned way: by throwing everything and the sink at the PSU and measuring the voltage of the 3.3V, 5V and 12V lines with a Multimeter.
The PSU was hooked up to the following system:
Review System
CPU 
Intel Quad-Core Q6600 @ 2.4 GHz

Motherboards

ASUS P5K3 Deluxe

Memory

Corsair TWIN3X2048-1800C7DF

Storage

2×320 GB SATA
1x 80 GB SATA
 

Video cards

2xHD2900XT

Optical

Toshiba HD-DVD drive

Operating System

Windows Vista (32-bit)
Fans
2x120mm fans
The voltage was then measured at the following three points:
Bios after 10 minutes
Windows Desktop, 10 minutes after boot has finished
At "full" load (piMod XS + [email protected] + HDTach on 2 drives + World in Conflict @ 1600×1200 Highest DX10 quality)
RESULTS
The ATX 2.2 specifications allow for the following variation in voltages:
3.3V: 3.135V – 3.465V
5V: 4.75V – 5,25V
12V: 11.4V – 12.6V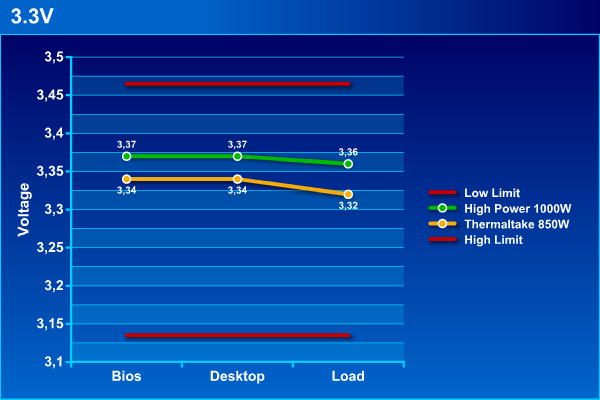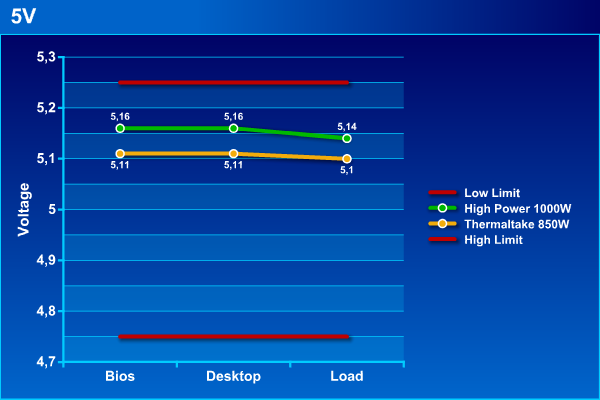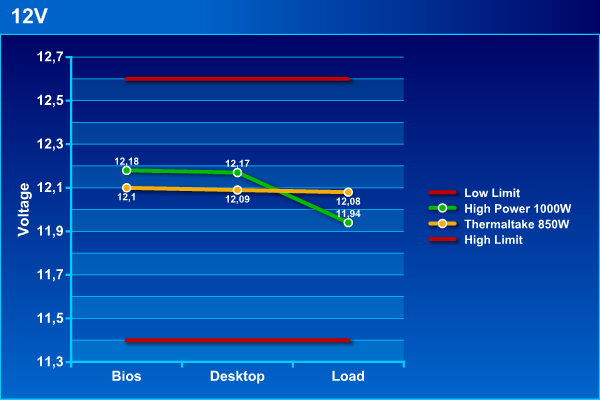 The High Power 1000W has no problems providing a steady voltage at the various stages. The biggest drop in voltage at full load is on the 12V line (as expected with dual X2900HD's working at full speed) which drops from around 12.17V at the Windows desktop to 11.94V at the lowest voltage. It never drops below this and mostly hovers around 12V. The Thermaltake 850W is even more stable, barely budging at all. None of the voltages are near any of the limits of the ATX-specifications.
Noise level
Even when running the PSU at full load you barely hear anything from it, especially with the rest of the system making noise. Both fans are of a silent type and as far as I can see you will hear other fans in your system before you notice the fans in the High Power 1000W.
Power consumption
I attached a power meter between the power cord and the mains on the wall to measure the power consumption while testing the PSU. I was interested to see what the max Watt was while running the system at "full" load. My system, which really is of the high-end of the scale, drew around 575W at its maximum (with the rated 80% effiency it means the system itself only drew around 460W). Most of the time it was much lower. Adding more fans and overclocking the Q6600 and the HD2900XT's will undoubtedly increase the power usage even more making it quite obvious that a 850W PSU or higher probably is a great idea for a high-end system.
 
CONCLUSION
I started this review with two questions. Is the High Power 1000W any good and do you really need this kind of power right now? Let me answer the second question first. Do you need 1000W? I guess the answer is that it depends. If you have a really high-end system with dual video-cards, a overclocked high-end CPU, lots of drives, lots of fans and maybe even a water-cooling system – then you definitely should look at one of these high-wattage PSU's. You probably will not hit the roof anytime soon but it is far better to have room above than risking getting close to the theoretical maximum. If you also are planning on maybe getting a third video card at some point in time you definitely should get one of these high-wattage PSU's. If you however never plan on getting a high-end system then it is probably a waste of power to put one of these monsters in your system. A good 600W PSU probably will do just as well.
So, is the High Power 1000W any good then? Yes it is. I've not only been testing it for this review, I have also used it in my system for over two months while running benchmarks in World in Conflict, some heavy video encoding and other generally demanding tasks. So far I have had zero issues with this PSU. It has performed very well, never making any loud noise or making my system unstable due to drops in voltage. The only negative things I have to say about the PSU are its size. It is huge and it is heavy. The fact that it is longer than most PSU's means you have to make sure you do not have a long DVD-drive or similar sitting at the same level of the PSU.
Getting hold of this PSU also is a problem. So far I have not found anyone in the US that stocks it and in Europe only Dollarshops.eu seems to have it right now. Priced at around 215€ (~$320) it costs about as much as many other 1000W PSU's.
Pro
+ Silent
+ Good performance
+ Lots of head-room for your high-end system
+ 8-pin PCI-E Power connectors
+ Six PCI-E power connectors => ready for CrossfireX and 3-GPU SLI
+ Mix of fixed and modular cables
Con
+ Huge and heavy
+ Only a small percentage of users actually need this kind of power
+ Pretty expensive if you do not need the power
+ Hard to get hold off
For its combination of power and performance I award the Sirtec High Power 1000W 8.5 out of 10 and the Bjorn3D Seal of Approval.