The case is indeed eye catchy. Piano black finish gives it great looks and brushed front aluminum doors fit in without any questions. Ten accessible drive bays is something not many enclosures possess. Additionally, power bay as well as accessory box can be placed into any of the bays making it very user friendly
INTRODUCTION
Thermaltake has been in enclosure department for almost six years. Their design, engineering and marketing teams work really hard to entice potential customers to buy their product. The only problem is this particular business grows too fast for most of us. It's not necessarily a bad thing, just makes it hard to make the right choice. Having said that, more PC users tend to use their machines in a livingroom as a popular HTPC solution. Obviously you'd want an enclosure that would fit that environment and not have something looking like a regular personal computer chassis.
Not to spoil the fun, but I won't be reviewing anything living room'ish (or will I?), just another boring (not!) desktop enlcosure. Today's product is one of the latest tower cases introduced by Thermaltake: SopranoFX. Enjoy the read and make sure to check out what Thermaltake has to offer.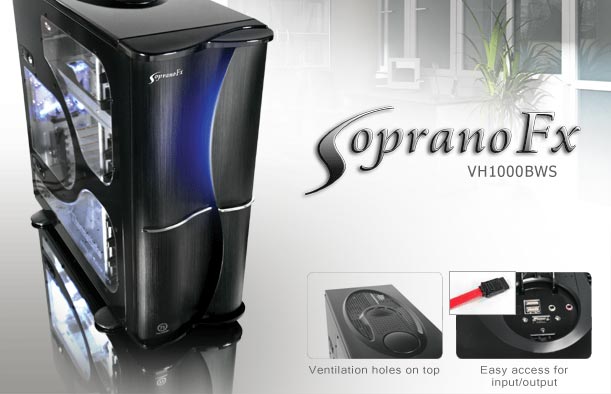 MAIN FEATURES
Thermaltake SopranoFX comes with plenty of features which I will discuss in more detail as we go along. You can find a complete list right below.
Piano black finish
Brushed aluminum front door
e-SATA connector built-in
Support up to eleven 5.25" drive bays
Ventilation openings on top (62% opening ratio)
High efficiency ventilation : 120mm silent fans at front and rear, 90mm fans on top and back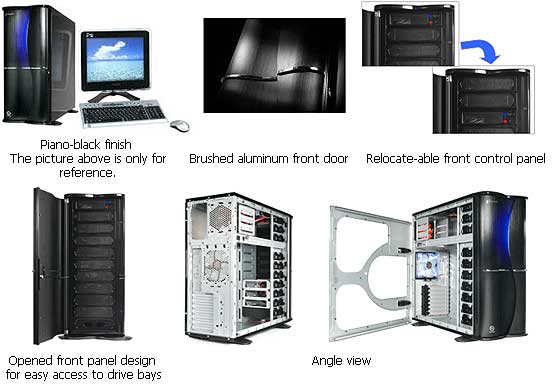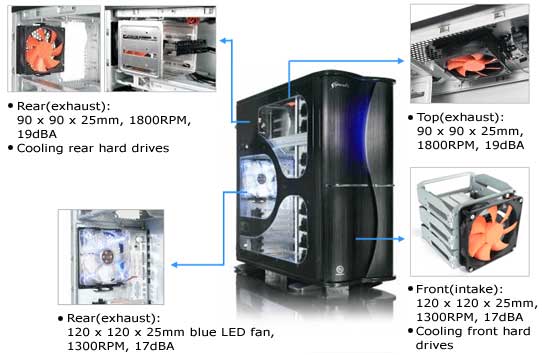 Structure (Internal)
Tool-free kits for 5.25" drives
Tool-free installation on PCI cards
FDD & HDD rack for 5.25" drives installation
3 x 3.5" removable HDD cage with a 120mm silent fan
Removable HDD cage at rear
Storage draw
Pre-drilled pump mounting holes on the bottom for future liquid cooling upgrades
Structure (External)
Ventilation holes on top (62% opening ratio)
USB 2.0 x 2, e-SATA connector x 1, HD audio
Front and side panel lock for security
Blue LED illuminates front door for futuristic feels
Thumb-screw for easy side panel opening
Retractable foot stand
Reliable EMI shielding
SPECIFICATIONS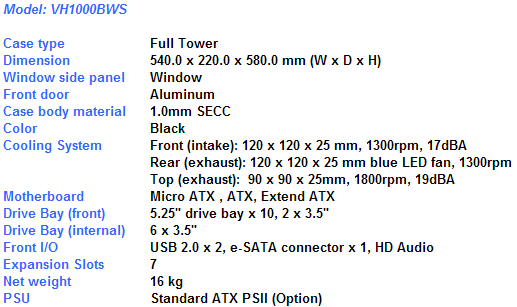 PACKAGE
The case has been safely packaged and wrapped around two types of protective covers. The front bezel was given additional protective foam in order to keep it out of harms way. Without the foam it might have been damaged during shipping so a plus here for Thermaltake. The box isn't something one would adore. Its simple design and most important features listed do the trick just fine.
Click a picture to see a larger view
---
---
The box shows main case features and specifications. As always, Thermaltake includes an accessory box inside the case. The following were found within the little brown box:
PSU hook
Cleaning cloth
Locking keys (attached to the back of the case)
Motherboard I/O plate
Installation guide
Lots and lots of screws
Plastic mylars (polyester film to prevent any short circuit)
More manufactures now include mylars — plastic film strips to prevent ATX motherboards from coming into contact with the case. Although I personally never had such issues, use it at your own taste as it's not mandatory. It will however prevent potential short circuit. The included manual is well written. Comes with pictures and laconic descriptions. The other interesting accessory is the PSU support hook for locking up the power supply in place.
Personally I don't use it since the back screws hold the power supply in place and the inside chassis frame supports the unit from the bottom.
EXTERNAL DESIGN
Taking out the case revealed the packaging (be careful as the wrap is very static). Because the case is made out of steal, it's rather heavy so take that into consideration. The first thing you notice is the beautiful piano like paint and very classy design. I must say it's one of the swankiest and fashionable Thermaltake PC cases I had opportunity to check out. Yet it's so simple.
Let's get to the goods now.
Click a picture to see a larger view
---
---
Looking at the side panel I recon a lot of similarities with Thermaltake Armor. The internal design is similar although the outside is totally different. Have I mentioned the most beautiful panel? The front door is made out of brushed aluminium with a chrome tentacle in the middle — nicely incorporates with the overall look. When you open up the door you face … 11 accessible drive bays. At the very top, you will find movable power/reset switch. Inside it you can mount a floppy drive or simply move the whole thing to the bottom if you feel it's more suitable there.
The back panel features standard openings and a vertical PSU mount hole. Thermaltake decided to include front I/O ports on top of the case. It's nothing new though a lot of companies have been going by this idea. The panel comes with closing hatch to cover it up when not used. The lock you see on one of the pictures is used for front panel removal (in case you need to clean the fan dust filters or clean the case entirely). You do not need to take it off though during system buildup.
When you look at the back of the front door you will notice a cable running across it. It's connected to a blue cathode light which illuminates the front (effects on the last page). A common feature among recent Thermaltake tower cases is the bottom storage drawer. Size wise it's large though a standard CD/DVD cover won't fit in — the drawer is too short. Also, SopranoFX features your standard retractable foot stands with rubber finish as well as side panel locks in case you have little children wondering around your box.
INTERNAL DESIGN
Thermaltake SopranoFX is made out of 1.0mm SECC steel components making it a bit heavy; over 16 kg's. The inside compartments are well distributed and thought out. All edges are either rounded or tabbed making it very hard for anyone to hurt themselves. Although there is no motherboard tray, the case doesn't lose on originality and internal usability. However, if you are desperate for one, please check out Thermaltake SwingRS 100 — that will definitely suit your needs.
Click a picture to see a larger view
---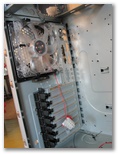 ---
As I have said above, the internal structure is something Thermaltake should be proud of. I would even risk saying it can be operated with very little risk of breakage. All parts except for plastic covers, holders and mechanisms are well built.
When you open the doors you are faced with front bay covers which can be easily removed from the inside. They are made out of a plastic, some sort of filter and a mesh. Anything on the front panel can be interchanged, meaning you can place your accessory box and drive tray with power button anywhere you like. SopranoFX has been closely designed around Thermaltake Armor so most if not all of its features coincide with it. Just like in Armor, PSU mounting hole is vertical.
Let's go over the rest of the features. First, the hard drive cage. It is situated all the way on the left hand side of the case at the top, right next to the PSU. It seems like a good idea. Plus, Thermaltake includes a 90mm fan (speed controlled) behind the cage to cool your HDs. On the other hand, if your PSU has a fan, it will blow hot air on the drives — not a good thing. I'm guessing that was the only layout possible. Fear not, you can still slap your drives in the front. The cables you see are from front I/O panel, which include USB, audio and E-SATA (no firewire?). Next up is the already mentioned HD cage fan mounted on the back of the case. Right below it. we have a 120mm blower equipped with blue LEDs. There is also a space for the top 90mm fan, which is included in the package, just needs installation.
Thermaltake had also implemented a "case open" security system (besides the locks of course). There is this micro switch in the back of the case situated on the side panel wall. When you connect it and someone opens up your case, an alarm will go off.
The front cage can be taken out just by unlocking the tool-free clips. In there, you can put anything you like (must be 3,5″ though). When you take out the cage, you'll notice that the front 120mm fan is mounted to it. Of course, you can slap the cage somewhere else if you like. The floppy drive cage is not totally tool-free. You need to unscrew both sides before you can remove it and put your FDD inside. Also the 4th drive bay from the top is not tool-free at all because of the horizontal steel support component going across the chassis.
As for the PCI slot tool-free mechanism, I'm not liking it very much. It holds devices pretty tight, but fitting a dual-slot card creates a bit of a problem. I had to bend the support plate on the back of the card to fit it in and disassemble the mechanism on the case. The plastic clips do not open wide enough, which is why you might experience such an issue.
INSTALLATION
Because Thermaltake SopranoFX is very similar to Armor model, installation went smoothly without any problems. It's wise to open up both side panels before proceeding. The case inside is spacious so you won't have to sacrifice every bit of it. Once I've glanced over the internal structure I went from the top and put in the power supply. I would really recommend a modular PSU because the hard drive cage might get in a way with all the cables from the PSU unit. My two hard drives went into the top HD cage and the other one sat behind the front panel. Once I put in the motherboard and connected everything I made sure everything was taken care of and each device was properly secured.
Let's leave all the sweetness behind and check out the sour side of the installation procedure. As with Thermaltake Armor, SopranoFX had its bad sides. The case is not completely tool-free. You need a screwdriver for a few things: floppy cage and power drive bay. The right panel is now equipped with a thumb screw so that's a plus. Installing PSU can be a nightmare — you have to find the right angle, otherwise you won't be able to mount it.
Another thing are PCI locking clips. They aren't the best solution for dual-slot video cards. It's good you can disassemble those locks if you're not comfortable with them. The accessory box is fine, just won't be able to store CDs in covers.
TESTING
Benchmarks that were ran consisted of SP2004 tests and various video card synthetic tests to make sure appropriate temperature was reached. Intel Core 2 Duo platform was used and clocked at 3 GHz. More details right below.
Testing Platform

Processor
Intel Core 2 Duo E6600
Motherboard
Gigabyte 965P-DS4
Memory
GeIL PC2-6400 DDR2 Ultra 2GB kit
Video card(s)
PowerColor X1950 PRO SCS3 256 MB
Hard drive(s)

Seagate SATA II ST3250620AS
Western Digital WD120JB
Western Digital WD40JB
Western Digital WD20JB

CPU Cooling
Cooler Master Hyper 212
Power supply
Thermaltake Toughpower 850W
Case
Thermaltake SopranoFX
Operating System
 Windows XP SP2
Drivers
DirectX 9.0c
CATALYST 7.7
Overall the results seem fine despite SopranoFX's steel chassis, ambient temperature was around 21 C while testing. With an overclocked C2D and X1950 PRO scorching in the background the following results were achieved:
FINAL THOUGHTS
The curve that tingles your heart — in a nutshell, that's all Thermaltake has to say about this case. In my subjective opinion, SopranoFX is nothing more than Thermaltake Armor. Yes, the external design is different (with few similarities) and overall look targets different tastes, but the functionality of the case and its internals are identical. The case is indeed eye catchy. Piano black finish gives it great looks and brushed front aluminum doors fit in without any questions. Ten accessible drive bays is something not many enclosures possess. Additionally, power bay as well as accessory box can be placed into any of the bays making it very user friendly. The PCI support clips however aren't the best solution I've seen — not compatible with dual bracket cards, needs disassembling. Another thing that kind of frustrated me was a skimpy front I/O panel. Only 2 USB ports and no firewire port.
Thermaltake SopranoFX has been designed for more extravagant users in mind. Although on the first page I said it's not strictly a living room type case it without a doubt can serve as one. Additional security features (locks, alarms) will assure no one gets to it unnoticed. SopranoFX can serve all kinds of purposes — from HTPC to easy to access file server or simply a high-tech looking desktop machine.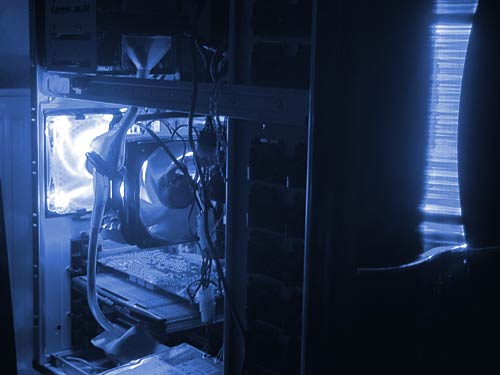 Another problem is availability — currently I haven't seen online stores in the United States that carried that model. There are plenty DX models (mid tower), but no SopranoFX. Same goes for MSRP, don't know the exact price, but I'm guessing it's something in the $120-130 range.
Pros: 
+ Piano black finish
+ Plenty of room inside
+ Ten accessible drive bays
+ Watercooling friendly
+ Tool free design (in 95%)
+ Side panel, big thumb screws
+ Sufficient cooling
+ Accessory box
+ HD cage

Cons:
– Steel thus heavy
– Tool free PCI clips not compatible with dual slot VGA
– Only two USB ports on I/O panel
For great looks, awsome airflow and original design, Thermaltake SopranoFX gets the rating of 8.5 (Very Good) out of 10 and Bjorn3D Seal of Approval Award