SilverStone has always offered high quality cases to the community. Does their newest mid-range offering, the KL02, carry that same level of craftsmanship? Let's find out.
INTRODUCTION
Computers have come a long way since their inception over twenty years ago. They have gone from being mere calculating machines to forms of art that allow people to express themselves. As people continue to find new uses for their PCs from gaming to home theatre entertainment, it is up to the manufacturers of computer components to adapt to the changing landscape. Only ten short years ago it was not uncommon to find a plain beige box sitting inside the room of an enthusiast. This was perfectly acceptable as long as that beige monstrosity never found its way to the living room. Today things are very different and PCs have become integrated into so much more of our lives that a plain beige shell just won't cut it anymore. Introducing the KL02 from SilverStone. A stylish mid-range case that would be at home in almost any room in your house. But it's what's on the inside that counts, right? Join me as I find out if this case has personality to go with those good looks or is its beauty only skin deep.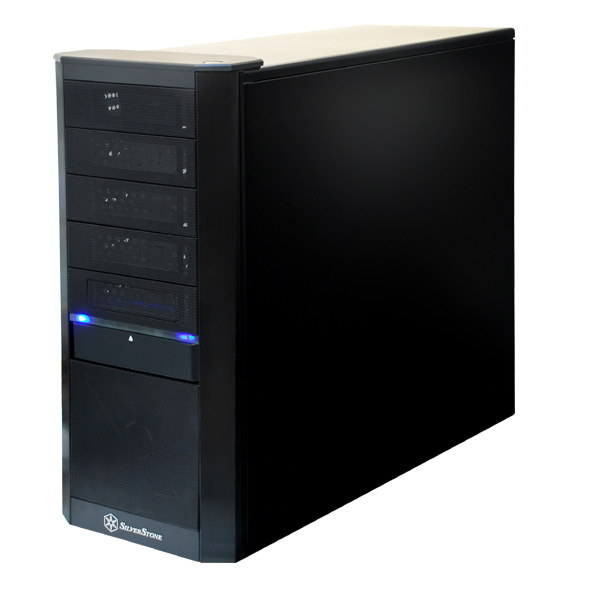 The KL02 from SilverStone
SilverStone: The Company

Founded in 2003, SilverStone is an established leader in its field, with an elite team of engineers; we started our quest of providing products that create inspirations. We have since expanded the lines of products as well as types of products we produce, giving our customers a wide selection of choices. With distribution centers in different areas of the globe, SilverStone products can be seen all over the world, not just for computer users but also for home entertainment use. Providing leisure with integration of advanced technologies that is functional and making them enjoyable to use.
SilverStone Technology's philosophy is based on their recognition that merely having innovative expertise within the industry is not enough. Their objective is to ensure that their expertise is delivered to all products with consistency, in response to user's needs, and with maximum user satisfaction. SilverStone Technology thrives on challenges of rapid technological advancements and creating aesthetic standard for the industry.
FEATURES AND SPECIFICATIONS
Chassis
Mid-size tower chassis
Aluminum & mesh front panel, SECC body
SilverStone CP05 adapter makes 3.5″ SATA hard drive hot swappable
Front mounted ports for easy access

2 x USB 2.0
Audio (Headphone / Microphone)
1 x Firewire (IEEE 1394)

Drive Bays

5x external 5.25″. Up to 9x (Without HDD cage)
1x external 3.5″ HDD Hot swappable bay
4x internal 3.5″ for HDD (vibration dampening)

Cooling

1 x 120mm intake fan, 1200rpm
1 x 120mm exhaust fan, 1200rpm

Motherboard support for ATX and Micro ATX
Full size, long video cards capable (12")*
7 expansion slots
Dimensions (W x D x H) – 8 x 18.7 x 17.2 in (203 x 474 x 436 mm)
Weight – 17.64 lbs (8 kgs)
On the web site for this case it is listed as supporting twelve inch long video cards. This is certainly no easy feat and one that usually belongs to only the highest end cases. Finding this compatibility in a case for a fraction of the cost is impressive if it holds true. I intend to find out.
PACKAGING
The box the case arrived was in far better condition than most others I've seen in the past. If only all packages arrived in such immaculate condition. Thankfully, SilverStone applies enough padding to protect the case should the delivery company handle it with less care. Foam padding for protection and a plastic cover to prevent scratches.
Click a picture to see a larger view
---
---
CONTENTS
Silverstone includes the bare essentials to get you up and running including a manual, motherboard screws, hard drive screws and brackets to install a floppy drive should you so wish.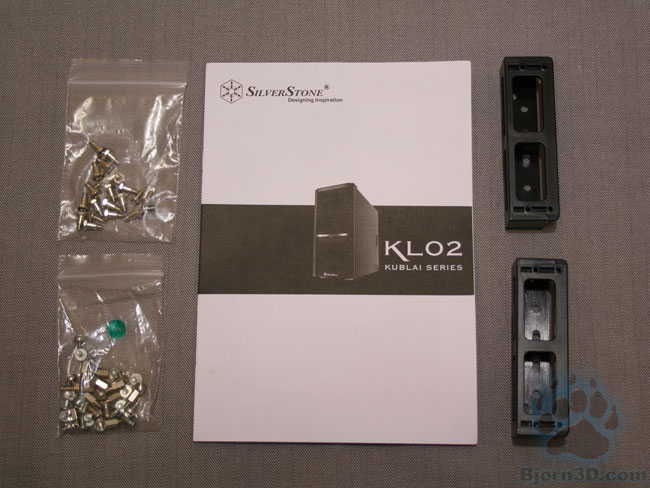 EXTERNAL VIEW
The KL02 has a modern look to it with its straight lines and modest design. SilverStone decided to keep the look of the case clean and simple and in this reviewer's opinion they made the right choice. Turning to the rear of the case things all seem pretty common until you look at the expansion slots. The KL02 comes with slotted covers for the expansion slots that are designed to aid in cooling your graphics card. This is a very unique concept that is executed in poor fashion. Giving today's hot video cards more air is an idea we can all agree upon. What I find fault with is making every slot cover slotted. A more practical approach would have been to include two or three slotted covers so that the user can decide where and when they should be used. It would cut down on all the dust that will inevitably end up inside the case.
The window on the case is a single piece of high quality acrylic without any fan mounts. I really like the way the window on this case looks but because of the lack of fan mounts, running hotter CPUs and GPUs may be out of the question. Turning to the top of the case we see the power button and nothing else. This is unfortunate, as in other case designs, this is quickly becoming a popular spot for a top-mounted fan to draw hot air up and out of the case and help keep airflow to a maximum. The power button itself rattles and doesn't have a solid feel to it.
Click a picture to see a larger view
---
---
Still looking at the rear of the case shows us the standard screws used throughout the chassis. I am disappointed to see these as thumbscrews have become more standard in case design. This case is never described as tooless so I certainly can't fault it for having standard screws but such a little thing really can make a big difference.
Flipping the case over shows us the high quality rubber feet included with the KL02. During my experience with the case I found these feet to provide exceptional vibration dampening. A very important point as I despise the sound of case rattle.
The front mounted fan on this case is the one of the most thoughtful designs I have ever come across. Rather than running fan wires all the way to the motherboard or the power supply, SilverStone designed this ingenious system of contacts to provide power to the fan directly. The fan can be removed for a different fan of your choosing thanks to the circuit board on the fan bracket. Placing the bracket back onto the front of the case creates contact between the two points highlighted in red and in turn powers the fan. Brilliant.
Our last photo here is of the case turned on. The review sample today has a problem with one of the lights on the right side not turning on but you can see the look SilverStone is going for.
Click a picture to see a larger view
---
---
INTERNAL VIEW
The inside of the KL02 is spacious enough to work with but not overly so. We first see the mounting system for 5.25 inch optical drives. The black latches hook into your optical drive as you slide them in from the front. A nice idea until you realize you still need (as stated by the included instructions) to use two screws on each side of the optical drive. This make the mounting system a complete waste. If additional clamps were included so no screws were needed than it would be spot on but this "hybrid" system of clamps and screws only serves to complicate matters. At worst eager users may install their optical drives thinking the clamps are all that are needed for support. I would not want to be that person when the clamps gave out.
The last image shows us a closer look at the hot-swap feature of the case. This is my favorite part of the case and one that can be really useful if you find yourself swapping hard drives a lot. The thing to remember here is that you need to configure your motherboard's BIOS to work with this feature. Trying to swap out a HDD without setting up your BIOS first would result in an unrecognized HDD or worse, a dead one.
Click a picture to see a larger view
---
---
INSTALLATION
Installing the hard drive is a matter of removing the hard drive cage shown in the first image below. Their are eight screws that need to be removed before you can slide out the cage. Once outside the case it is simply a matter of opening the lever shown in the second image below and sliding out tray mount. Slide your hard drive in and secure it with the included screws and slip it back it.
This brings us to an interesting portion of the installation; the video card. I know SilverStone listed this case as supporting twelve inch long video cards but from the images below we can see that even a nine inch long 7900GTX has trouble fitting. The solution is to remove the hot-swap plate and lower it to the next level. Not a terribly hard thing to do but one that you should certainly be aware of. As far as fitting a twelve in long video card in there, it isn't going to happen without some serious cutting or the entire removal of the hard drive cage. Sure it technically can fit but then you lose the ability to hot-swap your hard drives which I find to be unacceptable.
Click a picture to see a larger view
---
---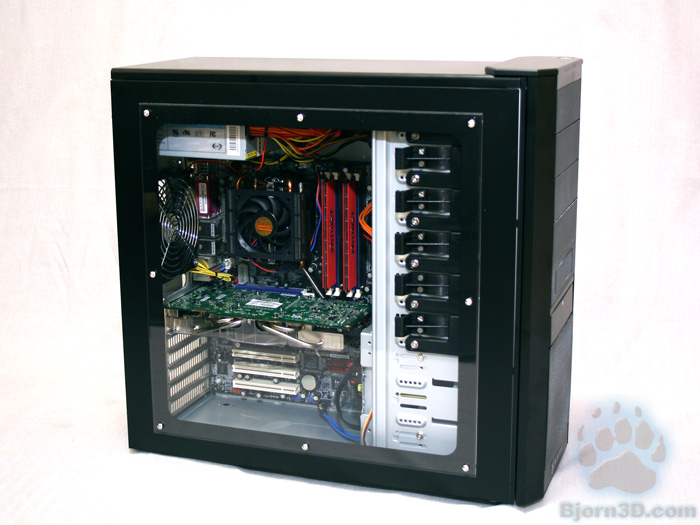 Ready for work
CONCLUSION
The KL02 from SilverStone is a case with modern styling that offers some promising features. Delivering on those features is a different story entirely. The promise of support for twelve inch long video cards fails to mention the need to remove the hard drive cage. If you want to install an item into the 5.25″ bays using the toolless clamps you still need to screw them in. The final nail in the coffin for me is the support for only two 120mm fans. I would love to see a day where PCs cool enough for this to be adequate but we are not there just yet. The slotted expansion covers on the rear of the case are a perfect example of a thoughtful idea horribly executed. To be fair, I feel with some creative tinkering SilverStone can clean this case up and have a real winner on their hands. A lot of the features on this case are just shy of being truly useful. As it stands now, the KL02 is a modest mid-range case that gets lost in a sea of mediocrity.
Pros:
+  Sleek Styling
+  Hot-swap hard drive cage
+  Two 120mm fans included
Cons:
–  Poor design implementation
–  HDD cage blocks longer video cards
–  Rear slot covers allow too much dust in
–  Optical drive clamps require screws for installation
The SilverStone KL02 scores a 6.0/10 (Pretty good).