Don't have a lot of money but need something to get you by for a while? Maybe you need something better than that onboard video but don't need something like a gamer might need. Might I offer the Visiontek ATI Radeon HD2600 XT 256mb. Cheap, dependable and has low power consumption.
Introduction
Don't have a lot of money but need something to get you by for a while?  Maybe you need something better than that onboard video but don't need something like an enthusiast might need.  Might I offer the Visiontek ATI Radeon HD2600 XT 256mb.  Inexpensive, dependable and has low power consumption.

The ATI Radeon™ HD 2600XT delivers a remarkable combination of DirectX® 10 gaming performance and hardware processed 1080p video. Connect to big-screen TVs with HDMI including built-in 5.1 surround audio to enjoy Blu-ray™ and HD DVD movies. ATI Catalyst™ graphics configuration software manages the stunning visual effects for a premium Windows Vista™ experience. Short bracket kit included supports option to transform card into a low profile, short form factor video card.
Features and Specifications
Quick Specs

ATI RADEON HD2600 XT GPU @ 800MHz
1400MHz (effective) GDDR3 Memory
ATX and SFF chassis compatible (brackets included)
HTPC compliant
256MB of memory
x16 PCI Express

 

Detailed Specifications

VGA, HDMI, DVI-I, S-Video connectors on card
Supports Dual DVI-D multi monitor (adapter included)
HDCP on board
DirectX 10 and DX9 + full hardware support
Open GL 2.0 support
Shader Model 4.0
Dual Monitor Support
Avivo display enhancement technology
120 shader units
Full 128-bit memory interface
256-bit ring bus
Ultra threaded core

 

Supported Operating Systems

Windows Vista
Windows XP Media Center Edition
Windows XP
Windows 2000

 

Accessories

HDMI to DVI-D adapter
HDMI to HDMI cable
component HDTV cable
Driver CD
Install Guide
Short bracket conversion kit for SFF chassis

 

System Requirements

 Intel® Pentium® 4, AMD™ Athlon™ 64, AMD™ Athlon XP™   or compatible with x16 PCI Express slot
Correct chipset drivers
 Installation software requires CD-ROM drive  DVD playback requires DVD drive
300W power supply
Detailed Specifications
Visiontek ATI Radeon HD2600 XT 256MB
Specification
HD 2600XT 256MB HDMI HDCP x16 PCI Express
PVT-88P-YDD4  
RAMDACs
Dual 400 MHz
Memory BUS
128 bit
Memory Bandwidth
22.4 GB/sec
Memory
256 MB
Memory Type
DDR3
Memory Clock
1.4 GHz
Clock Rate
800 MHz
Vertex Processors
16
Stream Processing Units
120
Pixel Fillrate
3.2 GPixels/sec
Texture Fillrate
6.4 GPixels/sec
Chipset
RV630
Bus Type
PCI-E 16x
Fabrication Process
65nm
Highlighted Features
HDCP Compliant
Dual DVI Out
ATX &SFF chassic compatible
HDTV ready
Crossfire Ready
Features
• 390 million transistors on 65nm fabrication process
• 128-bit DDR2 memory interface
• Fully distributed design with 256-bit internal ring bus for memory reads and writes
• Unified Superscalar Shader Architecture
• 120 stream processing units
• Dynamic load balancing and resource allocation for vertex, geometry, and pixel shaders
• Common instruction set and texture unit access supported for all types of shaders
• Dedicated branch execution units and texture address processors
• 128-bit floating point precision for all operations
• Command processor for reduced CPU overhead
• Shader instruction and constant caches
• Up to 40 texture fetches per clock cycle
• Up to 128 textures per pixel
• Fully associative multi-level texture cache design
• DXTC and 3Dc+ texture compression
• Lossless color compression (up to 8:1)
• 8 render targets (MRTs) with anti-aliasing support
• PCI Express x16 bus interface
• AGP 8x configurations also supported
• OpenGL 2.0 support
Avivo™ Video and Display Platform
• Dedicated unified video decoder (UVD) for H.264/AVC and VC-1 video formats
• High definition (HD) playback of both Blu-ray and HD DVD formats
• Hardware MPEG-1, MPEG-2, MPEG-4/DivX video decode acceleration
• Motion compensation and iDCT (inverse discrete cosine transform)
• Avivo Video Post Processor
• Color space conversion
• Chroma subsampling format conversion
• Horizontal and vertical scaling
• Gamma correction
• High Quality Video Post Processing
• Advanced vector adaptive per-pixel de-interlacing
• De-blocking and noise reduction filtering
• Detail enhancement
• Inverse telecine (2:2 and 3:2 pull-down correction)
• Drive two displays simultaneously with independent resolutions, refresh rates, color controls and video overlays or each display
• Programmable piecewise linear gamma correction, color correction, and color space conversion
• Spatial/temporal dithering provides 30-bit color quality on 24-bit and 18-bit displays
• High quality pre- and post-scaling engines, with underscan support for all display outputs
• Content-adaptive de-flicker filtering for interlaced displays
Full support for Microsoft® DirectX® 10
• Shader Model 4.0
• Geometry Shaders
• Stream Output
• Integer and Bitwise Operations
• Alpha to Coverage
• Constant Buffers
• State Objects
• Texture Arrays
• Dynamic Geometry Acceleration
• Programmable tessellation unit
• Accelerated geometry shader path for geometry amplification
• Memory read/write cache for improved stream output performance
• Multi-sample anti-aliasing (up to 8 samples per pixel)
• Up to 24x Custom Filter Anti-Aliasing (CFAA) for improved quality
• Adaptive super-sampling and multi-sampling
• Temporal anti-aliasing
• Super AA (CrossFire configurations only)
• All anti-aliasing features compatible with HDR rendering
• Texture filtering features
• 2x/4x/8x/16x high quality adaptive anisotropic filtering modes (up to 128 taps per pixel)
• 128-bit floating point HDR texture filtering
Display Features
• Two integrated Dual link DVI display outputs
• Primary supports 18-, 24-, and 30-bit digital displays at all resolutions up to 1920×1200 (single-link DVI) or 2560×1600 (dual-link DVI)1
• Secondary supports 18-, 24-, and 30-bit digital displays at all resolutions up to 1920×1200 (single-link DVI only)1
• Each includes a dual-link HDCP encoder with on-chip key storage for high resolution playback of protected content2
• Two integrated 400 MHz 30-bit RAMDACs
• Each supports analog displays connected by VGA at all resolutions up to 2048×1536
The Card & Bundle
The picture of the box below is a picture taken from Visiontek's website.  My box had a huge white sticker on the front.  Same box though.  It is a generic non flashy box.  Doesn't exactly scream "Pick ME, Pick ME!!".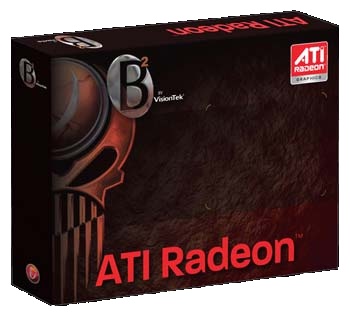 The HD2600 XT is a small form factor (sff) card.  This makes it possible to fit into home theater machines.  Which is what this card, in my honest opinion, should be used for.  The accessories are nice.  It comes with a 6′ HDMI cable, HDMI to DVI converter, and a couple different short brackets which are conversion kits for the SFF chassis.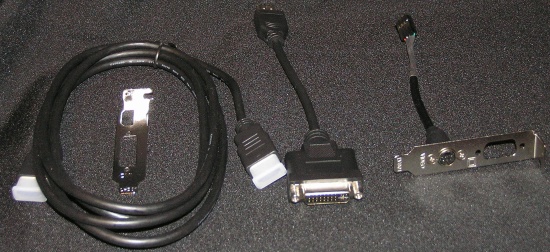 This view shows the long bracket.  It houses the RGB connection, an HDMI output, and DVI output.  Right behind the HDMI output is the video connector that is attached to one of the other short brackets.  The RGB has a flexible cable so that it can be detached and reattached to the short bracket with the video out port.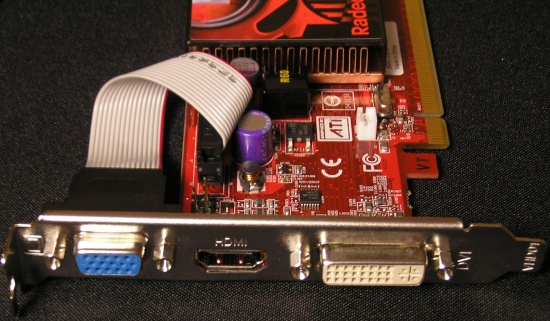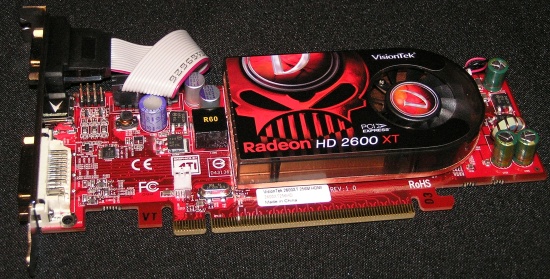 Testing Methodology
The games used in benchmarking were tested with 0xAA and 4xAA settings.  The video resolutions tested were 1024×768, 1280×1024, and 1680×1050.  The clock speeds were not changed on the card.  I tried, but it would not overclock past what it was already clocked at.  The card is clocked at a 800MHz core and 1400MHz memory clock.
Testing Platform
All of the benchmarks were ran on an Intel Core 2 Duo 4300 (1.8GHz) clocked at 3.3GHz. 
Test Platform

Processor

Intel E4300 Core 2 Duo at 1.8GHz and OC'd to 3.3

Motherboard

Memory

G.SKILL 2GB (2 x 1GB) 240-Pin DDR2 SDRAM DDR2 800 (PC2 6400)

Drive(s)

Western Digital Caviar SE16 250GB (WD2500KS-00MJB0)

Graphics

Visiontek HD2600 XT  256mb PCIE

Cooling

ZALMAN CNPS9500 LED 92mm 2 Ball Cooling Fan with Heatsink

Power Supply

Antec NEO Power 650 Blue

Display

Dell 2007WFP

Case

NZXT HUSH

Operating System

Windows XP Professional
Synthetic Benchmarks
3DMark06 v. 1.1.0
Games
Company of Heroes DX9.0c
Halflife 2 Episode One HOC Bench 1.5
Quake 4 v.1.4.2 in-game Timedemo
I chose these games for a couple different reasons.  They are industry standards if you will.  They also have nice benhmarking demos.  Synthetic will only take you so far in testing a video card.  You really need actual games to show true results. 
Benchmarks
Benchmarks on the card were not that impressive to me.  Remember though, it isn't a high end card either.  It wasn't designed for the gaming enthusiast that needs earth shattering frame rates.  It will however play these games just fine on Medium settings.  The games that were benchmarked in this review were Company of Heroes, Halflife 2 Episode One, and Quake 4.  Let's get to the benchmarks.
Company of Heroes has its own performance test in the game.  Not only is it a fun game to have, it is used by many reviewers in testing video cards.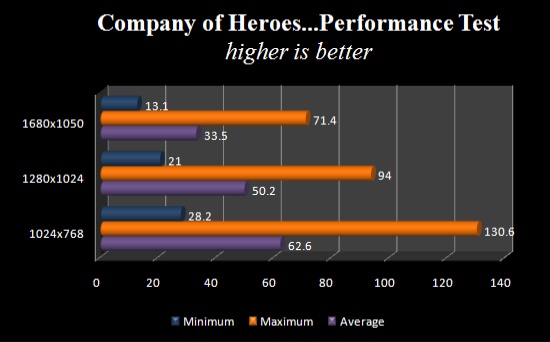 Halflife 2 Episode 1 does not have an in-game demo.  I had to turn to HOC Bench which does provide a custom time demo that I used to test the game.  It is a recording of someone playing through one of the levels in the game.  It is a good number cruncher for the card.
Quake 4 has been a round for a while now and has proved to be a great test and highly loved by all gamers.  This game does have an in-game time demo that you can run.  It is fairly simple to use as long as you can figure out how to bring the console down.  It isn't just the tilda, it's CTRL + ALT + ~.  Anyway, a good game all around.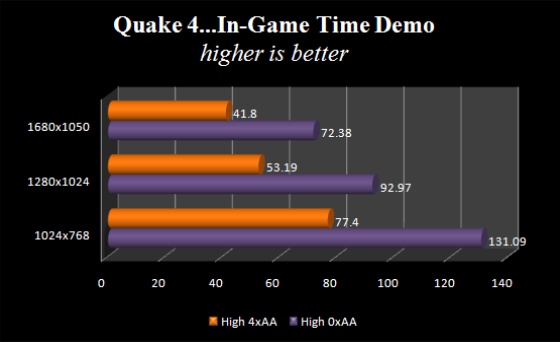 3DMark06 is a synthetic test.  It may not tell you how well it will play games, it can show you overall performance of the card.  It is an industry standard that everyone uses to bench against.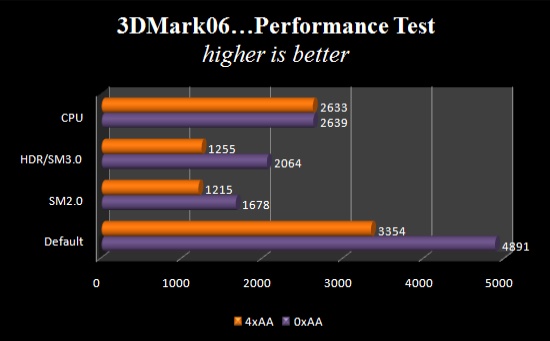 Conclusion
I was really hoping for more out of this card.  It wasn't quite what I had expected.  I could not overclock even in the slightest bit and just didn't get great frame rates in the games that I like to play.  On the other hand this card can play movies splendidly.  I do like the fact that it is a small form factor that can be put into a home theater system.  That is nice. 
Going back to gaming, if the game settings were turned down to medium then it was acceptable to play.  The plus side to this card is that it is cheap and someone that may not play games very often could really benefit from getting this and saving money at the same time. 
As I said before this card does great for HD playback and comes with the HDMI cable, video cable, and the converter.  That's nice.  Although it is a midrange card it has very low power consumption and is why it would do great in a home theater system.  Low power consumption means lower heat.  Also a little softer on the electric bill. 
Side Note, I do like their seal!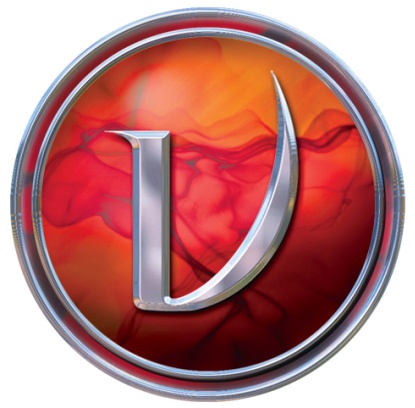 Pros:
+ Performance was ok
+ Inexpensive
+ HD Performance was great
+ DX10 ready
+ SFF solution
+ Low power consumption
Cons:
– No overclock potential
– Poor game play
I am giving the Visiontek HD2600 XT 256mb card a 7 out of 10 (Good).  It wasn't what I expected as I said before and didn't really have anything that set it apart. Although did perform splendidly for HD media and was cheap.