Coming on the heels of the hugely successful 8800GT, XFX ups the ante with their newest offering; the 8800GTS XXX 512. Is XFX bluffing or should everyone else just fold in their hand?
INTRODUCTION
It has been a great year to be an enthusiast. With the flurry of 'A list' games that have been released and the new hardware deigned to run them, it is an exciting time. Nvidia and XFX want to make sure you have the best possible gaming experience and they have just released a new card to bring you closer to that goal. The 8800GTS 512 Alpha Dog from XFX is that card. Built on top of the smaller, more efficient G92 core and sporting the same amount of stream processors as the 8800GTX, this card is ready for almost anything you can throw at it. Throw in a free game and XFX's legendary double-lifetime warranty and you have the recipe for greatness. But enough chit-chat and marketing hype, lets get to the heart of the matter; performance!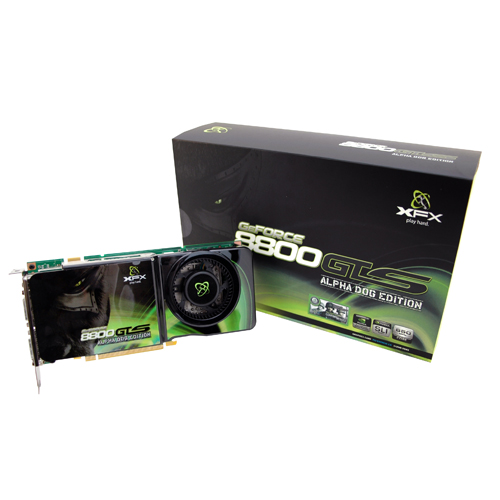 XFX: The company

XFX®, is a company that is well known to the gaming community as they produce some of the most extreme graphic products around. As a company they operate on the following corporate philosophy:
"XFX® dares to go where the competition would like to, but can't. That's because, at XFX®, we don't just create great digital video components–we build all-out, mind-blowing, performance crushing, competition-obliterating video cards and motherboards." "Oh, and not only are they amazing, you don't have to live on dry noodles and peanut butter to afford them."
XFX is a division of PINE Technologies, a leading manufacturer of state-of-the-art processing components. To learn more about PINE, click here.
FEATURES & SPECIFICATIONS
Taking a look at the specifications we see XFX kicking things up a notch as they are known to do. Even thought the GTS 512 may have less memory and memory bandwidth than the older GTS 640MB, it is built on a new, more efficient design which should allow it to blow past the G80. Not to mention that it comes loaded with the same amount of stream processors as the 8800GTX.
XFX 8800GTS XXX 512MB Alpha Dog
Specification
XFX 8800GTS XXX 512
Nvidia 8800GTS 512
XFX 8800GTS 320/640
RAMDACs
Dual 400 MHz
Dual 400 MHz
Dual 400 MHz
Memory BUS
256 bit
256 bit
320 bit
Memory Bandwidth
63.1 GB/sec
62.0 GB/sec
64.0 GB/sec
Memory
512 MB
512 MB
320 / 640 MB
Memory Type
DDR3
DDR3
DDR3
Memory Clock
986 MHz
970 MHz
800 MHz
Pixel Processors
28
28
28
Vertex Processors
16
16
20
Stream Processors
128
128
96
Shader Clock
1725 MHz
1625 MHz
1200 MHz
Core Clock
678 MHz
650 MHz
500 MHz
Chipset
G92
G92
G80
Bus Type
PCI-E 2.0
PCI-E 2.0
PCI-E 1.1
Fabrication Process
65nm
65nm
90nm
Highlighted Features
HDCP Ready
Dual DVI Out
RoHS
HDTV ready
SLI ready
TV Out
HDCP Ready
Dual DVI Out
RoHS
HDTV ready
SLI ready
TV Out
HDCP Ready
Dual DVI Out
RoHS
HDTV ready
SLI ready
TV Out
FEATURES
NVIDIA Quantum Technology: Advanced Shader Processors designed for physics computation
NVIDIA® Lumenex™ Engine:   Delivers stunning image quality and floating point accuracy at ultra-fast frame rates.
NVIDIA PureVideo HD technology: Essential for the Ultimate HD Movie Experience on a PC
Full Microsoft® DirectX® 10 Support:   World's first DirectX 10 GPU with full Shader Model 4.0 support delivers unparalleled levels of graphics realism and film-quality effects.
Dual Link DVI:  Capable of supporting digital output for high resolution monitors (up to 2560×1600).
NVIDIA® SLI™ Technology:  Delivers up to 2x the performance of a single GPU configuration for unparalleled gaming experiences by allowing two graphics cards to run in parallel. The must-have feature for performance PCI Express graphics, SLI dramatically scales performance on over 60 top PC games.
PCI Express™ 2.0 Support:  Designed to run perfectly with the next-generation PCI Express bus architecture. This new bus doubles the bandwidth of PCIe x16 delivering over 4 GB/sec. in both upstream and downstream data transfers.
OpenGL™ 2.0 Optimizations and Support:  Ensures top-notch compatibility and performance for all OpenGL applications. NVIDIA® nView® Multi-display Advanced technology provides the ultimate in viewing flexibility and control for multiple monitors.
NVIDIA® nView® Multi-Display Technology:  Advanced technology provides the ultimate in viewing flexibility and control for multiple monitors
PACKAGING
XFX uses their mascot 'Outlaw' once again to show us who's in charge in case you had forgotten. Looking at the card you immediately notice how the cooler has been redesigned. Other than the obvious tilt of the fan which is necessary to clear the capacitors in the rear, we see the reference cooler got rid of if the slits at the end of the heat sink. All the slits did was dump excess heat inside the case so this is a much welcomes change. Lastly we see how compact, lengthwise, this card is compared to its big brother the 8800 Ultra .
Click a picture to see a larger view
---
---
CONTENTS
XFX includes a simple bundle with their card including one DVI to D-SUB adapter, s-video cable, driver CD, installation manuals and a copy of Lost Planet.
TEST SETUP
Test Platform

Processor

Intel E6850 Core 2 Duo at 3.3GHz

Motherboard

EVGA 680i

Memory

4GB (2 x 2GB) MushkinXP2-6400

Drive(s)

Seagate 7200.11 1TB
Seagate 7200.10 750GB

Graphics

Test Card 1:XFX GeForce® 8800 GTS XXX 512MB
Test Card 2: XFX GeForce® 8800 Ultra XXX

Power Supply

PC Power and Cooling 1KSR

Display

Dell 2707 FPW

Case

Lian Li PC-V2000 custom built enclosure

Operating System

Vista Ultimate
Synthetic Benchmarks & Games
3DMark06 v. 1.10 (Default settings)
Company of Heroes DX10 v.1.71
F.E.A.R. v 1.08
Half-Life 2: Loast Coast
World in Conflict DX10
Testing Methodology
We will be testing the XFX Geforce™ 8800 GTS XXX on a comparative basis versus the XFX Geforce™ 8800 Ultra We will run the above captioned benchmarks on all systems with each graphics card set at default speed. Our synthetic benchmark 3DMark06 will be run in default mode with a resolution of 1280 x 1024 and no anti-aliasing or anisotropic filtering will be used. All other gaming tests will be run at the monitors default resolution of 1920×1200 with anti-aliasing set to 4X and anisotropic filtering set to 8X. Each of the tests was run individually and in succession three times and an average of the three results calculated and reported. F.E.A.R. benchmarks were also run with soft shadows disabled.
Overclocking
This card was able to reach a stable overclock of 800MHz on the core which is simply impressive. The memory did not fair as well and was unable to be pushed any further.
*Overclocking results listed here should not be taken as the standard but rather as one possible outcome. As always, your mileage may vary. Always take care when overclocking as you run the risk of destroying the component in question. Neither Bjorn3D.com or myself is responsible for any damage you may cause by overclocking.*
TEST RESULTS
3DMark 2006
All settings were left at default.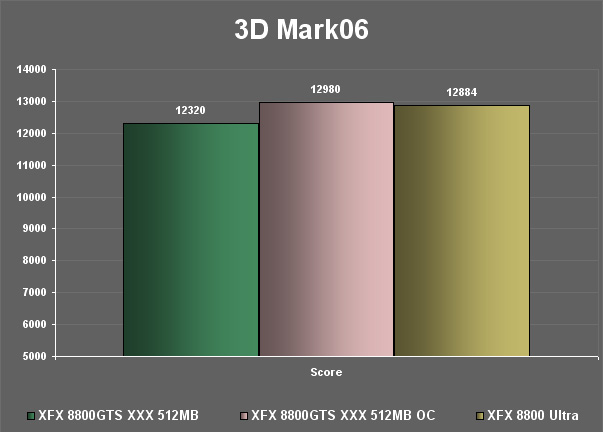 Half-Life 2: Lost Coast
Tests were conducted at a resolution of 1920×1200 with AA set to 4x and AF set to 8x.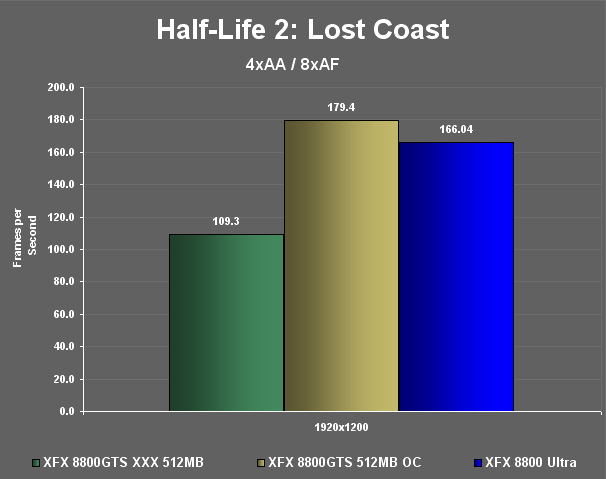 Early tests look promising as the 8800GTS XXX 512 is able to keep pace with the 8800 Ultra which is no easy feat. Let's see if the G92 core can keep up this pace.
TEST RESULTS
For the following games the resolution was kept at 1920×1200. AA and AF levels were set to 4x and 8x respectively.
Company of Heroes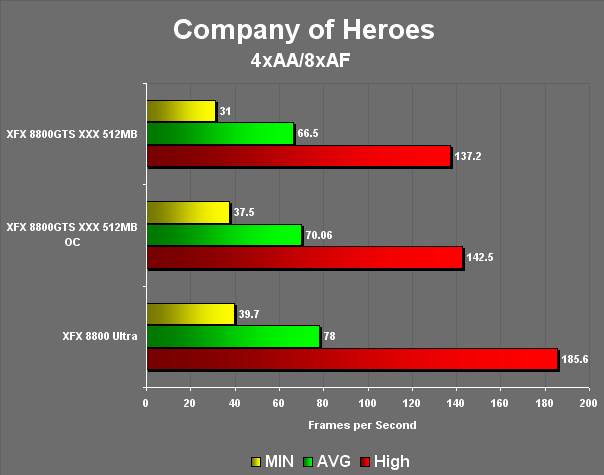 F.E.A.R.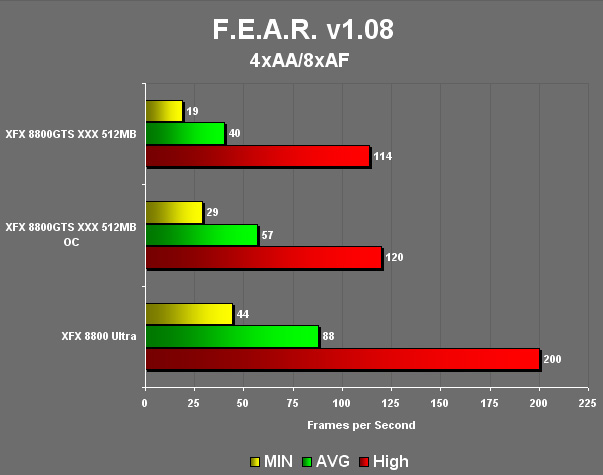 World in Conflict
The 8800GTS XXX 512 performs admirably in each of the tests but is unable to take the top spot away from the Ultra.
CONCLUSION
With the launch of the new G92 based cards the 8800GT 512MB and the 8800GTS 512MB, NVIDIA has spun more life out of the 8800 core technology. Many people that have read our 8800GT 512MB review wonder if they should get the GTS, in my mind yes. Reason being is cooling and still more room for overclocking. The GT's are running pretty warm with only a single slot cooler and are dumping the heat back into your computer, the GTS are dumping the hot air out the back of the machine and with the better cooler should have room for more overclocking.
Pros:
+  Energy savings
+  Performance
+  Cooling fan
+  Overclocking
Cons:
–  Pricey
The XFX 8800GTS XXX 512MB Alpha Dog scores a 8.5/10.