Today, we at Bjorn3D have the pleasure of reviewing the first of the Phenom family of processors to be released for sale to the public sector, the Phenom 9600. This processor will be sold in two versions; the Standard Edition with a multiplier locked above its 11.5X standard and the Black Edition which has a completely unlocked multiplier. Our review will be conducted using the Black Edition and for added flavor we'll include benchmarks and statistics from the Phenom 9900 engineering sample AMD was kind enough to include.
INTRODUCTION
Most computer enthusiasts that have been involved in our unique society for more than a couple of years realize that the worlds two processor manufacturers, AMD and Intel, have been exchanging the "King of the Hill" title for quite a few years now. This exchange was generally seen to take place in one year increments, that was until the late Summer of 2006 when Intel's Core 2 Duo processor made its way into the enthusiast mainstream and the AMD K8 slowly, but most surely faded out of view. With each of these changing of the guard rituals you have a share of the fan boys from the losing side posting propaganda on the order of: "just wait until next year", "I'll dance with the one that brought me", or other bits of diatribe not properly rated for this review. Generally a year or even less later the roles are reversed and all is once again right with our world.
The soliloquy regurgitated above was set to continue a cyclic phase when rumors of AMD's new quad core processor, the Barcelona and its enthusiast counterpart the Phenom began to circulate in mid 2007. Early reports suggested that this chip would help AMD to restore parity in a market that was virtually dominated by the Core 2 Duo. We're talking Intel had so much of a market share that even the vast majority of diehard AMD supporters had at least one Core 2 Duo processor in their arsenal. Was it time to sound the trumpets, let the fireworks fly, and launch the next processing behemoth? Well not exactly, there was a bit of a delay.
Fast forward to today and the first of the Phenom series of processors is just beginning to reach the hands of the consumer market. Why such a delay? We wil discuss the rationale for the delay that we're aware of later in this review. We're of course not privy to all of the reasons but suffice it to say they must have been significant, as each month the chip remained dormant was/is certainly costing AMD big bucks. We enthusiasts would certainly prefer to have it right the first time, so let's hope the wait was worth it.
Today, we at Bjorn3D have the pleasure of reviewing the first of the Phenom family of processors to be released for sale to the public sector, the Phenom 9600. This processor will be sold in two versions; the Standard Edition with a multiplier locked above its 11.5X standard and the Black Edition which has a completely unlocked multiplier. Our review will be conducted using the Black Edition and for added flavor we'll include benchmarks and statistics from the Phenom 9900 engineering sample AMD was kind enough to include.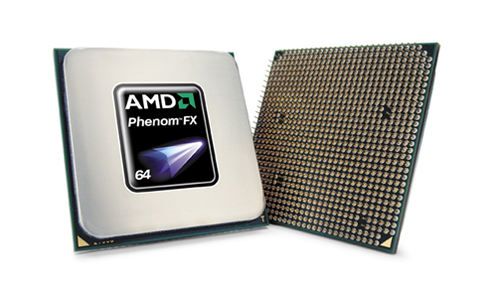 AMD at a Glance
A Leading Global Provider of Innovative Microprocessor and Graphics Solutions

Founded in 1969 and based in Sunnyvale, California, AMD designs and produces innovative microprocessor and graphics and media solutions for the computer, communications, and consumer electronics industries.

Quick Company Facts

Year Company Started: 1969
Number of Employees: approximately 16,500
Headquarters: Sunnyvale, California
CEO: Hector Ruiz
Number of Locations: 80
Revenue: $5.649 billion in 2006
NYSE ticker symbol: AMD

Innovation

Since the beginning, our focus has gone beyond integrated circuits and transistors. AMD is the informed choice for those who want superior microprocessor and graphics solutions designed from the perspective of the customer. After all, our customers' success is our success. That's why AMD products are always developed with customer needs in mind and not for the sake of technology alone. We provide real solutions for real customer problems that exist in the real world today. It's a philosophy we refer to as "customer-centric innovation," and it represents the guiding principle behind everything we do.

Vision

We never rest on our laurels. Our passion for what we do compels us to keep looking for the next opportunity to succeed. With corporate locations in Sunnyvale, California; Austin, Texas; and Markham, Ontario; and global operations and manufacturing facilities in the U.S., Europe and Asia, we're one of the world's leading integrated circuit manufacturers. We're also among the market leaders in each of our core businesses: microprocessors and graphics and media solutions for the computer, communications, and consumer electronics industries.

Execution

Because our customers' needs are ever-changing, AMD understands the value of looking towards—and keeping pace with—the future. To help ensure we meet our customers' needs today and tomorrow, AMD invests in state-of-the-art technology research many years in advance of first commercial use.

Like other world-class companies, we are proud of our success, but we are never satisfied. At AMD, we are committed to delivering the innovative solutions our customers need, building the framework for sustainable growth going forward.

THE PHENOM
If you're asking yourself why the delay in unveiling the Phenom to the World, we understand that one facet of the problem was related to having an inadequate supply of chips to adequately meet the market's demand. Another more recent problem is related to Erratum 298 or "The TLB Error" as is it sometimes referred to. AMD had to develop a BIOS fix for this issue before proceeding with the launch. We'll discuss this issue and its ramifications in much greater detail when we get the the Testing Section of this review.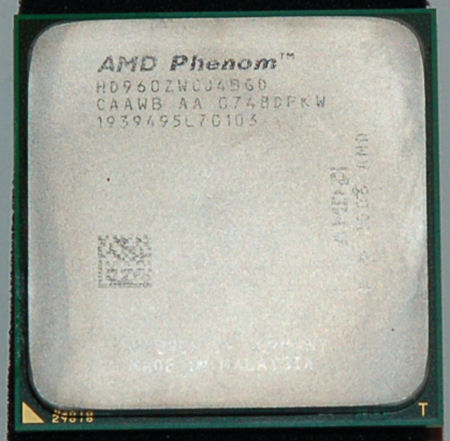 Phenom 9600 Black Edition
Retail Price $283 USD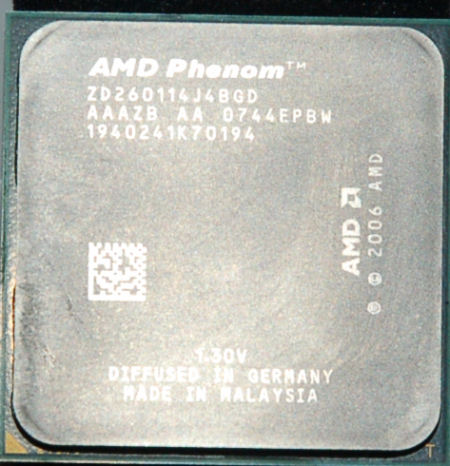 Phenom 9900 Engineering Sample
Retail Price not Yet Announced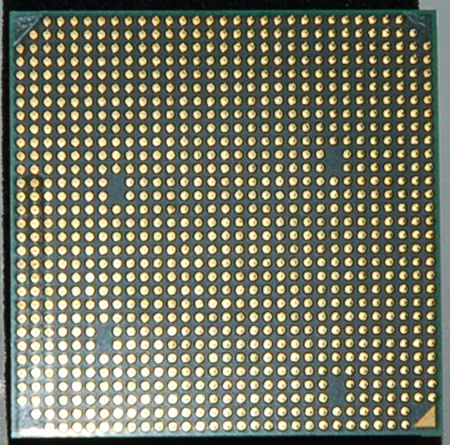 Phenom Pin Placement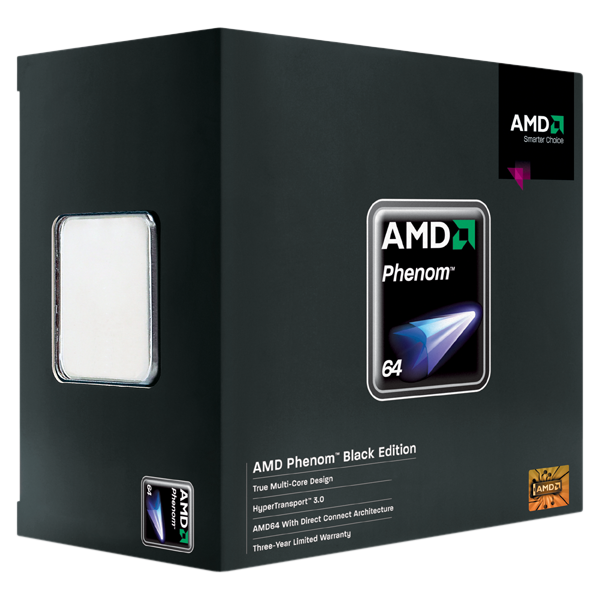 Phenom 9600 Black Edition Retail Package
THE PHENOM cont.
Features
HyperTransport 3.0 with I/O bandwidth up to 16 GB/s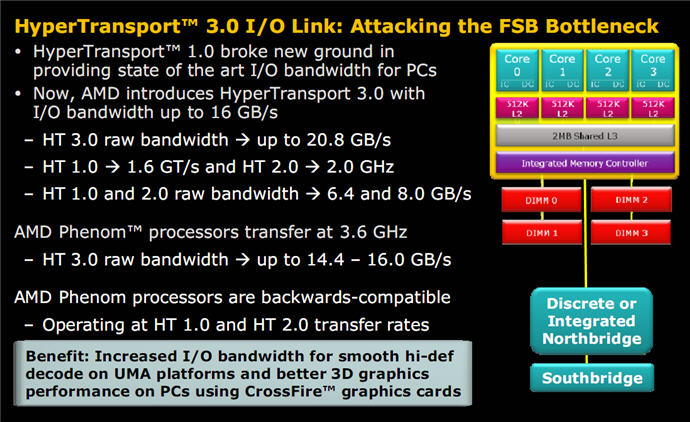 128-bit dual-channel Integrated Memory Controller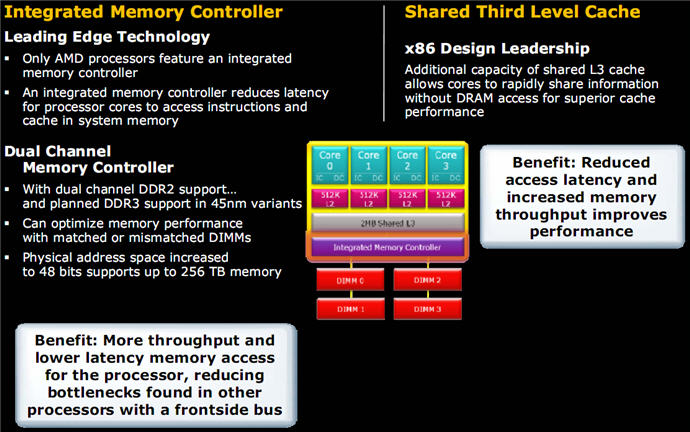 Cool'n'Quiet™ 2.0 Technology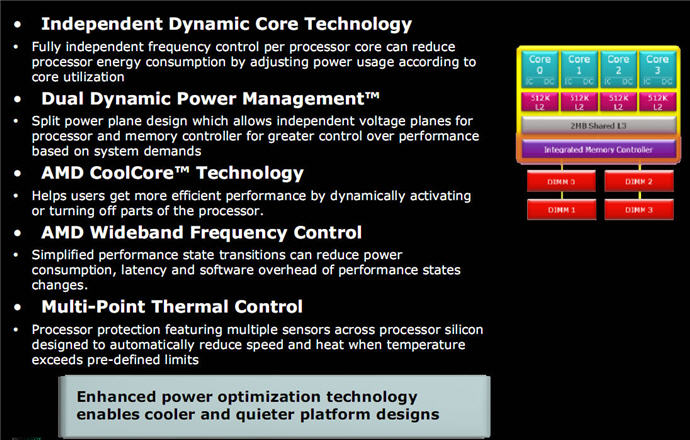 Specifications
AMD Phenom Processor Family
Technical Specifications
Model / Processor Frequency
Model 9900 – 2.6GHz
Model 9700 – 2.4GHz
Model 9600 – 2.3GHz*
Model 9500 – 2.2GHz
L1 Cache Sizes
64K of L1 instruction & 64K of L1 data cache per core 512KB total L1 per processor
L2 Cache Sizes
512KB of L2 data cache per core
2MB total L2 per processor
L3 Cache Size
2MB
Memory Controller Type
Integrated 128-bit wide memory controller
configurable for dual 64-bit channels for simultaneous read/writes
Memory Controller Frequency
Up to 1.8GHz with Dual Dynamic Power Management Note:  The Phenom 9900 has a higher 2.0GHz memory controller frequency
Types of Memory
Support for unregistered DIMMs up to PC2 8500 (DDR2-1066MHz) future 45nm processors versions to include support for DDR3 memory
HyperTransport 3.0
One 16-bit/16-bit link @ up to 3.6GHz full duplex (4.0 GHz full duplex for 9700 & 9900 Processors)
Total Processor Bandwidth
Up to 31.5 GB/sec bandwidth
Packaging
Socket AM2+ 940-pin organic micro pin grid array (micro-PGA) Phenom processors are backward-compatible with Socket AM2 motherboards
Fabrication Location
AMD's Fab 36 wafer fabrication facilities in Dresden, Germany
Process Technology
65nm (.065-micron) Silicon on Insulator (SOI)
Approximate Transistor Count
~ 450 million (65nm)
Approximate Die Size
285 mm2 (65nm)
Nominal Voltage
1.1-1.25 Volts
Max TDP
Model 9900 – 140 Watts
Model 9700 – 125 Watts
Model 9600 – 95 Watts
Model 9500 – 95 Watts
*The Phenom 9600 is offered in both a Standard and Black edition. The Black Edition's multiplier is completely unlocked.
790FX SOCKET AM2+ CHIPSET
Those of us that drifted away from AMD processors after the introduction of the Intel Core 2 Duo have probably become somewhat complacent with the ease at which the chipsets that supported this processor operated. Hyper transport and other terminology that were once second nature with the immensely popular AMD X64 processors have most likely fallen from the forefront of your memory. It's time to pull those thoughts back into the mainstream, because to say the least the chipsets that support these processors are quite different from the norm of today.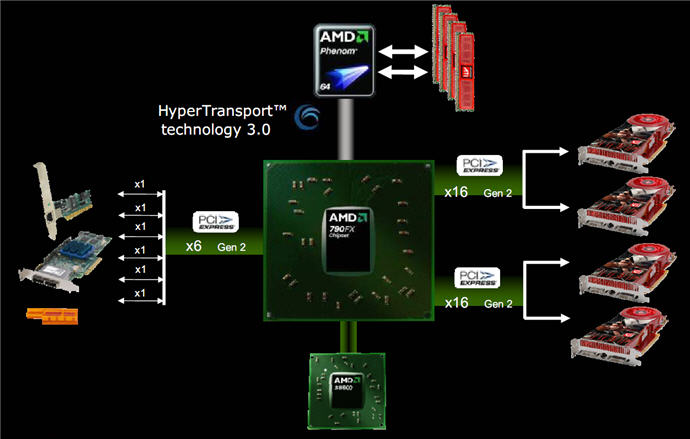 790FX Socket AM2+ Chipset
Specifications
AMD 790FX Socket AM2+ Specifications
HyperTransport™ 3.0
More than doubles your CPU communications bandwidth to graphics as compared to HT1
Auto Xpress

The technology for qualified performance boosts that automatically activates with AMD/ATI components to deliver better CPU, GPU, and system performance

Boosts graphics bandwidth when using AMD processors with HT1
Reads special Enthusiast DIMM settings for higher memory performance
Enhanced DDR2 tuning to deliver better system performance. Maximizes performance from new AMD Phenom CPUs

 

PCI Express® Generation 2.0
Double your graphics bandwidth over earlier PCI Express for improved performance.
GPU-Plex Technology
Scalable twin-engine technology, all on a single chip, enables flexible configurations for multiple graphics cards on a single x16 link.
Quad PCIE Blocks
Native PCI-E cores on one chip means fast GPU to GPU communications by eliminating the latency and possible bandwidth issues of multiple PCIE chip designs. Double pumped with Xpress Route for fast Core to Core transfers.
ATI CrossFireX™ Technology
The ultimate in scalable graphics performance with a widely certified infrastructure and dedicated memories with improved memory performance
Backwards Compatibility
Ensures flexibility to build platforms with AMD Athlon™ today and AMD Phenom™ tomorrow
AMD OverDrive™
Shift your system performance into next gear. Enables control of the 7-Series Chipsets to allow configuration of system settings in Microsoft Windows
AMD RAIDXpert
Easily configure your RAID setup from remote locations to personalize your media for extra performance or enhanced reliability.
Low Power Design
Ensures you have more power available for other components when you need it.
The Socket AM2+ motherboards which are predominately based on the the AMD 7-series chipset were initially supposed to bring improvements in performance ranging from 10% – 15%. This was to have been accomplished by having separate voltage regulation for the L3 cache and northbridge from that of the processor. In theory this was going to allow the L3 cache and northbridge to run a higher frequencies than the CPU thus the performance improvement. If this was the case we were unable to find it with the Asus M3A32-MVP as the highest frequency available for the northbridge was 2.0GHz. This was the case for both the Phenom 9600 BLack Edition and the Phenom 9900 Engineering sample we tested.
The predominate change we noticed was that the Northbridge and Southbridge for that matter appear to run at a lower TDP (10-12 Watts) thus improving cooling. Additionally, the 790FX board has full support for DDR-2 1066 memory as opposed to it's Socket AM2 counterpart which only officially supported DDR-2 800 memory.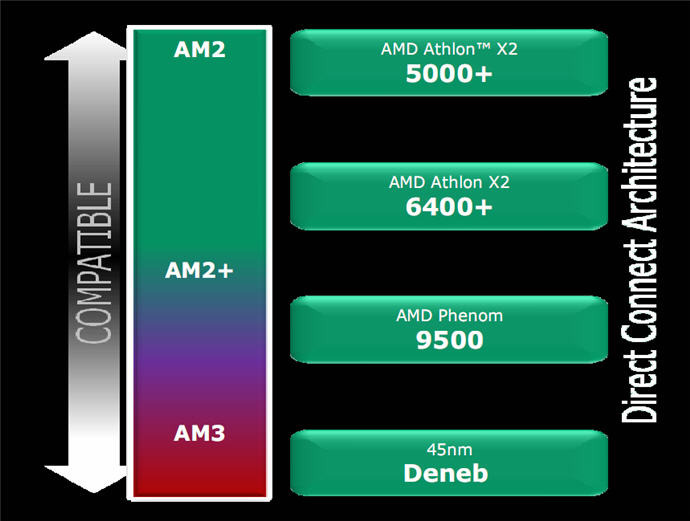 AMD 7-Series Chipsets … Showing Backwards & Future Compatibility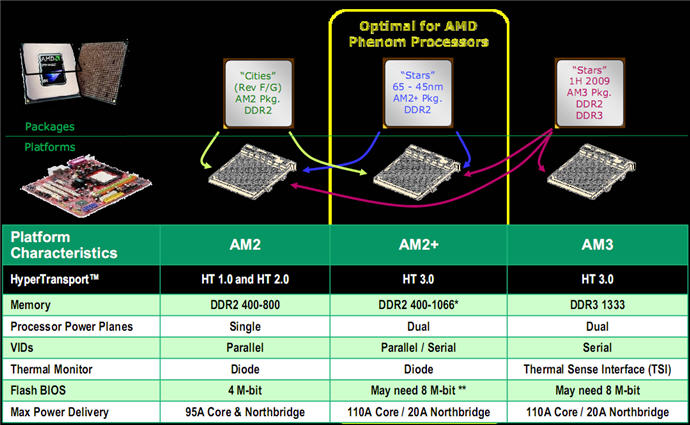 Current &AMD 7-Series Chipsets … Showing Current & Future Plans
Motherboards with AMD 7-Series Chipsets
AMD OverDrive™
It seems as though the three major Chipset manufacturers; AMD, Intel, and NVIDIA are all working very hard to give us a real-time, functional overclocking utility that is Windows based. AMD calls its utility OverDrive™ and although still in the Beta stages of development this utility appears to be very promising. The first image below is indicative of what AMD hopes to accomplish with their OverDrive utility once development is complete.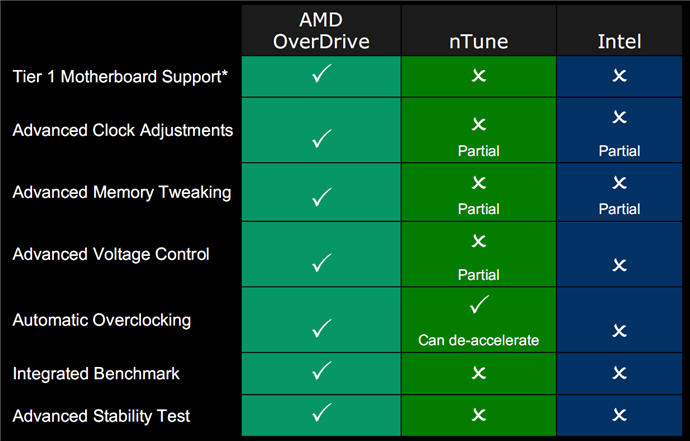 The first version of AMD OverDrive™ that we worked with was version 2.0.10 and it was evident that many of the overclocking elements of the utility were still somewhat immature for use with our test board, the Asus M3A32-MVP Deluxe. Within a few days of beginning our review we worked several more iterations of the of the product, each vastly superior to the one before it. We used version 2.0.14 as our working copy for this review. Below you can see images of the screens that AMD OverDrive™ currently has to offer.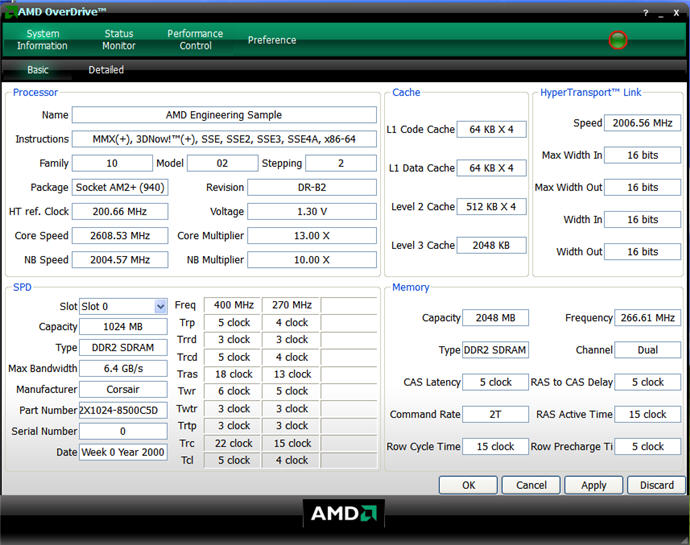 AMD OverDrive™ Statistics Screen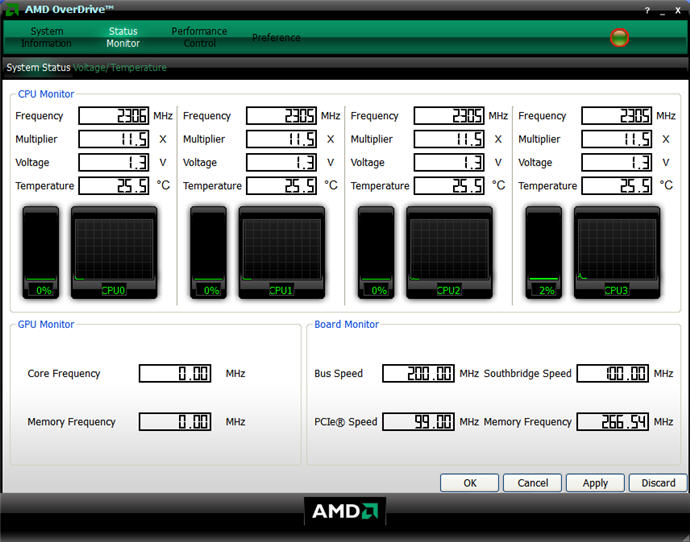 AMD OverDrive™ Status Monitor Screen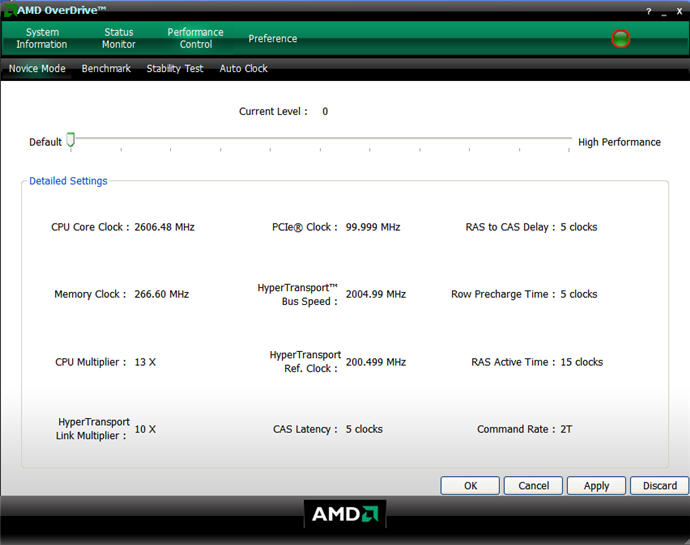 AMD OverDrive™ Basic Overclocking Screen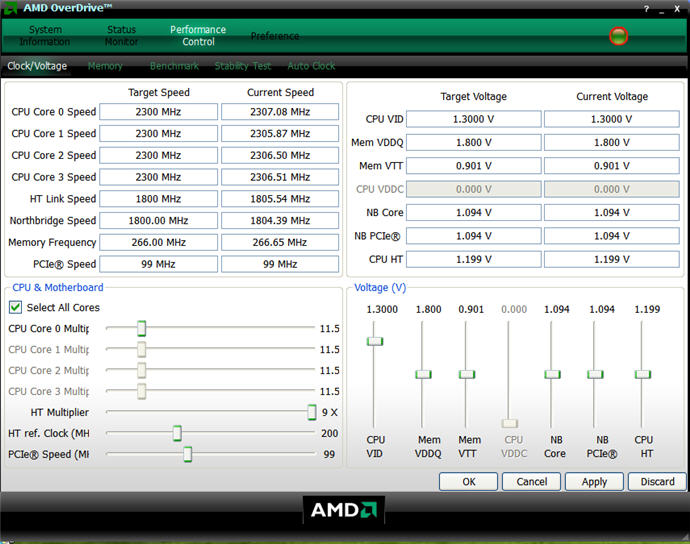 AMD OverDrive™ Advanced Overclocking Screen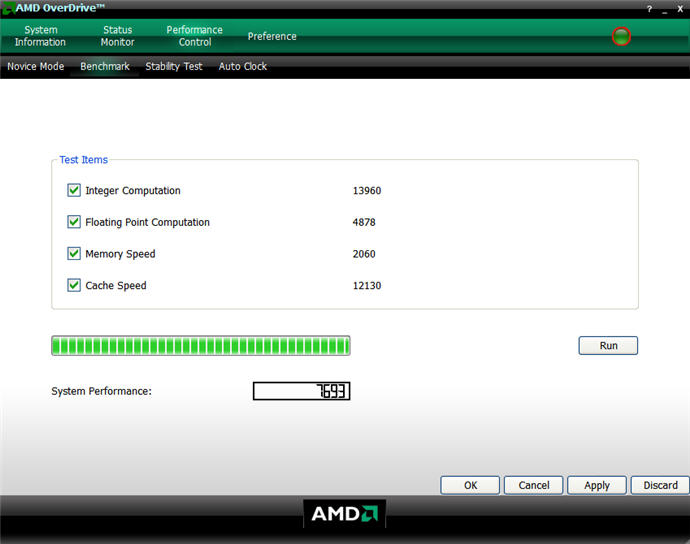 AMD OverDrive Benchmark Screen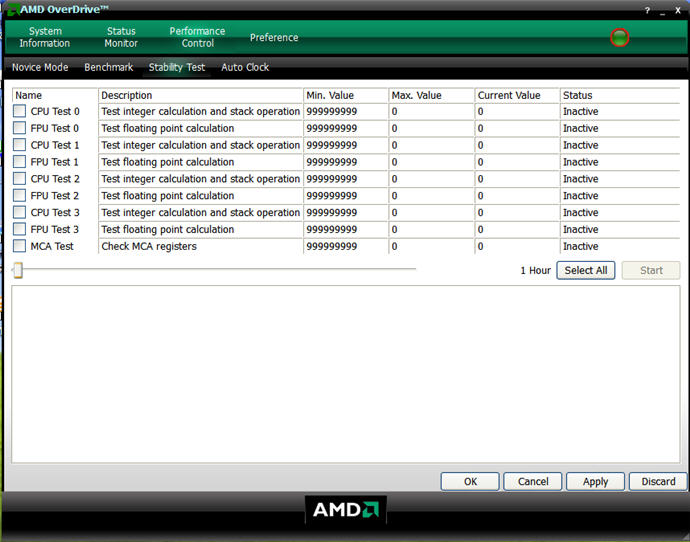 AMD OverDrive Stability Test Screen
In addition to the screens shown here, there is an Autoclocking screen which is supposed to find the optimal overclock for your system. It does so by changing each the various adjustable parameters to their peak level. Our experience with this phase of the utility was limited from the perspective that we tried it a couple of times and either waited nearly an hour without optimal results being achieved or had our test system freeze. As with any utility of this type it will be a constant work in progress. We're still talking Beta here and given the manpower we feel AMD has working on this utility, we expect to see many refinements over the coming weeks.
TESTING REGIME
Most product reviews are broken down into two major sections. The first is the product's introduction where all the manufacturer's claims, features, and specifications are presented and discussed. We like to call this section "Talk the Talk". Next we get to the testing phase where the real work of the reviewer begins. In this section the reviewer tests the vast majority of the product's claims for accuracy and posts his/her findings, thoughts, and recommendations for the readers to view. Now it's time to see if the AMD 9600 Black Edition can "Walk the Walk"!
TEST PLATFORMS

Element

AMD

Intel

Processor

Phenom 9900ES*
2.6 GHz
Phenom 9600 Black Edition
2.3 GHz

Core 2 Quad Q6600
2.4 GHz

CPU HSF

AMD Standard with 4 heatpipes

Enzotech Ultra

Motherboard

Asus M3A32-MVP Deluxe
790FX Chipset Socket AM2+
BIOS 0603

Asus Maximus Formula
X38 Chipset Socket 775
BIOS 0907

Memory

2GB of Corsair CM2X1024-8500C5SD @ 1066MHz with 5/5/5/15 timings (2T)

Drive(s)

Seagate Barracuda ES.2 1TB SATA drive

Graphics

XFX 8800 GT XXX running Forceware 169.21

Power Supply

Ultra X3 1 KW Power Supply

Case

Large HSPC Tech station

Operating System

Windows XP SP2

*ES = Engineering Sample
Tests/Benchmarks
World Bench 6.0 Beta 2
Futuremark 3DMark06
Futuremark PCMark05
Cinebench R10
Sisoft SANDRA XII SP1
Everest Ultimate Edition v. 4.20.1170
Super PI mod 1.5XS
Company of Heroes v. 171
Crysis
Serious Sam 2 v. 2.068
A Peak at the Motherboards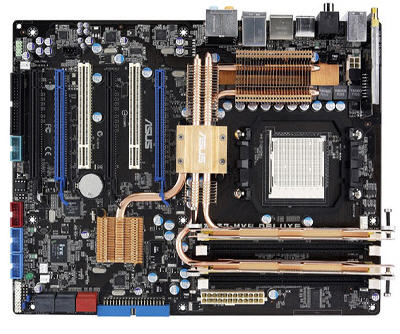 Asus M3A32-MVP 790FX Socket AM2+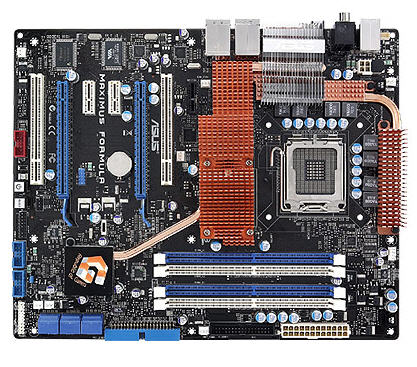 Asus Maximus Formula (non-SE) X38
TESTING REGIME cont.
Let's Talk Errata
If the term errata is new to you, first let us say that this word is in no way related to erotic as we've actually seen alluded to by some enthusiasts joking around on a local forum. Errata is the pleural of the Latin Noun Erratum which is translated to mean a list of errors. Now with that out of the way, let us be the first to state that no processor(s) ever make it to market without errata. Sometimes these lists are quite sizeable but generally each issue is infinitesimally small in the grand scheme of things. Other errata are of a higher order of magnitude such as the Floating Point Calculation Error found in earlier versions of the Intel Pentium Processor. In almost all cases when errata are realized before a product's release the statistical probability of it affecting the vast majority of consumers is calculated and if it falls below an extremely small percentage the product is released, otherwise it's not.
In the case of Erratum 298 which has garnered all the attention with regard to the Barcelona and Phenom processors. Erratum 298 is described in detail in the following excerpt taken from InformationWeek.
AMD fellow Elsie Wahlig posted a description of the problem, known as erratum 298, to the AMD64 mailing list. Here's her description:

"AMD Family 10h revision B2 processors suffer from an issue in the processor TLB known as erratum 298. Erratum 298 is documented in a forthcoming update to the Revision Guide for AMD Family 10h Processors (PID 41322). The workaround in the Revision Guide document is intended to be applied by BIOS. The BIOS workaround has performance implications which can be avoided by having the OS directly workaround the issue. A Linux 64-bit patch was developed for 2.6.23.8 by AMD's OSRC team and will be posted to this list by Joerg Roedel. The patch is for demonstration purposes and is NOT being recommended to be applied upstream.

Erratum 298 will be described as follows: 'The processor operation to change the accessed or dirty bits of a page translation table entry in the L2 from 0b to 1b may not be atomic. A small window of time exists where other cached operations may cause the stale page translation table entry to be installed in the L3 before the modified copy is returned to the L2. In addition, if a probe for this cache line occurs during this window of time, the processor may not set the accessed or dirty bit and may corrupt data for an unrelated cached operation. The system may experience a machine check event reporting an L3 protocol error has occurred. In this case, the MC4 status register (MSR 0000_0410) will be equal to B2000000_000B0C0F or BA000000_000B0C0F. The MC4 address register (MSR 0000_0412) will be equal to 26h.'

The L2 Eviction Linux kernel performance patch re-enables the registers set for the BIOS workaround described in the Revision Guide document. It then prevents the processor from performing the operation that can trigger erratum 298. The patch works by emulating the Accessed and Dirty bits.

The basis for the kernel patch solution depends on the root cause of the L2 eviction problem. The only exposure for the problem is when the TLB needs to set an A or D bit in a page table entry. If the TLB never needs to set an A or D bit, the bug cannot occur. By emulating the A and D bits with the help of the Present and writable bits, the patch will ensure the real A and D bits are always preset. It works by forcing a page fault when the first access is made to a page with the emulated A bit not set, and when the first write access is made to a writable page with the emulated D bit not set. Emulated A and D bits are stored in bits generally available to the OS in the page table entry."
I hope you got more out of that explanation than we did. What we essentially gleaned was that under a reasonably rare, yet specific set of circumstances that the translation look-aside buffer (TLB) basically causes an L3 protocol issue which can cause a system hang. After talking with sources both at AMD and other technical sites whom I trust; I am convinced the likelihood of encountering this issue in our daily computing is comparable with a Hollywood starlet asking me to father her next child. We did however notice the performance hits that the patch for Erratum 298 causes and it does in fact vary from as little as 1% to as much as 10-12% depending on the benchmark we ran.
Test Methodology
We had a bit of a conundrum in deciding which processors to test alongside the AMD Phenom 9600 Black Edition and the Phenom 9900. Our first thoughts were to test not only Intel Core 2 Duo dual core processors in addition to their quad core processors to give our readers more results to view. After thinking a bit we decided that mixing the dual core Intels processors without having a comparable AMD 64 x2 would only muddy the waters. After all we're looking specifically at quad core processors in this review. For that reason we chose to only use the Intel Q6600 which has a clock speed of 2.4 GHz and falls speed wise in the middle of the two AMD Phenoms.
We also chose to run each benchmark both with the patch for Erratum 298 in place and then with the patch disabled using the OverDrive Utility. Although this effectively doubled the time involved in testing it provides a much clear picture of the performance hits this system suffers as a result of patch. Strangely enough on some of the benchmarks we saw virtually no change (less than 1%) in the results with and without the patch being applied. On other benchmarks we saw differences considerably higher approaching 10% or more. We'll elaborate on this in more detail with each series of benchmarks. As per our usual standard each benchmark was run three times and an average of the three results was published.
TEST RESULTS
WorldBench 6.0 Beta2
WorldBench 6.0 Beta 2 is an updated version of the ever popular World Bench 5. It uses series of real-world benchmarks which includes a wide variety of applications scripted to test your system's performance. Once all the tests are completed a single score is rendered with higher scores showing improved performance. We decided to publish the individual test results of WorldBench 6.0 Beta2 in lieu of reporting a single score which gives little or no meaning as to where the shortcomings of your system are. Our results from WorldBench do not include patched and unpatched results as there was little or no difference noted.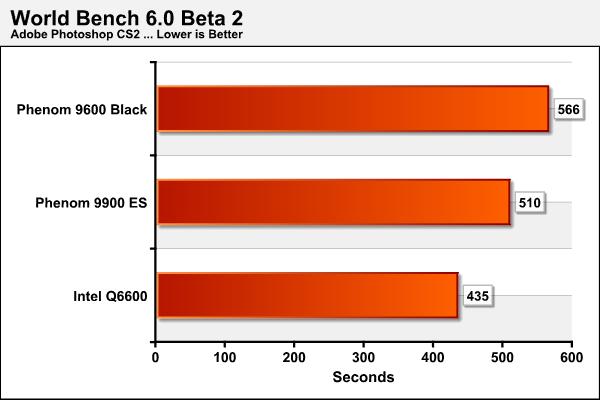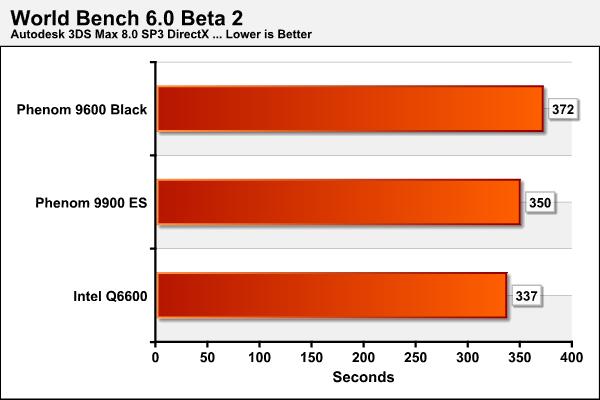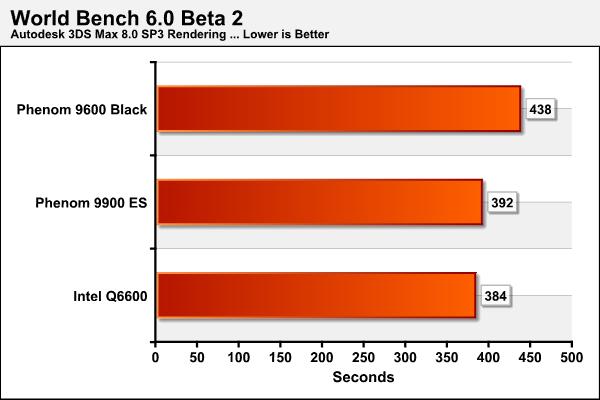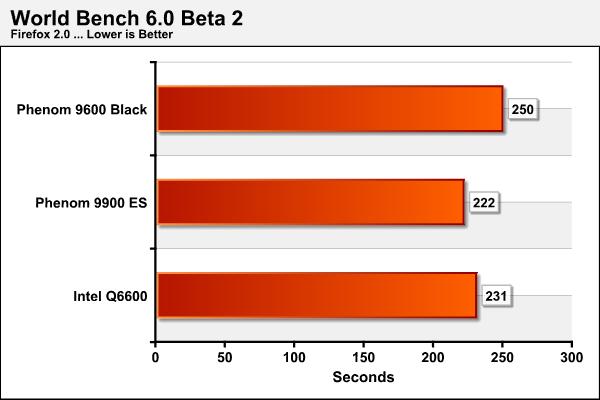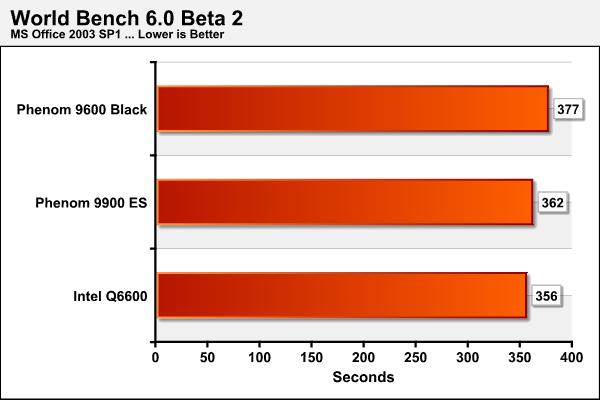 WorldBench 6.0 Beta2 cont.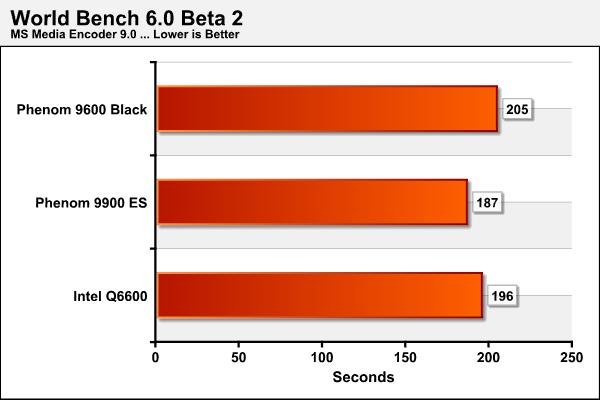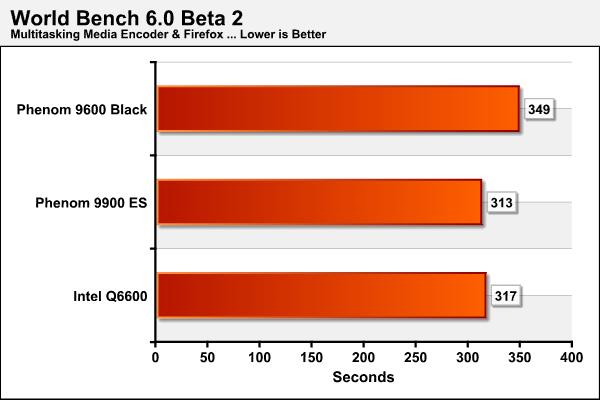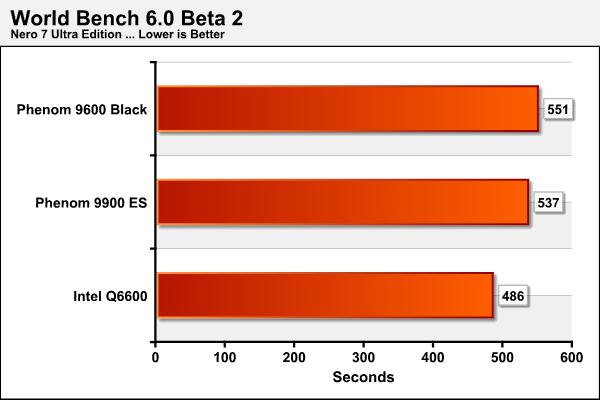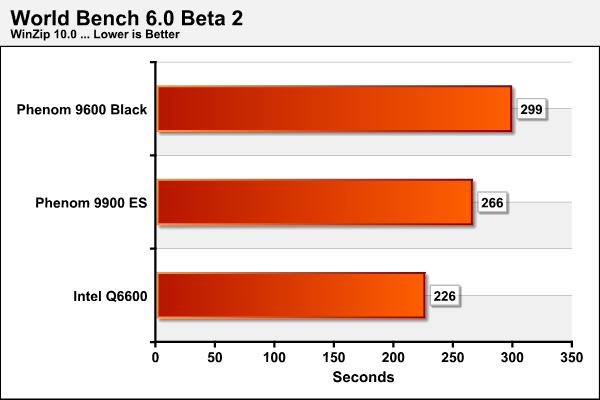 Sandra XII SP1
"SiSoftware Sandra (the System ANalyser, Diagnostic and Reporting Assistant) is an information & diagnostic utility. It should provide most of the information (including undocumented) you need to know about your hardware, software and other devices whether hardware or software." Sandra has been a mainstay benchmark used by the vast majority of computer enthusiasts around the world for benchmarking their systems for as long as we can remember.
When we first ran our Sandra benchmarks on the AMD processors we were alarmed at how low the memory results were given our previous experience with the AMD x2 64 bit processors. Given that the Phenom has an what is touted as an improved memory controller we were flabbergasted by our initial results so much so we didn't believe them. OK, time to hit the net and do some research! In so doing we found out that SiSoft had released a SP1 version of their current software that had made the appropriate changes to account for the Phenom processors. The results almost doubled from what we initially saw and were in line with what we were expecting to see.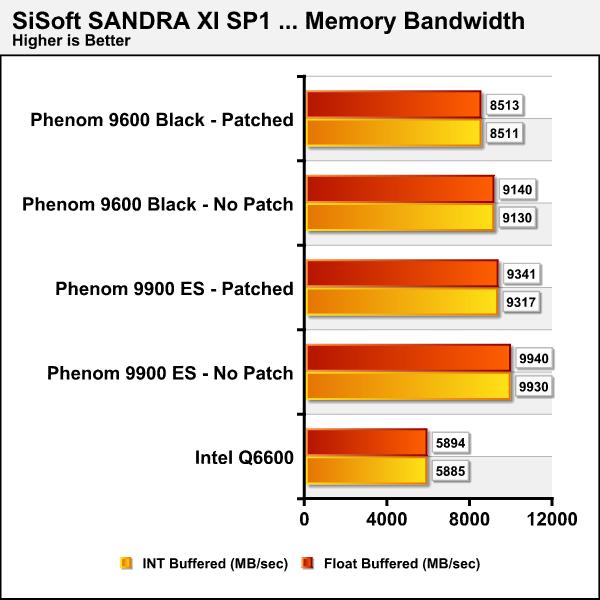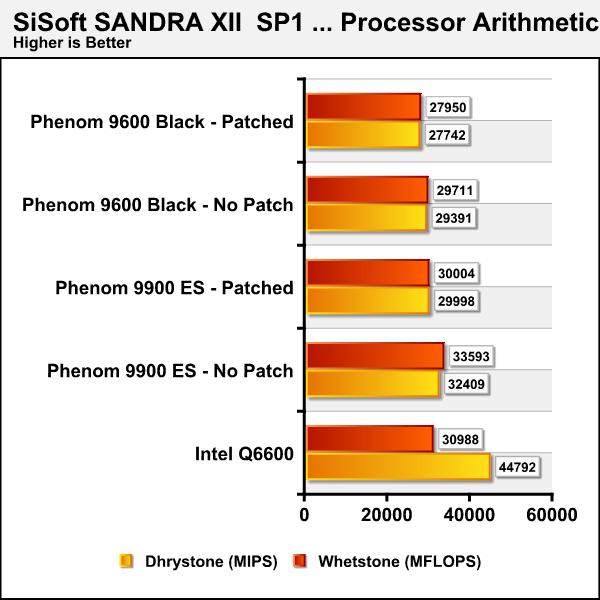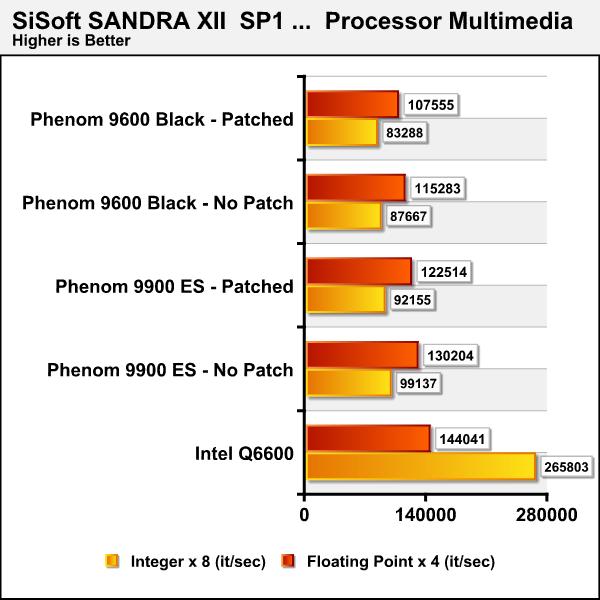 Everest Ultimate v. 4.20.1170
"EVEREST Ultimate Edition is the cutting-edge benchmarking and diagnostics tool to maximize security, performance, and trouble-shooting capabilities for home and home office PC environments, PC Professionals and consulting firms as well as OEM partners and Configuration Centers worldwide." Everest Ultimate Edition has been around for several years now and has over the last several versions gained huge credibility amongst the enthusiast sector. Everest Ultimate Edition offers several CPU and FPU benchmarks that are unlike others on the market and quite good.
We firmly believe that Everest has not made the changes in their software as of yet to account for the memory controller of the Phenom. We decided to use the benchmarks specifically for CPU and FPU results and decided to also publish the memory results so that our readers could see the variances.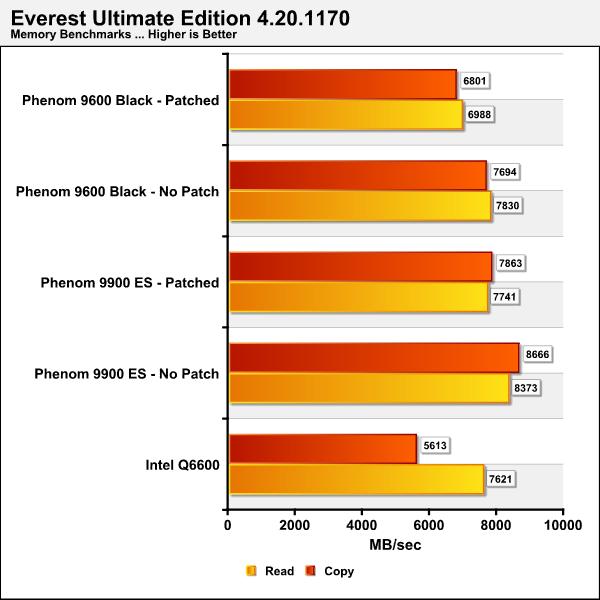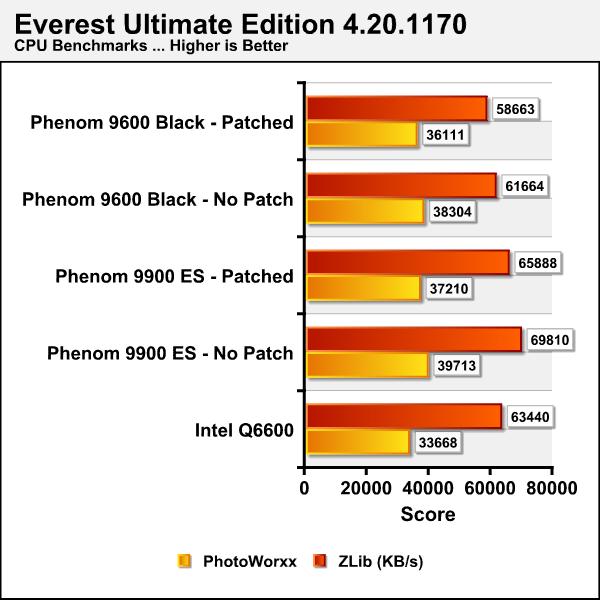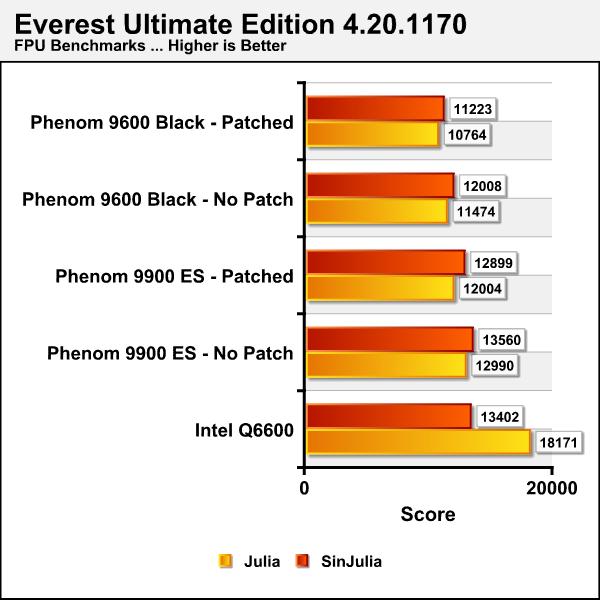 SuperPI Mod 1.5XS
"SuperPI is a computer program that calculates pi to a specified number of digits after the decimal point – up to a maximum of 32 million. It uses Gauss-Legendre algorithm and is a Windows port of the program used by Yasumasa Kanada in 1995 to compute Pi to 232 digits. Super Pi is used by many overclockers to test performance and stability of their systems. In this community, Super Pi has become the standard for providing benchmarks to compare pi calculation times and demonstrate their overclocking skills." The version used in our testing mod 1.5XS has been modified by Xtreme Systems and we feel is the best version currently available.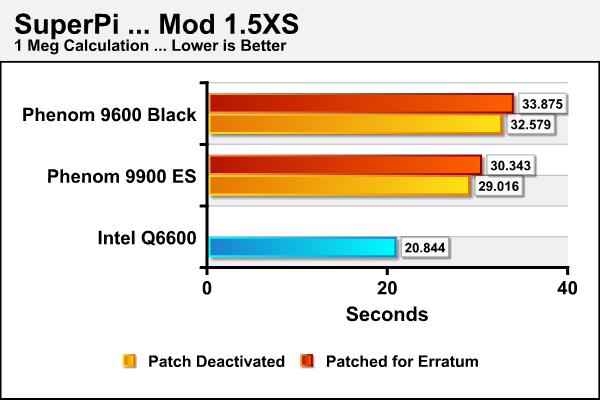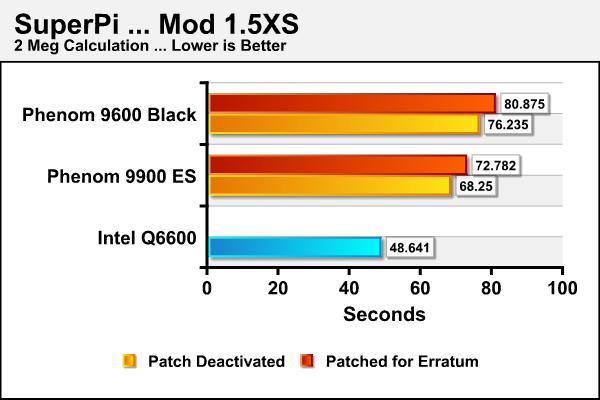 PCMark 05 v.1.2.0
PCMark05 developed by Futuremark is a synthetic benchmark much like its 3DMark06 counterpart. PCMark05 differs from 3DMark06 in that it is not graphics specific. PCMark05 also looks at the rest of your system components including your CPU, memory, disk drives, as well as your system's graphics capabilities. PCMark05 offers a default suite of results as well as separate suites specific to the previously mentioned components. We opted to use the default suite of results as well a CPU suite for our testing of the Phenom 9900 and 9600 Black edition.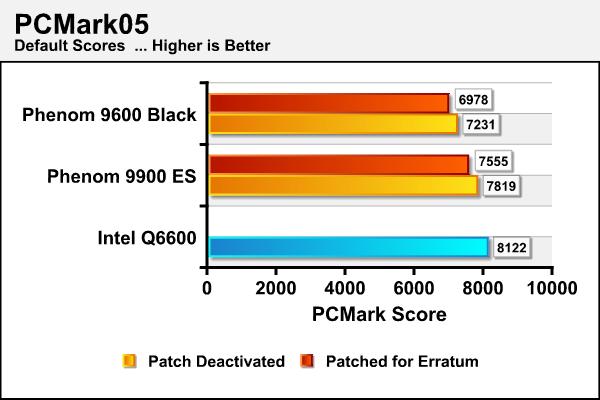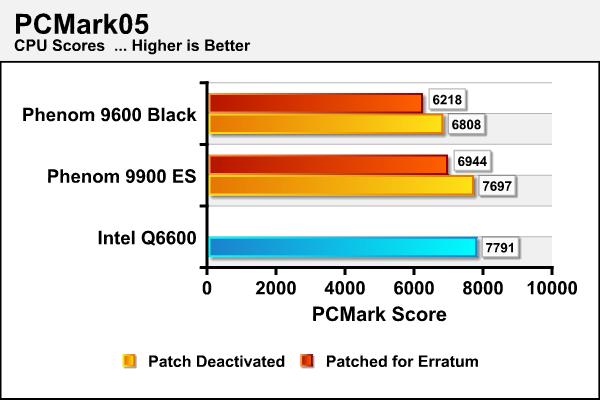 CINEBENCH R. 10
CINEBENCH is a real-world test suite that assesses your computer's performace capabilities. CINEBENCH runs several tests on your computer to measure the performance of the main processor and the graphics card under real world circumstances. The benchmark application makes use of up to 16 CPUs or CPU cores and is available for Windows (32-bit and 64-Bit) and Macintosh (PPC and Intel-based). The resulting values among different operating systems are 100% comparable and therefore very useful with regard to purchasing decision-making.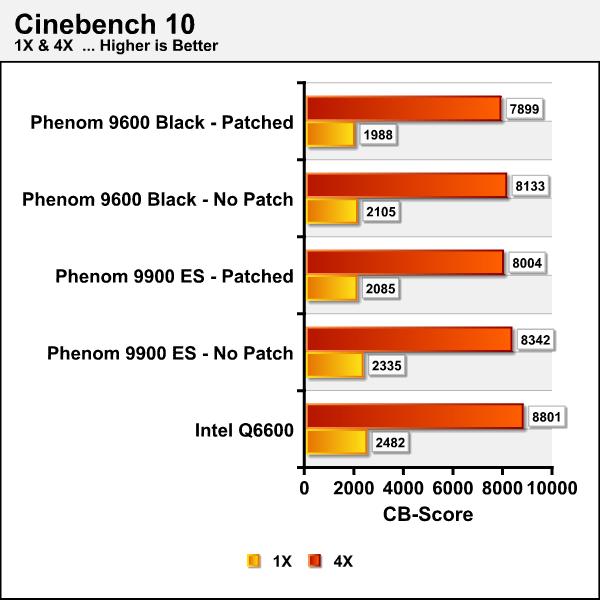 3DMark06 v. 1.1.0
3DMark06 developed by Futuremark is a synthetic benchmark used for universal testing of all graphics solutions. 3DMark06 features HDR rendering, complex HDR post processing, dynamic soft shadows for all objects, water shader with HDR refraction, HDR reflection, depth fog and Gerstner wave functions, realistic sky model with cloud blending, and approximately 5.4 million triangles and 8.8 million vertices; to name just a few. The measurement unit "3DMark" is intended to give a normalized mean for comparing different GPU/VPUs. It has been accepted as both a standard and a mandatory benchmark throughout the gaming world for measuring performance.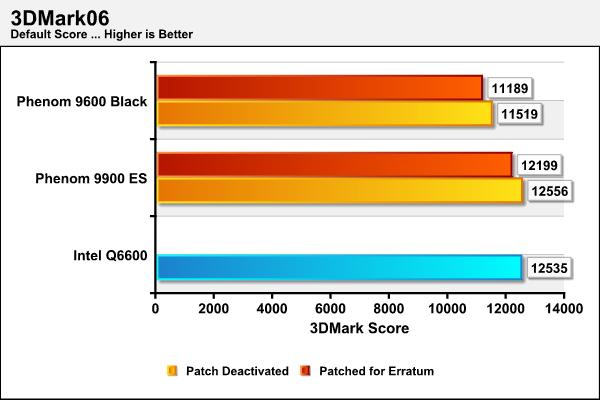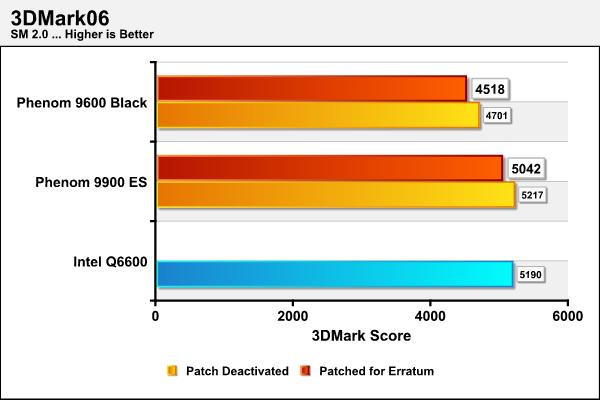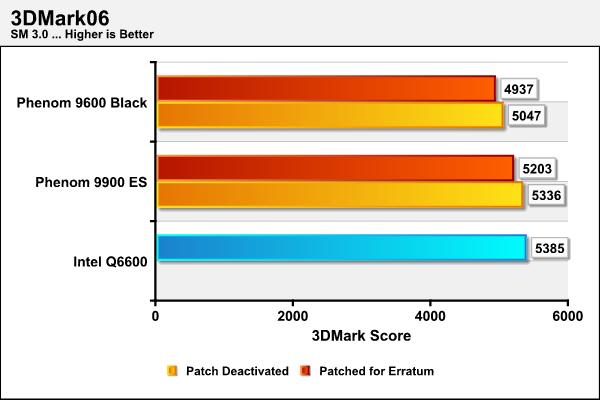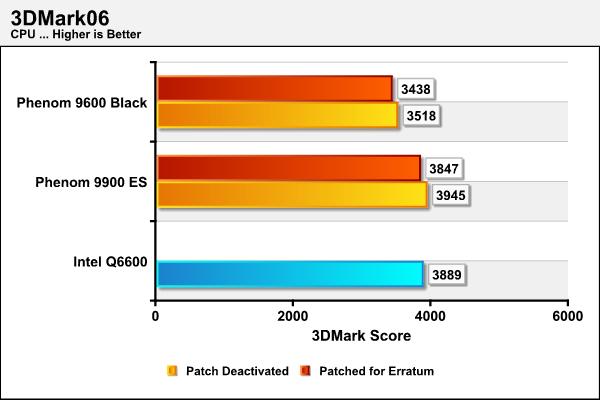 Serious Sam 2 v. 2.068
Serious Sam 2 is a first-person shooter released in 2005 and is the sequel to the 2002 computer game Serious Sam. It was developed by Croteam using an updated version of their Serious Engine known as "Serious Engine 2". We feel this game serves as an excellent benchmark which provides a variety of challenges for the the GPU/VPU you are testing. We once again automate the benchmarking process by using benchmarking software from HardwareOC to automate and refine the process.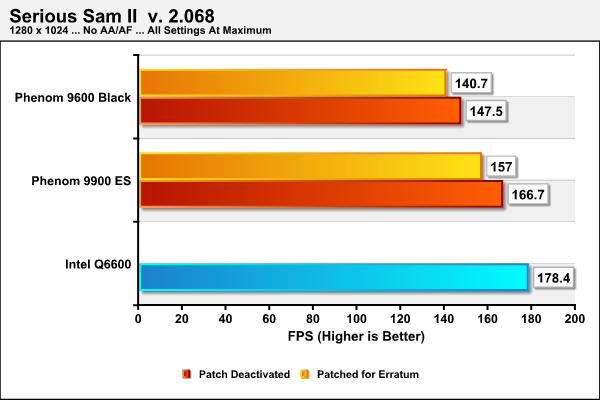 Crysis
Crysis is the most highly anticipated game to hit the market in the last several years. Crysis is based on the CryENGINE™ 2 developed by Crytek. The CryENGINE™ 2 offers real time editing, bump mapping, dynamic lights, network system, integrated physics system, shaders, shadows and a dynamic music system just to name a few of the state of-the-art features that are incorporated into Crysis. As one might expect with this number of features the game is extremely demanding of system resources, especially the GPU. We expect Crysis to be a primary gaming benchmark for many years to come.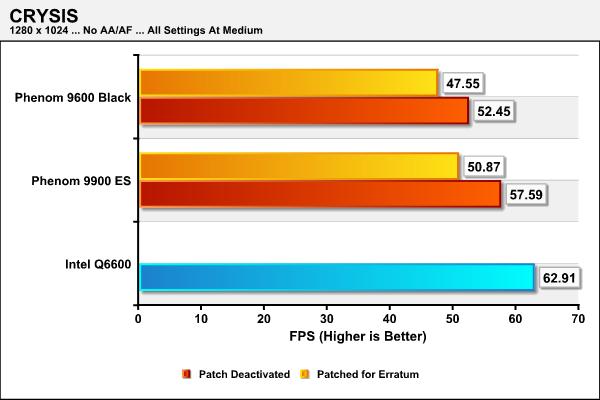 Company of Heroes v. 171
Company of Heroes(COH) is a Real Time Strategy(RTS) game for the PC, announced on April, 2005. It is developed by the Canadian based company, Relic Entertainment, and published by THQ. We gladly changed from the first-person shooter based genres of the rest of our gaming benchmarks to this game which is RTS. Why? COH is an excellent game that is incredibly demanding on system resources thus making it an excellent benchmark. Like F.E.A.R. the game contains an integrated performance test that can be run to determine your system's performance based on the graphical options you have chosen. It uses the same multi-staged performance ratings as does the F.E.A.R. test.
Our results from Company of Heroes do not include patched and unpatched results as there was little or no difference noted.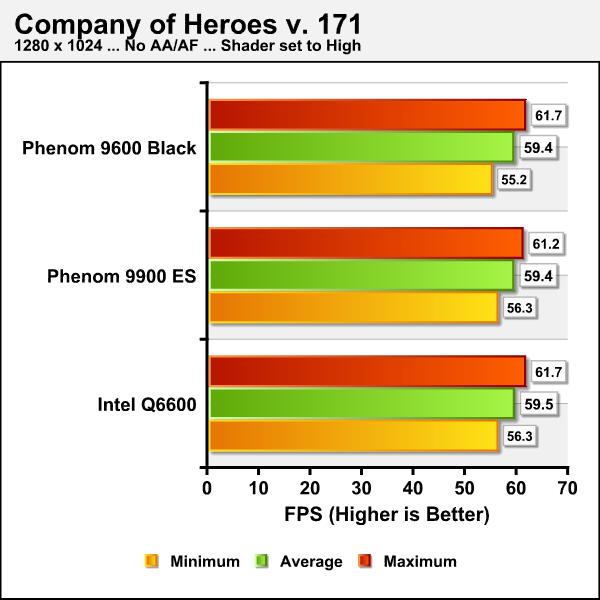 Power Consumption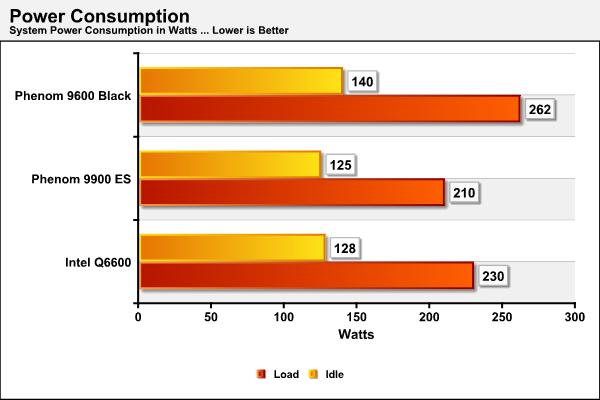 The TDP of the Phenom 9900 is a whopping 140 Watts while the Phenom 9600 at 95 Watts is more in line with its Intel competitor which is also rated at 95 Watts.
OVERCLOCKING
This is the section of any review that most appeals to our enthusiast market, unfortunately the results were not very impressive. We spent well over six hours playing with every aspect that the Phenoms and the 790FX chipset bring to the table with regard to overclocking. We tried everything in our bag of tricks including:
Increasing fsb
Increasing various voltages
Decreasing the CPU multiplier and increasing both the fsb and/or HT clock
Increasing the CPU multiplier and making no changes
Using AMD OverDrive to make changes
Making changes the old fashioned way in the BIOS
We are aware that the AMD Phenom 9600 Black Edition is a first generation processor and the AMD Phenom 9900 is an engineering sample; but we certainly expected better overclocking results than what we experienced. The images below depict the best results we were able to attain and these were only what I would call moderately stable.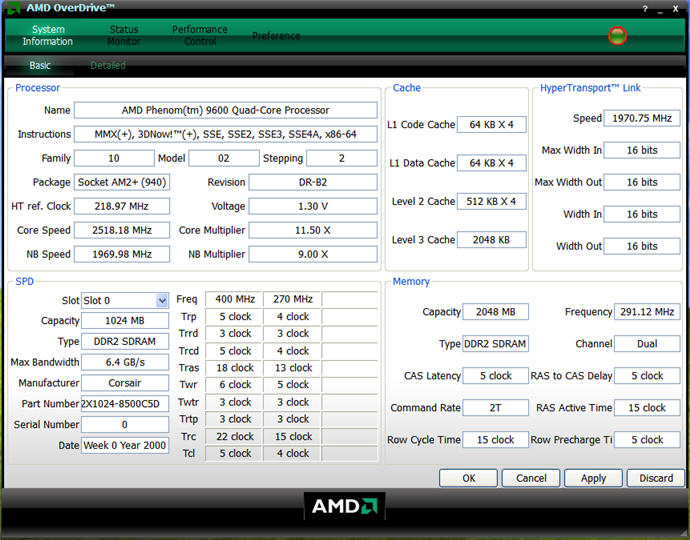 Phenom 9600 Black Edition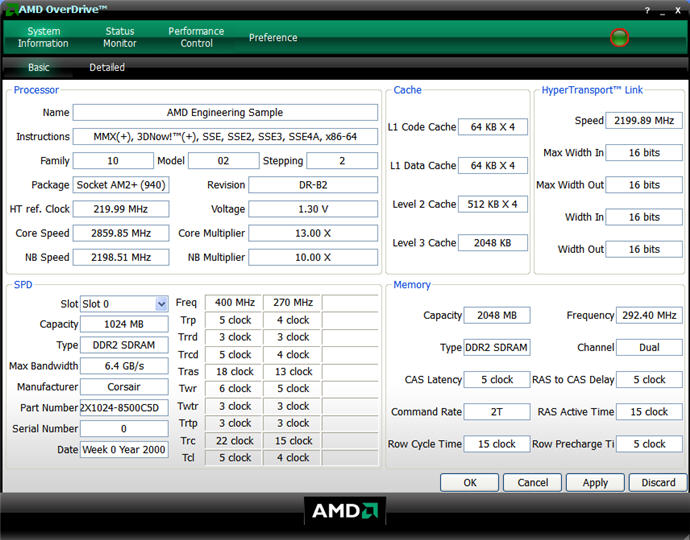 Phenom 9900 Engineering Sample
CONCLUSION
This review has been interesting to say the least as we've put in quite a few hours, mainly in testing. As with any review as you move through the process you think of things that would make the review better or come across information about the product you are reviewing that changes completely the approach you are taking. Such was the case with the Phenom 9600 Black Edition, each piece of information we garnered through various channels necessitated repeating all of the benchmarks, to make this review as fair as possible.
Overall no matter what approach we took we found the Phenom 9600 Black Edition to be less than stellar in all of it's performance aspects. The Phenom 9900 engineering sample was somewhat more impressive, but still was ousted in most of the testing we performed by the Intel Q6600. We were certainly expecting a more auspicious debut for these chips and the new 790FX chipsets that support them. I was sincerely hoping to see the balance of power in the processor arena change, even if ever so slightly; but this currently is not the case with the present iteration of the Phenom Processors and the 790FX.
We will hopefully see later revisions of the Phenom where the Erratum 298 issue has been totally eliminated without the need of a BIOS fix that devastates performance. We also hope that future revisions of the 790FX BIOS will improve some of its performance as well by performing on a par with what was advertised. We will state for the record that it's still early in the game and quite a few things can happen between now and whenever the next iteration is released; miracles of this nature, although uncommon, do occur.
We can in all good conscience recommend this chip to current owners of Socket AM2 boards that are running AMD 64 X2 processors, as this would be an easy upgrade assuming your motherboard has a BIOS patch that supports the Phenom. Currently Intel is still "King of the Hill" in both performance and bang for the buck. With the forthcoming release of the remainder of the Penryn 45nm family of chips it's likely Intel will wear that crown for some time to come.
Pros:
+  Excellent memory management and bandwidth
+  True Quad Core Processor
+  HyperTransport 3.0 has promise
 
Cons:
–  Price to performance ratio doesn't cut it
–  Performance is currently not what is expected
Final Score: 7 out of 10