When the iPhone was revealed many users hoped that Apple would release a similar looking iPod. Apple did not dissapoint today we are reviewing the iPod Touch – a MP3 player that is filled with cool features (while forgetting others).
INTRODUCTION
Apple long has had the MP3-market in its firm hands. Ever since the first iPod was released they somehow have managed to win the hearts of millions of customers even if their players never have been at the technological forefront.
A big part of the success comes from the fact that Apple is very good at making easy to use graphical interfaces. Give a complete novice an iPod and chances are that he/she quickly can navigate the clean menus and play music. Another part of the success has also been the clean and slick looks of the players. Last but not least, Apple has managed to create a service that makes it a doodle to buy music and (for some parts of the world) video: iTunes.
When the iPhone was released with its brilliant screen and innovative graphical interface many expected that Apple would release a pure MP3-player using the same form factor. Apple did not disappoint and today I am reviewing the top of the line of their iPod family, the 16 GB iPod Touch. Is this the holy grail of MP3 players or has Apple lost its golden touch?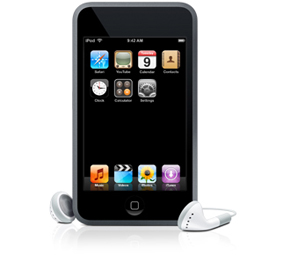 FEATURES AND SPECIFICATIONS
The iPod Touch could be called an iPhone without the phone part. It is a bit thinner than the iPhone and has a chromed back but other than that it's pretty much the same as the iPhone.
Here is a short summary of the specifications (for a full list, go to http://www.apple.com/ipodtouch/specs.html)
3.5-inch (diagonal) widescreen multi-touch display
480-by-320-pixel resolution at 163 pixels per inch
Wi-Fi (802.11b/g)
Height: 4.3 inches (110 mm) , Width: 2.4 inches (61.8 mm), Depth: 0.31 inch (8 mm), Weight: 4.2 ounces (120 grams)
Battery time: 22 hours (Audio), 5 hours (Video)
16 GB Flash memory (also available with 8 GB)
Audio formats supported:
AAC (16 to 320 Kbps)
Protected AAC (from iTunes Store)
MP3 (16 to 320 Kbps)
MP3 VBR
Audible (formats 2, 3, and 4)
Apple Lossless
AIFF
WAV
Video formats supported:
H.264 video, up to 1.5 Mbps, 640 by 480 pixels, 30 frames per second, Low-Complexity version of the H.264 Baseline Profile with AAC-LC audio up to 160 Kbps, 48kHz, stereo audio in .m4v, .mp4, and .mov file formats
H.264 video, up to 2.5 Mbps, 640 by 480 pixels, 30 frames per second, Baseline Profile up to Level 3.0 with AAC-LC audio up to 160 Kbps, 48kHz, stereo audio in .m4v, .mp4, and .mov file formats
MPEG-4 video, up to 2.5 Mbps, 640 by 480 pixels, 30 frames per second, Simple Profile with AAC-LC audio up to 160 Kbps, 48kHz, stereo audio in .m4v, .mp4, and .mov file formats
The main features that I would like to highlight are:
Big 3.5" wide-screen multi-touch screen
Forget the small screen of the other iPod players. The iPod Touch comes with a large screen that makes it perfect for media playback. It is also multi-touch enabled meaning you can use that fancy two-finger sliding to zoom in/out of web pages (more about that later).
WiFi
It may only be 802.11b/g but it still is a great addition to the player. Combined with the built-in Safari browser and the WiFi iTunes Store it is hard to imagine not having it on a player.
THE IPOD TOUCH – A CLOSER LOOK
The iPod Touch comes in a very sleek small black box. There are a lot of companies that could learn a thing or two about creating attractive packaging.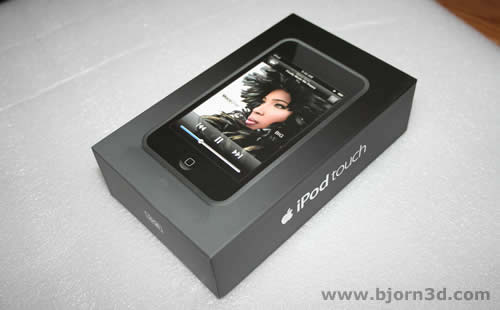 Inside the box we find:
The iPod Touch
Earphones
USB 2.0 cable
Dock adapter
Polishing cloth
Stand
Quick Start guide
Overall it is what you need to use the player. The only exception really is iTunes wich has to be downloaded but who does not have internet access these days?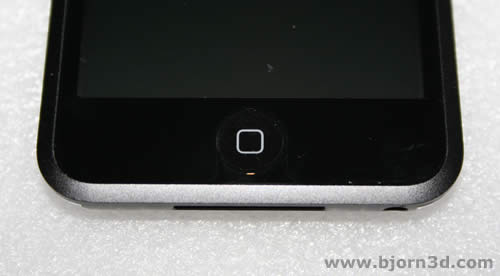 With the iPod Touch Apple has almost gone too far in its minimalistic interface. At the front of the iPod Touch you find one tiny little button at the bottom. This will either make you jump back a step in the GUI or bring you to the first screen depending where you are in the interface.
At the top of the player there is a small button that puts the iPod Touch into sleep-mode (and brings it back again out of it) or turns it off. And at the bottom of the player we find the connector for the dock/cable and a head-phone connector. That's all. There are not even buttons that let you change the volume. All this is handled inside the graphical GUI.
The screen is made of a very tough material and even after using it for a month I have yet to get a scratch on it. You can of course buy screen protectors and I recently added one just to be safe. But overall the screen seems to be more scratch resistant than most other touch (or non-touch) screen phones or MP3 players I've used.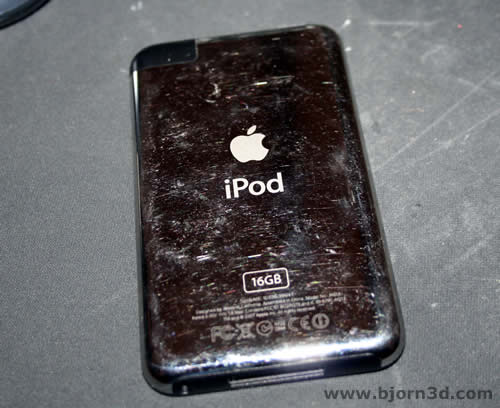 The back-side is oddly enough chromed. This might contrast nice to the black front but it has a huge disadvantage: it looks like crap after a while. I only have had my iPod Touch in my coat pocket but the back still is full with tiny scratches and just generally looks much worn. The flash highlights the scratches in the above image so it doesn't look that bad in real life but not far off.
Also not exactly stylish is the small black plastic cover for the WiFi-antenna. It looks completely out-of-place.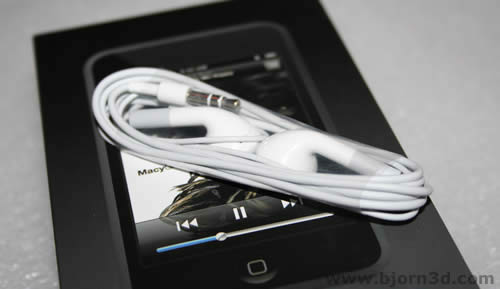 The included earphones are decent but I suggest getting better ones
The included head-phones are white and do not exactly match the rest of the iPod. It is the same head-phones you get with all iPods, which would explain the colour, and they perform pretty well. I prefer in-ear head-phones myself so I quickly switched to Creatives Aureal head-phones.
THE IPOD TOUCH EXPERIENCE
The iPod Touch user interface is the main attraction of the player. Everything is handled with your fingers and as mentioned before you can even use two fingers at the same time for some actions.
Below is a video showing off the GUI.
 DivX Lower Quality
~29 MB
DivX High Quality
~69 MB
 WMV Lower Quality
~29 MB
 WMV High Quality
~59 MB
There is a lot to like about the interface. It is very clean and easy to use. Just take a feature like the screen lock which stops the screen from accepting commands (equivalent as the key lock on phones).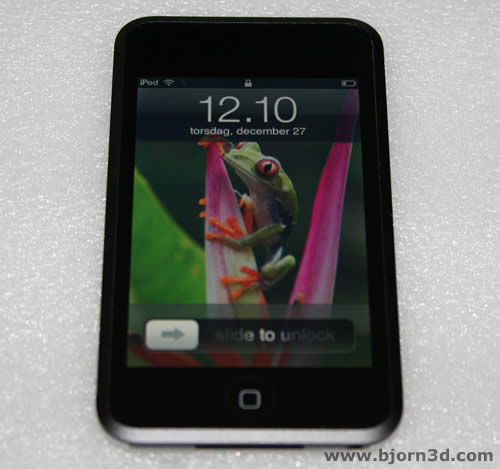 To unlock the screen lock you have to drag a slider from left to right on the screen. This works beautifully and is as far as I can see completely fool proof so it cannot be turned off by accident when the player is sitting in your pocket.
The iPhone Touch has several applications installed. All these applications are demostrated in the video linked above so after you've read about them make sure to watch the video to see how they actually work.
Safari
As the name suggests this is the iPod version of Apples own browser. The browser supports most things except java applications or more notably Flash.
Supports:
HTML 4.01
XHTML 1.0
CSS 2.1 and partial CSS3
ECMAScript 3 (JavaScript)
W3C DOM Level 2
AJAX technologies, including XMLHTTPRequest
Cookies
Does not support:
window.showModalDialog() or window.print()
Mouse-over events
Hover styles
Tool tips
Java applets
Flash
SVG
XSLT
Plug-in installation
Custom x.509 certificates
WML
File uploads and downloads
For more info see http://developer.apple.com/iphone/devcenter/designingcontent.html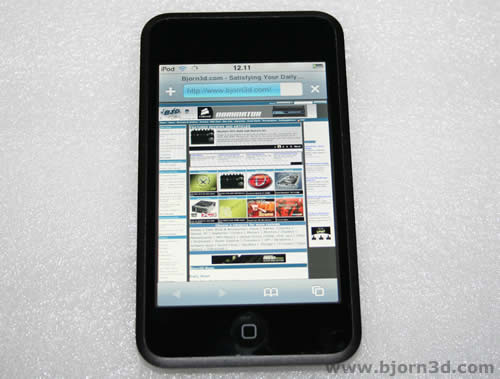 Pages are displayed either vertically or horizontally on the screen depending on how you are holding it. As a rule the page starts zoomed out but by using two fingers you can quickly zoom in/out. You zoom in by bringing the fingers together and zoom out by moving them away from each other.
One irritating thing is that if you are zoomed in and click on a link the next page will start zoomed out meaning you have to zoom in again. I used my iPod Touch to browse this site while on holiday and it got quite irritating to read the forums as I had to zoom in over and over again.
Other than that it works very well to surf on the iPod Touch. You scroll pages with a flick of your finger, click on links with the finger and type in stuff using the virtual keyboard. It definitely is very usable.
YouTube
Compensating slightly for the lack of Flash support, the iPod Touch has its own YouTube application. It allows you to look at various YouTube clips from pre-selected lists (latest etc.) and you can even search for specific videos that are not part of any pre-defined list. Just as with the web browser you need to be connected to a network through WiFi to use the application. As far as I can see there is no way to store anything locally so if you want to show your buddies a cool clip and do not have internet access you are out of luck. You can however bookmark them so it is easy to find them again if needed.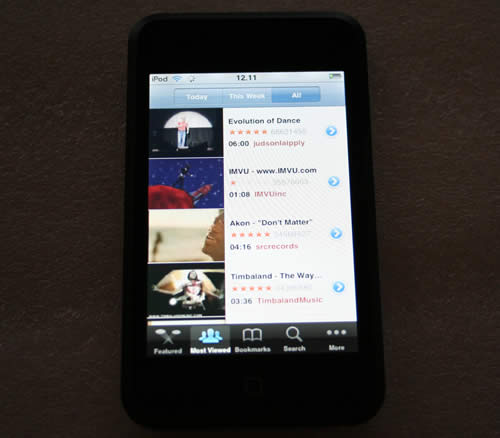 This feature works really well. I would actually say that the YouTube videos are made for a smaller screen like this. The videos start playing after a little buffering and as long as you have a decent connection it will play without any pauses.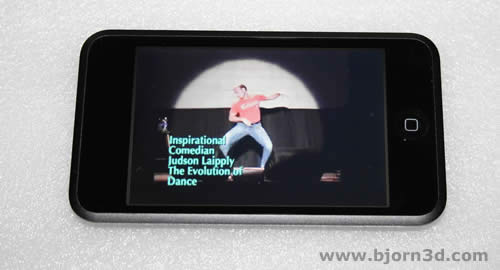 Calendar and Contacts
At the time of release the calendar app on the iPod Touch was completely useless. Apple had simply forgotten (or decided against) letting you add event in the calendar. To get anything into the calendar you had to have a calendar software on the computer which supported sync with the iPod Touch. Luckily this has changed and you can now set up events directly inside the iPod Touch. These events can be whole days, specific lengths, repeated once, twice, every other day, every week and so on. In fact, I'm thinking on switching completely to using the iPod Touch as my calendar.
The contacts can be added and edited directly on the iPod Touch. It can sync with various contact software including Windows contacts. You can add phone numbers, addresses, email addresses, homepage, photo and even your own fields to your contact making it very useful.
Clock and Calculator
The clock application lets you not only set up clocks for different cities over the world; it also includes and alarm clock, a timer and a stopwatch.
The calculator is a very simple application and has only the most rudimentary features so anyone hoping for a more scientific calculator can stop hoping now.
Music
One of the main uses of the iPod Touch is of course listening to music. The Touch works as most other iPods and you can view tracks based on artists, albums or genre as well as view/use playlists. As with previous iPod's you can create a On-The-Go playlist directly on the iPod Touch. This playlist can be edited. You cannot create multiple On-The-Go playlists though directly on the iPod Touch as you can on other iPod models. On these models you can save the On-The-Go  playlist as Playlist 1, Playlist 2 etc. On the iPod Touch you have to sync with a iTunes library first. The On-The-Go  playlist will then be transfered over to the library, renamed as "On-The-Go 1" and deleted from the iPod Touch. You then have to sync back the new playlist. As far as I can see you cannot edit any other playlists except for the "On-The-Go" playlist inside the iPod Touch. No buttons appear to allow you to add or remove songs to other playlists. I personally find that a bit limiting as I would like to be able to add newly bought music that I downloaded from the iTunes Wifi store directly to my own playlist instead of having to set up a new "On-The-Go" playlist.
You also cannot remove a song directly from your iPod. Everything has to be done over iTunes.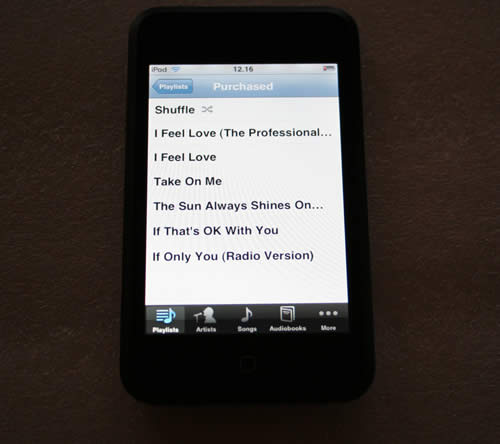 In addition to the regular view of music (album art + names of songs) you can also flip the Touch 90 degrees and get the coverflow view.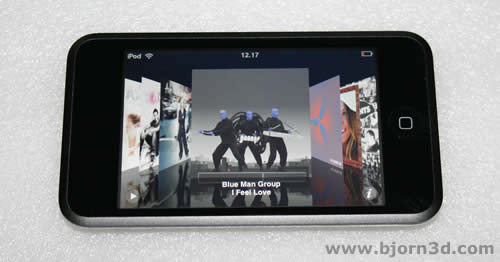 This is mainly usable for albums (so make sure your album art is correct) but you can access the song list of each album by just clicking on an album. An odd omission is that you cannot affect the volume in this view.
Video
The video player works similar to the music player. As you categorize the videos in iTunes (bought or imported) they end up either under Movies or TV Shows. Coverflow does not work here.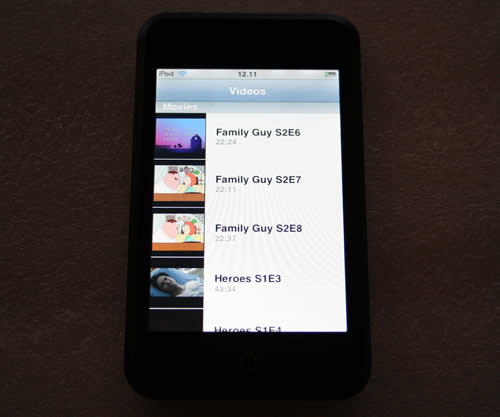 Videos are always played in horizontal mode. The quality of the videos is of course dependant of the encoding but the screen is really good and I watched almost all of season 1 of Heroes (converted from the DVD) on it.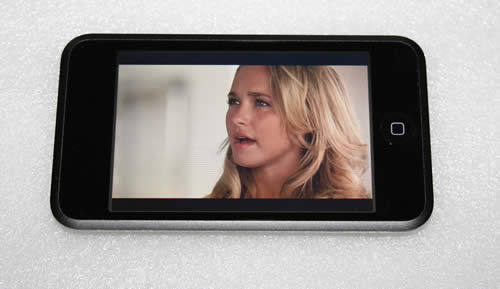 Photos
Through iTunes you can sync over images to the iPod Touch. As the screen is as good as it is they look lovely on it. You can set up the images in albums and run a slideshow with them. Regardless which way you hold the Touch the image will rotate so it is viewed correctly.
iTunes WiFi Music store
In addition to buying music on your computer you now can buy music while on the run. As long as you have access to a WiFi network you can access an online mobile version of the iTunes store and buy music directly on your iPod Touch. While the first look gives the impression you cannot find the music as easy as on the "real" store the search feature works very well. As you type in letters the iTunes store starts giving you suggestions to what artist or song you are looking for and pretty quickly you can just click on the full name instead of having to keep entering all the letters. In addition to the search you can pull up lists of the most popular songs in different categories. It starts with the 10 most popular in each category but you can easily just keep pressing "Ten more songs .." to increase the list. It works beautifully. By clicking the album image you can listen to a small preview of the songs.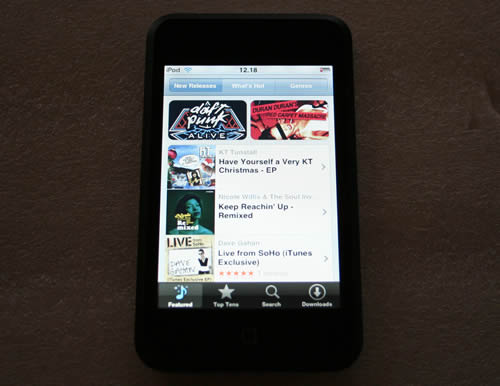 When you decided you want to buy a song you just click on the price tag and then select "buy this song". The first time during a session you get to enter your iTunes password but after that it just uses your account and deducts money from it. The download of the songs are instantly started and you can keep browsing right away. If a download fails, which it can do if you are having a bad connection, the system remembers that you bought the song and you can either continue the download later or it gets downloaded right away when you connect your iPod Touch to the computer with iTunes on it.
My experience with the iTunes WiFi Music Store has been mixed. The first time I tried it I had big problems downloading the music. It kept aborting. I'm guessing my connection to my WiFi network was not good enough. The songs did download in iTunes as soon as I synced the iPod Touch though but I kept getting an error message saying that one of the songs could not be synced from the iPod Touch. This dissapeared after a few syncs but the song also stopped working.
While writing this review I decided to buy a few more songs just to make sure it was working. This time it worked fine and the songs downloaded right away and appeared in my list of music. There was just one small problem. I had no sound. In fact what seemed to happen was that I could select the songs but they never started playing (even though the seconds were ticking). Not until I synced the songs to my iTunes library once did they start to work.
Just before rewriting this segment to mention my problems I decided to try it a third time. I found tons of WiFi networks around work (we do not have one ourselves) and connected to the faint signal of one of the open ones. After finding three songs I wanted I bought them and again the download went fine, even with the crappy connection I had. This time however the songs played fine directly in my iPod Touch.
So I am not completely sure what to make of this. When it works the iTunes Wifi Music Store is really nice and makes it almost to easy to buy music. I do however miss the ability to buy audio books and I'm pretty sure I would miss the ability to buy videos if it was available here in Sweden.
 
USING THE IPOD TOUCH
So how do the different features work then?
WiFI
I am actually really impressed with the WiFi support. While it is "only" b/g it still is fast enough for regular surfing and music downloads as long as you got a good connection to the wireless router. Even more impressive is the fact that it easily picks up a lot more networks than many other mobile devices I've tested. Even at very low signal levels the iPod Touch will see it. It supports both WEP/WPA/WPA2 encryption and I've yet had any issues connecting to either unprotected or protected networks. In fact, it connects far better than any other wireless devices I've used including my laptops. Apple has done an excellent job.
Touch screen
The screen itself is as mentioned before gorgeous. Using your fingers on it to do stuff works well but has some drawbacks. First of all I am not completely happy with the on-screen keyboard. My fingers are just a tinsy bit too large and I often accidently press on the wrong letter. It is easy to correct but it is a bit annoying anyway.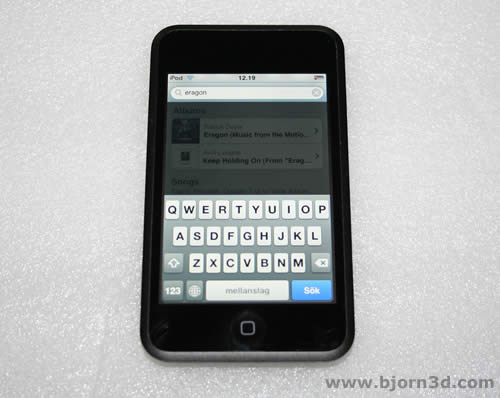 Scrolling works extremely well on the screen and with just a flick on the finger you quickly can scroll up/down/left/right. Controlling where you are in a movie or music piece is however much harder. As with most devices you see where you are with an icon/thin line on a bar that extends over the length of the screen. To move forward/backward in the video/music you drag the indicator left/right on the bar. Unfortunately, depending on how long the media is, a tiny move can result in a jump of many minutes. So if you miss something in an audio book (which usually is >1 hour long) or in a movie you cannot just rewind 5-10 seconds – instead you will rewind 1-2 minutes or much more. You simply do not have a fine enough control. I wish Apple would have added buttons to jump forward/backwards 5 seconds.
The screen also sometimes fails to register a push. It seems it does not like some of my fingers, specifically any finger other than my index-finger. This means that it sometimes (not always though) does not work using my thumb or any other finger to do something. It can be annoying when you want to turn down the volume and it does not register your finger movement.
Overall the touch screen however works very well.
THE BAD SIDE OF THE IPOD TOUCH
Not everything is rosy with the iPod Touch. Most of the complaints are however not really a fault of the iPod Touch, more a decision by Apple.
Lack of support for various media formats
AAC, MP3, WAV and h.264 are the only formats supported. Anything else gets converted. Why Apple cannot open up for things like OGG, WMV, DIVX and XVID is unfortunate. When I had my Creative Vision M I could just use any of my Divx files on it without a second thought. Now I have to convert everything I want to store on the iPod Touch and that takes time and degrades quality.
Cannot be used as portable hard drive
Previous iPod's could always be used as portable hard drives. I'm guessing Apple felt 16 GB was too little storage to allow you to set aside space for this purpose.
Lacks applications and is locked down
As this basically is an iPhone without the phone part it is disappointing that there are applications missing. There is no mail application and Google Maps is also missing. True, it lacks the phone part but since it has WiFi support these applications would have been just as useful. To check my mail I now have to use web based mail and that sucks. I am guessing Apple did not want to risk that the iPod Touch would cannibalize the sales of the iPhone by offering a similar experience for those who do not need the phone part.
This would not have been a problem if Apple did not lock the iPod Touch down. There are ways to hack it and Apple has promised an iPhone SDK in the near future (which might spill over to the iPod Touch also) so this might change but I believe it when I see it. Apple has a long tradition of locking things down and I do not think it will change.
Only 16 GB
As this is a flash based player it is understandable that it only has 16 GB of space but why did Apple not put a hard drive in it as in their other iPods? It might have gotten a bit thicker but it certainly would have offered a lot more value for the money.
Needs iTunes
I hate iTunes. I really do. While it does a lot of things right (like the iTunes Store) it does a lot of other things really bad. Let me give you an example which has driven me mad several times.
Each iTunes account can only be authorized with 5 computers. This makes sense. You will be able to store your bought music on these 5 computers. You can at any time de-authorize a computer and add another one. If you cannot de-authorize a computer (maybe you do not have access to it any more) you will be able to de-authorize all 5 computers at once and the start over authorizing the computers again. This can only be done once per year though. I can understand this.
While you can have your account authorized on these 5 computers, and thus transfer any store bought music from/to an iPod from these 5 computers, you can only have the iPod linked to one library at a time. A library is basically one computer with iTunes installed. iTunes can actually have more than one library (more than one person uses it) but that is complicated as it requires you to go through some hoops every time you start iTunes up.
The problem arises when you have an iPod and use it regularly on more than one computer. I use my iPod Touch both at home and at work – buying music on both computers. The bought music can as mentioned before be moved between both places. However – I also have a big music collection of music I have transferred from CD's. In my case it means that when I started using my iPod Touch I linked it up with my iTunes library at home and transferred all my CD's over to it. I also transferred one season of Family Guy which I had ripped from a DVD and converted to h.264. Then I went to work and connected my iPod to the computer. As this computer also has iTunes installed it is counted as a "new" library. iTunes tells me that it needs to link up to this library instead and when doing it, it will wipe everything from my iPod and then sync with this new library.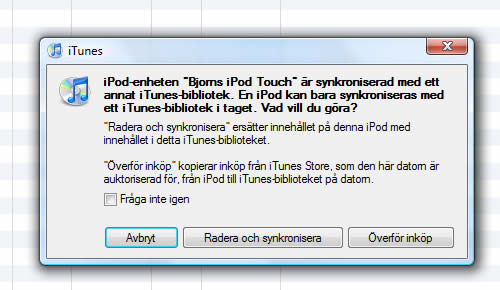 The Swedish version of the hated message which tells me that my iPod only
can be synced with one library and that I need to wipe it clean before I can
sync it with this library, deleting all my free music on the iPod while the 
DRM'ed music can be transfered to this new library.
So the end result is this: the store bought music on my iPod Touch can be synced to the new library but my own music and videos will not. I basically have to take everything with me on a DVD and copy it over to the new library to be able to sync it up again to the iPod Touch. Or maybe I just need to put the library file on a portable hard drive and bring it with me all the time.
To me this is absolutely madness. Why is it I cannot sync down my own free music to this new library? I've paid for it. How come it is easier to transfer music that is DRM'ed from Apple between libraries but not free music?
In the end I have started to look into third party applications to access my music and videos on the iPod Touch so I can copy it over to any computer before I re-sync the iPod Touch with this computer. It really becomes a pain in the butt when you have at least three computers where you want to use your iPod on (Mac Book Dell laptop, computer at work). 
While you can use other software to get music from the iPod, I've so far have not found any other program except iTunes that lets you put the music on the iPod. This means that you still are stuck with using iTunes even if you want to use another program for music listening.
CONCLUSION
Even with the small complaints it is clear that the iPod Touch is a really fine MP3-player. The new touch screen interface works very well and feels natural to use pretty fast. The screen also is extremely nice and perfect for watching videos on. If you only plan on listening to music though the price for the 16 GB's (~$330) is far too high compared to the other iPod's with 80 GB or more storage. In fact, if you watch only some video the smaller screen of the iPod Classic should be enough and you would get much more for your money than one of the iPod Touches. The deciding factor for many could be the WiFi support. It really is neat sitting and surfing the net (if you can find a network) and/or buying music over WiFi.
Pro
+ Brilliant screen
+ Excellent GUI
+ Multi touch really does wonders to the handling of the iPod Touch
+ WiFI support that works very well.
+ Built-in browser that supports most technologies
+ Dedicated YouTube browser that works great
+ Buy music while on the run in the iTunes WiFi Music Store
+ Great sound quality
+ Powerful music player features
+ Great video playback
+ Great looking
Con
– Really expensive when you look at the amount of memory you get
– Lacks many features (no Radio support, no built-in microphone, no way to use it as an USB-disk)
– Missing applications from iPhone
– Does not support many media file types
– Touch screen sometimes does not register a touch
– Back side gets ugly quick
– Some issues with music bought from the iTunes Wifi Music Store
– iTunes iTunes iTunes
Summary: The iPod Touch might not be the holy grail of MP3 players. Apple still limits it too much compared to the competition. It also is quite expensive compared to the features and memory you get. But it also is an absolutely stunning piece of hardware with a graphical user interface that simply has no real competition. Even with my hate towards iTunes there is no way I will swap the iPod Touch with another MP3 player for quite some time. Because of this I will give the iPod Touch a rating of 9 out of 10 and the Golden Bear Award.