The doctor is in! PC Doctor's Service Center 6 is here. Is it worth the price of the office co-pay, or just as stale as the 6 month old magazines in the waiting room? Come inside and check it out as we scrutinize this diagnostic kit!
INTRODUCTION
So you overclocked your PC a bit too far and now you can't boot your system. Did you short out your motherboard? Maybe it's just your power supply? Did static electricity zap your shiny new $500 GPU while you were tinkering inside the tower looking for the culprit to your PC woes? Who's to say? How would you find out with an un-bootable system? Did your BIOS get corrupted, or is it a hardware problem? Geek squad to the rescue you say? Not this time, have that black and white VW bug towed! If you are the lucky owner of PC Doctor Service Center 6 you are on your way to performing successful surgery and diagnostics on your ailing PC's innards and sending it to the recovery room for some Jello in no time. Service Center 6 will diagnose Windows compatible systems all the way back to Windows 2000, allowing you to test just about any compatible device on the market that you can cram into your pc and somehow manage to short out, but is it worth your hard earned cash? Let's find out as we delve into what's included and play a high-tech game of Operation with our PCs.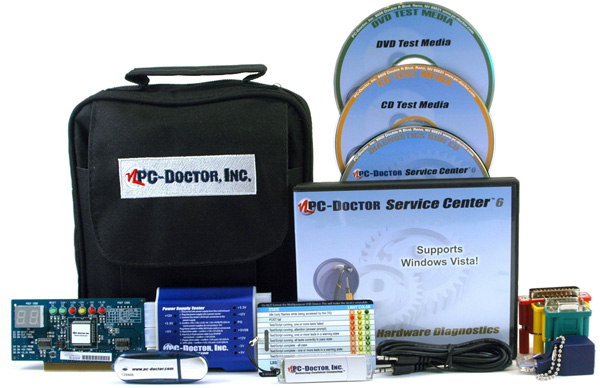 PC-Doctor, Inc: The Company

Taken from the company site:
Since its founding in 1993 in Emeryville, California, PC-Doctor has accumulated a vast library of intellectual property, including multiple patents that the company deploys in products and services across the PC life-cycle. Today, more than three-quarters of the company's 80-plus people are employed in software development, quality assurance, and customer-facing roles, underscoring the PC-Doctor commitment to innovation, quality, and customer satisfaction. One of the company's major initiatives is the Certified Hardware Vendor (CHV™) program that seeks to standardize diagnostics used across the industry and encourages manufacturers to add their own tests to PC-Doctor products.
CONTENTS
What inside the box?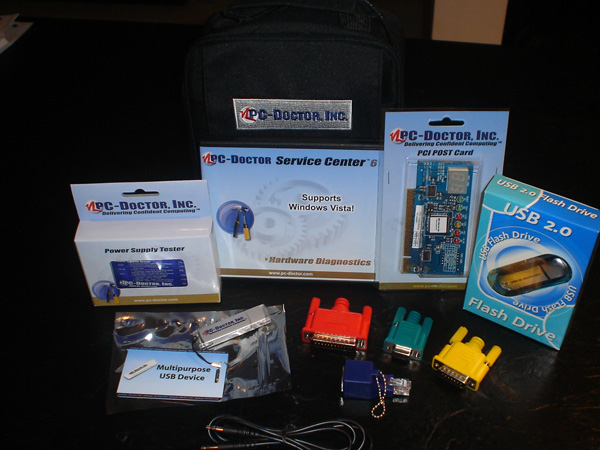 PC Doctor seems to have covered all of the bases with this version of Service Center, and quite frankly, I'm impressed.  All of the contents are included in a soft black zippered case, embroidered with the PC Doctor logo and complete with an easy access outer pouch for holding the most frequently used components.  Think of it as the pocket protector for the cyber nerd.  The outer pouch holds a plastic DVD Case housing the Service Center Run CD and the Diagnostic CD and DVD disc for diagnosing those optical drives, as well as the PC Doctor Quickstart guide.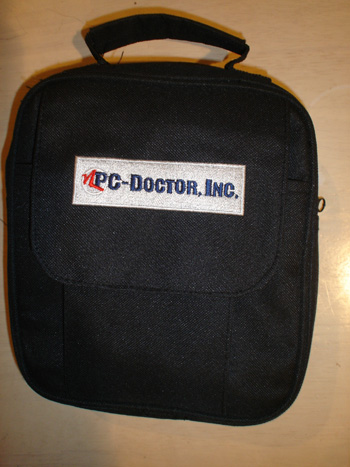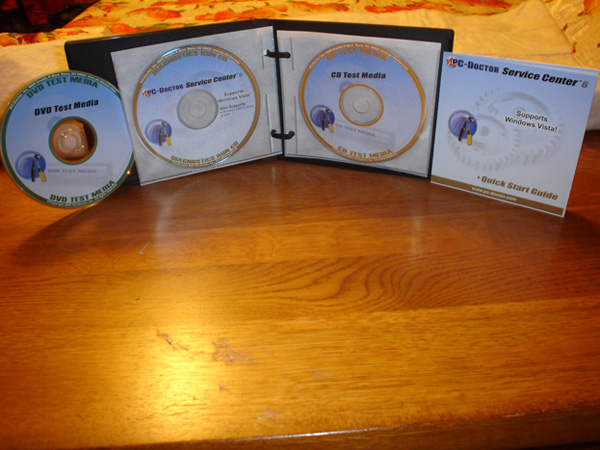 Also found in the outside pouch is the Multipurpose USB Drive, which is required to be plugged in when running the program and also doubles as a device to boot from, if your computer is not bootable and your BIOS allows you to boot from a USB Device.  A small, but nice touch is the inclusion of an anti static bag for storage of your multipurpose USB device, as seen pictured with the whole kit.  The main compartment of the custom PC Doctor case is host to a variety of hardware diagnostic devices including a PCI Post card, a power supply tester and loop back devices for testing RJ45, parallel, audio, serial and game ports. 
The final inclusion is a 128 Megabyte USB 2.0 Flash Drive to be used for saving text files of the diagnostics you've run.  All in all, there's not much left out to diagnose and troubleshoot most PCs surviving in today's world, I'm even told Windows 98, ME and NT can be supported after calling PC Doctor's support team.  All in all, I can't think of anything PC Doctor has missed.  Anything not obviously tested by the above mentioned hardware is easily diagnosed via the included software, so let's take a look at that software and the features of this all-in-one dynamo.
Let's get started
THE HARDWARE
Ok, so let's assume you have a non-bootable PC, and you're itching to find out why it failed and how to fix it. Where do you begin? Using the multipurpose USB Device you can edit your BIOS and attempt to boot from the USB drive. Once this happens, you are asked to choose which drive you want log files stored on, and then you have full access to all of PC Doctor's capabilities via four drop down menus for 'Diagnostics', 'Interactive Tests', 'Hardware Info' and 'Utility'. From this screen you can diagnose all of your hardware woes and find out what if any components are causing your system to fail. I will list all of the tests this software can perform, but from what I can see, if you can plug it into your computer PC Doctor can test it.
Click to enlarge:
You can test simple peripherals such as keyboards and mice, not so obvious ones such as joysticks, printers, speakers, optical drives, hard drive(s), motherboard, processor, RAM, LCD panel and even check your battery rundown if using a laptop. From here you'll be able to tell if it's a hardware or a software issue and be able to catch any and all hardware failures, replace your components and get your system up and running in no time. In addition to being able to do software diagnostics, you will also be able to use the included power supply tester to make sure that all connections originating from your power supply are working and outputting a safe range of voltage for your expensive components.
Click to enlarge:
Shown pictured is the power supply tester which includes ports for all of the possible connections for your pc's hardware. Simply power down, disconnect your power supply's plug from the rear of your computer, attach any connections you want to diagnose to the tester, plug the power supply's cord back in and with a few LED's you will know if your power supply is outputting the correct voltage, or it needs to be scrapped and replaced. The unit is compatible with SATA cables, floppy drive cables, hard drive cables and, of course, 20/24 pin power supply cable, as well as any 4-pin, 6-pin or 8-pin power supply cables.
The included tester provides simple testing and reading to determine if the voltage is within a workable range. For less pressing matters, such as peripheral problems, you can use the included loop back devices to test your RJ45, parallel, audio, serial and game ports; simply plug the correct device into the correct port and follow the directions within the PC Doctor software when testing that port.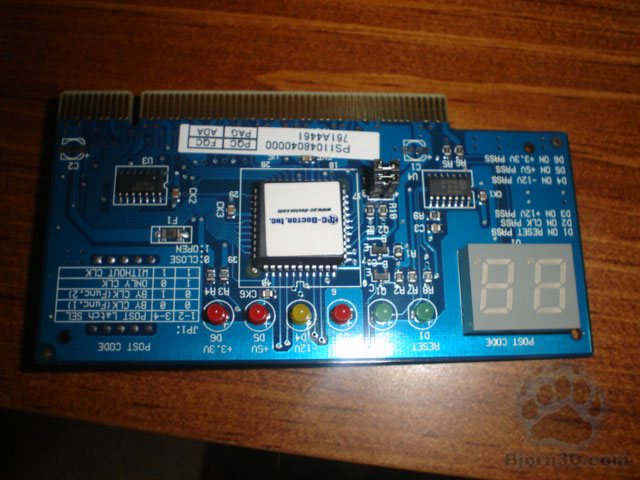 Lastly, the PCI post is included to test your motherboard's BIOS and sniff out a bad motherboard. A nice device to have for all PCI motherboards, PC Doctor has a legend for some of the post codes on their web site, but more should be able to be obtained from the manufacturer of your motherboard/BIOS. A nice touch to the post card is the inclusion of an LED display on both sides of the device, for easy viewing no matter what the configuration of your pc's innards. For the purpose of this review, identical tests were performed on both a Windows XP Media Center Laptop with Centrino Duo processor and a Windows Vista Home Premium Desktop with an AMD64 3.2 Ghz processor. All installations and diagnostics ran flawlessly. The only speed bump I ran into was the incompatibility of my desktop's motherboard and BIOS with the ability to boot from any USB device–although the option was readily available in my BIOS, the boot process would not complete from any USB device. Updating the BIOS did not change the result, however the Service Center 6 program CD may also be used to boot your PC, if you configure your BIOS to boot from a CD, and this feature also worked flawlessly. Following are pictures of the interface screens seen when I was able to boot this machine from the CD–they are identical to screens seen when booting from the USB device, which was able to be achieved on the other test system.
THE SOFTWARE
This is the real meat and potatoes of this compilation, where you get your bang for your buck.  Upon popping in the multipurpose USB drive and software CD, you are faced with options of running directly from the CD, installing the full program or, interestingly, a quick install which will allow you to access all of the features of the program but will wipe it out of your system upon reboot.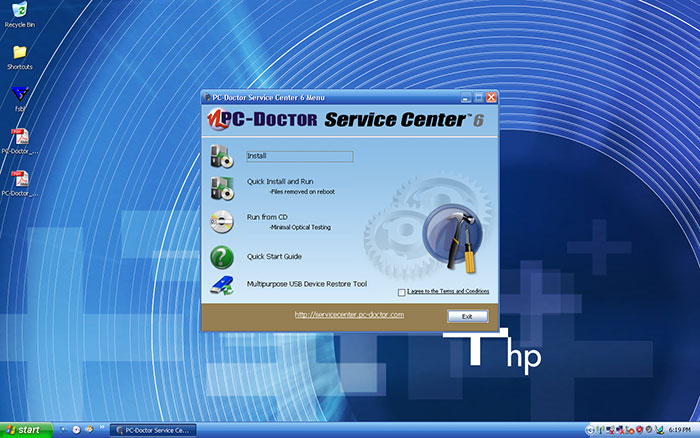 For your own PC, you may want to have this installed. It's an important feature for an IT technician or PC repairman who may want to access all the features PC Doctor offers – but does not want to leave behind on his or her customers' hard drives.  Equally valuable, and accessible from the same screen, or within the program itself, is a multipurpose USB drive restore tool which will allow you to restore your multipurpose USB device to its factory settings should it become corrupt through use or accidental unsafe removal while in use.  This means no matter what you throw at your USB device, restoring it is only a few clicks away, as opposed to a painful tech support phone call and UPS delivery away.  This just goes to show you the type of thought that went into this package. This feature is most likely a simple and inexpensive inclusion, and yet it will save users many headaches down the road by allowing them to fix their own problems.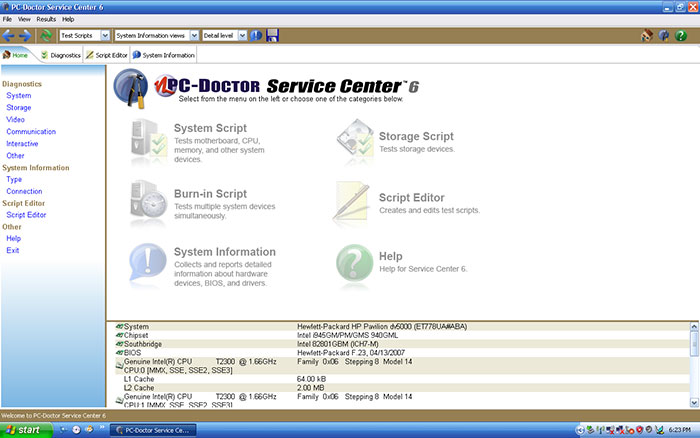 Another thoughtful inclusion to the software is the choice of burn-in scripts and a script editor.  PC Doctor's software allows you to run separate diagnostics for each individual component of your pc, but using the script editor will allow you to compile a group of whatever diagnostics you want to run and assemble them together to be run with one simple click.  The script editor not only allows for the user to tailor a diagnostic to include their choice of components, but also allows you to choose which tests you want to be run on each component.  For example, if you are testing a single core processor, there would be no need to run a multicore test, therefore when editing your custom script you can leave that option out.  A simplified version of creating your own script is using the burn-in script function.  This includes basic diagnostics for your computer's main system devices-CPU, memory, hard drive(s), optical drive(s), modem and network hardware.  This will test all of these components simultaneously, for better use of your time, and like a script editor, this function will allow you to customize what tests you want to be run on each of these components to further streamline your diagnosis and results.  The software itself is very easy to use, most features are self-explanatory, but the level of detail may be expanded by the user via drop-down menus.  All diagnostics, when completed are summarized in a pop-up menu and saved to a space designated by the user for future reference.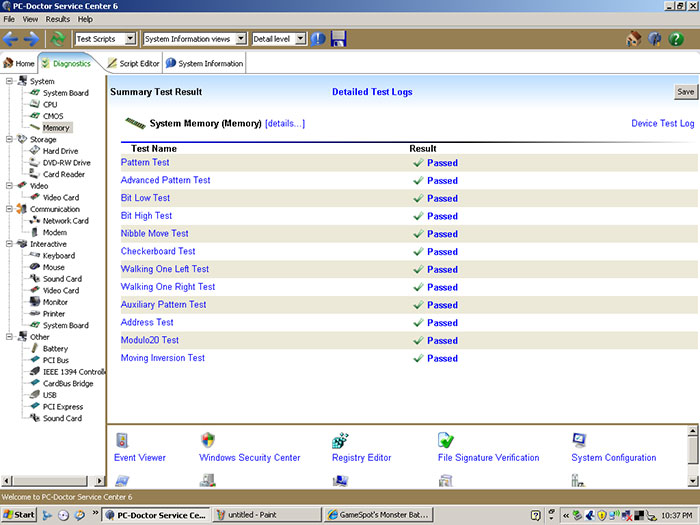 The bottom portion of the software suite also has some quick buttons for easy access to utilities like the Registry Editor, Windows Security Center, System Configuration and Event Logs, to allow you to quickly make the transition from one in program utilities to external utilities that you may need to manage and tweak to repair your system.  As I mentioned in the previous section, most of these features can also be accessed from the program when booting from the included Multipurpose USB Device or from the PC Doctor software CD. This gives you three ways to access all the tests you can throw at your computer, with no messy HMO triplicate forms.
CONCLUSION
The bottom line for this product may not be what you would expect since it is not a question of it being a good product. It's great. It's a question of haggling with the price tag. I have no problem recommending this product to any type of user who is responsible for the health and well-being of two to three or more computers. It is a fantastic all-in-one kit that will save you hours of frustration should you run into PC problems or should you be in the business of repairing PCs. PC Doctor Service Center 6 is a fantastic all-in-one diagnostic kit that even includes a handy bag to keep all of its components safe, but you have to really evaluate what type of user you are and what type of budget you are on. It's hard for me to see users both novice and advanced being able to pony up $400 for this kit, unless you are really hard-pressed to take advantage of it's features. When I say this, I mean that a novice user may simply be steered away by the price, and an advanced user will know that a well spent $100 will net him a PCI post card tester, a digital multimeter and a Corsair Voyager GT USB Drive.
Considering that, you need to ask yourself if the software, pre-configured USB drive and loopback devices are really worth the remaining $299 price tag of this kit. Don't get me wrong, the software is great and it does everything and more than it says it will, but if the bulk of the $399 price tag comes from the software, wouldn't it be wise for PC Doctor to offer some different variations of this product, maybe a software and multipurpose USB only bundle, as well as the deluxe kit reviewed here? It's definitely something to think about, and as mentioned depends on your motives for purchase – an IT technician or repairman may well be much easier to convince to part with this price tag as opposed to an everyday user who may only have two systems running in their household, unless said person is the only computer savvy person in their family and friends group(in which case, could you pass the cost onto them!). All in all I think this is an invaluable tool for novice and experienced pc users with some freedom in their budget.
Pros:
+  All in one kit, nothing left out
+  Fantastic easy to use software
+  Case is a nice bonus
+  Thoughtful features, multiple ways to access features and boot-up your system
Cons:
–  The only downside is the price, but that may not apply to everyone
Final score: 8.5 out of 10 paws.