The Plextor PX-PH160US is a small and stylish external hard drive that comes with both a USB 2.0 and a eSATA interface.
INTRODUCTION
While USB-flash drives have both dropped in price and increased in size they still are far too small if you need to carry around anything larger than some images or documents. The regular external hard drives of course are an alternative but while they do have the storage space they also are big, heavy and need extra power thus making them less useful for the mobile computer user.
A better alternative is the new external hard drives that are based on the smaller 2.5" notebook drives. These drives not only are small but they also can be powered over the USB-port (albeit by using two USB-ports). As you finally can get hold of 320 GB 2.5" drives it means that the smaller drives now have become cheaper and thus perfect for the new wave of external hard drives.
Today I am reviewing one of these new 2.5" external hard drives from a company mainly known for their CD and DVD-burners: Plextor. The Plextor PX-PH160US comes with 160 GB of storage and in addition to the expected USB 2.0 connection it also has a eSATA connection for even better performance.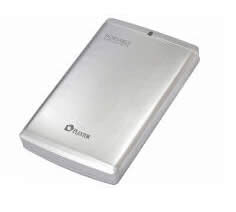 ABOUT PLEXTOR
Plextor is mostly known for the optical drives. Their first CD-ROM drive was released under the TEXEL brand as far back as 1990 and today they have a wide range of CD- and DVD-burners. In addition to the optical drives they also make external hard drives and a few video related products.
SPECIFICATIONS
The specifications of the PX-PH160US are the following:
Capacity: 160 GB
OS: Windows 2000/XP/Vista*, Mac OS 8.6/9.x/10.x and higher. *for hardware only
Interface: USB 2.0 / 1.1 and eSATA
Transfer rate: USB 2.0 Max 480 Mbps, USB 1.1 Max 12 Mbps
Weight: approx. 190 g
Dimensions: 81 (W) x 130 (D) x 17 (H) mm
Hard Drive: Buffer size: 8 MB, RPM: 5400
Fast Warranty: 2 year (Collect & Return) Warranty in the EU, Norway and Switzerland; 1 year in other countries: Carry-in
The capacity definitely is decent for this small drive. If you need even more space Plextor also has a 250 GB version. The main interesting feature, and one that puts it ahead of most of its competitors, is the eSATA support. Most new motherboards have the support and more and more laptops are getting it. The main attraction is of course the increase in performance but this comes at a cost. We will talk more about this later in the review.
A CLOSER LOOK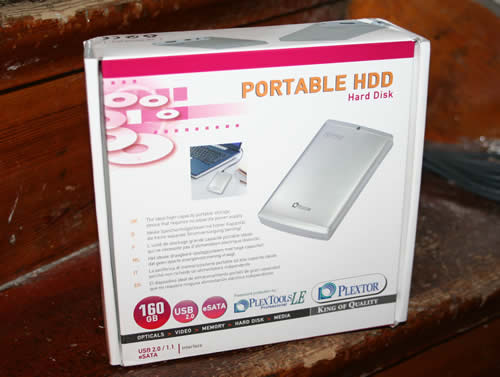 Inside the box that the drive comes in we find the following items:
The drive
USB cable
Black handy pouch (bag)
Software
Manual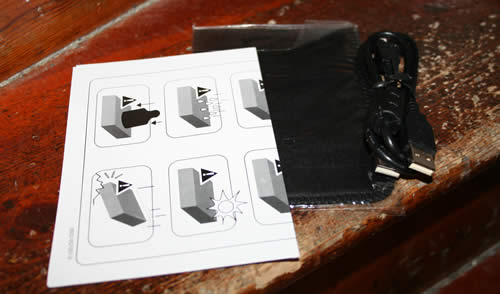 Something clearly missing here is an eSATA cable. I think it's a bit cheap to not include one as clearly this is the main selling point of the drive. The USB-cable that is included is a special one with 2 connectors on one end. This is because you have to hook it up to two USB-ports to give the drive enough juice to run. You can use a power brick of course but none is included so in that case you must get one first.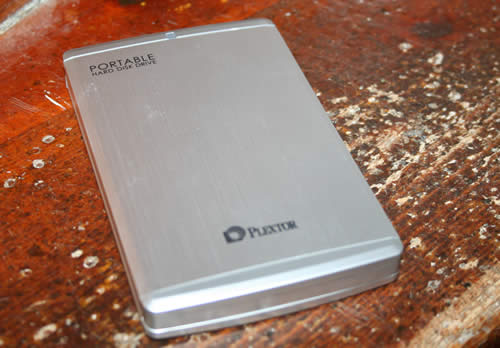 The drive itself is small and cool looking. Almost all of the drive is made in aluminum except the ends which are in plastic.
At one of the ends we find the USB-connector, the eSATA connector, a power connector for an optional 5V DC Power adapter and a small tiny blue led.
Inside the drive we find a 5200rpm Samsung 2.5" SATA drive named HM160HI. Looking at Samsungs site we find out the specifications for this drive:
8 MB cache
ATA Security Mode Feature Set
Ultra DMA Mode 5(UDMA100) Compatible
ATA S.M.A.R.T. Feature Set
TuMR/PMR head with FOD technology
SilentSeek™
Support Automatic Acoustic Management(AAM)
NoiseGuard™
Load/Unload Head Technology
I looked the drive up and it is actually retailing close to what the PX-PH160US is retailing for. It is a nice small and silent drive.
USING THE PX-PH160US
As this is an external drive, one should expect it to be easy to use. In many ways it is, with the USB connection being the most simple and direct way to connect. However, as it needs more power than just what is delivered by a single USB connection, you actually need to use two USB ports. On a desktop computer there are usually plenty of USB ports to spare so this shouldn't be an issue, but laptops typically have far fewer. So, if you plan to use the PX-PH160US with a laptop, make sure you have enough free USB connectors.
When using the eSATA interface things get a bit more complicated. First of all the interface is not plug'n'play. This means you have to turn off your computer before you can connect the drive. It still needs extra power so unless you have a power adapter you have to still hook it up with one USB-connector.
I had nothing but problems at the start. Regardless if I connected an eSATA-cable to my computer, the drive still was not only found as a USB-drive. It turned out that the drive never even showed up in the bios. I could not understand what the problem was. Then I switched to another motherboard, a Gigabyte P35 motherboard, and used the shorter included eSATA cable from there. This time it worked. Using the longer eSATA cable, which works for the AC Ryan AluBox, it still did not work so there seems to be an issue with how long the eSATA cable can be. The fact that Plextor does not include an eSATA cable with the unit makes this even more annoying.
Included on the drive we find two Windows programs; PlexTools Professional XL and PlexTools Professional LE. It is a bit strange to find both programs as the box and Plextors own site just mentions the PlexTools Professional LE.
PlexTool is software that gives you lots of information about hardware in your computer, mainly CD, DVD's and hard drives. It also lets you test the CD, DVD and HDD's as well as lets you access video hardware in your computer and record video from it. It's CD/DVD-roots is obvious as there are a lot of features for CD's and DVD's there like Audio-ripping, copying and even the ability to set up backup jobs to a DVD, CD or Blue-Ray disc.
In the end the only real useful feature together with the PX-PH160US disc is the password protect feature. It allows you to password protect the disc completely. This feature only works in USB-mode though.
You can read more about Plextools here: http://www.plextools.com/info/info.asp
eSATA performance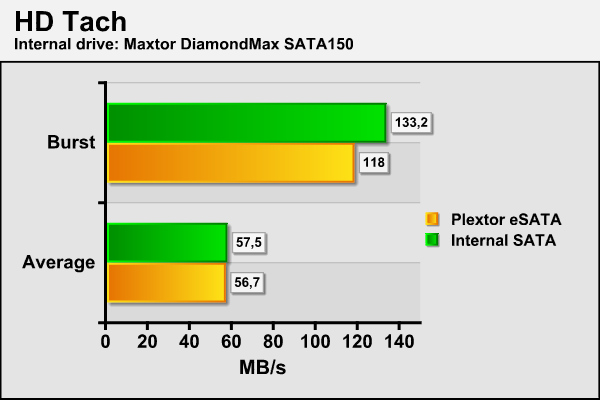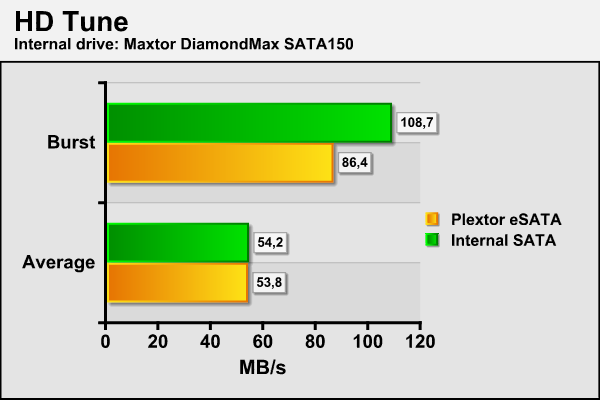 While the burst rate of the PX-PH160US cannot keep up with the internal SATA-drive, the average transfer rate is pretty close. Considering the internal SATA drive is a faster drive the performance of the PX-PH160US is pretty impressive.
USB performance
Since USB-performance has a limitation far below that of the hard drive itself it doesn't really matter if it only uses a slower 5400rpm drive.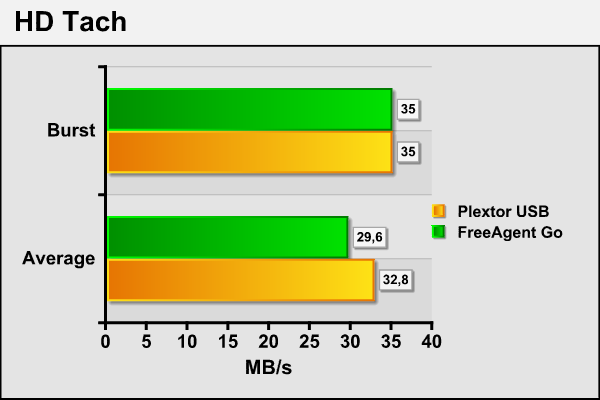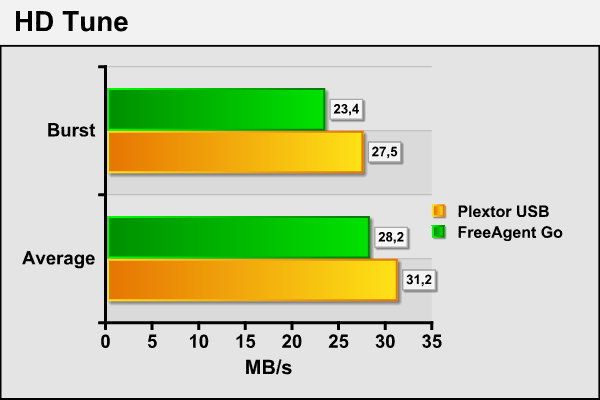 The Plextor PX-PH160US performs as well as you can expect when using the USB-interface. I compared it to another external drive I have, the Seagate FreeAgent Go, and it manages to perform better in almost all benchmarks.
 
CONCLUSION
There are a lot of nice 160 GB 2.5″ external hard drives on the market, but in the increasingly competitive field of external hard drives, you need a selling point. For example, the Seagate FreeAgent Go might only have USB 2.0, but it also includes a program that allows you to run portable versions of your applications right off the drive. The PX-PH160US's selling point is of course the eSATA support. This gives the drive performance far above what you get from most other external hard drives and this at a price comparable to them. It is therefore a bit disappointing that I had issues getting it to work. If it had worked flawlessly the drive would have scored even higher. All in all this is a nice and stylish external hard drive that is perfect for anyone needing more space than a USB Flash stick can offer while still keeping the size down.
Pro
+ Small and silent
+ Can be powered through USB
+ Good performance over USB2 and excellent performance over eSATA 
Cons
– No eSATA cable included
– Some issues getting eSATA to work
– No hot swap with eSATA
– No power adapter included
– Takes up two USB ports when running on USB power