If you have gotten the HDTV lately, you would know how great the image is compare to the old analog signals. In fact, you can watch HD contents on your computer as well and even receive the free over-the-air signals. Today, we are taking a closer look at the VisionTek TV Wonder 650 PCIe, a HDTV tuner card that functions as a personal video recorder. Check out our review to see what's our take on this product.
INTRODUCTION
Bjorn3D is a place where computer enthusiasts come to enjoy our reviews about computer related hardware and software. We do our best to have a variety of different hardware reviews so that we can assist our readers with their purchasing decision.
Anyone who is into computers will not be surprised to find that it is extremely easy to watch TV on your computer.  In fact, all you need is a simple TV tuner.  These TV tuners come in variety of shapes and forms.  You can find an internal TV tuner for PCI and PCIe or an external TV tuner with a USB connector.  A TV tuner card can be as simple as a receptor to receive TV signals while a more complex TV tuner card can do more.  It can function as a personal video recorder (PVR) which allows you to record and stream digital contents.
The core of any TV tuner is the chip that is designed to receive the signal.  Currently, there are various chips that are designed to receive different signals.  If you have purchased a TV tuner two years ago, you are most likely to have a card that only receives analog signal.  Lately, the newer tuner card comes with digital tuner receivers which receives DVB or ATSC transmissions.  Many newer and more expensive tuners even come with both tuners (combo) where users are able to receive both signals.  A combo tuner is different from hybrid tuner.  A combo tuner can receive both digital and analog together to allow users to watch TV coming from both signals while a hybrid tuner can only receive one or the other.
AMD (ATI) was the leader in the PVR with their All-in-Wonder graphic card (where a powerful graphic card that function as both a gaming card and PVR).  Unfortunately, AMD has decided to abandon any further development of All-in-Wonder all together and focusing on gaming graphic cards.  Luckily, AMD has not totally abandoned their development of multimedia add-on cards as their hardware can be considered as some of the best.  Their latest TV Wonder 650 line-up has combined many proven technologies into one of the arguably best TV tuner card found on a consumer desktop.  Today, we will take a look at one of the best of the bunch, courtesy of VisionTek—The VisionTek TV Wonder 650 PCIe.
THE COMPANY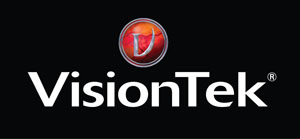 VisionTek is a leading supplier of 3D graphics cards and PC enhancement products to retailers and Consumers. Based out of Inverness, IL, VisionTek brings the most innovative and best performing products to the PC enthusiast consumer market. We are further committed to exemplary customer service and support for all of our products. VisionTek is a "Premium Retail Partner" of ATI for North America and our award winning brand of graphics card solutions continue to set the standard for excellence in the US retail market. VisionTek products can be found at Best Buy, Circuit City, COMP USA, Fry's electronics, Micro Center, Wal-Mart and other leading retail/e-commerce sites in North America.
FEATURES AND SPECIFICATION
Key Features:
Two built-in tuners offering combo tuning for:

Over-the-air Digital TV / HDTV1 (ATSC)
Over-the-air / Cable Analog TV (NTSC)
Clear-QAM (unscrambled) Digital HD Cable2
FM Radio

ATI Theater™ Video Processing Technology

Hardware MPEG-2 compression
Motion Adaptive 3D Comb Filter
Automatic Color Control
Automatic Gain Control
Noise Reduction
Edge Enhancement

ATI Catalyst Media Center™ featuring:

Full PVR and time shifting functionality
DVD Playback Software3,4
DVD Authoring Software3,4,5
ATI Theater™ Video Converter
AMD LIVE!™ CD featuring AMD LIVE! On Demand
Connection Bus
Input Connectors
F-Type Coax input for Analog TV / FM Radio
F-Type Coax input for HDTV (ATSC or Clear-QAM)
S-video input
Stereo audio input
Composite video input
Operating Systems
Windows® XP Home Edition
Windows® XP Professional Edition
Windows® XP Media Center Edition 2005
Certified for Windows Vista®
System Requirements 
Sound Card and speakers
Motherboard with available PCI Express slot
DirectX® 9 or better graphics card
Cable TV signal or amplified antenna for NTSC TV signals
Amplified antenna for ATSC HDTV signals and FM Radio
Installation software requires CD-ROM drive
DVD decoder is included with Catalyst Media Center™
Windows® XP Media Center Edition 2005 requires use of a compatible remote control (not included)
DVD Authoring requires DVD Burner
512MB of system memory, 1GB recommended for Microsoft Vista®
VISIONTEK TV WONDER 650 PCIe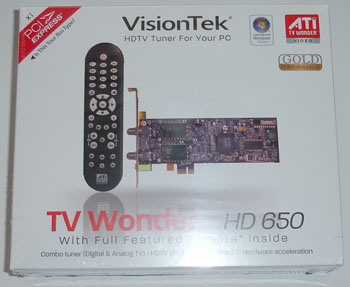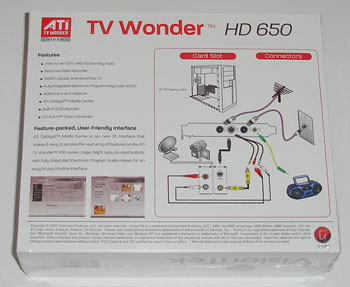 The VisionTek TV Wonder HD 650 comes in a rather small package.  I was quite surprised to find such a small package but I do like the minimal packaging approach as it reduces the amount of waste.  On the back of the box, we can see various marketing information including the card's features and capability.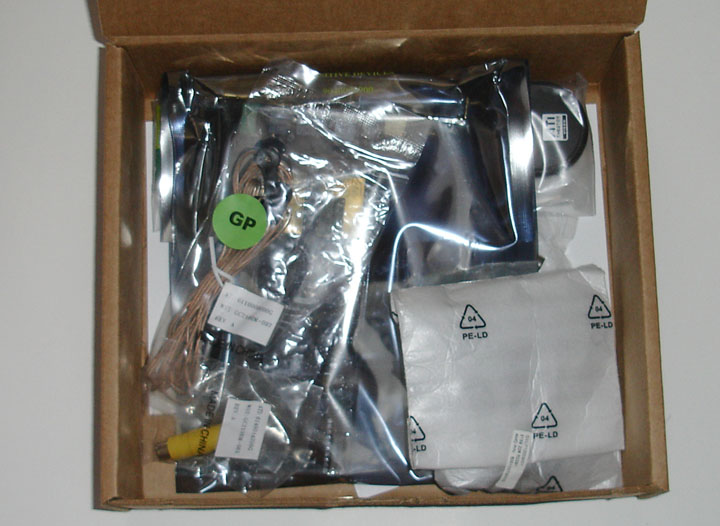 Open up the box and we see another cardboard box with all the parts.  Inside, we will find:
TV Wonder 650 Combo TV tuner
Audio Connector
Composite to S-Video adapter
FM Antenna
Full featured remote with receiver
Installation CD
Install Guide
AMD LIVE!™ CD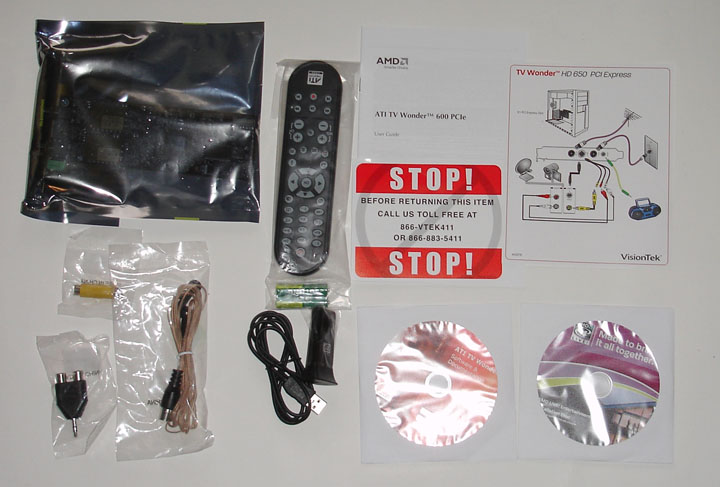 We can see that the TV Wonder 650 uses PCIe x1 to communicate with the motherboard.  On the front, we can see two Samsung TECC1149FG01A tuners.  One of the two tuners receives the analog (over-the-air and cable) signal and the other tuner receives digital signals (over-the-air Digital TV, HDTV1 (ATSC), and QAM).  In addition, the card is also able to receive FM radio.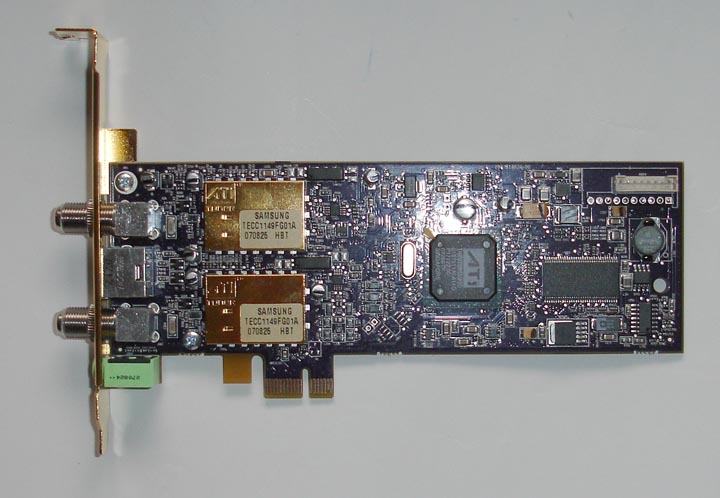 We can also see on the front of the card that the TV Wonder 650 uses AMD Theater 650 Pro chip and the card also comes with 256MB of DDR1 Hynix HY5DU561622ETP-4 (2.5v, 250MHz) memory.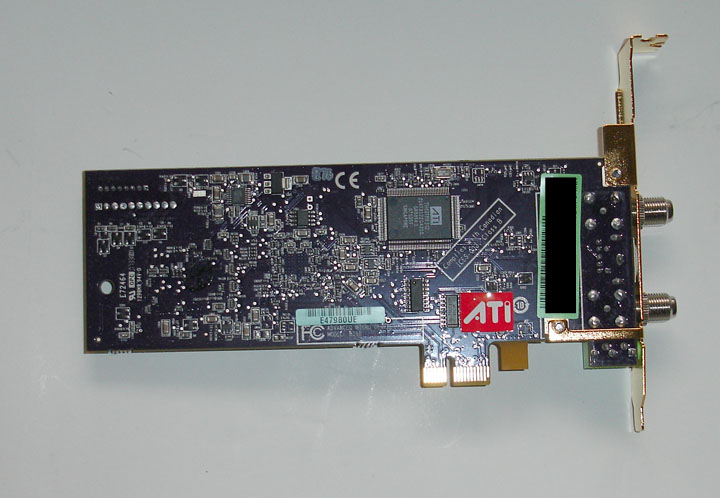 Flip to the back of the card and you see see AMD Theater 312 demodulator for QAM and VSB.

Turn the card sideway and we see that the card comes with two coaxial inputs labeled ANT-IN and TV-IN, an S-video connector, a 3.5MM stereo audio connector.  One of the two coaxial connectors is for hooking up the card with an antenna or cable while the other is used for analog TV or FM radio.

The TV Wonder also comes with a remote control and an USB receiver.  Unlike some of the manufactures that design a bloated, complicated remote, the TV Wonder's remote control is fairly small and simple but it has all the necessary buttons.
VisionTek actually carries three different versions of products based on the same chip:  The PCI version comes with Hybrid Tuner (1 tuner), while the PCIe and USB version comes with the combo tuner (2 tuners).  There is even an USB tuner that supports Mac systems.
All of tuners in the HD 650 families supports unencrypted Clear-QAM Digital Cable TV (with Catalyst Media Center build 1.0.3202 and higher in Windows Vista®), Free-to-air HDTV, Analog TV, and FM Radio (the Mac USB version does not support the FM radio).
The HD 650 is not simply a TV tuner, it's is more of a personal video recorder (PVR).  The TV Wonder 650 also allows users to record, pause, and schedule TV recording.  It also supports time-shift and Electronic Program Guide (EPG).  Furthermore, users are able to capture video from Composite Video Input, RCA Stereo Audio Input, and S-Video Input.  The tuners support a wide range of video formats: Hardware MPEG-2, MPEG-2, MPEG-4, WMV9, DivX, H.264, and H.264 video formats for portable media players2.  For Windows user, the included Catalyst Media Center also comes with DVD playback and authoring software.
AMD THEATER 650 PRO AND THEATER 312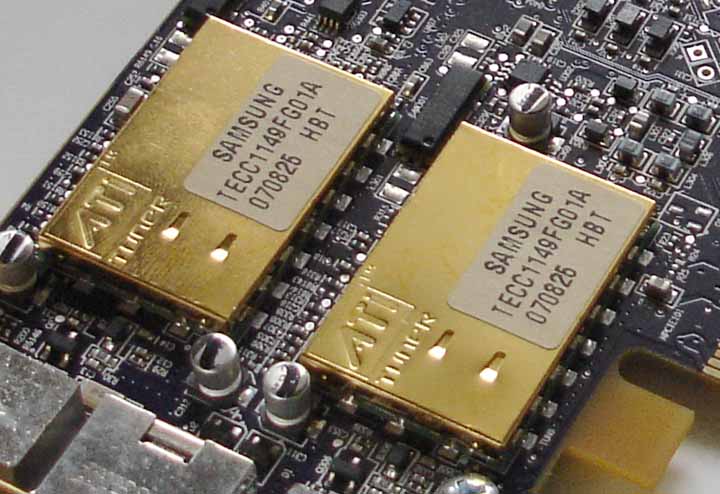 As mentioned earlier, the TV signal of the TV Wonder 650 is being handled by two Samsung TECC1149FG01A tuners. The tuners are able to receive both digital and analog signals and pass the signal to the Theater 650 Pro and Theater 312.  The Theater 312 is an advanced QAM and VSB demodulator ICs for the Digital Cable Ready and ATSC (Over-the-air) environments.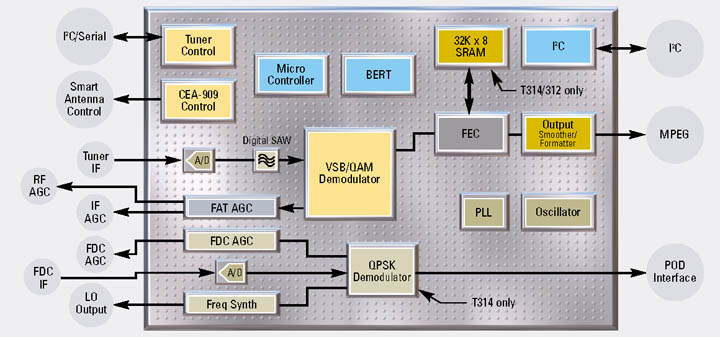 The Theater 312 (T312) is configurable to operate in either the ITU-J.83B/SCTE DVS-031 compliant 64 QAM or 256 QAM modes used by digital cable systems, or the ATSC compliant 8VSB mode used in digital terrestrial broadcasting. For digitally modulated input signals (QAM or 8VSB), Theater 312 outputs a parallel or serial MPEG compliant transport stream.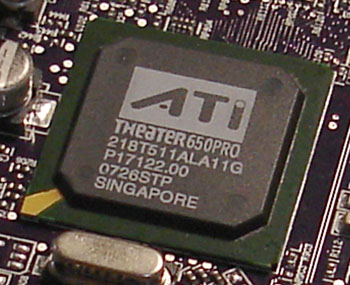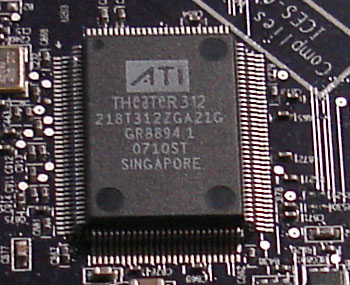 The core of the TV Wonder 650 Pro lies with the Theater 650, an upgraded version of AMD's Theater 550.  It features a 12-bit video and audio MPEG encoder with motion compensated noise reduction.  The hardware compression engine supports MPEG-2 720×480 compression, CBR and VBR from 1 to 15 Mbps, and will offload workloads from the processor to the Theater 650 Pro.  In addition, the chip features Motion adaptive 3D comb filter, Automatic Gain Control, Automatic Color Control, Noise Reduction, 5-line 2D comb filter, and Edge enhancement.  All these technology translates to a better image with low CPU usage.
 
AMD CATALYST MEDIA CENTER
The TV Wonder comes with AMD's Catalyst Media Center for all the multimedia needs.  The Catalyst Media Center is virtually a rebranded and reworked version of CyberLink's PowerCinema.  It would require a hefty 160MB of hard disk space in Windows XP.  The software disc also comes with AMD's AVIVO codec to be used with the Theater 650 Pro's hardware MPEG2.  If you do not wish to use the software, you can opt to use other third party software.  In addition, you can even use the card with Windows Media Center 2005 and Vista (all versions).
Setup Wizard: click for larger image
The software is easy to navigate with the included remote control.  After installing the software, it will walk the user through a step-by-step guide to set up the TV and radio channels.
The TV Wonder comes with AMD's Catalyst Media Center for all the multimedia needs.  The Catalyst Media Center is virtually a rebranded and reworked version of CyberLink PowerCinema.  It would require a hefty 160MB of hard disk space in Windows XP.  The software disc also comes with AMD's AVIVO codec to be used with the Theater 650 Pro's hardware MPEG2.  If you do not wish to use the software, you can opt to use other third party software.  In addition, you can even use the card with Windows Media Center 2005 and Vista (all versions).
Here are the menu interface and the settings for the Catalyst Media Center (click for larger image)
The program takes about 5-10 seconds to load and when you switch between TV and Radio, it also will take about 5-10 seconds.  The loading time is not as fast as I would have hoped, especially with the Radio.  Since all the playback is build into the Catalyst Media Center, you will not be able to play both the TV and Radio together.  In addition, in order to play the Radio, you do have to launch the Catalyst Media Center and you cannot minimize the window to the Windows Taskbar when you are playing the radio.
Switching between TV and Radio channels are fast though.  There is a slightly delay but it's not as long as my Sharp TV.  In the old All-in-Wonder graphic card, AMD has a nifty feature to display all channels for easy channel surfing but this feature is missing from the Catalyst Media Center, which is a shame.  The software comes with a TV guide that works with PISP or Titan but unfortunately, I wasn't able to get Titan TV Guide to work. 
There are some nice features about the Catalyst Media Center.  For example, you can add a channel to the favorite so you don't have to switching between some channels which you never watch.  The software supports Time-shift and Multiview in full screen.  Multiview acts like picture-in-picture but with digital and analog signal.  You can view TV show from both signals at the same time with the main window display the channel of your choice while on the corner, you will have the option ot selecting another channel with the other signal.  Switching between them is as easy as a click of a button.
In additionYou can also schedule recording to both TV and Radio stations.  The software allows you to record radio up to 128k in wma format.  There are three settings for TV recording: Good, Better, and Best.  I cannot tell you the difference between these three settings or how much hard drive space would require for an hour of recording for each setting.  I would prefer AMD to offer a more way and more descriptive way to customize the recording.
The software is also able to playback DVD, capture video from external source, and burning files to DVD.  With the Theater 650 Pro's hardware assisted encoding, the video capturing should not consume as high as CPU power as the software assisted encoding.  You can even use the software to convert different video formats.  The software supports MPEG-1, MPEG-2, MPEG-4, DIVX, WMV9, and H264 formats.
Despite the fact that the Catalyst Media Center works fairly well, there are a few annoyances with the software.  One of these annoyances is the menu placement.  Unlike the Radio Station, where you get a Manage Stations menu right next to the playback interface, the TV's favorite channel is hidden under TVSignal SettingChannel Manage.  This makes it hard to find and also hard.  Another annoyance about the software is that the channels are listed by the channel name rather than by the channel number, which makes it hard to know which channel you are watching.  In addition, the software does not offer any way to fine-tune or manually enter the channels.  If you wish to change your channel line-up, you would have to scan for all available channels and it will erase all the previous detected channels (as well as your favorites). 
 
TV WONDER 650 IMPRESSION
Since the TV Wonder 650 is able to receive both digital and analog signals, it will be able to receive over-the air digital and analog signals, as well as cable's analog signal.  Here in the US, most major cities should have stations broadcasting high-def digital signals.  As long as you live nearby the broadcast center and aren't interfered with by major structures, you shouldn't have any issue receiving the HDTV with the bunny ear antenna.  (For a more detail information regarding to whether you live nearby the broadcasting station, check out http://www.antennaweb.org/aw/welcome.aspx). 
From my experience with my HDTV, I know that I have no trouble receiving a decent HD signal with a simple RCA indoor antenna.  Thus, I hooked up the RCA indoor antenna to the TV Wonder 650 and proceeded with the channel detection.  The TV Wonder 650 detects most of the channels that my Sharp Aquos TV is capable of detecting.  I believe some signals are too weak or not in the right orientation of the indoor antenna to allow the TV Wonder 650 to detect them.  Since, the Catalyst Media Center does not allow any fine-tuning or manual entering of the channel, I won't be able to receive these channels without maybe using another antenna, amplified antenna, or repositioning my antenna.  Still, all major networks, such as ABC, CBS, NBC, and PBS, were picked up without any hitch.
The picture quality is excellent with the TV Wonder 650.  Here are a couple of pictures I took.  In case you are wondering.  No, I am not a fan of the Dancing with the Stars or Chuck, I just happen to have my TV set to these channels.
click for a larger 1920×1080 resolution
In regards to the CPU usage during playback, I tested the program with my E6600 in stock speed and 4GB of memory.  With the system running with Windows Vista and the Catalyst Media Center, the CPU usage is about 20~30% during playback.  During TV recording and playback, the CPU usage is slightly higher (approximately 5% higher than TV viewing).  The CPU usage is a little higher than what I would have liked. 
ALTERNATIVE SOFTWARE?
I have decided to do a quick test with other media center software on the market with the TV Wonder 650.  I picked Windows Vista 32bit, PowerCinema 5, Nero 8, and Snapstream Beyond TV 4.7.
Windows Media Center Vista 32bit
Windows XP Media Center was an excellent software for those who wish to use it with their home media PC, unfortunately, Microsoft never intended to release it to the general public.  Luckily with the release of Vista, Microsoft has decided to put the MCE as an option if you purchase the Home Premium version.
I installed Vista 32bit Ultimate version which comes with the MCE.  I then fired up the Vista MCE and proceed with channel setting.  Windows Vista MCE has trouble auto-detect the signal of the Tuner but I was able to manually set it.  Microsoft has released a hot-fix to correct this problem (http://support.microsoft.com/kb/929011) but it's not available at Windows update. 
I did encounter a small problem with Windows Vista MCE and the TV Wonder 650.  Windows Vista MCE does not allow the card to receive signals from both the analog and digital.  Thus, I was not able to use the HDTV (digital signal) if I set the tuner to receive FM (analog signal).  With the tuner set to receive HD signal, I was able to get 25 HD channels.
Windows MCE actually comes with their own remote control which you can purchase it separately.  The TV Wonder 650's remote control actually works with the MCE thought not all of the buttons work.  The basic buttons, such as the number and direction buttons work fairly well with the MCE, which should be enough for basic TV viewing purpose.
Overall, the Windows MCE is much easier and better feature than the AMD Catalyst Media Center provided that you have applied the hot-fix from Microsoft and do not mind using only the digital or analog tuner only.
Nero Home 8
Nero Home has no problem detecting the card but the software only detects about eight digital channels only but you can use both digital and analog tuners at the same time.
PowerCinema 5
I cannot get the software to detect any HD channel.  Granted, the TV Tuner is not listed as the supported card at Cyberlink's website.  I am a bit puzzled since the ATI Catalyst Media Center is clearly based on Cyberlink's PowerCinema yet I cannot get the PowerCinema to work with the card.
Snapstream BeyongTV 4.7
Snapstream is probably the best alternative software, next to the Windows MCE, to be used with the TV Wonder 650.  BeyondTV detects many more channels than the Catalyst Media Center.  BeyondTV has far more option than the Catalyst Media Center, such as iTune support and manual channel setup.   In addition, the channel lineup can be set to display with channel number as opposed to the network.  It also offers a much greater degree of configuration than the Catalyst Media Center.
CONCLUSION
After using the tuner for a few weeks, I have to say, I absolutely love the VisionTek TV Wonder 650.  It's easy to install, the software is easy to use, and the image quality is excellent.  For a retail price around $120 USD, the VisionTek TV Wonder 650 PCIe is a wonderful TV tuner card for desktop use or HTPC system.  With the advance technology such as 3D comb filter, noise reduction, automatic color control, edge enhancement, and hardware assisted MPEG-2 encoding, the TV Wonder 650 is able to deliver a good image while keeping the CPU usage low with the HD contents. 
If I have to be picky about the TV Wonder 650, I would have to say that the software could be much better.  The Catalyst Media Center is not bad software but it can be improved with the ability to manually enter the channel and better channel listing.  In addition, a better compatibility with other third party software would be nice as well. 
Overall, despite some small shortcomings, this is a kickass tuner.  With VisionTek offering TV Wonder in either PCIe or PCI interface for internal usage, and USB interface for both PC and Mac system for external usage, you sure will be able to find a product that suits your needs regardless of your system configuration.

The VisionTek TV Wonder 650 PCIe will receive a socre of 8.5 out of 10 and Bjorn3D's Seal of Approval for its excellent image quality and features.
Pros:
+  Good image quality
+  Easy installation and setup
+  PCIe interface
+  3D comb filtering, noise reduction, and automatic color control,
+  Clean software interface and easy navigation
+  Remote included
+  Combo tuners and FM tuner
Cons:
–  No fine-tune or manual channel tuning
–  Cannot use both tuners in Vista (not AMD's fault but MS's fault)
–  Lack of documentation and manual
–  Poor support for some other multimedia center software
–  EPG does not work
–  Channels are not organized by number