Take this already fast graphics card and put it in the hands of Asus, who is known for taking the best and making it even better and you have the product we will be reviewing, the Asus® GeForce® EN8800GTS TOP.
INTRODUCTION
Just over a year ago or an eon when we're talking computer technology, NVIDIA® introduced the beginning of what might well be the longest running series of graphics solutions in history; the 8800. Initially the 8800 GTX reference card took center stage in November of 2006 and totally rocked the gaming world by being the fastest card the world had seen up until this time. In what most would call brilliant business strategy NVIDIA® then began to fill in the void created beneath the 8800 GTX with many different iterations of both lesser and overclocked cards all then based on their 90nm fabrication process also termed the G80.
Almost a year later when rumors were abounding about an even faster series of graphics solutions in the offing, NVIDIA® again came through. This time it wasn't a new series of cards, but a die shrink of their 90nm wonder to 65nm and a new moniker, the G92. If you are like us at Bjorn3D, you are in awe of the sheer number of different graphics solutions that have been created from one MCP/VPU and its substantive variants. There is most certainly a solution available for any consumer's needs. The only real problem is trying to keep up with all the model numbers as many of them have been used with both the G80 and G92 versions. Alas, we're a consumer enthusiast site and we're not focusing our attention on anything but the fastest and best in show.
With all of this being said, today we have the distinct pleasure of reviewing NVIDIA's most current work of art, the G92 version of their 8800GTS. Take this already fast graphics card and put it in the hands of ASUS, who is known for taking the best and making it even better and you have the product we will be reviewing, the Asus® GeForce® EN8800GTS TOP.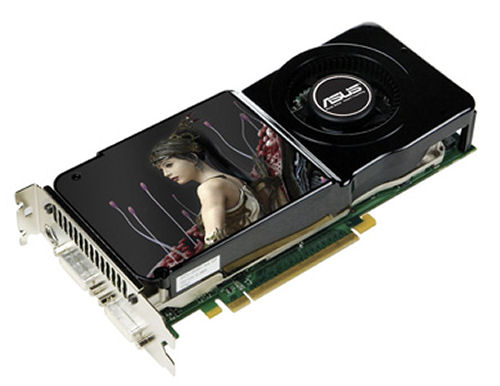 ASUS:  The Company

ASUS, a technology-oriented company blessed with one of the world's top R&D teams, is well known for high-quality and innovative technology. As a leading provider of 3C (computers, communications and consumer electronics) total solutions, ASUS offers a complete product portfolio to compete in the new millennium.

In 2006, the company shipped 55 million motherboards, which means one in three desktop PCs sold last year was powered by an ASUS motherboard. Our 2006 revenues reached US$16.5 billion, and is expected to garner US$23 billion in 2007.

ASUS products' top quality stems from product development. It's like learning Chinese Kung-Fu; one must begin with cultivating the "Chi" and inner strength. Besides innovating cutting-edge features, ASUS engineers also pay special attention to EMI (electromagnetic interference), thermal, acoustics and details that usually go unnoticed to achieve complete customer satisfaction. ASUS notebooks are the first TCO'99-certified notebooks worldwide. The requirements for this honor include radiation emission control, energy (battery consumption), ecology (environment friendly) and ergonomics.

To succeed in this ultra-competitive industry, great products need to be complimented by speed-to-market, cost and service. That's why all 100,000 over employees of ASUS strive for the "ASUS Way of Total Quality Management" to offer the best quality without compromising cost and time-to-market while providing maximum value to all customers through world-class services.

With unyielding commitment to innovation and quality, ASUS won 2,168 awards in 2006, meaning on average, the company received over 5 awards everyday last year. BusinessWeek ranked ASUS amongst its "InfoTech 100" for the 9th straight year. The readers of Tom's Hardware Guide, the world's largest IT website, selected ASUS as the best maker of motherboards and graphics cards. Furthermore, the company is ranked as No.1 in quality products and services by the Wall Street Journal.
FEATURES & SPECIFICATIONS
Features
7% faster than Generic GeForce 8800GTS 512M
PCI Express & PCI Express 2.0 support
NVIDIA® GeForce 8800GTS
Microsoft DirectX 10 and Shader Model 4.0 support
OpenGL®2.0 support
HDCP compliant
NVIDIA PureVideo HD technology
NVIDIA Quantum Technology
Advanced Shader Processors architected for physics computation
ASUS Smart Doctor:  Shader Clock overclocking and intelligent hardware protection tool
ASUS Gamer OSD:   Real-time overclocking, benchmarking and video capturing in any PC game!
ASUS Splendid:  Watching movies on PC as good as on Top-of-the-line consumer television
ASUS Video Security Online:   Keep an eye on your home at all times no matter where you are
ASUS EN8800GTS TOP
Top of the Line
Comparative Specifications
Specification
ASUS EN8800GTS TOP
XFX 8800GT XXX
XFX 8800GTX XXX
RAMDACs
Dual 400 MHz
Dual 400 MHz
Dual 400 MHz
Memory BUS
256 bit
256 bit
384 bit
Memory
512 MB
512 MB
768 MB
Memory Type
DDR3
DDR3
DDR3
Memory Clock
2.07 GHz
1.95 GHz
2 GHz
Transistors
754 Million
754 Million
681 Million
Stream Processors
128
112
128
Shader Clock
1800 MHz
1675 MHz
1500 MHz
Clock Rate
740 MHz
670 MHz
630 MHz
Chipset
GeForce™ 8800 GTS (G92)
GeForce™ 8800 GT (G92)
GeForce™ 8800 GTX (G80)
Bus Type
PCI-E 2.0
PCI-E 2.0
PCI-E
Fabrication Process
65nm
65nm
90nm
Highlighted Features
HDCP Ready
Dual DVI Out
RoHS
HDTV ready
SLI ready
TV Out
HDCP Ready
Dual DVI Out
RoHS
HDTV ready
SLI ready
TV Out
HDCP Ready
Dual DVI Out
RoHS
HDTV ready
SLI ready
TV Out
Dimensions
4.376 inches x 9.1 inches (Dual Slot)
4.376 inches x 9.1 inches (Single Slot)
4.376 inches x 10.63 inches (Dual Slot)
Normally we would have shown the specifications of the ASUS® EN8800GTS TOP and compared them to reference standard cards in each of the 8800 categories. Today is however different, as the card we are reviewing is neither "standard" nor "reference" from the standpoint that on paper it is the fastest GTS card currently available. We have what we consider to be the fastest cards in two of the remaining three 8800 categories and will be using those for comparative purposes in our testing today. The only graphics solution we are missing is an overclocked version of the 8800 GTX Ultra.
CLOSER LOOK
As with the NVIDIA 8800 GT, the 8800 GTS is manufactured with a dye shrink of their chipset from the previous 90nm standard with the other 8800 graphics down to 65nm used in G92 chip onboard. This dye shrink process has allowed the G92 chip to utilize roughly 754 million transistors as opposed to around 681 Million in its G80 counterpart. It is also our understanding that the 8800 GTS follows in the GT tradition by relegating much of the video processing (VP2) to the GPU thus being somewhat less demanding of the CPU. We also understand that there are some other new and innovative processes at work that will help to maintain higher FPS throughout the spectrum of resolutions that are supported by the 8800 GTS (2560 x 1600 max). We should also see a marginal drop in temperatures with the G92 which is also directly related to shrinking the dye size to 65nm.
Packaging
With the most recent graphics cards we received for review we have noted that many of the manufacturers have opted for a smaller, less bulky container to house their product. ASUS continues to ship their products in a larger more robust package that is no less protective of the containers valuable contents.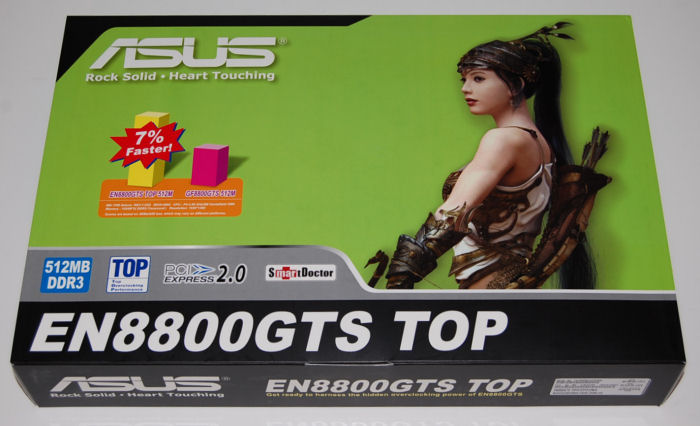 Exterior Packaging: Front View
The rear and sides of the package also exhibit some very useful information to the potential consumer.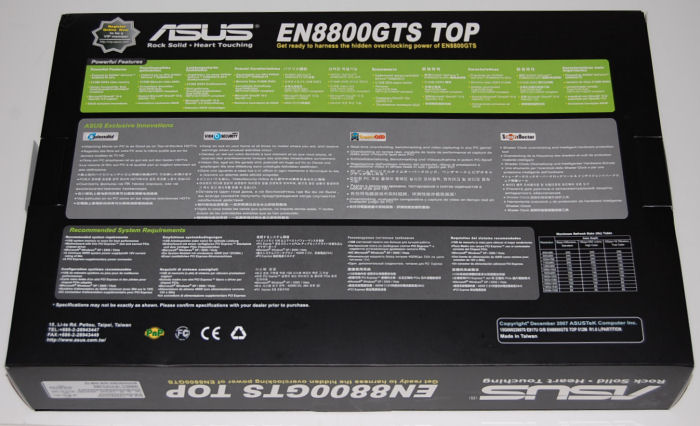 Exterior Packaging: Rear View
Anyone that orders products from an internet vendor necessitating they be shipped via one of the primary delivery services either has experienced shipping damage or will experience it at some time in the future. Bjorn3D has seen our share of products that were pummeled during the shipping process. We feel ASUS has designed an interior package that affords very good protection to the valuable commodity within.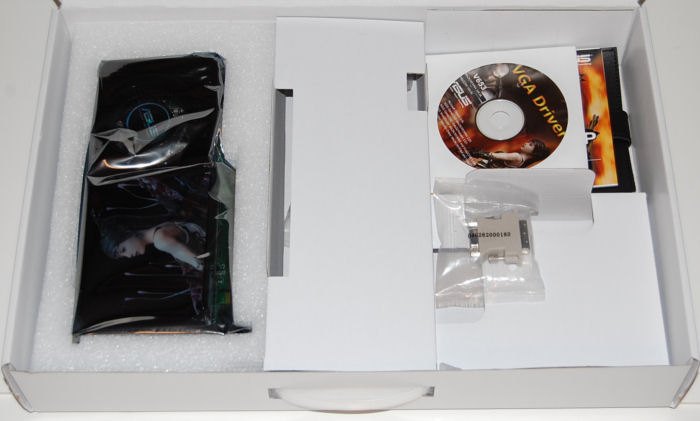 Interior Packaging
THE CARD: IMAGES & IMPRESSIONS
Unlike the 8800GT which occupies only slot, the ASUS® GeForce® EN8800GTS TOP returns to the dual slotted architecture that we have grown to know in previous iterations of the card which utilized the 90nm G80 GPU. The graphics on the card's exterior are quite beautiful even though they will probably never be viewed other than when the card is showcased as in this review.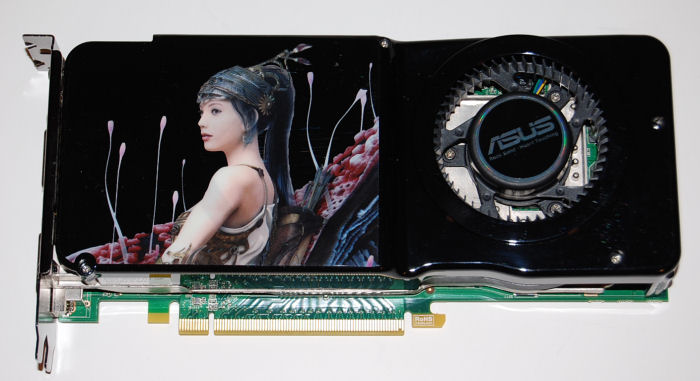 EN8800GTS TOP … Front View
The next thing you will probably notice is that the cooler for the G92 version 8800GTS appears to be almost identical to its G80 predecessor. A closer look reveals more spacing between the air intake slots for what we believe will be better airflow and hopefully cooler temperatures.

EN8800GTS TOP … Side View
We are happy to see that the ASUS® GeForce® EN8800GTS TOP continues the tradition of only using one PCI-e connector, even with its added features. Another important feature is that the PCI-e connector is mounted on the end of the card allowing for better cable management than in the case of the XFX 8800 GT XXX where the connectors are mounted on the side of the PCB.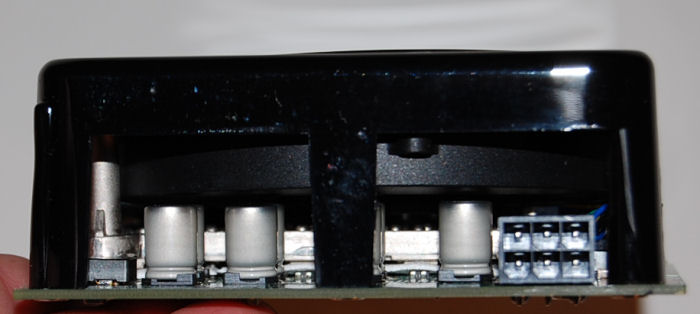 EN8800GTS TOP … PCI-e Connector
One thing that we learned about the entirety of the NVIDIA 8800GT and 8800 GTS series that was a bit disconcerting is that while it readily supports DirectX 10 and Shader 4.0 the current version of the card does not support the forthcoming release of DirectX 10.1 and Shader 4.1. We're hoping that this can be rectified with a firmware upgrade but at this point in time are uncertain if this will be the case. In fairness to NVIDIA and ASUS it will still be some time before the vast majority of gamers are using DX10 on a regular basis as currently there are only just a handful of games that support this protocol.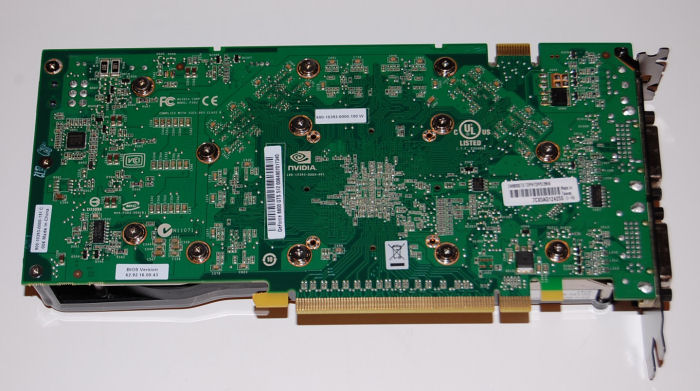 EN8800GTS TOP … Rear View
The rear of the EN8800GTS TOP appears to be somewhat similar to its older G80 sibling, but then again with all those solder joints who can tell.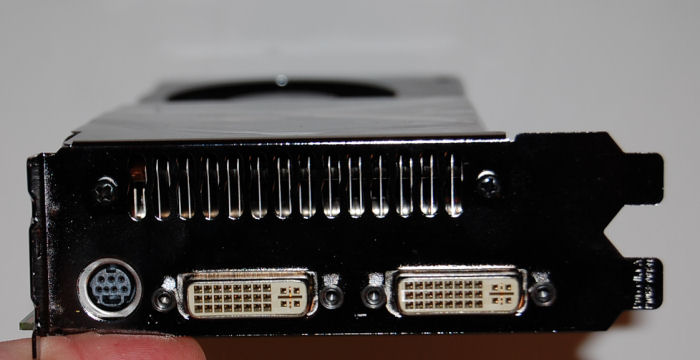 EN8800GTS TOP … Side View
The Asus® GeForce® EN8800GTS TOP edition provides two DVI connectors that both natively support HDCP. Maximum resolutions of up to 2560 x 1600 @ 60Hz are supported.
Bundled Accessories
Several months ago when the NVIDIA 8800 series of MCP/VPUs first made their presence on the market we noticed size and amount of the bundled accessories dwindling and repeatedly mentioned this in our product reviews. We would have definitely liked to have seen a full version game supplied amongst the bundled accessories. In lieu of a game ASUS provides its customers with three rather interesting utilities: ASUS Game Doctor, ASUS On Screen Display (OSD), and ASUS Smart Doctor. We'll discuss the function of each of these utilities later in this review.
1 – DVI-to-VGA adaptor
1 – Molex to 6 pin PCI-e power adapter
1 – 7 pin mini-DIN to component cable
1 – Quick installation guide
1 – Driver CD
1 – Manual CD (multi languages)
1 – CD wallet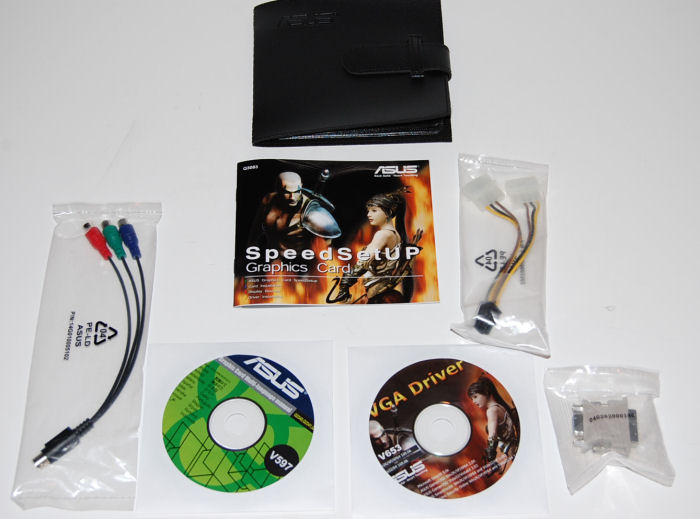 EN8800GTS TOP … Bundled Accessories
Bundled Software
ASUS On Screen Display (OSD)
Have you ever adjusted your monitor's display settings because it is too dark when playing a game and to find the system display too bright after you quit the game? Or annoyed when your game is interrupted switching to the game settings page, making the changes then resuming the game?
ASUS OSD (OnScreenDisplay) is the cure to all these problems. ASUS OSD is the world's first software PC game display controller. Gamers can use ASUS OSD to adjust the brightness, contrast, and gamma value in any PC game without leaving the game or changing the monitor hardware settings. Each game has an independent display setting allowing you to change the settings without affecting other applications in your system.
You can activate ASUS OSD using predefined hot keys. It is easy and fast. Voila! Now you can easily brighten your game screen and see where your enemy is hiding in that dark area. If you have ASUS GameFace Live or ASUS GameLiveShow installed, OSD can also adjust the GameFace Live image settings or enable the game broadcasting etc.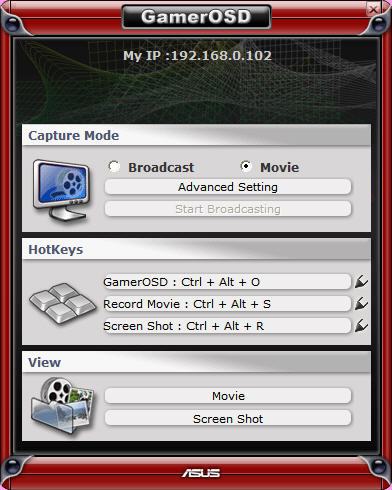 ASUS OSD Setup Menu
ASUS Video Security
VideoSecurity Online provides you with various security monitoring modes. Aside from the basic recording mode, you can also specify a particular surveillance area for motion detection. In case a motion is detected in the defined surveillance area, VideoSecurity Online automatically raises an alarm, records a video or take snapshots and save it to your hard disk. You can also set it to send either an email notification with still images or send a phone call with prerecorded voice to notify you of the event. VideoSecurity Online also can stream real-time video of the monitored area to your web browser, allowing you to monitor your home or office when you are away.
ASUS SmartDoctor
Of the three utilities provided Smart Doctor will probably be the most impressive to our readers. The current iteration of ASUS SmartDoctor is a full fledged graphics card controller that allows the user almost complete control over the EN8800GTS TOP as well as other ASUS cards. ASUS SmartDoctor is designed to satisfy two major goals. One is to monitor graphic chip Status, alerting users about abnormal events, such as fan malfunction or chip overheat. The other, as the name SmartDoctor implies, is to cool down the graphic chip smartly when it is not necessary for it to be kept running at full speed. SmartDoctor2 includes AGP Power Level Monitoring, Fan RPM Monitoring, Overheated protection, Smartcooling technology, and Manual Overclocking.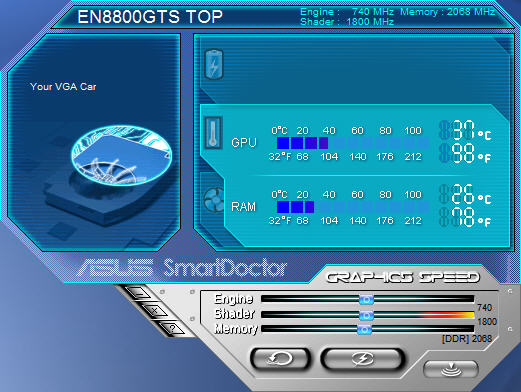 ASUS Smart Doctor On-Screen Display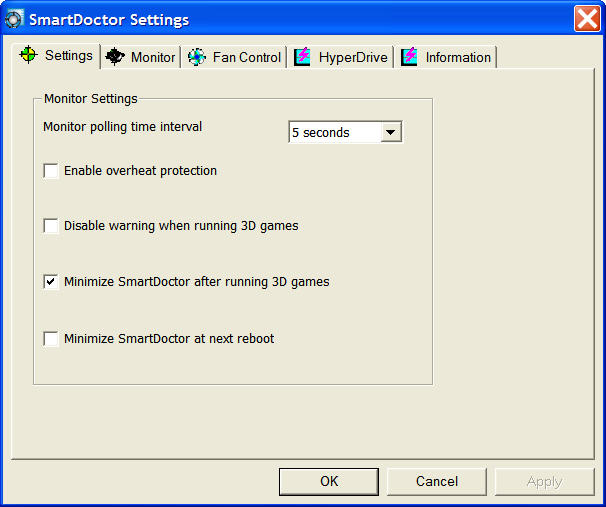 ASUS Smart Doctor … Setup Screen 1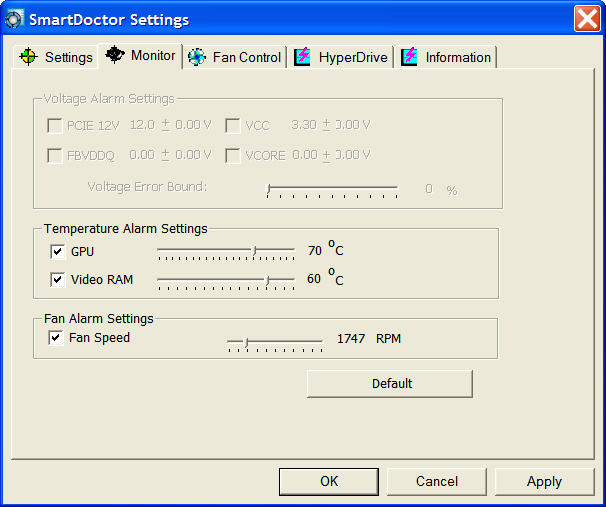 ASUS Smart Doctor … Setup Screen 2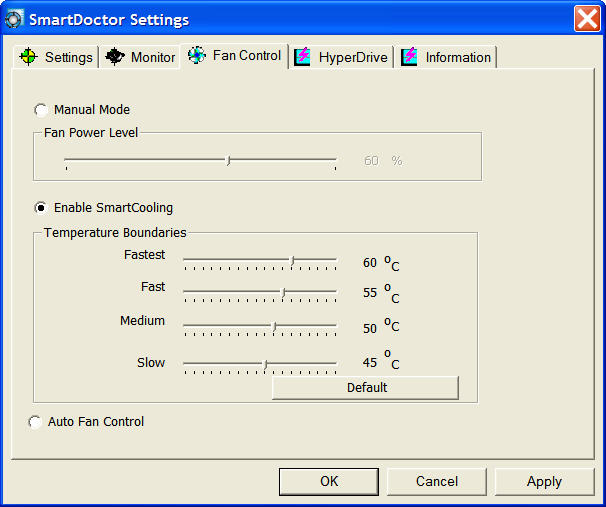 ASUS Smart Doctor … Setup Screen 3
ASUS Smart Doctor … Setup Screen 4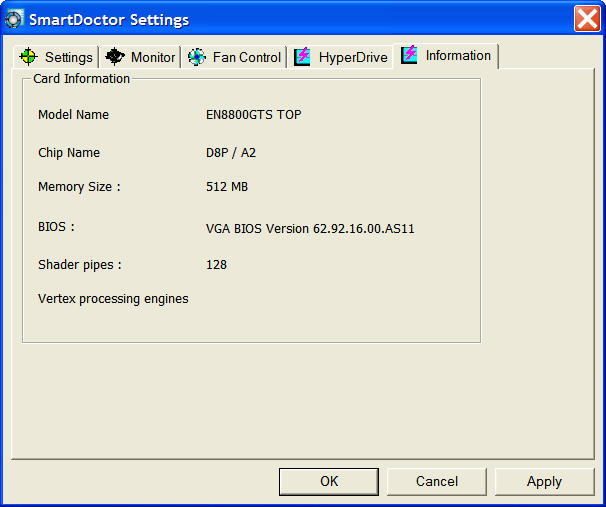 ASUS Smart Doctor … Setup Screen 5
TESTING Regime
Every time we receive a new graphics card to review we struggle with the dilemma of which other card(s) should we compare it to. In the case of the ASUS® GeForce® EN8800GTS TOP there is no dilemma! As we alluded to earlier, the EN8800GTS TOP is by far the fastest G92 based 8800GTS on paper. We have what we consider to be the fastest cards in two of the remaining three 8800 categories, the XFX 8800GT XXX and the XFX 8800GTX XXX. We will be using those for comparative purposes in our testing today and will find out if the paper specs of the EN8800GTS TOP translate into real world application.
We will run our captioned benchmarks with each graphics card set at default speed. All of our synthetic and gaming tests will be run at the 1280 x 1024, 1600 x 1200, and 1920 x 1200 some without Antialiasing and Anistropic Filtering and others using various level of this eye candy. Each of the tests will be run individually and in succession three times and an average of the three results calculated and reported. F.E.A.R. benchmarks were also run with soft shadows disabled.
Test Platform

Processor

Intel Q6600 Core 2 Duo @ 2.4GHz

Motherboard

ASUS Maximus Formula (Non-SE)BIOS 0907

Memory

4GB of Mushkin XP-2 6400 DDR-2 4-3-3-10

Drive(s)

2 – Seagate 1TB Barracuda ES SATA Drives

Graphics

Test Video Card # 1:  ASUS® XFX GeForce® EN8800GTS TOP running ForceWare 169.25 64-bit WHQL
Test Video Card # 2:  XFX GeForce® 8800 GT XXX running ForceWare 169.25 64-bit WHQL
Test Video Card # 3:  XFX GeForce® 8800 GTX XXX running ForceWare 169.25 64-bit WHQL

Cooling

Enzotech Ultra w/ 120mm Delta Fan

Power Supply

Antec 650 Watt Neo Power & Antec 550 Watt Neo Power

Display

Dell 2407 FPW

Case

Antec P190

Operating System

Windows Vista Ultimate 64-bit SP1 RC1
Synthetic Benchmarks & Games
3DMark06 v. 1.10
Call of Heroes v. 1.71 DX 9 & 10
Crysis v. 1.1 DX 9 & 10
World in Conflict Demo DX 9 & 10
F.E.A.R. v 1.80
Serious Sam 2 v. 2.068
TEST RESULTS
3DMark06 v. 1.1.0

3DMark06 developed by Futuremark is a synthetic benchmark used for universal testing of all graphics solutions. 3DMark06 features HDR rendering, complex HDR post processing, dynamic soft shadows for all objects, water shader with HDR refraction, HDR reflection, depth fog and Gerstner wave functions, realistic sky model with cloud blending, and approximately 5.4 million triangles and 8.8 million vertices; to name just a few. The measurement unit "3DMark" is intended to give a normalized mean for comparing different GPU/VPUs. It has been accepted as both a standard and a mandatory benchmark throughout the gaming world for measuring performance.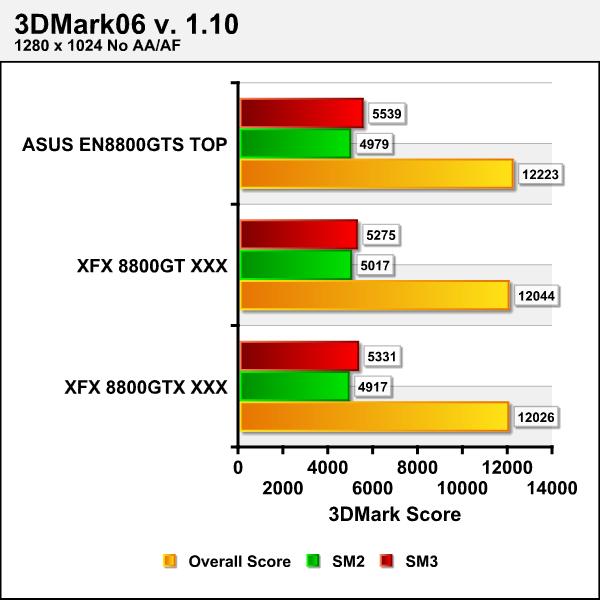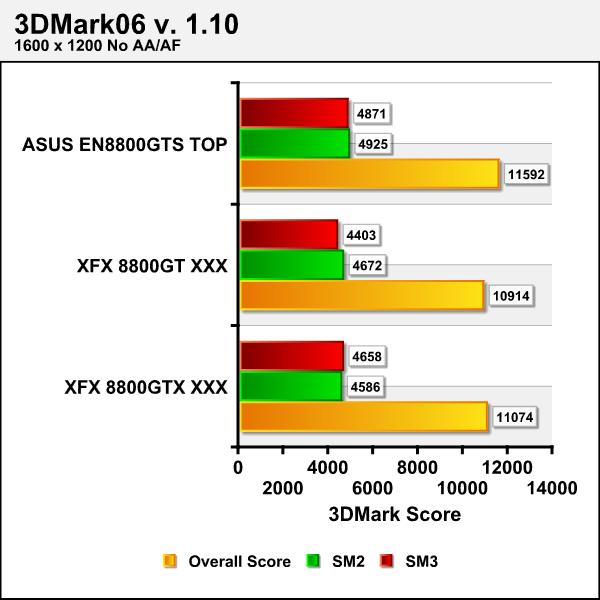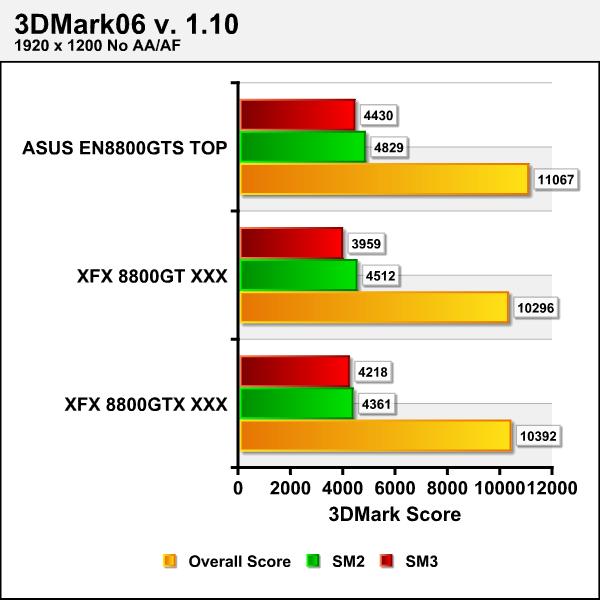 TEST RESULTS
Company of Heroes DX9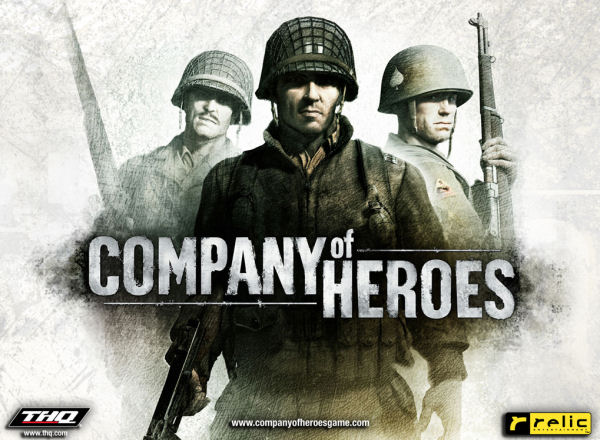 Company of Heroes(COH) is a Real Time Strategy(RTS) game for the PC, announced on April, 2005. It is developed by the Canadian based company, Relic Entertainment, and published by THQ. We gladly changed from the first-person shooter based genres of the rest of our gaming benchmarks to this game which is RTS. Why? COH is an excellent game that is incredibly demanding on system resources thus making it an excellent benchmark. Like F.E.A.R. the game contains an integrated performance test that can be run to determine your system's performance based on the graphical options you have chosen. It uses the same multi-staged performance ratings as does the F.E.A.R. test. We salute you Relic Entertainment!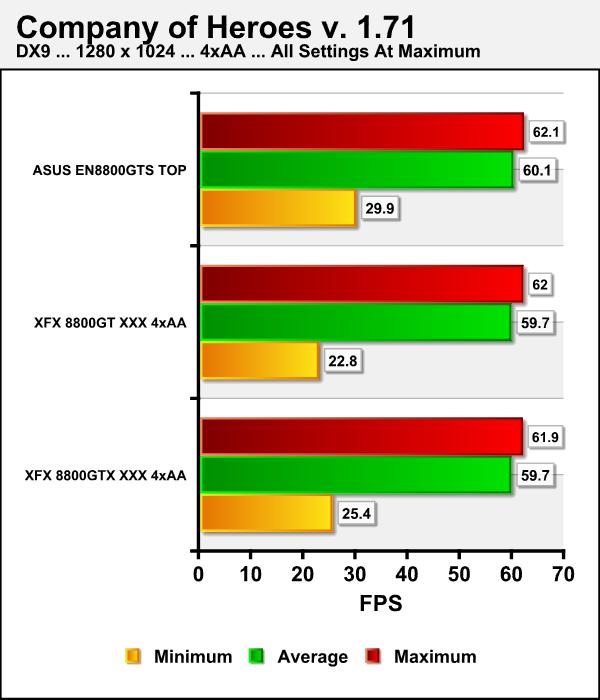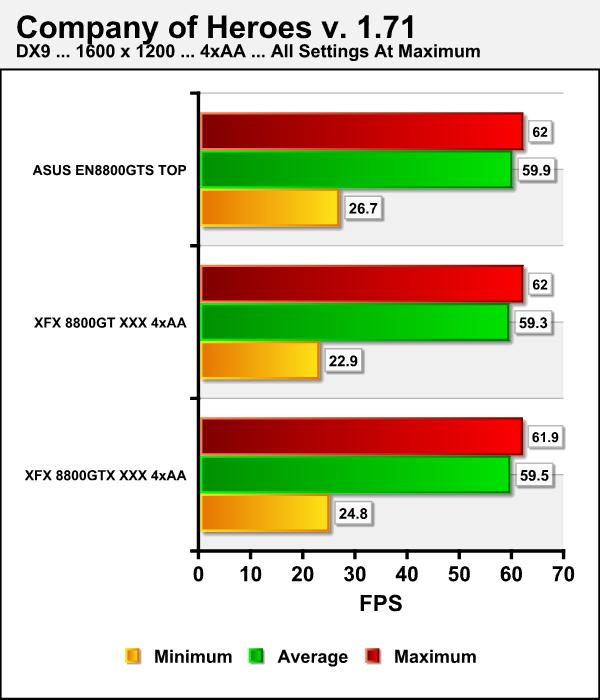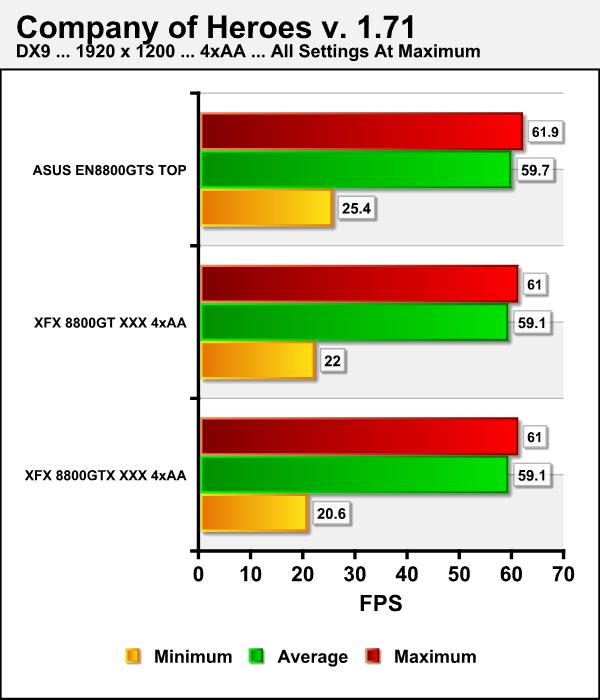 TEST RESULTS
Company of Heroes DX10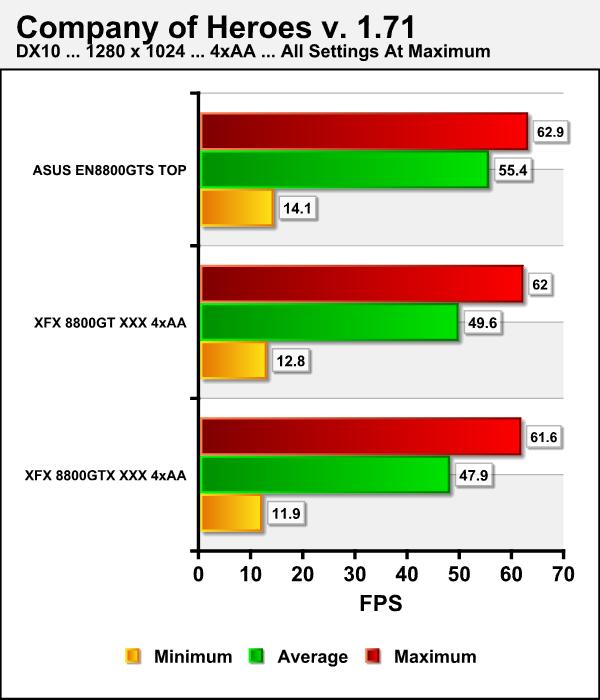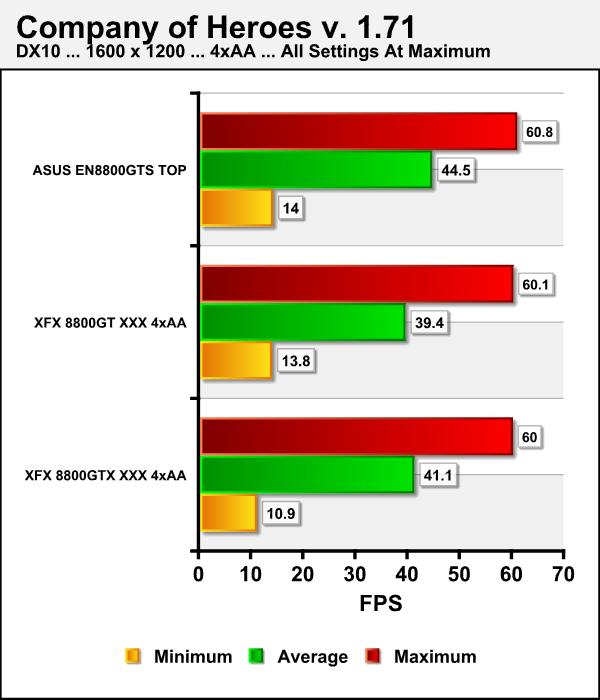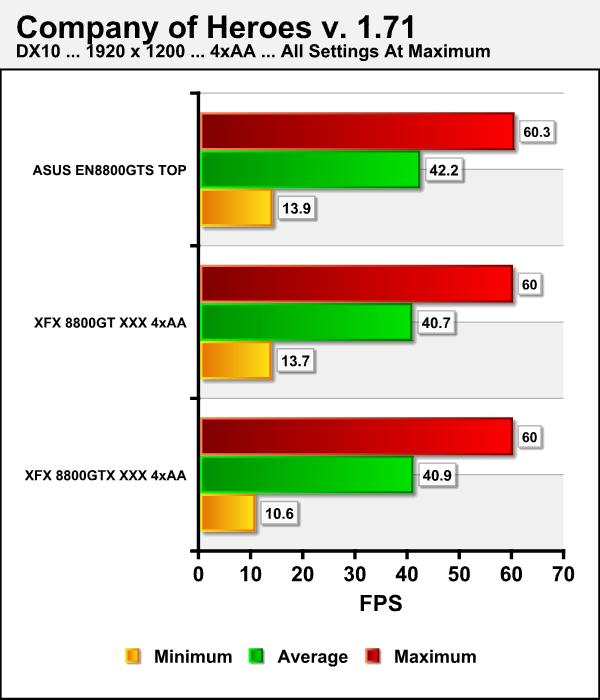 F.E.A.R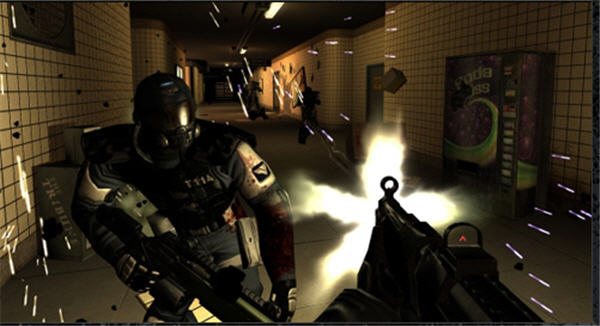 F.E.A.R. (First Encounter Assault Recon) is a first-person shooter game developed by Monolith Productions and released in October, 2005 for Windows. F.E.A.R. is one of the most resource intensive games in the FPS genre of games ever to be released. The game contains an integrated performance test that can be run to determine your system's performance based on the graphical options you have chosen. The beauty of the performance test is that it gives maximum, average, and minimum frames per second rates and also the percentage of each of those categorical rates your system performed. F.E.A.R. rocks both as a game and as a benchmark!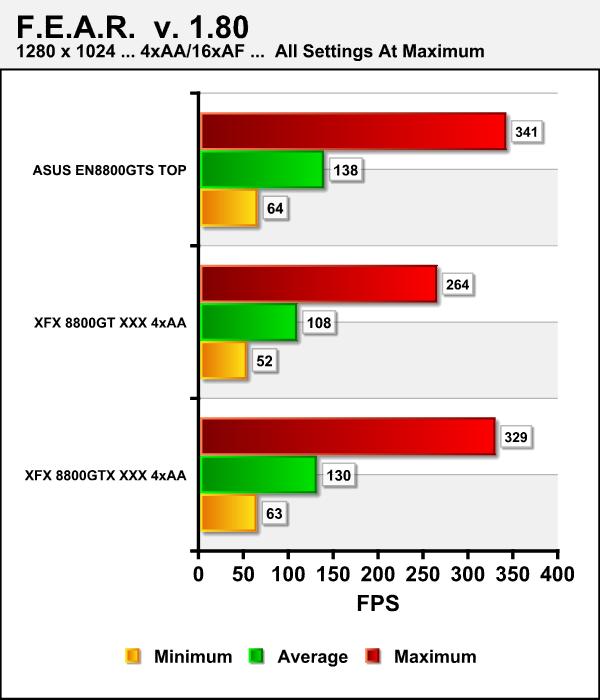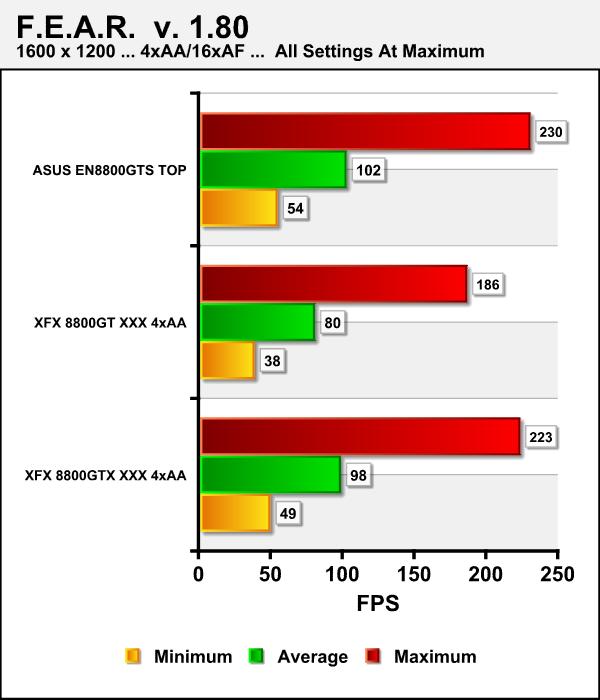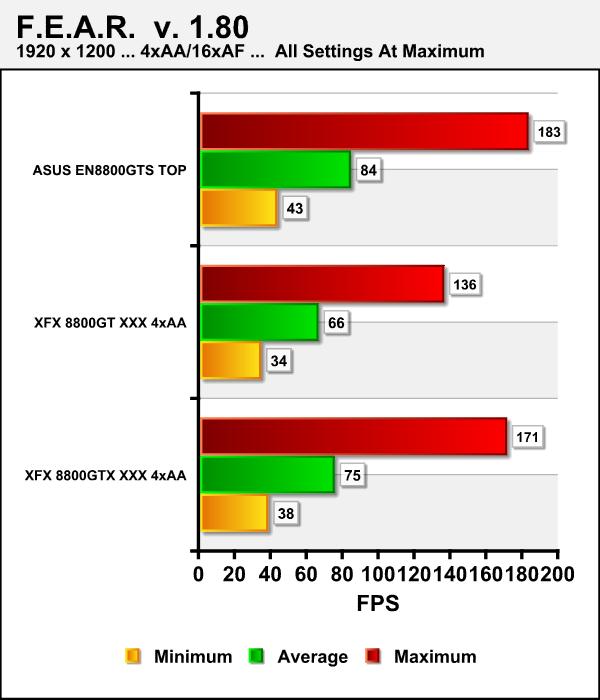 TEST RESULTS
Crysis DX9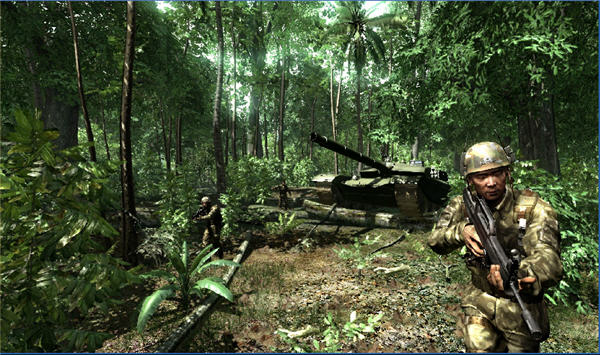 Crysis is the most highly anticipated game to hit the market in the last several years. Crysis is based on the CryENGINE™ 2 developed by Crytek. The CryENGINE™ 2 offers real time editing, bump mapping, dynamic lights, network system, integrated physics system, shaders, shadows and a dynamic music system just to name a few of the state of-the-art features that are incorporated into Crysis. As one might expect with this number of features the game is extremely demanding of system resources, especially the GPU. We expect Crysis to be a primary gaming benchmark for many years to come.
DX9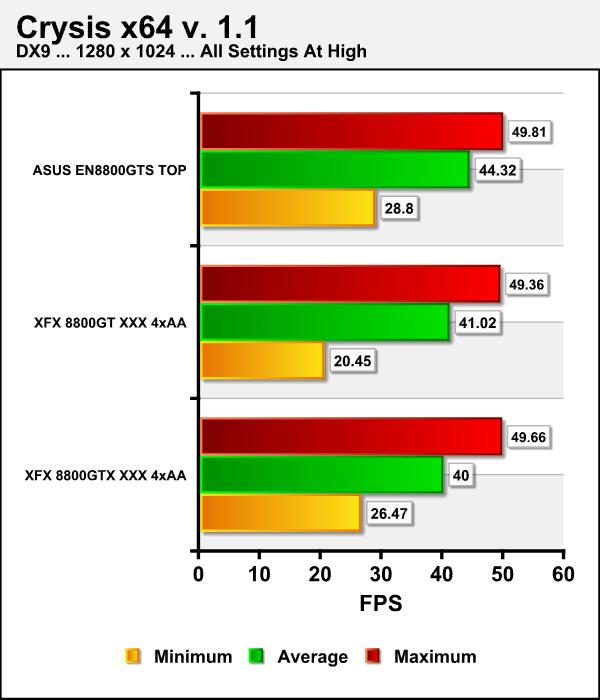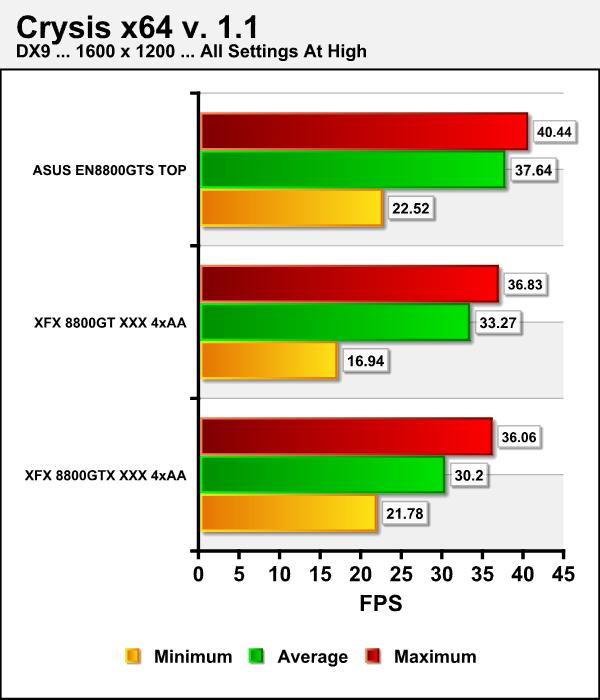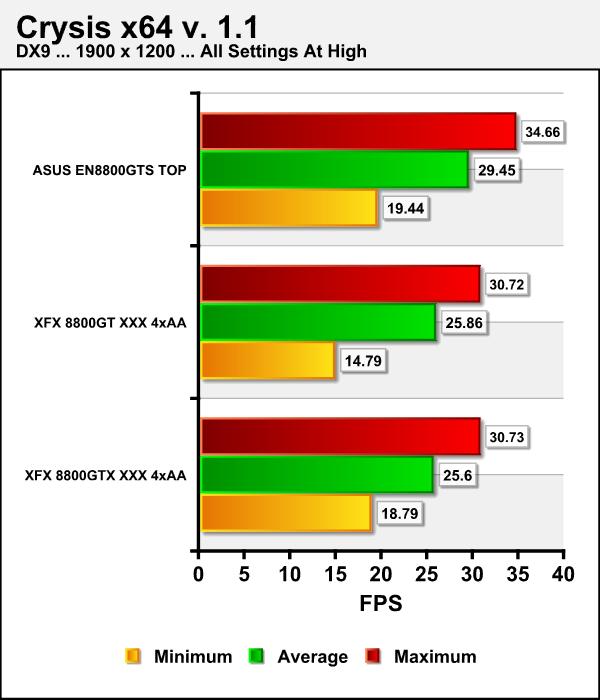 TEST RESULTS
Crysis DX10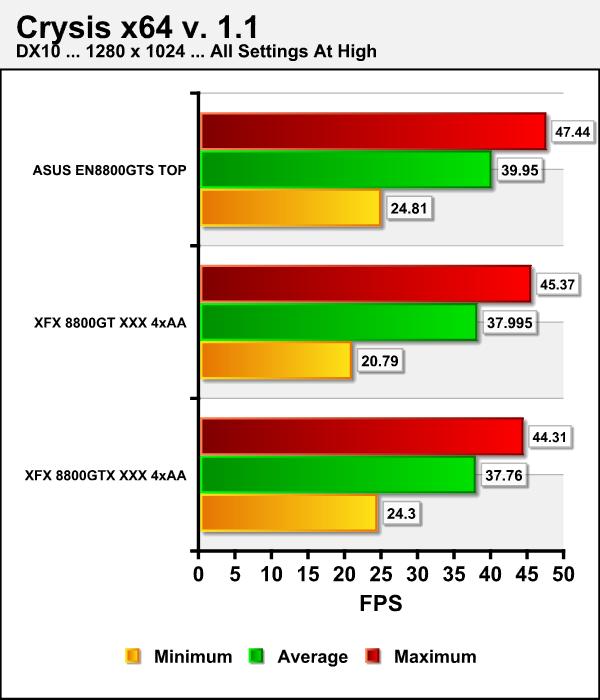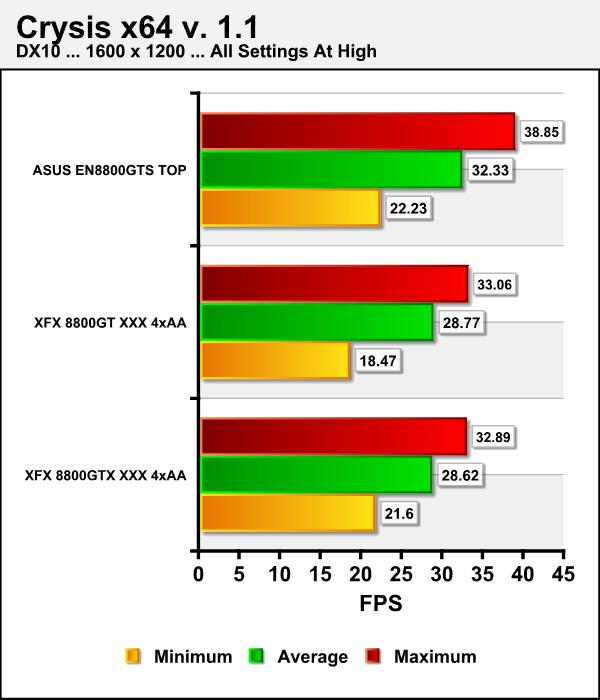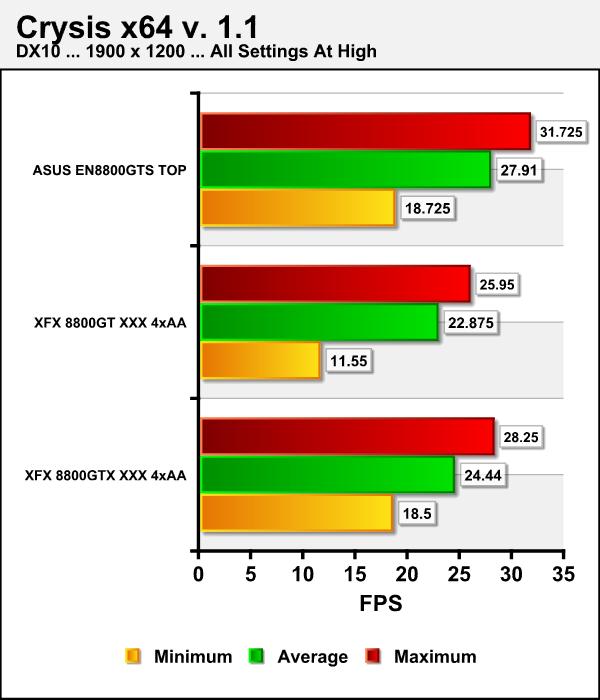 Serious Sam 2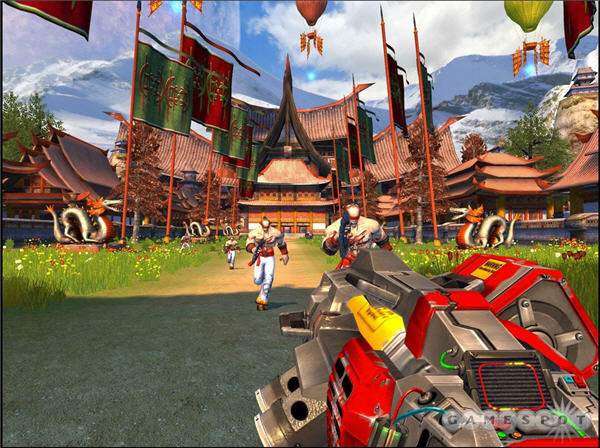 Serious Sam 2 is a first-person shooter released in 2005 and is the sequel to the 2002 computer game Serious Sam. It was developed by Croteam using an updated version of their Serious Engine known as "Serious Engine 2". We feel this game serves as an excellent benchmark which provides a variety of challenges for the the GPU/VPU you are testing. We once again automate the benchmarking process by using benchmarking software from HardwareOC to automate and refine the process.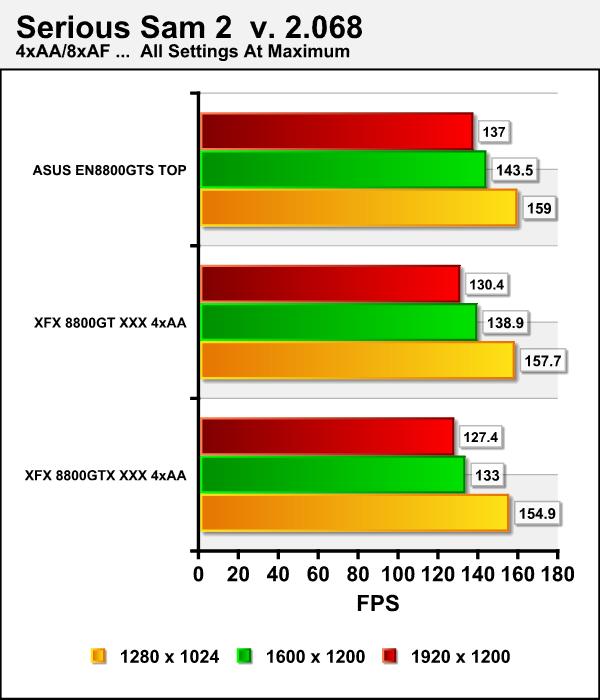 TEST RESULTS
World In Conflict DX9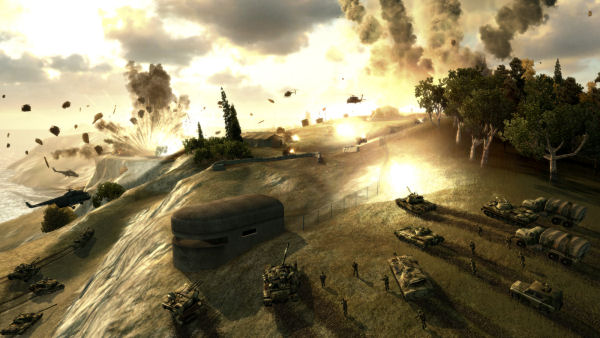 World in Conflict has superb graphics, is extremely GPU intensive, can be rendered in both DX9 and DX10, and has built-in benchmarks. Sounds like a match made in heaven for benchmarking!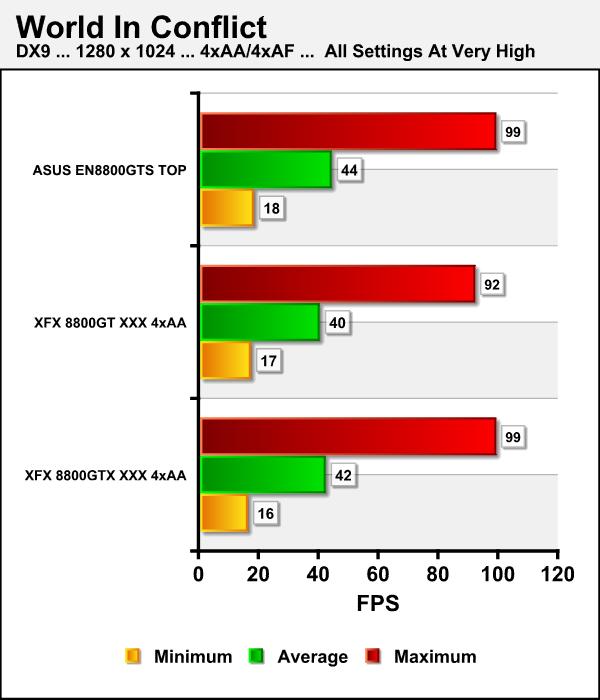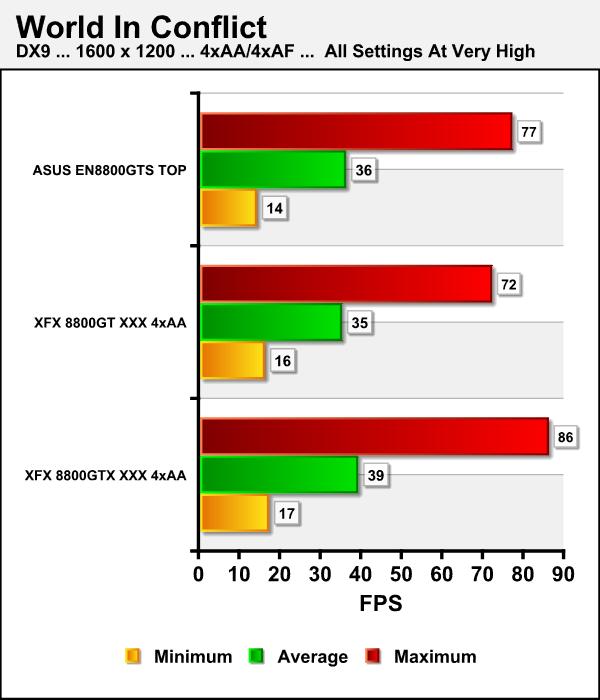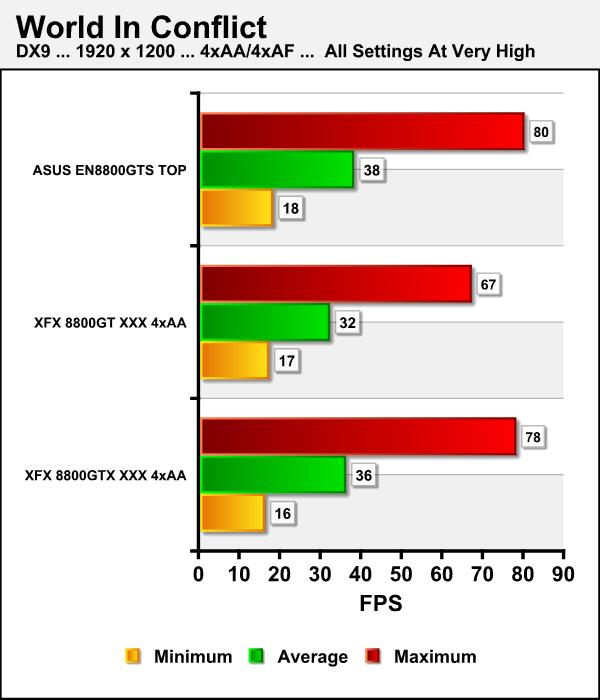 TEST RESULTS
World In Conflict DX10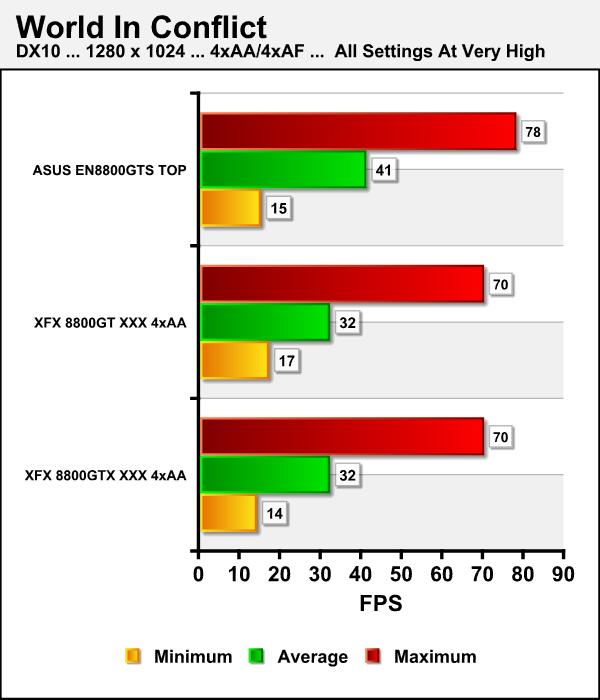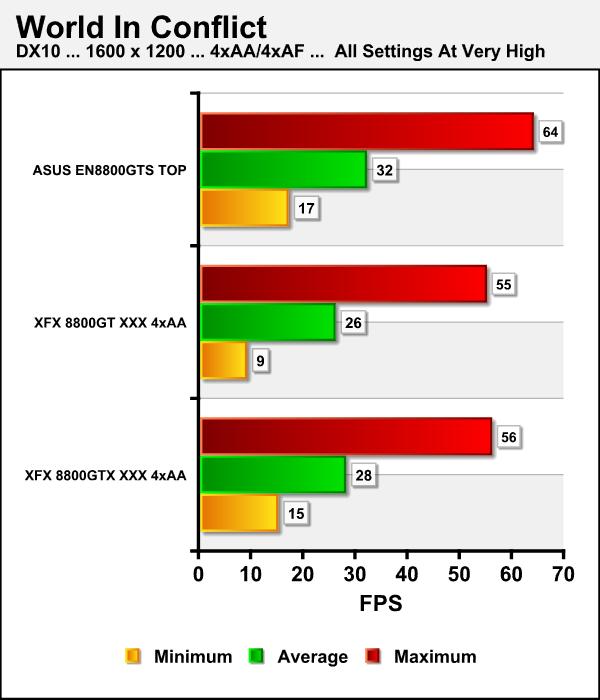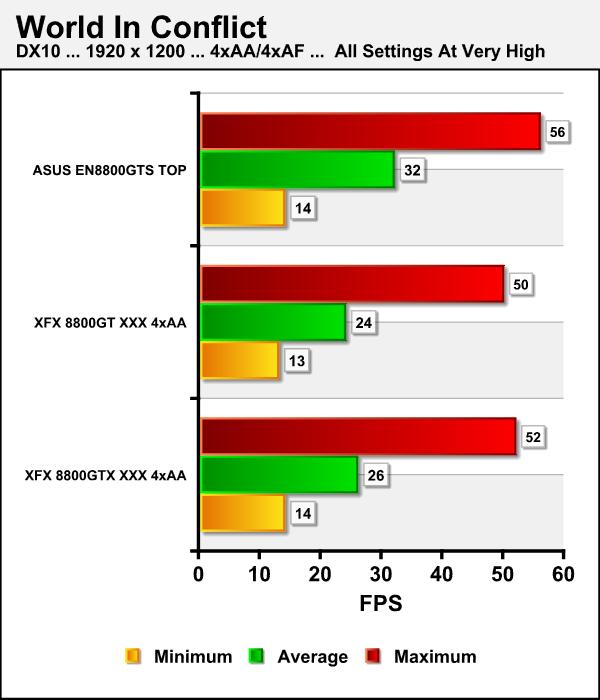 Power Consumption
We decided to measure both the power consumption and temperatures of each of these cards. To measure power we used our Seasonic Power Angel a nifty little tool that measures a variety of electrical values. We used a high-end UPS as our power source to eliminate any power spikes and to condition the current being supplied to the test systems. The Seasonic Power Angel was placed in line between the UPS and the test system to measure the power utilization in Watts. We measured the idle load after 15 minutes of totally idle activity on the desktop with no processes running that mandated additional power demand. Load was measured after looping 3DMark06 for 15 minutes at maximum settings.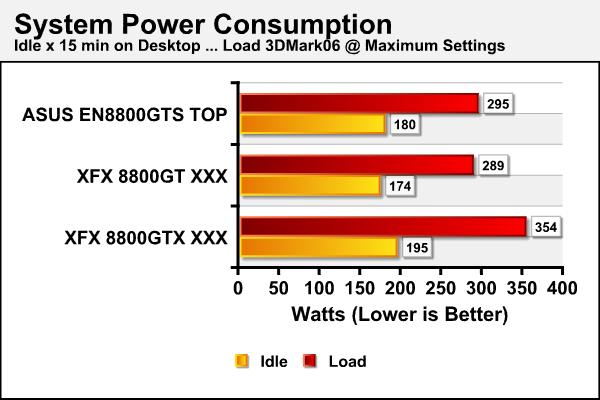 As we would expect, the power consumption of the 8800 GTX XXX should be higher, linearly speaking, than either of the two G92 based cards. We did not expect the difference to be quite as large as what the test revealed. This certainly is strong evidence of the improvements noted by changing the architecture from 90nm to 65nm.
Temperatures
The temperatures of the cards tested were measured using Everest Ultimate Edition v. 4.20.1170 to assure consistency and remove any bias that might be interjected with the respective card's utilities. The temperature measurements used the same process for measuring "idle" and "load" capabilities as we did with the power consumption measurements.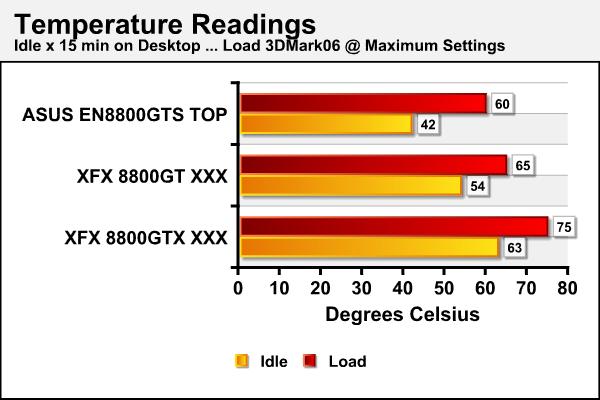 To say that we were amazed by how cool this card runs would be a vast understatement! It was 12 degrees Celsius cooler at idle and 5 degrees Celsius cooler at load when compared to the XFX 8800GT XXX which was one of the coolest 8800 series cards we had tested up until now. We must mention that we are testing this group of cards using the Antec P190 case which has a side mounted 200mm fan which we ran a medium speed (107 CFM)throughout all of our testing. There is also obvious benefit in this cards two slot design where most of the heated air is exhausted out of the rear of the case. We are certain that this helped us to attain these lower cooling results, yet they are still quite impressive.
One thing that we are very happy to see that has been corrected is the card's fan performance threshold has been extended. If you read our review of the XFX 8800GT XXX you found that NVIDIA had by default set the fan's RPM level at 30% of its maximum output until the card reached a whopping 90+ degrees Celsius. While this strategy kept the cards very quiet some users reported that their cards ran very hot. We did not experience this in our testing but the number of overheating issues reported cannot be overlooked. NVIDIA and/or ASUS has certainly taken this into consideration with the ASUS® XFX GeForce® EN8800GTS TOP as the default RPM level is set at 60% of maximum, providing a reasonably quiet product that runs extremely cool even under load.
Overclocking
One can almost certainly question the logic of attempting to further overclock and already factory overclocked graphics card. We pursued this endeavor using ASUS SmartDoctor to primarily find out how much headroom this card actually had. We realized that our results would be somewhat limited primarily by the fact that we are using Vista Ultimate 64-bit as our operating system of choice. We have had reasonably good luck with Vista in most regards when it comes to testing most products, but we will be the first to admit that overclocking any component on your system is not nearly as well supported by Vista as it is with Windows XP. That being said were able to reach a Core clock of 775MHz, a memory clock of 2210MHz. We ran 3DMark2006 and found the difference in performance to be minimal (<2%).
CONCLUSION
Whew! Another completely awesome video card has hit the market and we're sure that it will titillate both the general consumer and computer enthusiast alike. As far as performance goes, the ASUS® XFX GeForce® EN8800GTS TOP literally blows away both the 8800GT XXX and the 8800GTX XXX although in some cases albeit by a slim margin. The EN8800GTS TOP ran extremely cool and was moderately quiet even under heavy loads in our test rig.
The ASUS® XFX GeForce® EN8800GTS TOP retail for $379.00 USD but our search revealed that the stock is currently low in most of the online vendors we frequent. This price is on a par with other overclocked G92 based 8800GTS graphics solutions and from our research and testing the EN8800GTS is the fastest of the lot currently available. One negative we found with this card was that ASUS only offers a three year warranty as opposed to a lifetime and even double lifetime warranty offered by their competitors. We would have also liked to have seen support for the forth coming DirectX 10.1 and Shader 4.1, but in fairness there are not that many users that currently take advantage of the current DX10 games that are available. We're in hopes that support may be extended by a BIOS upgrade.
We have stopped our "best bang for the buck" recommendation as it appears this changes almost weekly with the introduction of a new iteration of the 8800 series of graphics solutions. We do however heartily recommend this card to the general consumer and enthusiast alike wanting the best that is currently available at a reasonable price. There is no doubt that the ASUS® XFX GeForce® EN8800GTS TOP is one of if not the best 8800 series graphics cards we've tested to date. For those of you wondering what "TOP" stands for it's Top Overclocking Performance which I think we more than verified here today!
Pros:
+  Vibrant and very life-like image rendering
+  1800MHz Shader clock speed
+  The cards smaller dimensions allows the user to user less choosy when picking a case
+  740MHz core clock
+  2.07GHz memory clock
+  SLI™ certified
+  Decreased CPU utilization in video processing due to the work being transferred to the GPU
+  NVIDIA® unified architecture with GigaThread™ technology
+  NVIDIA® Lumenex™ Engine
+  Runs extremely cool and quiet even under heavy load in our test system
+  A quality product
 
Cons:
–  Doesn't support the forthcoming release of DirectX 10.1 and Shader 4.1
–  Only a three year warranty
Final Score: 9 out of 10 and the prestigious Bjorn3D Golden Bear Award.