AutumnWave OnAir HDTV TV Tuner is aimed toward users who uses notebook as their primary PC or who needs to watch TV on the run. Of course, you can also use this tuner with your desktop as well. Join us as we test this tuner and see if it's performance justifies its high premium pricing.
INTRODUCTION
A few months ago, I reviewed the VisionTek TV Wonder HD 650 PCIe.  It is a great expansion card for desktop users but it has small limitation that it will only work with desktop.  For the user who is always on the run or has committed to use their laptop as their primary PC, it is not an option.  There is no shortage of TV tuners designed for laptop users from many desktop TV tuner manufactures.  They come in different shapes and forms and connects through laptops via USB, ExpressCard, and PCMCIA.  Despite the fact that the PCMCIA is quickly being phased out in laptops and is being replaced by the ExpressCard, you can still find some of these cards on the market specially for the old analog tuners.  Whicheve card you choose ultimately depends on what expansion slots you have in your system.
For most users, choosing a TV tuner with USB connection seems to be the most ideal solution since USB has become the standard connector for peripherals for both laptops and desktops.  So, today, join me as we are going to put the AutumnWave OnAir GT, a USB HD TV tuner, to the test.  Let's see if this TV tuner is able to deliver what it has promised.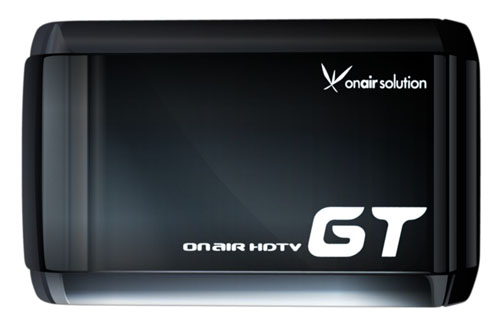 AutumnWave
AutumnWave represents and distributes OnAir Solution products in North America, and brings to market innovative consumer electronics and personal technology products, with emphasis on HDTV tuners for the PC.
Established in 2005, AutumnWave provides consumer, commercial, and educational clients with solutions that are cost-effective and backed by years of knowledge, experience, and US-based customer support.
AutumnWave has introduced a range of products which includes mobile HDTV tuners for consumers, mobile digital TV transport Stream Analyzers for broadcasters, and HDTV tuners which serve as the centerpiece of the digital convergence classroom in educational markets, both K-12 and post-secondary.
FEATURES AND SPECIFICATION
The USB HDTV-GT comes in a minimalist packaging.  The box is small but filled with marketing material and information.  Inside the box, we can see the TV tuner and a compartment for the accessories.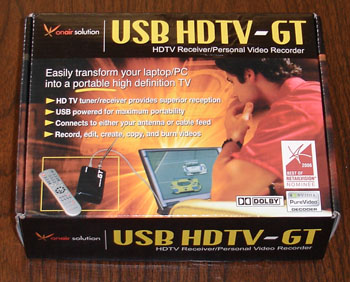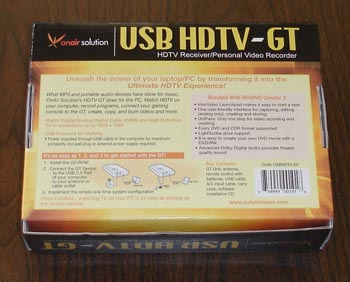 In addition to the USB tuner, we also get a 6 ft mini USB cable, an antenna, a remote control with battery insalled, A/V input cable, a carrying case, and a software installation CD.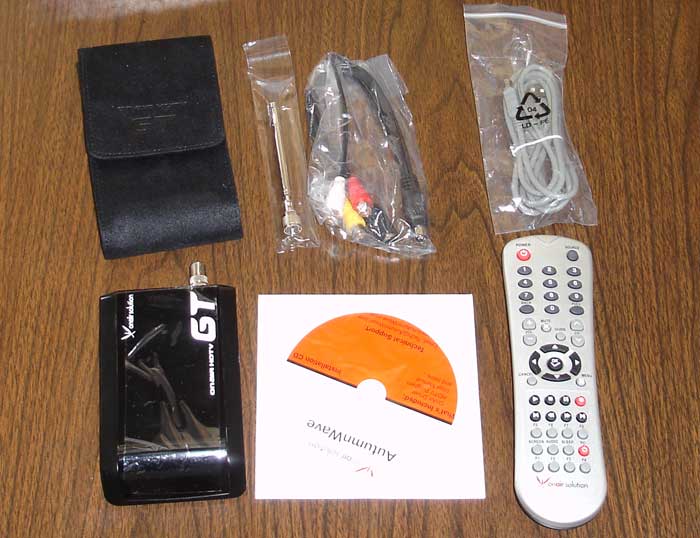 AutumnWave has included a very nice carrying case for the tuner.  The TV tuner fits nicely into the case and there is even a place for the anteanna.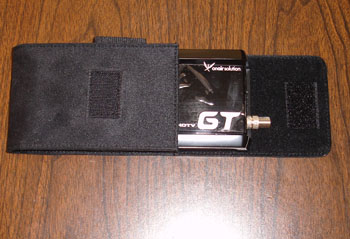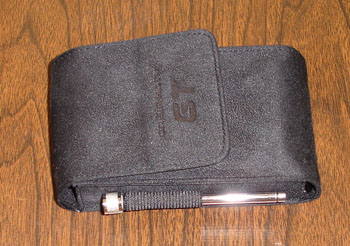 The tuner comes with the latest OnAir GT driver (v3.2.0.2) and OnAir HDTV Program for watching TV.  In addition, it also omes with WinDVD Creator 2 for all of the multimedia needs and nVidia Purevideo Decoder (v1.02.223).  The included nVidia decoder will offer extra benefits for users with nVidia graphic card to take advantage of the hardware assisted encoding offered in the latest nVidia graphic card.  The WinDVD Creator 2 is a nice bonus despite the fact that it is slightly outdated.  The whole software package included with the tuner is quite nice in my opinion.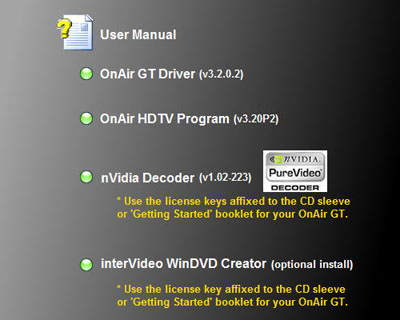 Features:
Receives free over-the-air digital & analog TV broadcasts
Receives digital (clear QAM) & analog cable TV broadcasts
No internet connection or satellite required!
No subscription fees!
Self-powered by the USB 2.0 port for mobility
LG Electronics 5th Generation Tuner improves reception by minimizing multipath
Record and playback your favorite HD shows in High Definition with no quality loss
Pause and resume Digital TV
Schedule up to 80 programs to record
Digital (EIA-608) and analog closed caption support
Connect your PC output to the VGA input of an existing flat panel monitor to display HDTV broadcasts
Includes nVidia PureVideo Decoder
Dolby Digital® 5.1 Channel support (Digital TV)
Accepts analog input from S-Video, Composite Video, Left & Right Audio connections
Electronic Programming Guide (EPG) (OTA Digital TV)
Full size remote control
Capture still images from digital and analog TV
Wallpaper TV View (watch live video or captured images as your desktop background)
1 year parts & labor warranty
Specifications:
Main Chipset: CX25843, CY68013A
Tuner:

LG (LG TDVS-H062P) 5th Generation Chipset
1 Antenna Input
ATSC/NTSC/8VSB OTA Ch 2 – 69
ATSC/NTSC/QAM (Unencrypted) Cable Ch 2 – 135

Audio:

DolbyDigital® AC3 & 5.1 Channel Decoding Support
Analog TV Stereo / Multi Lingual Support

Video Input: Composite Video / S-Video
RF Input: Over-The-Air and Cable TV
Interface: USB 2.0
Video Formats:

Digital TV: MPEG-2 TS (up to 1920 x 1080 resolution)
Analog TV and Video Input:

MPEG-2 (720×480, 640×480, 480×480, 352×480) for SVCD or DVD
MPEG-1 (352×240) for VCD
THE HARDWARE
TV Tuner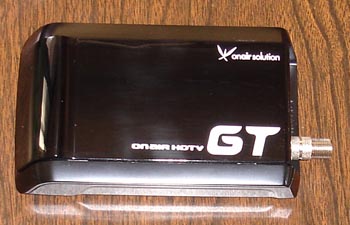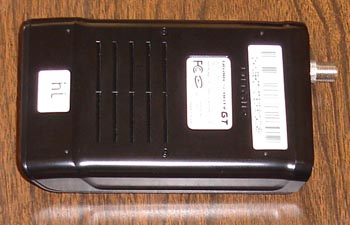 The external aesthetic of the TV tuner is visually pleasing despite the lack of any unique looks.  We can see that it is made with black plastic covering the whole body.  On the bottom, there are a few ventilation holes.  The connectors are all located on the back of the tuner.  Here, we will find the connector for the antenna, A/V in, and USB 2.0.  Notice that the tuner uses the mini-USB.  In addition, the tuner is powered through the USB port so no need for carrying a bulky and heavy power brick. 
Having the A/V in on the tuner means that the OnAir HDTV GT is not simply a TV tuner, it also will function as a video capture device.  You can connect a Camcorder or VCR to the A/V Input cable to view and capture memories into a digital format for archiving or sharing with loved ones.  It is slightly unfortunate that the A/V in is only able to accept analog signal rather than digital.  Still, a nice addition to the TV tuner.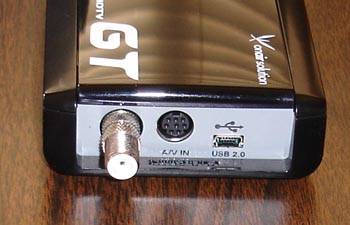 The OnAir USB HDTV-GT uses Conexant CX25843 for audio and video mixed signal decoder.  The CX25843 supports the following technologies:
Video

2D, Adaptive 4H comb filter for NTSC and PAL, bell filter for SECAM
Two 10-bit A/D with 10-bit video path through entire chip
Composite Video Baseband Signal (CVBS), S-Video, and YPbPr input
CCIR 656/601/Square Pixel output

Audio

Worldwide standard broadcast audio decode: Broadcast
Television System Committee (BTSC), NICAM, A2, EIAJ, A2M
Second audio program
Flexible VBI slicer and raw mode support
Available video-locked audio clock
Baseband audio support via I2S (I/O)
AC97 audio code support
Baseband audio and broadcast stereo audio processing
The TV tuner is LG TDVS-H062P LG 5th Generation Chipset that supports one antenna input for digital/analog TV (OTA and Cable).  The tuner is capable of receiving ATSC/NTSC/8VSB OTA Ch 2 – 69 and ATSC/NTSC/QAM (Unencrypted) Cable Ch 2 – 135.  The maximum resolution supported for digital TV is MPEG-2 TS up to up to 1920 x 1080 resolution while the analog TV supports MPEG-2 (720×480, 640×480, 480×480, 352×480) for SVCD or DVD and  MPEG-1 (352×240) for VCD.
Remote

The remote looks fairly similar to any other HD Tuner remotes that I have seen.  You get the usual navigation buttons: number keys, volume, mute, and channel buttons.  In addition, there are eight function keys that are programmable with the included software.  The remote works fairly well.  You do not need to install the driver for it at all. Once you have installed the driver for the tuner and the program, it automatically gets recognized.
There is just a small issue that I have with the remote, since the tuner is designed to be used with laptops, I, personally, would have preferred to have a slimmer and more portable remote control.  Having all these functions are nice but it makes carrying it a hassle due to it's size.
 
INSTALLATION AND SOFTWARE
Installing the tuner is a straightforward process.  You would have to install the driver from the CD before plugging the tuner to the USB port.  Generally, I will download the driver off the internet for the latest version but AutumnWave actually includes the latest version on the CD, so no downloading is needed.  With Windows XP SP2, I did not encounter any issue at all.
In addition to installing the driver, I also installed the OnAirGT TV program for TV viewing.  The program offers a simple interface for navigation.  On the main menu, you have the usual playback buttons: play, pause, record, fast forward, rewind, volume, and channel switch.  Even without the manual, you should be able to setup the program and watch TV within 10 minutes but in case you need help, AutumnWave does include an easy to read manual in the CD.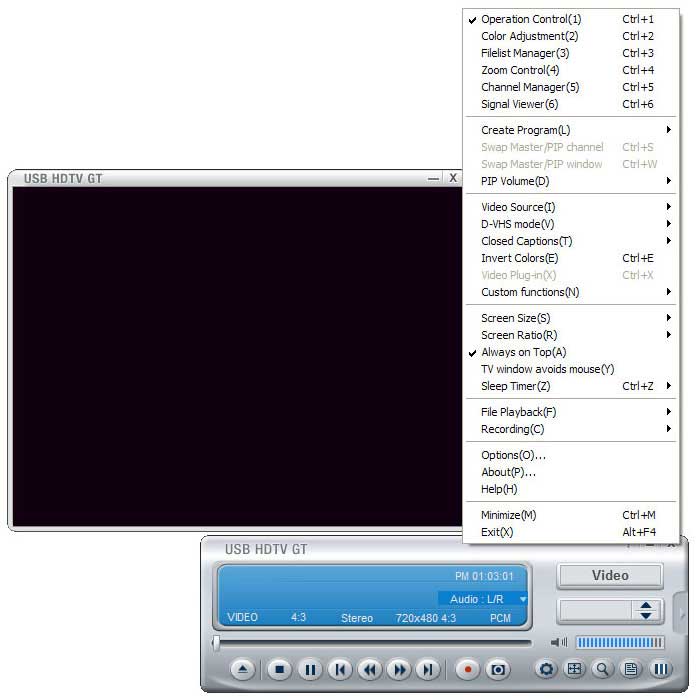 Right-clicking on the software will reveal all the options which the program is capable of.  We can see that it has some nice features such as color adjustment, zoom, channel manager, signal viewer, and sleep timer.  I tried to adjust color setting with the color adjustment but it does not offer any noticeable changes.  The signal viewer is a neat little indicator which shows the strength of the incoming signal so you can use it to adjust your antenna.
OnAirGT supports a wide range of chaning the TV channel. Changing TV channel can be done with either the main interface's up and down button, click a TV station in the Channel Manager, the scroll wheel on the mouse, or the remote control.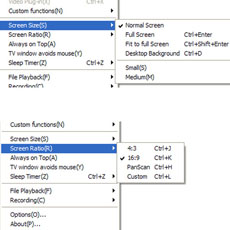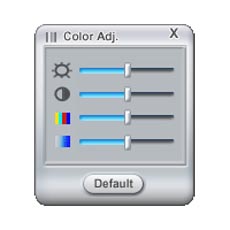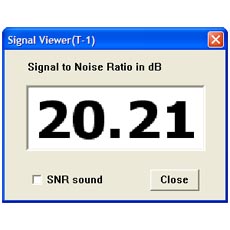 Various screen sizes can be selected, in fact, you can even set the TV as desktop wallpaper.  Not only you can use the preset resolution, you can simply drag the corner of the program to enlarge or reduce to any given size.  The software also supports 4:3, 16:9, PanScan, and Custom aspect ratio for various monitor sizes on the market.  Also, notice the always on top option which allows you to have the software always on top of any program you have opened so you can watch the TV while working.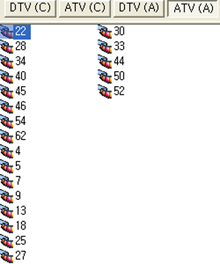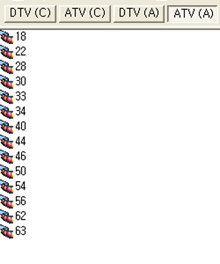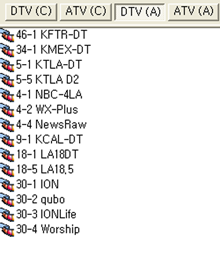 Setting up the channels with the included software is quite easy.  The Channel Manager offers four separate lists for Cable Digital TV(DTV(C)), Cable Analog TV (ATV(C)), Antenna Digital TV (DTV(A)), and Antenna Analog TV (ATV(A)).  The channel detection was really quick, much quicker than other software that I have used with the ATI TV Wonder HD 650.  The software has an Auto Scan feature to scan the available channels.  In addition, channels can be added manually.  When adding channels manually, you have the option to select "until receive" option, which allowing you to adjust the antenna until it receives a signal.  If the signal is too weak, it will not be added to the list.  I am glad that the channels are listed in the normal number as oppose to some other software which listed the channels according to the name of the network.
Unfortunately, there is no automatic rearranging of the channel option to be found.  Channels can be deleted or set as favorite so you can choose the channels you wish to show up on the "Favorite" list and completely skip channels you never watch.  Oddly enough, channels which are set as favorite cannot be unselected in the main channel manager windows.  In order to remove a channel off the "Favorite", you would have to go to "Favorite" first, and then you can delete a channel from the "Favorite".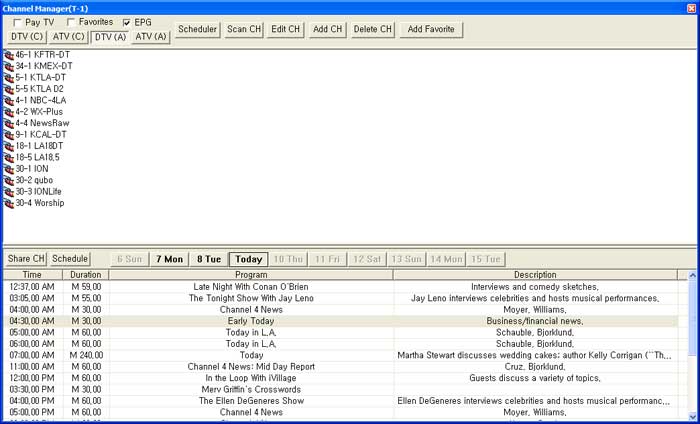 We can see that the software also offers EPG with program listing and a short description of the program content.
The included antenna works fairly well receiving signals but it does not pick up all the channels available near my area.  Hooking up the OnAir GT with regular bunny ear antenna that I used with the VisionTek TV Wonder HD 650, I was able to receive more channels.  Still, it's nice that a short single arm antenna was able to receive a decent amount of channels compare to the large RCA antenna with two arms.  Analog channels bodes better results.  Strangely, some digital channels which are being picked up by the digital tuner did not get picked up in the analog tuner.
The program supports PIP.  In fact you can open up to eight TV/File windows. 
Here are the possible combinations of TV & File windows:
1 Tuner + 7 (or less) File windows (1 + 7 = 8)
2 Tuners + 6 (or less) File windows (2 + 6 = 8)
3 Tuners + 5 (or less) File windows (3 + 5 = 8)
4 Tuners + 4 (or less) File windows (4 + 4 = 8)
Unfortunately, my PCIE VisionTek HDTV 650 does not work with the OnAir GT so I was not able to test multiple tuner PIP.  You can, however, mix and match the OnAir GT with other TV tuner from AutumnWave.  In addition, since the OnAir GT does not support tuning both analog and digital signals, you cannot watch two TV channels simultaneously—one digital and one analog.
Below you can see all the available settings for the OnAir GT software.
click for larger image
I am glad to see that the program supports English and Spanish (if the TV channel supports it) language.  In addition, it also supports caption even for digital TV.  I am a little bit puzzled with the dictionary mode.  This is what the manual says about the Closed Caption Dictionary Mode, "this mode allows automatic searching for a Closed Caption word from any dictionary. Position the mouse cursor over the word, and the word is automatically copied into any dictionary program or text box which has input focus."  Neat I think.  Below is the information I got from AutumnWare regarding to this feature:
Dictionary mode is a unique feature.  Open up Dictionary.com  (or your favorite dictionary website/software).  Click in the 'Search' box on the website/software, and then hover your mouse over a Closed Caption word shown on the screen.  The OnAir HDTV Program will automatically copy/paste the word into the website/software and press .   It might be useful as a learning tool.
The OnAir GT supports TV recording of MPEG1 352X240, MPEG2 720X480, 640X480, 480X480, and 352X480 with different recording quality.  I am slightly dissapointed to see the omission of 1080p resolution for full HD recording.  The TV recording resolution listed is for analog TV.  The Digital TV will be recorded at full resolution at the broadcaster's resolution.  So it will record 720p, 1080i, and even 1080p as long as the TV broadcaster is sending out the signal at that resolution.  The recorded TV shows carry the extension of .TRP, .TR, or .TS and are playable with the OnAir GT software.  However, you can rename the extension to mpeg and use any software to watch the recorded show or import to any software to edit.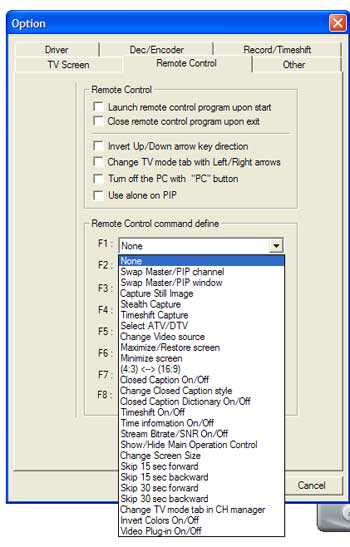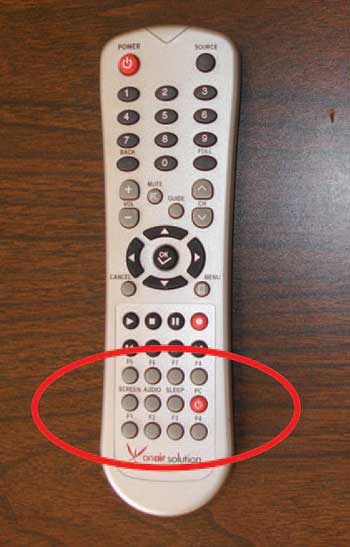 Digging into the "Option" menu, we see that there are eight functional buttons which can be configured to various commands for the F1~F8 buttons found on the remote control.
Overall the software is easy to navigate and use.  I did found a graphical glitche in the software but it's nothing major to complain about.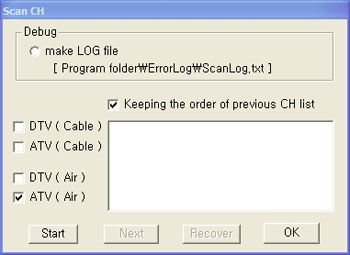 IMAGE QUALITY
The image of the TV is quite good for the HD contents and the SD, well, it's as good as it can be with the over the air antenna.  It seems to be slightly fuzzier than the ATI TV Wonder 650 but still looks good.  The color looks awesome despite the fact that the images are slightly darker than the VisionTek HD 650.  Since the color setting in the software does not make much difference in the color, you either have to get used to the slightly darker color or use your graphic card's setting to adjust the color.
Click images for larger (full screen 1920×1200) image.  
---
---
CONCLUSION
The biggest complaint that I have with the AutumnWave OnAir GT is the bulky remote control.  I would have preferred to have a slim design to make it as portable as the tuner itself even if that means that some functions may have to be removed.  In addition, the steep price of $179.00 makes it a bit hard for some people when you can easily find a similar product at much cheaper price. 
Despite its premium pricing, the OnAir GT actually is a really neat product.  It is packed with neat features that are not found with some other tuners at slightly cheaper price, such as digital caption and SAP language support.  The AutumnWave OnAir GT is a nice little portable TV tuner which would satisfy notebook users out there who wish to watch HD TV on the go.  I am quite amazed by how many channels the little antenna was able to pick up.  Notebook users would be happy to be able to receive most available channels on the go simply by plugging in the compact and portable tuner.  In addition, the software interface is easy to navigate and use despite a little bit of graphical abnormalities.
All in all, the OnAir GT would have earned Bjorn3D's coveted Golden Bear Award if not for its steep price.  However, we still feel that it deserves our Seal of Approval Award.  We like it and will recommend it if you can afford it and need all the features.

The AutumnWave OnAir HDTV GT will receive a score of 8.5 (very good) out of 10 and Bjorn3D's Seal of Approval for the excellent image quality and features.
Pros:
+  Easy to use
+  Easy installation and setup
+  Extremely portable
+  Good signal reception with the included antenna
+  Nice bundle: carrying case, antenna, remote
+  Good software bundle: WinDVD Creator 2 and nVidia PureVideo decoder
+  Mini-USB port powered (no external power needed)
Cons:
–  Software graphical glitches
–  Slightly darker image
–  Expensive
–  No Mac support
–  Bulky, non-portable remote control