Paragon Hard Disk 2008 Suite has utilities for most situations surrounding a hard drive. Whether you need to prepare a disk for use, make a backup of a existing partition or make sure that data stays deleted – Paragon Hard Disk 2008 Suite can help.
INTRODUCTION
Paragon Hard Disk Manager 2008 is a program suite from Paragon that promises to make everything around the hard drive easy. It can defrag your hard drives, make it easy to take an image and restore it and even make sure that any data you want removed stays removed. After using it for over a month my personal feeling is that this is a great toolkit for both novice and experienced users. Read on to find out why.
ABOUT PARAGON
Paragon was founded in 1994 and has a mission to "provide efficient and effective corporate and enterprise level solutions in storage management, continuous data protection and hard drive management". In their product portfolio we find a wide variety of products that all center around the hard drive and the data stored on the hard drive.
FEATURES
Paragon Disk Manager 2008 can be bought either as a physical product or as a download from Paragon. The version I am reviewing here is the downloadable version but there is no difference between it and the physical CD-version.
General Features
Complete set of tools for overall HDD maintenance in one suite.
Imaging and Partitioning
Optimization and Defragmentation
Recovery
Backup/Restore
Disk Wiping
Includes simple wizards for beginners and comprehensive tools for advanced users
MS Windows Vista support
Partitioning Features
Basic Partitioning (Create, format, check file system, delete, hide/unhide, mark as active, assign drive letter, etc.) Wizards and Dialogs.
Resize copy and undelete partitions functionality.
Disk Editor
Operations with MBR
Drive integrity check
Hard Disk surface test
Boot management Features
Multi-boot environment
Default settings and boot on timeout
Hidden mode
Easy activation/deactivation
Imaging and Cloning Features
Hard Disk/Partition Copy
Incremental Copy Option
Copy with resize
Defragmentation Features
Monopoly Access mode defragmentation
Filesystem optimization strategies by three parameters (file date, file size, directory order)
Optimization of the page file and the hibernation file allocations.
MFT defragmentation
Low free space defragmentation (less than 1% free space required)
External USB device defragmentation
Shrink MFT feature
Big volume support ( >128 GB)
RAID suppor
General Backup/Restore Features
Backup Data and System to an archive
Restore Data and System from an archive
Restore From Recovery CD
Backup Archive Compression
Backup Archive Encryption
Supported Backup/Restore methods
Backup/Restore to/from a spare drive, a partition, a Backup Capsule
Backup/Restore to external USB or FireWire HDD device
Backup/Restore to CD/DVD
Backup/Restore to Backup Capsule
Bootable archives on CD/DVD
Advanced Backup/Restore Features
Paragon Hot Backup support
MS VSS support
Choice of Hot Processing method
Backup Capsule management
Burn existing archives to CD/DVD
Restore partition with resize
Extract separate files from backup archive
Restore within BTE environment
Rescue Kit Features
Recovery Media Builder
Recovery CDs
Recovery CD: Simple Restore Wizard
Recovery CD: Network support
Three recovery environments
File Transfer Wizard
Wipe Features
Wipe partition/drive
Clear free space
Hardware Support
CD-R, CD-RW, DVD-R, DVD-RW, DVD+R, DVD+RW
DVD±R Double Layer Support
The program consists of a large number of sub-modules that do all kind of funky stuff. If you have used any Paragon products before you will certainly recognize the modules as they are present in a host of other products from Paragon. In fact, after looking over the feature set of other programs like Paragon Partition Manager 9 and Paragon Drive Backup 8.5 you see that Paragon Hard Disk Manager 2008 takes modules from these programs as well as other Paragon programs and combine them into one product. This means that Paragon Hard Disk Manager 2008 will not have every feature of all these other programs but instead (hopefully) the most usefull ones all combined in one program.
SETTING UP YOUR HARD DRIVE
To help you set up a hard drive, Paragon has included a partition module in the suite.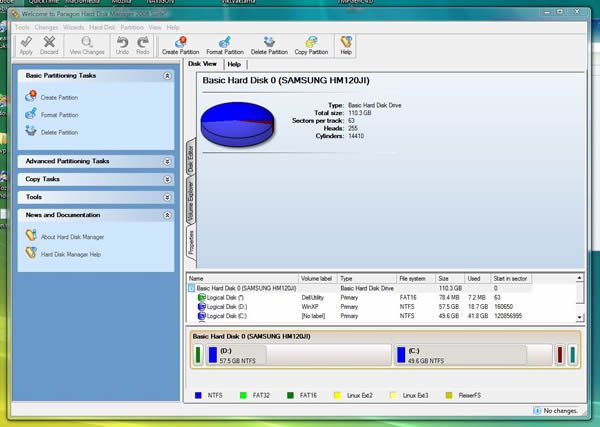 The partition utility allows you to work on your disks and manipulate partitions.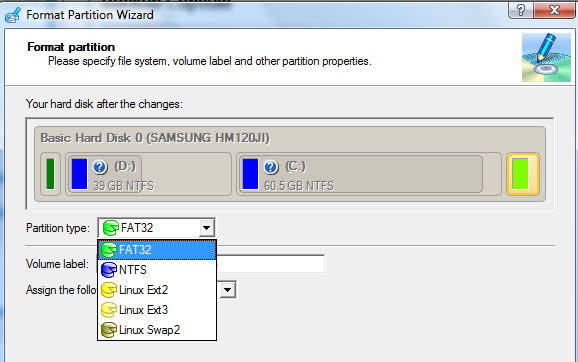 Partitions can be formatted in several formats including FAT32, NTFS and various Linux formats.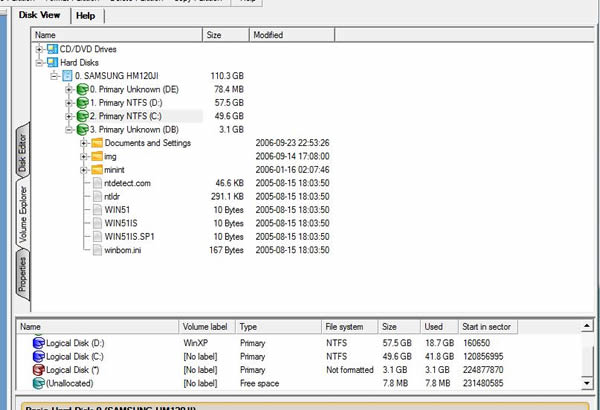 The program also allows you to look at files on a partition and even export them. I tried this on a disk that had stopped working and managed to salvage some files from it. It didn't work as well as some of the special salvage software but well enough to get some files back.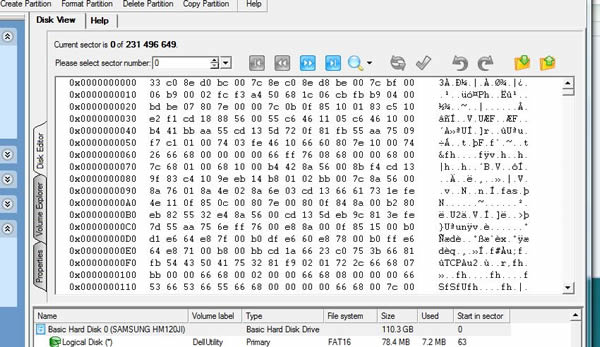 In addition to looking at files on a partition you also can go in and hex-edit specific sectors.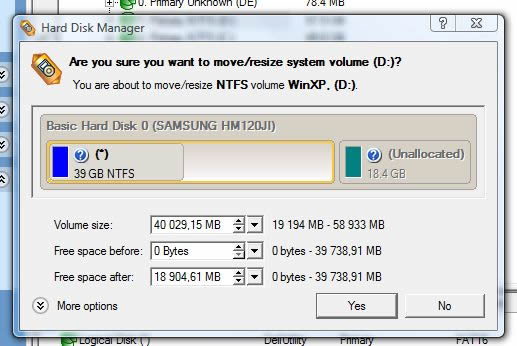 Partitions can also be resized and moved.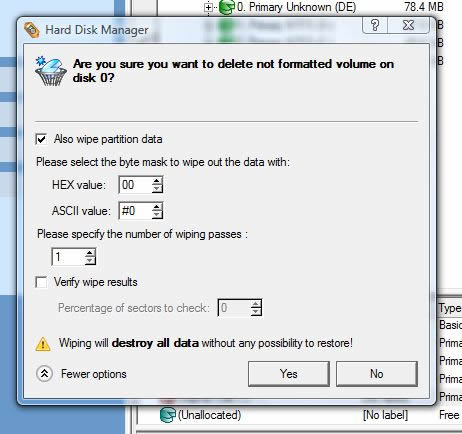 When a partition is deleted you get the option to wipe it completely so it cannot be retrieved again. Unfortunately I do not have tools to test this claim but I'm guessing it should be good enough for normal users.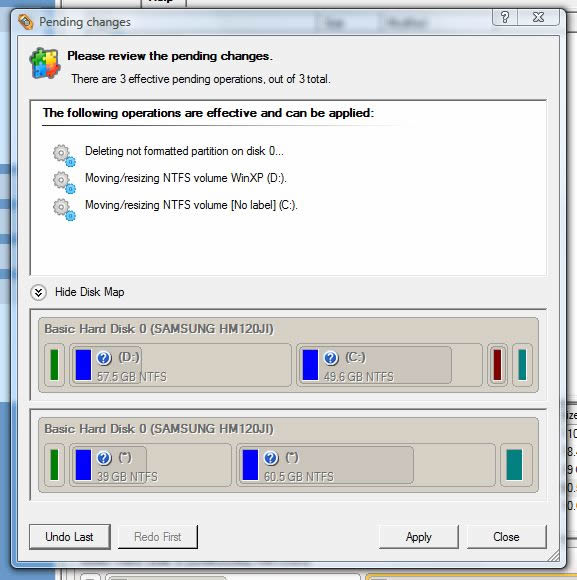 Just like other partition utilities every action is placed in a queue and then applied at once. This allows you to set up a number of things to be done to your hard drives. Also, just as with other partition utilities, the program sometimes needs to reboot your computer and continue in dos-mode.
The partition utility also has some other tools like the ability to undelete a partition. I used the partition utility several times and never had any problems with it.
BACKING DATA UP
Another important part of this program is the backup modules. Making backups of a fresh install of Windows should be the first priority after an install and this suite has the tools for that.
It works a bit different from a regular backup program as it only backs up whole drives or partitions.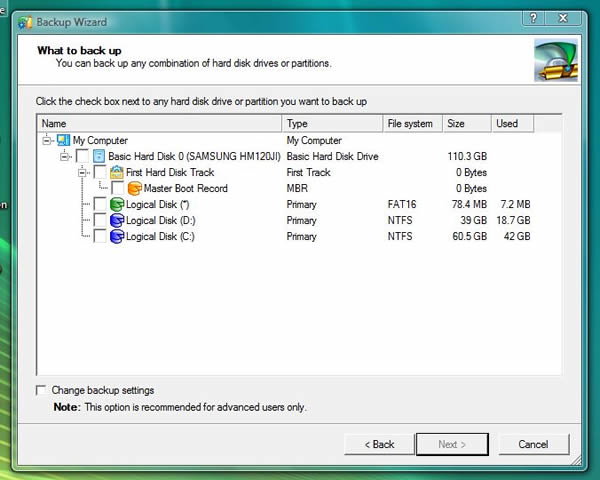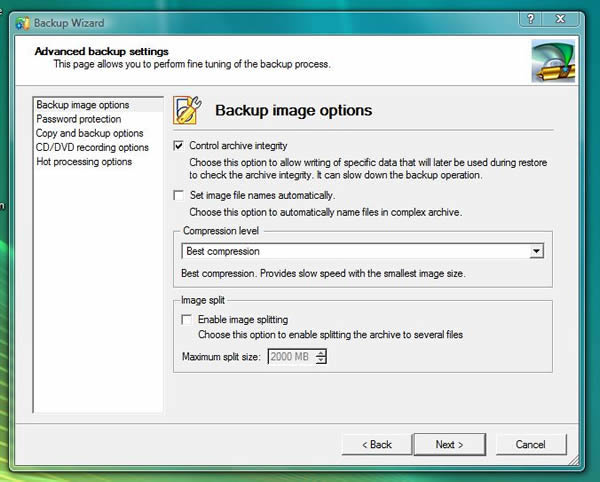 After you've selected the partition(s) you want to take a backup of, you can set up the backup options. There are a lot of options for the backup including splitting the archive up, compressing the archive and burn directly to a CD/DVD. It also includes the option to turn on "Hot processing" meaning it can work on a partition that is locked without having to reboot the system.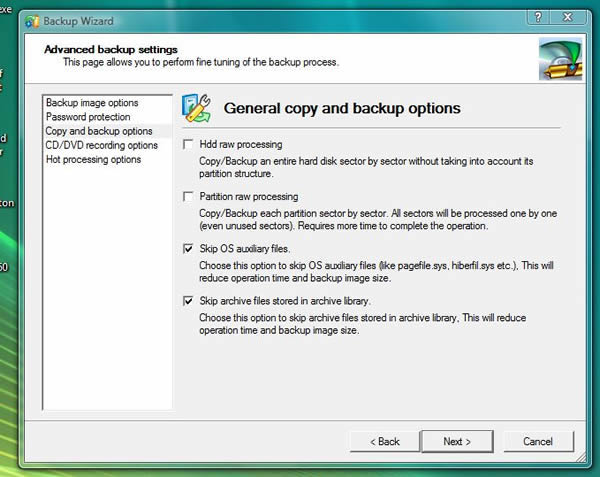 Last but not least you select where you will put the archived partition(s). The backup capsule mentioned in the screenshot is a secure backup partition created by Paragon Disk Manager 2008 and is set up in another module of the utility.
The backup capsule is an interesting feature. Basically the program allows you to set up a hidden partition where you can store your backups. The backup capsule has an independent system layout (e.g. a separate partition) and is even operable when the active file system is damaged. To avoid a removal or unauthorized access to the data, this partition is hidden and cannot be mounted in the operating system. The content of the backup capsule is only available for browsing when using special software, including the partition utility in Paragon Disk Manager 2008.
You can even boot from an image stored in the backup capsule as long as you make the capsule bootable. As we get bigger and bigger drives the idea of having a hidden partition where you can store a pristine version of your main system, ready for boot in the event of problems, is pretty cool.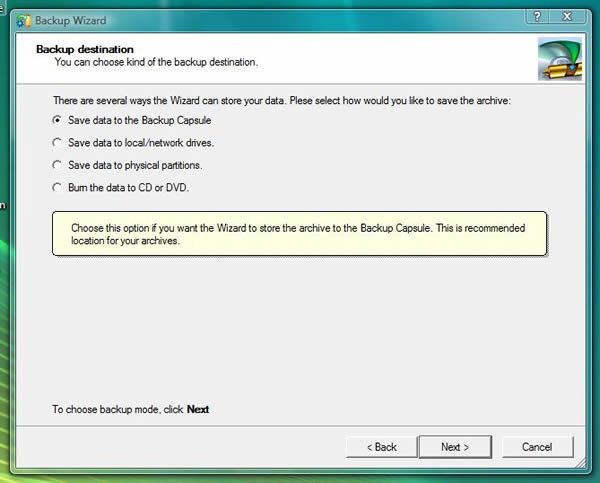 You can also set up a schedule for the backup. As we are talking about backups of a complete disk or partitions, which tend to generate big files, it is important to make sure you have a lot of storage where you are storing them. I personally do not see as much need to schedule these large backups as I do performing incremental backups of files (which you cannot do here) but at least you have the option.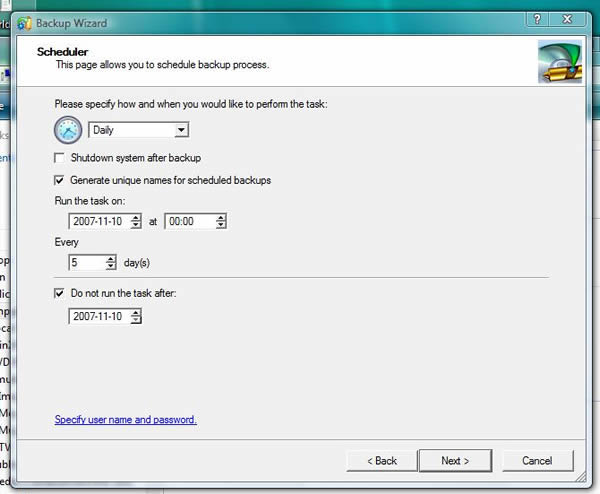 Restoration works the other way around. First you choose an archive to restore from. This can be situated in a backup capsule or an archive file on your network or on a disk.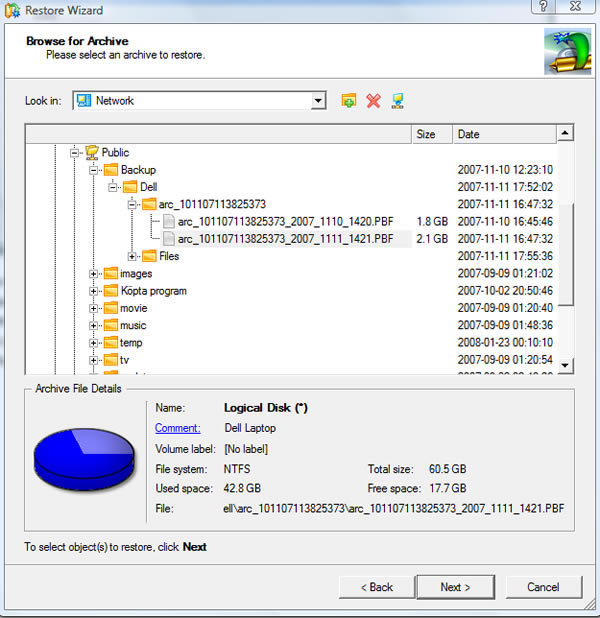 In the next step you choose where to restore the archive. Since this backup program only backup's whole partitions or disks you will have to choose a partition to restore it to. This will delete all that is on the partition.
Disk migration
Hard Disk migration does just as it says: migrate the data from one disk to another. Use this when you want to switch disk in your computer but keep the partitions intact.
Transfer Files
In addition to backups of a whole partition you also can transfer files from various parts of the hard drive and burn/save it on a CD/DVD or a network drive. At first I was not sure why you would like to use this feature. It's just as easy just using the built-in CD/DVD burning feature of Windows. However – this module is mainly to be used with one of the rescue/recover CD's that you can burn. Its main use is to transfer files of a damaged partition and rescue them.
KEEPING THE SYSTEM FIT
In addition to helping you set the hard drive up as well as backing it up, you also have some tools to keep the hard drive fit.
The maintenance module lets you defrag a partition.
You can analyze and defrag both partitions and the Master File Table (MFT).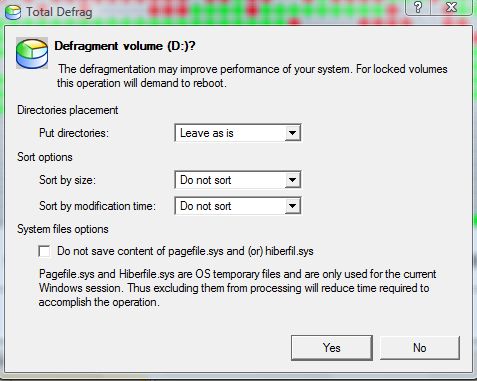 When you start a defrag you can choose to put directories and files on different parts of the partition.
While the actual defragmentation works well, the utility lacks the ability to set up scheduled defrags as well as have it run in the background. 
 
THE RESCUE AND RECOVERY DISKS
One of the best parts of this suite is the rescue disks. Included in the package are two different rescue disk images, one Linux based and one Windows PE based. Both can be burned directly to a disk or you can create iso's for each.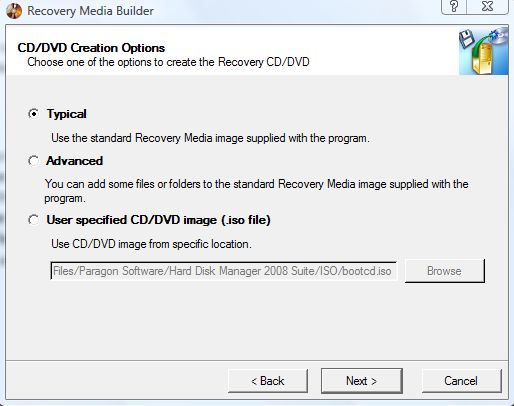 In addition to just creating a basic Recovery Disk you can also select to add more files to it and even just burn any iso you have on the disk.
WinPE Rescue/Recovery Disk
This disk as the name implies uses WinPE and thus looks basically the same as the full Windows version.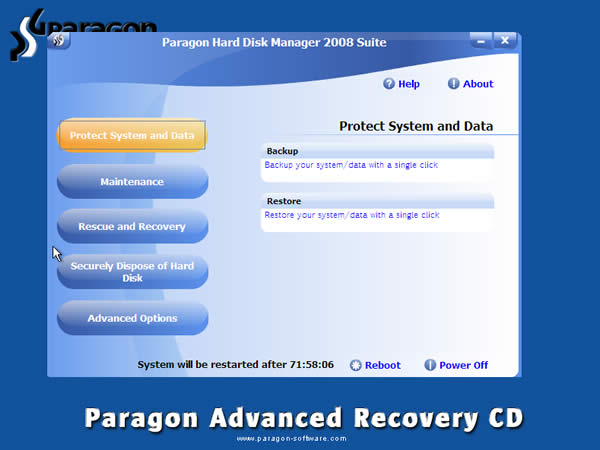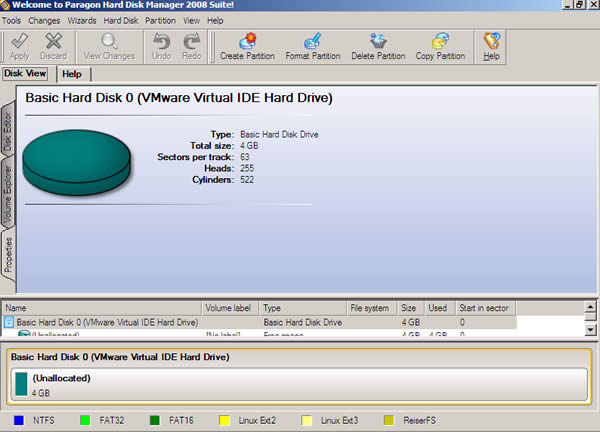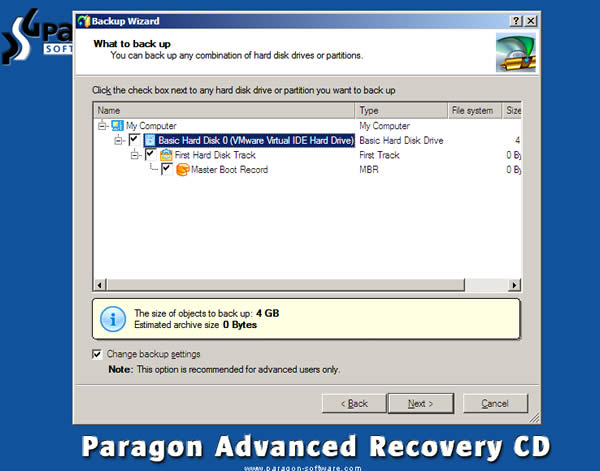 One problem I noticed was that I had problems getting the network connection working on my Dell laptop. As you would like to fetch a backup image from a network drive it's a bit annoying when you cannot access it. Luckily things went much better with the Linux Recovery CD.
Linux Rescue/Recovery Disk
That CD allows you to do basically the same things as with the WinPE version. It in fact has some more tools like the ability to access the command line or to save log-file info.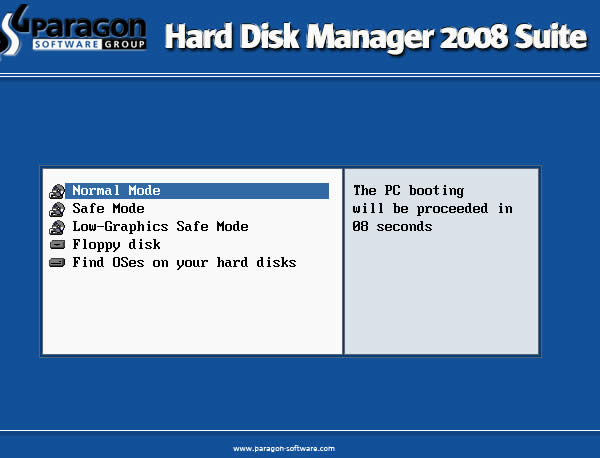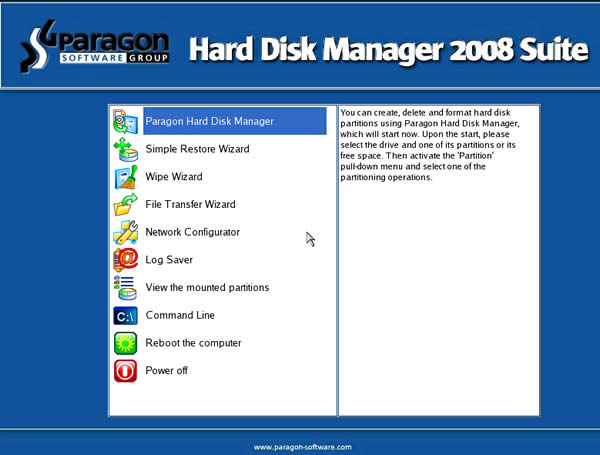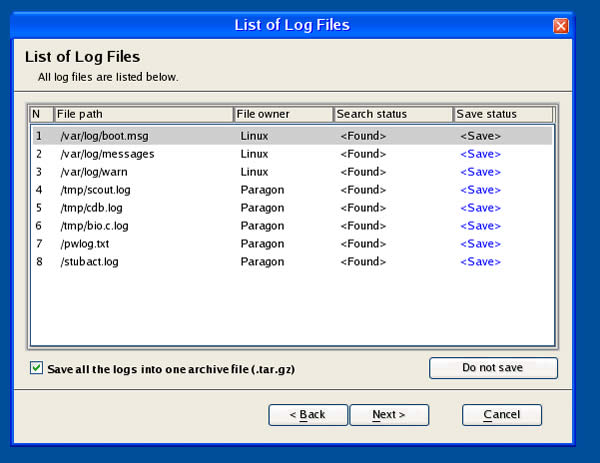 These CD's are really useful and while there are downloadable iso's on the net that can do similar things, these discs have the advantage of also having the Paragon utilities, meaning you can easily recover and restore backups you have done in the full program.
 
MAKING SURE FILES STAY DELETED
Just as you would like to back files up you might want to make sure a deleted files stays deleted. There are a few ways that you can do this with the suite.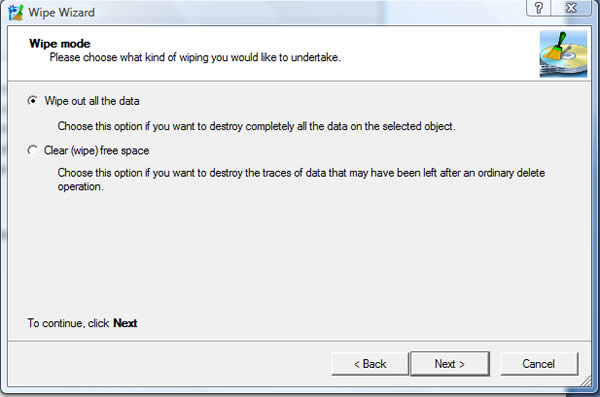 The Wipe Wizard lets you either wipe all the data on a selected partition or you can just make sure the free space stays empty from any traces of deleted files.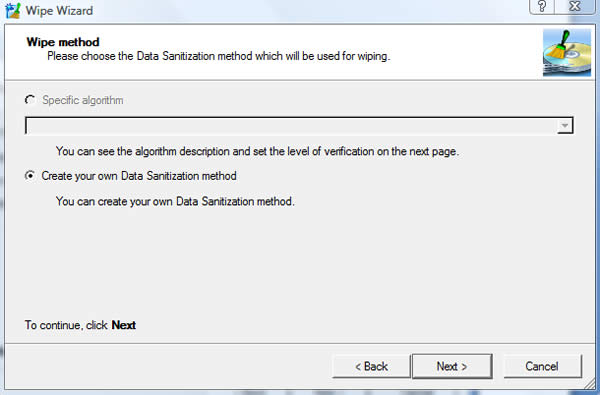 Now this is a bit odd. While there is an option to choose an algorithm for the wiping, there is nothing to choose. Instead all you can do is create your own.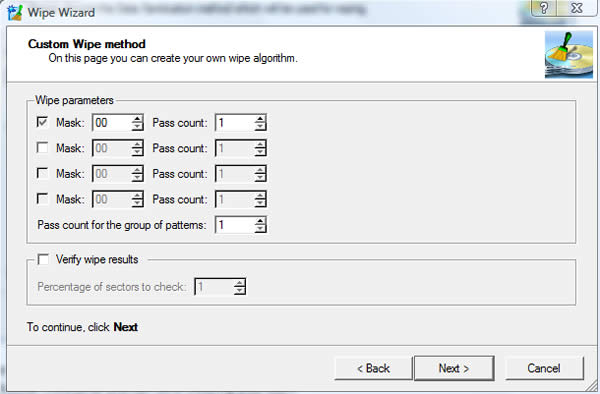 Paragon unfortunately does not elaborate on what each setting does or give some suggestions for the best settings so you will ahve to experiment here.
As mentioned earlier in the review you also can make sure that a partition that you delete stays deleted. When a partition is deleted you get the option to wipe it completely so it cannot be retrieved again. Unfortunately I do not have tools to test this claim but it should be good enough for normal users.
 
CONCLUSION
Paragon Hard Disk 2008 Suite has utilities for most situations surrounding a hard drive. I've used it to recover files from a damaged disc, partition a new disc, resize and move partitions on my laptop disc, defrag my laptop and much more and found it working very well. It is not a program that you will use every day but it is a great tool-set to have installed on your computer. At $49.99 it is also quite cheap. In addition to this version Paragon also offers a Professional Edition ($149), a server edition ($599) and a small business edition ($699) with a few more features. To me the most important feature is that these editions support more backup methods (Differential Backup, Synchronous Backup, Cyclic Backup and more) as well as support the 64-bit version of Vista.
While the suite itself is great the user interface seems to lag behind. Quite frankly it's ugly. Paragon should hire some user interface guys to make it look a bit more professional.
Pros
+ Lots of useful utilities for hard disk management
+ Great recovery CD's
+ Cheap
Cons
– Lacks more advanced backup features
– Does not support 64-bit Vista/XP
– Ugly user interface
Paragon Hard Disk 2008 Suite gets 8.5 out of 10 paws and a Bjorn3d.com Seal of Approval Award.