Thermaltake is mostly know for their power supplies and cases but they have now also entered the NAS-market with the Muse X-Duo Raid. We've spent a few eventfull months testing the unit to find out how good it actually is.
INTRODUCTION
If you walk into a computer store today you are met with a large amount of different external storage solutions. It is now possible to expand the storage of your computer quickly and inexpensively without having to open up the computer and installing a hard drive.
The majority of the external hard drives for sale are simple USB-enclosures. While cheap and easy to use, they are in many ways "dumb" as you cannot easily share them on a network or set up permissions. If you want more features you have to be willing to spare some more cash for a NAS (Network Attached Storage) solution. Once something you mainly found in small businesses, NAS-enclosures are now finding their way into regular consumer homes.
The advantage with a NAS-enclosure is that not only do you get the ability to share it easily over a network and can set up permissions for separate users; you often also get access to features like a media server, an html-server and a built-in bittorrent client. A lot of companies have started to release NAS-enclosures. We have tested a few before from Qnap and Synology but today I am reviewing a NAS-enclosure from a company more known for their cases and power supplies: Thermaltake.
The Muse X-Duo RAID (fancy name, isn't it?) is a NAS that is filled with cool features. The question of course is if Thermaltake are as good as creating a NAS as they are with power supplies and cooling solutions? Keep reading to find out.
ABOUT THERMALTAKE
Thermaltake is a company well known for their cases, power supplies and CPU coolers, some of which we have reviewed on this site. In addition to these areas they now also sell a range of other types of products including keyboards and storage products.
 
FEATURES AND SPECIFICATIONS
A NAS is much more complex than a simple USB enclosure. Because of this I must admit I was a bit curious on how well Thermaltake would be able to compete with the respected NAS-units from Qnap and Synology. At the root of this NAS we find the MontaVista(R) Linux(R) Professional Edition 4.0.1 operating system. This is a popular embedded Linux solution.
Specifications
HDD 3.5" with SATA Interface * 2

Up to 1.5 TB by using 750 GB HDD

Auto MDIX Ethernet Port ( 10/100/1000 Mbps)

Card Reader (For MMC, SD, MS Card)

Reset to default button * 1

Temperature: 0 ~ 40 degree C
Humidity: 5 ~ 90 % RH

Network Protocol Supported

TCP/IP, HTTP, FTP, SMB/CIFS

Microsoft Windows, UNIX/Linux

Application for NAS Management

Supports Web user interface for Configuration, Browser supports IE6.0 above and FireFox 2.0

Provides to be home media sever (DLNA v.1.0)

*Enables iTunes and Roku Sound Bridge to access Muse X-Duo RAID automatically
*iTunes' and Roku's users can from Muse X-Duo RAID collection

Support USB device for Mass Storage, Printer and Still Image

Backup files from Digital camera, Mass storage, Card reader

Hot Swap and Auto Rebuild

Event logs and Email alert

Reset button to factory default

Programmable system clock
Features
Storage Center
Share the contents via network.
Expand the storage via USB or card reader.
Gigabit Ethernet
Networks easily and fast via the Gigabit Ethernet.
Supports all the major file serving protocols including CIFS, NFS, HTTP and FTP.
RAID Configuration
Configures your system with two different RAID modes by HW RAID 0, 1
Provides up to 2TB of storage capacity by using 1TB HDD.
RAID 1 configuration can prevent data lost if one HDD malfunctions.
Remote management
Supports web user interface for configuration, setting and management.
No IP setting required
Supports DHCP, Auto IP and Static IP
Media Server
Supports UPnP and DLNA.
Streams your video, music, and photo contents to TV or stereo via DMA.
Supports BT download function
FTP Server
Allows users to remote access the data.
OTB Function
Backup files from digital camera, mass storage, SD/MMC/MS card via USB port or card reader.
iTunes Jukebox
iTunes' users within the LAN can search and play music from Muse X-Duo RAID.
So, just looking at the specifications and features the MUSE X-RAID Duo sounds like a very capable NAS. 
A CLOSER LOOK
The Muse X-Duo RAID comes in a small box with a handle.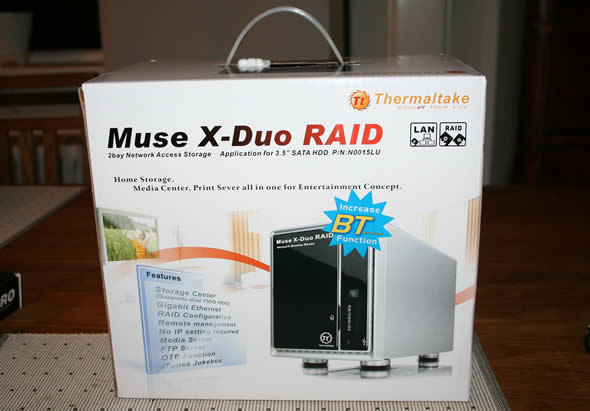 Inside it we find the NAS well packed. Even after a trip from Taiwan there was no dent or scratch on the enclosure.
In addition to the actual NAS we find the following things in the box:
A small power adapter
A network cable
HDD Rail × 2
Set of Screws
Utility Disc
Quick Start Guide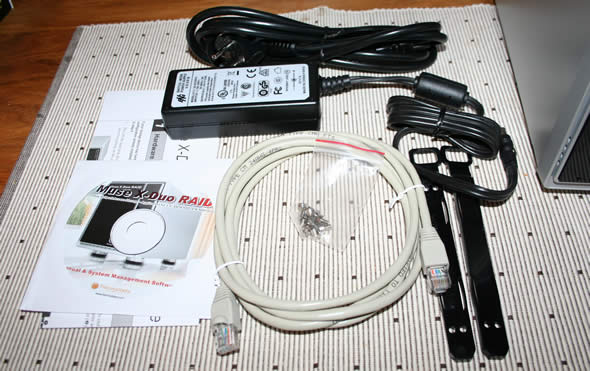 The manual is on the disc but you definitely should hurry up to www.thermaltake.com to get the latest utility disc as this not only includes a much more updated manual but also newer NAS discovery software.
On the disc you also find a folder name NAS_source. Inside you find the source for a bunch of the software that is used on the NAS:
The Muse X-Duo RAID is a very good looking NAS. It is a bit smaller than my Qnap TS-201. The front is made of shiny black plastic.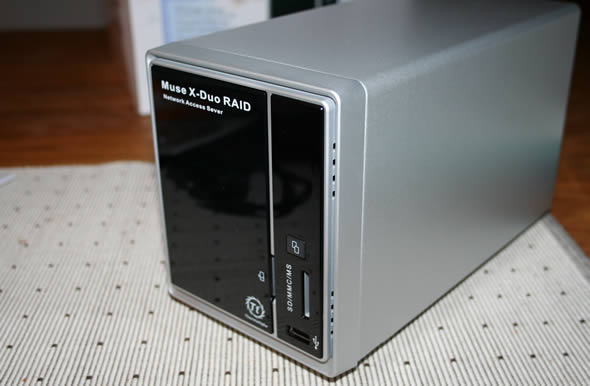 On the front we find a USB 2.0 port, a card reader for MMC, SD and MS Card, a series of LED's and a button that copies the content from anything inserted in the card reader or the front USB port.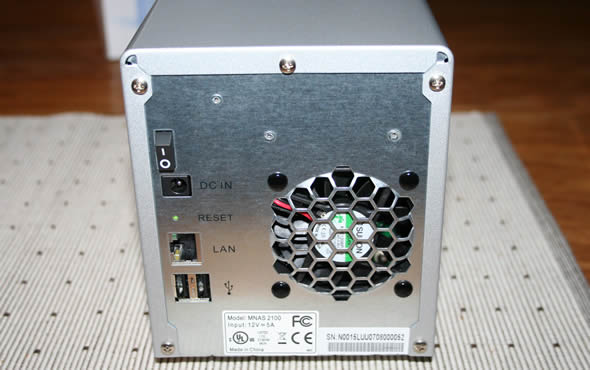 At the back we find 2 more USB 2.0 ports, a 10/100/1000 Mbps LAN port and a reset button.
INSTALLING THE MUSE X-DUO RAID
Before you can use the Muse X-Duo RAID you need to install one or two hard drives in it. To install a hard drive you open up the front.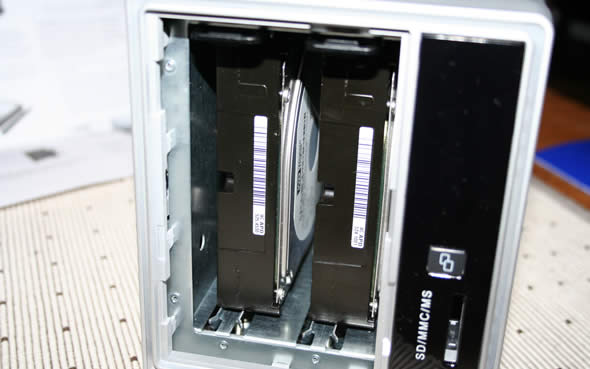 Before you can slide the drives into the NAS you have to attach one HDD-rail and a couple of screws to the drive. The drive then slides easily into the opening on the front and is locked tight to the unit.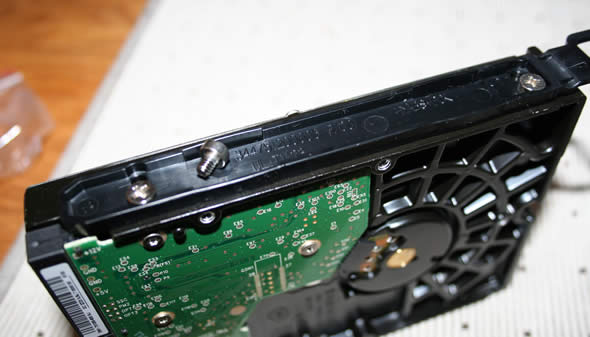 Included in the box is a small Quick Start Guide. This details all the steps that have to be done to start using the NAS. Unfortunately it isn't as easy as just inserting the drives and go.
During my review I have had to rewrite this section several times as Thermaltake has kept updating the firmware and with that the way you install the NAS. As far as I understand it, there are now two ways of setting up the NAS. If you start from a v.1.5.8 firmware Muse X-Duo Raid you have to do it the "old" way and if you get a newer Muse X-Duo Raid with the new 1.7.1 firmware or change drives in a NAS which has been updated with this firmware, you have to use the "new" way.
The "old" way of installing the Muse X-Duo Raid is pretty complicated. You first have to keep the reset-button pressed while waiting for the RAID lamp to start or stop blinking. The manual actually says it should stop blinking but I found that it would instead go from a solid light to a blinking light so they might just have gotten it wrong in the manual. You then have to use a Java-based NAS-discovery software to "find" the NAS and then set the RAID-config up. After that you start the installation of the NAS by clicking a button in the utility. This installs the complete Linux OS on it.
The "new" way of setting the NAS up is similar but more flexible. First of all the new CD (which can be downloaded) includes a few different versions of the NAS discovery utility: one Java-based, a Windows utility and a Mac version. I still do not think you can use Linux to set the NAS up but it is a big step forward as the first CD only had the Java-version. I suggest downloading the CD from Thermaltake even if your NAS has the old 1.5.8 firmware just for these utilities.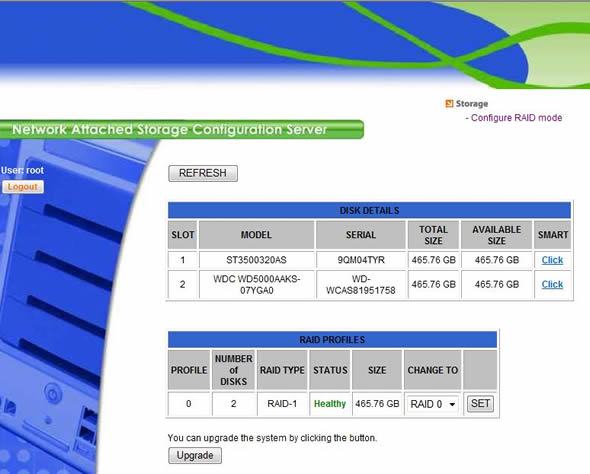 With the new updated firmware you not only can set up the RAID of the disks but you can also select a firmware-file to use when you set the NAS up. The file actually includes the OS so this means that in the future you can directly set the NAS up with the latest version instead of having to upgrade the default firmware after everything has been set up.
Before you start installing the OS and utilities you need to decide what RAID-setting you want to use. The Muse X-Duo Raid supports the following:
RAID 0
Data can be separated and distributed across several different physical disks; some bytes are written to one disk, and the other bytes are written to another. This mode provides the highest performance without any redundancy.
RAID 1
All the data written to the one disk is duplicated on the other disk. This mode provides greater data protection since if one disk fails, all your data still is intact on the other disk.
BIG
Several physical disks combined as a logical disk. In other words, the capacity of the logical drive is the total capacity of the physical drives. This mode doesn't provide redundancy.
Linear Individual disk
This mode doesn't provide redundancy.
Me personally I would either go with the RAID1 or the Linear Individual disk choice as I'm a bit cautious and do not want to put data in RAID0 on a NAS as the speed of a single disk is quite enough for the purpose of a NAS. It is there to serve data to the network and reliability and security are more important than speed to me.
After the RAID is configured you can start installing the OS and utilities onto the NAS. This takes about 30-60 minutes and you can follow the progress with the Java-based utility. After this is done you can access the web-based configuration which works fine both on Firefox and Internet Explorer.
 
ADMINISTRATING THE MUSE X-DUO RAID
The Muse X-Duo Raid is administrated through a web interface.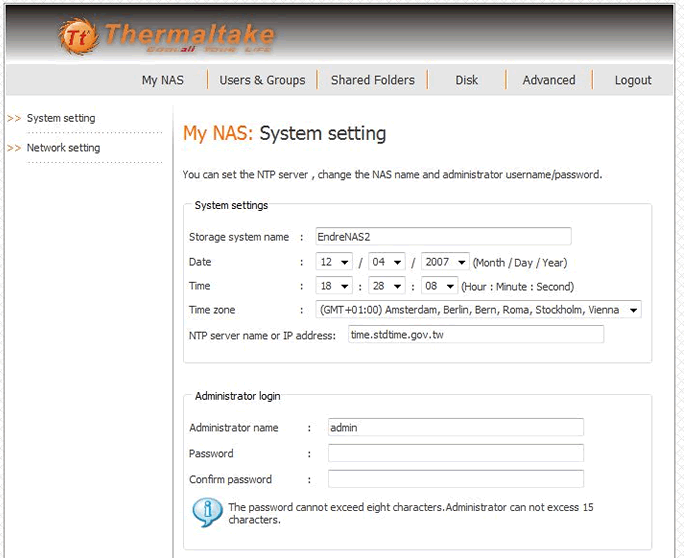 The first screen lets you set up the name of the unit, the time as well as change the administrator name and password.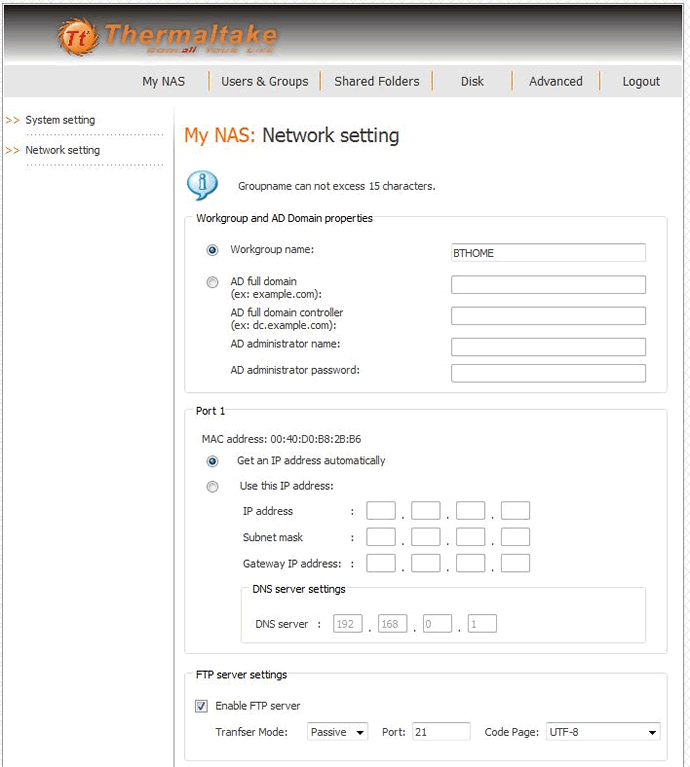 The Muse X-Duo Raid can be set up to belong to either a workgroup or to an Active Directory domain. While I could use it on my home workgroup I had no way to test the AD-settings.
Obviously it is possible to configure the NAS with either a dynamic IP or a static IP-address. It is also possible to turn the ftp-server functionality on/off in this screen. When this is turned on it is possible to connect to the NAS over ftp using one of the users set up in the next screen.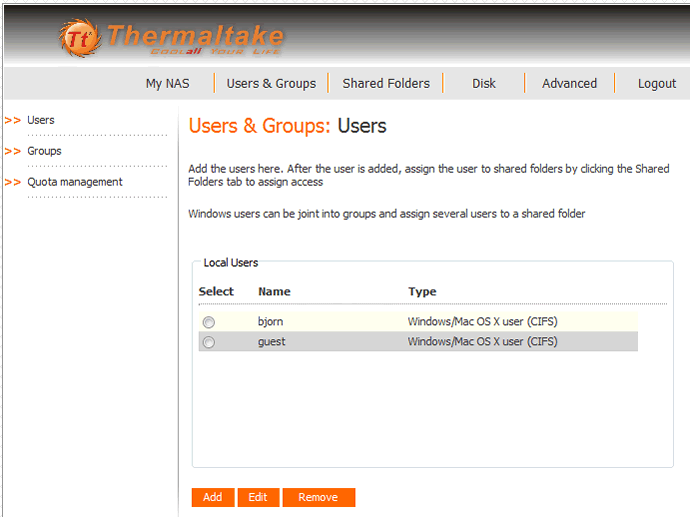 You can set up two types of users:
Windows/Mac OS X users (CIFS, Common Internet File System Protocol)
Linux/Other Mac user (NFS, Network File System)
You can also set up groups for the users so that you later can set up permissions to more than one user at a time. In addition to this you also can set up the quota for each user too.
ADMINISTRATING THE MUSE X-DUO RAID – CONTINUED
The page where you find the most useful stuff is the advanced page. Here you can find all the fun features of the NAS.
Media servers
There are two types of media servers on the Muse X-Duo Raid: an iTunes Server and a Media server.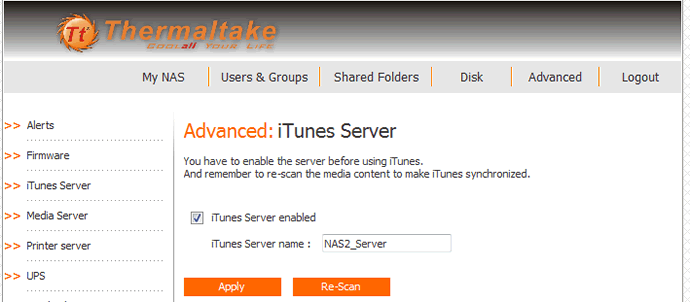 The iTunes server basically only lets you set a name and scan the NAS for music. The folder it scans for the library is the Media/Music folder.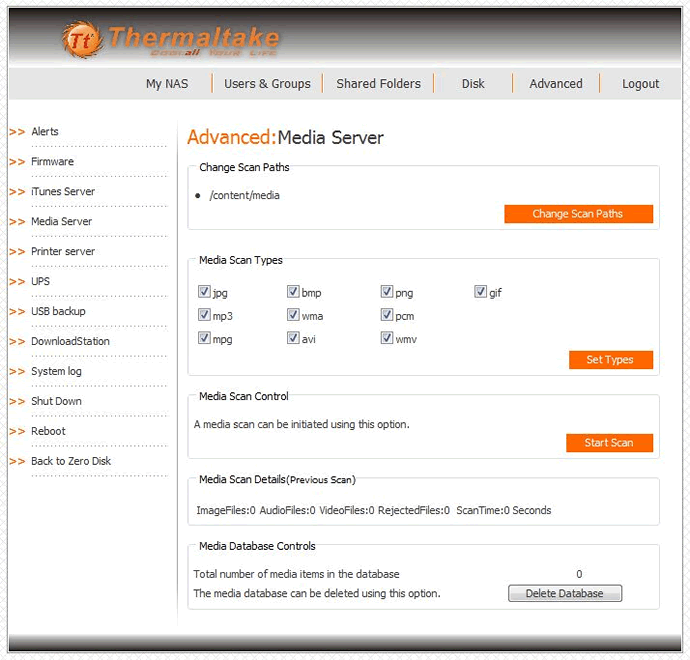 I do not know what Media server software that Thermaltake uses but it does show up as "XPC Media Server" when you look at the properties for it in Vista. It streams to other devices through UPnP and DLNA. The Media server allows you to choose which folders to add from as well as which media files to include.
Bittorrent
No modern NAS for the consumer would be complete without a way to download files from the net without having to use the computer. The Muse X-Duo Raid has support for the popular bittorrent protocol.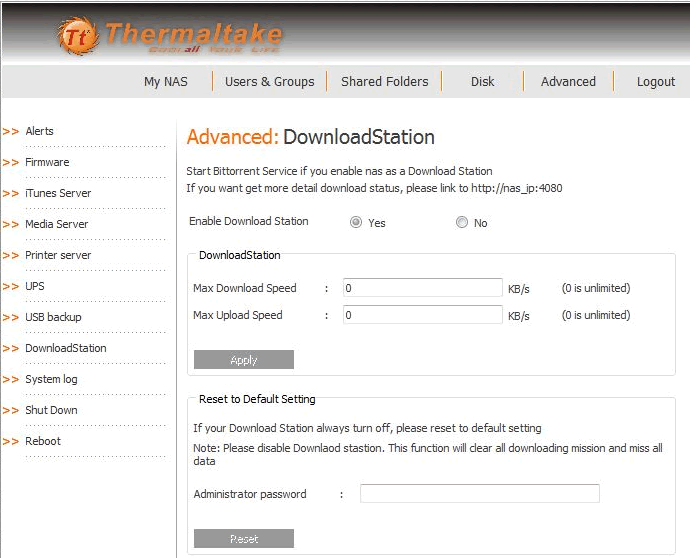 The firmware that was installed on the Muse X-Duo Raid actually had a different bittorrent client. In that version you did everything from the screen above including adding/pausing and deleting bittorrent jobs. The latest firmware from 24 December 2007 includes a new bittorrent client, or at least another way to access the bittorrent client: MLDonkey. MLDonkey is a p2p-client that supports many different networks and exists for many platforms.
You access the bittorrent client through the webclient. Here you can see jobs currently running, detailed information about each torrent as well as where you are downloading from and who is uploading from you.
Printer server, Backup server, UPS
The Muse X-Duo Raid also includes a printer server. The printer is hooked up to a USB-port on the back of the NAS and then you can add a network printer on your computer, pointing to the Muse X-Duo Raid. The printer has to support native eps to work. There is no list of tested printers at Thermaltake so it is not easy to know if your printer will work or not.
As for backup, the Muse X-Duo Raid lets you take backups from an external USB-drive (HDD, flash etc.) to the NAS itself. You cannot set up a schedule though in the web administration. Instead Thermaltake includes a backup program on the CD that can handle that.
Last but not least we have the support for a USB-UPS. You can hook up a USB-UPS to any of the USB-ports. It will keep the NAS powered on during a power failure and then send a mail to you when the power level is critically low.
USING THE MUSE X-DUO RAID
As you have seen the Muse X-Duo Raid has plenty of features but that does of course mean nothing unless they work well. So how does it work? Well, let us just say that some features work better than others.
General usage
I got this piece of hardware late November 2007 for review. One of the reasons it took so long to review was that it didn't work very well in the beginning. After it had been set up I tried to set up shares on it and copy/read files from it. But every time I tried to write a file to the NAS or read from the NAS everything froze. This happened on two Vista machines. I could force a restart of the explorer but it just did not work trying to write or read from the NAS. I basically was prepared to give up when the 24 December firmware upgrade came. This firmware not only had some new updated features but also seemed to fix these problems.
With the new firmware setting up shares and accessing them works pretty well. On the NAS you find a bunch of folders and with the proper username/password you can access them, either with the permission just to read or both read and write.
Even with the new firmware I did experience the occasional problem accessing some of the shares on the Muse X-Duo Raid. It only seems to happen in Vista as I've yet had any problems with XP and sometimes just trying a bit later fixes the problem and other times a restart of Vista was required. What happens is that you can browse to the shares but as you try to access a folder with files the explorer just keeps working forcing you to close it down after a while. It is not something I experience a lot but it definitely is something Thermaltake should look into as I've never experienced it on my Qnap TS-201.
Accessing the NAS over SSH/Telnet
As we have a Linux distribution as the operating system on the NAS it is interesting to see if we can login to it and get root access to it so we can make modifications.
My first try with Putty (http://www.chiark.greenend.org.uk/~sgtatham/putty/) was promising. I could both log in with Telnet and with SSH. It was when using Telnet I could see what Linux distribution was used and what kernel was installed as it greeted me with that info.

Unfortunately I got stuck there. I could login with one of my created accounts but as soon as I was logged in and greeted with a welcome message, Putty closed down. Hopefully Thermaltake will release some info about the operating system so that a community can form and start porting applications over to it. One of the reasons both Synology and Qnap NAS'es are so popular is that they all are moddable meaning that you can install various software on them (Slimserver etc.).
Media server
Compared to the media server that you can find in the Qnap TS-101/109/201/209 (TwonkyMedia), the media server in the Muse X-Duo Raid is quite pale in comparison. It allows you to set up folders for the media scan as well as which media types to scan for. That's it. As far as I can see there is not even a way to have it perform the media scan on a schedule. This means you have to manually populate your database. On the network, the media server is just shown as "Media server" so I have no idea what software Thermaltake is using.
To test the capabilities I added a bunch of divx and xvid avi's as well as some mp3's and photos to the Muse X-Raid Duo as well as my Qnap-201. I then tried to access this media from my PS3, my Xbox 360 and from a Popcorn Hour Media player.
My PS3 could see the server and browse the media on it but as I tried to play music or start a video in all cases I got a "network error". The only thing working was the images.
My Xbox 360 worked much better and except for one of the divx-movie, it could see and play everything.
Last but not least my Popcorn Hour media player could access and play the media, however only over a SMB-connection. The Muse X-Duo Raid did not show up as an UPNP device.
Bittorrent client
As mentioned earlier the latest firmware brought with it a new bittorrent client: MLDonkey. While the interface of the old bittorrent client was integrated in the web interface of the NAS, this new client is accessed on another page.

The first screen you get when you bring up the webpage for the client is a bit interesting as it gives you a security warning telling you to add a password to the admin user. As I could not login to the NAS over Telnet or SSH I was not sure if I could do something about it.
Even with this warning you can access everything in the web interface. By clicking any of the buttons (download status, downloaders etc.) you get access to the various queues and can pause, lower/increase as well as remove jobs. One thing you cannot do however is add new torrents to download. In fact, this drove me nuts for a while as the old manual only talked about the old client where you added torrents in the general web interface. As that now was exchanged for this separate client, I could not figure out what to do. In the new manual however it mentions that all you have to do is put the torrent-file into the p2p-folder on the NAS and it automatically starts downloading after 10-20 seconds.
This however is not the only way you can access MLDonkey. It turns out that there is software out there that allows you to connect to the MLDonkey core engine. I choose a program called Sancho (http://sancho-gui.sourceforge.net/). Sancho is a gui that connects to a p2p core application, in this case the MLDonkey core engine. It's available for many operating systems.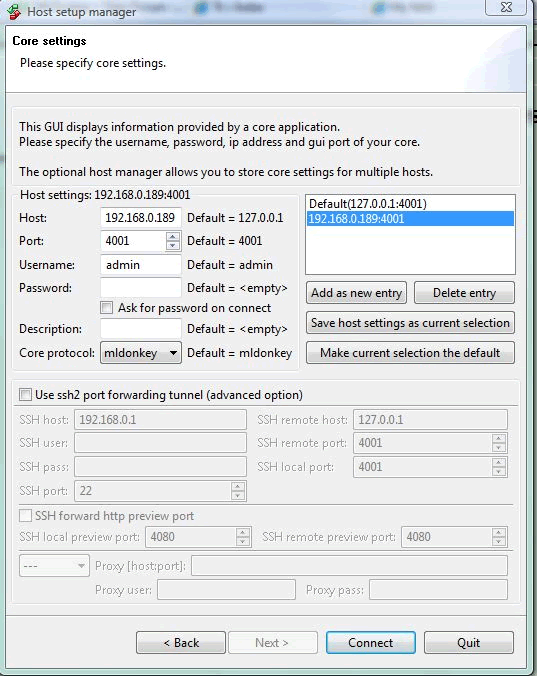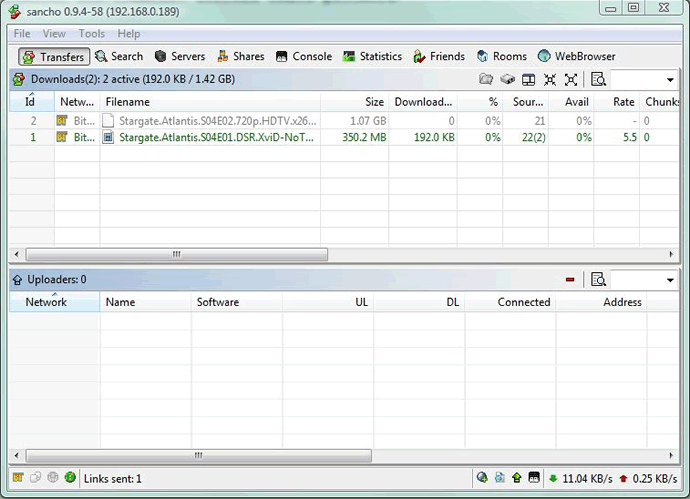 The neat thing with using this program is that you can use it to connect to a number of bittorrent engines and keep an eye on them, all from a single computer. This can be quite useful if you decide to use one or more computers (fileservers, media servers etc.) that you might have stuffed away in a closet for bittorrent or any of the other p2p-protocols it supports. You just set up an engine like MLDoneky on each and then administrate them from this application.
If you remember I mentioned the security message about the missing password in the beginning of this section? Well, with this program you quite easily can pull up the console and change it.
A few times the download service has closed itself down after a while forcing you to restart it. And in one case the service just kept stopping after each restart forcing me to reset the download server to its default settings deleting everything that is inside any of the p2p folders. The fact that Thermaltake even has put the option to do this on the same page where you turn the download service on/off and even tells you to use it if the service refuses to start, shows that they are aware of the problem.
When it works the bittorrent support of the Muse X-Raid Duo however actually is really nice. While I cannot comment on the download speed as it is affected by a ton of different variables, all the torrents I tried downloaded swiftly. The torrents are then placed in a folder called incoming and kept seeded until you remove them.
 
Performance
It is not possible to benchmark the NAS as you would a hard drive as neither HDtune nor HD Tach lets you select the NAS drives, even when you have set up mapped network drives. So instead I decided to test the Muse X-Duo Raid as well as a Qnap TS-201 and my homebuilt media server with some real files.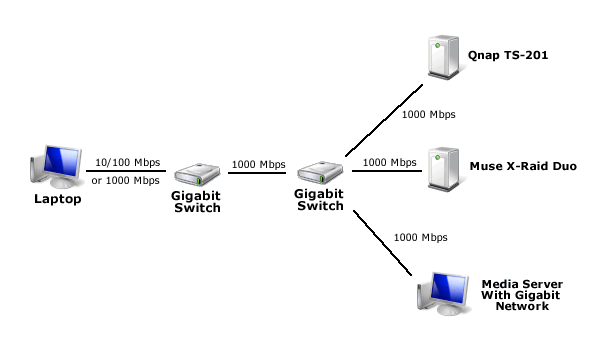 All the tests were run from my laptop using both the 10/100 Mbps built-in network and a Belkin Gigabit ExpressCard. The laptop is connected to my internal Gigabit network which runs from our living room through two Netgear Gigabit switches, one on each floor, down to the NAS's and my media server. To test the performance I copied one folder with images and one divx-file to each of the systems and then copied the files back, recording the time it took to copy to and from each NAS. This was done three times to ensure that I got repeatable results and the average was plotted into the charts.
Folder with images: 79 images, 256 MB
Divx movie: 695 MB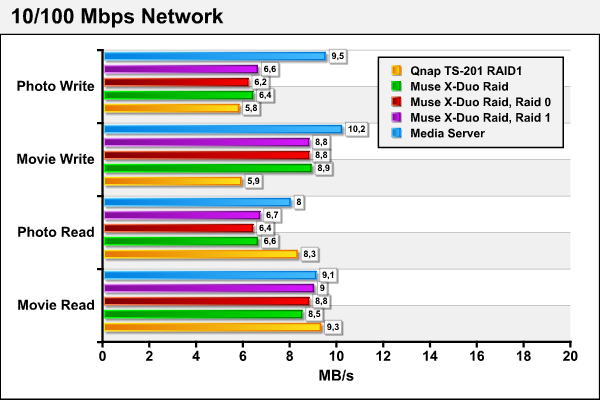 In this particular test the limiting factor is the bandwidth of the network. All the tested NAS-units have Gigabit interface and fast hard drives so we should see pretty similar results.
As expected the media server performs the best reaching almost 80% of the theoretical maximum of a 100 Mbps line (~12.5 MB/s). As the computer has much more processing power than a regular NAS this is no surprise. When reading files from the NAS, the Qnap TS-201 performs better than the Muse X-Duo Raid, although not by a large margin. On the other hand the Qnap TS-201 looses when we write the same files to the NAS. As expected the performance is lower when dealing with multiple smaller files than when working with one large file.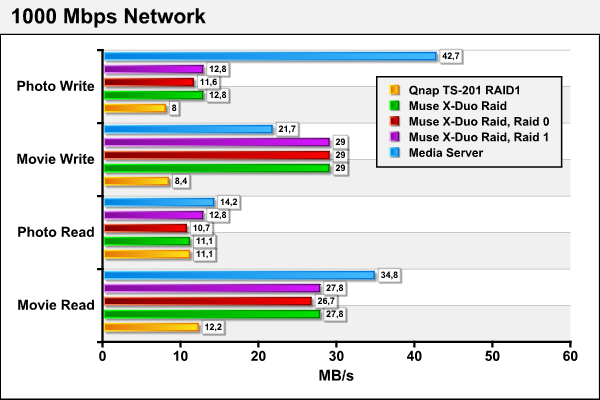 While we do not get the theoretical Gigabit speed we do see a big improvement in the performance in several of the tests. Again the media server performs by far the best. What is interesting though is the performance of the Muse X-Duo Raid. It now performs extremely well in all tests managing far better numbers than the Qnap TS-201, even when running in RAID 1 mode. In fact, testing the Muse X-Duo Raid with a single 500 GB drive, two 500 GB drives in RAID 0 and two 500 GB drives in RAID 1 mode yields almost identical results. This proves that you do not win anything by using RAID0 and might as well run RAID 1 for the added security unless you need the extra storage.
Something to remember is how you are using the NAS. While you will do some writing to the NAS, the main use of a NAS most probably will be in sharing stored material from it to others. This means it has to provide us with a good reading performance. Even when accessing the NAS with a regular 10/100 Mbps connection we get speeds around 9 MB/s (~72 Mbps) which is enough even for playback of 1080p HD video.
 
CONCLUSION
This has been a pretty difficult review. At first the unit was completely unusable as I had big problems accessing any shares on it but after a month wait this was fixed in a new firmware. But at that time Thermaltake had switched its bittorrent client so I had to start over with my tests on that. Even with all these problems I've come to like the Muse X-Duo Raid a lot.
I was a bit skeptical that Thermaltake would be able to create a NAS comparable to the units from Qnap and Synology. Thermaltake might make excellent power supplies and cases but a NAS is a bit more complicated. Therefore it is quite impressive that they managed to create such a nice NAS on the first attempt. True, it has its flaws but the fact that Thermaltake already has released several new firmwares with updates to the OS and that it already works much better than when it was first released is a positive sign that Thermaltake is serious about supporting the NAS. I'm also impressed with the performance of the NAS. It has no problems keeping up with and beating the Qnap TS-201 and it definitely benefits from the Gigabit interface.
In my first draft of this review I complained about the support. At that time Thermaltake had released the new firmware which changed a lot of things but had forgotten to update the manual. They also had managed to change the way you install and setup a hard drive in the NAS making it impossible to do that task after you had upgraded the NAS to the firmware. However – after I and another guy had made them aware of the problem it took a few days and then they had not only released a download of the utility CD for the new firmware but they also had released a new manual. While it would have been better if they had gotten it right from the start, it again is a sign that Thermaltake is serious about the support.
What Thermaltake now must do is to encourage a community to be built around the NAS. If you buy a NAS from Qnap or Synology you know that you will be able to not only access the units and mess with them internally but also that the community will port all sorts of fun programs to the NAS. An example is a program like Slimserver which is used for the Squeezebox from Logitech/Slimdevices. As the Muse X-Duo Raid seems both to have good hardware and an open source operating system I hope they will open it up and encourage developers or programs to port them over to it.
The Muse X-Duo Raid costs around $310 which brings it in line with the Qnap TS-201. The Qnap TS-201 still has an edge as it has a bit more features and also a bigger community but the Muse X-Duo Raid on the other hand performed better in my tests.
Pro
+ Great performance
+ Nice bittorrent engine
+ Lots of features
+ Very promising signs of support and development for the NAS
+ Easy to install drives
+ Backup software included
Cons
– Still occasionally has a problem with shares together with Vista.
– Lacks some features present in competing products (ex. Http/SQL server)
– Media server is a bit lacking compared to for example TvonkyMedia used by Qnap
Summary: The Muse X-Duo Raid is a NAS with great performance and good features. If Thermaltake just encourages the community and opens up the NAS for modding the Muse X-Duo Raid easily can compete with the more established NAS-units from Qnap and Synology.
The Thermaltake Muse X-Duo Raid gets a rating of 8 out of 10 and a Bjorn3D Seal of Approval.