Without the talented engineers and artists we would be spewed with shoddy products and nothing to pick from. Well thank God for Cooler Master and others
COSMIC SENSATIONS
Generally I don't pay much attention to enclosures. It doesn't have to be a particular brand, model or color — though I prefer black. My thoughts regaring PC cases had changed over the years. The case does not need to be fancy, flashy or unique anymore. What I do care about is the functionality, overall simplistic look and price. A lot more manufacturers release such cases nowadays. The boom for extraordinary designs had gone with the wind. I do however like a tiny bit of finesse that goes along with the case.
The enclosure that I have for you today comes from Cooler Master and is the latest model that had been recently released (February 22nd). It's the highly anticipated Cosmos S featuring an updated look, better thermal solutions and plenty of more functionality. The biggest upgrade over the older Cosmos 1000 however is the aluminum design. Worth mentioning is the fact that while designing the Cosmos S, the Cooler Master team had been greatly inspired by the world's finest race cars. The effect is simply stunning, see for yourself.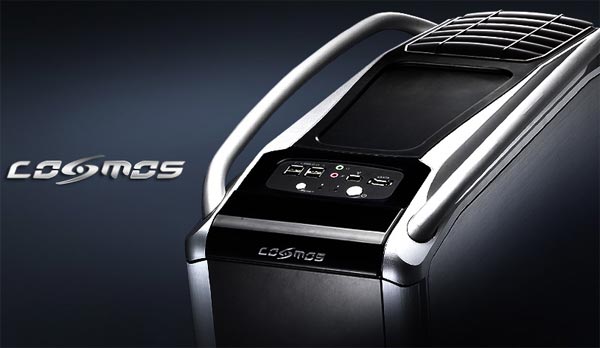 A BETTER BROTHER
The original Cosmos 1000 was a pretty successful product among enthusiasts and people looking for stylish yet tailored finish. The addition of several new features and spanking new design will most likely make Cosmos S a better and more encouraging alternative. As already mentioned, the new design sports an all around aluminum chassis and front bezel. With a sensitive touch power button and awsome I/O panel placement, you can't go wrong with this case.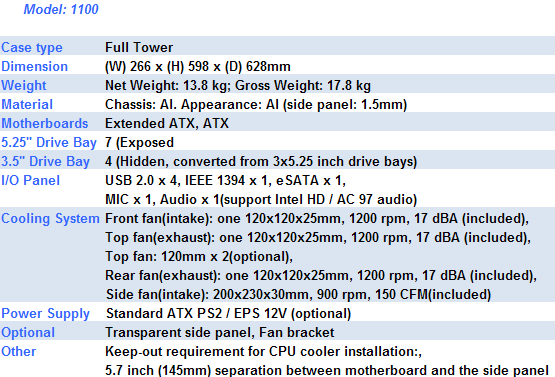 PACKAGE & BUNDLE
I have to say Cooler Master did a terrific job packing the Cosmos S. Usually enclosures are packed inside a carton with polystyrene around them — that's it. That usually does the trick, but in our case the packaging consist of four protective layers: cardboard box, polystyrene, brown cloath, plastic bag and protective foil on some parts of the case (I/O panel, bezel). Note the handles and bottom stands were also protected with foam. Cooler Master took a lot of effort to make sure your Cosmos S came in one piece without any scratches or dents.
Click a picture to see a larger view
---
---
The box shows the main case features and specifications. Along with the case, Cooler Master includes an accessory box inside the case. The following were found within the it:
3.5″ to 5.25″ brackets — mainly used for floppy and the like
A bag of screws, fasteners, spacers, cable management ties
Manual
Not as rich a bundle as with Thermaltake Armor+ but decent nonetheless. Although the bundle does not include additional fans, you can stick in any 120 mm fan and it will do the trick.
THE OUTSIDE
The overall design of the Cosmos S is expected to retain a very specific race car look. Based on preliminary examination, Cooler Master indeed kept a very sleek and futuristic design with this enclosure. First thoughts that came to my mind when I ripped the packaging: WOW, it does looks…well…different? But very appealing. I thought to myself, will I actually like it? The answer was simple, just read on.
Click a picture to see a larger view
---
---
As they say, a picture is worth a thousand words — this is exactly the case though Cosmos S presents itself much better in real life. Brushed aluminum side panels give a very subtle feel to it and front bezel simply incorporates into the whole package. The left hand side panel looks a tad different. It actually sticks out a little just like a hood scoop on a car. What's under it? You'll find out on the next page. So far, everything fits in perfectly and the top I/O ports couldn't have been positioned better. Those include: USB 2.0 x 4, IEEE 1394 x 1, eSATA x 1, MIC x 1, Audio x 1(support Intel HD / AC 97 audio). Another nice addition from the guys at Cooler Master is the touch sensitive power button and its illuminating panel — kind of like turbo gauges in sports cars. What sucks about it is the omission of a reset button which was included in Cosmos 1000.
Moving forward. Cosmos S is also equipped with four sturdy steel handles mainly for carrying purposes. The bottom ones serve as foot stands or can be used to carry the case in horizontal position (they are wrapped with plastic covers so you don't accidentally scratch them). Going back to the front, the sides of the front panel can be unlocked by simply pushing them inward until you hear a click sound. In order to mount 5.25″ device inside each bay, you have to unlock both sides. The bottom of the case is somewhat different than most enclosures I've checked so far. The Cosmos S (just like the older Cosmos) sports bottom ventilation openings for better air circulation (fan not included). It has to do with the fact that PSU is mounted on the bottom rather than the top. More on that on the next page. Finally, a lot more known manufacturers add liquid cooling support. That being special compartment inside the case or extra retaining holes on the back panel. Such support gives anyone the ability to use their own DIY liquid cooling systems.
THE "GUTS"
The most notable difference between the Cosmos S and its older sibling is the all-around aluminum structure. Sure, there are still plastics incorporated, but for the most part this case is based on light-weight aluminum alloy. Other features are basically the same and nothing seems to have been done to improve temperature performance. Cooler Master could have at least included more fans? Wait…they did put in a leaf blower 🙂
lick a picture to see a larger view
---
---
The inside is a tad different when compared to older Cosmos. Different solutions had been applied, but for the most part the whole concept feels the same. One thing that seems to be lacking when looking at this enclosure is a removable motherboard tray. Although there is pleny of space inside for you to work with, I wouldn't brag about it if it was included. If you must have one, check out the competition. Talking about the tray, it comes with a lot of openings which can be used to tidy up your cables with included straps. The already mentioned side panel reveals a huge 200x230x30 mm blower which can push as much as 150 CFM (cubic feet per meter). The top included fan is 120 mm in size and you can put as many as 3 in total. You'll also find another fan on the back plate and one in the drive cage. Tool-free locking mechanism for 5.25″ devices is really easy to use. You just slide it in and press the blue button. Another thing that caught my attention was PSU placement. It's unique and supposedly in a "better" position than the top most part of the case. Indeed it's a great solution as the bottom ventilation opening helps take out hot air out of the power supply. Note that to improve heat dissipation even more you can mount an optional fan beneath the case. As for filters, they can only be found on the bottom and front parts of the Cosmos S.
TESTING
Although I won't spend a whole lot discussing installation procedure, it wouldn't be wise not to mention it at least. I don't know the exact number of systems I've built, but it's quite an amount. Having to put components into Cosmos S was a blast even without a removable motherboard tray. The case is enormous and there is plenty of space to work with. Motherboard installation was fully successful, nothing had gone wrong. Other devices were placed in no time and I booted up the system in less than half an hour. If you get lost during installation, confront with the included manual.
As far as tests are concerned, benchmarks consisted of SP2004 batches and various video card synthetic tests to make sure appropriate temperature was reached. Intel Core 2 Duo platform was used and clocked at 3 GHz. More details right below.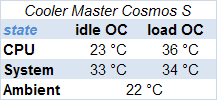 The all around aluminum structure does help reduce temperature inside the case quite nicely. I'm guessing the temps could have been much lower if more fans were mounted — especially the one on the bottom could help a lot. Because the case is large, heat does not stay inside for long and with sufficient cooling system it dissipates faster.
FINAL THOUGHTS
The Cosmos S is yet another example of a solid and to some extent perfect product. On the other hand, the amount of miserable enclosures I find on the market is simply unbelievable. Without calling names or models, I find 60 to 70% of PC cases unreasonable for usage. Thus it's great that companies like Cooler Master spend their precious resources designing products that flash with technological innovations and fresh layouts. This particular case is aimed at either hardcore enthusiasts or pure aesthetics. Either way, both groups should be happy and who knows maybe others would hop the boat and get this awsome case?
Feature wise it's the Cosmos 1000 clone with mild internal changes, but even that gives the Cosmos S a higher rank in its class. There are tool-free solutions inside the chassis including thumbscrews, easy to use divice locking mechanism, removable HD cage so on and so forth. Power supply placement had been moved down to the bottom of the case where it can get more ventilation. The main differences however have to do with the design. You simply can't go wrong with alluminum alloy structure and panels, racy-looking scheme, huge 200 mm fan, touch sensor power button and well placed I/O panel.
Not being picky, but Cosmos S does lack few solutions / ideas that might have come in handy. Those include removable motherboard tray, top-mount radiator (optional) or a simple reset button which had vanished somewhere in cosmos. Overall, I'd say you'll be very satisfied with Cosmos S from Cooler Master. It can be picked up for +-$250 from your favorite on-line store.
Without the talented engineers and artists we would be spewed with shoddy products and nothing to pick from. Well thank God for Cooler Master and others — me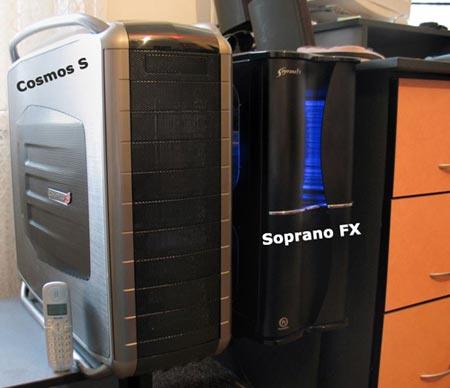 Pros: 
+ Unbelievable design
+ Aluminum internals / panels
+ A lot of room inside
+ Cable management system
+ Easy to open panels
+ Removable HD cage
+ Tool-free system
+ Ready for liquid cooling system
+ Great performance

Cons:
– Lacks reset button
– No removable motherboard tray

For its outstanding design, quality finish and performance, Cooler Master Cosmos S gets the rating of 9.0 (Extremely Good) out of 10 and Bjorn3D Golden Bear Award