DDR2 or DDR3? Who can decide? Foxconn wants to make the choice a bit easier with their x38A Digital Life motherboard. Run with the lesser expensive DDR2 now and upgrade to DDR3 later all without changing your motherboard. But does this hybrid system deliver or is it a jack of all trades and master of none?
INTRODUCTION
Upgrading your rig can be such a pain can't it? Trying to figure out where technology is headed so you don't waste your money on obsolete garbage. With the speed at which progress takes place it is no wonder that many people find themselves searching for answers. Take for example the new DDR3 standard. Right now DDR2 is so inexpensive you can get 4GB for under $100 USD and that is just an awesome price. But DDR2 days are numbered and DDR3 is so expensive right now it just doesn't make much sense. What is an enthusiast to do? Thankfully Foxconn has a solution. They have taken Intel's X38 high-end chipset and installed it on a board capable of supporting DDR2 or DDR3. Now you don't need to worry about which standard to choose. Better yet when the time comes to migrate over to DDR3 you won't have to throw away your motherboard. But are things as rosy as they appear? We have seen these hybrid motherboards before and what they bring in compatibility they usually lack in raw horsepower. Come with me as I take the X38A from Foxconn out for a spin and see if this board can deliver where it counts or does it end up dead on the side of the road.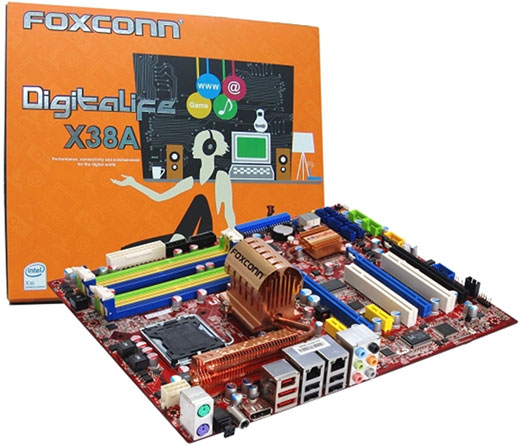 Foxconn: The Company

For those of you who are new to the computer enthusiast arena Foxconn may not be a corporate name that you are readily familiar with. On the other hand those of you that have been around for a while are probably very familiar with Foxconn motherboards. My guess is that most of Bjorn3D's readers are not aware that Foxconn is one of the extremely small number of manufacturers that actually make and assemble NVIDIA based graphics cards as well for all the other companies that market them. Chances are you've already owned a Foxconn manufactured card and never even knew it. You probably aren't aware that in addition to motherboards and graphics cards Foxconn also manufactures: cases, coolers, barebones computer systems, power supplies, card readers, and wireless cards.
Foxconn is the registered trade name of Hon Hai Precision Industry Co., Ltd., a global leader in the design, manufacture, and distribution of advanced computer, communications, and consumer electronics components, including motherboards, graphics cards, CPU coolers, barebone systems, and chassis for personal computer desktops and servers. With over three decades of demonstrated manufacturing excellence, Hon Hai sets the standard in the industry for product quality and reliability, customer support, and value. In 2005 Hon Hai had sales of $25 billion (USD).

The Channel Service Division (CSD), part of the PCE Business Group of Hon Hai, is Hon Hai's worldwide organization for servicing channel customers. Guided by the mantra "The Art of More", CSD is dedicated to making it simpler and more affordable for its customers to offer superior information systems to their consumer and enterprise customers. CSD serves a network of distributors and OEM customers in Asia, EMEA, and the Americas.
FEATURES AND SPECIFICATIONS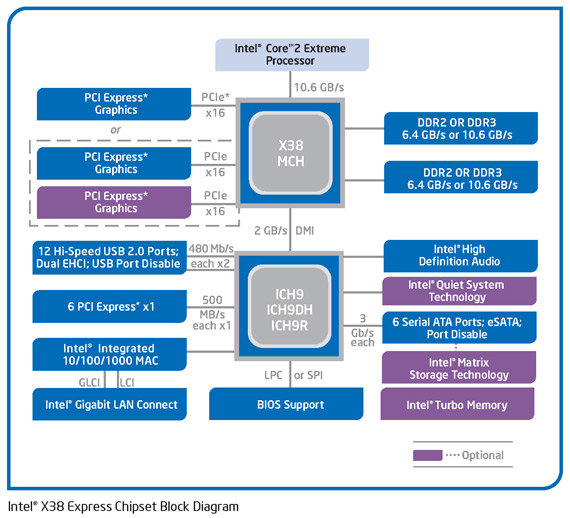 Performance
Based on Intel X38 Chipset
Supports Intel Core 2 Extreme, Core 2 Quad, Core 2 Duo, Pentium and upcoming 45nm CPUs
800/1066/1333/1600 Mhz Front Side Bus
Chipset
Northbridge: Intel© X38
Southbridge: Intel© ICH9R
Memory
Up to 8GB of DDR2 1066/800/667MHz memory
OR
Up to 4GB of DDR3 1333/1066/800MHz memory
Dual Channel architecture
Expansion Slots
3 x PCIe x16
2 x PCIe x1
2 x PCI 2.2
Storage I/O
1 x Floppy disk drive connector
6 x SATA-II 300MB/sec
2 x eSATA
RAID 0, 1, 5, 0+1, Intel® Matrix Storage Technology™ and Intel® Rapid Recover
1 x UltraDMA 133/100/66 for up to 2 PATA devices
Audio
7.1-channel Realtek ALC888
Coaxial, Optical S/PDIF out at back I/O
LAN
Dual Gigabit LAN
Realtek RTL8111B
Realtek RTL8110SC
Multi I/O
1 x PS2 Keyboard
1 x Foxconn Digital Connector
1 x S/PDIF Out Coaxial
1 x S/PDIF Out Fiber
1 x IEEE 1394 Ports
2 x RJ-45 Port
2 x External SATA
6 x Audio connector (Center speaker/Subwoofer Out, Rear speaker out, Side speaker out, Line-in, Line-out, MIC)
12 x USB 2.0 ports (6 rear + 6 internal headers)
Form Factor
ATX Form Factor
Length: 12.0in – 305mm
Width: 9.6in – 244mm
Just a quick note here. Foxconn offers users the ability to run either DDR2 or the newer DDR3 standard for RAM. What is odd is that they only include two slots for the DDR3 standard. With RAM prices for DDR2 being so cheap it would be easy to get a 2×2 kit of DDR2 and only need two slots. Since DDR3 is so expensive it would be more cost effective to pick up 2GB now if you wanted to go that route and then 2GB more down the road since 4GB is fast becoming the standard among enthusiasts. This is where Foxconn leaves you high and dry. If you want 4GB of DDR3 RAM in this board the only way you're going to get it is with a 2×2 kit and that means big bucks. Hopefully this situation doesn't apply to many of you but it is worth noting.
PACKAGING
Foxconn packages their X38A board in a colorfully orange, clamshell box. Inside the box you'll find your prize protected by a plastic shell along with all of the accessories needed.
Click a picture to see a larger view
---
---
CONTENTS
Foxconn includes the basic accessories and not much else. You have your six SATA cables along with your IDE and FDD cable should you need them. but don't bother looking for an eSATA cable or the proprietary Foxconn Digital Connector cable. They are no where to be found.
This brings me to point I have been going over since I received this board. Foxconn places a proprietary connection on this board in the name of the Foxconn Digital Connector. The box lists it as a "Connection to Foxconn digital entertainment and communications products…". This sounds like a lot of marketing bull and after speaking with the Foxconn rep. they weren't able to inform us what sort of products they have in store for this connection. Talk about a lot of nothing. It seems to me that by the time they get around to releasing anything to take advantage of this connection this board will be old news by then, relegated to some dusty corner of your bedroom or given to a relative.
LAYOUT
Board Layout

1. 8-pin 12 volt socket

12. Six SATA-II ports

2. LGA 775 CPU Socket

13. Firewire pin-out

3. Four Dual-Channel DDR2 slots

14. COM port for serial devices

4. Two Dual-Channel DDR3 slots

15. Realtek RTL8110SC – PCI Gigabit controller

5. 24-pin ATX socket

16. Two PCI Express x1 slots

6. Floppy drive connector

17. Realtek RTL8111 – PCIe Gigabit controller

7. IDE connector

18. PCI Express 1.1 x16 slot (x4 electrical)

8. POST LED display

19. Two PCI slots

9. Power, Reset & CLR CMOS switch

20. Two PCI Express 2.0 x16 slots

10. Front panel connector

21. ICH9R South Bridge w/ heat sink

11. USB pin-out (Four ports)

22. X38 North Bridge w/ heat sink
Layout on this board is pretty good though not without some minor issues. The major problem you will run into is with the North Bridge heat sink. Because of its size you will have problems with larger coolers. Shown below is the recently reviewed Noctua NH-U12P. It needs to be turned sideways just so that it can fir onto the motherboard. Even then the fan can not be installed blowing through the heat sink upwards towards the power supply. This is the orientation many cases have so this important to take note of.
The next picture is of the DDR slots and they sit a bit close to the CPU socket. In our case the NH-U12P sits high enough so as not to block any of the slot but if you use a cooler that is very low to the board or if you use very tall RAM then this is going to be another tight area for you.
Click a picture to see a larger view
---
---
In the third picture above we see the SATA ports and on board buttons. The SATA ports are not rotated 90º which is becoming more and more common among enthusiasts boards. This means if you are running a dual-slot video card in the second slot of this board you run the chance of blocking some of the ports.
The final picture shows the layout of the expansion slots and this is one of the board's strong points. Again, if you utilize two dual-slot video cards you still have access, albeit tight, to one PCIe x1 slot and one PCI slot. Thankfully we are starting to see more and more PCIe sound cards so the times when deciding between quality sound and more GPU power are coming to an end.
REAR I/O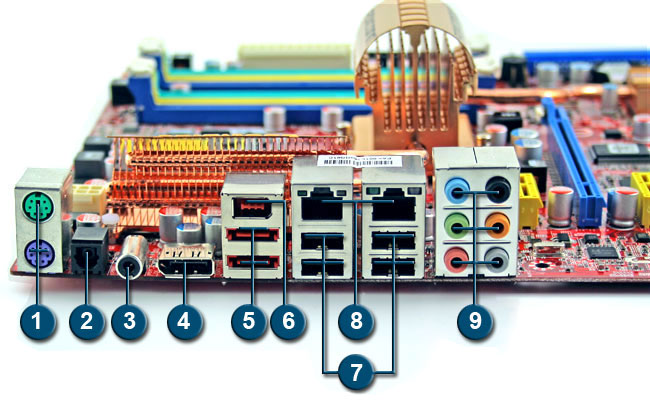 Rear I/O

1.

PS/2 Connection:
Keyboard = Purple Mouse = Green

6.

IEEE 1394 port

2.

Optical Audio out port

7.

USB 2.0 ports

3.

Coaxial Audio out port

8.

Ethernet ports

4.

Foxconn Digital Connector

9.

Analog Audio out ports

5.

eSATA Ports

 
 
BIOS
Ordinarily I go through the various pages of the BIOS and briefly explain what each section is for to help you better understand your motherboard's capabilities. Today I am going to focus on a couple specific pages and you'll see why in just a bit.
The main page of the American Megatrends BIOS is your basic page that has been reworked for our Foxconn board here. The highlighted section in red is where all the overclocking and fun take place. Entering this section brings up the various settings such as FSB speeds and multipliers. The first thing I noticed is the unfortunately small assortment of RAM dividers as seen in the third image. As far as X38 boards go this is not a very good start.
Click a picture to see a larger view
---
Main Page
Fox Central Control Unit
 
 
Fox Central Control Unit Cont.
---
Changing over the our CPU configuration page shows us our standard collection of options for the processor's features. The reason I am showing you this is the highlighted item, 'C1E Support'. It can not be disabled. Sure there is the option to disable it but using the latest BIOS version for the motherboard prevents us from disabling this feature. This is not a big deal since C1E allows the CPU to revert to a lower multiplier when idle and thus generating less heat but for those of you that prefer to disable this feature when overclocking you'll have to wait for a new BIOS update.
The final page shown here is for the voltage control settings of the motherboard. Now this is a relative point but the fact that this BIOS shows you voltage increments rather than discrete values is one that is intimidating to newer users. The dialogue next to the setting tell you what the default values are for the North Bridge, South Bridge and RAM but not for the CPU since these can vary from one processor to the next. It is more prudent (and takes less figuring) to have these settings be discrete values for newcomers to overclocking.
Click a picture to see a larger view
---
| | |
| --- | --- |
| | |
| CPU Configuration | All voltage control |
---
The rest of the BIOS is your basic run of the mill stuff but there are a couple of final issues I would like to point out. First is how often the BIOS reverted to default values after a failed overclock. While I expect the BIOS to use safe settings after a failed overclock I do not expect the BIOS to reset every single setting to default. I can not begin to explain my frustration at having to reset my boot configuration after each reset. Other motherboards using the same chipset faired much better in this area and even went so far as to retain the settings you entered in the BIOS and only used safe setting to reboot the machine. This makes it even easier to adjust settings. Sadly, the X38A makes it that much more difficult to overclock.
Which brings me to my final issue. Why did I have to reset my boot configuration after each failed overclock? Well simply put I did not realize right away that having an external hard drive connected to the system caused the POST process to take an exorbitantly long time. It would take a good sixty seconds of staring at the boot screen while it checked each SATA and IDE channel before it would continue the loading process. It did not matter if the drive was connected through eSATA or USB.
TEST SETUP
All tests were conducted on the following platforms. A format of the hard drives followed by a fresh install of the OS was done. The latest drivers were then installed and all non-essential applications were halted.
Test Platform
Processor
Intel Core 2 Duo E6420 @ 2.1 GHz
Motherboard
Board 1 – GIGABYTE GA-P35-DS3P
Board 2 – ASUS Maximus Extreme
Board 3 – Foxconn X38A Digital Life
Memory
2 GB (2 x 1 GB) G.Skill DDR2-800 – P35 & X38A
2 GB (2 x 1 GB) Aeneon DDR3-1333 – Asus Maximus & X38A
Drive(s)
1 – Seagate 80GB Barracuda SATA
1 – Samsung HD501LJ SATA
Graphics
MSI 7900GTX
Sound
On board
Cooling
Noctua NH-U12P
Power Supply
OCZ GameXStream 850 watts
Display
Westinghouse 37″ LVM-37W3
Case
No case
OS
Windows XP Pro SP2
Synthetic Benchmarks
SiSoft XI
CPU, Mem Bandwidth
HDTach
Single SATA Avg. Read, Burst
Everest Ultimate 4.0
Mem Read, Write, Copy, Latency
RightMark AudioAnalyzer
24-bit, 192KHz
SuperPi Mod 1.5xs
1M, 2M
Games
F.E.A.R. v1.08
640×480 0x AA/AF Highest in game settings, Soft Shadows off
Company of Heroes v1.71
800×600 0x AA/AF Highest in game settings
Quake 4 v1.4.1
800×600 0x AA/AF Highest in game settings, High Quality
OVERCLOCKING
Anyone who has read my previous articles knows I like to get right to the overclocking portion. It is exciting to see how far we can push a piece of equipment and increase its performance. As with any new piece of hardware I did a bit of research on preparing the board for overclocking since every board/chipset is different. So what does the X38A have to offer?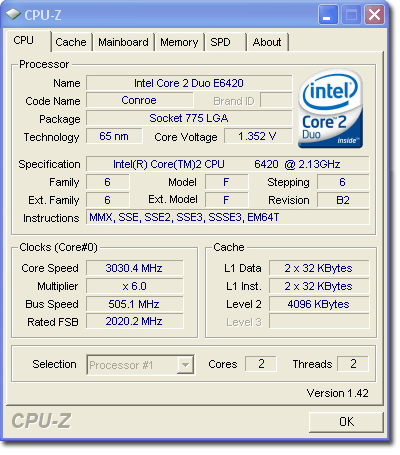 Some very strong results, that's what. That is of course as long as you stick with using DDR2. I just could not get the board to remain stable at anything above DDR3-1420. I know the RAM itself is good up to 1600MHz so that wasn't the case. With the troubles seen in the BIOS I can only attribute my results to an immature BIOS. Let's get to testing this puppy.
TEST RESULTS: CPU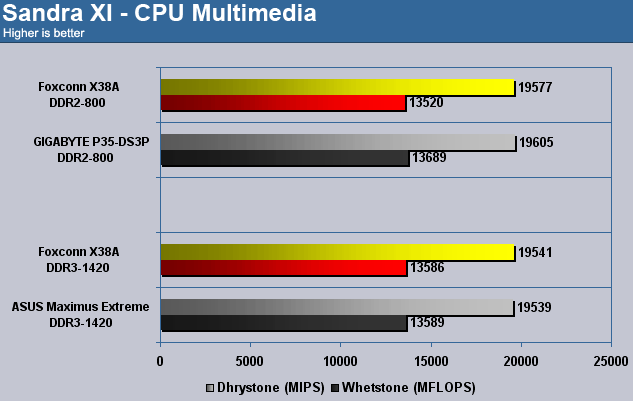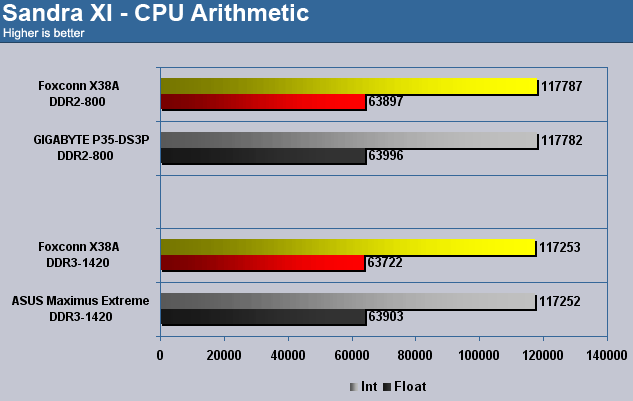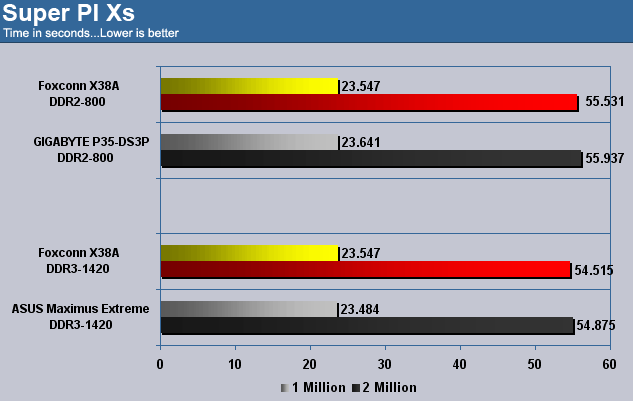 Early results look promising. It would seem that the DDR3 and DDR2 are keeping up with the other boards that support only the one standard. But what will happen when we get to testing the RAM itself? Next page please.
TEST RESULTS: RAM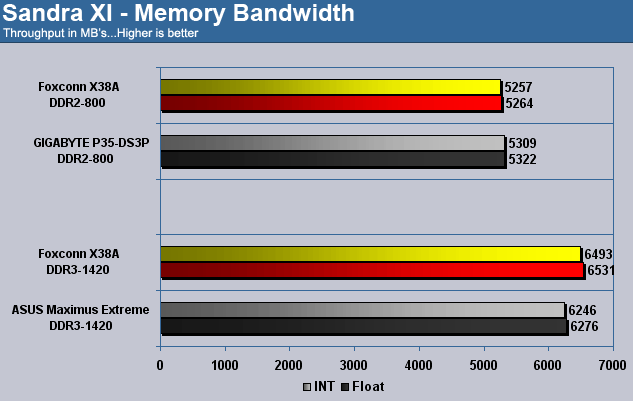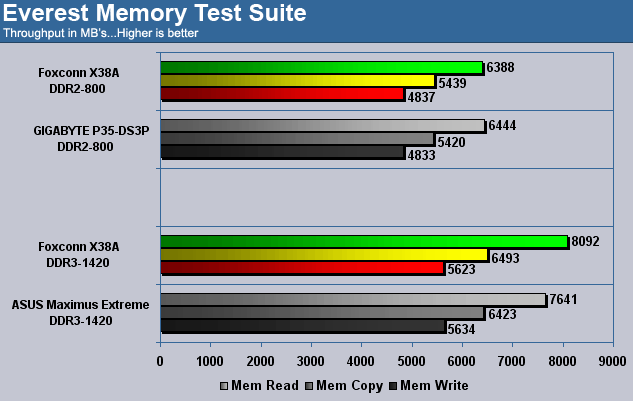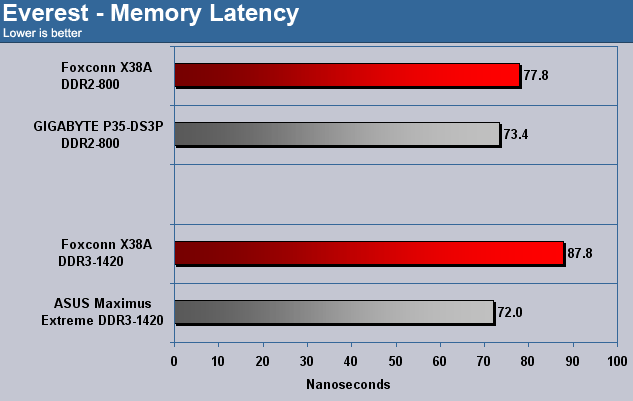 TEST RESULTS: GPU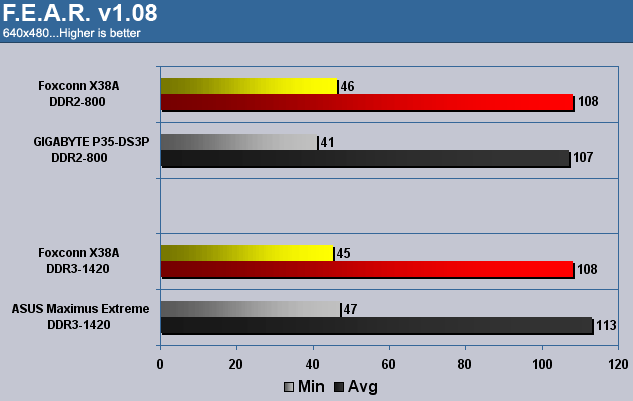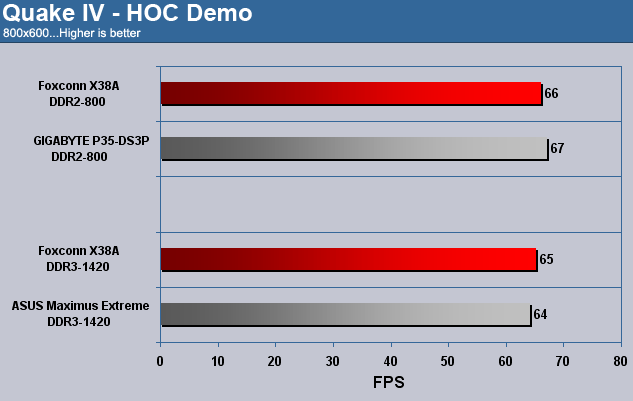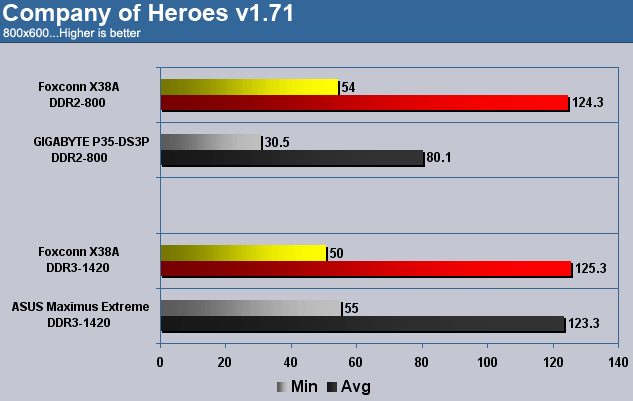 CONCLUSION
The Foxconn X38A is an interesting board. I have seen other boards in the past that tried to support two different standards to make upgrading easier only to be left by the wayside due to poor performance. Surprisingly this is not the case here with the X38A. It is able to support both the DDR2 and DDR3 standard with no performance hit. But this is where the honeymoon ends. The layout of the board is decent and the support for the latest processors is nice but there is nothing about this board that stands out. There are other boards that offer Crossfire capabilities and more still that are better for overclocking. So where does this leave the X38A? I would really like to see Foxconn make use of their FDC (Foxconn Digital Connector) and come up with some creative uses for it. Until that day arrives it seems what you have is a decent board which makes upgrading to DDR3 a bit less of a hassle. Now I'll break it down.
FINAL WORDS
Performance: 7.5/10 – This board offers a good level of overclocking if you use DDR2 and it won't slow you down in the video department either. Supporting the newest video cards and CPUs go a long way to ensuring this board can keep pace for a solid year. Just don't try to squeeze anything from the DDR3 side of the board.
Bundle: 6.0/10 – Foxconn includes SATA cables, user manual and driver CD but nothing else. For a motherboard geared towards digital entertainment there is no software included towards this end.
Value: 6.0/10 – You can't ignore the fact that if you want to use DDR2 today and upgrade to DDR3 later this board will save you from replacing a costly component. With that said there is little else about this board to separate it from the pack. If the day arrives where the Foxconn Digital Connector is utilized to its fullest potential this may change but in a market where gimmicks are a dime a dozen, I'm not holding my breath.
Pros:
+  Highly overclockable with DDR2
+  Supports new 1333 FSB
+  On board power/reset/clear CMOS switches
+  Intuitive placement of expansion slots
+  PCIe 2.0
+  Supports new Penryn chips
Cons:
–  Poor overclocking with DDR3
–  Large CPU heat sinks may not fit
–  BIOS is immature
Final score: The Foxconn X38A Digital Life motherboard scores a 6.5 (Pretty good) out of 10.