Rosewill has entered the competitive market of the high-end power supply with their latest line of Xtreme series. The Xtreme series power supply consists of 750W, 850W, and 950W power supplies and users have the option of choosing either a dual fan model or a single 135mm fan model. Today, we will put the 135mm fan, 950W model to the test. Join us as we take a closer look at this power supply.
INTRODUCTION
It seems to me that every manufacturer in the industry is getting into the power supply business.  We have seen memory makers, such as OCZ and Corsair, graphic card makers, such as BFG, and cases manufacturers such as NZXT and Tuniq making power supplies.  Combine these newcomers to the old and established power supply makers, such as Antec, Enermax, and Seasonic and we are having a big battle among power supplies.  Even so, it does not deter other manufacturers from entering the arena and trying to fight against all odds to hopefully come out as the winner.
There is a paradox in today's computer system.  On one hand, we have updated components that consume less power then before due to the refined manufacturing process and better designs.  On the other hand, we have super computers that are able to support multiple hard drives, multiple processors, and multiple graphic cards.  These components together are consuming a tremendous amount of power.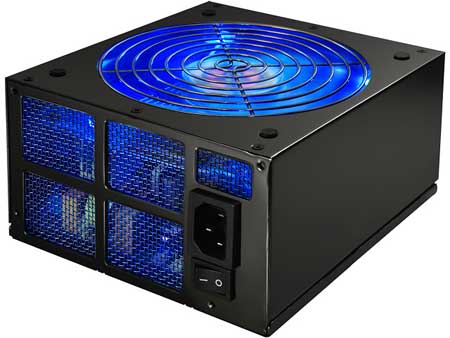 For an enthusiasts rig, a 500W used to be enough to power a whole system but it is no longer the case.  Now days, 1KW PSUs are no longer uncommon among the industry as you can find almost every manufacture carrying something either close or even higher wattage power supplies.  It is also no longer the case where you only find these 1KW PSUs inside the most hardcore users only but some enthusiasts and casual gamers are putting 800W or higher PSU in their system.  Part of reason is due the drop of pricing among these 800+ watt power supply because of the competition.  Today, we have yet another manufacturer, Rosewill, who has a 950W power supply which we will put it through the test.
ROSEWILL
Computer users who have been shopping online for awhile will probably not be a stranger to the Rosewill.  They carry wide variety of products, ranging from simple cable, to computer cases, coolers, and power supplies.  Usually Rosewill products are priced cheaper than the other manufactures and that is evident with what Rosewill describes themselves:
Not long ago we had an idea – bring quality hardware and affordable prices together. From that idea Rosewill was born. Formed from a top team of hardware professionals, Rosewill is dedicated to our mission to compete and win on price, quality, and service. We work only with the best partners – businesses we know and businesses we trust.
Our vision is to become the leading brand in computer hardware and peripherals. We aim to achieve this goal by creating superior customer satisfaction. We view our customers as our most important assets. Through our integrity, our innovative products, and our excellent customer service, we aim to create lasting customer relationships.
FEATURES
Supports ATX12V v2.2 & EPS12V v2.91 standards
Supports both Intel and AMD Systems
Four 12V Rails provide independent reliable power
Active Power Factor Correction(PFC) provides clean and reliable power to your system  
SLI Ready – Support up to Dual GeForce 8800 Ultra 
Efficiency > 80%, Up to 85% 
Silent 135mm 2 Ball-bearing Blue LED Fans with Auto Fan Speed Control
20+4 pin main connector for universal motherboard compatibility
Black Chrome Mirror Finish 
Mesh sleeving on all cables for easier cable routing and better ventilation
Built-in Short Circuit protection, Over Voltage/Current/Power/Temperature Protection circuits
Safety & EMI Approval: UL, TUV, CE, FCC, ROHS
SPECIFICATION 
SPECIFICATION

Model

RX950-S-B

Type

ATX12V v2.2 & EPS12V v2.91

Maximum Power

950W

+12V

4 Rails

PFC

Active PFC

SLI Support

Support Up to Dual Geforce 8800 Ultra

Fan

Silent 135mm 2-Ball-bearing Blue LED Fan

Main Connector

PCI-E Connectors

2x 8-pin
2x 6-pin
(2x PCI-Express 8-pin to 6-pin adapter in package)

Modular Cabling Support

Power Good Signal

Hold-up Time

Input Voltage

Input Frequency Range

Input Current

Protection

Short Circuit Protection
OVP-Over Voltage Protection
OCP-Over Current Protection
OPP-Over Power Protection
OTP-Over Temperature Protection

MTBF

100k hours at 25°C, max. load, nominal input

Dimensions

W x H x L
150 x 86 x 190 mm
5.90″ x 3.39″ x 7.48″ inch

Warranty
CLOSER LOOK
Rosewill's latest Xtreme power supply series is targeted toward computer enthusiasts.  They range from 750W to 950W.  The unit we received is the 950W with model number RX950-S-B.  In fact, Rosewill has two 950W power supplies with similar model names.  The two models are essentially the same with the exception of the fan design.  The RX950-D-B features dual 80mm fan while the RX950-S-B that we received is a single 135mm fan.
The Rosewill RX950-S-B's packaging is really eye-catching.  The black exterior with only a big letter "X" and "Xtreme" in golden color sure will make you wonder "what's inside the box".  Also, contrast to many other manufactures' packaging which splatter the exterior box with marketing material, this box is totally free from that.  Lacking this information can make it a slightly difficult task when making your purchase decision if you see the box at a retail store.  However, if you shop online, you can usually find this information at Rosewill or the retailer's site.  You see that the box even comes with a handle to help carrying it around.  The box is large and having the handle sure helps to carry it.
Open up the box and you can see why the box is so big.  Rosewill has put three thick pieces of plastic foam to protect the PSU.  Not only that, you can see that the plastic foam has a cutout of the PSU so that the PSU will stay in the cutout during shipping and won't get damaged.  In addition, you see all the cables are neatly placed next to the power supply inside a small compartmental box.  Excellent packaing by Rosewill!
My initial impression with the RX950-S-B is that it is so small.  Compared to the Enermax Galaxy 850 or higher wattage power supplies, this power supply is rather small.  I am a bit surprised to find that Rosewill is able to pack all the components inside the 16 cm x 15 cm x 8.5cm (LxWxH) casing.  This means that this power supply should fit into every single mid-tower to full-tower case and anything in between without any issue at all.
The RX950-S-B has a very nice mirror finish that you can even use it as a mirror if you wish as it is so reflective :). 
There is a big 135mm fan on the bottom to help dissipate the heat.  The fan features a double ball-bearing and blue LED fan with auto fan speed control.  In addition, the front and the back have ventilation holes to further assist in dissipating heat.  The back has a huge surface exposed and should definiltey help to cool the internal components.  The power supply will work with input voltage of 100 – 240 V and it will automatically adjust to the right voltage depending on your location.
We see that the power supply is not modular and it comes with an ample amount of cables.  Here are the cables that have been included:
Output Connectors
1x 20+4 pin Main Connector 
1x 4 pin ATX12V Connector
1x 8 pin EPS12V Connector
2x 8 pin PCI-Express Connector
2x 6 pin PCI-Express Connector
2x PCI-E 8-pin to 6-pin Adapter 
6x 4 pin Peripheral Connector 
6x 5 pin SATA Connector 
2x 4 pin Floppy Connector
---
---
To my surprise, this power supply does not come with any screws so you would have to find your own screws when installing it in your case.  Not a big deal, though a bag of four screws would have been a nice touch.  The cables are all completely sleeved.  I am a bit disappointed to find the connectors do not come with some sort of mechanism for easy removal as it is almost a standard that the power supply at this level should have.  In addition, the lack of modular cables can also be a big problem with cable organization.  Luckily Rosewill includes a cable tie strap to help you to organize your cables.
The amount of 4 pin molex connector and SATA connector would be sufficient for most demanding user.  All together, the power supply can power up to 24 peripherals (with the 4 pin molex connector) and 20 SATA hard drives.  I am particularly glad to see two 4 pin floppy connector.  Despite the fact that floppy drive is almost becoming obsolete, it still has its function every once in awhile when you are flashing the BIOS.  Also, a few external devices do also use the floppy connector so having two of them on the power supply is welcoming. 
The main power is the 20+4 pin design that works for older motherboard as well as newer motherboard that requires 24 pin connector.  The connector does not offer a way to hook the 20 pin and 4 pin connector together as one like you find in other power supply so it makes installation a bit a hassle.  You can see that it also comes with a 4 pin ATX 12V and 8 pin EPS12V connector.
I have a small complaint about the cables.  The PCIE cable is a bit short in my opinion.  I have NZXT Zero case which is mid-tower case and the PCIE cable is just barely long enough to reach the first PCI-E card on my 680i motherboard.  I had to pull the cable pretty tight in order to connect the second PCIE card.  Users with full-tower system would potentially have issue with the cable length when you wish to run SLI.  Users with the motherboard far away from their power supply can also face similar problem.
I did a quick search with the UL on the power supply and found that this power is manufactured by ATNG POWER CO LTD.  ATNG POWER CO LTD has been manufacturing power supply since 1987.  They produce power supplies for various markets and their power supplies are being sold by various brands, such as Coolmax, StarTech, Rosewill, and their own brands, as well as others.  We have not seen power supplies made by ATNG here at Bjorn3D and this could be our first expereince with this particular maker.
The RX950-S-B supports ATX12V v2.2 & EPS12V v2.91 standards, featuring four 12V rails, and has Active Power Factor Correction(PFC).  In addition, it is SLI Ready with support up to dual GeForce 8800 Ultras.  It is rated for efficiency greater than 80% and up to 85%.  You can see that the power supply will support two 8800 Ultras without any issue since it has two built-in 6 pin PCI-E connectors and two additional 8 pin PCI-E connectors that can be converted to 6 pin with the included adapters.  Since it also comes with two 8 pin PCI-E connectors, it should not be any issue to use the power supply with AMD cards, even two of the latest HD 3870 X2 that requires one 6 pin and one 8 pin connector for a single card.
CLOSER LOOK–con't
The Rosewill RX950-S-B has four +12V rails with 20A on each rail.  The maximum combined power for the +12V is 810W (67.5A).  The +3.3V has 30A and the +5V has 24A.  Together they have combined power of 170W.  The power supply has a rated peak power of 1030W for 12 seconds.
30A

24A

20A

20A

20A

20A

0.5A

3.0A

170W

810W(67.5A)

6W

15W

929W

950W

1030W / 12 sec
Internal View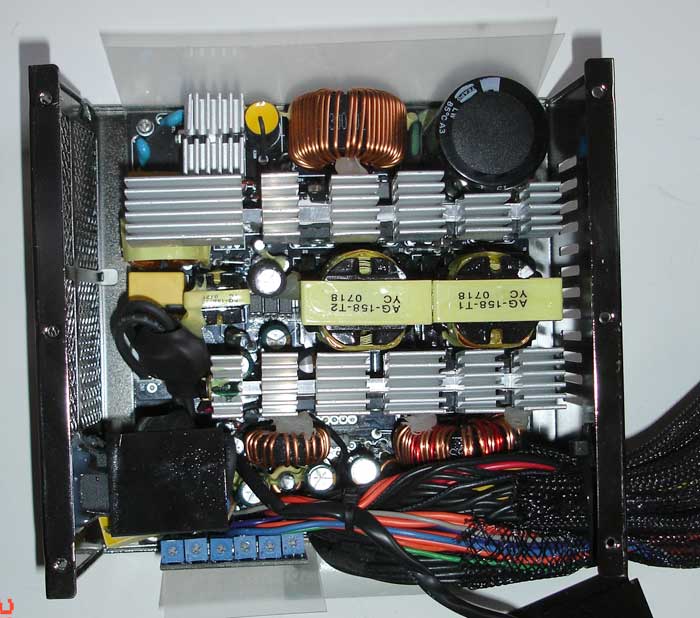 Opening up the power supply will reveal the internal components used.  Be warned, this will void your warranty, so don't do it at home.  We can see why this power supply is so small.  Inside, the components are packed to tightly that you can hardly see any components with the heatsinks covering most parts.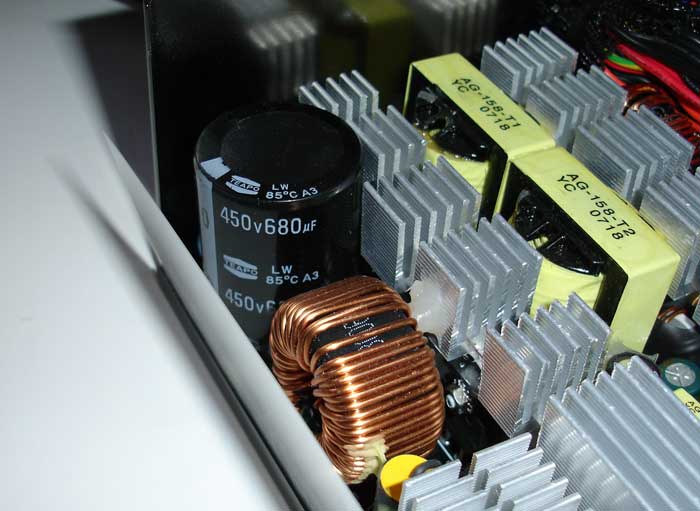 In the main side, we see that the unit uses a huge 450v 680uF Teapo capacitor and next to it is a the large donut-shapped choke. 
On the secondary side, we get a sense as to how the +12V rails are being distributed.  The yellow/green wires are 12V4, the blue and yellow wires are 12V1, and the solid yellow wires are 12V2. 
We also see the 135mm fan is manufactured by Muhua Industry MH13525H12D.  Something that is unique with the Rosewill power supply is the rubber screw they use to secure the fan.  This will help to reduce some noise.
TEST CONFIGURATION
Since Bjorn3D does not yet own a dedicated power supply load tester, we are not able to test the power supply to the fullest wattage.  However, we do strive best to load each power supply with the components and power demands that a potential buyer will use.  For this particular power supply, I will be installing these following components at the given condition:
Intel E6600 (OC to 3.2GHz)
2x2GB SuperTalent T800UX4GC5
Three SATA hard drives
Three graphic cards: XFX GeForce 8800GTS Fatal1ty, Foxconn GeForce 8600GTS, Gigabyte GeForce 7900GT
ThermalRight XI-128 with Scythe S-FLEX SFF21F
DVDRW: NEC 3520AW
CoolIT Freezone and CoolIT Eliminator
SoundBlaster X-FI
Various peripherals that includes PS/2 keyboard, USB mouse, and other USB devices and storages.
With all these components, I was able push the power demand to 390W at idle and 480W at load.  This represents approximately 50% of the power supply's maximum output.  We would probably able to achieve higher power demand if we SLI two 8800 cards.  Unfortunately, at the time of the review, I do not have a second card available to SLI them.  Still, with close to 500W of power demands, this loads represents the average enthusiast computer's power usage even with a quad core processor and a couple of 8800 cards in SLI.  This should give our readers a sense as to what this power supply is capable.
We will test the power supply at approximately 25% of the maximum power consumption and at approximately 50% the maximum power consumption.  The voltage reading of each rail will be carried out with the Kill-A-Watt nP4400.  The test system is connected to a UPS to reduce any power spikes. 
TEST RESULTS 
280W~380W 
| | | | |
| --- | --- | --- | --- |
|   |  3.3V |  5.0V | 12.0V |
| IDLE (280W) | 3.45V | 5.09V | 12.48V |
| LOAD (380W) | 3.45V | 5.08V | 12.46V |
 380W~480W
| | | | |
| --- | --- | --- | --- |
|   |  3.3V |  5.0V | 12.0V |
| IDLE (390W) | 3.43V | 5.07V | 12.40V |
| LOAD (480W) | 3.43V | 5.07V | 12.37V |
With the exception of the +5.0V rail, the +12V rail and the +3.3 are about 4% higher than the ATX specification.  Although they are still within the 5% tolerance level, a tighter regulation would be appreciated.  The +5.0V stays quite close to the specification.
We can see that under load, the +3.3V and +5.0V rails are steady compare to the idle.  The +12V will drop 0.02~0.03V under load and the voltage will fluctuate slightly by 0.01V.  When the power demand is at 480W, the +12V dropped 0.10V compare to the 280W.  This is not a huge drop but nonetheless, it does makes you wonder whether or not the power supply is able to keep up the power demand if the total wattage is pushed close to the promised 950W for a lengthy period of usage. 
Once again, I will be using Everest to record the voltage and use it to assess the ripple of the rails.  Do keep in mind that the software reading is never accurate but this method is meant to detect any changes in the voltage reading rather than the actual voltage. 
The +3.3V is really stable that shows no ripple at all.  The +5 and the +12V do fluctuate a little bit.  The ripple is pretty good but a more consistant voltage would have been appreciated.
NOISE
I do not have a sound measurement tool to measure the sound level from the power supply so I can only rely on my own two ears.  The 135mm fan on the Rosewill power supply is fairly quiet.  It is not as quiet as the Galaxy power supply but it is not loud by any means.  With the side panel off, I can hear the fan noise about 50 cm away from my desk.  However, with the side panel installed, the fan noise is barely audible.  Since the fan speed is automatically adjusted, you cannot modify it but given how quiet it runs, I wouldn't think that any user would be bothered by the 135mm fan noise.
 
CONCLUSION
The overall performance of the RX950-S-B is pretty good.  We see that even at 500W load, the power supply is still able to deliver a good, strong power.  It is a very nice looking power supply with quiet 130mm blue LED fan.  There are enough connectors for even the most demanding system out there.  I especially like the size of the unit as it is not overly large as others so it will fit with most cases.  I also like the fact that the cables are completely sleeved and it comes with two floppy connectors.
If I am to be picky here, I will say that the lack of modular connector can deter a few potential buyers but not everyone loves modular cables.  The lack of the modular cables can be a hassle to manage the cable and block air flow of the case.  It would be a good idea if Rosewill is able to take a few other manufacturers' design of a combination of modular and non-modular design.  Also, the lack of screws can be something either Rosewill overlooked or simply thinks that users may not need it.  It won't be a big issue but it would still be nice if they can include screws for the power supply.
Overall, this is a kickass power supply.  At retail price of $194.99, the Rosewill RX950-S-B is one of the cheapest 900~1000W power supply you can buy.  Of course, it is not cheap by any means but it certainly is cheaper than other PSUs on the market with similar wattage.  Buyers can even get a cheaper unit if they purchase the dual fan version of the same power supply RX950-D-B, which sells at 189.99 over at Newegg.  This power supply would definitely be a good choice of power supply for those enthusiasts who wish to save a few bucks.
The Rosewill RX950-S-B will receive a score of 8.5 (very good) out of 10 for offering the a good wattage of power at competitive price.
 
Pros:
+  Lots of connectors
+  SLI capable and Crossfire capable
+  Plenty of power
+  Cables are sleeved
+  Large quiet 135mm blue LED fan
+  Very nice looking
+  Cheapest PSU in its class
Cons:
–  Price
–  PCIE cables are a bit short if you plan to use it on a full-tower system
–  No modular cable
–  Less ripples would have been nice
–  +12V rail is a bit high (though still within the acceptable rating)