Seagate blessed Bjorn3D this week with the Momentus 5400.4 RPM 250GB. It is powered by low RPMs, perpendicular magnetic recording technology, 5 year warranty and proven quality.
INTRUDUCTION
Seagate blessed Bjorn3D this week with their newest and largest 2.5 inch hard drive, the Momentus 5400.4 RPM 250GB (3.0Gb/s). First impressions out of the box left me thinking it was going to be much slower than a 7200 RPM hard drive. Boy was I wrong. Way wrong. I noticed that the interface was faster than the 7200 RPM but I wasn't sure how the RPM differences and interface differences would scale out. The Momentus 250GB hard drive is faster and is as quiet as the hard drive in my Dell Latitude 820 (TravelStar 7200 RPM 80GB 1.5Gb/s). These facts, and the 5 year warranty Seagate provides, make this a great buy if you are looking for a new drive.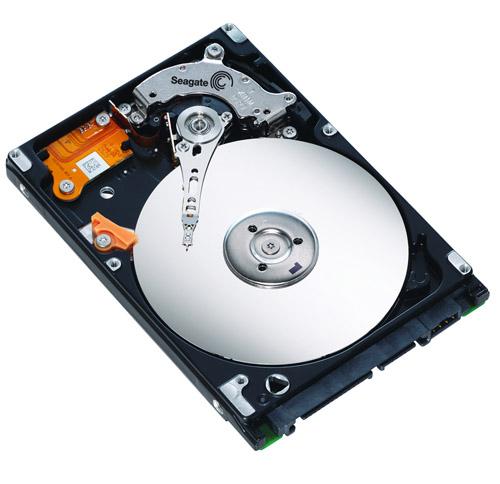 People that want more performance out of their systems, including laptops, generally skip thinking about the hard drive as an option. Laptop users have so many limitations as to what they can do to bump up the speed of the computer. They could add memory, maybe change the video card, depending on what laptop you buy, and maybe even buy a new processor. Now, they can add a hard drive to the list.  Here is a little information on Seagate that will help you understand their focus.

Platforming and Vertical Integration—Streamlining the Process

As the leader in the industry, Seagate has focused on building business efficiencies, such as platforming and vertical integration, that give the company a competitive edge. Platforming has helped Seagate deliver a comprehensive product portfolio by allowing the company to apply one core technology platform to create multiple products. The company has applied the platforming concept to the manufacturing process, allowing Seagate to manufacture 1-inch, 1.8-inch, 2.5-inch and 3.5-inch hard drives on the same factory line to further increase efficiencies and improve product quality and margins.

Vertical integration also plays a large role in streamlining the design and development process. Seagate designs, owns and manufactures all of the core technologies needed to develop individual storage products, including heads, media, motors and printed circuit boards. Without reliance on third parties to supply components, the company has complete control of its entire development process and product roadmap—from component supply to technology improvements.  As a result, product quality, margins and time to market are vastly improved—enabling Seagate to quickly meet the quality, reliability and supply demands of its customers.

Seagate Technology has been at the forefront of the storage industry for more than 25 years. With corporate offices in Scotts Valley, California, Seagate employs more than 56,000 people around the world—all contributing to the development of the company's next-generation storage products. From the first 5.25-inch hard drive for the PC to the development of perpendicular recording technology, the company has been pioneering new industry standards that have fueled advancements in the digital information age. Through technology leadership and innovation, Seagate continues to help individuals and businesses maximize the potential of their digital content in an ever-evolving, on-demand world. 
FEATURES
Second-generation Seagate perpendicular magnetic recording technology
SATA 3Gb/s interface with Native Command Queuing, the fastest interface available today 
5400.4 RPM with 8Mb cache
56% areal density increase from previous product 
Robust design and high shock tolerance enable mobility for rugged notebook operating environments
900 Gs of nonoperating shock make the drive ideal for notebook PCs and industrial applications 
5-Year warranty
Key Applications
Mainstream laptops
Workstations
Gaming systems
Small form factor PCs
External boxes
Non-mission-critical blade servers
SPECIFICATIONS
Seagate Momentus 5400.4 RPM 250GB ST9250827AS
Specification
Momentus 250GB (5400.4)
Travelstar 80GB (7200)
Model Number
ST9250827AS
HTS721080G9SA00
Interface
SATA 3.0Gb/s
SATA 1.5Gb/s
Cache
8 MBytes
8 MBytes
Capacity 
250 GB
80 GB
Areal Density (avg)
204 Gbits/inch2
66 Gbits/inch2
Guaranteed Sectors
488,397,168
N/A
Height (max)
9.5 mm (0.374 inches)
9.5 mm ()

Width (max)

69.85 mm (2.75 inches)
70 mm ()
Length (max)
100.20 mm (3.945 inches)
100 mm ()
Weight (typical)
102 grams (.23 pounds)
115 grams ()
Spindle Speed
5400 rpm
7200 rpm
Average latency
5.6 msec
4.2 msec
Random read seek time
12.0 msec
10 msec
Random write seek time
14.0 msec
11 msec
Annual Failure Rate
0.7%
N/A
Maximum start current, AC
 1.0A amps
 4.45A amps
2nd-Generation Perpendicular Magnetic Recording Technology (PMR)
As the areal density growth rate of current longitudinal recording begins to slow, perpendicular recording appears best-positioned to keep pace with the world's growing data storage needs, with the potential for far higher density levels over time than what could otherwise be achieved. PMR aligns the magnetic markers on a hard-disk surface in a different way to increase areal density so you can store more data on every platter. Existing technology was approaching its areal density limits, and drive manufacturers spent several years working to overcome the problem. The result for you is more and cheaper room for your data–which is no small concern in a world moving to high-definition media.
To visualize the difference between today's longitudinal and the new perpendicular recording, picture a drive platter. The bits of data on the disk are represented by magnetized particles with their poles oriented one way or the other. Until now, they have been aligned parallel to the disk surface, like concentric rings formed by tiny dominoes. PMR stands those dominoes on end–also in concentric circles–meaning you can squeeze far more dominoes into a given surface
Seagate predicts that relatively soon PMR technology will deliver at least a four-fold increase in capacity. That means 2-terabyte, 3.5-inch single-platter disks for desktops; 1TB, 2.5-inch disks for laptops; and even 50GB for tiny 1-inch drives in MP3 players in the near future.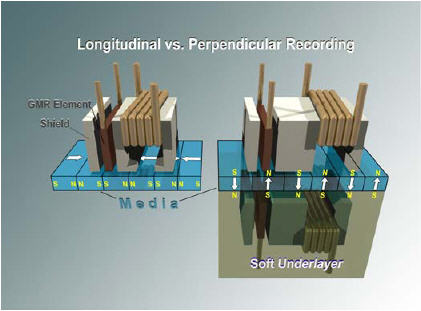 Seagate has 4 different high capacity drives currently, 120, 160, 200 and our 250GB. All four of these utilize the PMR technology and have 8 MB cache. 
CLOSER LOOK
The Seagate Momentus 250GB 5400 RPM hard drive looks like any other hard drive, rectangle and thin. Seagate does make all their parts and products at the complany location. Nothing is outsourced. That is one difference you might see if you were to purchase this, quality.
TESTING
Testing System
Test Platform

Processor

Intel E6600 Core 2 Duo OC'd to 3.0GHz

Motherboard

Memory

G.SKILL 2GB (2 x 1GB) 240-Pin DDR2 SDRAM DDR2 800 (PC2 6400)

Drive(s)

Western Digital Caviar SE16 250GB (WD2500KS-00MJB0)

Graphics

Leadtek WinFast PX9600 GT Extreme

Cooling

ZALMAN CNPS9500 LED 92mm 2 Ball Cooling Fan with Heatsink

Power Supply

Ultra X2 750W Extreme Titanium

Display

Dell 2007WFP

Case

NZXT HUSH

Operating System

Windows XP Professional
 Benchmarking Tools:
SimpliSoft HD Tach
HD Tune
SiSoft Sandra 13.2
PCMark05 HDD Test Suite
Copying a 26GB file from one directory to another
Testing Methodology
For this review, we decided to do a comparison between the hard drive that was in my Dell Latitude D820 (Hitachi Travelstar 80GB 7200.1 RPM 1.5Mb/s) and also what Seagate shipped us (Seagate Momentus 250GB 5400.4 RPM 3.0Mb/s). There were differences in the interface speeds. The Travelstar had a lower interface speed of 1.5Mb/s where as the Momentus had a higher interface speed of 3.0 Mb/s. The other difference was that the Travelstar had a higher RPM of 7200 and the Momentus had a lower RPM of 5400. My question was, how much of a difference would their be in the two drives? Well, we got our answer, quite a bit. 
All the benchmarks above were used to determine the differences between the two hard drives. They mainly determined read and write speed, but other tests determined temperature and power consumption.  And now for the results!
HD TACH
HD Tach is a low level hardware benchmark for random access read/write storage devices such as hard drives, removable drives (ZIP/JAZZ), flash devices, and RAID arrays. HD Tach uses custom device drivers and other low level Windows interfaces to bypass as many layers of software as possible and get as close to the physical performance of the device possible.
HD Tach Seagate Momentus 250GB 5400RPM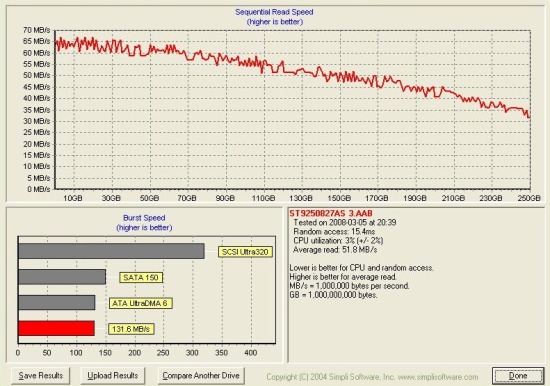 Hitachi Travelstar 80GB 7200RPM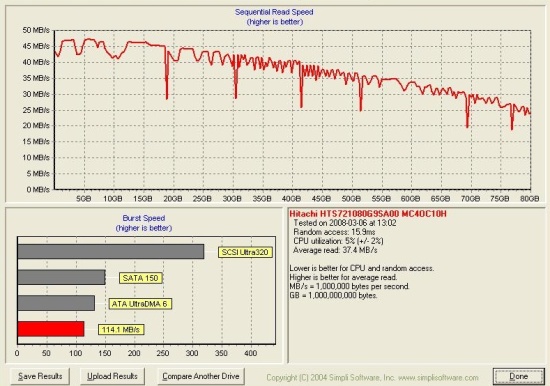 The results of the HD Tach benchmark shows the Momentus out competing the Travelstar by 17.5 Mb/s. This shows that the difference between the 5400 RPM Seagate drive with their new innovated increased areal density is much faster than the 7200 RPM drive from Travelstar.
HD TUNE
HD Tune is a Hard Disk utility which has the following functions:

Benchmark: measures the performance
Info: shows detailed information
Health: checks the health status by using SMART
Error Scan: scans the surface for errors
Temperature display
HD Tune may also work with other storage devices such as memory cards, USB sticks, iPods, etc.
HD Tach Seagate Momentus 250GB 5400RPM
Higher is Better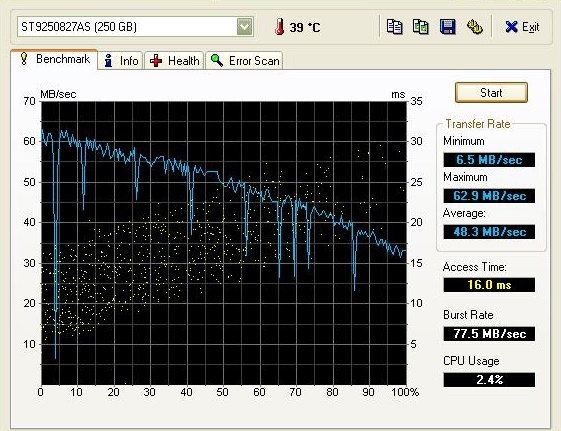 Hitachi Travelstar 80GB 7200RPM

HD Tune showed us that the Momentus performed faster transfer speeds by 12.7Mb/s and a lower temperature of 4 degrees celsius. We will note that the Momentus used .8% more CPU than the Travelstar did. This could have been a number of variables that caused that to happen. Less that 1% is not significant anyway.
PCMARK 05
The hard disk drive test suite is a collection of five tests that isolate the performance of the hard disk. The hard
disk is an important part of the PC providing quick access to large amounts of data. Today's computers come
with hard disks that can store several billion bytes (gigabytes) of data.

Various aspects affect the HDD workload. For example one task may consist of mostly writing a large file,
whereas another task might be mostly reading small files on the disk. The PCMark05 HDD test suite has been
created to include different workloads for the disk to widely cove r the use. The HDD test suite is described
below:
HDD – XP Startup
HDD – Application Loading
HDD – General Usage
HDD – Virus Scanning
HDD – File Write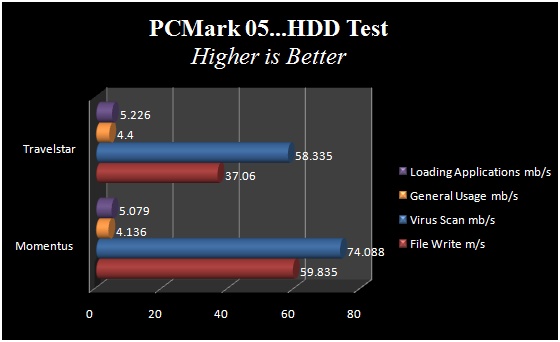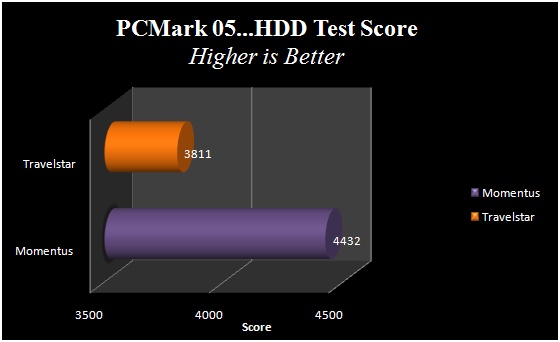 SISOFTWARE SANDRA 13.2
SiSoftware Sandra (the System ANalyser, Diagnostic and Reporting Assistant) is an information & diagnostic utility. It should provide most of the information (including undocumented) you need to know about your hardware, software and other devices whether hardware or software.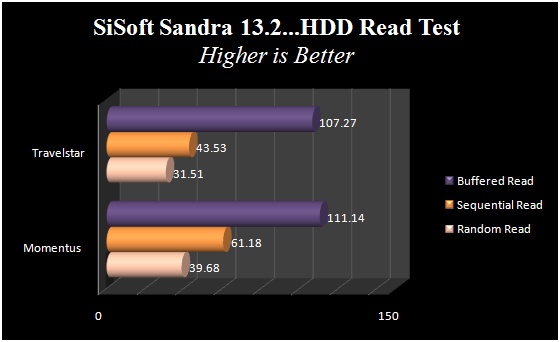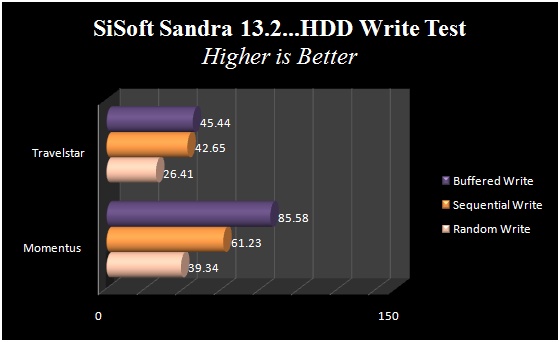 The Momentus 250GB wins out above the Travelstar 80GB in the SiSoft Sandra Benchmark, again because of the difference in transfer speeds.
FILE TRANSFER TEST
In this test a 26GB folder was copied from the desktop to the C drive (C:). This was done while the power was unplugged, to determine how much battery was used in the copy process. In a round about way, it will determine which one uses more battery. The time it took to copy the folder was also recorded in this test.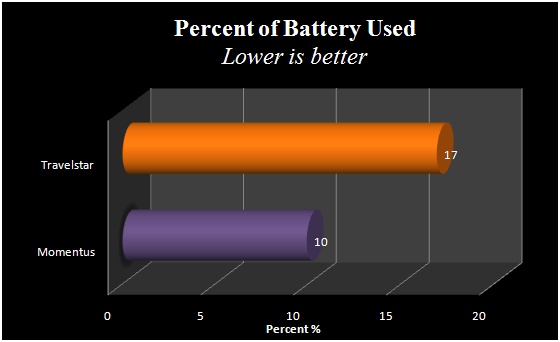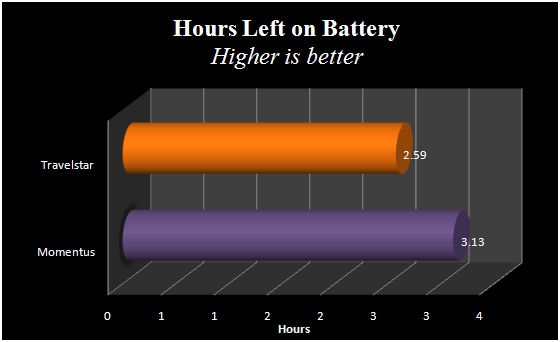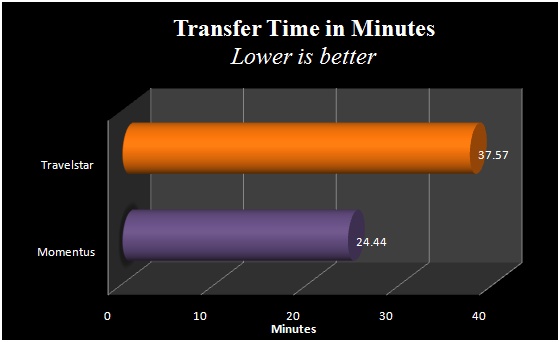 During the file transfers we also took note of the wattages and also recorded the idle time. The lower RPMed Seagate Momentus 250GB 5400RPM used 28 watts during load as opposed to the Hitachi Travelstar 80GB 7200RPM drive using 31 watts. This would make sense seeing that the Travelstar has a higher RPM. This would also explain the battery being used more on the Travelstar also.
CONCLUSION
We at Bjorn3D conclude this review with two thumbs up. The Seagate Momentus 250GB, powered by its low RPMs, perpendicular magnetic recording technology, 5 year warranty and proven quality made this review fun and refreshing to do. Although a platter may spin faster it doesn't mean it is going to transfer information faster as proven in this review. Although the Travelstar was 7200RPMs the Seagate Momentus blew it away in every test.
The 250GB version of the Momentus is currently, as of this review, the largest 2.5 inch HDD Seagate has. The already proven second-generation perpendicular magnetic recording technology will soon make 250GB drives seem like small cookies. Seagate has been determined in making a place for themselves in the storage genre and we believe they have. Remember, these 2.5 inch drives aren't just for laptops.  They can be used in small form factor PCs, external hard drive bays, or can mounted into dektop towers for use. 
Pros:
+  250GB storage Capacity
+  Very fast
+  8MB cache
+  Quiet
+  5 year warranty
+  300 Mb/sec
Cons:
–  It is not 7200 RPM
All things aside, this hard drive is a great contender in the race for sizeable capacity, speed, quietness and longevity and we at Bjorn3D give it a 9 out of a possible 10 and the Gold Bear Award for excellence.