Whether looking for a low profile SFF graphics card or looking to complete a HTPC the XFX 8400GS Dual-Screen graphcis card has the potential to meet your needs.
INTRODUCTION
It may come as a surprise to some, but graphics cards aren't always just about getting the best frames per second. Home theater, fileserver, and other specialized PCs may never see a game but in most cases they still need a video card to operate. And of course that is leaving out the surprisingly large number of PC users that simply do not play videogames (I've been told such people do exist).
All kidding aside, motherboards with integrated graphics may be perfect for a fileserver, but amongst HTPC setups discrete graphics cards still reign. Whether they have a need to hook up dual monitors and TVs, or simply wish to have hardware acceleration in order to play high definition movies smoothly, integrated graphics is going to be found lacking. As the typical HTPC setup or non-gamer isn't going to want to spend more than they have to for a videocard that meets their needs, cards such as the 8400 and 8500 series exist that bridge the wide chasm left between integrated graphics and mid-range gaming oriented graphics cards.
For this review we are taking a look at the XFX 8400GS "Dual-Screen Multipurpose Graphics Card" (PV-T86S-WML4). As the name may suggest this card is geared specifically for the dual-monitor crowd, and has been specifically designed for both dual-monitor use which we will cover in more detail later in the review. Additionally this 8400GS has been designed to fit in standard or low-profile computers and already includes the SFF PCI bracket in the package.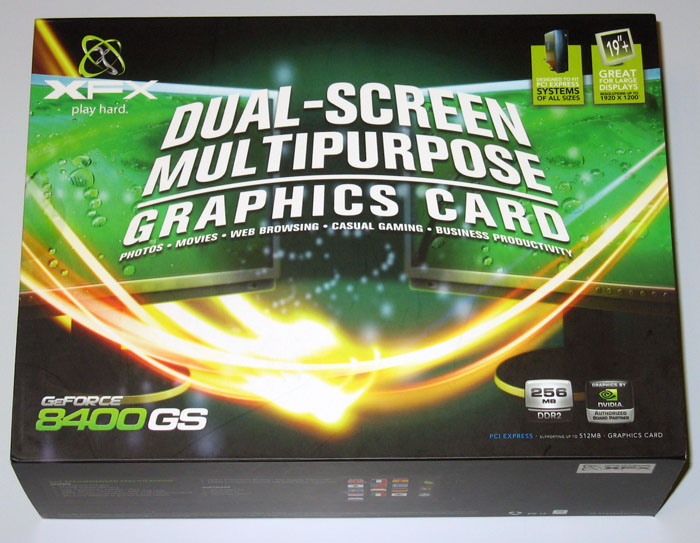 About XFX
XFX, otherwise known as PINE Technologies, is a brand of graphics cards that have been around since 1989, and have since then made a name for themselves with their Double-Lifetime enthusiast-grade warranty on their NVIDIA graphics adapters and matching excellent end-user support.
XFX dares to go where the competition would like to, but can't. That's because, at XFX, we don't just create great digital video components–we build all-out, mind-blowing, performance crushing, competition-obliterating video cards and motherboards. Oh, and not only are they amazing, you don't have to live on dry noodles and peanut butter to afford them.    XFX is a division of PINE Technologies, a leading manufacturer of state-of-the-art processing components. To learn more about PINE, click here.

 

 
SPECIFICATIONS
As the NVIDIA marketing speak is filled with generally 90% fluff and after reading would have anyone believing that the 8400GS was the best performing card on the market, it will not be included on this page. However we will instead briefly make a few notes in addition to the hardware specifications table.
The 8400GS uses the G86 core, which is specifically designed to offer only 16 unified shaders for graphics processing. This means there is no potential for unlocking, as there simply is nothing there to unlock! The 8400GS is identical to the 8500GT except that the memory interface has been cut in half, from 128-bit to 64-bits in width, otherwise the clockspeeds and everything else is the same.
There is some contention on whether the 8400 (and subsequently 8600) cards are 65nm or 80nm, however as with the 8600 series cards the G86 core based 8400GS we are testing here uses the same 80nm fabrication process. This also happens to match the results from the power measurements that were taken from both series of cards.
 
| | | | | |
| --- | --- | --- | --- | --- |
| Feature/Specification |  GeForce 8400GS | XFX 8400GS | GeForce 8500GT | GeForce 8600GT |
| Stream Processors | 16 | 16 | 16 | 32 |
| Core Clock (MHz) | 450 | 459 | 450 | 540 |
| Shader Clock (MHz) | 900 | 918 | 900 | 1180 |
| Memory Clock (MHz) | 800 | 800 | 800 | 1400 |
| Onboard Memory | 256MB DDR/DDR2 | 256MB DDR2 | 256MB/512MB DDR2 | 256MB/512MB GDDR3 |
| Memory Interface | 64-bit | | | 128-bit |
| Power Connector | None | None | None | None |
| Graphics Bus | PCIe 16x | PCIe 16x | PCIe 16x | PCIe 16x |
| SLI Support | No | No | Yes | Yes |
| Ports | VGA, DVI, S-Video | 2xDVI, S-Video | VGA, DVI, S-Video | 2xDVI, S-Video |
The XFX Dual-Screen Multipurpose 8400GS carries a slight price premium over other XFX and non-XFX 8400GS cards. That is because as you will see later this card is designed to offer two DVI-out ports even if used in a low profile chassis, where typically there would only be room for a single DVI port. This card is specifically designed to be used for dual monitor configurations.
This specific model XFX 8400GS does not include a HDMI port, but it does offer HDMI support for those willing to spring for a HDMI adapter kit. More info on this is explained by one of the card inserts shown below. This kit is hard to find as not even the XFX website lists it, however a few places are selling the kit for roughly as much as the XFX 8400GS itself! (XFX Product ID: MK-HDMI-UP1K) At those prices consumers looking for HDMI equipped graphics solutions will definitely be better off looking elsewhere, as they can be found for much less than the cost of both this card and the additional HDMI kit.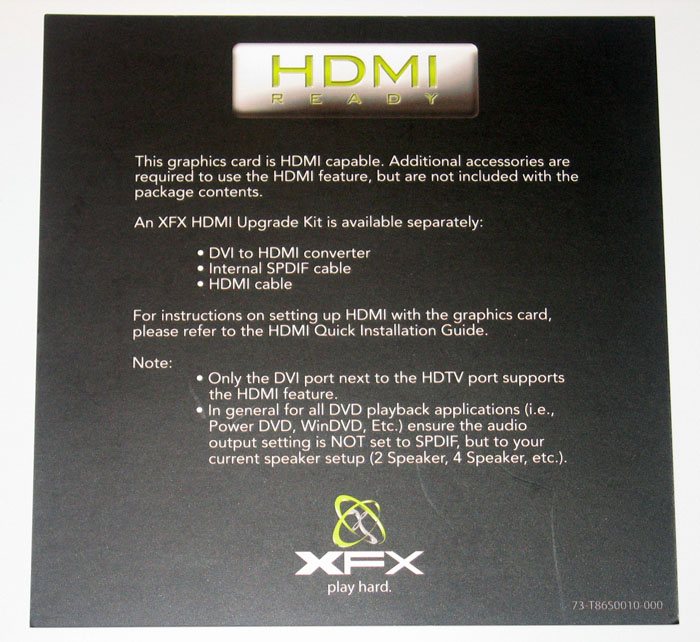 THE BOX
The packaging gets across very well that this card is designed for dual monitor use, although it isn't until you actually look on the back will you get an idea of what this means. Kudos to XFX for clearly stating this card features 256MB of DDR2 video RAM onboard instead of playing the guessing game with how much was onboard RAM and how much actually is borrowed from the system's main memory. XFX does however make note that the card supports up to 512mb, borrowing the other half from system RAM.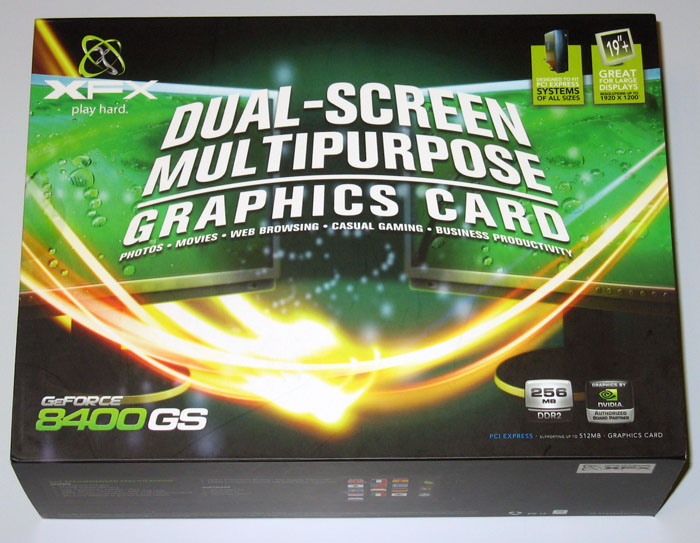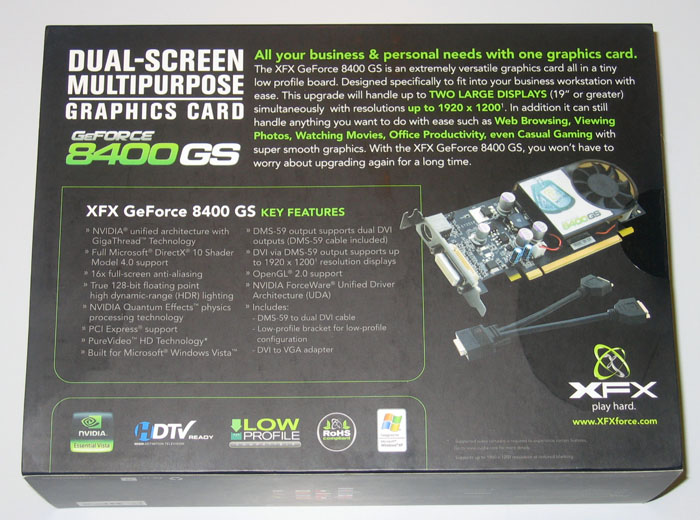 Opening up the box was a pleasant surprise, XFX has elected to use a solid block of cellular foam in place of their standard practice of using plastic clamshell packaging. Besides providing some of the best protection possible for the graphics card, this is the type of foam that doesn't disintegrate or break apart into little pieces and will retain its shape.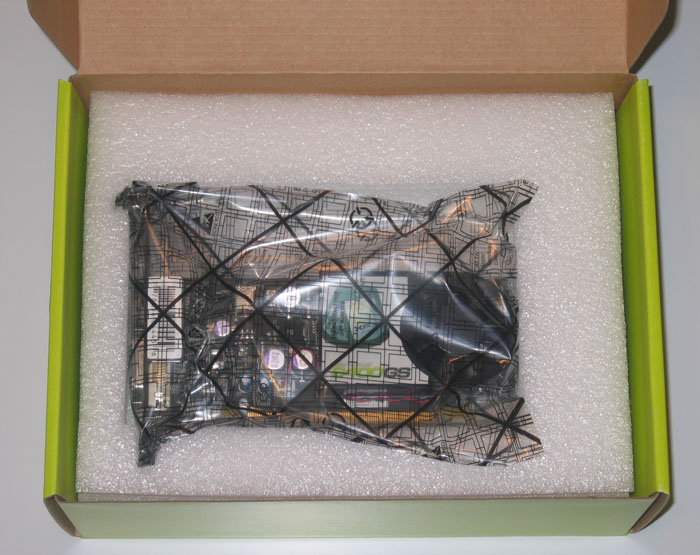 A CLOSER LOOK
The XFX 8400GS (PV-T86S-WML4) model is a low profile card and features the standard black PCB and "black chrome" PCI bracket, although the "DVI" port is missing the green to complete XFX's usual color scheme.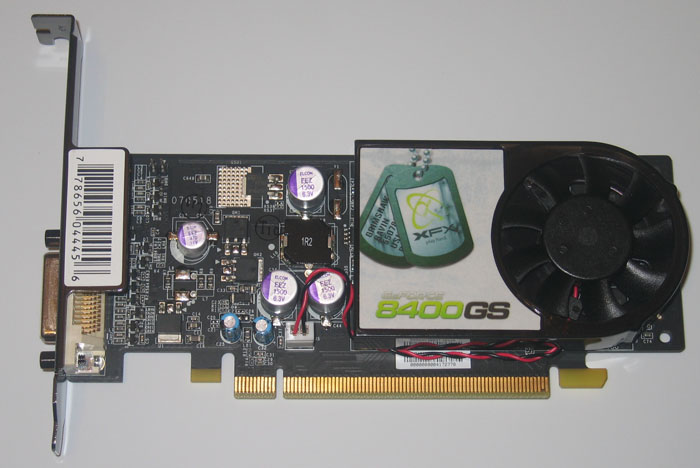 Those astute readers looking closely at the "black chrome" finish of the PCI slot bracket may have noticed that this isn't actually a DVI port! In order to provide two DVI ports in a size that allows the card to fit in small form factor PCs XFX has combined two DVI ports into one, which will require the user to connect the included Y-shaped DVI splitter cable regardless if they wish to use a single monitor or two. Now doesn't that just seem obvious in hindsight why this specific model 8400GS is being marketed as a Dual-Screen graphics card? Yeah, I thought so!
Note the single DMS 59 connector
Here is a close up photo of one of the DDR2 800MHz memory chips. Elixir is a lesser known brand that sells computer memory primarily outside the US, however I was unable to find any specific info regarding these chips.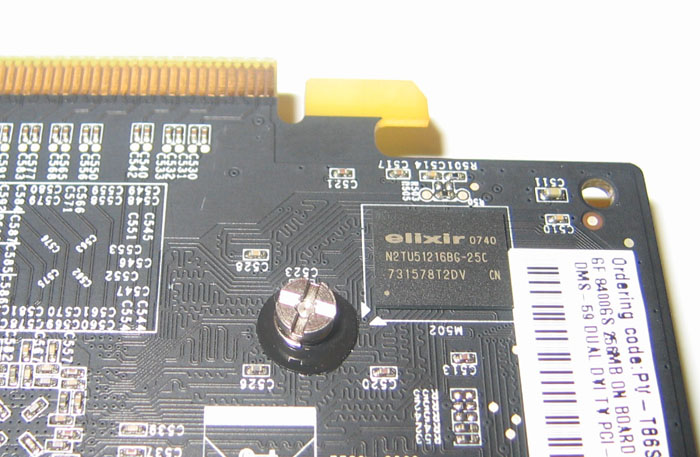 The Accessories
Despite the value nature of the 8400GS XFX has included several things in addition to the expected driver CD, DVI-to-VGA adapter, and S-Video cable. Besides a handy doorknob warning sign for those gamers out there (We will answer the question of whether you can actually "game" on a 8400 class card in a moment!), a low profile PCI bracket is included that can be easily switched with the default bracket. While only a negligible comment, the SFF PCI bracket is the standard color and unfortunately not the same nice looking "black chrome" finish as the bracket the card ships with.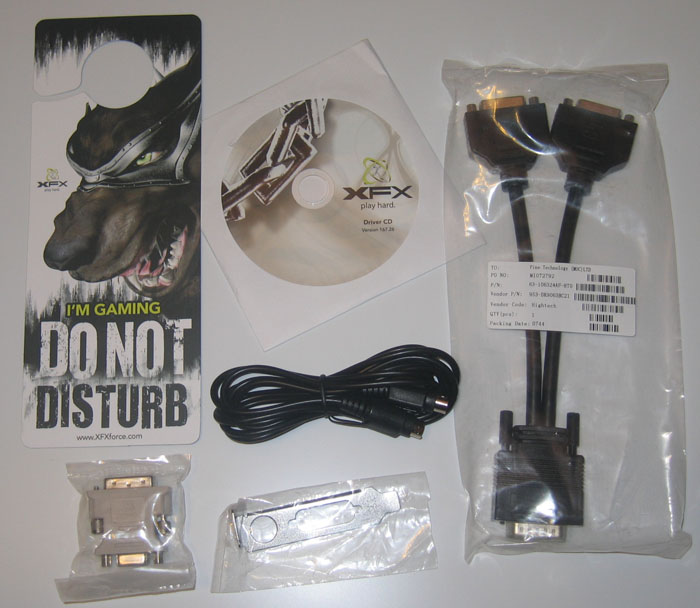 Most notably however is the long DVI splitter cable that connets to the DMS 59 port on the back of the 8400GS, which is required for use regardless of whether the you plan to us a single monitor or two of them. For those HTPC users curious, the measured length of this cable is slightly under 9″ (23mm).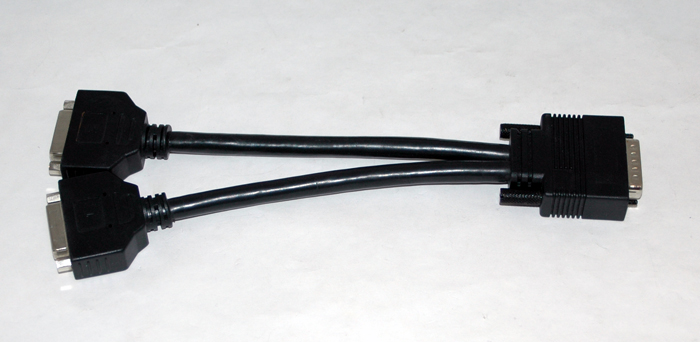 (Image courtesy of Shannon)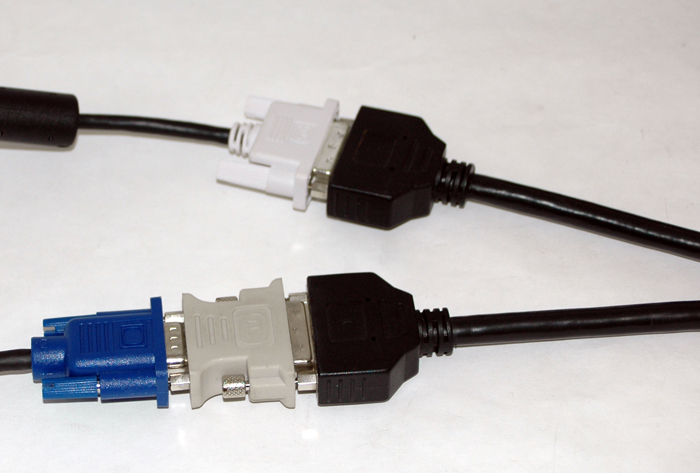 (Image courtesy of Shannon)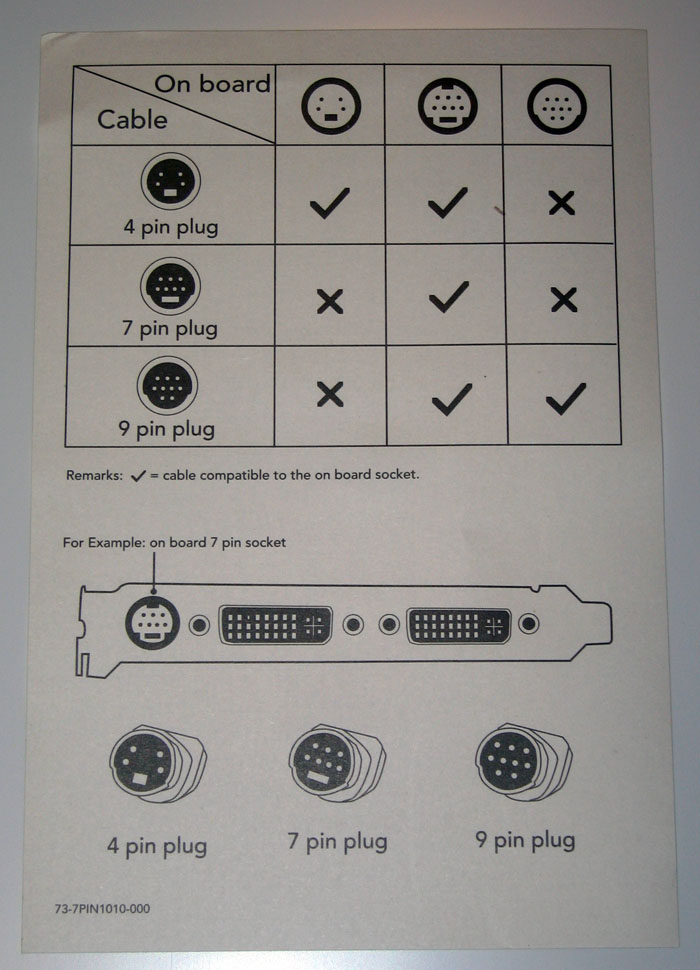 Included description of the various S-video plug types for reference
TEST SETUP
The 8400GS is the most economical graphics card available in NVIDIA's current 8-series generation, or to put it bluntly it is the absolute cheapest of the bunch available at retail. It should not prove to be any surprise when the gaming performance is below mediocre and simply downright poor, but again it needs to be pointed out that gaming is not the primary purpose of these graphics cards. Even the product packaging will say that!
Those looking to play games should look to higher class models around $100 in the very least, and will likely be much happier with the results. As such, tests were conducted on a mix of older and somewhat still new games using zero anti-aliasing, zero anisotropic filtering, v-sync disabled, and the graphics drivers set to "High Performance". All games were at medium or medium-low in-game settings except where noted. All tests were run three times with the results averaged.
 
Test Platform

Processor

Intel Core 2 Duo E6300 1.86GHz

Motherboard (BIOS)

Foxconn 975X7AB-8EKRS2H   (P30)

Memory

Corsair DDR2-800mhz 2x2GB @ 4-4-4-12

Drive(s)

Hitachi Deskstar 200GB 8MB Cache (IDE)

Lite-On SATA  DVD+/-RW

Graphics (Driver)

Test Card 1:   XFX 8400GS (158.16)

Test Card 2:   XFX 8600GT "XXX" Edition (158.16)

Case

Spire Pininfarina SP-ATX-PALU

Power Supply

Antec NeoHE 550watt PSU

Operating System

Windows XP Pro w/ SP2

Display
Dell 2407WFP (1920×1200 Native)
Synthetic & Gaming Benchmarks
3DMark06 v1.1.0 Professional
F.E.A.R v1.08
Quake 4 v1.2
Prey v1.4
Half Life 2: Episode Two
Supreme Commander: Forged Alliance
Company of Heroes: Opposing Fronts v2.201
Overclocking
While very few users are likely to be interested in overclocking a 8400 series card as there simply isn't going to be much headroom or anything tangible to gain from doing so, for this review we went ahead and included results with the top stable overclock just for a comparison.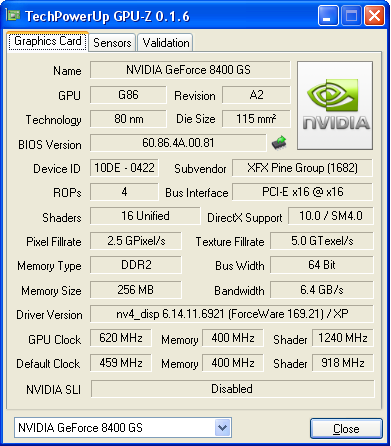 Again stock speed was 459/918/800MHz for the Core/Shaders/Memory respectively, and the top stable overclock used during testing was 620/1240/800MHz. The Elixir DDR2 800MHz memory chips simply do not have any headroom and were unable to be overclocked at all without generating artifacts.
HARDWARE ACCELERATION
Just as we found out for ourselves there is no shortage of confusion out there regarding hardware acceleration, specifically what is required to get it to work let alone what it is supposed to do. After some trial and error however we can now lay most of the mystery to rest and will attempt to do so, along with providing a brief snapshot of the 8400GS's capabilities with video offloading. As this card is geared for HTPC users, it makes sense to focus on the video offloading features of this card.
The 8400GS supports the 2nd generation of Purevideo HD, which is in contrast to (for the sake of simplicity) what we will call the 3rd generation now just arriving on the GeForce 9 series cards. This also will also soon be made available to the newly released 256/512MB 8800GT/GTS cards, which incidentally already share the same video offloading capabilities found on the 8400, 8500, and 8600 cards. Clear as mud, right?
Suffice to say the 8400GS offers the same hardware video acceleration and HD video offloading that its larger 8500 and 8600 siblings feature, which may surprise a few to know is a small improvement over the H.264 (AVC) offloading capabilities of the 320/640MB 8800GTS cards. It is also a great deal above any 7-series video card which lack High Definition video offloading, hence why cards such as the 8400GS exist! Those seeking some more specific information can find some of it here: Purevideo Support table.
A brief word of warning: NVIDIA Purevideo is not the same as NVIDIA Purevideo HD. Purevideo and Purevideo HD share about as much in common as a grape and a grapefruit, respectively. Those two extra letters make a huge difference! NVIDIA's standard Purevideo must either be purchased or bought already bundled with a media player, while Purevideo HD is already included in all NVIDIA ForceWare driver releases ever since version 158.18. Only Purevideo HD will support H.264 and VC-1 HD content in addition to the lower quality HD MPEG-2 content. We can only hope that when it comes time to replace Purevideo HD, NVIDIA finds a less confusing means of going about doing so as a great deal of consumer confusion has ensued due to this minor difference in names.
So, at long last what is needed to play HD content including Blu-Ray and HD-DVD movies on your PC?
A PCI Express graphics card with NVIDIA® GeForce® 8 or 9 Series HDCP-capable GPU, HDCP support, and 256MB graphics memory
NVIDIA® ForceWare® driver greater than or equal to version 158.18
Optical disc drive supporting Blu-ray and/or HD DVD movie playback
Blu-ray or HD DVD movie player software with PureVideo HD hardware acceleration*
1GB of computer RAM
The * denotes the sticking point for most users along with myself. Contrary to thought most players do not make use of Purevideo HD at all, despite NVIDIA's drivers already including Purevideo HD. After a round of trial and error only two software players appear to support NVIDIA's Purevideo HD technology, and only the most recent HD versions of their software at that.
Unfortunately I do not have a Blu-Ray or HD-DVD player that I can connect directly to the test system, however after some searching several freely available High Definition content videos were choosen which will more than suffice for a quick & dirty comparison. Please consider that all of these videos are already compressed to different bit rates roughly half to a third of those found on true High Definition media, and as such will be less demanding than full Blu-Ray and HD-DVD movies during playback. Therefore the goal of these tests is to give an approximate idea on the 8400GS's capabilities as it should show even better results when watching those Blu-Ray or HD-DVD movies.
The Results
For testing the baseline readings were generated with Windows Media Player and the common VLC player. We then installed and used PowerDVD Ultra 7.3 to replay the same videos and used Everest to log the CPU usage. The results are the approximate average of the CPU load measured throughout the duration of the videos.
To understand this graph keep in mind that 50% CPU load on a dual-core is the equivalent of a 100% load on a single one of the E6300's cores. Because most video players including WMP and VLC only utilize a single core, a 50% load means the system was unable to keep up with the video playback and likely means frames were dropped and stuttering occurred, assuming it was able to play at all.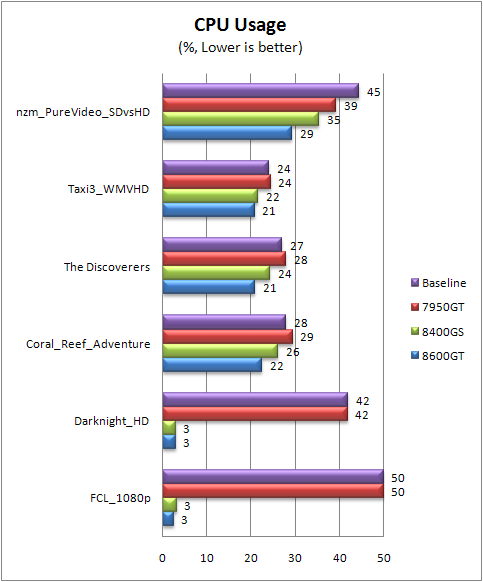 Elecard's
FCL movie clip
took the crown for bringing the system to its knees; movie playback was rife with dropped frames when the video was even able to play, and was basically unwatchable with either pure CPU power or with the 7950GT installed. The second most demanding clip was Nero's preview for the upcoming The Dark Knight movie,
available here
. The video almost appeared to play smoothly, but again there were numerous dropped frames and the video even skipped parts of the special effects scenes altogether!
Taxi 3, The Discoverers, and the Coral Reef videos were from Microsoft's HD Content Showcase and were able to play smoothly with just an E6300 processor, although older non-"Core" based Intel processors may likewise run into issues. NVIDIAs own Purevideo HD showcase proved to be a more demanding test video, however even it still played smoothly on a 7950GT with just an E6300. These videos only made use of the WMV3 codec, while with the exception of some early Blu-Ray releases that used the old MPEG-2, VC-1 and H.264 codecs comprise the majority of High Defintion media content today.
The sudden reversal from unplayable to a miserly 3% average CPU usage with both the FCL and The Dark Night clips is no mistake, any 8500, 8600, 9600, including even the 8400GS is able to fully offload these H.264 MPEG-4 encoded videos that were previously unable to be fully played on just a E6300 processor.
The 64-bit wide memory bus simply does not appear to pose a problem at all for the 8400GS core, and it appears even the most demanding H.264 videos can be easily handled by the XFX 8400GS graphics card.
TEST RESULTS
3DMark06
Futuremark's 3DMark06 is getting on up there in years and as such there is much anticipation regarding its planned successor 3DMark Vantage even if it will be a Vista only benchmark. Until then 3DMark06 is still an oldie but goodie for those into synthetic benchmarks, and in this case does provide an accurate assessment of the 8400 series.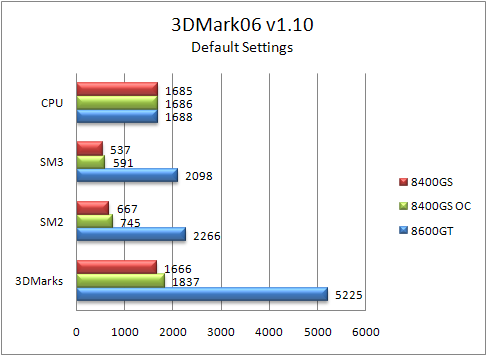 HL2: Episode Two
Valve's Source engine has made a name for itself for being one of the few game engines that scales well on the widest range of hardware out there, and as such is likely going to offer the best results we see in any game for the 8400 series. This particular benchmark is from a demo of the final fight scene with the pair of antlion guardians. Bloom effects and motion blur were both left enabled during these tests, but nonetheless to reduce lag these would need to be disabled for smooth gameplay.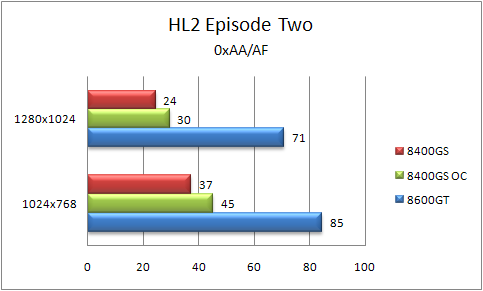 Prey
Prey is one of the older OpenGL based games however this benchmark uses the recently released 1.4 patch. Using medium in-game settings even the 1024×768 resolution here is not completely without lag.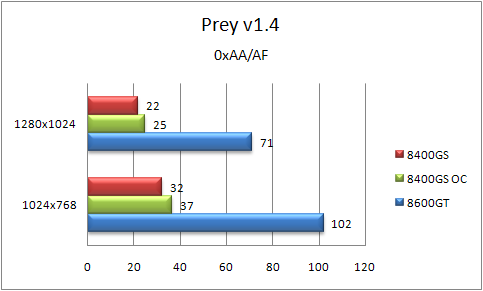 Quake 4
To round off the older games we have Quake 4 tested with the 1.2 patch using the standard idnetdemo benchmark. Interestingly this is one of the few games there image quality will not have to be scarified to play smoothly at the lower resolution, although framerates quickly fall off at the higher 1280×1024 resolution.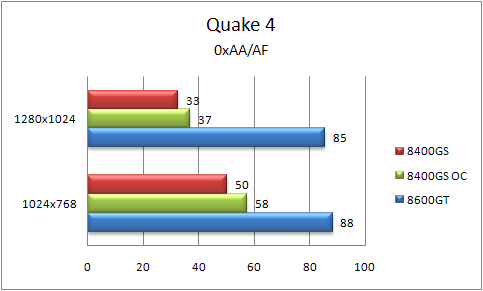 TEST RESULTS (cont.)
Company of Heroes: Opposing Fronts
Company of Heroes and its unofficial sequel Opposing Fronts are immersive RTS games from Relic Entertainment that include a performance benchmark which we utilized for these tests. This built-in test has not changed in the expansion release so results are directly comparable between versions.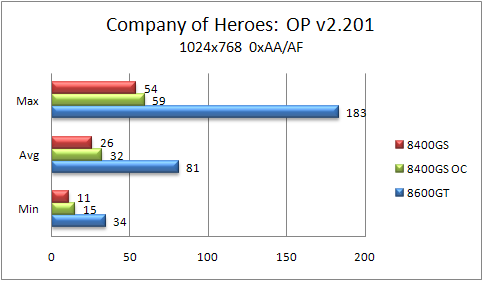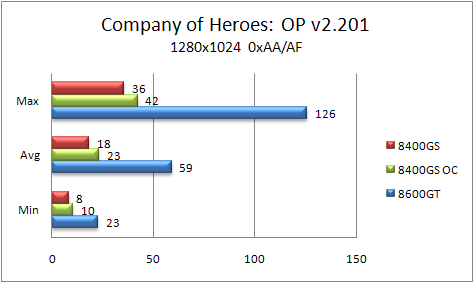 F.E.A.R.
FEAR was once a very stressful game that upon its release demanded the upmost from the graphics card, although graphics cards have continued their advances since then. FEAR also was one of the few at the time to include a built-in demo of their own to test out graphics settings and changes, which we of course utilized for these tests.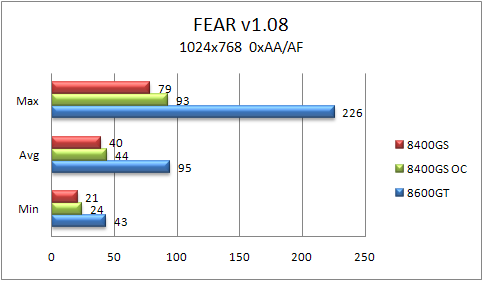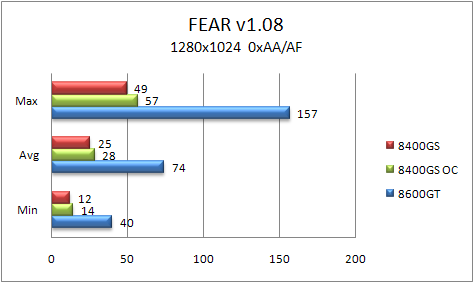 Supreme Commander: Forged Alliance
Also like CoH: Opposing Fronts, Supreme Commander: Forged Alliance is a sequel to the original that continues the story while expanding upon the multiplayer aspects of the game. And again also like CoH the developer (Gas Powered Games) has thoughtfully provided an included benchmark, although to access it the user must modify the game shortcut with the /perftest switch. This benchmark was not updated nor modified in Forged Alliance and remains identical to the original found in Supreme Commander. In-game settings were left on medium, however they will need to be lowered as anything below a 10FPS average will be a problem during gameplay.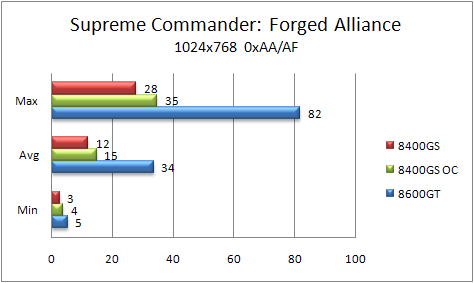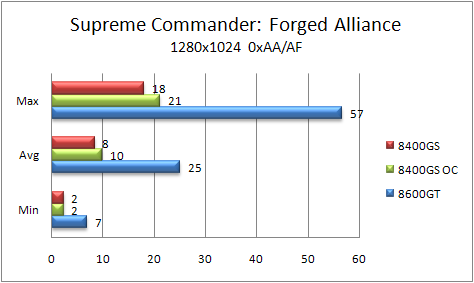 Power & Temperature
As far as power consumption is concerned the 8400GS would probably appease even a hardcore environmentalist! With only an additional 15 watts of power being consumed under a full load this card is a power miser. It would even compare favorably to integrated graphics low power requirements, while still offering DX10 and some, if limited, gaming capability. Those users looking for a graphics card to power their displays would be hard pressed to find a more power frugal offering. GPU load was achieved by running ATI Tool with the 3D View open.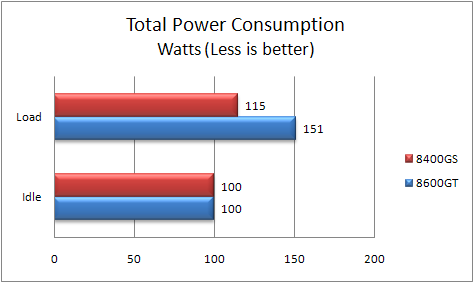 Temperature wise the 8400GS's downright diminutive cooler does a reasonable enough job, putting forth roughly 46o Celsius at idle and peaking around 55o after five minutes of full load. Oh, and we probably should also mention that this was with no apparent noise.
While there were some doubts regarding noise when seeing the small cooler, XFX has taken their customer feedback to heart on this design. The XFX 8400GS's fan is configured to run at a constant speed regardless of whether the user is in the BIOS screen or using a 3D application. While I do not have a decibel meter to give quantitative data, after taking off the case side panel and almost sticking my head inside the case I can easily say the noise levels were exactly on par with those of the idle 7200RPM system hard drive also sharing the case. Both were inaudible with the side panel closed. Although primarily intended for dual-screen use, XFX has taken care to ensure their 8400GS card would double as a quiet HTPC card.
Conclusion
Those readers reading this review will likely already know what to expect from cards available in this price range and are likely not looking for a cheap gaming graphics card. For those of you that actually are, there are some much better choices that can be recommended around the $100 range that will give much more bang for each buck spent.
The XFX 8400GS Dual-Screen graphics card (PV-T86S-WML4) is a special design that requires the use of the Y-shape DVI splitter cable regardless of whether one display or two is used, but instead of being a drawback this approach has allowed this particular model XFX 8400GS to fit in even those low profile small form factor PCs while still powering two displays.
The 8400GS managed to play many games at 1024×768 smoothly enough, but 1280×1024 was simply to much in most cases for any kind of gameplay.  Framerates quickly dropped off to unplayable levels at 1280×1024 resolution, so trying to game at even this resolution would prove to be an exercise in frustration as that is simply not what the card is designed for. Setting ingame settings to low values may smooth out performance, but the loss of image quality would not justify doing so in our opinion.
The XFX 8400GS's low profile form factor, near silence, and low power consumption also lend itself well for those users in need of a home theater graphics card that can provide DX10 and NVIDIA PureVideo HD video offloading capabilities. Despite the minimalist specifications even the tiny 8400GS is able to fully handle High Definition videos that would prove to much for an E6300 by itself to handle. That is assuming you are willing to pay twice as much, $70 for the card and another $70 for the specialized software that uses NVIDIA's Purevideo HD technology… or of course there is always eBay, hint hint. 
A major sticking point for some HTPC users will be that to use the built in HDMI capability will require the purchase of an additional XFX HDMI upgrade kit, which also nearly doubles the total spent cost. As this specific Dual-Screen model 8400GS already carries a significant price premium over regular 8400GS cards that should be saying something, other cards with built in HDMI can be found for only slightly more than the XFX 8400GS itself. There are also reports of users having issues with off the shelf DVI -> HDMI adapters, so YMMV if going that route.
Every dollar counts to the budget conscious consumer but if you need a dual-DVI low profile graphics card and don't mind the lack of an included DVI->HDMI adapter or poor gaming performance, then the price premium above standard 8400GS cards may be well worth it. And of course then there is XFX's excellent standard "Double Lifetime" warranty policy… 
Pros:
+  Dual-Screen Capable (2x DVI)
+  Low Profile w/ included SFF PCI bracket
+  HDMI "Capable"
+  Low Power Consumption
+  Near Silent
+  XFX "Double Lifetime" Warranty
 
Cons:
–  Required DVI -> HDMI cable not included
–  High Price Premium
–  Poor Gaming Performance
–  Purevideo HD requires specilized software players
 
 
Final Score: The XFX 8400GS Dual-Screen Multipurpose Graphics Card receives 8.5 (Very Good) out of 10 from Bjorn3D.