Well today NVIDIA and its board partners are introducing NVIDIA's new high-end GPU the 9800GX2. We should actually just call this NVIDIA's new card since like AMD/ATI's 3870X2 this is a card using 2 GPU's. NVIDIA has been down this road before with the 7950GX2 of 2 years ago.
INTRODUCTION
Well today NVIDIA and its board partners are introducing NVIDIA's new high-end GPU the 9800GX2.  We should actually just call this NVIDIA's new card since like AMD/ATI's 3870X2 this is a card using 2 GPU's.  NVIDIA has been down this road before with the 7950GX2 of 2 years ago. 
At this time NVIDIA is now bringing the 9800GX2 out to replace its flagship product the 8800 Ultra which until today was still the fastest card out.  We also want to point out that the 8800 Ultra XXX from XFX which we will test against today sold for $889.00 when launched about a year ago at this time.  The XFX 9800GX2 we should see selling for from $599.00 to $649.00 e-tail.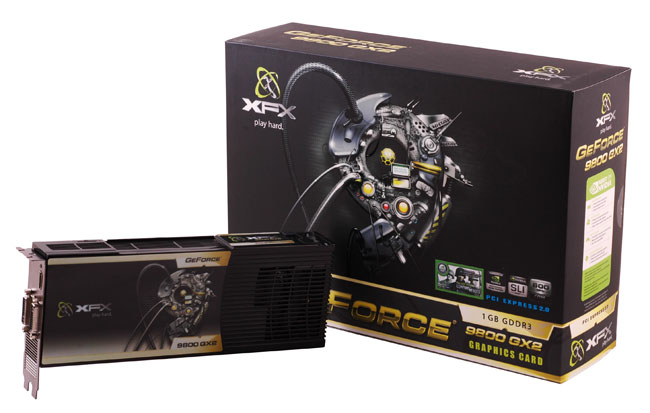 XFX the Company
XFX, otherwise known as PINE Technologies, is a brand of graphics cards that have been around since 1989, and have since then made a name for themselves with their Double-Lifetime enthusiast-grade warranty on their NVIDIA graphics adapters and matching excellent end-user support.
XFX dares to go where the competition would like to, but can't. That's because, at XFX, we don't just create great digital video components–we build all-out, mind-blowing, performance crushing, competition-obliterating video cards and motherboards. Oh, and not only are they amazing, you don't have to live on dry noodles and peanut butter to afford them. 
XFX is a division of PINE Technologies, a leading manufacturer of state-of-the-art processing components. To learn more about PINE, click here. 
FEATURES & SPECIFICATIONS
XFX™ 9800GX2
Technical Specifications
Number of Transistors
1508 Million
Memory BUS
256 bit
Memory
1024 MB
Memory Type
DDR3
Memory Clock
1000 MHz (2000 MHz effective)
Stream Processors
256
Shader Clock
1500 MHz
Clock Rate
600 MHz
Total Memory Bandwidth
128GB (G94)
Bus Type
PCI-E 2.0
Fabrication Process
65nm
ROPs
32
Texture Filtering Rate
76.8 Giga Texels/sec
HDCP Support
Yes
HDMI Support
Yes
Connectors
2 – Dual-Link DVI
1 – HDMI
Power Connectors
1 – 6 pin
1 – 8 pin
Max Board Power
197 Watts
GPU Thermal Threshold
105° Celsius
Form Factor
Dual Slot
Fabrication Process
65nm
Features
Unified Architecture

Lumenex Engine

128 Bit FP HDR (High Dynamic Rendering)

GIGA Thread: Batch processing /

Load Balancing

Quantum Engine: Embedded Physics features

DirectX 10 support

SLI Support

HDCP Capable

Dual-Link DVI

HDMI Capable with the use of HDMI Certified components

HDMI Certified

Double Lifetime Warranty
PACKAGING
XFX has improved their packaging over the old days when they used to ship items in an X shaped box.  Today it's shipped in a rectangle box with foam inside that is then cut to fit the card perfectly. This ends up giving us two inches of foam protection around the card and a ½ inch of foam on the top of the card.
CONTENTS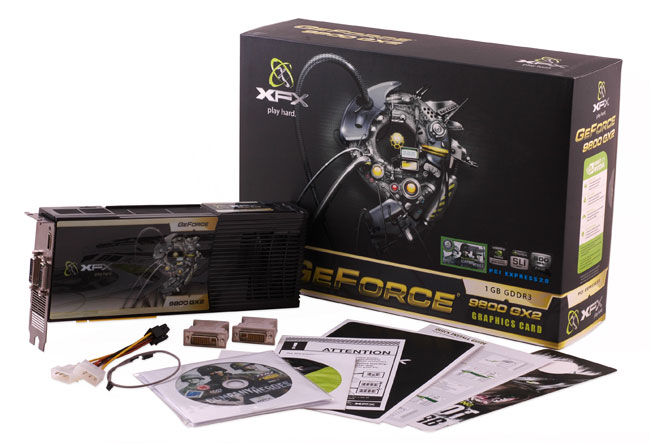 XFX 9800GX2
2x DVI Connectors
1 Molex to 6 pin power connector
1 Company of Heroes with DX 10 Update Disk
Installation Manual
Quick Install Guide
Driver Disc
1 SPDIF Cable
THE CARD
After opening the box and pulling out the card I can say I was very impressed by its looks. This is one very classy looking card. The entire card is in a casing that covers and protects the important components. I for one am glad to see this happening. How many horror stories have we read of an end user breaking a component of a card. The card is finished in a nice glossy black and with an XFX art work on top of the card.
We can see the SLI connector is even enclosed until you are ready to try Quad SLI. The power connectors, with one being 8 pin and one being 6 pin, are even lower in the cards enclosure. The power connectors even light up when plugged in correctly and the machine is powered up. There are even lit LEDs on the top backside of the card when powered up.
TEST SETUP
The system I am using for testing is a what I call a real world system. That means it's in a case, it has a security suite, instant messenger, and various other software that a normal user would use on their machine. To me, reviewing on what I call a real world machine is very important to me. Just ask yourself, when was the last time that you played a game or used your machine daily that was spread all over a bench and not running any security software at all? Don't think very many of you do.
Test Platform
Processor
Intel QX9650 @ 4GHz
Motherboard
ASUS P5E3 Deluxe, BIOS 1001
Memory
4GB of Corsair DDR 3 12800 @ 1600MHz
Drive(s)
2 – Seagate 7200.11 1TB Barracuda
1 – Seagte 7200.10 750GB
Graphics
Video Card # 1:  XFX® GeForce® 9800GX2 running ForceWare 174.53 64-bit
Video Card # 2:  XFX® GeForce® 8800 Ultra XXX running ForceWare 169.21 64-bit WHQL
Cooling
CoolIT Freezone
Power Supply
PC Power and Cooling 1200
Display
Dell 2707 FPW
Case
Lian-Li 2000B Plus
Operating System
Windows Vista Ultimate 64-bit
At this stage of the game, high-end graphic cards are meant to be run at 1920×1200 or higher resolution. Running them at a lower resolution is rarely needed and I have found only one game. That game being Crysis and that one I run daily at 1600×1200 instead of 1920×1200 and will bench it at the 1600×1200 resolution. The card we are going to test it against is a XFX 8800 Ultra XXX. I had hoped to have an ATI X2 card to compare to but could not get one in time. From what we have seen on the web from other sites the 8800 Ultra XXX is still a faster card than the 3870X2 so this should be a good battle to see if the 9800GX2 is the new king of the hill.
Comparative Specifications
Specification
XFX 9800GX2
XFX 8800 Ultra XXX
Memory
1024 MB
768 MB
Memory Clock
2.0 GHz
2.0 GHz
Stream Processors
256
128
Shader Clock
1500 MHz
1667 MHz
Clock Rate
600 MHz
675 MHz
Synthetic Benchmarks & Games
3DMark06 v. 1.10
Company of Heroes v. 1.71 DX 10
Crysis v. 1.2 DX 10
World in Conflict DX 10
F.E.A.R. v 1.08
Half Life Lost Coast
 Overclocking
Overclocked Specifications
Specification
XFX 9800GX2
Memory Clock
2.106 GHz
Shader Clock
1652 MHz
Clock Rate
661 MHz
3DMark 2006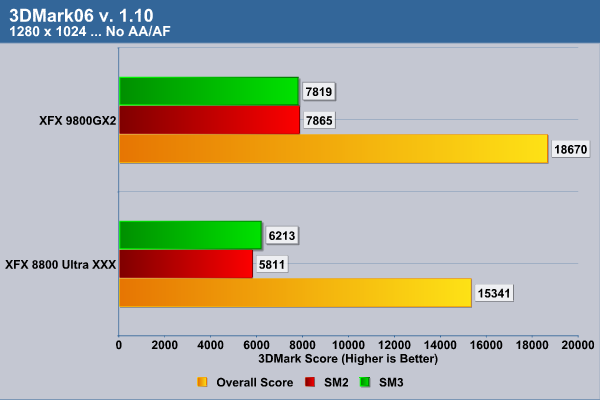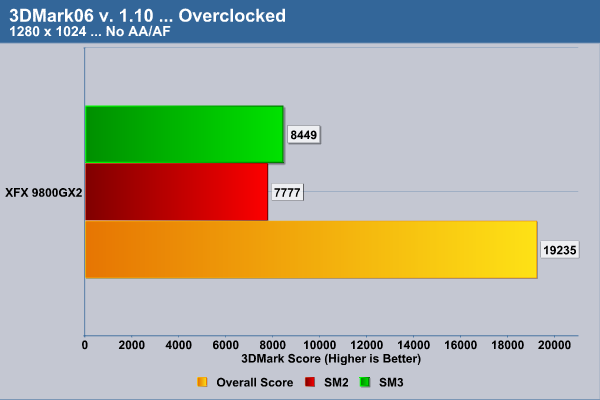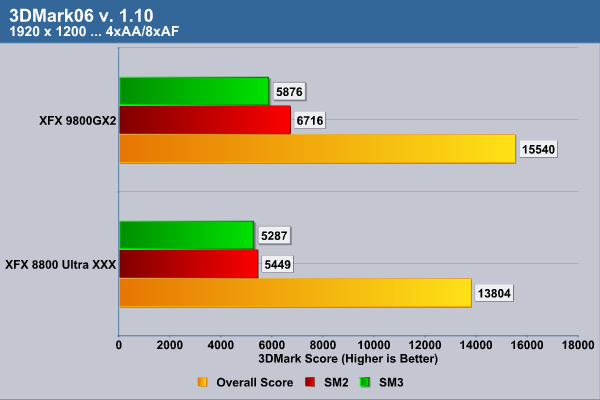 Company of Heroes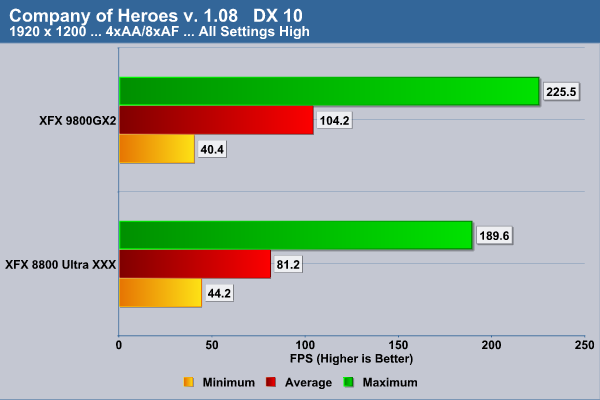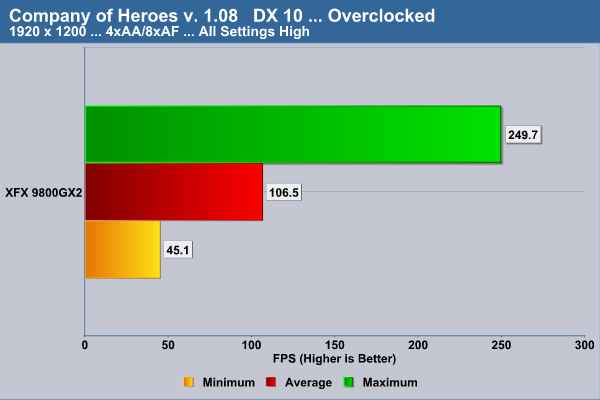 World in Conflict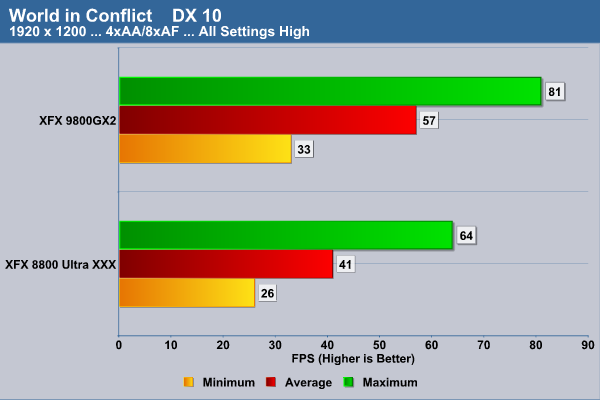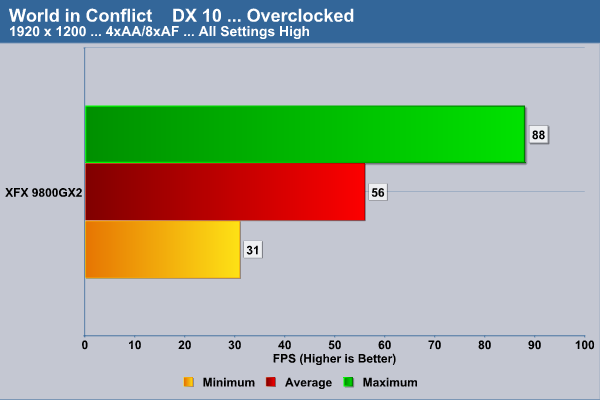 HALF-LIFE 2: LOST COAST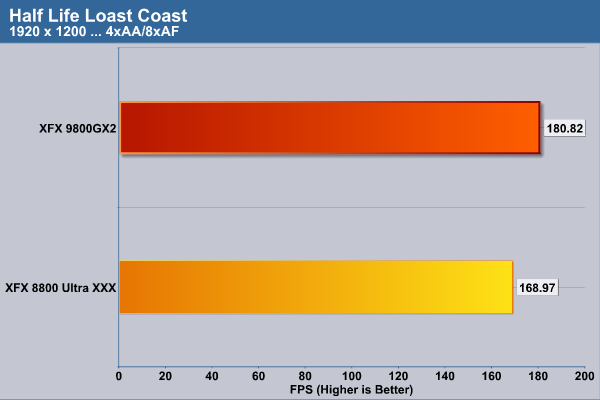 F.E.A.R.
Crysis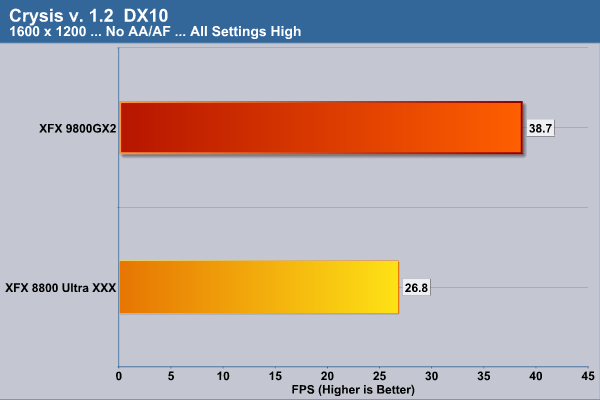 POWER
To measure the power draw I left the machine at idle with the monitor off. Then, I turned on the monitor, started the Crysis benchmark, and shut off the monitor to measure load levels. All test readings where taken from the wattage draw reading on my battery backup.
Power Draw



Idle
Load
XFX 9800GX2
368
501
TEMPS
The temps readings are being taken from RivaTuner 2.08. The temps where taken at idle and then thru the Crysis benchmark.
Temperature
Specification
Idle
Load
Core 1

65º C
74ºC
Core 2

67ºC
75ºC
VIDEO PLAYBACK
To look at the how well the graphics card engine ran 1080p videos I put it up against a 7800 512 GTX and watched Hi-Def videos keeping track of overall CPU usage percentage on my machine. I looked at over 10 different videos on both cards, took scores, and came up with the following CPU average.
Video Playback



Avg. CPU Usage

XFX 9800GX2
13%
7800 GTX 512MB

37%
CONCLUSION
The XFX 9800GX2 so far has left a good impression in my mind. Of course, only having it for a couple of days and having to release a review did not let me play with it as much as I would have liked to. I did run some other games on it including Microsoft's demanding Flight X Acceleration at 1920×1200 and the game was much more fluid than on the 8800 Ultra XXX. The biggest benefit of the card for me right now is I have SLI power on a non NVIDIA chipset. We at Bjorn3D hope to soon get ahold of a 790I motherboard from NVIDIA and try Quad SLI with the product.
Many people have been dinging this card in leaked reviews on its performance. Bjorn3D does not have that complaint. If you consider that the card it is beating today sold for $889.00 USD when it was new and that this card is going for $599.00-$649.00 USD, we can't complain. Bjorn3D is hoping to soon have an Asus 3870X2 and an Asus 9800GX2 to compare to each other to give you an interesting head to head of NVIDIA's competition to this product.
Pros:
+  SLI in single card solution
+  Good performance
+  Low power consumption for dual card
+  Double life time warranty
+  Ready for Quad SLI
Cons:
–  Price may turn some off
–  Power Connectors could be hard for some to disconnect
–  Doesn't support the forthcoming release of DirectX 10.1 and Shader 4.1
Final score: The XFX 9800GX2scores a 8.5 (Very good) out of 10.