The HIS HD 3870 IceQ 3 Turbo comes with the excellent IceQ 3 cooler as well as a factory overclock. But how does it fair against the compeititon from NVIDIA? We have not only tested that but also thoroughly tested CrossfireX to see if AMD finally has Crossfire-support that works, and works well.
INTRODUCTION
Since AMD bought ATI they have struggled to compete with NVIDIA for the performance crown. Instead they have chosen a different strategy by releasing GPU's that while still fast mainly compete by offering an excellent performance and features for a low price. The HD3870 GPU is no exception and today we are testing HIS interesting HIS HD 3870 IceQ 3 Turbo.
As the name implies the HIS HD 3870 IceQ 3 Turbo comes with HIS tested IceQ 3 cooler promising to keep the card cool and running quiet. The "Turbo" in its name means that it is overclocked right out of the factory.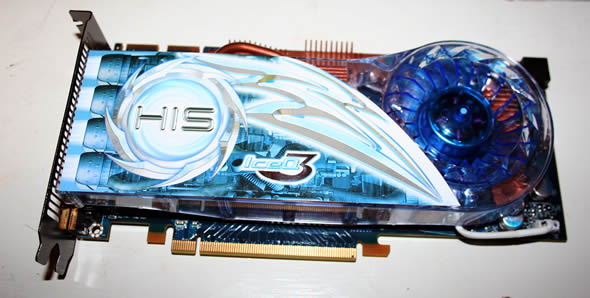 ABOUT HIS
HIS has been around since 1987 and has always strived to produce the highest quality graphic cards in the industry. Whether they have succeeded or not are of course up to you buyers but we have reviewed a lot of their products the last few years and almost always been impressed with the quality of their products.
Their headquarters is in Hong Kong but they sell all over the world. They are one of AMD's Authorized 1st Tier AIB partner.
One of their first big successes was with the Excalibur line of video cards back in 2002. These days they are quite famous for their IceQ, IceQ II and now IceQ 3 series of cards which uses some very nice and quiet coolers on the cards. 
 
FEATURES AND SPECIFICATIONS
The main features of the HIS HD3870 are:
HIS IceQ 3 Cooling Technology
512MB(256bit) GDDR4 memory
Superscalar unified shader architecture
320 stream processing units
256-bit memory interface
DirectX® 10.1 / Shader Model 4.1 support
PCI Express® 2.0 support
ATI CrossFireX™ multi-GPU support for highly scalable performance
Up to 24x Custom Filter Anti-Aliasing
ATI Avivo™ HD video and display technology
Built-in HDMI and 5.1 surround audio
Support for the ATI Radeon™ DVI to HDMI adapter
Unified Video Decoder (UVD) for Blu-ray™ and HD DVD
Gold-plated ports
| | |
| --- | --- |
| Specification |  Videocard |
| | HIS HD 3870 IceQ 3 Turbo (Full HD 1080p) HDMI Dual DL-DVI & TV (HDCP) 512MB (256bit) GDDR4 PCIe |
| Chipset | Radeon HD 3800 PCIe Series  |
| ASIC | |
| Pixel Pipelines | 320 stream processing units* (Unified)  |
| Vertex Engines | 320 stream processing units* (Unified)  |
| Manu. Process (Micron) | 55nm |
| Memory Size (MB) | 512MB |
| Memory Type | GDDR4 |
| Engine CLK (MHz) | |
| Memory CLK (MHz) | |
| Memory Interface (bit) | |
| Max. Resolution | Two x 2560*1600 (Dual dual-link) |
| Bus Interface | PCI Express x16 (PCI Express 2.0) |
As this is a "Turbo" card it means it has clocked higher than the regular HD3870. The engine clock is increased from 775 MHz to 850 MHz and the memory from 2.250 MHz to 2380 MHz.
CLOSER LOOK – THE BOX AND BUNDLE
The HIS HD 3870 IceQ 3 Turbo comes in a cool looking black box.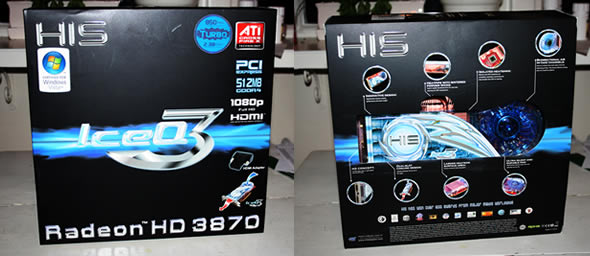 On the backside you get a nice view of the card plus some overview of the features.
When we open up the box we find the following stuff:
ATI CrossFireX™ Bridge Interconnect
DVI to HDMI adapter
DVI to VGA adapter
HDTV Component out adapter(optional)
S-Video to Composite Adapter
HIS Multi-purpose Screw Driver Pen (Screw Driver, LED Light, Spirit Level)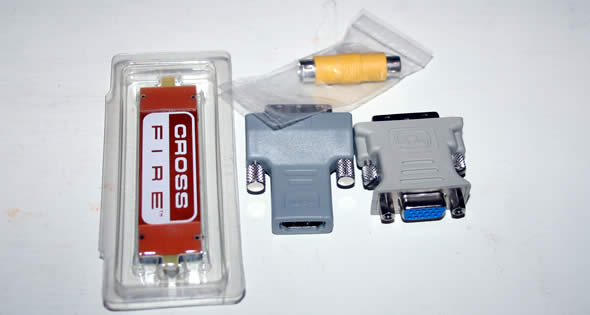 As the card only has two Dual-link DVI-ports you need adapters to use it for either VGA or HDMI. Remember that the HD3870 can output 5.1 surround sound over the HDMI-port so you should not use a generic DVI => HDMI adapter as they usually do not carry the sound. The CrossFireX bridge is of course used to connect it to another HD3x00 card.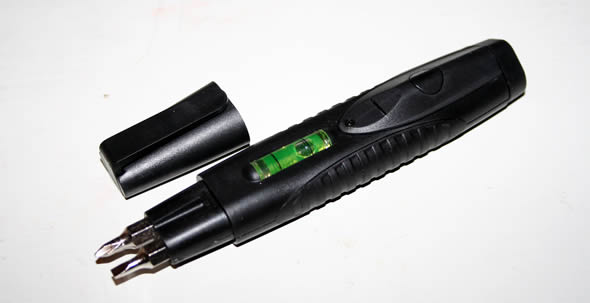 HIS include a multi-purpose tool with the card. The tool has a screwdriver, a LED-light and a spirit level. It is actually a very nice tool and it has become an indispensable tool for me beside my computer.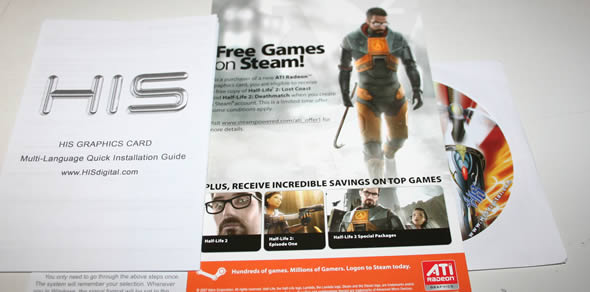 With the card you also get Half Life 2:Lost Coast and Half Life 2:Deathmatch for free as well as some savings on other games. It's not really that impressive since those "games" merely are bonus content for Half Life 2 anyway.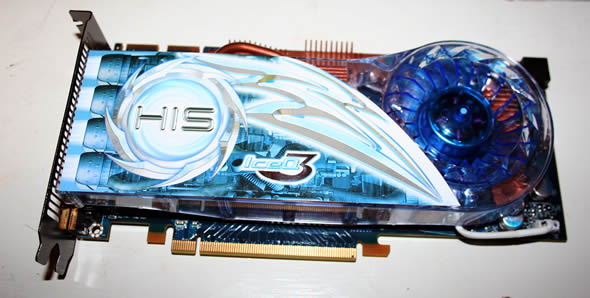 The card looks very similar to most other HIS IceQ 3 cards due to the signature cooler/fan assembly.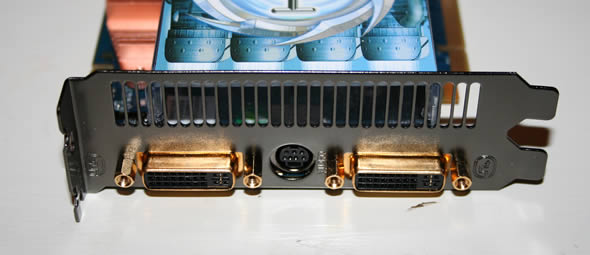 The card is equipped with two gold-plated Dual-link DVI-ports as well as a S-Video port. It is a dual slot card and while earlier models of HIS dual-slot cards have had a separate back-plate for the second slot the back plate for this card is completely solid which could pose a problem in some cases.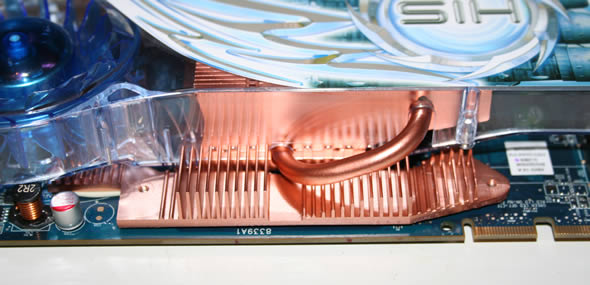 The memory is also cooled by the cooler.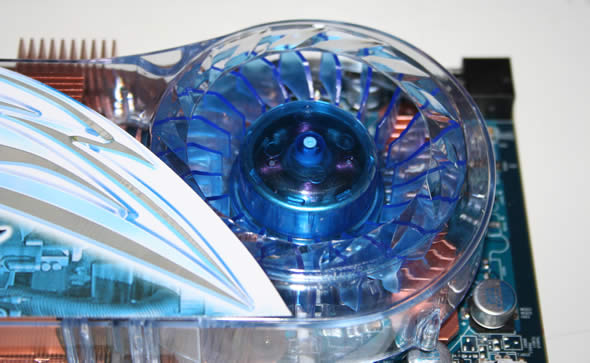 The fan is a bit blue for my taste although it glows nicely in the dark. It is however very quiet which in addition to its great cooling effects is important.
 
HOW WE TESTED THE CARD
The HIS HD 3870 IceQ 3 Turbo was tested together with a group of other video cards on the following system:
Intel Q6600 @ 3 GHz
2 GB DDR2 @ 800 MHz
ASUS Maximum Formula X38 motherboard with PCI Express 2.0
The following video cards were tested:
HIS HD 3870 IceQ 3 Turbo
HIS HD 3870 X2
HIS HD 3850 IceQ 3 Turbo
Sparkle 8800GTS 512 MB
ASUS 8800GT
ASUS 9800GX2
For the CrossfireX combinations we also added a Reference HD38070X2 and a reference HD3870 from AMD.
The drivers used in this review were Catalyst 8.3 for the AMD cards, ForceWare 174.53 for the 9800GX2 and ForceWare 169.44 for the rest of the NVIDIA cards.
For this review we used the following games to test the performance:
3DMark06 – Technically not a game but we all know why we are using it. It is starting to get old now so hopefully we will soon see 3DMark Vantage. It was tested at default and 1920×1200/4xAA/16xAF.
Crysis – One of the most demanding games released. We used a Crysis Benchmark utility and used the demo included with the game that stresses the GPU. The game was benchmarked with the High setting, no AA/AF and both DX9 and DX10.
World In Conflict – While short, this was one of the best RTS-games of 2007. We used the built-in benchmark and tested the game with the High setting, both with DX9 and DX10.
Company of Heroes – Another great RTS game which also has DX10 support. The latest patch was installed and everything was set to the highest setting. When DX10 rendering was chosen the Terrain Detail was set to Ultra instead of High.
DIRT! – This fast and great looking driving game were a favorite of ours last year. As this has no benchmark built in we used Fraps to get an average framerate. The settings were set to High with 4x Multisampling, Wind turned on and Shadows set to high. 
Bioshock – The trip to Rapture was just as disturbing as it was fun. The spiritual cousin to System Shock impresses with great graphics. Just as Dirt! This does not have a built-in benchmark so we used Fraps to get a average framerate. We recorded the framerate during the journey from the surface down to Rapture and started the recording as Mr Ryan stops talking and you get to see Rapture through the water for the first time. The recording ended as we arrived at the destination. All settings were set to their maximum level.
Last but not least we recorded the power consumption both after the cards had sat at the Windows Desktop for a few hours and during a couple of loops of 3DMark06 at 1920×1200/8xAA/16xAF. The maximum Wattage was recorded.
 
3DMARK06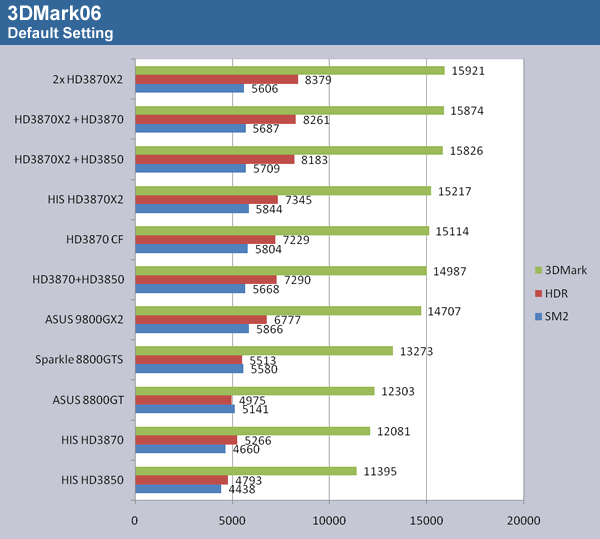 The HIS HD3870 is at the bottom of the list although if you look at the HDR-score it does indeed beat the ASUS 8800GT.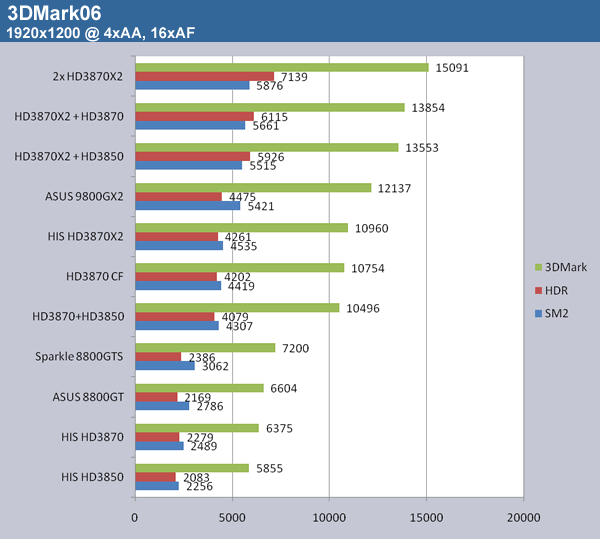 There is no big difference in the order when we increase the settings although the high-end cards flex their muscles. It is interesting to see how well CrossfireX actually works. You can add a HD3870 to other HD38xx cards and get a nice performance boost.
 
CRYSIS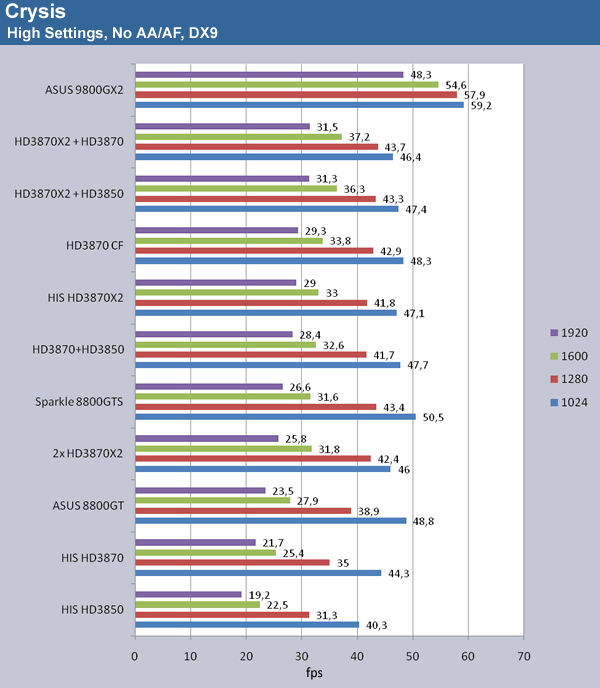 In our first real game in this review it is obvious that NVIDIA has a killer-card in the 9800GX2. The HIS3870 again sits in the bottom just beating the HIS 3850. The difference isn't that big though to the other cards, at least at 1024×768 and 1280×960. An anomaly can be seen in this list as the dual-HD3870X2 cards scores worse than a single HD3870X2. We are not sure why this happened as a HD3870X2 + a HD3850 or HD3870 performs well.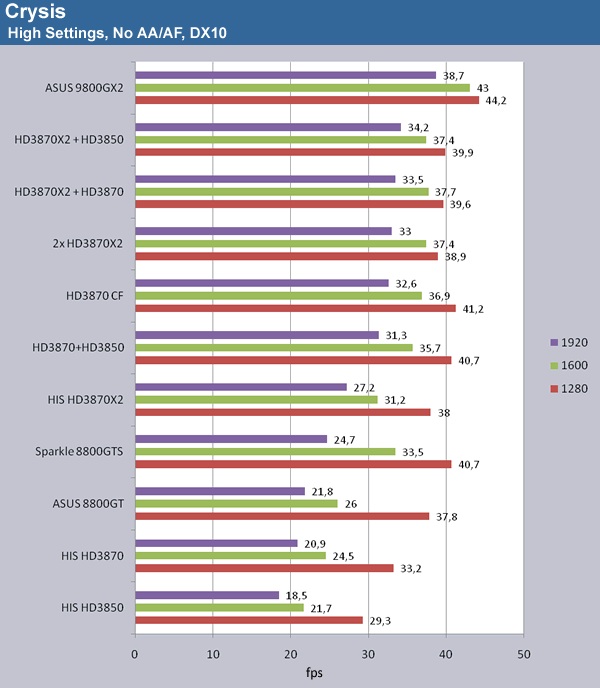 Unfortunately we could not get the game to run in full screen at 1024×768. It only wanted to run in a window. The game is barely playable at 1280×960 on the HD3870.
 
COMPANY OF HEROES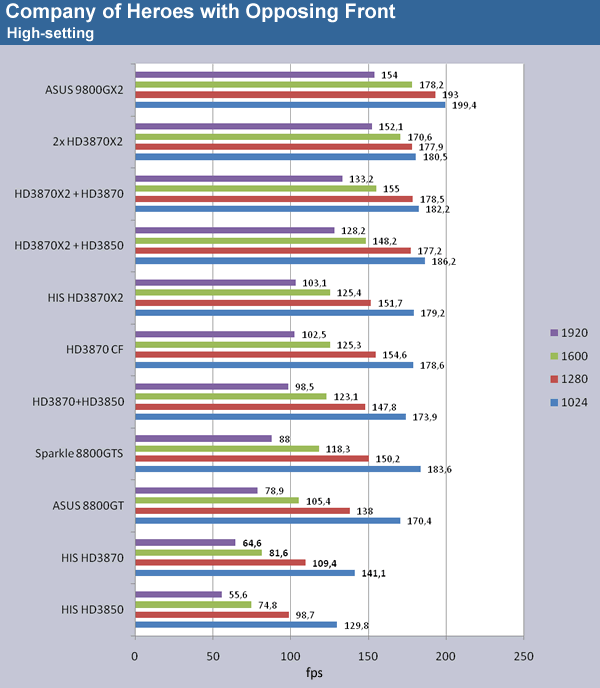 The HIS HD3870 again trails the ASUS 8800GT and the Sparkle 8800GTS but still is able to give you very high framerate, even at 1920×1200. At the top 3 and 4 AMD GPU's are fighting hard to beat 2 NVIDIA GPU's.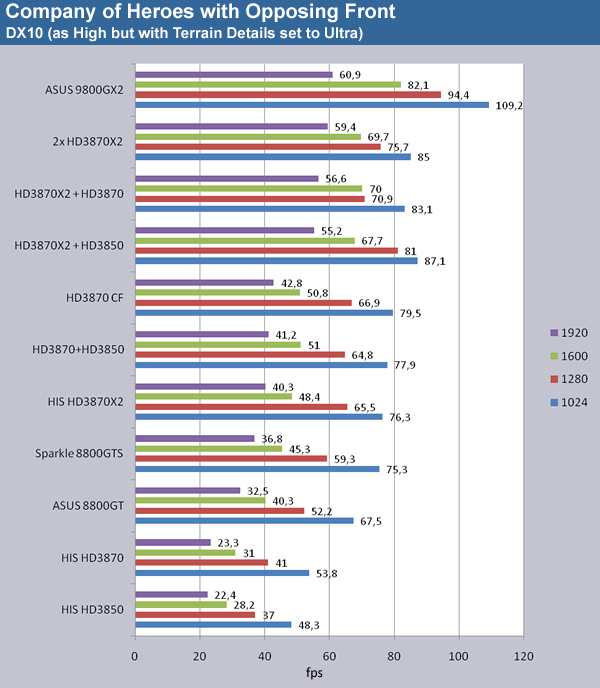 As we turn on DX10 again the performance plummets for all cards. The game is now playable mainly at 1024×768 on the HIS HD3870 although you might get away playing it at 1280×1024 also.
 
WORLD IN CONFLICT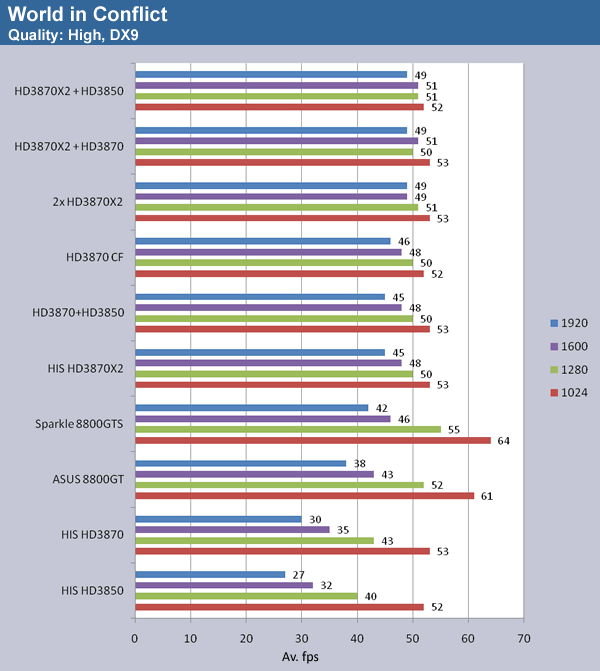 Again trailing the 8800GTS and 8800GT, the HIS HD3870 mainly is playable at 1024×768 and 1280×1024.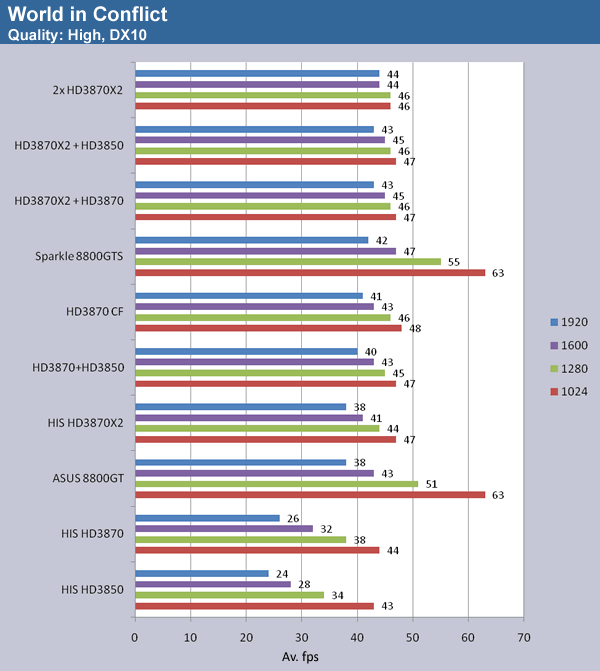 At earlier reviews AMD cards has taken a hard hit when moving to DX10 but either the new drivers or the latest WiC patch has fixed that. The HIS HD3870 still sits at the bottom but is still playable at both 1024×768 and 1280×1024.
DIRT!
Setting: Overall detail: High, Multisampling: 4x, Wind Effects: On, Shadows: High, 1 lap round Canberra Park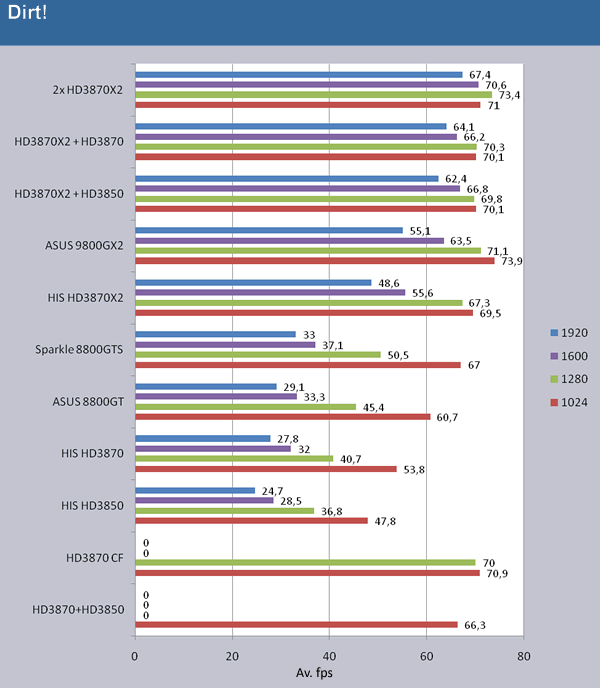 While running the game on two HD3870 in Crossfire or and HD3870/HD3850 Crossfire combination the game hung with the dreaded "Video Driver has stopped responding" error. This did not happen with any of the other cards and usually only happen to us when we overclock the CPU heavily so right now we treat it as real bad luck.
This game does seem to like CrossfireX a lot. While a single HIS HD3870 scores just below the ASUS 8800GT and the Sparkle 8800GTS it kicks some NVIDIA butt when combined with other HD38xx cards. The game scales very well as we add GPU's.
NOTE! Something not apparent from the chart is that the game was very laggy when playing it on the ASUS 9800GX2. The games slowed down, then went faster, then slowed down again and continued to do so during the lap making it not very fun to play. The CrossfireX combinations also had some issues. A few times the crowd on the stands were blinking in/out when you watched them from far away. The framerate was solid though.
 
BIOSHOCK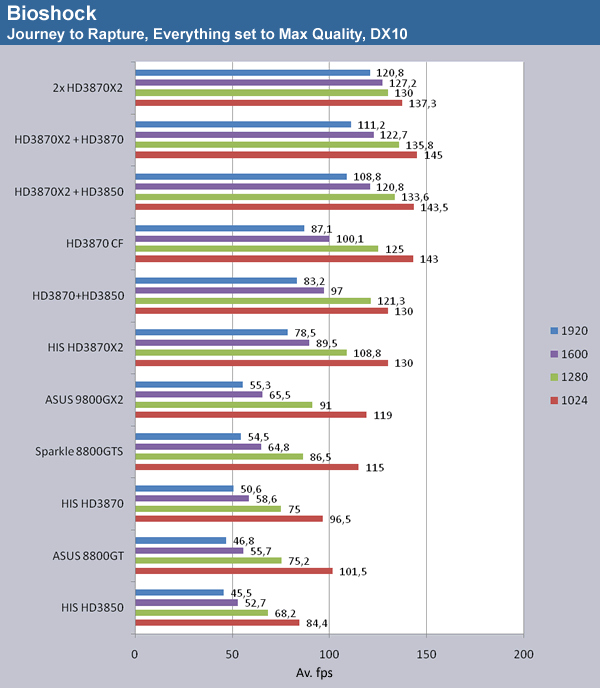 We got some weird results here. The HIS HD3870 finally manages to beat the ASUS 8800GT and is trailing close to both the Sparkle 8800GTS and the ASUS 9800GX2. The latter seemed to have big problems taking advantage of its second CPU. The AMD cards on the other hand scale well.
POWER CONSUMPTION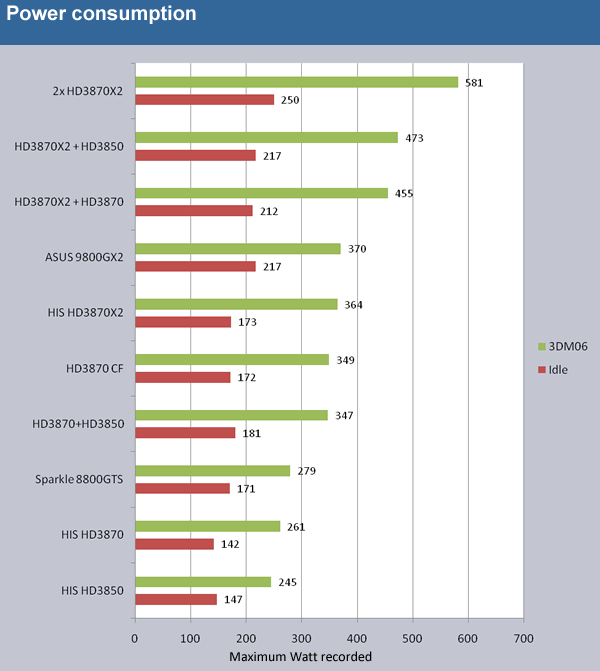 The power consumption is measured at the wall and relates to the whole system:
[email protected], 2GB DDR2, Blu-Ray SATA disk, 3x SATA HD
From a power consumption viewpoint the HIS HD3870 performs very well.
PERFORMANCE/PRICE
In addition to just looking at the performance you can also look at how much you get for the Dollar you have to spend. We took the results from a few of the games in this review and divided them with the estimated price for each card or combination of cards. We removed all framerates below 30 fps as we feel that is an important line to cross and then plotted the result again.
At the time of the writing of the review the prices were approximately these for each card (taken from Pricegrabber):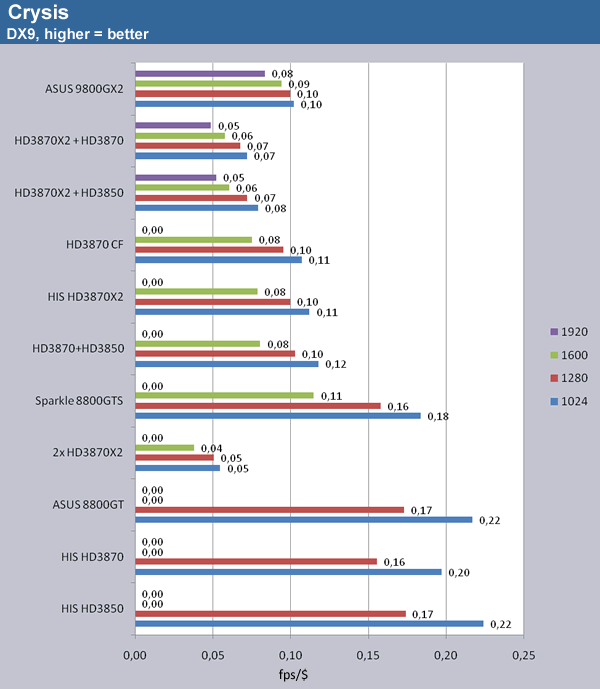 The HIS HD3870 offers a great value when playing at 1024×768 or 1280×960 with these settings. It is narrowly beaten by its little brother, the HIS HD3850, and the ASUS 8800GT. Adding more power does not really give you that much more performance and certainly not enough to offset the cost.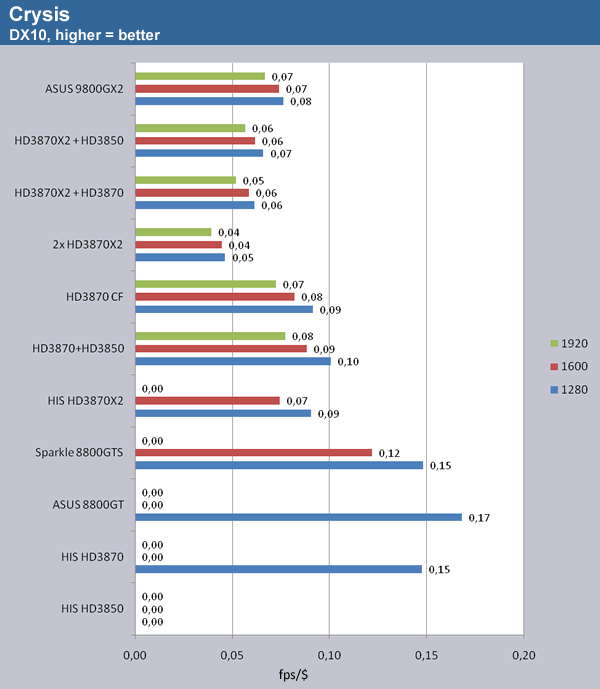 As we turn on DX10 the HD3870, while still offering a good performance/price ratio is close to the magic 30 fps border and thus not useful at these settings. It's interesting to see that the various CrossfireX combinations, with the exception of putting two HD3870X2 together, offer similar price/performance. Thus, when playing Crysis at DX10, you might as well go with a HD3870+HD3850 combination as it saves you a bit money over a genuine HD3870X2.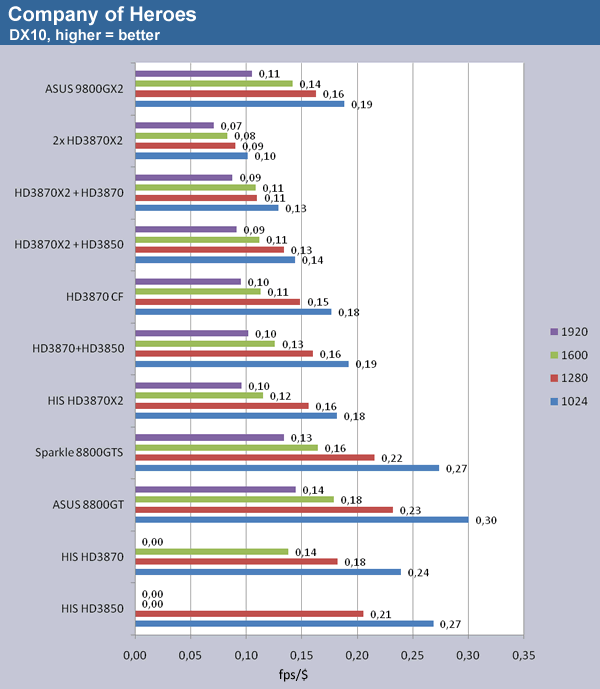 Company of Heroes is a game which all the cards perform very well in. It is just at the highest resolution that the HD3870 sees the average framerate drop below 30fps. This is a game that scales well which means that you really get your moneys worth out of the more expensive cards. The ASUS 9800GX2 especially shines in this regard.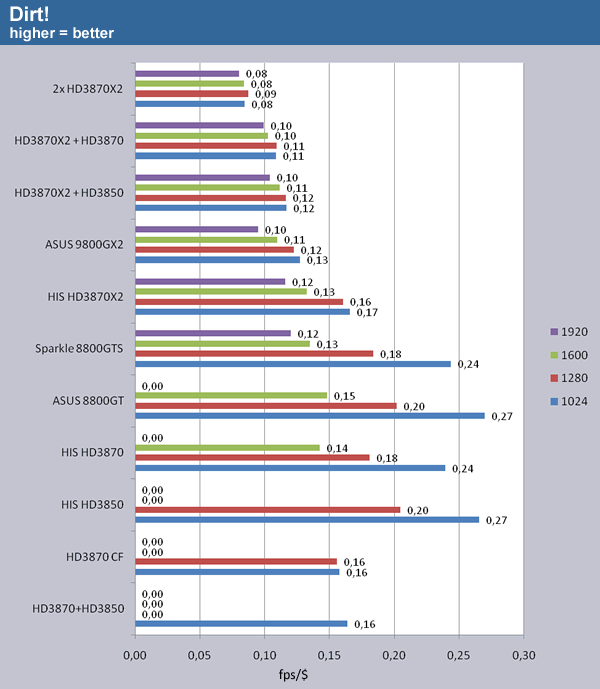 The final game we look at from a performance/price perspective is Dirt!, Again the 4 cheapest cards does offer the most performance for your buck, at least at the lower resolutions. 
CONCLUSION
HIS has once again created a very solid video card using AMD's latest GPU. We have reviewed a lot of IceQ-cards from HIS and are used to the high quality of the IceQ3 fan so it is nice to see that HIS is not trying to mess with a winning formula. "If it ain't broke, don't fix it". The IceQ3 cooler and the factory overcklock however does not come cheap. HIS also sells a non-IceQ3 version which costs around $190, $35 less. We still think the cooler and the overclock is worth the added cost but at $190 the card would be even more competitive against the 8800GT and 8800GTS than it is at $225.
If you are out for pure performance though the HD3870 GPU itself does have some problems when being compared to the other chips in the same price-range. Both the 8800GT and especially the 8800GTS 512 MB offer better performance for just a little extra money. Even the HIS HD3850 is breathing down the HD3870's neck. With new GPU's coming out from NVIDIA aimed at the same segment it is looking to become more and more crowded and increasingly difficult for the HD3870 to make itself heard. AMD's solution so far has been to lower the price and that probably will continue. Do not get us wrong though, the HD3870 still has great performance, it is just not as fast as comparable priced competing cards.
Luckily the HIS HD3870 does have some more tricks up its sleeve in addition to good performance. We've already mentioned the excellent cooler which keeps the card cool without making a lot of noise. Getting surround-sound directly from a HDMI-connector is also a nice feature if you have the right equipment to connect it to. OEM's using NVIDIA GPU's have to create clunky solutions to get the same result. Another great feature is something we did not expect to rave about: Crossfire X. We've been pretty disappointed with both SLI and Crossfire so far. Both technologies have had their share of problems with compability and performance. But after combining the AMD-cards in all sorts of ways we actually are impressed how well it works and how easy it is. Can't afford a second HD3870X2? Add a cheap HD3850 instead and see the performance go up. Or why not combine a HD3870X2, a HD3870 and a HD3850 if you got the right motherboard? True, it probably isn't the best economical decision but if you already have one or two it suddenly is a viable option instead of buying something completely new. This also works well on most Intel chipset based motherboard making it a solution that makes a lot more sense today compared to earlier. 
Pros
+ Good performance
+ Offloads CPU when playing HD-video
+ Excellent Cooler
+ Low power consumption
+ Included tool is very useful
+ Crossfire X-support
+ Surround-sound directly through HDMI
+ Overclocked by default
Cons
– Competiting cards offer same or better performance at a similar price.
– $35 more expensive than a HIS HD3870 without the IceQ cooler.
The HIS HD 3870 IceQ 3 Turbo offers a good mix of performance and great features at a great price and gets a rating of 8 out of 10 paws.