Unless you absolutely need to have the fastest system and have a lot of money to spend, it would be wiser to stay with DDR2 system until the price has dropped. Vista system consumes quite a lot of memory so having 4GB of DDR2 would be a better choice than having 2GB of DDR3 given to the similar prices. That is why we see manufactures still produce fast speed DDR2. Today, we have probably one of the fastest 4GB (2x2GB) DDR2 available from OCZ–the PC2-8500 Reaper HPC 4GB Edition. Join us as we put it through the test and see how far can we push this pair of memory sticks.
INTRODUCTION
Despite the fact that DDR3 has a slightly better performance and consumes less power compared to DDR2, it is still hard to recommend DDR3 unless you have a huge chunk of money to spend. For a far less price, one can purchase 4GB (2x2GB) DDR2 instead of the more expensive 2GB (1X1GB) of DDR3. Not only is DDR3 so much more expensive compared to DDR2, in real-world, you would hardly see a major performance increase using DDR3. Of course, this could all change in the very near future as DDR3's price will drop with more motherboards on the pipeline supporting it and manufacturers ramping up the production. Until then, DDR2 is still a better choice to buy. That is why we are seeing many memory manufacturers still not giving up the DDR2 and releasing higher performance DDR2. A month or two ago, OCZ the released DDR2 PC2-8500 Reaper HPC 4GB Edition. This is one of the highest clock speed 4GB DDR2 that is available on the market. Today, join us as we put this memory to the test.
OCZ Technology

OCZ is a company many of us are familiar with as they provide the very best products for a wide range of users. Starting with overclocked video cards and memory modules to power supplies and cooling products OCZ has earned the respect of hardware enthusiasts around the world (No easy feat).  For the rest of you who may not be familiar with the company I'll let them tell you:
Entering the memory market in August 2000, OCZ Technology was built around the determination to manufacture the best high speed DDR and RDRAM. OCZ was founded by enthusiasts, for enthusiasts, and our commitment to the end-user has not digressed. OCZ Technology has been an innovator in many areas. We were the first manufacturer to make Dual Channel optimized memory available to the public, which originally took advantage of nVidia's Twinbank or Dual DDR architecture, found in their nForce chipset. We have now taken that technology and tailored it for the Canterwood, and Granite Bay chipset's. OCZ developed and was the first to implement ULN technology, which has been a critical element in our manufacturing process for some time. We at OCZ diligently work to improve communication with CPU and motherboard chipset manufacturers prior to the release of their products. Only in this manner can we fine-tune our memory's SPD settings, ensuring a synergistic relationship between the memory module, memory controller, and microprocessor. In today's rapidly evolving semiconductor industry, such communication is not simply research, but a necessary component of our manufacturing process.
PC2-8500 Reaper HPC 4GB Edition
Specification
1066MHz DDR2
EPP 5-5-5-18
(CAS-TRCD-TRP-TRAS)
Available in 4GB (2x2048MB) Dual Channel Kits
Unbuffered
OCZ Lifetime Warranty
2.1V
240 Pin DIMM
Patent-pending Reaper HPC Heatsink*
EPP-Ready
2.15V EVP (OCZ EVP (Extended Voltage Protection) is a feature that allows performance enthusiasts to use a VDIMM of 2.15V without invalidating their OCZ Lifetime Warranty)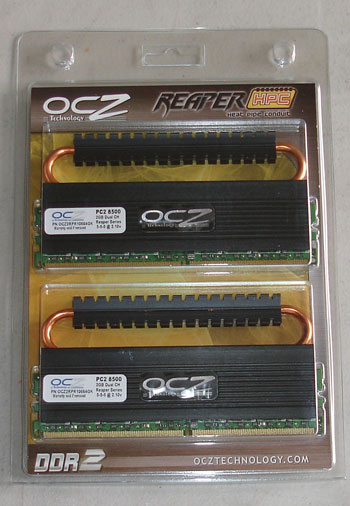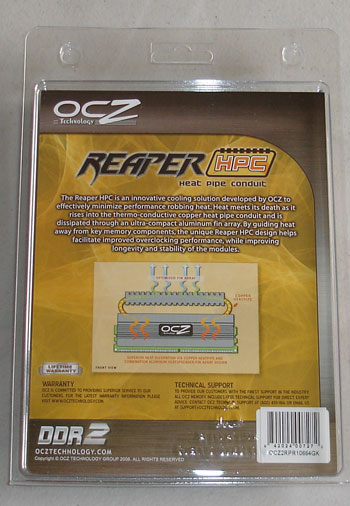 The OCZ Reaper line of memory is designed for enthusiasts in mind. In addition to highly overclocked speed and tight timings, it also features a memory cooler which designed to assist cooling.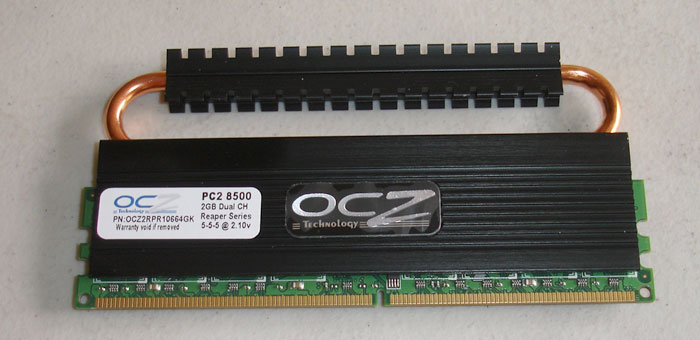 The memory is packaged in the plastic see-through clamshell package, much like many other manufacturers packages. The first thing that anyone will notice would be the unusual heatsink on them. In addition to the heat spreader, the Reaper HPC also has copper heatpipes that is designed to conduct heat to the aluminum fin array. The heat is guided away from the memory modules and being dissipated by the aluminum array. The HPC heatsink is taller than regular heat spreader so it could pose some problem for those with large heatsink around their CPU area.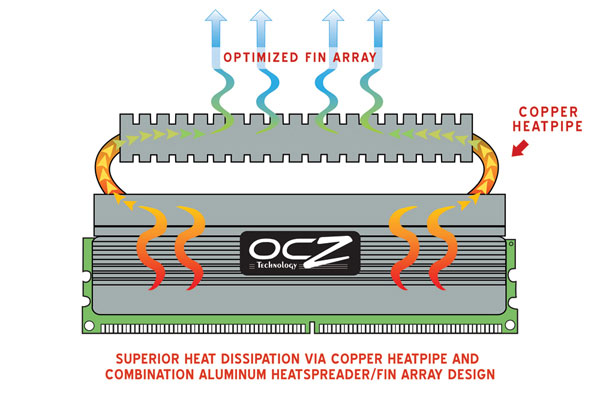 Source: OCZ Technology.
The Reaper comes in a pair of 2GB stick for dual channel function. It is rated at 1066MHz with 5-5-5-18 timing at 2.1V. It supports NVIDIA EPP, so if you use any of the NVIDIA based chipset, such as 590i, 680i, or 780i, it will automatically be detected at the proper speed and timing. OCZ actually goes a step further by allowing the memory to be used at 2.15 EVP (Enhanced Voltage Protection) without voiding the warranty. I am certian that you would be able to set the voltage higher than 2.15V and achieve slightly higher clockspeed but it would void your warranty. It is nice that these the memory are able to run at 1066MHz at 2.1V, which is fairly easy to obtain in today's motherboards, so no expensive, highly-overclockable motherboard is needed.
Since the Reaper HPC is slightly taller than most memory sticks.  It can be problematic for those with oversized CPU heatsinks that extends over the memory slot area.  I did not encounter such problem with the EVGA 680i board and the Thermalright SI-128 heatsink.  As you can see from the picture below, even with the large heatsink, there is still plenty of space between the top of the memory sticks and the CPU heatsink.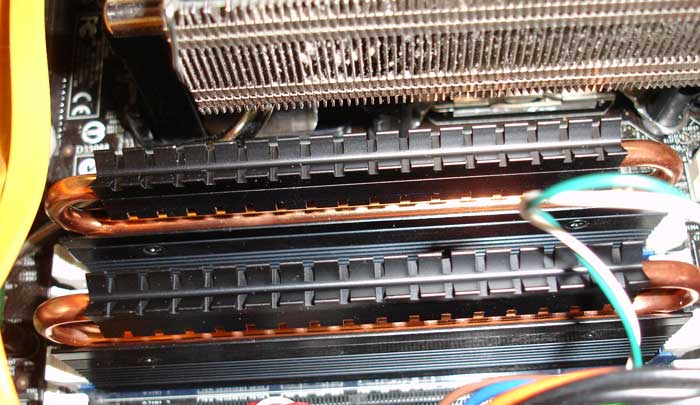 SYSTEM SETUP
Test Platform

Processor

Intel E6600 Core 2 Duo at 2.4GHz

Motherboard

EVGA 680i (BIOS P32)

Memory

2GB of XTREEM TXDD1024M800HC4-D DDRII-800MHz (4-4-4-12)

Drive(s)

Western Digital Caviar SE16 250GB (WD2500KS-00MJB0)

Graphics

XFX GeForce 8800GTS Fatal1ty ForceWare 169.25

Cooling

Thermalright SI-128 with Scythe S-FLEX SFF21F

Power Supply

Enermax Galaxy 850W

Display

Gateway FPD2485W

Case

NZXT ZERO

Operating System

Windows Vista Ultimate 64-bit
The memory will be tested with the speed and timing according to the table below. The timing for both memory is manually entered. The Super Talent RAM is not able to run at 3-4-4-12 at 533MHz while the OCZ Reaper is able to run at this timing, so I test the Super Talent at 4-4-4-12. With this exception, the timings for other speeds are exactly the same for both memory sticks.
Speed
533

667

800

 1066

1120

(3.15 GHz)

OCZ Reaper
3-4-4-12 (1T)

4-5-5-13 (1T)

5-5-5-15 (2T)

5-5-5-11 (2T)

Super Talent
4-4-4-12 (1T)

4-5-5-13 (1T)

5-5-5-15 (2T)

 

 
Software
Everest Ultimate 4.201170
Company of Heroes v 1.71 (1280×1024,DX10, default setting, no AA/AF)
 World in Conflict v1.007 (1280×1024, lowest settings, no AA/AF)
OVERCLOCKING
Let's start by looking at the overclocking potential of the Reaper. I originally had fairly high hope in the overclock potential of the Reaper since it is able to run at 1066MHz with only 2.1V. However, I was a little bit disappointed to find that it was only able to overclock about 10%. Don't get me wrong, 10% overclocking for a highly-overclocked memory is not a bad result but I was kind of hoping for a bit more.
I was able to get the memory to run at 1200MHz but I was not able to boot into Windows. In BIOS, it is totally stable at 1200MHz but I get errors during the Windows Welcome screen. Increasing the voltage to 2.3V does not seem to add any stability. After some tweaking and testing, I found that I was able to boot into Windows at 1150MHz but during benchmarks, sometimes the system will give me a memory dump error. Thus, I lowered the speed to 1120MHz and the system still ran stable without any issue. I was able to achieve this speed with 1400FSB and 5-5-5-18-2T timing. Despite with only 10% overclocking potential, the Reaper will satisfy most users out there since it only requires 2.10v~2.15v to achieve the 1120MHz. Thus, it is fairly easy for anyone to achieve the same result regardless if you have the highly overclockable motherboard or not. Being able to achieve the 1120MHz with 2.15v also will ensure the memory will not get damaged with excessive voltage requirement that you found on other memory sticks.  Furthermore, since OCZ offers 2.15V EPV, you can safely overclock the ram to its limits without voiding your warranty.
SANDRA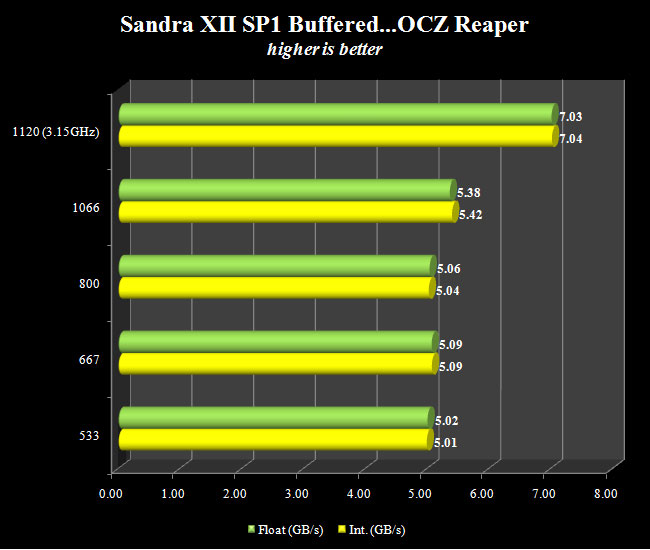 Sandra reveals that the performance of the OCZ Reaper does not seem to be affected by the speed until we reach 1066MHz.  At 533, 667, and 800, both float point and the Integer's bandwith are fairly close to each other at around 5GB/s.  Once we reach the 1066MHz, we start seeing noticeable bandwidth increase.  This could be attributed to the 1:1 FSB to memory ratio.  Thus, even without overclocking, having the ability to run the ram at 1066MHz with moderate increase in the voltage is nice.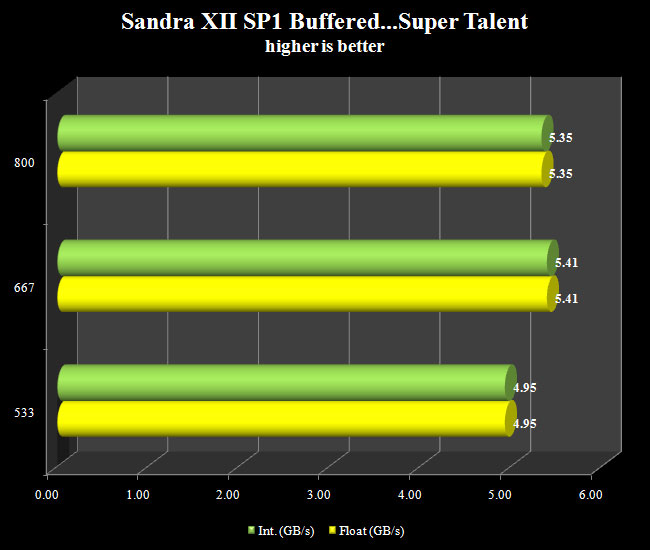 The Super Talent's 4GB pair shows a better bandwidth at 667 and 800.  In fact, it is able to offer the same bandwidth as the OCZ Reaper running at 1066MHz.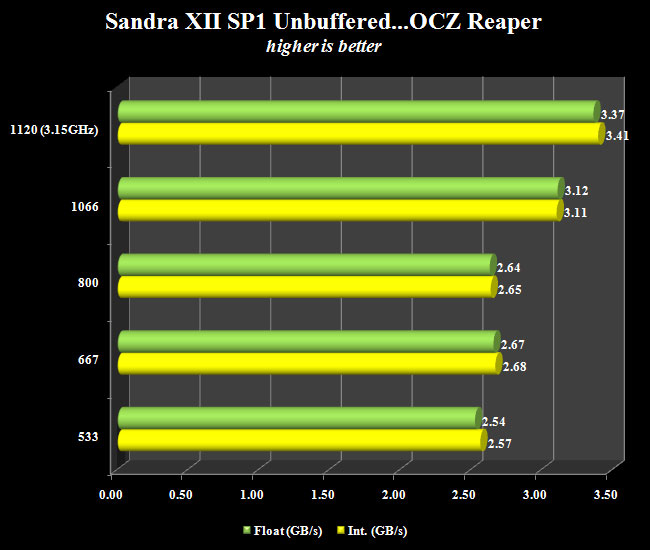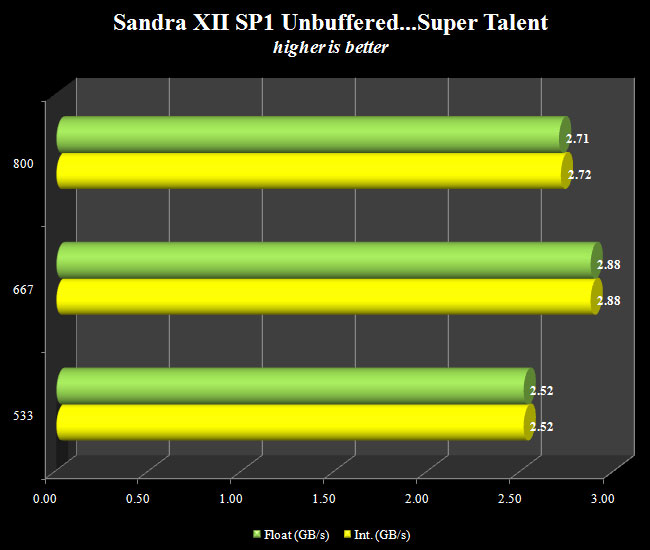 When we take a look at the unbuffered result for the OCZ Reaper, we can see that the bandwidth at 667 and 800 is better than the 533. For the OCZ Reaper, the 1066 yields the best bandwidth (excluding the overclocking result).  The Super Talent's result is actually surprising as we see the 667 actually yields the best result.
EVEREST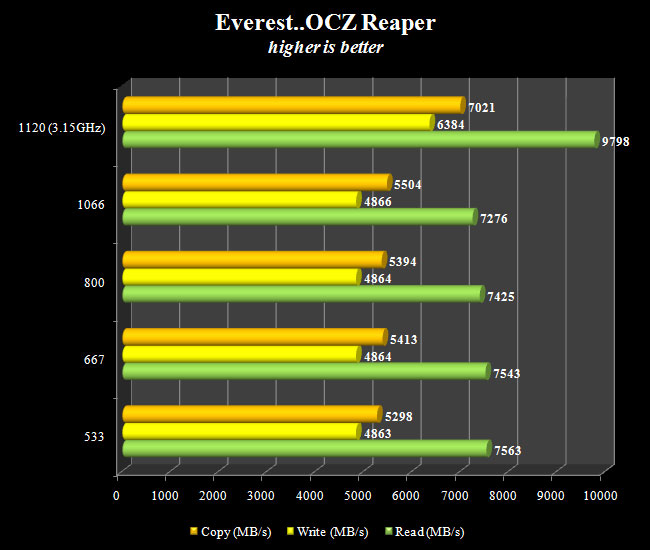 The Reaper's read performance actually decreases as we ramp up the clockspeed.  Its write and copy performance does increase slightly.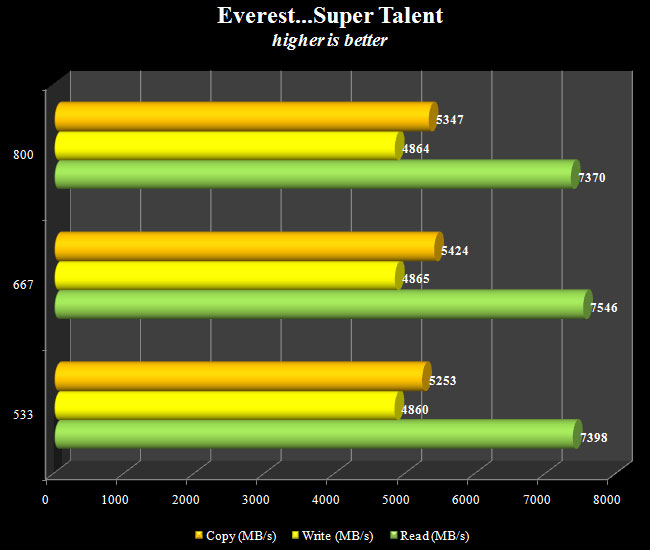 Comparing the Reaper to the Super Talent, we can see that the Reaper's read performance is better than the Super Talent while the copy and write performance is similar to each other at the same clockspeed.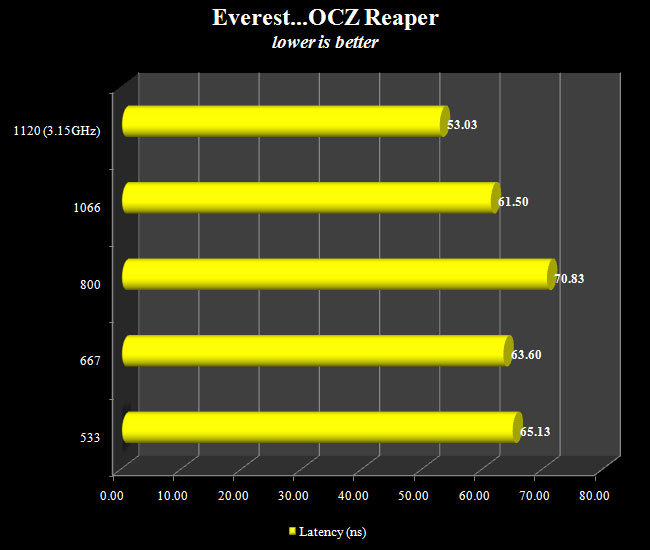 At 800MHz, the Reaper yields the lowest latency since it is not able to run at tight timing as some other memory sticks are capable.  However, once the memory is running at 1066MHz, we can see that it is able to offset the high latency timing and yields a respectable timing.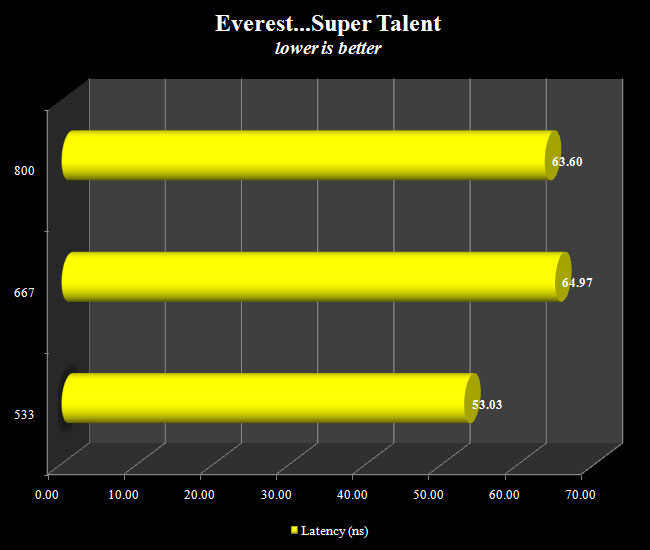 The Super Talent's 4GB is able to produce a fairly respectable timing compare to the Reaper.  Its latency at 533MHz is 12ns faster than the Reaper.
SuperPi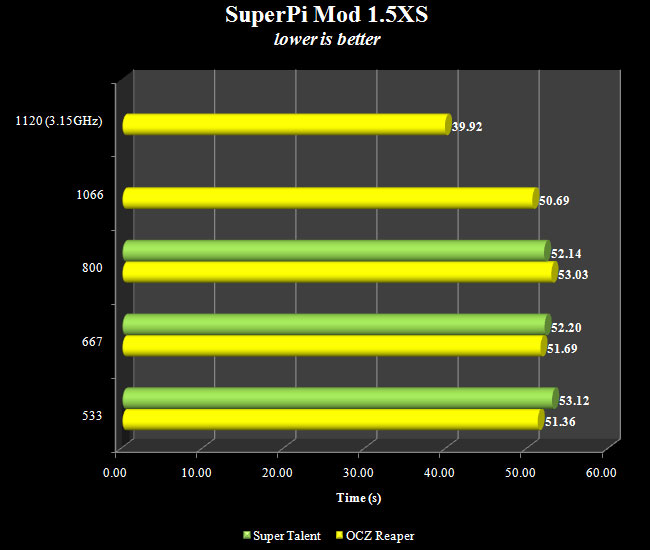 While the synthetic benchmarks, such as, Everest and Sandra tells the bandwidth and latency of the memory, they often do not represent the real-world's performance.  Let's take a look at the performance from SuperPi which gives a better indication of the real-world performance.  Despite what we have seen with the lower latency and slightly better bandwidth of the Super Talent, we actually see a better performance for the Reaper in SuperPi.  Here, we can see that the Reaper is capable of yielding a better result than the Super Talent at 533 and 667MHz.  However, at 800MHz, the Reaper is not able to offer a better result than the Super Talent's sticks. 
SuperPi also reveals that while we increase the speed of the Reaper, it's lower latency actually drags its performance when we ramp up the speed from 533 to 800 MHz. It is not until 1066MHz where the clockspeed is able to offset the high latency and yields a better result.  If you plan to use the Reaper, it is definitely a good idea to run it at 1066 as anything lower can have a perforamnce hit.
Gaming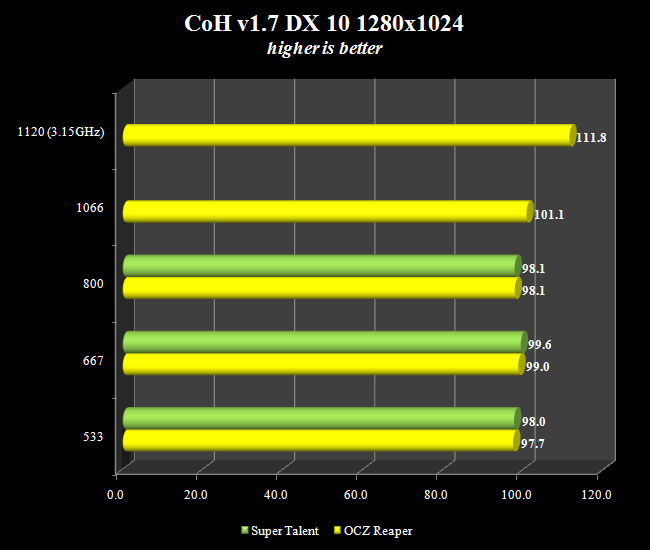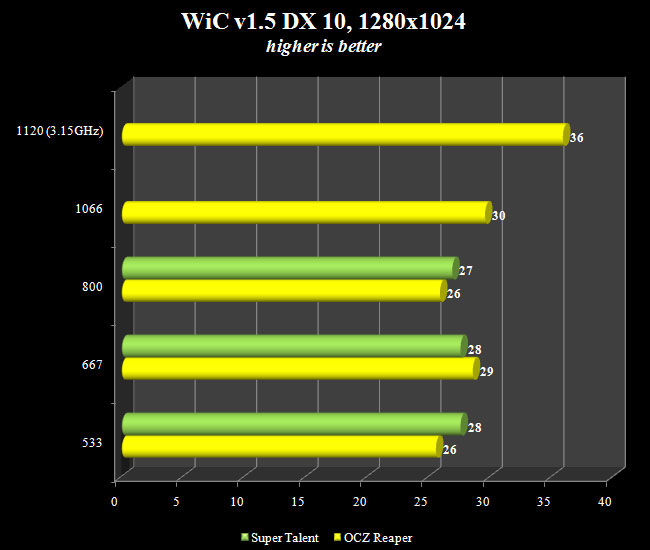 Just as we have seen in SuperPi, the performance in gaming for the Reaper shows that the memory sticks will not yield a better result until we hit the 1066MHz.  We actually see a small performance increase when the Reaper is running at 667 in both Company of Heroes and slightly more noticeable increase in World in Conflict. 
CONCLUSION
While 2x2GB, 800MHz DDR2 is selling at sub $100, the OCZ DDR2 PC2-8500 Reaper HPC 4GB Edition is currrently available at Newegg at a retail price of $135.99. It is slightly more expensive than PC6400 DDR2 but its higher clockspeed and low voltage requirement can justify the added premium especially if you are considering to overclock. Based on our tests, we can see that at 800MHz, the OCZ Reaper is definitely not the fastest memory available due to its higher latency. If you do not plan to overclock your system, it would be wise to purchase an 800MHz with tighter timing for a cheaper price. However, what the OCZ Reaper brings to the table is that it is guaranteed to work at 1066MHz at 2x2GB dual channel mode, and it can easily achieve 2.1V. Despite the fact that it may not have the highest overclock result, it still yields a fairly respectable result of 1120MHz. What is great about these sticks is that they are capable of running at the given speed and overclocked speed of 1120MHz at low voltage of 2.15V (well within OCZ's warranty specification), so you can safely overclock it and still maintain the warranty.
The enhanced cooling from the Reaper HPC Heatsink does not seem to help with the overclock result and I personally doubt that it assists the cooling of the RAM more than the simple heat spreader. However, it is nice to see that it is included without added costs to the consumer. Its height can pose some issue for users with large CPU heatsinks but generally speaking I do not foresee many people will encounter any issue with it.
Overall, the OCZ DDR2 PC2-8500 Reaper HPC 4GB Edition is a good choice of RAM for those who want to use 4GB of memory at 1066MHz without spending too much money.

The OCZ DDR2 PC2-8500 Reaper HPC 4GB Edition will receive a score of 8.0 out of 10 and Bjorn3D's Seal of Approval for the ability to achieve good performance and speed without the need of high voltage.
 
Pros:
+  2.15V EVP
+  1066MHz with 2.10V
+  Enhanced cooling: HPC
+  2x2GB
+  Lifetime warranty
+  EPP
Cons:
–  High Latency at 800MHz
–  Only able to overclock to 1120MHz