With the new GeForce9-cards being released it is easy to think that the GeForce 8800GTS 512 MB is yesterdays news. Nothing could be further from the thruth. The Sparkle 8800GTS 512 MB uses the same excellent G92 GPU as the 9800GTX and turns out to be a great performer.
INTRODUCTION
Skoda has run a pretty funny ad-campaign here in Sweden. The ad-movie starts with a voice telling us about Skoda's high-tech factory. You get to see the robots that build the cars and how thorough everyone is checking everything is alright. Then at the end of the ad you just briefly see the guy who prices the cars; a clown, and the ad ends with "Skoda – built by professionals, priced by clowns". It's a pretty funny and clever ad-campaign. So what does that have to do with video cards? Well, I am pretty sure NVIDIA could have chosen to run a similar campaign saying "NVIDIA cards – built by professionals, named by clowns". 
Harsh? I'm not sure about that. Today we are reviewing a NVIDIA 8800GTS 512 MB card from Sparkle. Some of you might remember that there also are 8800GTS cards with 320MB and 640 MB. And this is where the confusion starts. The 8800GTS 512 MB is using the newer G92 chipset while the 8800GTS 368MB and 640MB are using the older G80 core. The G92 core is much more efficient and has already proven itself on the 8800GT. In fact, it is the same GPU used in the new GeForce 9800GTX cards. This of course will just confuse buyers who might think that a 640Mb 8800GTS must be better than a 512 MB 8800GTS. It is extra unfortunate as the GeForce 8800GTS 512 MB turns out to be a GPU that offers a lot of bang for the buck.
The 8800GTS 512 MB card we are looking at today comes from Sparkle. It is a very affordable card that turns out also offer some serious performance.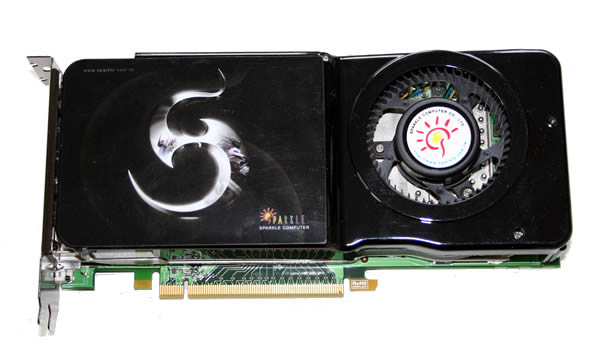 ABOUT SPARKLE
Sparkle is a company from Taiwan that makes and sells video cards that use NVIDIA's various GPU's on them. They were established in 1981. They mainly sell their cards in Europe and Asia but CompUsa and Tiger Direct have now started carry a few of their cards so hopefully their presence in the USA will grow. You can read about the company here.
 
FEATURES AND SPECIFICATIONS
The Sparkle 8800GTS 512 MB isn't one of those pre-overclocked cards that you can find everywhere today. It is clocked the same as the NVIDIA reference design.
Sparkle 8800GTS 512 MB
Specification
ASUS 8800GT
Sparkle 9800GTX
Sparkle 8800GTS 512MB
RAMDACs
Dual 400 MHz
Dual 400 MHz
Dual 400 MHz
Memory BUS
256 bit
256 bit
256 bit
Memory
512 MB GDDR3
512 MB GDDR3
512 MB GDDR3
Memory Clock
1800MHz
2200 MHz
1940 MHz
Stream Processors
112
128
128
Clock Rate
600 MHz
675 MHz
650 MHz
Chipset
G92
G92
G92
Bus Type
PCI-E 2.0
PCI-E 2.0
PCI-E 2.0
Fabrication Process
65nm
65nm
65nm
The new G92 core gives the 8800GTS 512 MB some advantages over the 320/640 MB versions. The card comes at a default higher clock and you also get PCI-E 2.0 support. On the other hand the memory interface is reduced from 320 bit to 256 bit, something that does not affect performance enough to offset the benefits of the faster clocks.
Looking at the specifications one thing becomes obvious. The 8800GTS 512 MB is to the 9800GTX what the 8800GTS 320/640MB is to the 8800GTX. So why didn't NVIDIA call it the 9800GTS? Considering the 9800GX2 consists of two 8800GTS 512 MB it makes it even more confusing.
Let us look at the features instead:
NVIDIA® unified architecture
Fully unified shader core dynamically allocates processing power to geometry, vertex, physics, or pixel shading operations, delivering up to 2x the gaming performance of prior generation GPUs
Full Microsoft® DirectX® 10 support
DirectX 10 GPU with full Shader Model 4.0 support delivers unparalleled levels of graphics realism and film-quality effects
NVIDIA® SLI™ technology
Delivers up to 2x the performance of a single GPU configuration for unparalleled gaming experiences by allowing two graphics cards to run in parallel. The must-have feature for performance PCI Express® graphics, SLI technology dramatically scales performance on today's hottest games.
PCI Express 2.0 support
Designed to run perfectly with the new PCI Express 2.0 bus architecture, offering a future-proofing bridge to tomorrow's most bandwidth-hungry games and 3D applications by maximizing the 5 GT/s PCI Express 2.0 bandwidth (twice that of first generation PCI Express).PCI Express 2.0 products are fully backwards compatible with existing PCI Express motherboards for the broadest support.
GigaThread™ Technology
Massively multi-threaded architecture supports thousands of independent, simultaneous threads, providing extreme processing efficiency in advanced, next generation shader programs
NVIDIA® Lumenex™ Engine
Delivers stunning image quality and floating point accuracy at ultra-fast frame rates:
16x Anti-aliasing: Lightning fast, high-quality anti-aliasing at up to 16x sample rates obliterates jagged edges
128-bit floating point High Dynamic-Range(HDR):Twice the precision of prior generations for incredibly realistic lighting effects-now with support for anti-aliasing
NVIDIA® Quantum Effects™ Technology
Advanced shader processors architected for physics computation enable a new level of physics to be simulated and rendered on the GPU –all white freeing the CPU to run game engine and AI
NVIDIA® ForceWare® Unified Driver Architecture (UDA)
Delivers a proven record of compatibility reliability and stability with the widest range of games and applications
ForceWare provides the best out-of-box experience and delivers continuous performance and feature updates over the life of NVIDIA GeForce® GPUs
OpenGL® 2.0 optimizations and support
Ensures top-notch compatibility and performance for OpenGL applications
Dual 400MHz RAMDACs
Blazing-fast RAMDACs support dual QXGA displays with ultra-high, ergonomic refresh rates –up to 2048×[email protected]
Dual Dual-Link DVI Support
Able to drive industry's largest and highest resolution flat-panel displays up to 2560×1600 and with support for High-bandwidth Digital Content Protection(HDCP).
NVIDIA PureVideo HD technology
The combination of high-definition video decode acceleration and post-processing that delivers unprecedented picture clarity, smooth video, accurate color, and precise image scaling for movies and video.
Discrete, Programmable Video Processor
NVIDIA PureVideo is a discrete programmable processing core in NVIDIA GPUs that provides superb picture quality and ultra-smooth movies with 100% offload of H.264 video decoding from the CPU and significantly reduced power consumption.
Hardware Decode Acceleration
Provides ultra-smooth playback of H.264, VC-1, WMV and PEG-2 HD and SD movies.
HDCP Capable
Designed to meet the output protection management (HDCP) and security specifications of the Blu-ray Disc and HD DVD formats, allowing the playback of encrypted movie content on PCs when connected to HDCP-compliant displays.
Advanced Spatial-Temporal De-Interlacing
Sharpens HD and standard definition interlaced content on progressive displays, delivering a crisp, clear picture that rivals high-end home-theater systems.
High-Quality Scaling
Enlarges lower resolution movies and videos to HDTV resolutions, up to 1080i, while maintaining a clear, clean image. Also provides downscaling of videos, including high-definition, while preserving image detail.
Inverse Telecine (3:2 & 2:2 Pulldown Correction)
Recovers original film images from films-converted-to-video (DVDs, 1080i HD content), providing more accurate movie playback and superior picture quality.
Bad Edit Correction
When videos are edited after they have been converted from 24 to 25 or 30 frames, the edits can disrupt the normal 3:2 or 2:2 pulldown cadence. PureVideo uses advanced processing techniques to detect poor edits, recover the original content, and display perfect picture detail frame after frame for smooth, natural looking video.
Noise Reduction
Improves movie image quality by removing unwanted artifacts.
Edge Enhancement
Sharpens movie images by providing higher contrast around lines and object
Integrated SD and HD TV Output
Provides world-class TV-out functionality via Composite, S-Video, Component, DVI, or HDMI connections. Supports resolutions up to 1080p depending on connection type and TV capability.
CLOSER LOOK
The card comes in a nice-looking white box with Sparkle's signature S-logo.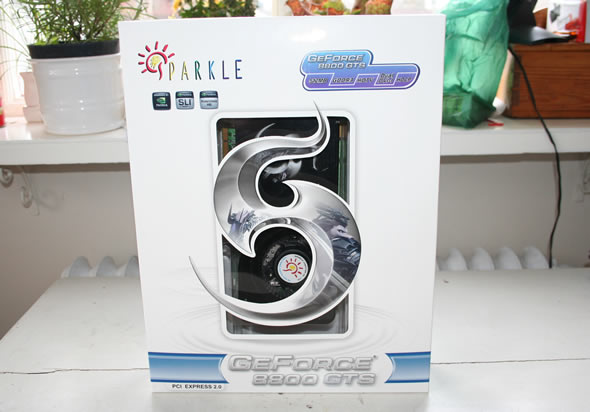 Inside the box we find the card neatly and securely packaged so that it won't get damaged in transit. There aren't a lot of other items in the box though. All we find is:
The card
Component-out cable
DVI=>VGA adapter
Manual and CD
I'm a bit disappointed that you do not get a DVI=>HDMI adapter but since the 8800GTS cannot provide surround-sound through it anyway you can pick up any cheap DVI=>HDMI adapter and use that.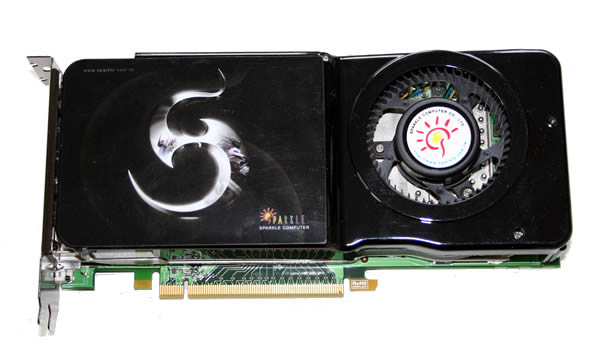 The card uses the reference black cooler assembly which covers the whole card. The fan at the back draws in the air which then is sucked through the card out in the back. It is a nice cooler that does not make a lot of noise and you can be certain that there will not be any warm air escaping from it on its way to the back of the case.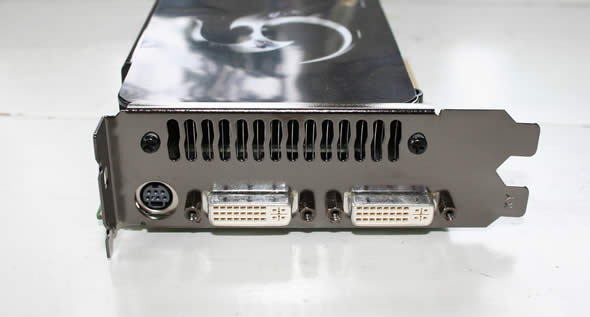 The card has two Dual-Link DVI-I connector as well as a connector for the Component-cable.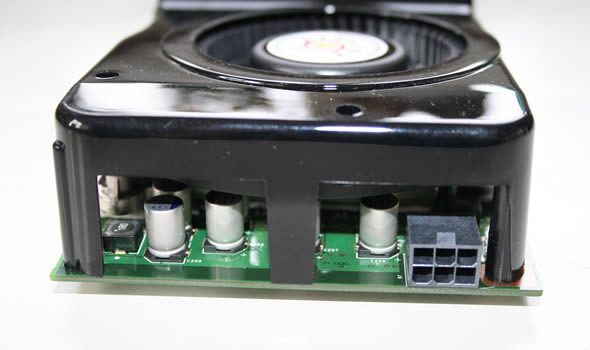 The Sparkle 8800GTS 512 MB draws enough juice to need external power from one 6-pin PCI-E connector.
 
HOW WE TESTED THE CARD
The Sparkle 8800GTS 512 MB was tested together with a group of other video cards on the following system.
Intel Q6600 @ 3 GHz
2 GB DDR2 @ 800 MHz
ASUS Maximum Formula X38 motherboard with PCI Express 2.0
The following video cards were tested:
HIS HD 3870 IceQ 3 Turbo
HIS HD 3870 X2
HIS HD 3850 IceQ 3 Turbo
Sparkle 8800GTS 512 MB
ASUS 8800GT
Sparkle 9800GTX
The drivers used in this review were Catalyst 8.3 for the AMD cards, ForceWare 174.53 for the 9800GTX and ForceWare 169.44 for the rest of the NVIDIA cards.
For this review we used the following games to test the performance:
3DMark06 – Technically not a game but we all know why we are using it. It is starting to get old now so hopefully we will soon see 3DMark Vantage. It was tested at default and 1920×1200/4xAA/16xAF.
Crysis – One of the most demanding games released. We used a Crysis Benchmark utility and used the demo included with the game that stresses the GPU. The game was benchmarked with the High setting, no AA/AF and both DX9 and DX10.
World In Conflict – While short, this was one of the best RTS-games of 2007. We used the built-in benchmark and tested the game with the High setting, both with DX9 and DX10.
Company of Heroes – Another great RTS game which also has DX10 support. The latest patch was installed and everything was set to the highest setting. When DX10 rendering was chosen the Terrain Detail was set to Ultra instead of High.
Last but not least we recorded the power consumption both after the cards had sat at the Windows Desktop for a few hours and during a couple of loops of 3DMark06 at 1920×1200/8xAA/16xAF. The maximum Wattage was recorded.
3DMARK06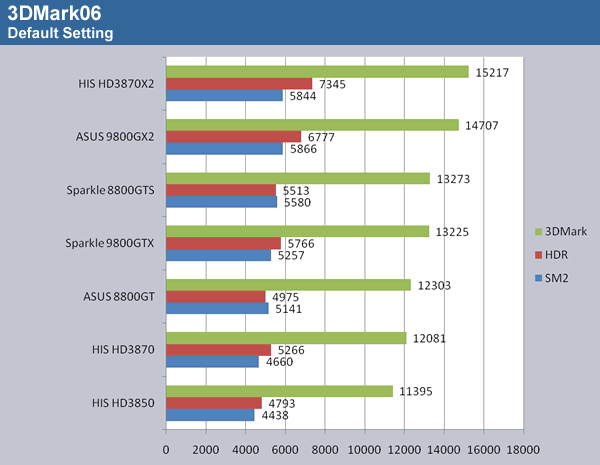 The Sparkle 8800GTS performs very well even beating it's successor, the Sparkle 9800GTX.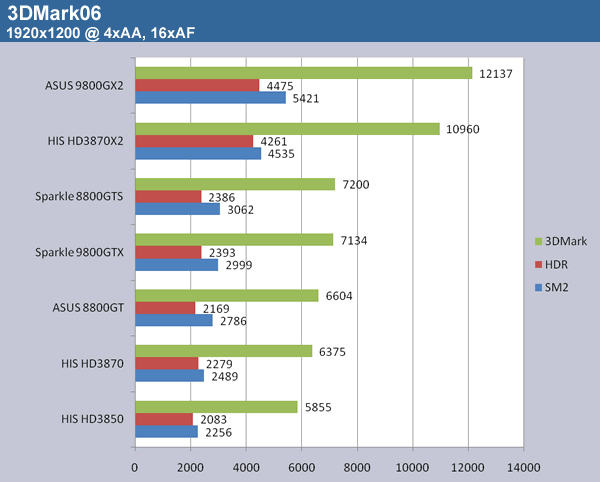 When we turn the settings up the 9800GX2 and the HD3870X2 draws ahead while the Sparkle 8800GTS leads the single-GPU pack.
CRYSIS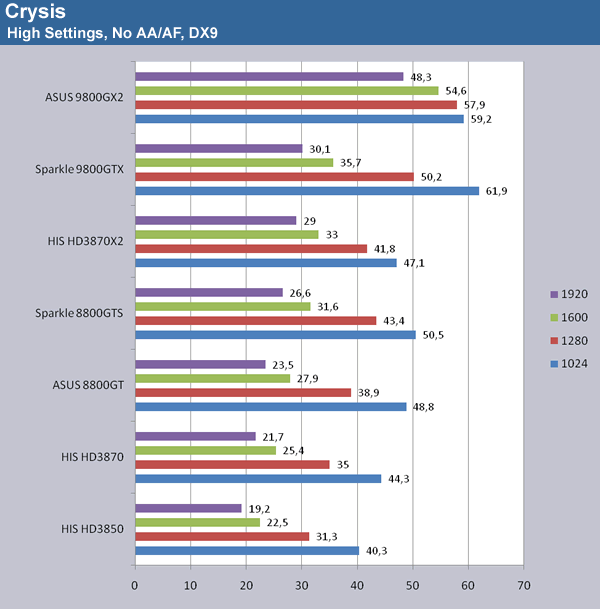 The Sparkle 8800GTS 512 MB cannot keep up with the 9800GTX in Crysis but still manages to perform really well, beating the HD3870X2 in all resolutions except 1920×1200.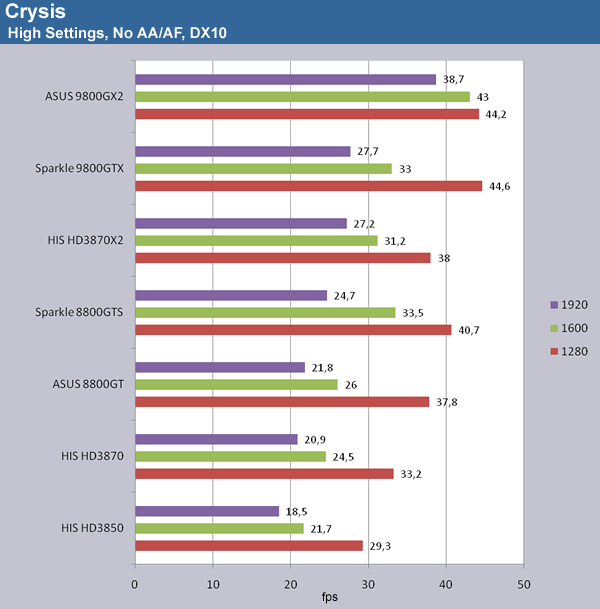 As we select DX10 the picture stays the same. The Sparkle 8800GTS 512 MB keeps up with the HD3870X2 and trails the 9800GTX.
COMPANY OF HEROES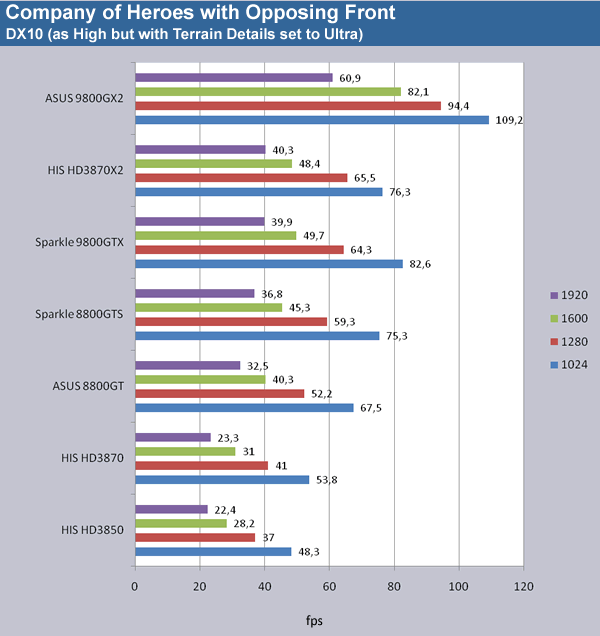 We are starting to get used to this picture. The Sparkle 8800GTS 512 MB is just trailing the 9800GTX which is clocked a bit higher than the GTS.
WORLD IN CONFLICT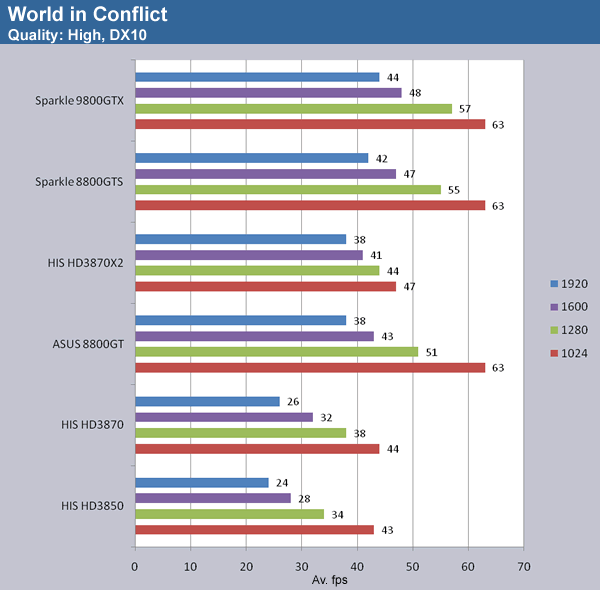 The Sparkle 8800GTS 512 MB performs just as well as the more expensive 9800GTX.
POWER CONSUMPTION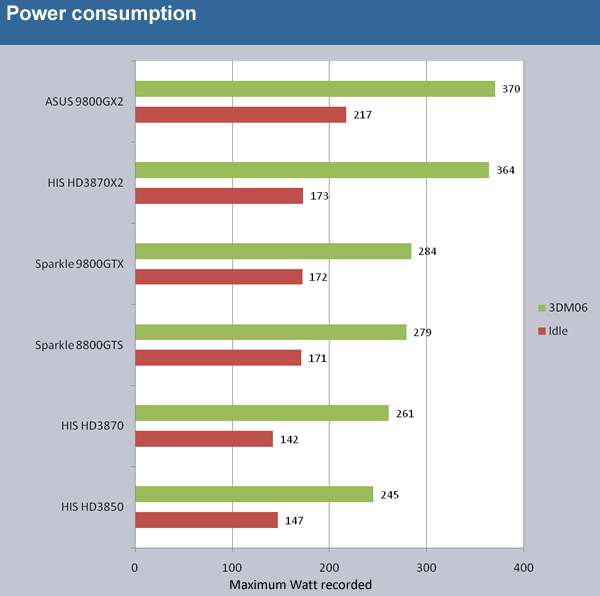 The power consumption is measured at the wall and relates to the whole system:
[email protected], 2GB DDR2, Blu-Ray SATA disk, 3x SATA HD
The power consumption is a bit higher than AMD's offerings, especially when at idle.
CONCLUSION
There is nothing spectacular with the Sparkle 8800GTS. It is clocked at the reference levels, it uses the reference cooler and it doesn't even come with a DVI=>HDMI adapter. But that doesn't really matter since it offers excellent performance for its low price. The G92 8800GTS is currently one of the best GPU's at its price point and the GPU that simply offers most bang for the buck and since the Sparkle 8800GTS 512 MB is one of the cheapest 8800GTS 512 MB that we can find obviously you cannot go wrong with this card.
Pros
+ Excellent performance for a low price
+ Quiet
Cons
– No HDMI-adapter
– No way to get audio through the DVI-connector even with an adapter
– No support for Tri-SLI
– This should really have been called the GeForce 9800GTS to not confuse buyers
The Sparkle 8800GTS 512 MB gets a 9 out of 10 from us and a Bjorn3D Golden Bear award.