They say big presents come in little packages. Well when it comes to the 9600GT XXX from XFX they couldn't be more right. With a slim single slot design and a very attractive bundle there is plenty to love about this card. But how does it perform? Read on to find out!
INTRODUCTION
When NVIDIA released the G80 core in late 2006 the enthusiast world rejoiced. New levels of image quality were in reach with a single card that used to require two or more. The mainstream market anxiously awaited its share of the G80 love only to be disappointed by the lackluster 8600GT/GTS. Fastforward to last year when the world was given the G92 core. Even more peformance was to be had by enthusiasts willing to shell out the $250 or more it would take to enjoy the pleasure of gaming on a 8800GT/GTS 512. And the mainstream market waited. Only this time things would be a little different. This time the mainsteam market would not take a step back but a huge leap forward, in performance that is, not price. Finally, we were given the card that all of us could afford and not be ashamed to put in our forum sig. The 9600GT from NVIDIA was just that card. Offering levels of performance usually enjoyed by the bigger boys at a price we all can swallow placed this card into unknown territory. As if that wasn't enough XFX got their hands on a few and cranked the heck out of the clocks even further. So I present to you the Alpha Dog 9600GT XXX from XFX. What could be better then having one of these cards in your rig? How about having two!?

Double the pleasure, double the fun.
SPECIFICATIONS

XFX™ 9600GT XXX Alpha Dog
Specification
NVIDIA 8800GTS
NVIDIA 8800GT
XFX 9600GT XXX
RAMDACs
Dual 400 MHz
Dual 400 MHz
Dual 400 MHz
Memory BUS
256 bit
256 bit
256 bit
Memory
512 MB GDDR3
512 MB GDDR3
512 MB GDDR3
Memory Clock
1840MHz
1800 MHz
2000 MHz
Memory Bandwidth
58.9 GB/s
57.6 GB/s
64 GB/s
Stream Processors
128
112
64
Shader Clock
1625 MHz
1500 MHz
1750 MHz
Clock Rate
650 MHz
600 MHz
700 MHz
Chipset
G92
G92
G94
Bus Type
PCI-E 2.0
PCI-E 2.0
PCI-E 2.0
Fabrication Process
65nm
65nm
65nm
With 48 less SPs than the 8800GT and 64 less than the 8800GTS you might be quick to write this card off as an underperformer. Never underestimate the power of a redesigned core.
PACKAGING
One place that XFX excels in is their packaging. While it is meaningless in the grand scheme of things, it is nice to see a box that is both functional as well as pleasing to the eye. The usual marketing hype can be found covering the rear of the box and once opened, reveals just how well your new prize is secured. I have yet to receive a video card from XFX in the mail that was dead on arrival due to mishandling. They really know how to keep their product safe.
Click a picture to see a larger view
---
---
PHOTOS
Since this card is the Alpha Dog edition of the 9600GT you can be sure it comes on a black PCB with green DVI connections. This is a very sexy combo and one that should appeal to a lot of you out there. We see XFX uses a different cooling setup than other companies do which is a bit surprising. XFX used a great heat sink and fan combo on their 8800GT Alpha Dog card which kept the card cool while remaining virtually silent. Later on we will comment on the effectiveness of this new design. Lastly, on the end of the card we see the lone power connector. An easy fit for people with older PSUs.
Click a picture to see a larger view
---
---
Time to dismantle this thing and see what makes her tick. Removing the heat sink shows us that the RAM modules are being actively cooled along with the different orientation of the GPU's core. The G94 core in all its naked glory. What wonders does it possess? We should find out.
CONTENTS
When you buy the Alpha Dog version of an XFX card you are given all the accessories you could possible need. The best part is that the included game is a newer one that many people should enjoy.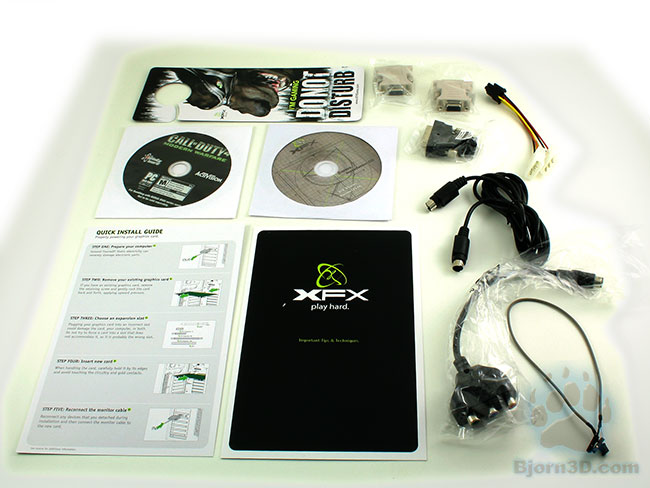 Game CD
Driver CD
2x DVI-VGA Adapters
DVI-HDMI Adapter
S/PDIF Cable
Component cable Adapter
User manual
TEST SETUP
All tests were conducted on the following platforms. A format of the hard drives followed by a fresh install of the OS was done. The latest drivers were then installed and all non-essential applications were halted.
Test Platform
Processor
Intel e6420 @ 3.2GHz
Motherboard
XFX 680i LT
Memory
2 GB (2 x 1 GB) G.Skill DDR2-800
Drive(s)
1 – Seagate 80GB Barracuda SATA
1 – Samsung HD501LJ SATA
Graphics
Card 1 – ASUS 8800GT TOP
Card 2 – ASUS HD3870
Card 3 – EVGA 8800GTS
Card 4 – XFX 9600GT XXX
Card 5 – XFX 9600GT XXX SLI
Sound
On board
Cooling
Big Typhoon VX
Power Supply
OCZ GameXStream 850 watts
Display
Westinghouse 37″ LVM-37W3
Case
No case
OS
Windows XP SP2
All cards will be tested using a variety of games. For Crysis, we will be testing the game both without any image enhancements and then again with 2x Anti-Aliasing and 8x Anisotropic Filtering. All other games will be tested with 4x AA and 16x AF. The resolutions tested are 1280×1024, 1680×1050 and finally 1920×1080.
OVERCLOCKING
Any time we deal with a factory overclocked card we keep our excitement in check. Rarely will a pre-overclocked card go much higher and the 9600GT XXX follows this trend. The 9600GT from NVIDIA comes clocked at 650/900/1625 core/mem/shader and XFX bumps this up to 740/1000/1850 which is a nice overclock to begin with. In the end we were only able to increase these clocks by a small amount as shown below.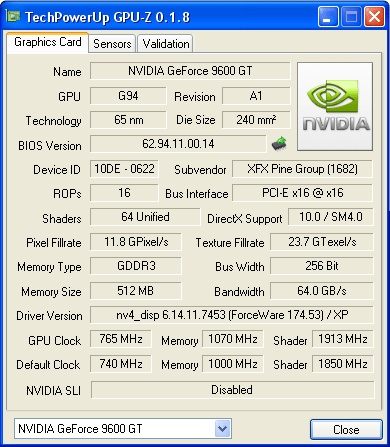 I need more powerrr .
TEST RESULTS
3DMark2006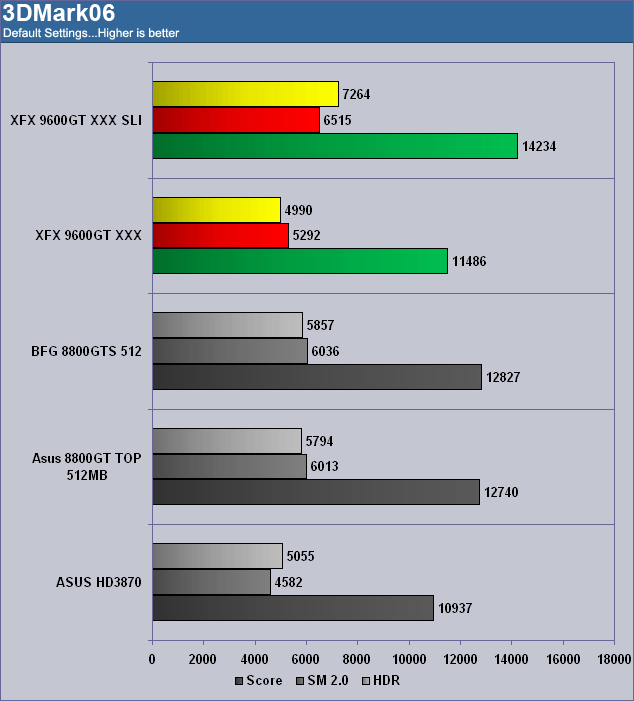 Company of Heroes v1.71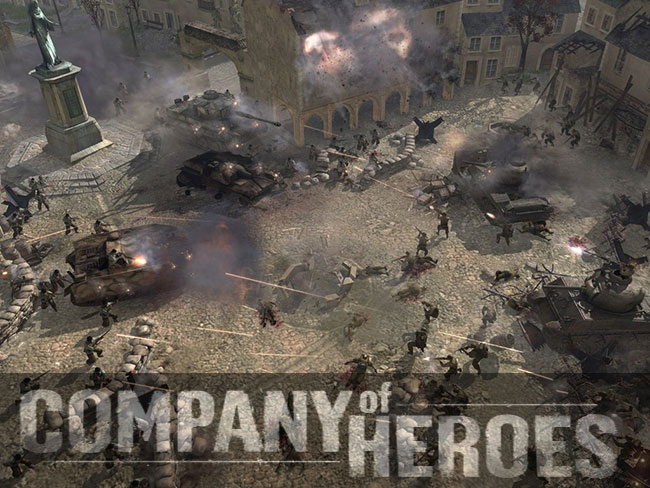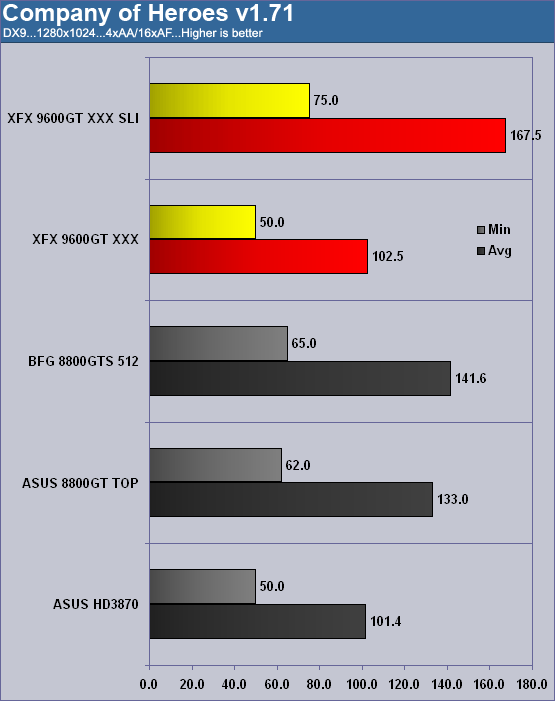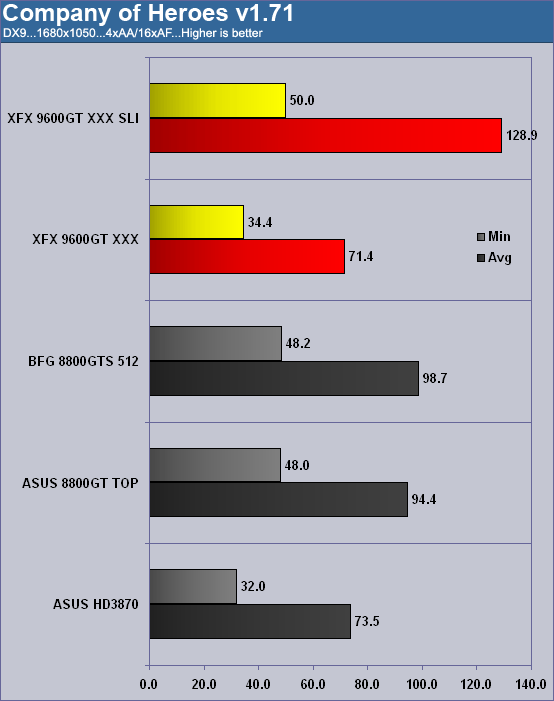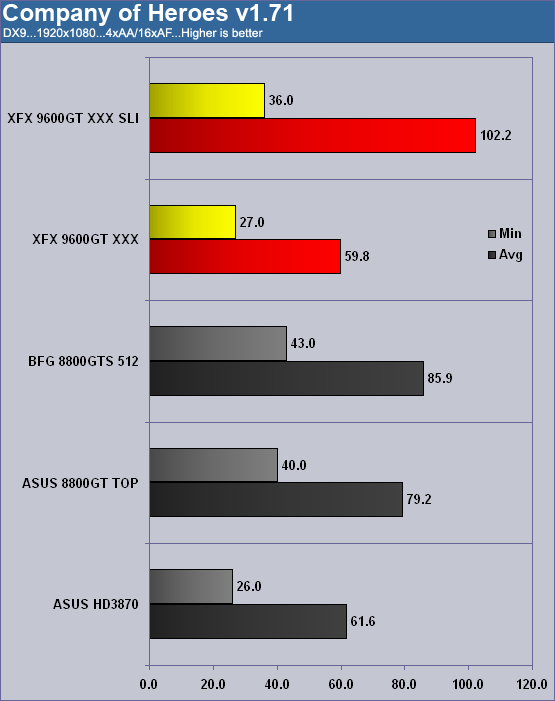 TEST RESULTS
Crysis v1.21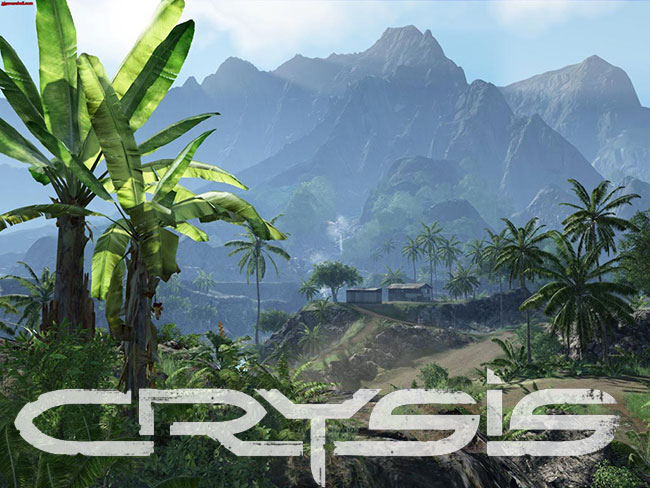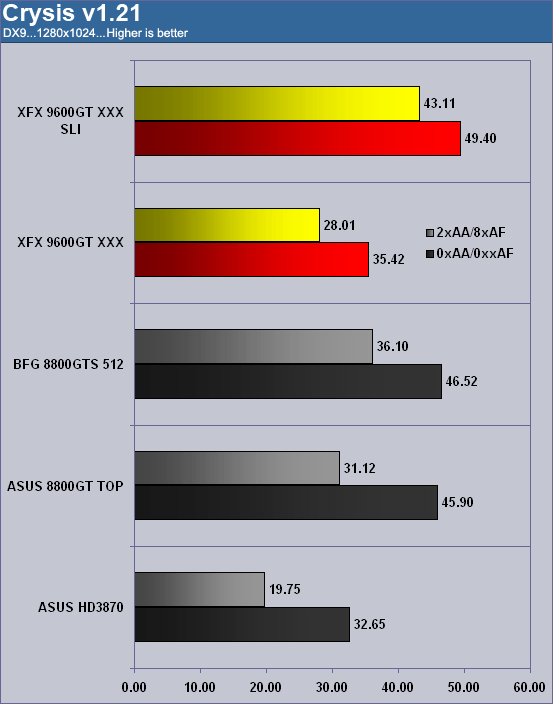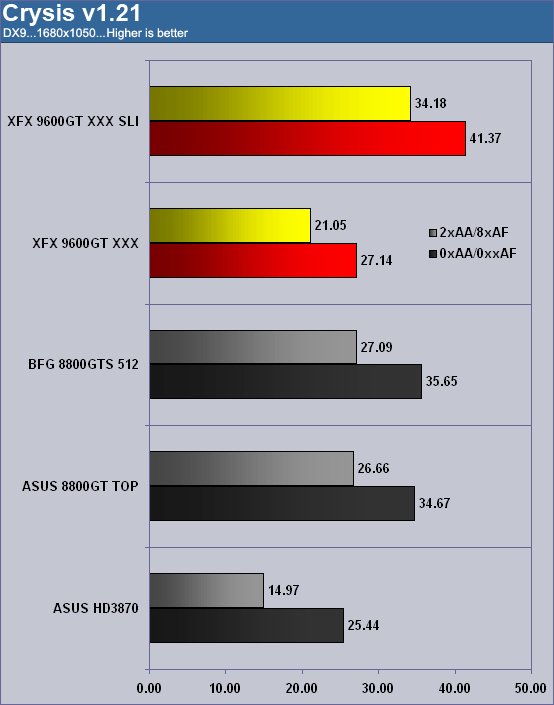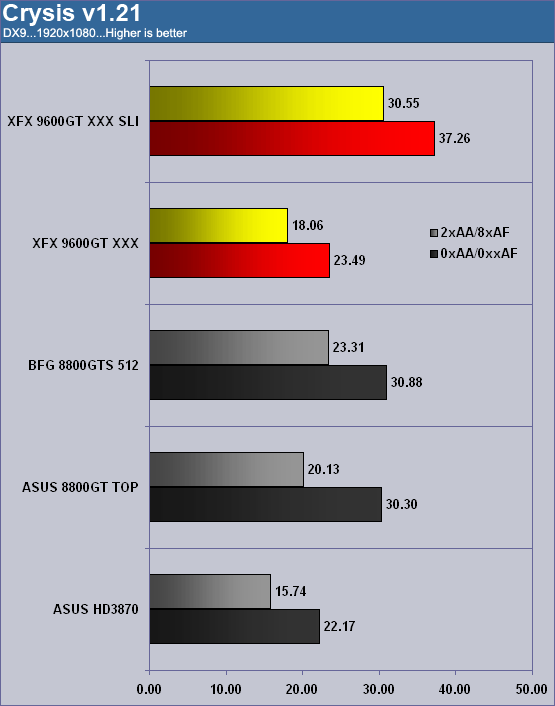 The Edler Scrolls IV – Oblivion v1.2.0416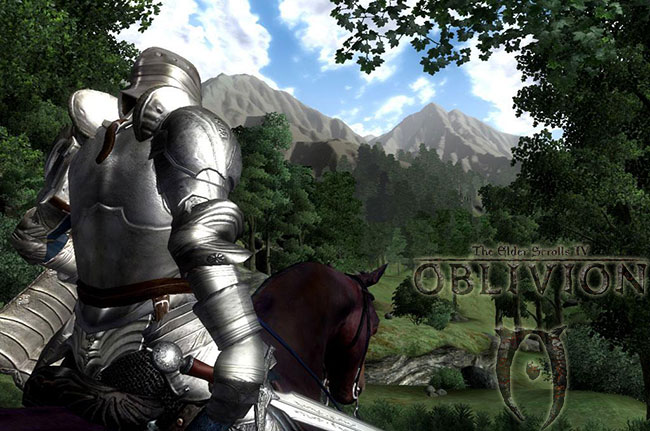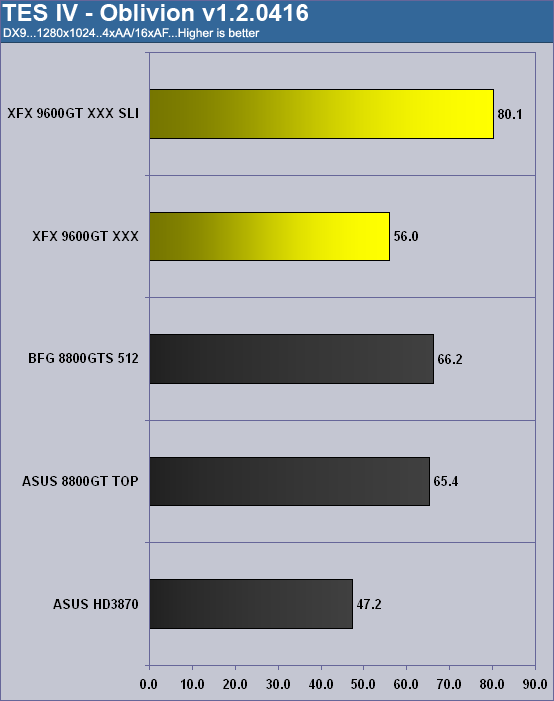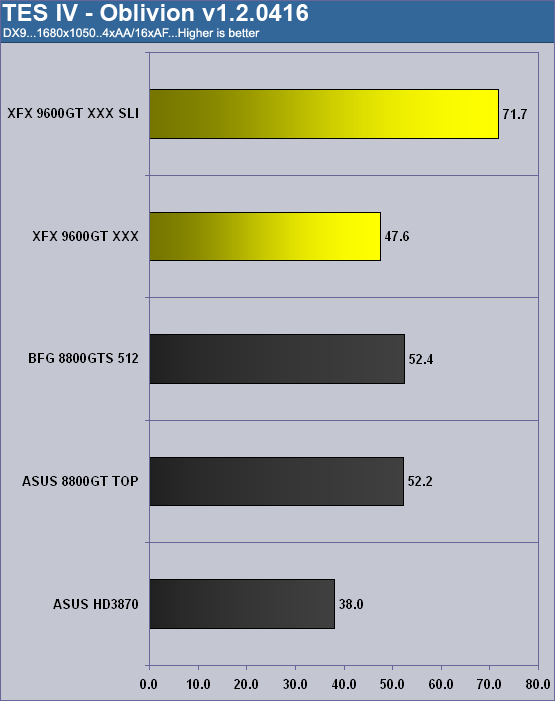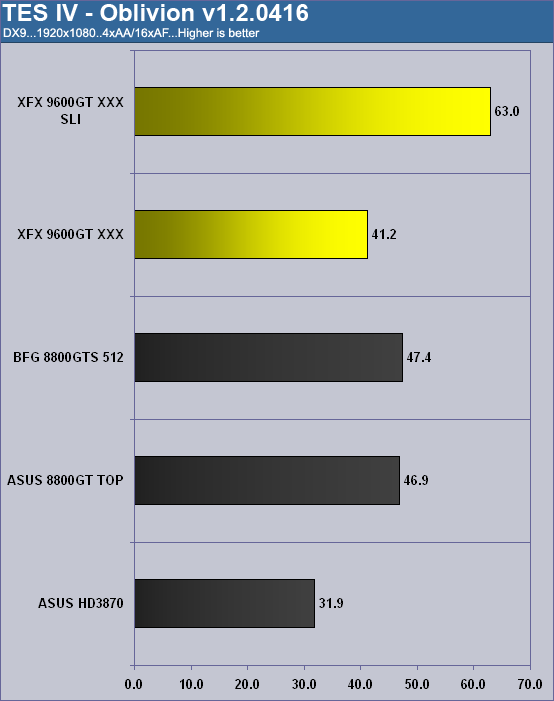 TEST RESULTS
World in Conflict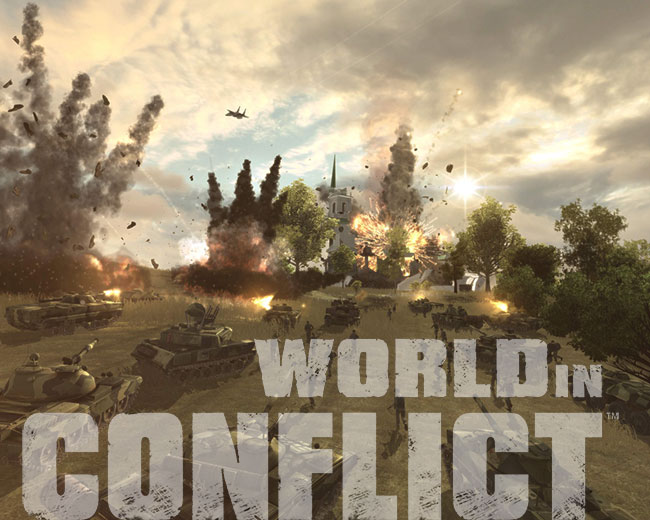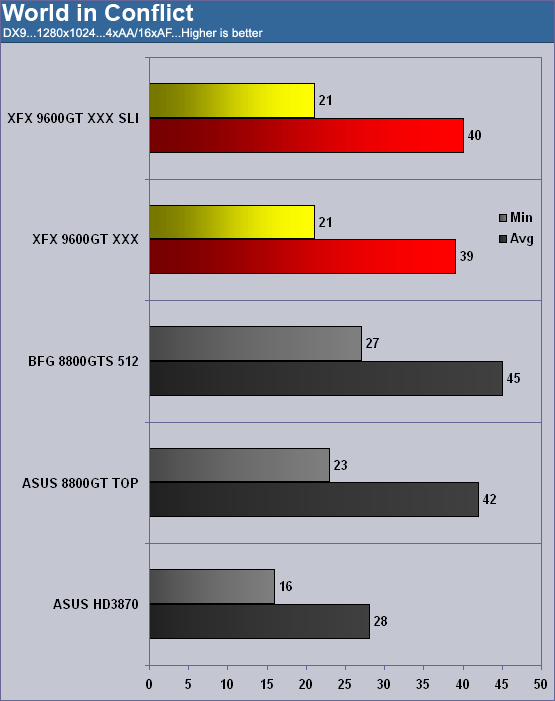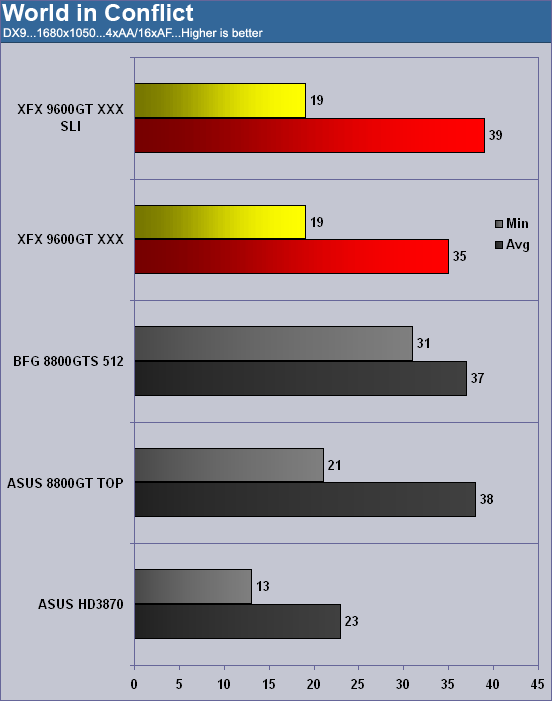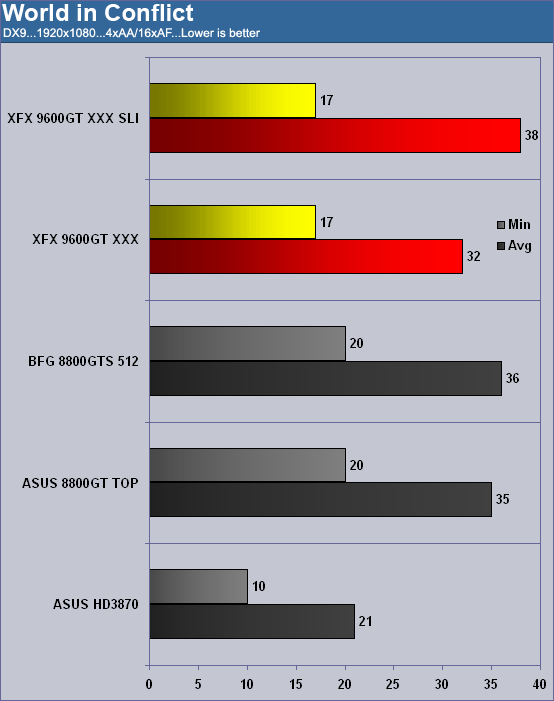 World in conflict is a great game that just doesn't show much increase from SLI. Performance is strong on the 9600GT XXX even with lots of image enhancements.
Power
Here is where we separate the men from the boys. Sure you've seen all the great performance this card has to offer but at what cost does it come? Will you need to refinance that home of yours to keep gaming for a few more months or will solar power be enough to keep you in the game. Power levels shown below are for the entire system.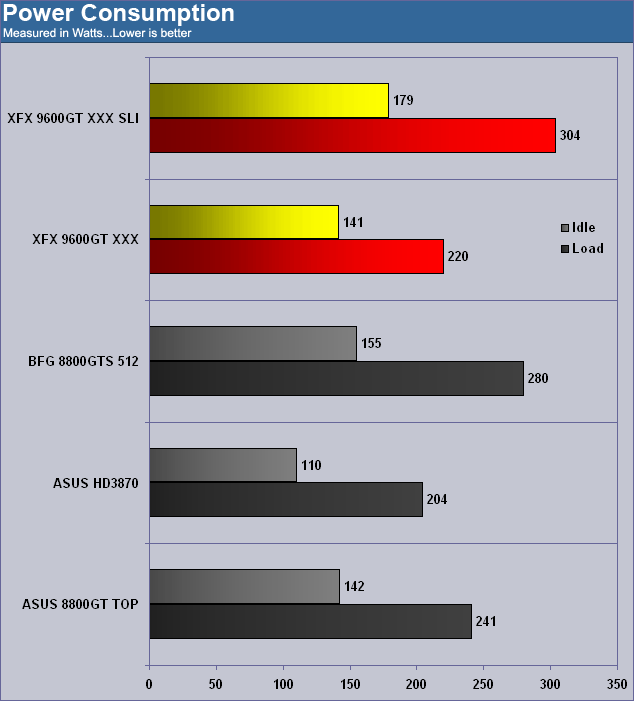 I am very happy to see the 9600GT XXX come in at the power levels shown. For those who may be wondering, power measurements were taken during the same point in the Company of Heroes benchmark (The last 10 seconds) which has shown to push power levels far higher than any other means. The scores shown above are of the peak power levels recorded. Average power levels were approximately 5% lower.
Temp
Now that we have an idea about what kind of power the 9600GT XXX draws we can see just how effective its rather miniscule heat sink and fan are.
Idle temps were taken after a 15 minute period of sitting at the desktop with no open windows. Load temps were recorded by using ATiTool 3D view to place a constant load on the card.
Temperature
Idle
Load
39
63
Not bad. The temps are pretty tolerable and at a load temp of 63º C you can be sure your card won't melt half way through your favorite game.
CONCLUSION
At this point there isn't much left to say that the charts haven't already covered. We have exceptional performance coupled with moderate power levels. SLI performance increases are much better that in previous generations of cards, World in Conflict withstanding (for now). It would seem the mid-range market of video cards has finally come into its own. After the let down that was the 8600GT/GTS, it is refreshing to see this level of performance that can be had for well under $200 USD. But I won't bore you with verbose ramblings. Let's break it down.
FINAL WORDS
Performance: 9.0/10 – There are two ways to look at performance; Absolute performance, which places this card in the middle of the pack under the 8800GT and above the HD 3870. And Performance value, which takes into account the price you pay for this level or performance. This is where this card excels. For the MSRP of this card you just can't get better performance.
SLI Performance: 9.0/10 – What about two of these cards? Do we get 10% more performance for 100% more of the cost? Thankfully it seems that SLI has really grown up and we are seeing some strong increases in performance when adding a second card. Even better is the performance of these cards when used with a 790i board. But I'll leave that for the next review.
Bundle: 10/10 – XFX includes everything needed with their Alpha Dog edition of the 9600GT. What really seals the deal for me is the inclusion of Call of Duty 4. For those who may be building a new system and not have any games yet it is great to see a new game included that will let you enjoy your new prize. Toss in a bunch of adapters and extras and you have a complete bundle.
Value: 8.0/10 – XFX has done a lot to make this card as desirable as possible and they have done well to that end. The only problem I have is with the factory overclock. For anyone who calls themselves an enthusiast it is simply a matter of economics. Buy the vanilla card and overclock it yourself to the same or greater levels and save the extra greenbacks to take out your girlfriend/boyfriend. XFX will still honor the warranty which is a great deal but you lose out on the free game.
Pros:
+  Exceptional performance for the price
+  Strong SLI performance
+  Black PCB (your mileage may vary)
+  Excellent bundle
+  Double lifetime warranty
Cons:
–  Heat sink fan is rather loud
–  Expensive; very close to 8800GT in cost
The 9600GT XXX from XFX scores a 9.0 out of 10 and receives the Bjorn3D Seal of Approval