The P5Q Deluxe is one of ASUS's top of the line P45 based boards and like the majority of these boards being released utilizes DDR2 in lieu of the newer DDR3. We can only surmise this is help spare the consumer the substantial cost of the newer memory while still maintaining above average performance. It is our plan to directly test this board against its X48 counterpart; either fuelling the fires for compelling arguments or helping to extinguish them.
INTRODUCTION
Just when the smoke had cleared and the dust was beginning to settle in the heated discussion over the attributes of the cheaper, yet very solid Intel® P35 based motherboards vs. the more highly feature laden and higher priced X38 based boards – along comes Intel to again stir the water. This time though we'll be substituting players, but we're quite sure the same issues will be raised. The new Intel® X48 based motherboards recently began to surface on the mainstream market; and in just a few weeks, their P45 based boards will also become reality. For argument's sake, the differences between the two are not quite as subtle as was the case with the P35 and X38 based boards.
The Intel® P45 boards will sport a die shrink of the onboard components to 65nm as opposed to the previous 90nm standard. This die shrink would lead us to expect less power consumption as well as improved power efficiency. The P45 also offers official support for PCIe 2.0 with more adaptable lanes to help better support the use of multiple GPUs based on the CrossFire™ architecture. The P45 based boards will feature the new ICH10 series southbridge, which is extremely close in its feature set to its ICH9 brethren, but the primary difference between the two is the ICH10 series has removed LPT and legacy PATA support entirely. While not officially offering support for the new 1600 MHz FSB processors we have it on good authority that most of the P45 boards will support these chips.
Armed with this information and a yearning to be one of the first to review this new and extremely tempting product we prevailed upon our friends at ASUS. They were kind enough to send us one of their P5Q Deluxe editions of this board. The P5Q Deluxe is one of ASUS's top of the line P45 based boards, and like the majority of these boards being released, utilizes DDR2 in lieu of the newer DDR3. We can only surmise this is to spare the consumer the substantial cost of the newer memory while still maintaining above average performance. It is our plan to directly test this board against its X48 counterpart; either fuelling the fires for compelling arguments or helping to extinguish them.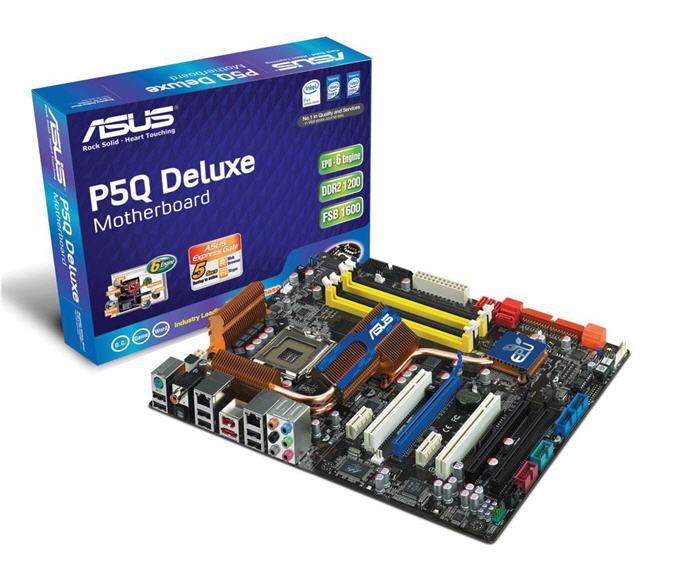 ASUS:  The Company

ASUS, a technology-oriented company blessed with one of the world's top R&D teams, is well known for high-quality and innovative technology. As a leading provider of 3C (computers, communications and consumer electronics) total solutions, ASUS offers a complete product portfolio to compete in the new millennium.

In 2006, the company shipped 55 million motherboards, which means one in three desktop PCs sold last year was powered by an ASUS motherboard. Our 2006 revenues reached US$16.5 billion, and is expected to garner US$23 billion in 2007.

ASUS products' top quality stems from product development. It's like learning Chinese Kung-Fu; one must begin with cultivating the "Chi" and inner strength. Besides innovating cutting-edge features, ASUS engineers also pay special attention to EMI (electromagnetic interference), thermal, acoustics and details that usually go unnoticed to achieve complete customer satisfaction. ASUS notebooks are the first TCO'99-certified notebooks worldwide. The requirements for this honor include radiation emission control, energy (battery consumption), ecology (environment friendly) and ergonomics.

To succeed in this ultra-competitive industry, great products need to be complimented by speed-to-market, cost and service. That's why all 100,000 over employees of ASUS strive for the "ASUS Way of Total Quality Management" to offer the best quality without compromising cost and time-to-market while providing maximum value to all customers through world-class services.

With unyielding commitment to innovation and quality, ASUS won 2,168 awards in 2006, meaning on average, the company received over 5 awards everyday last year. BusinessWeek ranked ASUS amongst its "InfoTech 100" for the 9th straight year. The readers of Tom's Hardware Guide, the world's largest IT website, selected ASUS as the best maker of motherboards and graphics cards. Furthermore, the company is ranked as No.1 in quality products and services by the Wall Street Journal.
FEATURES & SPECIFICATIONS
ASUS® P5Q Deluxe Edition
Detailed Specifications
CPU
Intel Socket 775 Core™2 Quad
Core™2 Extreme
Core™2 Duo
Pentium® Extreme
Pentium® D
Pentium® 4 Processors
Compatible with Intel® 05B/05A/06 processors
Supports Intel® 45nm CPU Dual & Quad Core Processors
Chipset
Intel® P45
Intel® ICH10R
Intel® Fast Memory Access Technology
System Bus
1600/1333/1066/800 MHz
Memory
4 x DIMM, Max. 16 GB, DDR2 1200/1066/800/667 Non-ECC,Un-buffered Memory
Dual Channel memory architecture
 
Expansion Slots
2 x PCI Express 2.0 x16 slots, support ATI CrossFireX™ at x8 speed (PCIe 2.0 x16_1 blue, PCIe 2.0 x16_2 black*)
1 x PCI Express x16 slot at maximum x4 speed (black)**
2 x PCI Express x1 slots
2 x PCI slots
*PCIe 2.0 x16_2 slots (black at maximum x8 link)
**If any other PCI Express x1 slot is occupied, this slot will downgrade to a maximum x1 speed.
Multi-GPU Support
Supports up to quad ATI CrossFireX™ GPUs
Storage
Southbridge:
6 xSATA 3 Gb/s ports
Intel Matrix Storage Technology Support RAID 0,1,5,10
Marvell 88SE6121 controller:
1 x UltraDMA 133/100/66 for up to 2 PATA devices
1 x External SATA 3.0 Gb/s port (SATA On-the-Go)
Silicon Image SIL5723 controller (Drive Xpert Technology):
2 x SATA 3.0 Gb/s ports
Supports EZ Backup and Super Speed
LAN
Dual Gigabit LAN controllers
Marvell® 88E8056 / 88E8001 Gigabit LAN controllers featuring AI NET2
Audio
ADI® AD1988B 8 -Channel High Definition Audio CODEC
Supports Jack-Detecting, Multi-streaming, and Front Panel Jack-Retasking
Coaxial / Optical S/PDIF outports on back I/O panel
ASUS AI Audio 2
ASUS Noise Filtering
IEEE 1394
LSI® L-FW3227 controller supports 2 x 1394a ports (one at midboard; one at back panel)
USB
10 USB 2.0 ports (4 ports at mid-board, 6ports at back panel)
ASUS Unique Features
ASUS Power Saving Solution
ASUS EPU-SIx Engine
ASUS Xtreme 16-phase Power Design
ASUS AI Nap
ASUS AI Lifestyle
 
ASUS Express Gate SSD
ASUS AI Direct Link
ASUS Quiet Thermal Solution
 
ASUS Fanless Design: Pure Copper Heat-pipe solution
ASUS Fanless Design: Stack Cool 2
ASUS Fan Xpert 2
ASUS EZ DIY
 
ASUS Drive Xper
ASUS Die-Hard BIOS
ASUS Q-Connector
ASUS Q-Shield
ASUS O.C. Profile
ASUS CrashFree BIOS 3
ASUS EZ Flash 2
ASUS Stylish Features
ASUS MyLogo3™
ASUS Exclusive Overclocking Features
Intelligent Overclocking Tools
ASUS AI Booster Utility
Precision Tweaker 2
 
vDIMM: 65 -step DRAM voltage control
vCore: Adjustable CPU voltage at 0.00625V increment
vChipset (N.B.): 49-step voltage control
vFSB Termination: 16-step reference voltage control
vCPU PLL: 65-step CPU PLL voltage control
SFS (Stepless Frequency Selection)
 
FSB tuning from 200MHz up to 800MHz at 1MHz increment
Memory tuning from 800MHz up to 3200MHz
PCI Express frequency tuning from 100MHz up to 150MHz at 1MHz increment
Overclocking Protection
 
ASUS C.P.R.(CPU Parameter Recall)
Back Panel I/O Ports
1 x PS/2 Keyboard
1 x External SATA
1 x S/PDIF Out (COaxial & Optical) port
1 x IEEE 1394a
2 x LAN(RJ45) port
6 x USB 2.0/1.1
8 Channel Audio I/O ports
Internal I/O Connectors
2 x USB connectors support additional 4 USB ports
1 x Floppy disk drive connector
1 x IDE connector
6 x SATA connectors (red)
1 x IEEE 1394a connector
1 x CPU Fan connector
3 x Chassis Fan connectors
1 x Power Fan connector
1 x COM connector
1 x S/PDIF Out connector
8-pin ATX 12V Power connector
24 -pin ATX Power connector
Front panel audio connector
Chassis Intrusion connector
CD/AUX audio in
System Panel Connector
2 x Drive Xpert SATA connectors (Orange)
System Panel (Q-Connector)
1 x Power on switch
1 x Reset Switch
BIOS
16 Mb AMI BIOS, PnP, DMI 2.0, WIM 2.0, SM BIOS 2.4
ASUS CrashFree BIOS 3
Manageability
WfM 2.0,DMI 2.0,WOL by PME,WOR by PME, PXE, Chasis intrusion
Accessories
UltraDMA 133/100/66 cable
FDD cable
8 x Serial ATA cables
1 x 2-port Serial ATA power cable
ASUS Q-Shield
User's manual
ASUS WiFi-AP @n manual
3 in 1 Q-connector
1 x 2-port USB2.0
1-port IEEE1394 module
1 x Optional Fans for Water-Cooling or Passive-Cooling only
 
Support DVD Contents
Drivers
ASUS PC Probe II
ASUS AI Suite
ASUS EPU-Six Engine Utility
ASUS Drive Xpert Utility
ASUS AI Direct Utility
ASUS Update
Image-Editing Suite
Form Factor
ATX Form Factor
12 inch x 9.6 inch ( 30.5 cm x24.4 cm )
Dimensions
270mm x 100mm x 32mm (L x H x D)
10.5in x 3.93in x 1.26in
PACKAGING & BUNDLED ACCESSORIES
The experts at ASUS switched gears on us a bit with the P5Q Deluxe, with a return to an older form of packaging as opposed to the newer style they have used in recent product releases. This package essentially has the motherboard and all its accessories grouped together, and simply separated by a cardboard partition. Recent packaging of some of their other products completely separated the motherboard and its accessories in different containers housed in a common package. While we prefer the newer style of packaging the older method has worked for many years with very few problems.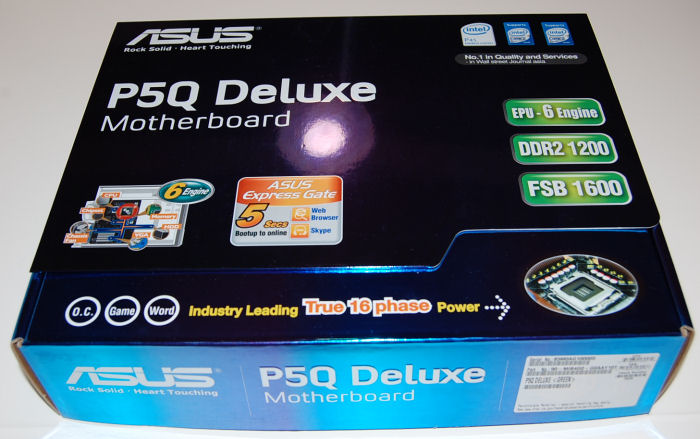 The rear of the package contains quite a bit of useful information for the prospective consumer.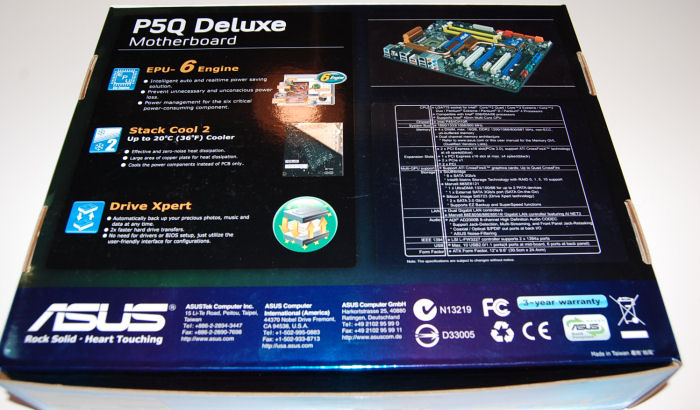 As we have stated before in our previous motherboard reviews: the amount of accessories included with most of "the new motherboards on today's market is nothing shy of phenomenal"! ASUS goes well beyond this point with their newest series of boards! Take a gander at what they package with the P5Q Deluxe – and this isn't even their premium series.
UltraDMA 133/100/66 cable
FDD cable
8 x Serial ATA cables
2 x 2-port Serial ATA power cable adaptors
ASUS Q-Shield
User's manual
3 in 1 Q-connector
1 x 2-port USB2.0 comined with a single port IEEE1394 module
1 x Optional Fans for Water-Cooling or Passive-Cooling
Support Disc

Drivers
ASUS PC Probe II
ASUS AI Suite
ASUS EPU-Six Engine Utility
ASUS Drive Xpert Utility
ASUS AI Direct Link
ASUS Update
Image-Editing Suite

 

Bundled Accessories

 
IMAGES & IMPRESSIONS
You can see from your very first glance that the ASUS® P5Q Deluxe is an extremely stylish, feature laden motherboard. While it lacks most of the colorful LEDS and other visual fanfare of its ROG counterparts, it makes up for this with many other useful features that appeal to a different type of enthusiast. Don't let the lack of pomp fool you – this board is every bit a performer. As the image below depicts, the board is an eye-catcher given its extensive use of copper in the passive cooling elements, and is really set off by the cobalt blue trim on the northbridge with the ASUS logo.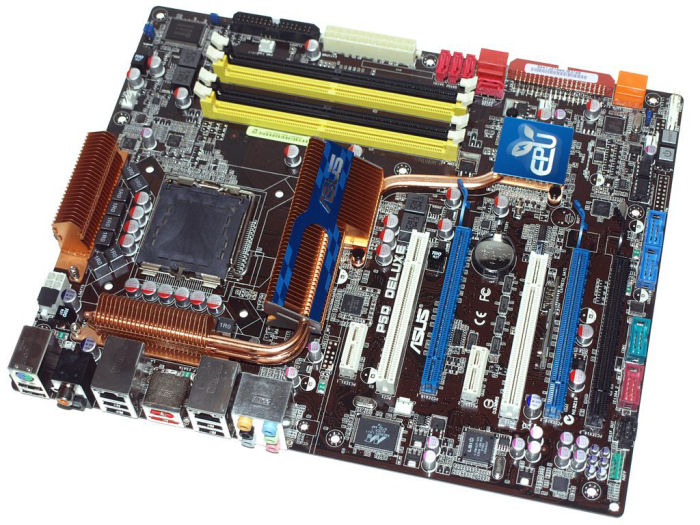 An overview of the components reveals that ASUS has continued to listen to their users and has used all solid core, high-quality conductive polymer capacitors in lieu of the cheaper, less reliable electrolytic capacitors that have been known to be troublesome on other motherboards. ASUS has also chosen to use their brand new 16-phase power design, which is reputed to reach a power efficiency of 96% and dispel heat generated by the VRM module by as much as 36 degrees Celsius.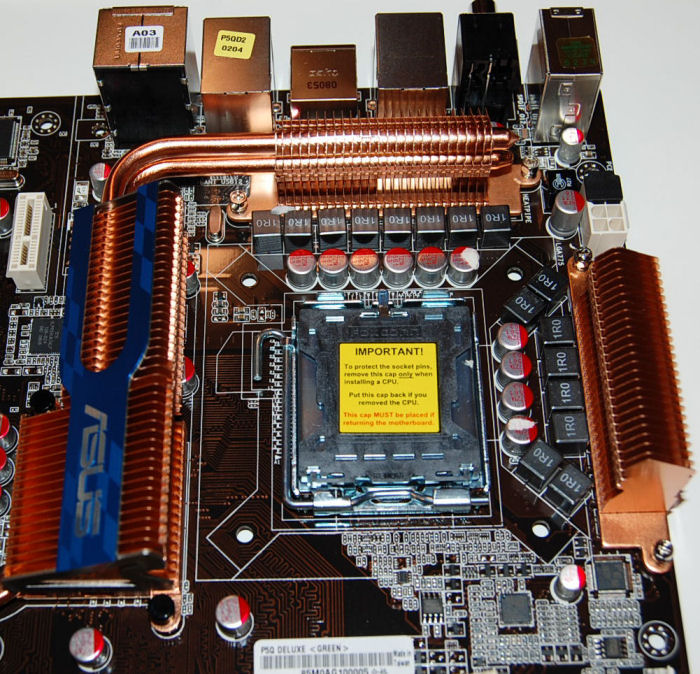 ASUS has continued its use of extreme passive cooling on the P5Q Deluxe; this coupled with the die shrink of the onboard components to 65nm, and the 16-phase power should provide an exceptionally cool running board in almost any demanding environment.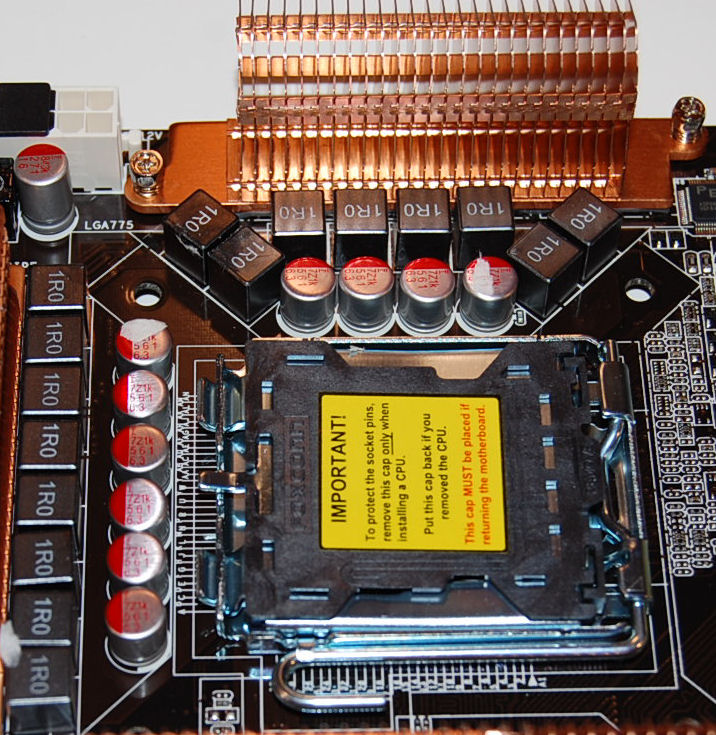 This motherboard supports the latest Intel® Core™2 processors in LGA775 package. It also supports the Intel® 45nm Multi-Core CPU with new Intel® Core™ micro-architecture technology and 1600 / 1333 / 1066 / 800 MHz FSB. The P5Q also supports DDR2 memory up to a blistering speed of 1200 MHz.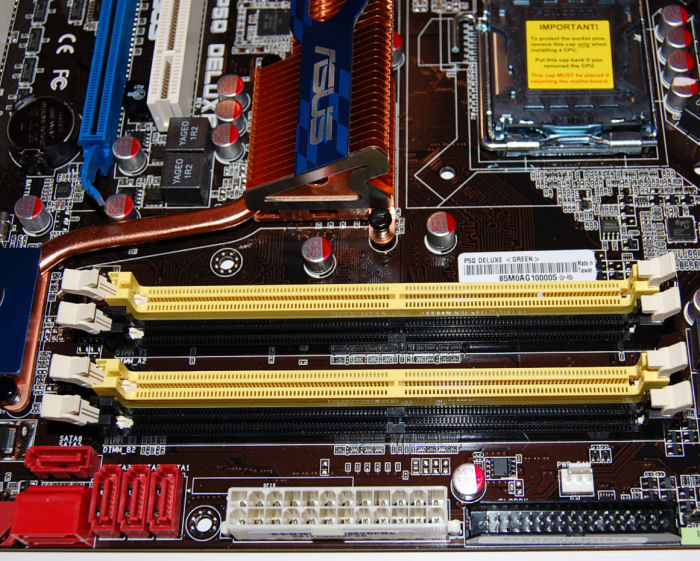 The P5Q Deluxe also supports AMD´s CrossFireX technology. There are 20 lanes available to the 3 onboard PCIE 2.0 ports. This means you can run one PCIe port at x16 and have the four remaining lanes split between one or both of the other two ports. When running CrossFireX the two PCIe ports operate a x8, thus leaving the four remaining lanes for the x1 ports or making the final PCIe port x4.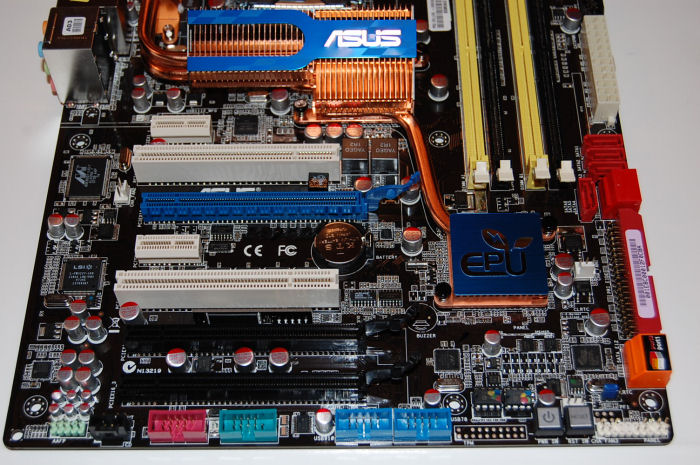 Stack Cool 2 is a fanless cooling solution offered exclusively by ASUS. It effectively and noiselessly transfers heat generated by the critical components to the other side of the specially designed PCB (printed circuit board) for effective heat dissipation, making temperatures cooler by up to 20°C. The Pure Copper Heat Pipe design effectively directs the heat generated by the chipsets to the heatsink near the back I/O ports where it can be carried away by existing airflows from the CPU, or a bundled optional fan. This innovative and groundbreaking fanless heat pipe design effectively lowers temperatures by up to 10°C without having lifetime problems that a normal chipset fan has. Furthermore, it provides options for users to install side-flow fans or a passive cooler. This Heat Pipe design is the most reliable fanless thermal solution to date.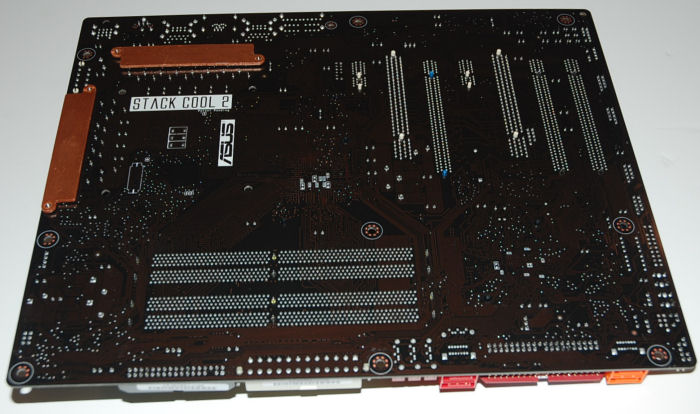 One feature we absolutely abhorred was the layout of the ICH10 red SATA ports. They are laid out in such a fashion that if you use a longer video card such as the 9800GTX you will be denied the use one and possibly more of the SATA ports as the board's length will preclude their use.  We applauded the layout of the SATA ports on ASUS's other boards where all six were at a 45 degree angle and would like to see the return of the configuration in future iterations of this board if at all possible.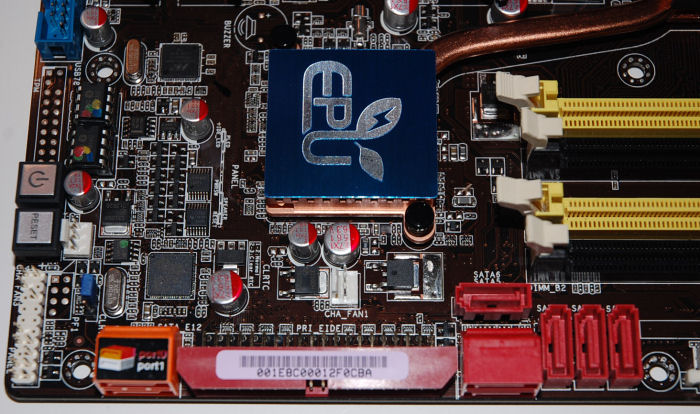 Finally, the rear I/O panel, which we feel is laid out very nicely and has all of the features (including an e-SATA port) that you would expect from an ASUS motherboard the caliber of the P5Q Deluxe.  You will also notice that ASUS has chosen to retain one PS2 port that can be configured as either a mouse or a keyboard; thus the half blue, half green color scheme.

EXPRESS GATE SSD
ASUS Express Gate SSD is a neat feature which uses an optional Linux OS bootup installed on a small flash drive on the board for quick access to the Internet in just a few seconds. Express Gate allows you to enjoy commonly used functions like accessing the Internet, VoIP, and Web emailing without entering the OS.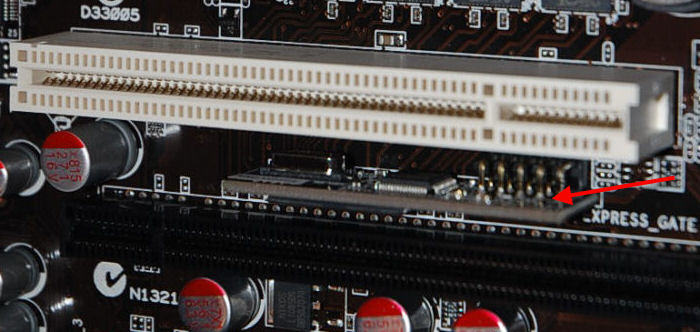 Flash Drive Housing Express Gate SSD
To operate the ASUS Express Gate SSD system one must first activate it in the Tools menu of the system BIOS. After that, when the P5Q Deluxe boots you will be presented with a full screen option that allows you to opt for Express Gate as opposed to booting into the operating system. Once chosen and configured, Express Gate SSD has you on the web in literally a matter of seconds, assuming you have a high speed internet connection.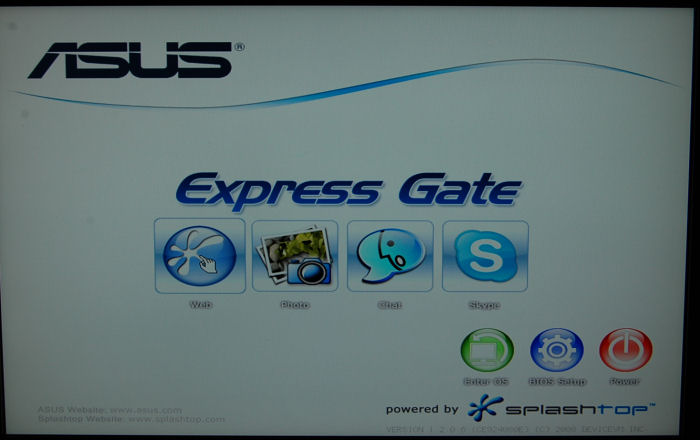 Main Express Gate SSD Screen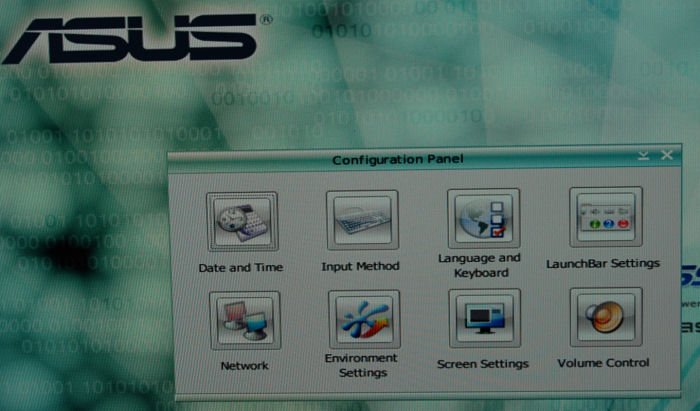 Express Gate SSD Options Screen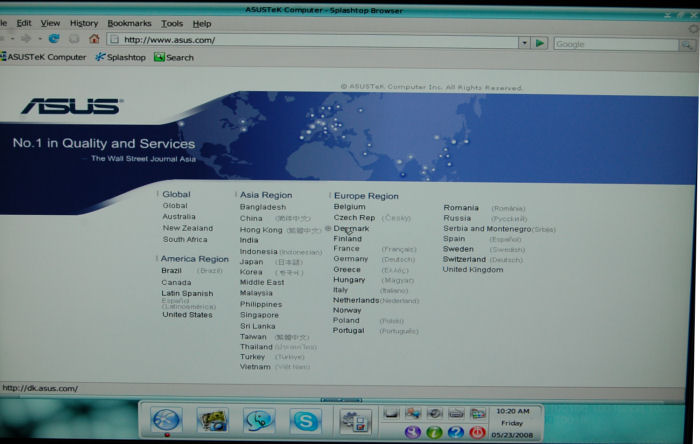 Default Express Gate SSD Home Page
We think the idea of Express Gate SSD is quite innovative except for one minor issue, you can't download from it as there is no room on the flash drive for storage; and you can't access your system's hard drives using express gate. We can envision the time when you need a certain driver or tool from the Internet to restore your main system to a working state. Express Gate SSD is your only means of accessing the Internet but there is no way to download the necessary component. If and when this is resolved we think Express Gate SSD will be a perfect adjunct to this and any other motherboard. We might add that we heard through the proverbial grapevine that in the near future ASUS intends to include Express Gate SSD on most if not all of its enthusiast level motherboards.
DRIVE XPERT
Think of ASUS Drive Xpert as your own personal drives as they require no BIOS settings or drivers to function. Drive Xpert functions using an onboard Silicon Image SIL5723 controller that operates 2 SATA 3.0 GB/sec ports. These ports are located immediately adjacent to the the standard SATA ports on the on the P5Q, the only difference is they are orange in color as opposed to red for the standard ICH10 SATA ports. To make Drive Xpert operational you must first enable the option in your system BIOS and then install the Drive Xpert Utility located on the support disk. Next install one or two drives, and you're ready to rock 'n' roll.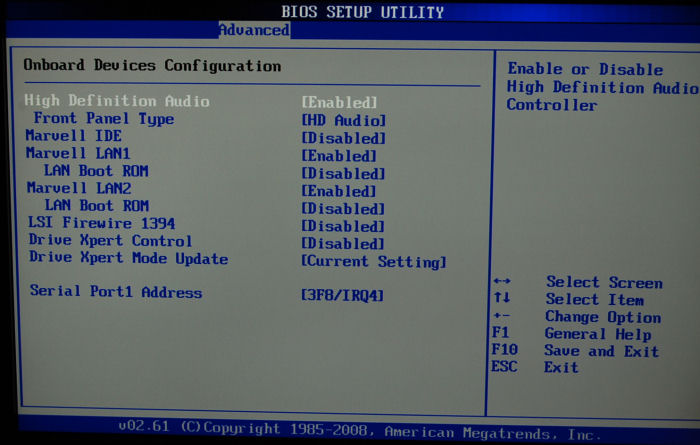 Orange Drive Xpert SATA Ports
If you use only one drive with the Drive Xpert system, you are limited to using only its data backup feature. With two drives you have the option of RAID Mirroring (RAID 1) in your data backup where the data backed up fails over to both drives. You also have the option of RAID striping (RAID 0) which is called Super Speed in Drive Xpert. Super speed greatly enhances the data transfer rate but doesn't offer the redundancy found in RAID 1.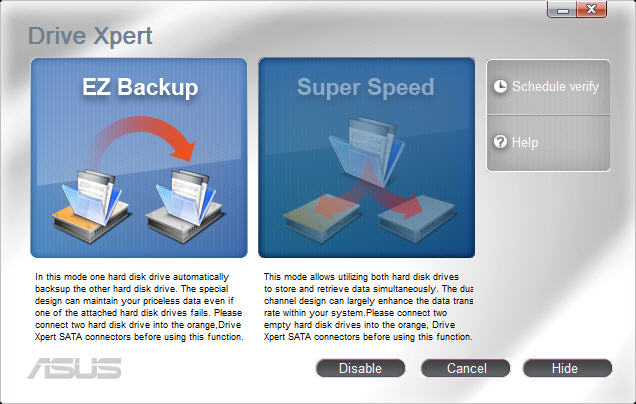 Drive Xpert Main Screen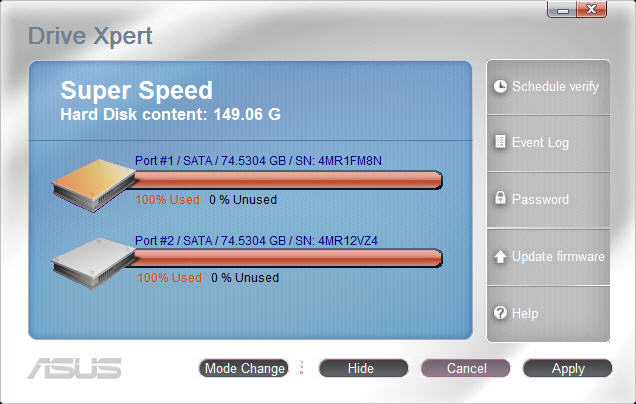 Drive Xpert Super Speed Screen
This is a wonderful adjunct to the ASUS P5Q Deluxe board! The beauty of the entire system is that it doesn't impact system performance when it is operational; think of it as having an onboard RAID controller completely separate from that offered by your ICH10 supported SATA ports.
BIOS
The internal infrastructure for the ASUS® P5Q Deluxe motherboard is per usual controlled by the American Megatrends, Inc. BIOS. The features shown in the images below are from the latest BIOS avialable for the P5Q at the time we began testing, version 0302.
Main BIOS Screen
The Main BIOS screen appears to be no different than that used on any version of any ASUS BIOS that we've seen over the past year. The features here are self explanatory and we won't insult your intelligence by reviewing each of them.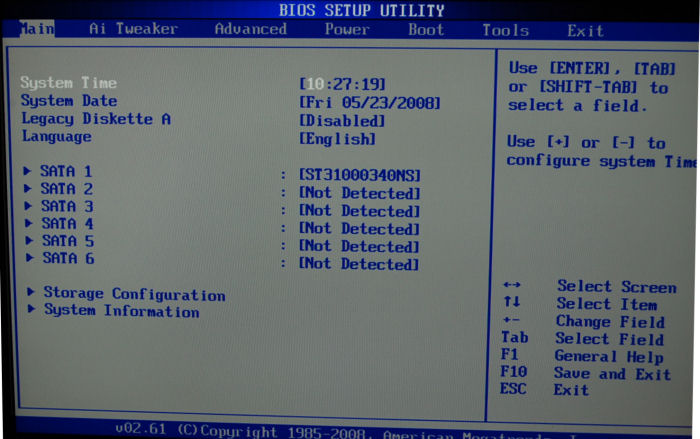 AI Tweaker BIOS Screen(s)
The AI Tweaker BIOS screens include all the features relevant to the entire board's system frequency, memory, and voltage – in other words: all of the overclocking features are located here. It is quite large and requires several images (below) to be able to view all of the included features.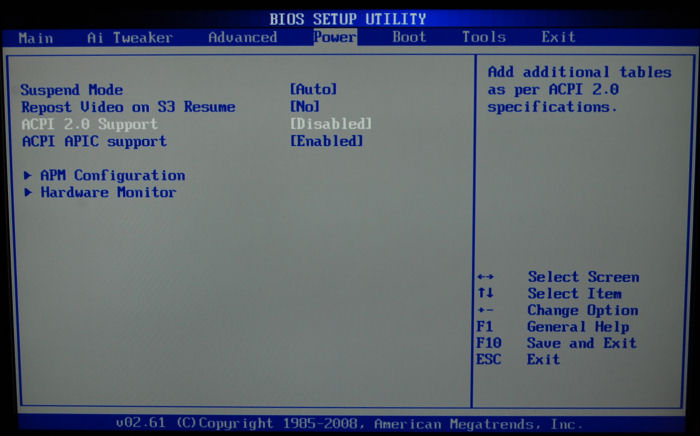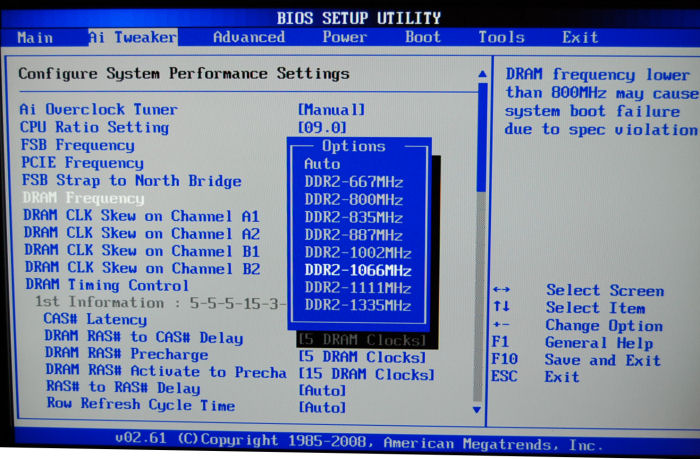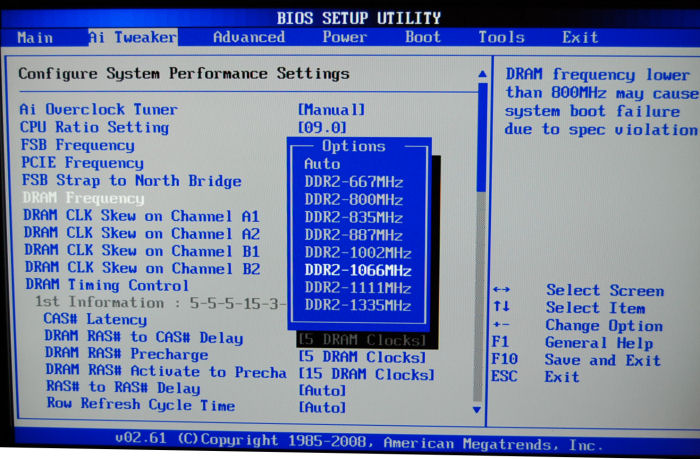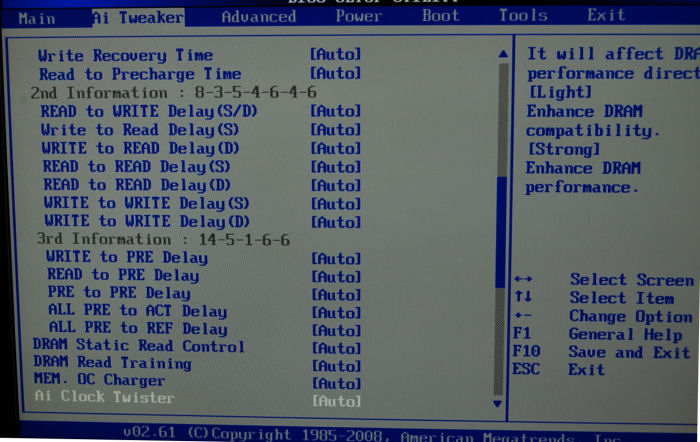 BIOS cont.
Advanced BIOS Screen(s)
The Advanced BIOS screens contain options for changing: CPU configuration, USB devices, AI Net 2, northbridge configuration, on-board devices, and plug and play options.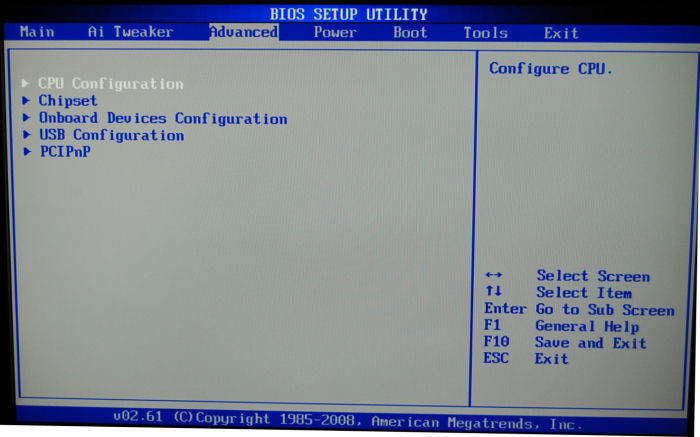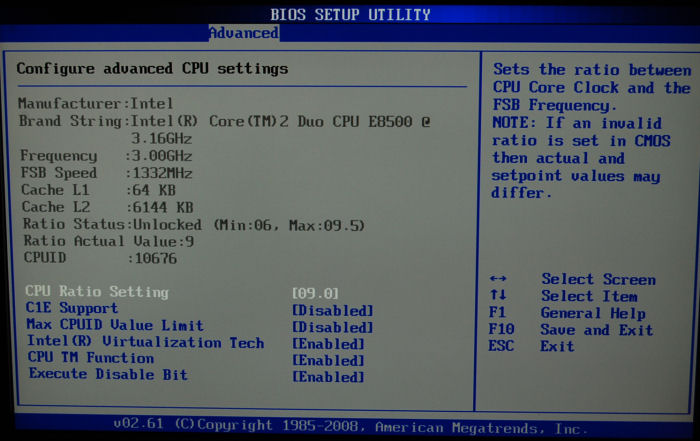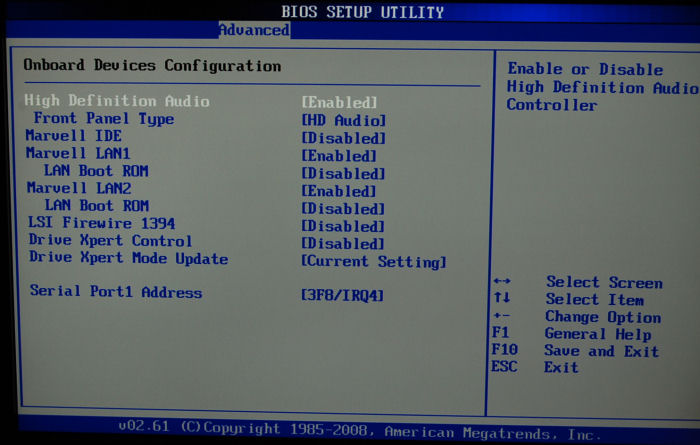 Power BIOS Screen(s)
The Power BIOS screens allow you to change settings for advanced power management and ACPI. Probably the single most interesting feature here is the Hardware Monitor which literally monitors either the RPM, temperature, or voltage on almost every phase of your boards operation. These values can be displayed on screen using the latest version of ASUS Probe II software included with the board on the utilities disk.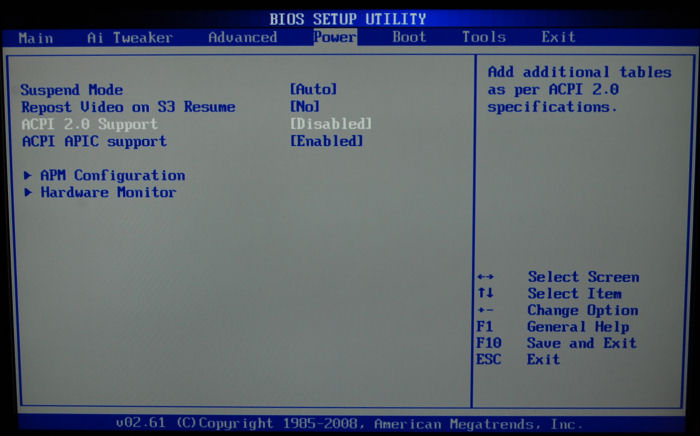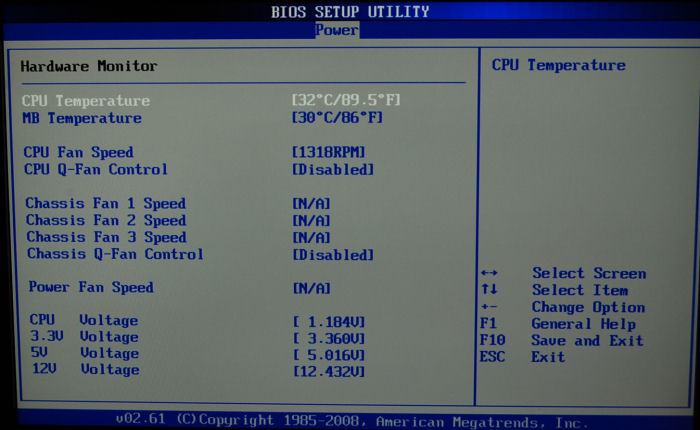 We add the next table on the vast majority of our motherboard reviews for the both the computer enthusiast and for the general consumer to use for comparison purposes. The table depicts all of the primary BIOS parameter ranges that would be of interest to anyone thinking of overclocking this board.
ASUS P5E3 Premium WIFI [email protected]
Primary BIOS Parameter Adjustments
FSB Strap to Northbridge
Auto, 200MHz, 266MHz, 333MHz, & 400MHz
FSB Frequency
Auto, 200MHz – 800MHz in 1MHz increments
PCI-E Frequency
Auto, 100MHz – 180 MHz in 1MHz increments
Dram Frequency
Auto, DDR2: 667, 800, 1066, 1200 MHz
CPU Voltage
Auto, .85V – 2.10V in .00625V increments (The 0V_CPU jumper must be enabled to reach 2.10V otherwise the max is 1.70V)
CPU GTL Voltage Reference 0/2
Auto, 0.370x – 0.760x in 0.005x intervals
CPU GTL Voltage Reference 1/3
Auto, 0.410x – 0.800x in 0.005x intervals
CPU PLL Voltage
Auto, 1.5V – 2.78V in 0.02V increments
FSB Termination Voltage
Auto, 1.2V – 1.9V (1.1V min fo 45nm processors) in 0.02V increments
Northbridge Voltage
Auto, 1.25V – 2.06V* in 0.02V increments
(The 0V_NB jumper must be enabled to reach 2.06V otherwise the max is 1.76V)
Northbridge GTL Reference
Auto, 0.370x -0.760x in 0.05x increments
DRAM Voltage
Auto, 1.5V – 3.088V in 0.02V increments
Southbridge Voltage
Auto, 1.1V – 1.40V in 0.10V increments
PCIE SATA Voltage
Auto, 1.50V – 1.80V in 0.10V increments
DRAM Command Rate
Auto, 1T, 2T
AI Clock Twister
Auto, Lighter, Light, Moderate, Strong, Stronger
AI Transaction Booster
Auto, Manual
DRAM Static Read Control
Auto, Enabled, Disabled
DRAM Dynamic Write Control
Auto, Enabled, Disabled
TESTING METHODOLOGY & TOOLS
Test Methodology
As we alluded to in the introduction, we decided to test the ASUS P5Q directly against its X48 cousin, the ASUS P5E3 Premium, using the Intel® E8500 45nm Dual Core processor. It should be noted that the P5Q supports DDR2 as opposed to DDR3 on the P5E3. We assembled a group of benchmarks – captioned below – that we feel are readily accessible, and more importantly free to the public sector for our testing. We feel the chosen benchmarks will be representative of this system's complete performance. You will also note that we ran all of the tests that were specific to 64-bit Vista operating system utilizing the recently released SP1. We also utilized both DX9 and DX10 for our gaming and GPU tests. All benchmarks were run a minimum of three times and an average of the results were posted.
We should also note that we initially tested this ASUS P5Q using the 0204 BIOS that it shipped with. After completing all the tests and benchmarks we became aware of the availability of a newer, more mature BIOS (0302). We opted to secure that BIOS, flash the system and retest everything. We're very happy we did as performance improved to a level much more commensurate with this board's apparent capability. Keep in mind we're still in the pre-release stage and things will only improve as each new BIOS is released.
Test Platform
Processor
Intel E8500 Core 2 Duo
Motherboard
ASUS P5E3 Premium WIFI-AP @n, BIOS 0151
ASUS PQ5 Deluxe BIOS 0302
Memory
4GB OCZ DDR3 PC3-12800 Platinum, 7-6-6-24
4GB Mushkin Ascent DDR2-8500, 5-5-5-15
Drive(s)
2 – Seagate 1TB Barracuda ES SATA Drives
Graphics
XFX GeForce® 8800 GT XXX running ForceWare 175.16 64-bit WHQL
Cooling
Noctua NH-U12P
Power Supply
Tagan BZ800, 800 Watt
Display
Dell 2407 FPW
Case
Lian Li PC-A17
Operating System
Windows Vista Ultimate 64-bit SP1
Unfortunately when testing a motherboard there is not set of "grass roots" tests that will speak to the motherboard's overall performance. It is therefore necessary to comparatively test the performance of the CPU, Memory, Hard Drive(s) and Graphical Rendering and then we'll draw assumptions from the results of these tests.
Synthetic Benchmarks
PCMark Vantage x64
PCMark05
3DMark Vantage v. 1.01
3DMark06 v. 1.1.0
SiSoft SANDRA XII Professional SP2
Everst Ultimate Edition v. 4.50.1330
SuperPi Mod 1.5XS
HD Tach RW 3.0.1.0
Cinebench R10 64 bit
WinRar v. 3.71
Lightsmark v. 1.3 Graphical Benchmark
Games
Crysis v. 1.02 64 bit … Dx9 & Dx 10
Company of Heroes v. 1.71 … Dx9 & Dx 10
PCMARK VANTAGE
"PCMark® Vantage is the first objective hardware performance benchmark for PCs running 32 and 64 bit versions of Microsoft® Windows Vista®. PCMark Vantage is perfectly suited for benchmarking any type of Microsoft® Windows Vista PC from multimedia home entertainment systems and laptops to dedicated workstations and hi-end gaming rigs. Regardless of whether the benchmarker is an artist or an IT Professional, PCMark Vantage shows the user where their system soars or falls flat, and how to get the most performance possible out of their hardware. PCMark Vantage is easy enough for even the most casual enthusiast to use yet supports in-depth, professional industry grade testing."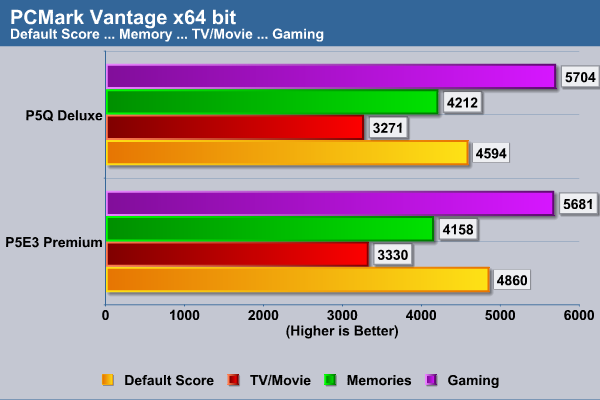 PCMARK05
"PCMark®05 is everything you need to reliably and easily measure the performance of your PC and determine its strengths and weaknesses. With PCMark05, you will be able to select the optimal upgrades for your existing PC, or choose the right new PC that fits your specific needs. This easy-to-use product gives you the same tools and knowledge that virtually every professional tester in the industry uses. "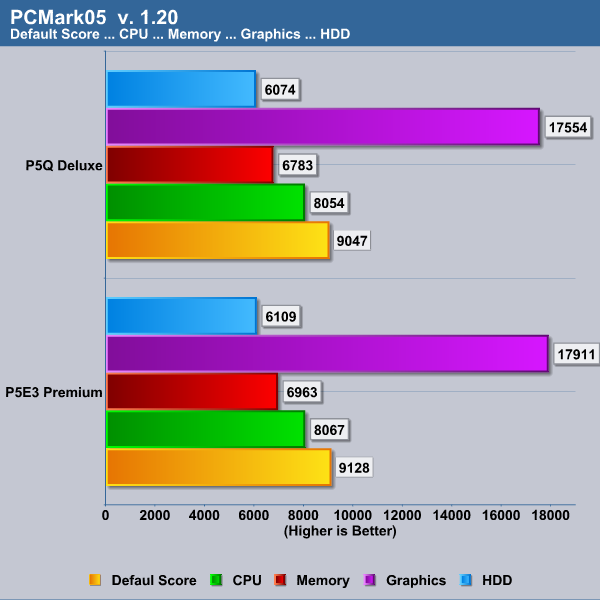 CINEBENCH
"CINEBENCH is a real-world test suite that assesses your computer's performace capabilities. MAXON CINEBENCH is based on MAXON's award-winning animation software, CINEMA 4D, which is used extensively by studios and production houses worldwide for 3D content creation. MAXON software has been used in blockbuster movies such as Spider-Man, Star Wars, The Chronicles of Narnia and many more. MAXON CINEBENCH runs several tests on your computer to measure the performance of the main processor and the graphics card under real world circumstances. The benchmark application makes use of up to 16 CPUs or CPU cores and is available for Windows (32-bit and 64-Bit) and Macintosh (PPC and Intel-based). The resulting values among different operating systems are 100% comparable and therefore very useful with regard to purchasing decision-making. It can also be used as a marketing tool for hardware vendors or simply to compare hardware among colleagues or friends."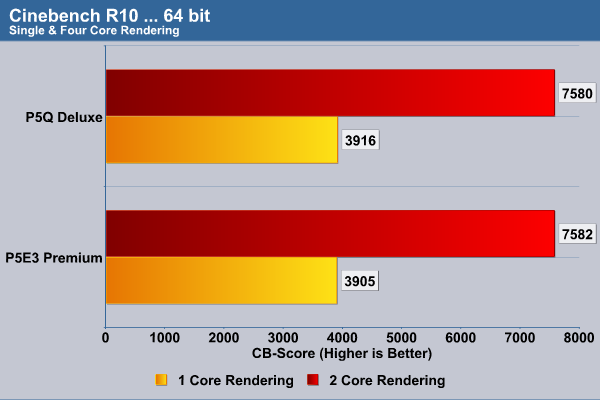 SANDRA PROFESSIONAL
"SiSoftware Sandra (the System ANalyser, Diagnostic and Reporting Assistant) is an information & diagnostic utility. It should provide most of the information (including undocumented) you need to know about your hardware, software and other devices whether hardware or software. It works along the lines of other Windows utilities, however it tries to go beyond them and show you more of what's really going on. Giving the user the ability to draw comparisons at both a high and low-level. You can get information about the CPU, chipset, video adapter, ports, printers, sound card, memory, network, Windows internals, AGP, PCI, PCI-X, PCIe (PCI Express), database, USB, USB2, 1394/Firewire, etc."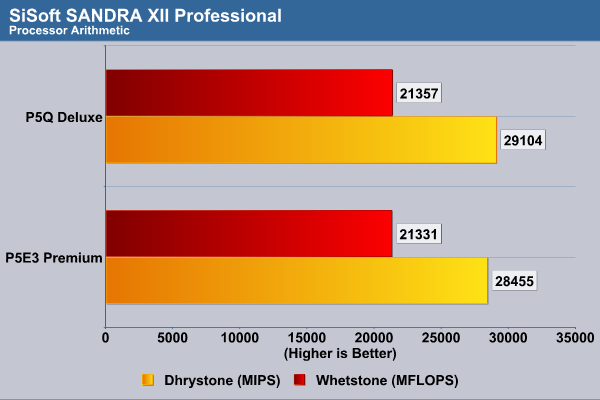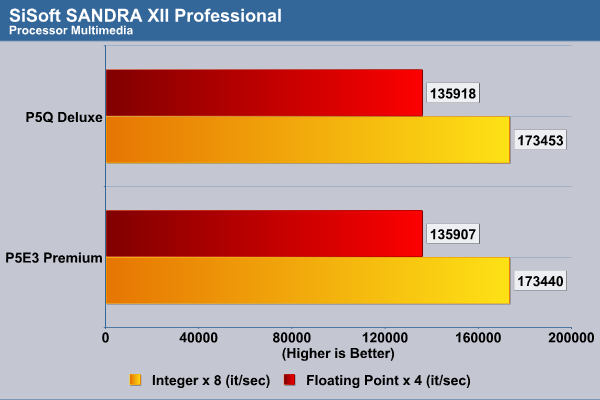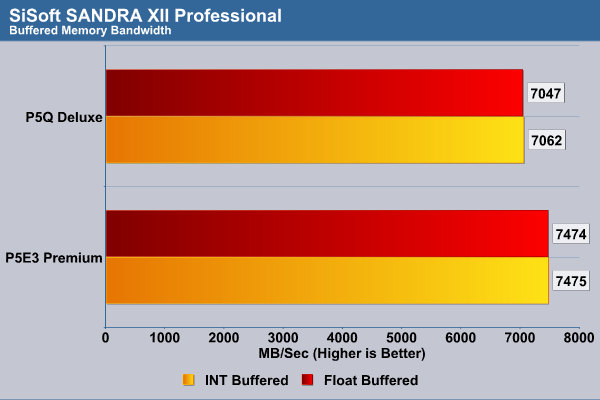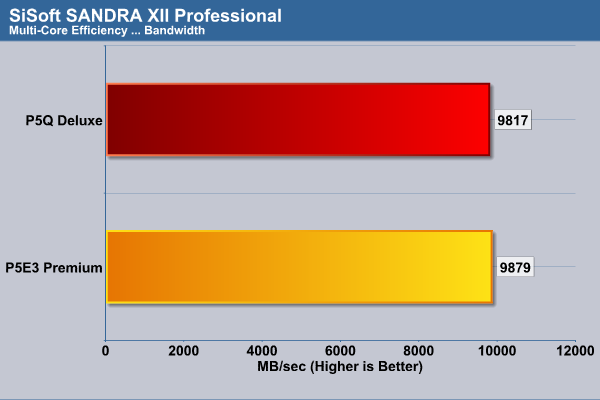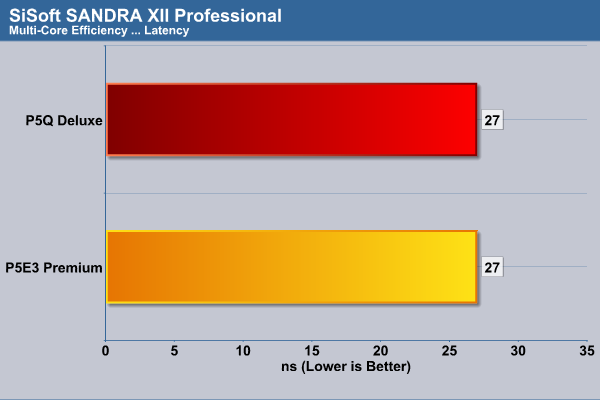 EVEREST ULTIMATE
"EVEREST Ultimate Edition is an industry leading system diagnostics and benchmarking solution for enthusiasts PC users, based on the award-winning EVEREST Technology. During system optimizations and tweaking it provides essential system and overclock information, advanced hardware monitoring and diagnostics capabilities to check the effects of the applied settings. CPU, FPU and memory benchmarks are available to measure the actual system performance and compare it to previous states or other systems. Furthermore, complete software, operating system and security information makes EVEREST Ultimate Edition a comprehensive system diagnostics tool that offers a total of 100 pages of information about your PC."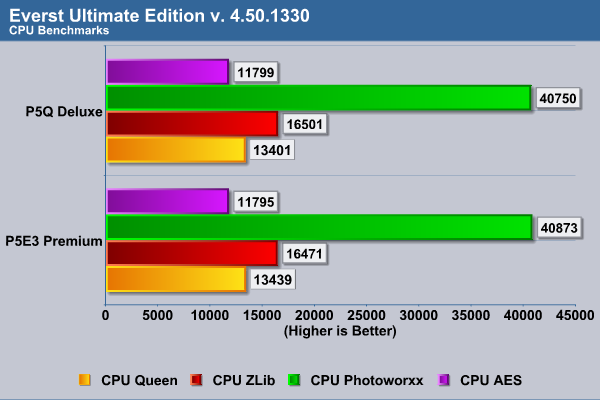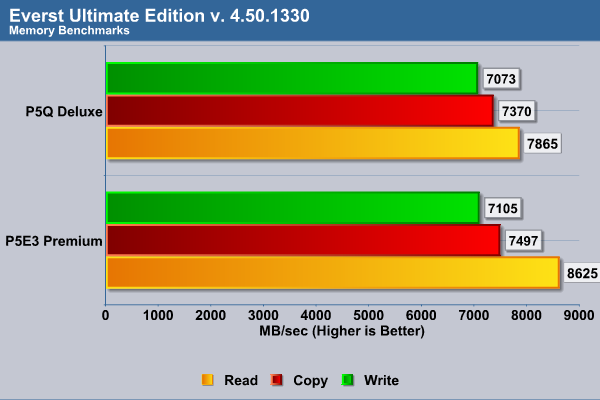 WINRAR v. 3.71
This module in WinRar generates random data, which contains specially introduced redundancy, increasing the load to both the processor and memory. Data is the passed through RAR compression and decompression algorithms, and the output of the decompression algorithm is compared to the source data. If any differences are found, WinRAR then reports "Errors found – Yes" in the command window. WinRAR displays a size of processed data and compression speed, current and resulting, in kilobytes per second.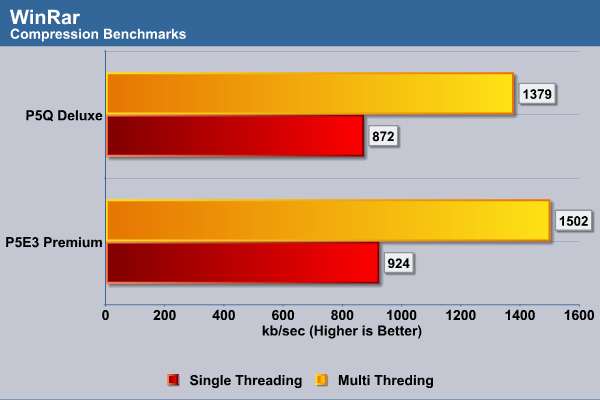 SUPERPi
SuperPi which is the "Gold standard" for many when it comes to judging system performance. We ran 1 and 2 Meg calculations, again running each test three times and reporting the average of the results.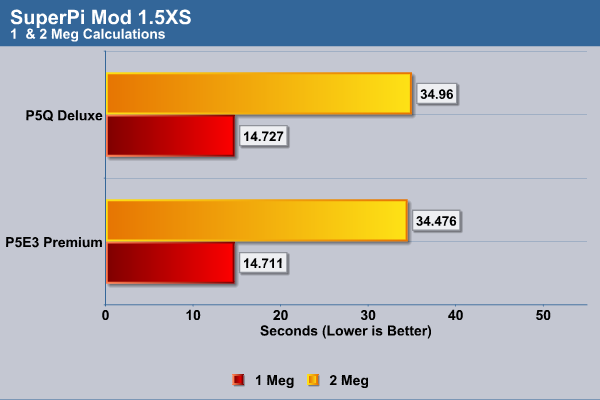 HD TACH-RW
HD TACH RW performs sequential read and write tests on removable media and non-partitioned fixed disks. HD Tach RW is also capable of performing the sequential read and write tests on the entire disk instead of the small number of zones in the quick and long test. We opted to use the Long 32(MB) tests in the sequential read mode only, as sequential writes are covered by other benchmarks.
Seagate 1TB ES Performance … HDT-RW 3.0.1.0

 
ASUS P5Q Deluxe
ASUS P5E3 Premium
Random Access Time* (ms)
13.0
13.1
Average Read Time (MB/sec)
85.4
85.4
CPU Utilization*
3%
4%
Burst Speed (MB/sec)
182.7
175.4

*Lower is Better … Otherwise Higher is Better
3DMARK06
3DMark06 developed by Futuremark is a synthetic benchmark used for universal testing of all graphics solutions. 3DMark06 features HDR rendering, complex HDR post processing, dynamic soft shadows for all objects, water shader with HDR refraction, HDR reflection, depth fog and Gerstner wave functions, realistic sky model with cloud blending, and approximately 5.4 million triangles and 8.8 million vertices; to name just a few. The measurement unit "3DMark" is intended to give a normalized mean for comparing different GPU/VPUs. It has been accepted as both a standard and a mandatory benchmark throughout the gaming world for measuring performance.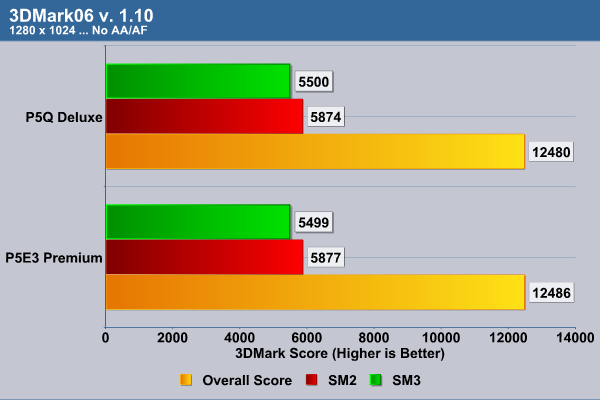 3DMark Vantage
3DMark® Vantage is the new industry standard PC gaming performance benchmark from Futuremark, newly designed for Windows Vista and DirectX10. It includes two new graphics tests, two new CPU tests, several new feature tests, and support for the latest hardware. 3DMark® Vantage is based on a completely new rendering engine, developed specifically to take full advantage of DirectX10, the new graphics API from Microsoft.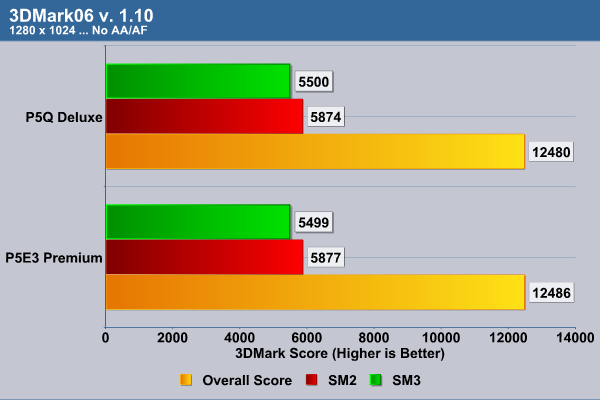 LIGHTSMARK
Natural lighting makes artificial graphics life-like. Computers get faster, but rendering more polygons doesn't add value if lighting looks faked, so insiders know that the next big thing is proper lighting aka Realtime Global Illumination. Typical workloads in realtime rendering will shift. Lightsmark simulates it. Global Illumination renders often take hours. Is your computer fast enough for realtime? Before Lightsmark, realtime global illumination was limited to small scenes, small resolutions, small speeds, specially crafted scenes with handmade optimizations. Lightsmark breaks all limits at once, running in reasonably sized scene (220000 triangles) in high resolution (1680×1050) at excellent speed (100-400fps). Lighting is computed fully and automatically in an original unmodified scene from the 2007 game World of Padman, not tweaked for Lightsmark and with all sorts of geometrical difficulties, with extra rooms hidden below floor, etc.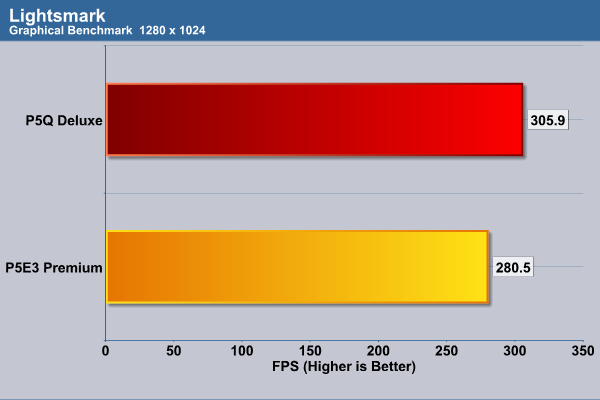 COMPANY OF HEROES
Company of Heroes(COH) is a Real Time Strategy(RTS) game for the PC, announced on April, 2005. It is developed by the Canadian based company, Relic Entertainment, and published by THQ. We gladly changed from the first-person shooter based genres of the rest of our gaming benchmarks to this game which is RTS. Why? COH is an excellent game that is incredibly demanding on system resources thus making it an excellent benchmark. Like F.E.A.R. the game contains an integrated performance test that can be run to determine your system's performance based on the graphical options you have chosen. It uses the same multi-staged performance ratings as does the F.E.A.R. test. We salute you Relic Entertainment!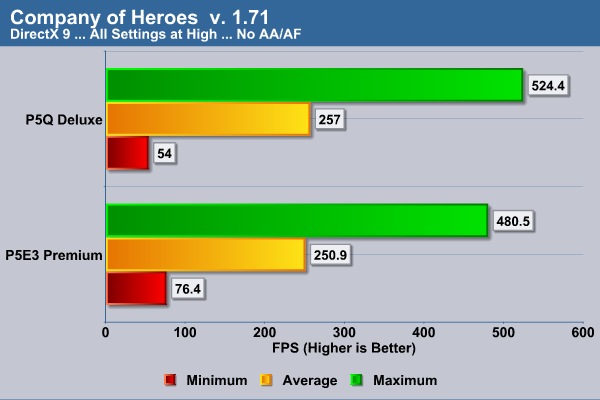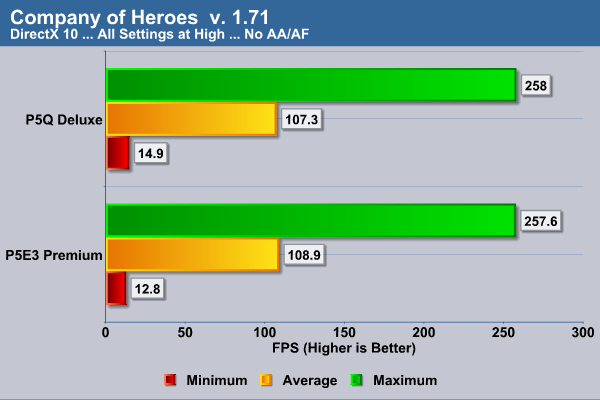 CRYSIS
Crysis is the most highly anticipated game to hit the market in the last several years. Crysis is based on the CryENGINE™ 2 developed by Crytek. The CryENGINE™ 2 offers real time editing, bump mapping, dynamic lights, network system, integrated physics system, shaders, shadows and a dynamic music system just to name a few of the state of-the-art features that are incorporated into Crysis. As one might expect with this number of features the game is extremely demanding of system resources, especially the GPU. We expect Crysis to be a primary gaming benchmark for many years to come.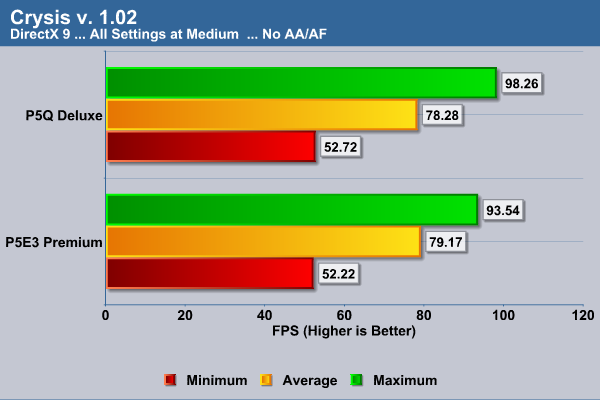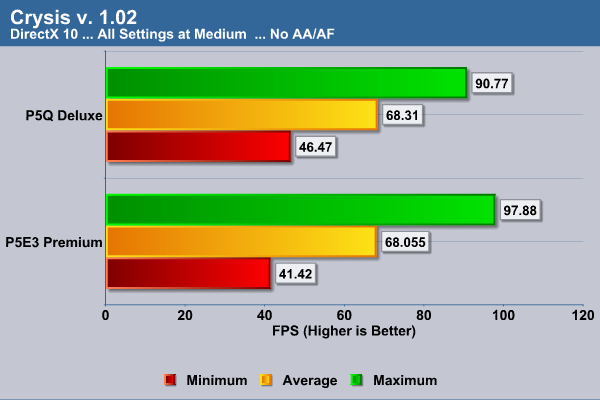 POWER CONSUMPTION SAVINGS
As I stated before in a previous review: "Power conservation appears to be a current mission for the vast majority of motherboard manufacturers, and with good reason. It is our opinion that the trend over the last year of having to buy huge, and in most cases extremely expensive power supplies to make your system perform up to its peak is not the direction we need to be headed in. ASUS has made a commitment to help keep power demand low on your system when you don't need peak performance and for most users that would average between 70% – 80% of the time." ASUS makes the following statement concerning their efforts with the P5Q Deluxe and their new EPU-Six Engine Utility:
"The new ASUS EPU – the world's first power saving engine, has been upgraded to the new six-engine version, which provides total system power savings by detecting current PC loadings and intelligently moderating power in real-time. Wiht auto phase switching for components (which includes the CPU, VGA card, memory, chipset, drives, and system fan), the EPU automatically provides the most appropriate power usage via intelligent acceleration and overclocking- helping save power and money."
To test these claims we installed the EPU-Six Engine utility which work now works independently of other necessary software, unlike ASUS's first EPU that required the installation of their AI Suite. It should be noted that for this utility to work correctly all BIOS settings should be set to Auto. The first image you see below is the EPU-Six Engine screen with all settings unchanged: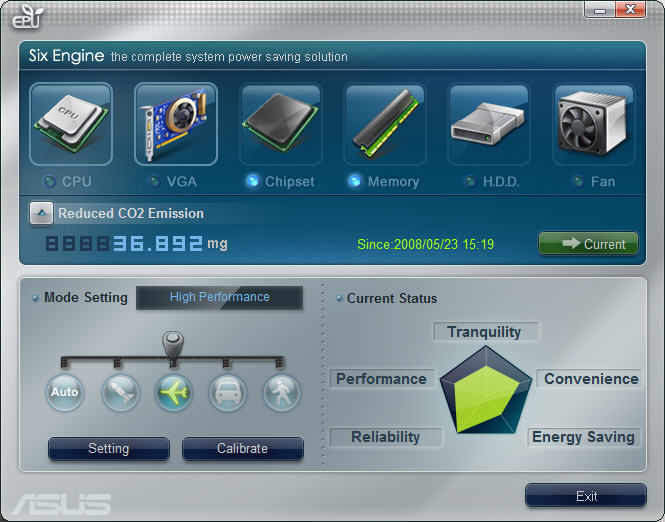 EPU-Six Engine in High Performance Mode
Next we changed the EPU-Six Engine Utility to each of the four available modes (Turbo, High Performance, Medium Power Savings, & Maximum Power Savings) and ran a 2 Meg calculation of SuperPi and recorded the times.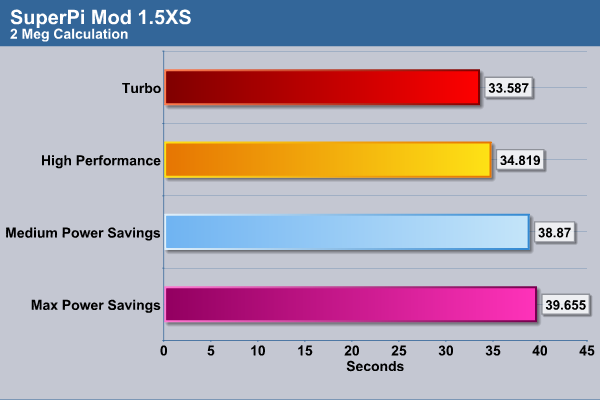 While each of the SuperPI calculations were running, we monitored the wall power utilized using our Seasonic Power Angel. We then calculated the percentage change from our baseline power utilization, which averaged 160 Watts without the EPU-Six Engine Utility installed. The previous graph shows we took a hit in performance, but we were amazed how little the performance changed given the power savings shown in the graph below.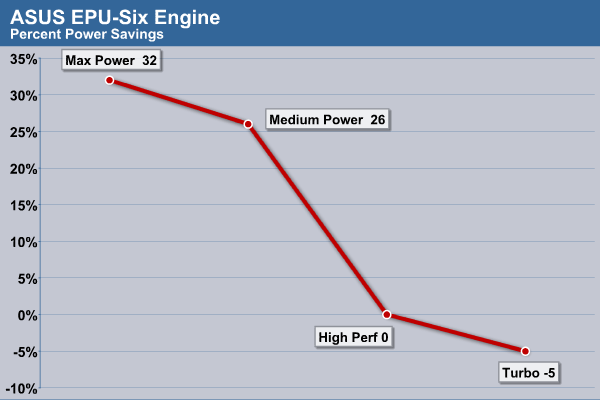 As we can see there is a vast amount of energy to be saved while still maintaining a good performance level. While we at Bjorn3D are by no means a bunch of "green freaks" we certainly are becoming much more aware of our environment and what we can do to help. Imagine the cost of electricity skyrocketing like that of gasoline, which could very easily happen. We say let's be proactive and begin saving power and our environment before we are mandated to do so.
OVERCLOCKING
Now on to our favorite area of any review, overclocking. We decided after the issues we experienced in attempting to overclock the Intel® X3350 45nm Core 2 Quad in our last review, we'd do the sensible thing and use an E8500 for the entire testing phase of this review. We're certainly happy we did! When we first received the P5Q Deluxe it had the stock BIOS 0204 installed and we initially did all our testing and overclocking with this BIOS. When it came to overclocking let's just say we were less than impressed. Shortly after completing the first testing and overclocking experiments with this board, we heard that a newer, much more mature BIOS was available. We again talked to our friends at ASUS who gladly provided us with their latest iteration, BIOS 0302. We retested everything and have to say the effort was certainly worth it, as this BIOS made a huge difference in all the results we are presenting.
We found the the 0204 BIOS was not friendly to higher front side busses even when running a lower multiplier. The 0302 BIOS was much more amenable to these changes but was not very tolerant of FSBs in excess of 480, even when using a lower multiplier and higher voltage. So we tried another approach: we kept all the voltages at stock, pushed the multiplier back to 9.5 and cranked the FSB in increments until we easily reached 430 for an effective overclock of 4.085 GHz. This was our best overclock using this methodology and it was completely Prime stable. We feel the limiting factor was Muskin memory that we used, as it would not clock any higher than 1160 MHz. While this is an excellent clock for a 4GB kit of DDR2-8500 we could have used more, but didn't have any faster DDR2 to try.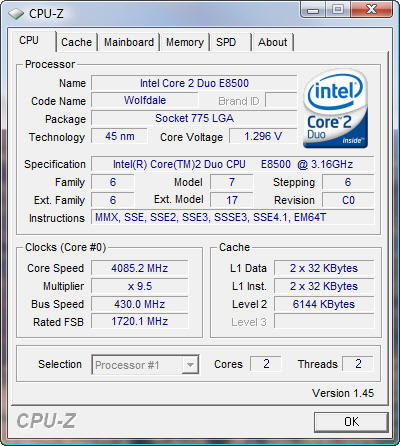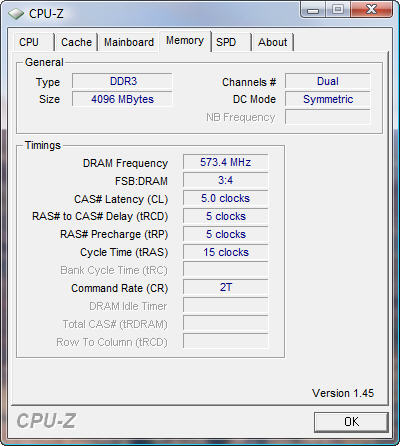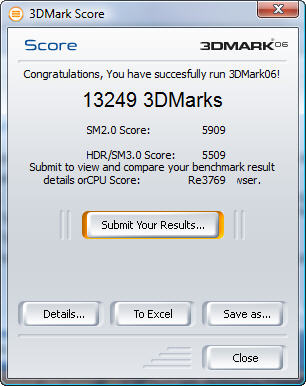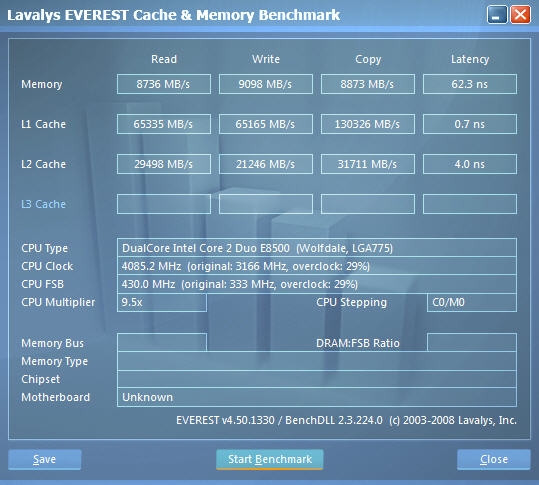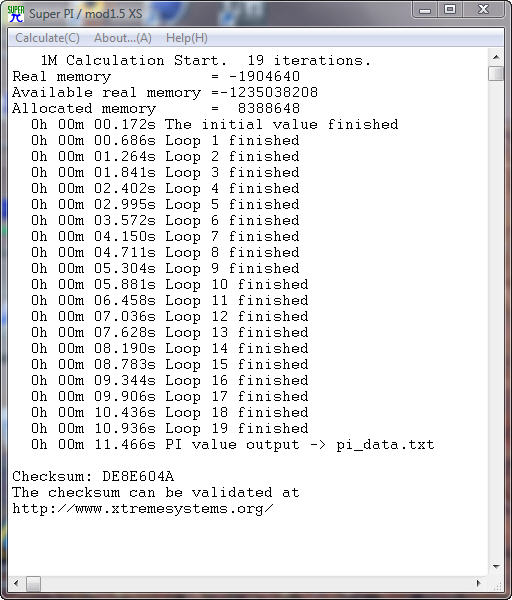 Due to time constraints we were not able to spend as much time tweaking this board using the new BIOS that we would have liked, and are certain that we just scratched the surface of what's capable with this board. We also think that as newer versions of the BIOS become available that we'll most likely see records set with the P5Q Deluxe utilizing the right set of complimentary components.
CONCLUSION
The ASUS P5Q Deluxe is ASUS's one of the top of the line P45 motherboards in ASUS's soon to be released fleet. We anticipate the retail price of this board to be somewhere in the neighborhood of $200.00 USD. It is highly feature laden for a board that is, as a matter of fact, the baby brother of the high-end X48 based motherboard. In our testing, all of the features worked as advertised, which is quite exceptional in today's market. The board is extremely well built using only the best components, as it should be for the price that you are paying. The P5Q Deluxe coupled with the Intel® E8500 Core 2 Duo processor yielded excellent results in most of the benchmarks that we ran. It is every bit as powerful as its much more expensive older brother, except when it came to memory-based tests, which was to be expected given the higher speed and bandwidth of the DDR3 memory modules that the X48 uses.
The layout of the ASUS P5Q is very good with the exclusion of the placement of its ICH10 (red) SATA ports which we expounded on earlier in this review. We also found the audio to be subjectively amongst the best we've experienced from an on-board solution. The Express Gate is a great feature that allows the user access to the Internet without the need to boot the board's full operating system. The only drawback of Express Gate is that it doesn't provide the space to download and retrieve a necessary component you might need in an emergency.
While we are aware that many enthusiasts do not have power consumption in the forefront of their minds, we, however begrudgingly, realize its an eventuality that we all must face. The ASUS EPU-Six Engine does an even better job than its predecessor of conserving energy without sacrificing a huge amount of performance. There is no real downside to the P5Q Deluxe, it is an excellent board that we feel we can give our highest recommendation to.
Pros:
+  ASUS EPU-Six Engine does an excellent job of conserving energy
+  Extremely Feature Laden
+  A plethora of overclocking options
+  Its overall feature set makes it an enthusiast's delight
+  A BIOS that is second only to the ROG series BIOS
+  Passive cooling of PWMs, North and Southbridge is exceptional
+  CrossFire™ Certified
+  PCI-E 2.0 support
+  Drive Xpert is a dream come true
+  Support for all current Socket 775 Core 2 Duo and Core 2 Quad processors
+  Exceptionally stable
 
Cons:
–  Express Gate doesn't have the space or accessibility to download files
–  Layout of ICH10 based SATA ports is horrible 
 
Final Score: 8.5 out of 10 and the Bjorn3D Seal of Approval.