Industry heavy-hitters Soyo and Honeywell have collaborated on a new line of LCD monitors dubbed the Arius. This 22″ model features tight specs; a built-in 1.3 megapixel camera, microphone, and speakers; and vertical capability in an aggressive attempt to compete with major manufacturers of the latest and greatest displays.
INTRODUCTION
Surprise! The aspect ratio of your monitor has nothing to do with technology. It's a reflection of our cultural perceptions of art and design, and this can be really irritating.
Outside of the PC realm, any viewing ratio departing from 4:3, 16:9, or 16:10 has always been aesthetically intentional (Fritz Lang, Roman Polanski) or scientifically pragmatic (35mm stills). End-users interested in these specific graphical endeavors have to adopt whatever ratio is necessary, and thus the ratio's popularity increases as a direct result of its amount of users. This is unfortunate for everyone else who prefers something different, because no matter what our world's favorite proportion is, it's never going to be perfect for the average Joe caught up in the flow of competing ideas.
In 2008, older viewers who have lived their whole lives in 4:3 will initially gawk at a custom interface like 11:15 and feel that the ratio is odd, confining, or forced – but no one is wondering whether or not a widescreen LCD looks awesome ripping HD, because we've warmed up to the idea in the movie theater. Widescreen seems like a natural evolution, although just a few years ago we were staring at our moderately hi-res, bulky 4:3 CRTs, and marveling at how crisp the images looked in comparison to a normal television. No doubt you'll see some of the hip kids reverting to 4:3 for its "vintage" appeal, and there might even be readers out there who have taken that stance already; arguing that the TV ratio they grew up watching Thundercats on will never – EVER – die, regardless of what widescreen is doing at large.
So you can suck it up and follow the crowd – if for no reason other than easing compatibility with the world's weird formatting preferences – or you could do something completely off-the-wall, and throw budget to the wind. More on that later.
Regardless of your personal idea of graphical perfection, Bjorn3D has been on the hunt for a total solution and a total departure; something that makes perfect sense by providing productive versatility, individuality, and great multimedia experience in a really unique way, and Honeywell sent us a pretty good place to start. Their new Arius 22" widescreen LCD offers enough flexibility to help you make some interesting changes – whether you're looking to clean up your lines and go minimal, or add a unique over-the-top component that sets your rig apart in a stuffy room of standards.
HISTORY
Honeywell is, at its core, an enormous corporation interested in noticing and exploring opportunity. These guys started way back in 1904 building heat generators, and just 20 years later expanded enough to become a reputable "producer of high-quality jeweled clocks." Around 1930, the company again changed its scope, and became "a worldwide leader in the field of industrial controls" through several key moves focusing on global expansion.

On a lateral timeline, Honeywell's sister company, AlliedSignal, focused on early thermostat and security applications, and in the 1960s moved towards chemical and natural resource research. When space exploration became relevant to the world, the company responded with complex aerospace designations to follow the market.
Never content to sit at status quo, the company signed a licensee agreeement with Soyo, Inc. around 2007, and brought in a "leading global provider of computer motherboards, computer peripheral devices, consumer electronics, networking, portable storage and broadband telecommunications products and services that meet the needs of all markets – from the end-user to the enterprise."

This company is ultimately responsible for the new Arius line, delivering under Honeywell's name to facilitate a push into the consumer electronics market.
WHAT'S IN A NAME?
The Arius moniker itself is somewhat esoteric, and a quick Googling reveals several interesting primers for dissecting its origin. Take your best guess: all traces of the word Arius lead to a genus of catfish, a river in Afghanistan, or a "Stoic philosopher in the time of Augustus." You could argue that the display's clean black lines disguise its myriad features under an unassuming appearance, and make a solid argument for the latter. Or, you know, you could just blast zombies in 22 inches of 16:10.
Here's how this Arius breaks down: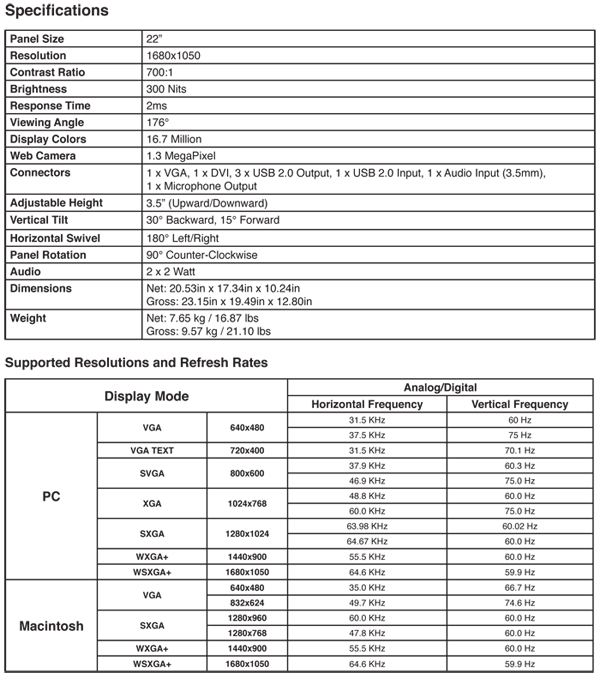 Indeed, an enticing mix on paper – but is it component overkill at the cost of practical usability?
FIRST IMPRESSIONS
The Box
Fully loyal to Honeywell's traditional red, the box uses callouts to snap the eye to its most important features. The ad-art leaves a nice professional impression that's not too busy, and it most likely sits well on the shelf with competing products. Inside we've got a functional four-post Styrofoam slip guard that keeps things still during shipping, and some other bagging precautions that should get your monitor across the world intact.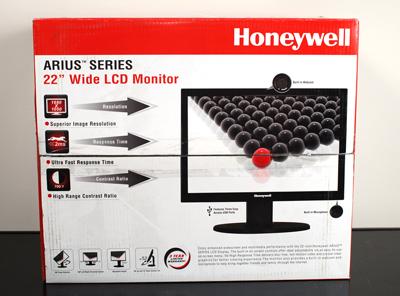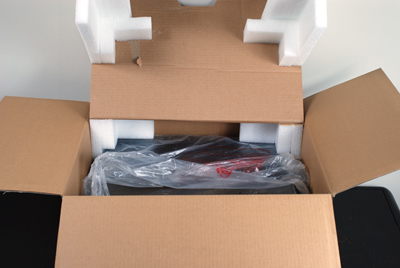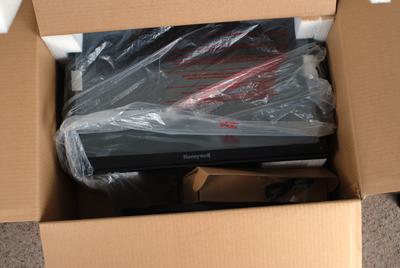 The Bundle
Inside the box we've got (1) AC Power Cable, (1) D-Sub VGA Cable, (1) DVI Video Cable, (1) USB 2.0 Cable, (1) Audio Cable, (1) Microphone Cable, (1) Cord Organizer, and (1) Owner's Manual. This is an unusually large amount of stuff to connect to a monitor.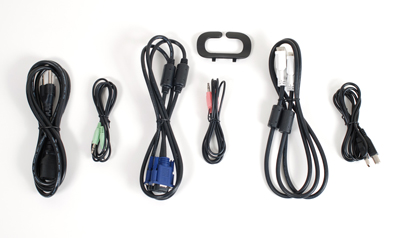 The Front
It doesn't get much more geometrical. This type of minimalism works if you want an audience attentive to the material on the screen, and not on the screen itself. If you look closely at the top center, you will barely make out the ultra-covert 1.3 megapixel camera; and if you jump down to the bottom right, you'll find (or WILL you? //dramatic_rodent) a completely hidden microphone, and a slightly-less discreet power LED.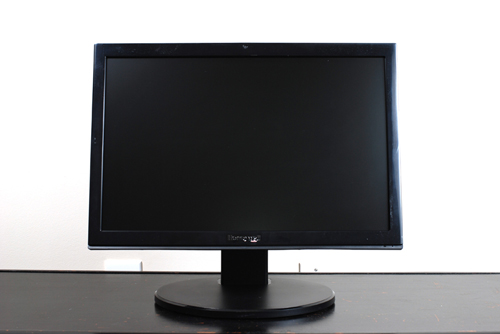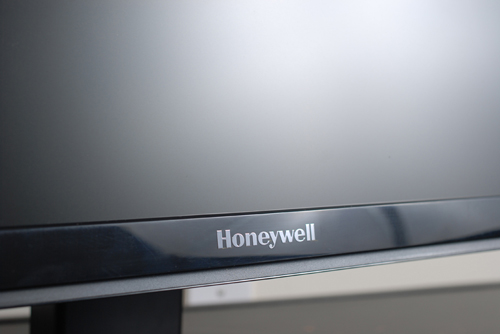 The Sides
Two female USBs are housed on the left, and there's not much else near them, which is nice if they're in use.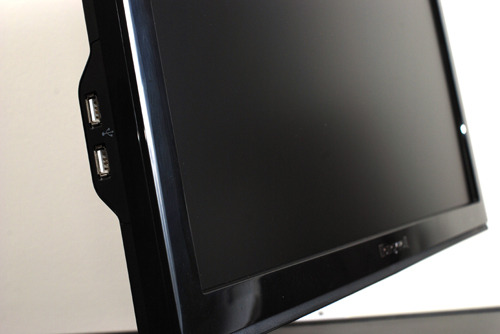 All of our controls are on the right, which is good for the clean look up front, but will make you stand up and peek until you memorize the location of each button. At the bottom of the monitor you can see some separation of the plastic faceplate from the unit itself; this most likely happened prior to shipping, as my Arius was packed in there pretty tight with no available play. I was able to snap the front plate back on the frame using almost no pressure, but this definitely isn't what you want to see as soon as you scope out your brand new $400 monitor.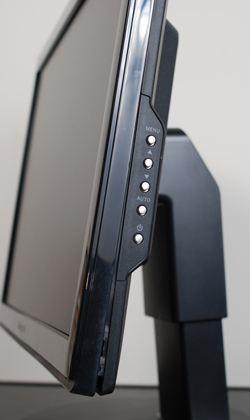 The Back
From the back you can see some warnings about voltage, and what Honeywell calls the "Transport Screw." This needs to be removed if you plan on assigning the monitor to a vertical orientation – which you will want to try. The base will spring out to suit the necessary portrait height, but there are no incremental settings between positions of "raised" and "lowered."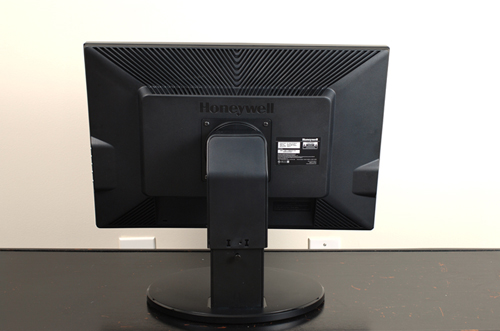 The Bottom
All your attachments take place here. Honeywell includes a clip bracket that assists in taming unruly cords, but considering the sheer volume of connectivity options, the ability to conceal stuff is limited unless you bring your own Velcro.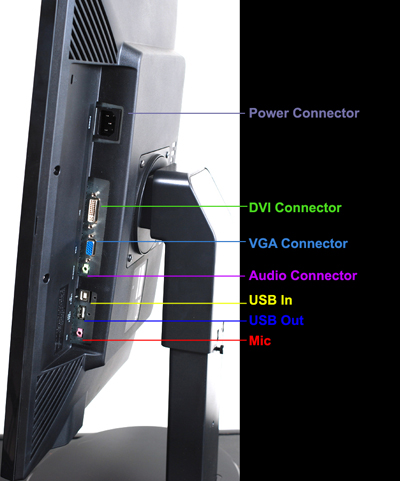 The Arius 22″ monitor is unique product with a lot of full-featured oomph, and has enough additional components to really clean up your desk. Some old fashioned science is in order to get this calibrated!
LAGOM'S TESTING
Unfortunately, it's not possible (yet) to attach an LCD to your video card and run benchmarking tools to gauge the monitor's performance. Evaluating an LCD demands lots of tweaking, button pushing, and squinting at calibration screens in a dark room – all before you step into real-world production, text reading, and game playing trials.
One of the better free tools out there can be found at www.lagom.nl/lcd-test/. The site provides some excellent tests to isolate many different elements that affect real viewing; like Contrast, Sharpness, Gamma, Black Levels, Color Banding, Inversion or Pixel-Walk, Response Time, Viewing Angle, and Contrast Ratio. We put the Arius through the calibration wringer before beginning our subjective testing to ensure all results were as accurate as possible.
Test Setup and Methodology
Test Platform
Processor
Intel Q6600 Core 2 Quad 2.4GHz @ 2.71 GHz
Motherboard

Asus P5W64 WS Pro | Rev 1 | BIOS 903

Memory

4 x 1GB OCZ RPR-1066 DDR2 @ 5-5-5-15

Drive(s)

WDC WD2000JB-00GVA0 PATA

WDC WD5000AAKS-22YGA0 SATA

PIONEER DVD-RW  DVR-107D PATA

Graphics

Asus GeForce 8800 GT TOP (174.85 Beta)

Power Supply
Ultra X3 800-Watt Modular Power Supply
Case
Ultra m998 mid-ATX
Operating System
Vista Home Premium 64 Bit

Monitors

Samsung Syncmaster 226bw

Test Item: Honeywell Arius 2216
Both monitors were tested side-to-side, at the same height, in horizontal orientation. The following is a list of notable occurences across all testing categories:
The Arius performed well in the Contrast category at stock settings, and distinctions were observed between each color bar down to number two and all the way up through 32. A perfect monitor would not show any of the shades in the "1" column, but we've yet to see a single monitor completely pass this.
In the Sharpness category the Arius was painfully sharp, and could not be adjusted to a more neutral value because there is no menu option to dial it down. The Samsung has a dedicated setting for "sharpness" that the Arius lacks. Certain users may perceive increased eyestrain during extended reading sessions unless the sharpness can be modified through the video card. 
At stock, the Arius handled the Gamma category well enough; the ideal blending value is at 2.2, and the blue bar gets close but does completely disappear. The other colors are slightly less successful, and cannot be modified on the Arius without manipulating contrast.
The Arius produces a nice deep black, which is shy of pitch, but more involving and accurate than that from the Samsung. Ideally, Box 1 would be visible, but both monitors here do not pick up the distinction. Box Two and higher are clearly seen on both monitors, with great White Saturation and Banding resistance.
In the Inversion category the Arius really struggles, and the performance is severe enough to inspire curiosity about whether or not the monitor is delivering voltages correctly. Box 1, 2a, 2b, 4a, and 4b are all headache inducing because of flicker. Box 4b is a normal problem zone for most LCDs, including the Samsung, but the other listed zones exhibit very subpar behavior on the Arius. 
Arius Response Time was also noticeably weak. When the Lagom's test was run, pink and blue squares were clearly active in Box A – Box E, as opposed to the Samsung's failing of only Box C and D.
The up-and-down Viewing Angle test is frustrating, with color fidelity ending about 10% north of center on both monitors. Putting the Arius into vertical orientation magnifies this issue.
Now that we're calibrated, let's look at some of the other components on the Arius and get some general impressions of how it performs in the wild.
PERFORMANCE, PART 1: MAKING THE MOST OF A MINIMAL SITUATION
Honeywell's Arius 22" monitor works best in a barebones business or home environment where less is more and you need one display to do it all. Consider this:
The Arius has two speakers mounted in the top. They aren't winning any awards for thunderous bass (2 x 2-watts), but they definitely play music and system sounds better than a case speaker, which is all some headphone-heavy users may want or need.
Honeywell has integrated a mic, and they put it in a location that makes sense – which means if you're using headphones during a multiplayer session, you won't need to strap on your super-cool shirt piece or get the boom stand out. A quick lesson in anatomy will show that while you're gaming your mouth generally faces the monitor, so gamers who are tight on desk space may find this practical. Beware, however: there is a tendency for the mic to distort, so try turning the volume down and speaking up before you resort to external.
The Arius has a built in webcam. It takes pictures that look like this: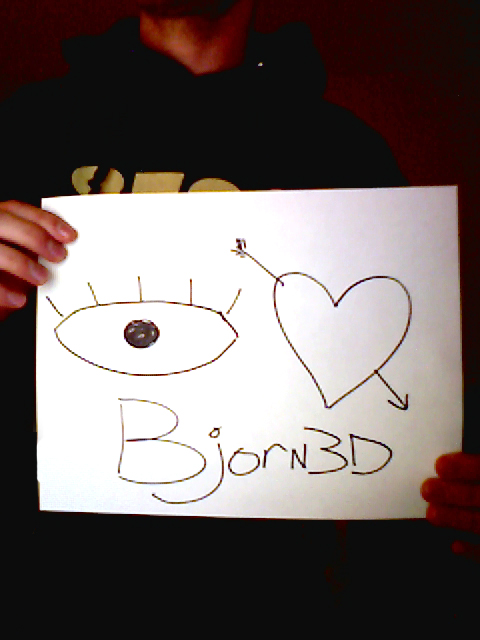 The automatic white balance and exposure metering capabilities leave something to be desired in a high-contrast situation, but the camera will take a very covert video in a bright room (nudgenudge, winkwink), and get you through conference calls and instant messenger sessions with a graceful-enough frame rate.
SUBJECTIVE IMAGE QUALITY & CLARITY
Image quality is the biggest reason to buy any display, and productive users might argue that there is no other reason at all. Clusters of dead pixels can immediately ruin functionality, and after extensively searching the Arius, I cannot find a single flaw in the screen. This is how all monitors should ship, and it's nice when you don't have to try out a new product's warranty.
Straight out of the box in widescreen format, the picture on the Arius is extremely bright and viewable from anywhere in the room. My old Samsung 226bw can't keep up in the brightness category, although both monitors are rated at the same level of 300cd/m2. But when you put the Arius in a vertical position and start walking around to view the screen from different angles, the Samsung is clearly more visible as you near 180 degrees.
Why?
In a vertical position the Arius becomes 10:16 instead 16:10, and now shows severe problems at the left side of its screen as you move farther away from the ideal viewing angle. I suspect that this would happen to the Samsung, too, if there was a vertical option, because monitors are generally designed for horizontal situations and then put on vertical pivots as an after thought. The weight of this tradeoff depends on your preferences and viewing habits, and you should think about your specific needs before investing in any new monitor.
Gaming and video playback were good on the Arius – no ghosting, no anomalies, good color contrast, nice deep blacks that didn't quite reach pitch. LCDs are no longer in their infancy and nothing less than acceptable performance should be expected from a monitor with these specifications; however, there was one situation I noticed in Call of Duty 4 while picking off enemies from down range that stuck out as needing improvement. It's obvious why. As shown in the Lagom tests, the Arius is a very sharp monitor. Because of this it renders repeating patterns like fences in a way that can look like poor anti-aliasing. Lagom tests also showed the Arius behaving strangely in the Reponse Time category, but during gaming and video playback there were no noticeable issues; which is to say, none of the natural media environments reproduced a similar scenario to that specific Lagom test.
During word processing, reading text occasionally felt like needles, and I would possibly prefer paper cuts and lemon juice to spread sheet assembly lasting over an hour.
Next, we'll put this beast in vertical orientation and smoke the tires!
PERFORMANCE, PART 2: VERTICAL SPECIALIZATION
Honeywell's Arius really goes to work when you set it as a vertical second monitor in your dual desktop configuration. Here's what it looks like on my work desk, straight up and down, at its stock brightness. You can see it excel in color accuracy too, looking better than the Samsung 226bw on the right: both of the desktop backgrounds are part of the same image calibrated to true white.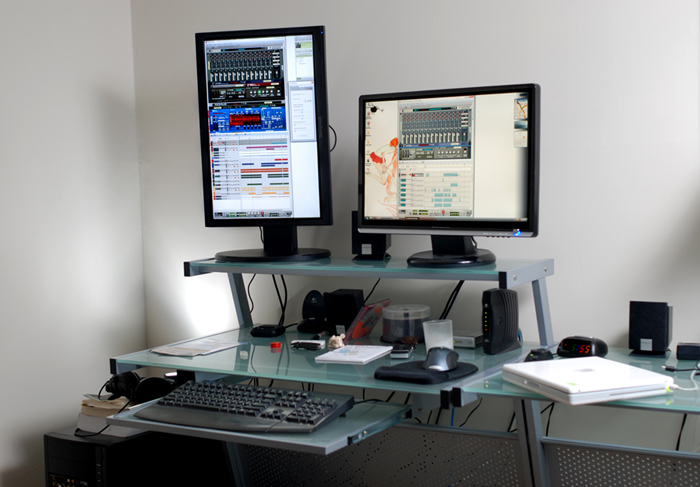 Below is snapshot of the actual dual desktop ratio. It is considered 2730 x 1680, and just saying those numbers out loud will make you realize how much stuff you will be able to fit onscreen when you add this monitor to a primary 22″.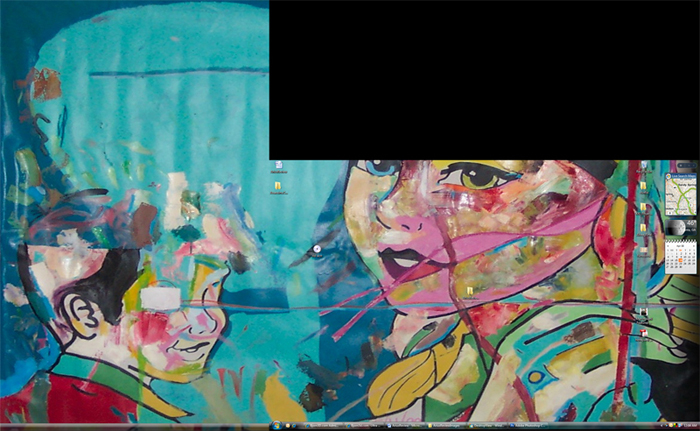 The black rectangle above is nonexistent space; there is no physical presence of a monitor there, and you can see the arrangement in the Display Settings snap below. The monitor locations are completely customizable, and travelling from one monitor to the next is intuitive: you simply drag your work over to the new space. The second monitor becomes a legitimate expansion of your desktop, and it's as easy as plugging the two displays into a capable video card.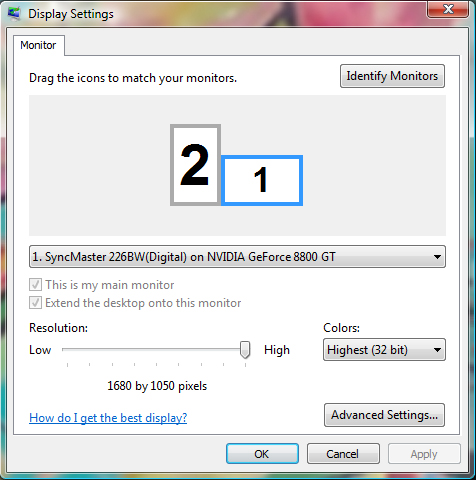 LOGICAL CHOICES FOR YOUR WORKFLOW
After spending some time in any kind of production environment, you will discover several applications that drive you nuts in widescreen ratios. Not everything is designed to suit a 16:9 or 16:10 screen, and no matter how clever you get with your interfaces, you simply cannot cram enough material in that space. Depending on the unique requirements of each project, your ideal ratio might be in a state of perpetual change from vertical to horizontal priority, and this is the last thing you need to worry about when your client is asking for a new draft.
Using Honeywell's Arius will let you scale your setup on the fly and outrun concerns for real estate, and two apps that clearly illustrate the benefit of its vertical option are Reason 4.0 and Flash CS3.
Reason 4.0
Reason is an amazing virtual music studio developed by Propellerhead Software in Stockholm, Sweden; and their new 4.0 release can be picked up for $499 USD.
Two identical instances of the application are open in the screener below: one is being run on the right monitor at 16:10, and the left instance is at 10:16 on the Arius. Use the green rectangles I've added around identical components as a place to begin your comparison.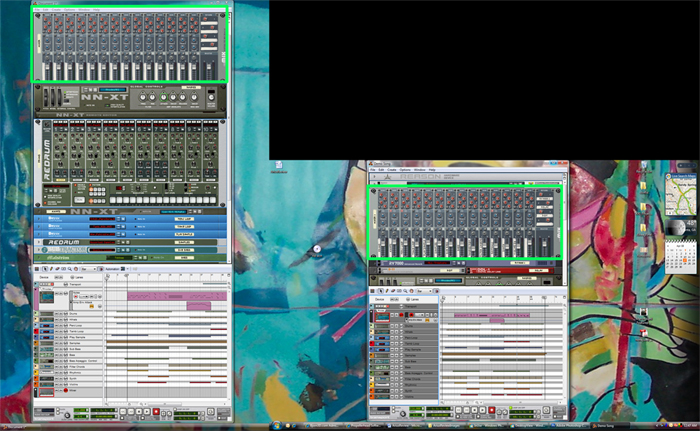 Every single track in the mix is accessible in the vertical orientation, along with two of the largest rack units. This is a huge plus for sound engineers, producers or artists who want to manipulate audio in real time while maintaining a comprehensive view of an entire song, because there is no way to stretch the software out horizontally and achieve similar functionality.
Flash CS3
Flash CS3 is the definitive production tool (I'll fight you on this) for creating rich web content, interactive animation, and quality banner ads. Once upon a time, Flash was a Macromedia product, but is now part of the Adobe creative suite. The app can be bought separately for $699 USD.
The Flash interface presents a similar situation to Reason 4.0. If you're not quite the Actionscript 3 guru you thought you'd be by now, chances are you're still wading through the dense timeline swamps of Never Ending Scrollbars. Things get crowded quick when you're organizing vertical layers, and it helps to view frame numbers to ensure animations begin and end appropriately.
Below is a shot of the same project presented in both vertical and horizontal orientation. Notice the difference?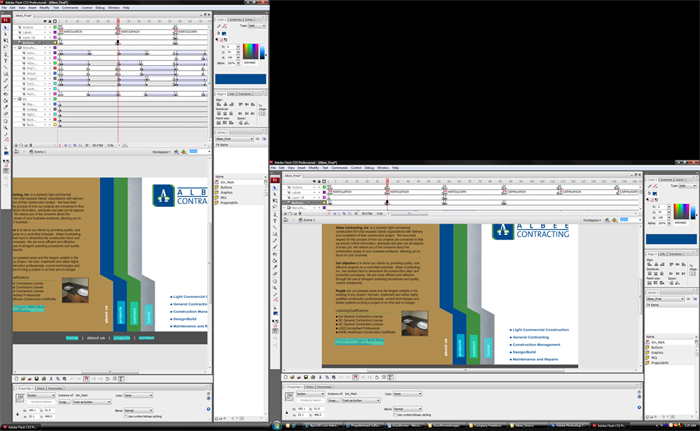 The vertical setup provides an easy way to push through movieclip timing challenges, while the horizontal mode excels at playback.
Say good-bye to resizing!
CONCLUSION
The Honeywell 22" Arius is a good effort because it offers a chance to flip the script on tradition and work in a new way. The purchase is worth considering if you want a minimal yet functional rig; or need a versatile and productive tool to help deliver a diverse range of intensive assignments. Portrait mode and a lengthy list of built-in features elevate the Arius above the typical 22" monitor, because you simply cannot find many 22" monitors that will go portrait. But while the Honeywell Arius 22″ LCD is exciting, there are several reasons we're not ecstatic.
Visit Honeywell.com and Soyo.com and read the company bios. These businesses have been dipping into different markets for many, many moons. Chances are, adding speakers, a web cam, and a USB hub to a monitor costs them a very small amount of money. Honeywell and Soyo are huge corporations with efficient supply chaining models, and the Arius MSRP needs to come down from $400 to qualify as a logical deal.
For a monitor over $300, the frame design itself looks and feels uninspired, and there's some pretty raunchy seams where the shiny plastic on the front meets the matte plastic on the back. My now discontinued $220 Samsung is built totally flush and delivers comparable image quality for significantly less cash. But Honeywell will tell you the Samsung is not a competing product – and they're right. The 226bw can't go vertical, and it doesn't have speakers, a web cam, or a microphone. But aren't users who are looking for a top-performing widescreen monitor putting money in superior external components anyway?
Target market is everything here. For corporate or home users working in Excel and Flash – who check email, surf, and occasionally need the speakers, USB hub, or the webcam – the 22" Arius will score a 8/10 because it acceptably accomplishes these tasks without going above and beyond. For the hardcore gamer or top-level designer looking for superior visual performance with some innovative industrial design, the monitor will feel more like a 6/10.
Why the difference?
The 22″ Arius isn't a stellar performer in visual categories alone, and the monitor's strength resides in its multitasking versatility. Enthusiast users who have already invested in top aftermarket components won't necessarily appreciate the redundancy here, and the true hardware-nut can make his or her money go further in a four-on-the-floor, performance-focused LCD, without the additional components adding to the invoice.
The vertical option is extremely encouraging and there are plenty of people who want to see more monitors with these capabilities, but the Arius 22" won't be the magic unit that sparks revolution in homes around the globe.
Pros:
+ Portrait mode!
+ Very bright
+ Excellent color accuracy
+
 Built-in speakers, webcam, and microphone offer an extensive feature set
Cons
–  Viewability angles suffer in portrait mode
–  MSRP is too high for design, component, and build quality