Today, we will be looking at the world smallest flash drive, the Pico, courtesy of Super Talent. Can this tiny flash drive deliver the performance as it can with its portability? Join us as we put it through our test and see for yourself.
INTRODUCTION
I often thought that US customers have such a narrow selection when it comes to the USB flash drives.  Look at Far East counties, like Japan, Korean, and Taiwan, and you can see an array of flash drives in different shapes and forms.  Of course, having a flashy looking drive really does not offer anything else as a flash drive is a flash drive.  However, I do think that as long as a flash drive is able to deliver the performance, having an exotic and eye-catching looks is certainly a plus. 
A few week ago, Super Talent has released world smallest flash drive—Pico.  I was so excited to see that finally someone has released something unique and different in the US.  I am so excited that I thought I must take a look at this baby and the folks at Super Talent are extremely generous and sent one out to us for review really fast.  So, here we are today, let's take this drive out for a spin, shall we.
 
THE COMPANY

Super Talent Technology, headquartered in San Jose, California, designs and manufactures a full range of DDR, DDR2, and DDR3 memory modules and Flash based storage devices for computers and consumer electronics. An ISO 9001 certified company, Super Talent utilizes its state-of-the art factory and leading-edge components to produce award winning products with outstanding reliability. Super Talent is an active member of JEDEC and ONFI standards bodies, and holds over 160 patents in Flash and DRAM technology.

Super Talent's Silicon Valley based electrical, mechanical, and software Engineering teams develop leading-edge DRAM and Flash memory solutions for a multitude of applications. Our US-based engineering enables Super Talent to bring advanced new products and technologies to market well ahead of the competition. A leading innovator, Super Talent holds over 160 patents on DRAM and Flash module design and manufacturing processes, making Super Talent one of the world's chief patent holders in memory device categories. Super Talent is an active member of JEDEC, the association that defines future memory standards. The company is a technical leader in producing industry standard memory modules as well as in developing custom memory solutions.
SUPER TALENT PICO
Super Talent ships the Pico in a plastic mold with the flash drive clearly visible from outside of the package.  I am always appreciated the fact that the plastic casing is not heat-sealed as you know how annoying to open those packages.  The unit is simply housed inside two pieces of plastic and to open it up is as simple as pulling to two pieces of plastic apart.  No more plastic cuts or looking for a sharp razor.
The Super Talent Pico drive comes in 1 GB to 8 GB of storage space.  There are three different designs:
Pico A: Swivel, water resistant
Pico B: Retractable
Pico C: Water resistant, rugged
SPECIFICATIONS

   Capacities:

  1GB – 8GB  

   Dimension:

A: 38.7mm x 12.4mm x 3.9mm
B: 31.8mm x 18.8mm x 4.4mm
C: 31.3mm x 12.4mm x 3.4mm

   Technical Details:

• Weigh less than 6g
• Up to 30MB/s (200X) data transfer rate
• Fully compatible with USB 2.0 and 1.1
• Powered by USB bus – no external power is required
• Durable solid-state storage – 10 years data retention
• Hot Plug & Play – enable you to install and uninstall Pico anytime
• PICO-A: Swivel, water resistant
• PICO-B: Retractable
• PICO-C: Water resistant, rugged

Pico drives are available in capacities ranging from 1GB to 8GB. 

Protected by US patents # 6,547,130; 7,257,714 and 7,103,684.
Pico series flash drive shares very similar design with aluminum body and weighs less than 6 grams.  In addition, they are less than 4 cm long and 0.5 cm thick.  The unit that we are looking at today Pico C is the smallest in size with 3.13 cm long.  To give you some sense, your thumb is probably bigger and thicker than the drive itself.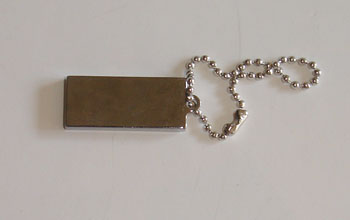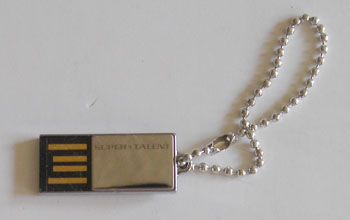 The Pico C is so small that it virtually has only a small area for the fingers to hold the drive and the USB connector.  On the front, you will see Super Talent engraveing.  The drive does not have any activity LED which I found is a bit disappointment.  As you can see that Super Talent is thoughtful to include a chain attached to the drive so you can use it link to your key chain.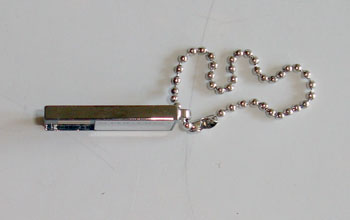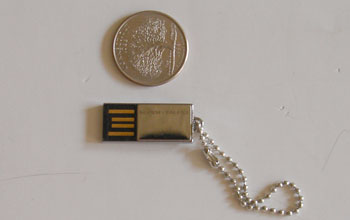 Putting Pico against other flash devices and you can get sense as to how small this thing is.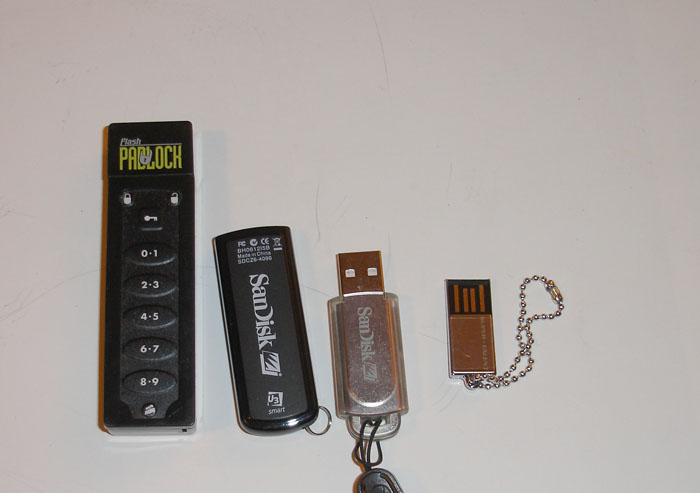 There is just one small complaint that I have with the Pico C.  It is with the exposed USB connector.  The exposed USB connector makes me wonder whether the metal contacts would be able to survive the scratches from your keys and coins if it's being left in your pockets.  Just so you know the Pico A and Pico B has no such issue as the Pico A has a protective shell and the Pico B is retractable. Only time will tell how durable the metal contacts would be able to withhold the stand of time from excessive abrasion.
TEST CONFIGURATION
TEST PLATFORMS

Processor

Xeon X3320 2.5 GHz

CPU HSF

Standard Intel Heatsink

Motherboard

Gigabyte EX38-DS4
X38 Chipset Socket 775
BIOS F2

Memory

OCZ DDR2 PC2-8500 Reaper HPC 4GB Edition @ 1066MHz with 5/5/5/18 timings (2T)

Drive(s)

Samsung HD501LJ 500GB/7200rpm/16M Cache

Graphics

XFX Fatal1ty 8800 GTS 320MB Forceware 169.25

Power Supply

Enermax Galaxy 850W

Case

NZXT Zero

Operating System

Windows Vista Ultimate SP1
RESULTS
HDTach 3.0.4.0
| | | | |
| --- | --- | --- | --- |
|   |  ST Pico | Corsair Padlock | SanDisk Cruzer micro |
| | 27.3 | 21.1 | 14.5 |
| | 26.3 | 20.3 | 13.1 |
| | 1.6 | 1.2 | 1.1 |
| CPU Utilization (% +/- 2%) | 4 | 3 | 3 |
As you can see, the Pico C performance is extra-ordinary, offering excellent burst speed and average read speed compare to other drives.  The random access time is a bit longer than others and cpu utilization is a tad higher but they are nothing to be alarming about.  I am quite amazed by the transfer speed as it is probably the fastest USB drive that I have tested so far and only a few drives which we have tested are able to offer something even close to such performance. Its performance has almost rivaled some of the external hard drive enclosure's performance and approaching the practical USB transfer rate.
Often the synthetic benchmark does not represent the real-world performance.  To simulate the real world performance, we copied a 329MB folder consists of multiple files and folders and a large file of 558MB to and from the flash drives.  We then use our trusty timer to measure the transfer time.
| | | | | |
| --- | --- | --- | --- | --- |
|   |   |  Super Talent Pico C | Corsair Padlock | SanDisk Cruzer Micro |
| 329MB (2030 files in 89 folders | To (seconds) | 458.18 | 410.20 | 193.77 |
| 329MB (2030 files in 89 folders) | From (seconds) | 16.05 | 25.13 | 84.46 |
| 558MB (1 file) | Copy To (seconds) | 65.13 | 85.35 | 61.32 |
| 558MB (1 file) | From (seconds) | 26.38 | 30.97 | 38.28 |
We get a better view of the Pico performance in the real-world tests.  We can see that in real world with multiple file transfer, the Pico actually has slowest transfer speed compare to the other flash drives.  In fact, during the benchmark, I observed some oddity with how the files are transferred.  The transfer speed of the Pico is extremely slow initially and speeds up close to the end of the transfer.  This is something that I have not seen with other flash drives.  In fact, with most storage devices, you actually get a fast transfer speed initially, called burst rate, and the speed slows down as the transfer progresses.
The Cruzer Micro takes a commanding lead in the multiple files transfer rate but barely beats the Corsair Padlock when it comes to a single large file transfer.  With our large file transfer, we can see that the Pico performs extremely well here, beating both SanDisk Cruzer and the Corsair Padlock.
CONCLUSION
I am fairly amazed by how far the flash drive has come.  I remember less than 10 years ago, we were using Zip disks that held a measly 100MB of data, which is nothing compare to today's 32GB portable storage space.  Today, not only the storage space has become significantly larger than before, the size of the portable storage has also shrunk to the size of a thumb-size as we have seen with the Super Talent Pico C.
 
The Pico is one of the best USB storage devices that I have ever tested.  Not only that it is small and portable, its transfer rate is excellent.  Although you can find 16GB or 32GB flash drives on the market, these drives do not offer the same portability as the Pico offers.  And for those who need larger storage space or may not like the "small" 8GB of space Pico offers may turn to 100+ GB HD based storage.  Pico has a couple advantages over these hard drive based storage, namely the faster access time and the shear factor of super tiny.
Pico is not perfect however.  We are a little bit concerned about the inconsistency of Pico's transfer speed.  It has excellent large single file transfer speed but its slow multiple file transfer speed is somewhat disappointing.  In addition, we would love to see some sort of activity indicator.
The Super Talent Pico almost earned our coveted Bjorn3D's Golden Bear Award if not for the inconsistency with its transfer speeds, however, we feel that it still deserves our Seal of Approval for an exceptional large single file transfer speed and for its portability.  Combine this with the limited life-time warranty offered by Super Talent, you just can't go wrong with this product.

 The Super Talent Pico will receive a score of 8.5 (out of 10) and Bjorn3D's Seal of Approval for its portability and excellent performance.
 
Pros:
+  Small and portable
+  8GB of storage space
+  Lifetime Warranty
+  Excellent large file transfer speed
+  Cheap
 
Cons:
–  Poor multiple files transfer speed
–  No activity indicator