Our mission is to find a keyboard that not only looks like it belongs with the rest of our pimped out gaming system but has the performance to match. Today's target is the Wolfking Warrior XXtreme gaming keyboard.
INTRODUCTION
In today's gamer-friendly market there seems to be no shortage of gaming peripherals to choose from. Unfortunately for the games, however, not all peripherals are created equal – making it difficult and risky to choose. Today I hope to help with your decision by taking a look at the Wolfking Warrior XXtreme gaming keyboard. As an avid gamer that has always used a basic keyboard, the comparison will prove to be a great test for the latest Wolfking.
Wolfking
WOLFKING is a gaming enthusiast focused technology company positioned at the leading edge of gaming interfaces and accessories.
The WolfKing keyboard is the creation of Wolfking Inc, their goal with this product was to produce a high quality gaming keyboard offering a serious alternative for those users who find a traditional style keyboard cumbersome when gaming.
"Developed together with the thinking caps of FPS gaming enthusiasts WolfKing, the ultimate gaming keyboard for FPS gamers makes for fast, accurate and deadly moves in order to help you get ahead of your counterparts. Engineered to give you the ultimate experience, its one palm size fits all keys concept makes your movement even more professional and precise as opposed to a standard keyboard. Experts can now play more professionally and beginners will be able to adapt to FPS games much faster and easier.
Most of us know the problems with most gaming keyboards is that under normal everyday conditions they are awkward to use and certainly not an ideal solution, in fact you are frequently compromising your comfort for slightly improved positions within games. In theory it is quite possible to use the Wolfking in a USB port alongside a traditional style keyboard, however not everyone will be overjoyed at the prospect of two keyboards on their desk.
PACKAGING
The Warrior XXtreme's packaging is eye catching to say the least. You will find that the keyboard comes protected in a very sturdy cardboard box sporting the Wolfking logo, and a picture of their combat ready wolf.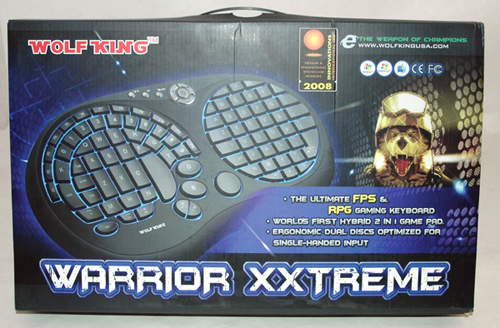 Lifting the front flap not only gives us a sneak peek at the keyboard itself, but product details and specs, which we'll save for later. The glossy piano finish on the top portion of the keyboard helps ensure it will adequately match just about any gaming shrine setup.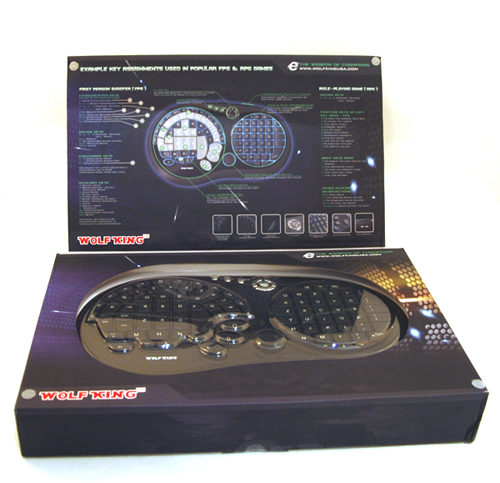 Heart is racing…must control Nerdy emotions!
If for any reason the cover and front flap failed to appease your appetite for information, you can find bit more on the back. In nine different languages.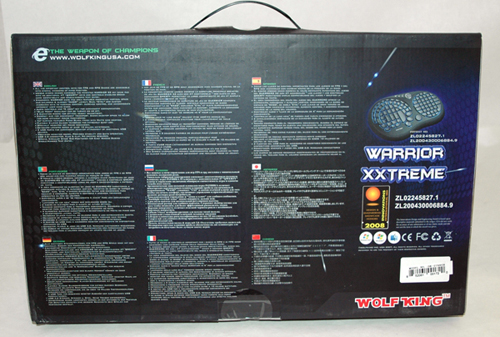 PICS AND SPECS
The design of the Warrior XXtreme screams beauty and ergonomics, adding upon the already successful Warrior gaming keyboard layout. One of the largest differences between the Warrior and the Warrior XXtreme are the additional keys on the right side of the keyboard.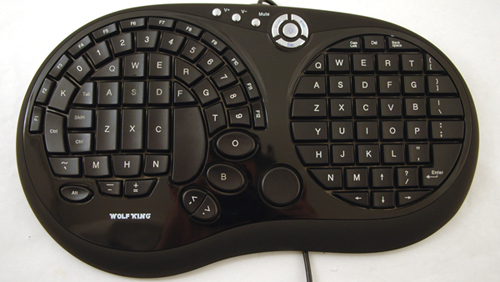 All the important control keys for the FPS and RPG Games are accessible with minimal changing of hand position.

Unique hybrid design combines the patented WARRIOR 52 key game pad with an additional 47 "QWERTY" keys and controls enabling broad game compatibility and single-handed text entry.

Ergonomic WARRIOR game pad area features innovative vertical space bar enlarged & aligned "WASD" layout, Dual "Ctrl" and custom oversized keys to maximize comfort, increase control and accommodate different user hand sizes.

Audio controls and "K lock" key for convenient communication.

"Blue Moon" backlight can be turned on or off.

2 Elevation risers for optimal height adjustment.

Compact size for convenient transport. Saves desktop space to allow for more efficient mouse positioning.

Top surface features Piano Black finish with Matte side coating.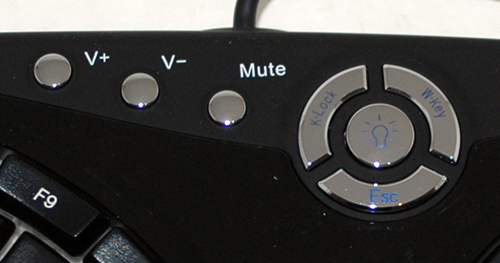 Flexible 3-layer silicon membrane for extremely quiet use.

Specially weighted key press mechanism

Keyboard lifespan rated at over 10 million keystrokes.

2 USB ports for convenient desktop attachment of additional USB devices.

USB 2.0 connector, plug & play. No drivers required
No. 0-9:  in changing weapon easily,2 controls keys:

(a) in fitting different size of hand.
(b) different key finish to position where your Fingers are.

8 Internet hot keys: easier for Internet access.

Space bar: Innovative Vertical Space bar for jumping function.

Added 2 USB ports: convience for connect USB devices, such as USA Lamp,headphone with MIC, mouse, ETC…
(100 mm Ah output device each)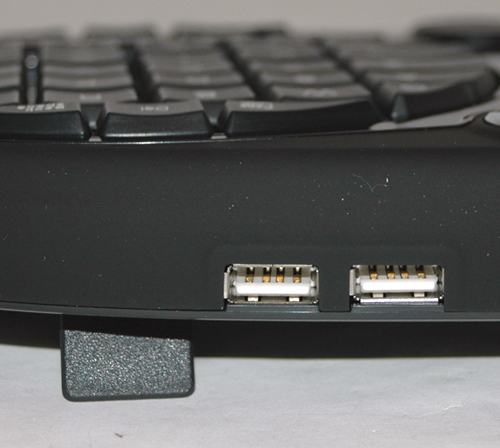 You can NEVER have too many USB ports! 
MORE PICS
Let's take a closer gander at the left side of the Warrior XXtreme, where all the magic happens. The idea behind the Warrior XXtreme is that the buttons are placed and shaped in a fashion that will make your FPS and RPG gaming not only easier, but more comfortable. Wolfking has employed many noble concepts with their gaming keyboard, such as the vertical space bar and even dual "Ctrl" buttons to accommodate different hand sizes.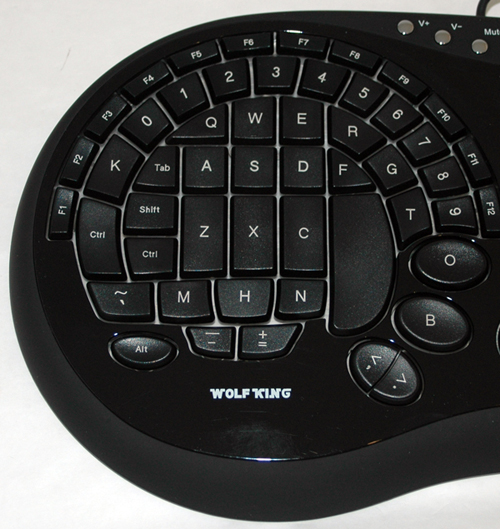 Now we journey to the other end of this marvel of I/O devices and see what really sets the Warrior XXtreme apart from the Warrior. At first glance the buttons appear to be randomly scattered across the board in a confusing manner; but upon a closer inspection, we see a method in the madness.
At the top you have your "Caps Lock" "Del" and "Back Space" buttons. The following three rows of buttons are actually the left side of a "QWERTY" keyboard; and yes, you guessed it, the next three rows would be the right side. Perhaps not the best for improving your WPM when preparing for a job interview but serves its purpose.
With an idea of how the layout works you can now type that specific and cryptic code needed to log onto your favorite game.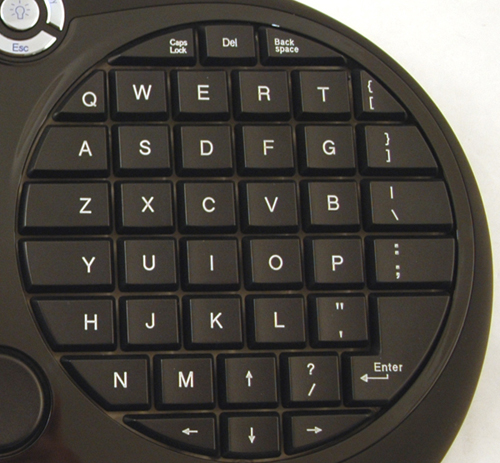 THE DOWN AND DIRTY
Now it is time to find out if the Warrior XXtreme lives up to the hype and elevates your gaming to the next level. I was a little leery in the beginning – to push my normal keyboard to the side for such and unusual replacement – but in the interest of science I couldn't resist.
The Warrior XXtreme has a very sturdy and solid feel to it. Not at all flimsy or fragile like many keyboards on the market. I found the motion of the keys to be smooth and fluent, no need to worry about any unresponsive key strokes or the ever so unfortunate feeling of a key sticking.
Right away I caught myself constantly looking down at the keyboard trying to figure out where the needed button location was, which I might add is a very unusual feeling for me, and perhaps the last time I tease my computer illiterate friends for doing the same thing. With frustration starting to get the better of me, not to mention my kill-death ratio plummeting, I started to worry about the fate of the Warrior XXtreme.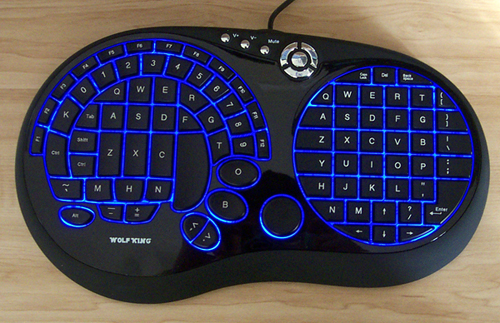 The piano finish and blue back light will spruce up any desk.
I then decided to take a different approach to my situation. I simply relaxed my left hand allowing the palm to rest right on the Wolfking logo and allowed my fingers to naturally fall on the keys. Well call me a digital Cinderella as this binary shoe was an exact fit. It seemed that if I took the mind set of not where the keys were normally located but where they should be, I no longer struggled with the keyboard. Ergonomics at one of its pinnacle stages, I was very impressed.
Multiple gaming sessions later and I was all about the Warrior XXtreme gaming keyboard. The vertical space bar was exactly where it needed to be, a comfortable resting place for my left thumb. Just to the right of the space bar was the "B" key nice and large screaming, "Ventrillo hot key". All hardcore FSP gamers will rejoice in the fact that Q, E, A, S and D keys are spaced out and resized just as they should be, not squished together like a normal keyboard.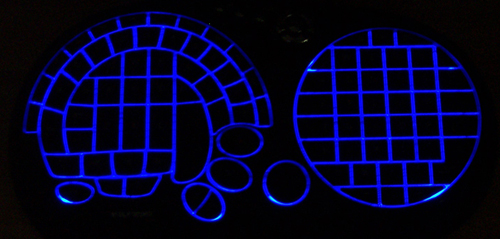 I no longer need to fear the dark!
CONCLUSION 
Despite my initial fears and reserves about the Wolfking Warrior XXtreme, I must say that I am XXtremely impressed. The term "created for hardcore gamers by hardcore games" has never been more deserving.
It is obvious that gamers had immense amounts of influence on this keyboard. The only downside to the Warrior XXtreme keyboard I could find, besides taking just a bit to get used to, was that keyboard trash talking was difficult. It is very nice to have all of your keys on the right side, especially when you need to log in; however, witty comebacks have a hard time making it to the on-screen dialogue, as you of course do not type as fast hand over hand. The fact that the Warrior XXtreme uses a basic window driver allows you to connect multiple keyboards, so if you simply must get the last word in you can have a second keyboard attached and at the ready if you wish.
With that said I have to give props to Wolfking. I have reviewed many gaming peripherals in the past, most of them seem to collect dust in a distant room or make their way to a friend's desk – but the Warrior XXtreme is ALL MINE!. This is a luxury you do not know you are missing until you have tried it. If you are a hardcore gamer, then I suggest you do just that. 
Pros:
+ Very comfortable, even after long gaming sessions
+ Simply put, the keys are where they need to be and the size they should be for hardcore gaming
+ Looks fantastic
Cons:
–  It will take some getting used to
–  Instigating is bit more difficult as your typing is slowed down
The Wolfking Warrior XXtreme Scores an 8.5 out of 10 and earns the Bjorn3d Seal of Approval!