Hauppauge is one of the leaders in the TV tuner market. Their latest HDTV tuner, the WinTV HVR-1800, is a PCIe tuner that supports both digital and analog signals. In addition, it comes with a remote that works with Windows Media Center and IR Blasts. Join us, as we put it through our tests and see if the WinTV HVR-1800 can live up to its claim.
INTRODUCTION
If you live in the US, you have probably seen TV commercials about the analog TV signal being switched off in February of 2009.  For old home TV sets, there is a converter that can be purchase and the government is even stepping in to help subsidize some of the expenses for the converter.  However, for thoes users who mainly use their computer to watch TV via a TV tuner, they may be out of luck unless they upgrade their old TV tuner to a new one that supports digital signals.
Actually, upgrading to a new TV tuner may not be as bad as it sounds.  If you have watched a digital TV image, you will surely not want to go back to an old analog image.  In addition, many new TV tuners on the market come with newer technologies which offer better images and features.  Furthermore, many TV tuners use PCIe, which means  that you can finally put your PCIe slots on your motherboard to good use.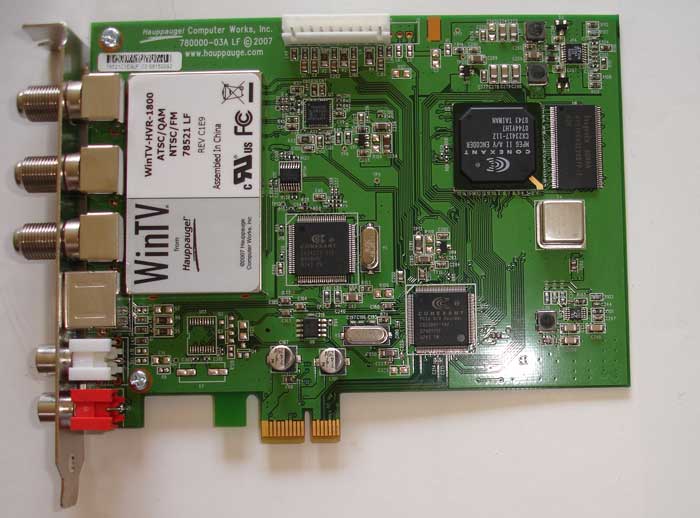 We have reviewed a few TV tuners in the past, VisionTek (ATI based) HD 650, AutumnWave USB HDTV-GT, and WinFast Leadtek PxDTV2300H.  Today, we are going to take a look at Hauppauge WinTV-HVR-1800. 
HAUPPAUGE

Hauppauge Computer Works has been bringing TV to the PC since 1992. The Company is the worldwide leader in developing and manufacturing PC based analog and digital TV tuners and data broadcast receiver products, with an estimated worldwide installed base of over 2.5 million. Hauppauge's products allow PC users to watch television on their PC screens, videoconference and create both still video images and digital TV recordings. Hauppauge's flagship product, the WinTV, is the leading branded TV tuner card for PCs.
WinTV Family
The WinTV family consists of over six high-end to low-end WinTV models that include features from FM Radio to Dolby Surround Sound. All models work with a remote control, with the exception of one. Although each model has distinct features, this family of products shares the same basic functionality. The boards are installed in PC's to display video in a resizable window. They enhance the usefulness of professional and consumer PC's by allowing users to watch television, view video images from cameras and video conference through their PC, while simultaneously allowing traditional PC applicants to be run. In addition to allowing PC users to "watch TV on their PC," the WinTV boards can be used to receive data broadcasts worldwide. Hauppauge Digital, Inc. has been the market leader in bringing TV to the PC since 1992. This focus has enabled the Company to achieve world class know-how and innovation in this market segment. The brand is recognized worldwide and has an industry-wide reputation for quality and reliability.
FEATURES AND SPECIFICATIONS
Dual tuner PCI Express NTSC/ATSC/QAM TV receiver board for Windows Vista. Watch and record analog cable TV plus hi-definition ATSC or clear QAM digital TV on your PC!
Dual tuner TV receiver for your PC: one analog TV tuner and one digital TV tuner
Single slot PCI Express (PCIe) X1 board, full height
Built-in hardware MPEG-2 encoder for recording analog cable TV, for the best system performance
Watch and record all ATSC formats, including the highest definition 1080i format
Supports clear QAM digital cable TV channels with the new WinTV v6 application
WinTV-HVR-1800 has these great features
WinTV-HVR-1800 Model 1129
Watch and record ATSC high definition digital TV or analog cable TV on your PC, in a window or full screen! ATSC HD is the over-the-air high definition TV standard for North America.
Watch and record 'clear QAM' digital TV channels. Clear QAM digital TV channels are TV channels which are broadcast "in the clear" on your cable TV network.
Two tuners on board: a 125 channel cable ready TV tuner and an ATSC/QAM digital TV tuner.
Includes Hauppauge's WinTV v6 application, which allows you to toggle between analog cable TV, QAM and ATSC digital TV channels.
ATSC Digital TV features
ATSC over-the-air digital TV receiver built-in. Supports all ATSC formats, up to the high definition 1080i format!
Supports Dolby Digital AC3 audio
Record ATSC digital TV to your PC's hard disk using high quality MPEG-2. TV recordings will typically consume 5 GB of disk space per hour for ATSC high definition.
Analog TV features
Built-in high quality hardware MPEG-2 encoder, so your PC continues to run at full speed while watching, pausing and recording analog cable TV
125 channel cable ready TV receiver built-in. With dbx-TV stereo decoder, for great TV sound.
Composite/S-Video and audio inputs, for cable or satellite set top boxes or VCRs.
Clear QAM digital cable TV features
If you are using digital cable, which broadcast the local ATSC channels on their cable TV network, you can receive these QAM channels with the new WinTV v6 application.
Note: not all cable TV networks send clear QAM channels
Model numbers
model 01129: WinTV-HVR-1800 MC board only, with NSTC/ATSC/QAM support, FM radio. No remote control. English only.
model 01176: WinTV-HVR-1800 MC board only, with NSTC/ATSC/QAM support, FM radio. No remote control. French/English for Canada.
model 01128: WinTV-HVR-1800 MC-Kit, with WinTV-HVR-1800 model 1129 board, NSTC/ATSC/QAM support, FM radio and MCE remote. English manual only.
model 01121: WinTV-HVR-1800 MC-Kit, with WinTV-HVR-1800 model 1129 board, NSTC/ATSC/QAM support, FM radio and Media Center remote kit. English/French manual for Canada.
Notes:
For Analog TV reception, you need an analog cable TV connection. If you have a digital cable set top box or a satellite box, the WinTV-HVR-1800 can connect via either Composite or S-Video inputs. Channel changing will be done using the IR blaster.
For ATSC over-the-air digital TV reception, a high gain antenna is recommended. To check the ATSC TV broadcasts in your area, go to TitanTV.com and enter your postal code.
Note: depending on the strength of your antenna, you might not be able to receive all broadcasts listed at TitanTV. For QAM reception, you need digital cable TV which transmits 'clear QAM' ATSC channels. You need to use the Hauppauge WinTV application to watch, pause and record QAM channels.
ATSC TV recordings are not 100% compatible with DVD, and therefore you cannot burn them directly to a DVD.
System Requirements
Processor requirements: 2.2 GHz P4 or equivalent (minimum) required for displaying ATSC high definition TV. on your PC screen
Microsoft® Windows® XP Home, Pro or Media Center Edition. Also Windows Vista Premium certified*
Available PCIe X1 or X8 slot
Graphics with 64 MB memory (or greater)
Sound card
DVD or CD writer for burning Video CD's, S-VCD's or DVD's (optional)
PACKAGING AND CONTENTS
Hauppauge is one of the big players in the TV tuner business.  The Hauppauge PVR-250 was the first TV tuner that I ever owned, so I was fairly excited to take a look at the HVR-1800.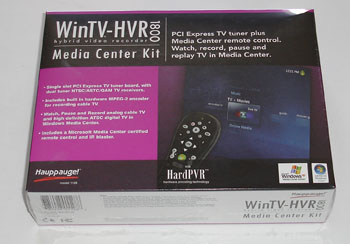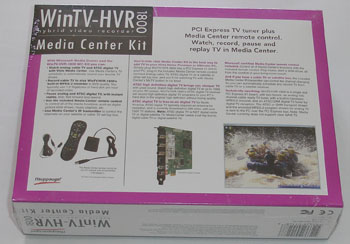 Hauppauge packages their tuner card in a rather large box.  Marketing information is splattered across the exterior of the box.  You can clearly see that HVR-1800 supports Windows XP Media Center Edition and Windows Vista.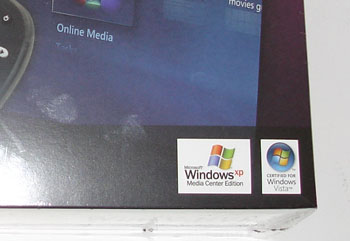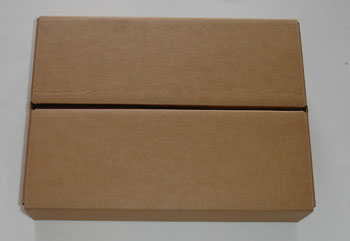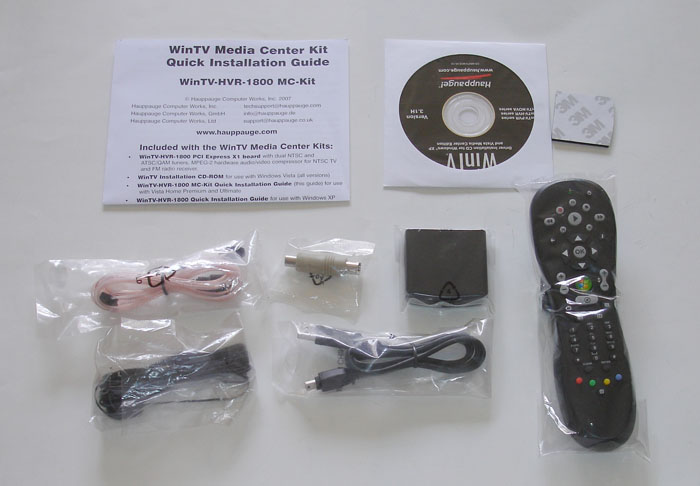 Inside, we find a cardboard box that has been divided into two compartments, one for the card and the other for the accessories.  Here is the list of what you will receive with the tuner:
WinTV-HVR 1800 PCI Express x1 card
Media center certified Infra-red remote control USB transmitter and receiver
1 meter IR transmitter cable
WinTV Installation CD with drivers and WinTV v6 application
Quick installation guide
S-video to Composite adapter
FM Radio antenna
WINTV-HVR-1800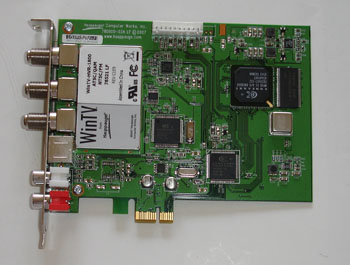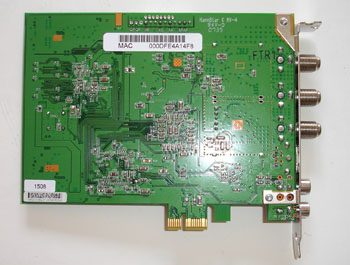 The WinTV-HVR-1800 is a 125 channel cable ready TV tuner.  It is capable of receiving ATSC/QAM digital TV.  It features a MPEG-2 hardware encoder and dbx-TV stereo decoder.  The WinTV HVR uses all Conexant chips.  There are three main chips on the board: Conexant CX23417-11Z MPEG II A/V encoder, Conexant CX23887-14Z PCIe A/V decoder, and CX24227-11Z.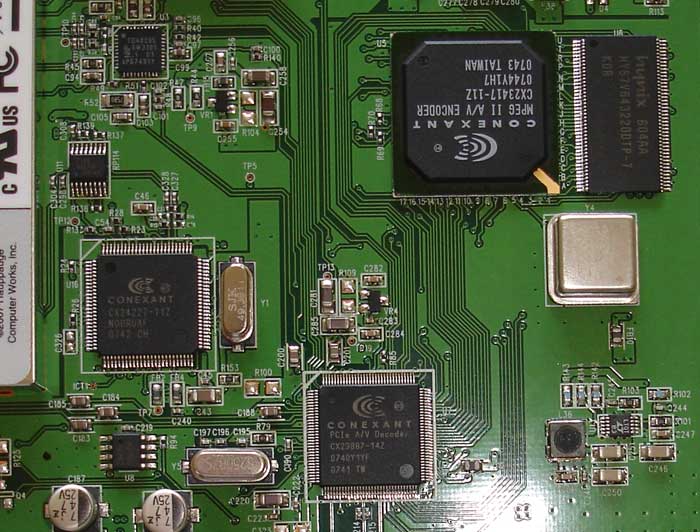 The CX23417 is the main MPEG II encoder that includes built-in noise filters that dynamically improve images in the pre-processing stage. In addition, it includes other video quality improvements such as, an increased motion search range, the de-coupling of motion estimation from encoding, and an adaptive quantization scheme.
CX23417  MPEG-2 Audio/Video Encoder(source: Conexant)
The CX23417 is one of the industry's lowest power MPEG-2 audio/video encoders. The versatile CX23417 actually incorporates the functionality of up to three different chips, allowing Conexant to deliver this device at a price point that will enable consumer electronics and personal computer companies to reduce dramatically the cost of designing and manufacturing their next-generation digital video products. Pre-filtering improvements in the CX23417 include built-in noise filters that dynamically improve images in the pre-processing stage. As a result, end-users obtain the best possible picture, even as the data rate is reduced and the recording time is lengthened. Other video quality improvements include an increased motion search range, the de-coupling of motion estimation from encoding, and an adaptive quantization scheme. To reduce the overall cost of the CX23417 and achieve the highest video quality, Conexant devoted significant engineering resources to determining the optimal balance between hardware and software implementation of these processing improvements.

Features:

High-quality real-time video encoding
Supports MPEG-2 and MPEG-1
Sampling rates of 32 kHz, 44.1 kHz, and 48 kHz
Compressed bit rates up to 448 kbit/sec
The CX23887 is the main decoder of the WinTV-HVR-1800. This decoders supports PCI Express bus. The integrated worldwide video decoder and audio decoder can be used for a high-performance, cost-effective, basic analog television capture, or can be used as the base for more complex multiple tuner configurations. The device can support capture of two simultaneous digital television transport streams, two simultaneous analog streams, or a combination of analog and digital capture. In addition, any of these configurations may be used in conjunction with hardware MPEG encoder. (source: Conexant)
Features:                                                                        
PCI Express 1.0a/1.1 compliant bus
Worldwide audio and video decoding
Memoryless 3D Comb Filter
Automatic video and broadcast audio standard detection and configuration
Flexible video input MUX supporting composite, S-Video, and component inputs with integrated anti-alias filtering
Integrated sigma-delta stereo audio ADCs with 4:2 MUX
Audio sample-rate converters on all inputs and outputs
Two MPEG transport stream ports – serial or parallel interfaces
Support for the following audio formats: stereo, mono, dual language (mono), tri language (Trivox)
The CX23887 is the chip that is responsible for the audio and video capture, making the WinTV HVR-1800 functions more than a simple TV tuner.

Finally, the CX24227-11Z is the chip that is responsible for the TV tuning.  The chip supports ATSC (Advanced Television Systems Committee) digital channel demodulator.  It supports reception of ATSC 8-VSB (Vestigial Sideband) terrestrial broadcasts as well as 64-QAM (Quadrature Amplitude Modulation) and 256-QAM digital cable transmissions. This part achieves extremely high performance by employing direct IF (Intermediate Frequency) sampling, robust synchronization, and effective channel equalization techniques. It contains a 12-bit A/D converter and a PWM (Pulse Width Modulator) generator for ACG (Automatic Gain Control) of incoming IF signals.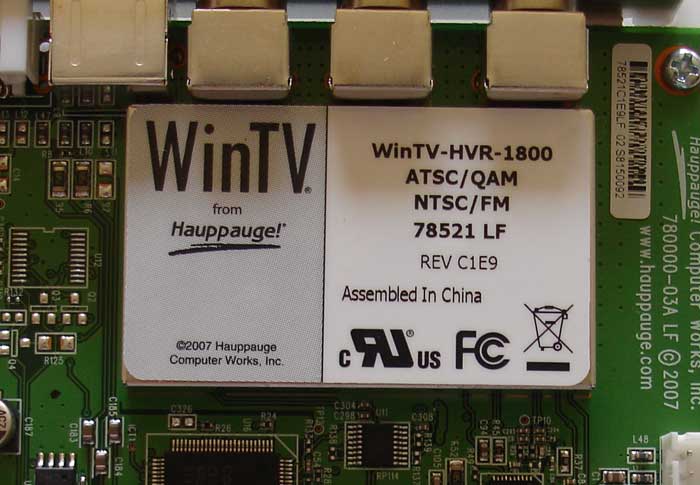 As you can see, the HVR-1800 supports an input signal of ATSC/QAM, NTSC, and FM.  This is a hybrid tuner not a combo tuner, thus, it is capable of receiving both digital and analog signal, though, you will not be able to use them together simultaneously.  As a result, you cannot be watching a digital station while recording an analog station.  In addition, the analog tuner only accepts a signal from analog cable TV not over the air analog signal.

Looking at the back panel, we can see the input and output ports.  From the right side to the left, we get the FM radio in, NTSC cableTV in, ATSC antenna/QAM cable TV in, S-video in, and left and right audio in.  The connectors are clearly labeled on the card, making it an easy job when connecting the devices. Being that Hauppauge advertises this card as a PVR (personal video recorder), you would be able to use the S-Video in to capture video from devices such as VCR, camcorder, or DVD player.  In addition to S-Video in, you would be able to receive composite source with the included S-Video to composite adapter.  I am a bit disappointed that it lacks Component inputs.
INSTALLATION AND SETUP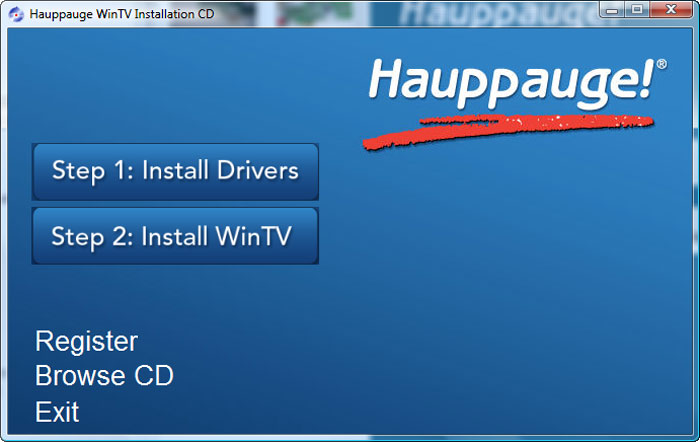 Installing the HVR-1800 is very easy.  Simply insert the card into any free available PCIe slot, connect all the needed cables for the FM and antenna, and boot into Windows to load the driver. After popping in the CD, you choose to install the driver and the WinTV installation afterward.  The driver CD contains all the software needed and when you click on the driver installation, it will install all the required drivers, including the driver for the tuner and remote.  In addition to the WinTV application, the software disc also installs WinTV Radio, Titan TV (for TV program guide), and WinTV Scheduler.
I, however, opted to install the driver and software from Hauppauge's site as often the driver that comes with the installation disc is outdated.  Since I am using Windows Vista 64bit and 4GB of RAM, I installed the beta driver from Hauppauge's site to give the support for system with 4GB of RAM.
click for larger image
After the driver and program installation, I launched the WinTV.  The first time the program started, it will ask you to setup your signal source and proceed with channel detection.  You can bypass this if you wish to and manually configure it later.  I let the program automatically detect the available channels.
After about 5 minutes, the auto-detection will complete.  The time is a bit longer than what I expected and this is because the program actually detects all available sources (analog and digital).  The Tuner picks up most of the channels that are available in my area.  However, it does not pick up some of the weaker signaled channels that the AutumnWave's USB HDTV-GT is capable of picking up.  Luckily, you have the option of manually enter the channels and also fine-tuning the reception if you wish to.
Adding a TV channel is not as easy some other Tuner because WinTV uses four digit number for the HDTV rather than the .1 method where you simply add .1 to your existing analog channel.  Thus, in order to add a certain network, you would have to know the channel number rather than the network.
Despite the fact that Hauppauge includes a quick installation guide, I do miss a full manual especially for the WinTV application.  I tried to see if I can find the manual in the driver CD but I just couldn't find it.  Luckily I was able to find the manual at Hauppauge's site.
Remote Control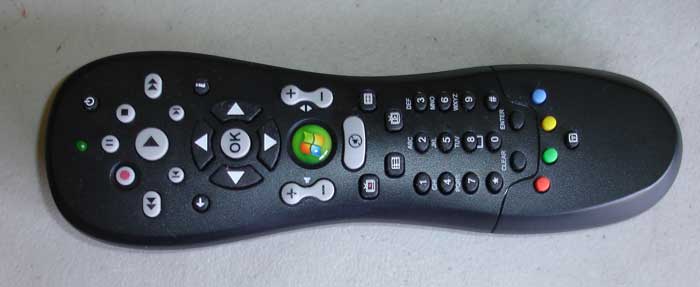 The included remote control supports Windows Media Center as you can see the big Windows MCE icon in the middle of the remote. The remote is curved and fits quite nicely in the hand. Though not too flashy but it has all the essentials. There is even four empty buttons which you can assign to different functions however, I cannot seem to find the program that allows me to assign these function. Hauppauge is even nice enough to include two AA batteries. The buttons on the remove can be a tad small, especially the number buttons, which makes it hard to use.
The receiver for the remote is connected to PC through an USB cable. It functions as both receiver and IR Blaster, allowing it to be used change cable TV or satellite set top box. As you can see on the back of the receiver, you will find a mini-USB port and two IR ports.  The reception is approximately 2 meters when you are standing directly in front of the receiver. 
WINTV AND TV WATCHING
Hauppauge continues to use their WinTV program to view TV. The program has been updated to version 6. One of the biggest complaints that I have with my old PVR-250 as well as many other users have with Hauppauge's tuners have always been the WinTV software. Their WinTV software usually has a poor interface, buggy, and is crash prone.
Their latest revision, version 6.0, has an updated interface with large menu buttons.  You get all of the controls on the left side of the program and on the right side is the TV viewing area.  Overall, the interface is easier to use and the larger buttons are nice.  However, WinTV 6 is still somewhat buggy and will not be responsive from time to time.  It's an improvement from older revision but Hauppauge still needs to iron out some kinks.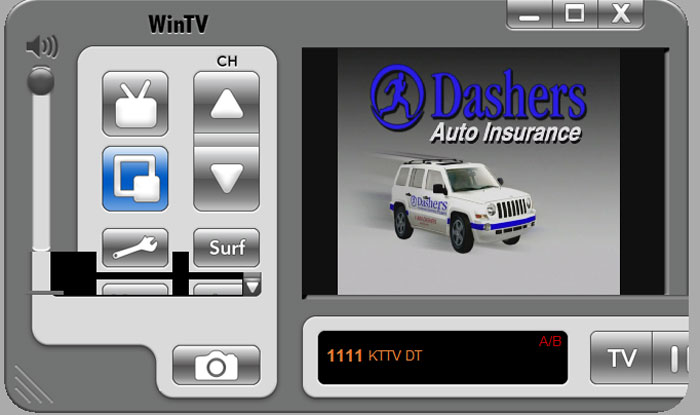 As you can see, you can set the TV to use 4:3 or 16:9 aspect ratios with preset resolution of 320×240, 352×240, 384×288, 640×480, 720×480, 720×576, 768×576, and 800×600.  In addition, you can simply drag the window to different sizes if you need any other resolutions as well as watching the TV in full screen mode.  The resolution and the aspect ratio can be locked so they won't be accidentally changed. Despite the fact that you can change TV windows to different resolution, when you set the resolution to lower than 640×480, the icons do not reduce their size. As result, many of the icons are not accessible.
Below are a few captures of different TV shows with my over-the-air antenna. The picture quality is excellent for the HDTV.  There is some pixellation with fast action shows, such as sports shows, and it could be due to the fact that the tuner only accepts images in 1080i.  With basic TV viewing, the color is excellent and the contrast is good. Unlike AutumnWave OnAir USB tuner where the TV show usually is leaning toward slightly darker side, the color quality of the Hauppauge is much better.
---
---
WinTV has a "Surf" feature which will display a preview of 16 channels simultaneously and you can choose which channel to watch.  I simply cannot get the "Surf" feature to work.  When I click on the "Surf", it actually shows 16 panels of the same channel and the images are all distorted.  Furthermore, once I return to normal TV viewing after clicked "Surf", the audio will not work.  I am not sure if this is due to Windows 64bit or not.  Hopefully, it will get fixed in the future application release.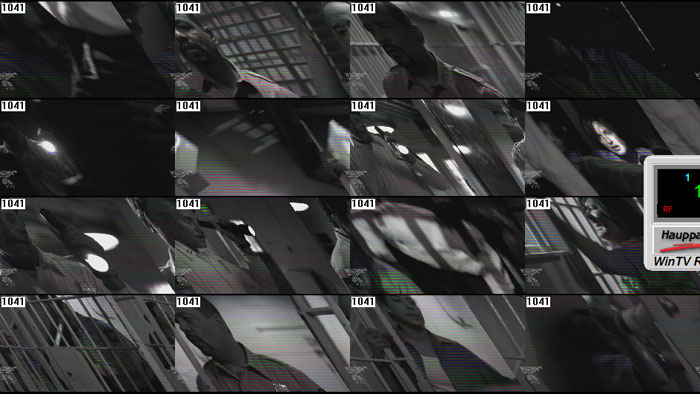 I have one issue with the WinTV and that is the audio volume.  The TV sound is much quieter than I would have expected.  In order to hear the TV sound, I would have to turn up the volume of my system.  Also, I cannot get the CC/sub function to work.
The main window has four buttons for TV, Pause, One touch record, and Record TV.  These buttons are used to switch between watch live TV or record/pause TV shows.  In fact, you will notice that there are a few buttons missing such as fast-forward and rewind.  These buttons are hidden and you would have to press on one of the record button in order for them to appear underneath the WinTV.  We will talk about the recording next.
Recording
WinTV-HVR-1800 has the ability to record both the still image and video.  Dig into the settings and we will see that the program default folder for temp files and recorded files are located at C:myvideos, which is not Windows Vista's default folder for video files.  Unfortunately, during installation of WinTV software or after launching of the program for first time, the software does not ask you to set a default folder location and simply use c:myvideos.  I would prefer to configure default folders during installation or after first time the WinTV is launched.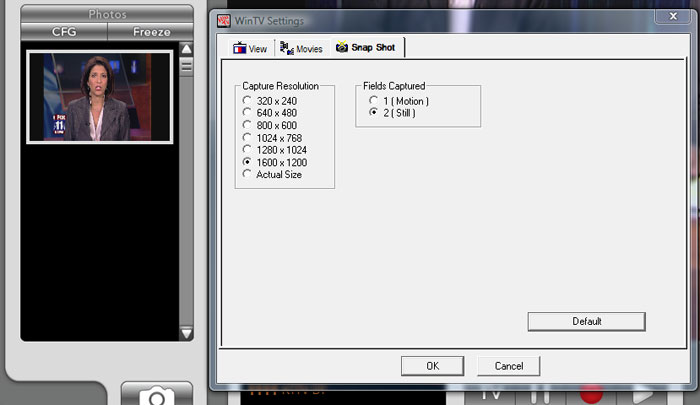 WinTV's Snapshot function allows capturing of images with a few different preset resolutions up to 1600×1200 or the actual size of the TV show. It will show a preview on the main window of the WinTV software and if you can right click on the image to save the file.  A nice feature for image capture.

To record TV, you will simply click on the Record TV button and a new control panel will appear on the bottom of the main window with more buttons for TV recording: record, stop, fast forward, rewind, and pause TV recording.  If you choose the "One-Click recording", the software will automatically launch the recording and starts record the TV show.  The program also supports Time-Shift feature so you can pause live TV and resume playback.  There is a delay of 5-10 seconds after you click on the record button which is somewhat an annoyance because you will not be able to watch anything on the screen.
Hauppauge only allows DVD quality recording so be sure that you have plenty of hard drive spaces if you plan to use it as a means of recording TV shows.  I would actually appreciate to have other recording qualities as not all of the recordings will need such high level.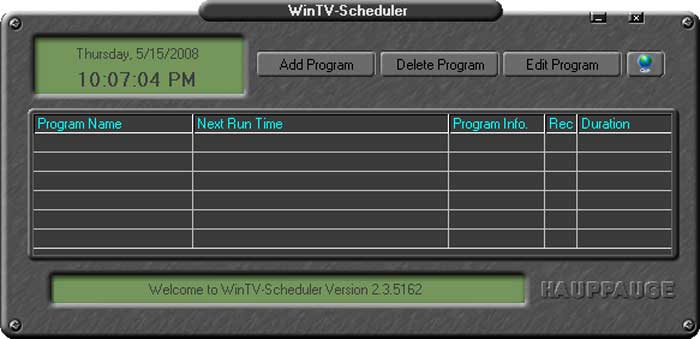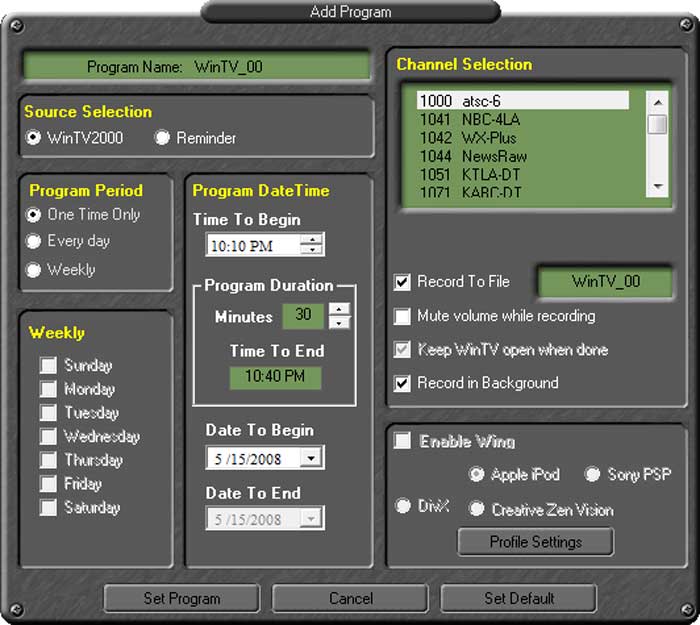 For scheduling recording, Hauppauge uses WinTV Scheduler.  This is one of the best software I have seen.  Its interface is sleek and easy to use.  The options for recording is easy to use and comprehensive.  Unfortunately, I cannot get the software to work at all. When I schedule a recording, it does not launch the WinTV program to record the show. There is an interesting option called "Enable Wing" which has been grayed out.  It looks to me could be an option to save the show for iPod or PSP. It appears to me that Hauppauge is actually selling it as an expansion/add-on feature to their Tuner for $24.95 as you can find more information at Hauppauge's site. It is somewhat unfortunate that it is not bundled with the WinTV card.
FM Tuner

WinTV-HVR 1800 is marketed as an all-in-one multimedia TV tuner and recorder so it is not surprise to find a build-in FM tuner.  The FM tuner program can be launched with a button within WinTV program or under Program File shortcut.  Since it is an independent program, you can even open up both TV and FM programs and watch TV while listen to the music simultaneously. 
Initially, when I launched the FM program, the program will crash when I was scanning for the available channel.  After some testing, I found that I would have to first start the program as administrator and let it scan for all the available channels without doing anything on the computer.  In order for the tuner to successfully scan all available channels, I cannot open any programs or use any other application.  Luckily, after initial setup, the program works quite well.  I am glad that Hauppauge has decided to keep the WinTV Radio as a separate program rather than bundle it into a giant application because this would use less resource if you simply need to listen to the music.
WinTV Radio has a preset of 30 channels and the channels can be fine tuned with 0.05 MHz increments.  You can find the station simply by either automatic scanning or entering the number of the station.  I find it to be really useful if you have already got a list of station which you listen to.
Within the WinTV Radio, you will see a simple but rudimentary interface.  There are ten buttons for the presets, tune buttons, seek buttons, volume, mute, and scan. There is also a quick switch button to switch between the TV program or CD playback program.  Unfortuantely, it can be a bit buggy and cause program to crash.  Also, the CD launch button is not working with Vista 64bit.
There are a couple of minor complaints I have with the WinTV Radio.  First, the volume button does not working properly.  You can lower the volume but not increase it.  The only way to increase the volume for the Radio is go into the program's option menu to adjust the volume level.  In addition, I would hope to have a record button to record FM audio.  Furthermore, I would like to see an easier way to switch the channels like having a little widget for Vista's side panel. 
WINDOWS MEDIA CENTER VISTA 64
I tested the WinTV-HVR 1800 with Windows Media Center Vista 64 and the tuner works with Media Center without any issue. Much to my surprise, the image on the Media Center is actually a bit sharper than WinTV. The remote also works flawless within Vista. I have only encountered one issue with the tuner under Vista Media Center. It is with the FM tuner not working. Hopefully this is something that can be fixed with a simple driver update.
CONCLUSION
For a Media Center TV tuner and recorder, Hauppauge HVR-1800 has all the bells and whistles in terms of hardware and features.  Unfortunately, it is still being hindered by the same old story of buggy software as many of their older TV tuner card.  It is unfortunate that the software makes an otherwise excellent media center tuner into a somewhat temperamental piece of hardware.
We like the hardware capability of the HVR-1800.  The dual tuner for QAM and OTA HD channels, FM tuner, S-video in, will certainly make it a great addition to any HTPC.  We also liked its image quality.  It would also be a great addition to Vista Windows Media Center with the included remote control and the fact that the tuner is able to as it works seemingless with the program.  Unfortunately, not all the features are supported under Vista Media Center, namely the FM tuner.
Overall, the HVR-1800 is a great piece of hardware if only Hauppauge can improve their driver and software.  Hopefully, Hauppauge will keep working on them and release an updated version of WinTV soon so all the feature will work as it is promised.
Hauppauge WinTV HVR-1800 will receive a score of 7.5 out of 10.
Pros:
+  Dual tuners
+  FM tuner
+  Works with Media Center
+  USB remote supports IR Blaster and Windows Media Center
 
Cons:
–  Cannot record FM
–  Remote buttons are a bit small
–  Buggy software
–  Scheduler is not working
–  Limited recording quality selections