Recently we were contacted by Mushkin, who informed us about a new series memory products that was in the offing. This series of products called the Ascent, would be offered both in DDR2 and DDR3, have both 2 and 4GB kits, and offer varying increases in performance over their previous product high-performance product line. Today it is our pleasure to share our findings for Mushkin's 4GB Mushkin XP2-8500 Ascent DDR2 memory kit.
INTRODUCTION
For sometime now enthusiasts have known that their coveted DDR2 memory would soon be replaced with DDR3. The operable word "soon" has taken on a new meaning as just when it appeared that the change was about to take place evidence to the contrary presented itself. This evidence was multi-tiered and presented itself from several different standpoints:
A new series of motherboards based on the Intel® P45 express chipset hit the market with the vast majority of the offerings supporting DDR2 in lieu of DDR3
Several of the major memory manufacturers have recently released new, higher end DDR2 products (DDR2-9200) as well as a number of new high performance 4GB DDR2 kits
The cost and the latencies of DDR3 have not fallen proportionately given DDR3's length of time on the market to make investment by the masses economically feasible
The improvement in real world performance using DDR3 as opposed to DDR2 has not been great enough to stimulate a buying frenzy
The pricing of the current DDR2 high-performance kits is dirt cheap
We at Bjorn3D are convinced that a major migration to DDR3 will take place at some juncture. In the same vein, we feel that a catalyst such as a major price drop and/or significant performance enhancements will have to take place before the current dissenters make a mass move to DDR3.
Recently we were contacted by Mushkin, who informed us about a new series memory products that was in the offing. This series of products called the Ascent, would be offered both in DDR2 and DDR3, have both 2 and 4GB kits, and offer varying increases in performance over their previous product high-performance product line. Today it is our pleasure to share our findings for Mushkin's 4GB Mushkin XP2-8500 Ascent DDR2 memory kit. We should also note that the official launch for Mushkin's Ascent memory series should take be taking place and be available most major vendors as you read this review.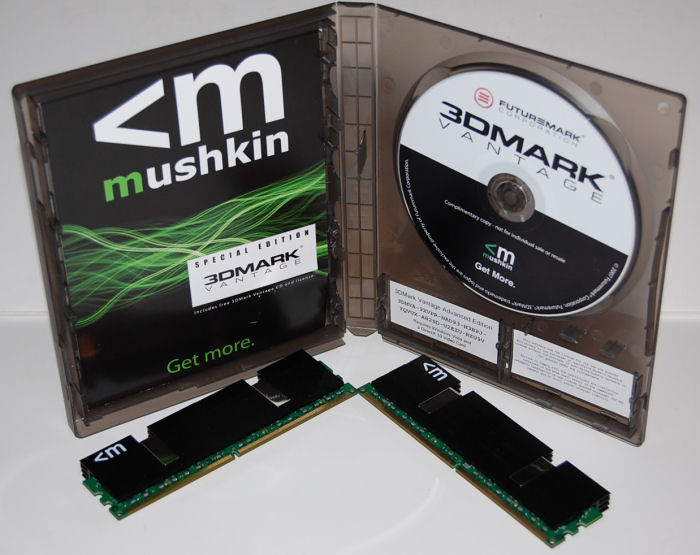 Mushkin, Inc.:  The Company

Founded in 1994, Mushkin is best known for producing "Enhanced" memory modules. Located at the base of the Rocky Mountains in Denver, Colorado Mushkin provides performance enhanced computer products to users worldwide. Exceptional quality, enhanced performance and unparalleled customer support are what make Mushkin products the best in the industry.

Mushkin products include an enhanced power supply line and a complete selection of memory upgrades for desktops, servers and notebooks – we offer something for everyone from business user to gamer. Our enhanced memory products are available in several performance categories from standard to extreme, with our REDLINE™ series in a class of its own. Our enhanced power supply line offers superb regulation and ripple characteristics, modularity and plenty of power to supply the most demanding systems.

With customers including everyone from Apple Computer and NASA to gamers and web browsers, Mushkin knows what is important to customers – enhanced performance with uncompromised quality. With Mushkin you Get More.
FEATURES & SPECIFICATIONS
Specfications
Frequency:   1066 MHz DDR2
Latency:   CL 5-5-5-15 (CAS-TRCD-TRP-TRAS)
Parity:   Unbuffered
Voltage:   2.0 -2.1V
Copper enhanced Vapor Chamber Interface (eVCI)provides an extremely conductive thermal path from the DRAM (10X better than solid copper)
Highly conductive 6063 extruded aluminum alloy encasement for effective heat exchange through convection
Available in 2GB or 4GB kits
Low profile and slim width design for full population of memory slots if desired. Won't interfere with most large CPU heatsinks
Sleek and aggressive design compliments any build's appearance
Lifetime Warranty
eVCI – Revolutionary Heatsink Design
Expanding its role as a leader in high performance memory module innovation, Mushkin's new Ascent series of memory modules raises the bar for memory performance. By combining the "enhanced Vapor Chamber Interface" (eVCI) with a high conductivity 6063 aluminum alloy encasement, both conductive and convective thermal paths are optimized for the best overclocking results. The Ascent series modules provide both form and function; increasing overclocking results as much as 48MHz and reducing heat rise above ambient by as much as 48%, all in a package that will compliment any system's appearance.

enhanced Vapor Chamber Interface (eVCI)
IMAGES & IMPRESSION
When the Mushkin 4GB Mushkin XP2-8500 Ascent DDR2 memory kit arrived our first impression of its packaging was very positive. The modules were delivered in a hard plastic casing that is much larger, thicker, and secure than the light weight, form fitted plastic packaging currently used by most memory manufacturers.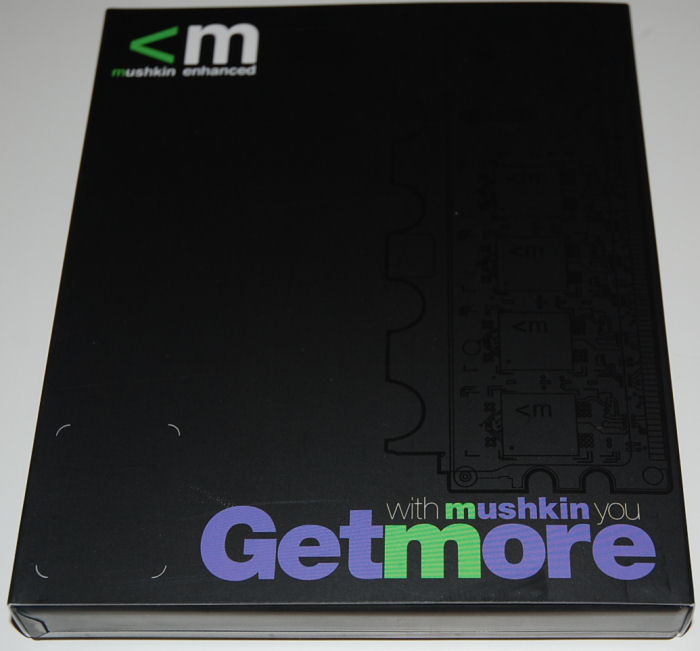 Package Front
As it turns out this ultra secure packing is part of a promotion that Mushkin is running as part of its launch of the Ascent memory series. For at least the first three months if you purchase any version of this memory series it will come with a CD containing Futuremark's hot new benchmark 3DMark® Vantage along with an advanced license for the product, a $19.95 value.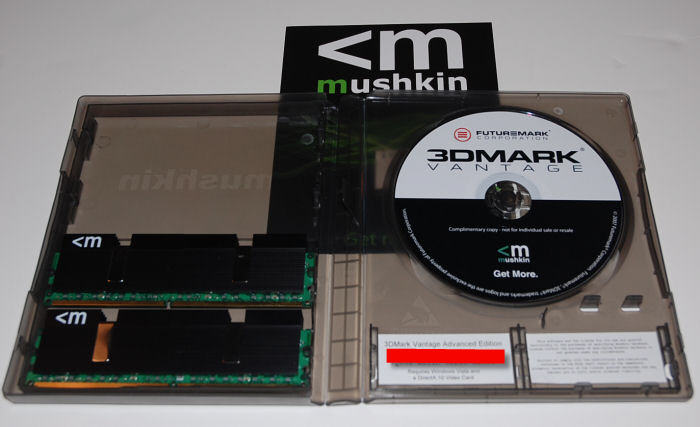 Package Interior
The 3DMark® Vantage licence code is located on a sticker in the lower right hand side of the container. While we're sure that the vast majority of our readers are completely honest, we have taken the liberty of red lining through the license code on this copy to prevent any temptation.
Removing the sticks from the container is accomplished by pushing a plastic tab to the right and simply lifting the modules out of their form fitted home.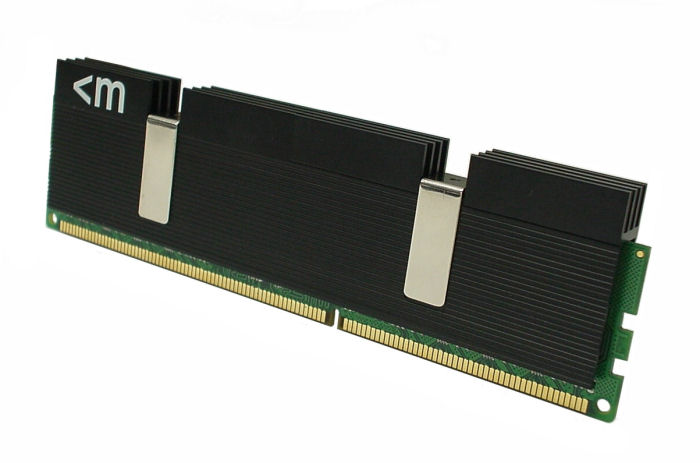 Single Ascent Memory Module
At first glance you can see that the new heat spreader technology is not even remotely similar to frost byte heat spreaders used for many years by Mushkin. The new technology is in fact a true heatsink quite unlike anything we've seen to date on any other memory modules. Our first impression is that the copper interface coupled with the thick extruded aluminum outer body should prove to be quite functional. Lifting one of the modules shows that the heat sink well constructed, durable and in fact rather heavy. The images below will give you a better impression of the product's actual design.

Side View
Notice how thick the extruded aluminum outer body is.
Lateral View
Notice also that on both of the memory modules there are no stickers with key information that you usually find on most memory sticks. I asked the folks at Mushkin if this was a new standard to expect on all future Mushkin memory offerings. They assured me that only reason the stickers were missing from these modules is that they were prerelease products and that the commercial version would most certainly bear the stickers.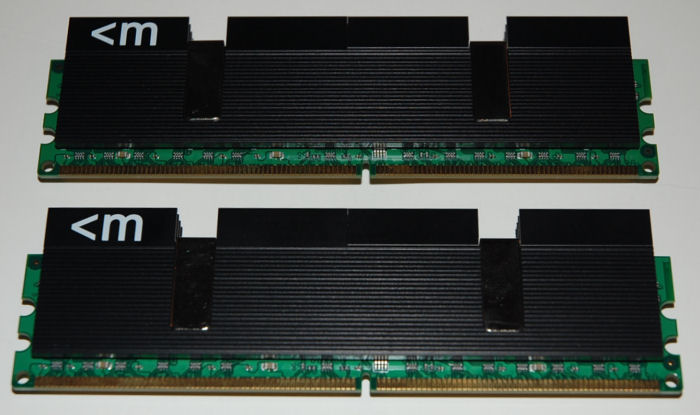 Stickerless Modules
TESTING METHODOLOGY
Prior to performing any benchmarking we always run MemTest 86 for a minimum of 10 complete cycles to ascertain that the memory product is completely error free prior to proceeding. Next, we install the memory and allow it to run in the system for a few days in activities ranging from surfing the WEB to intensive gaming sessions, in other words my general day to day activities. I view this as a break-in period for the memory product. While many of my peers feel this break-in time is no longer necessary with modern day RAM; I feel it allows me to get a feel for what the memory being tested is capable of, and old, deeply engrained habits die hard.
Test Platform
Processor
Intel E8500 Core 2 Duo
Motherboard
ASUS P5Q Deluxe, BIOS 0302
Memory
4GB Mushkin XP2-8500 Ascent, 5-5-5-15
2GB Corsair XMS2-8500 Dominator, 5-5-5-15
Drive(s)
2 – Seagate 1TB Barracuda ES SATA Drives
Graphics
XFX GeForce® 8800 GT XXX running ForceWare 175.16 64-bit WHQL
Cooling
Noctua NH-U12P
Power Supply
Tagan BZ800 – 800 Watt
Display
Dell 2407 FPW
Case
Lian Li PC-A17
Operating System
Windows Vista Ultimate 64-bit SP1
It is pretty much common knowledge that most 4GB (2 x 2GB) memory kits don't perform quite as well as their 2GB (2 x 1GB) counterparts. Mushkin has stated that their new Ascent series is high-performance and should fair well in testing against most memory in its category. For that reason we chose to use the fastest 2GB DDR-8500 kit we had on hand at the time, Corsair XMS2-8500 Dominator. We decided to make this an SPD shootout as both the Mushkin and the Corsair had the same timings, 5-5-5-15. In essence we would take each of the competitors to their highest level while still maintaining their SPD timings. The only exception to this was made when testing DDR2-800 where both kits were set to 4-4-4-10.
Synthetic Benchmarks & Games
SANDRA XII Professional
Everest Ultimate Edition v. 4.50.1330
SuperPI Mod 1.5XS
WinRar v. 3.71 Compression Benchmark
Aquamark3
Liightsmark v. 1.3
In lieu of having extremely convoluted graphs by trying to list each of the minute settings we used to achieve our results, we have prepared a detailed table below that outlines each of the settings used for each memory frequency tested. As the chart reveals we ran both memory kits at the same identical settings as far as we could to present the most accurate comparison possible.
Memory Test Settings

4GB Mushkin XP2-8500 Ascent

DDR2 Speed

800 MHz

1066 MHz

1120 MHz

1146 MHz

Memory Timings

4-4-4-10-2T

5-5-5-15-2T

5-5-5-15-2T

5-5-5-15-2T

VDimm

1.8V

2.0V

2.1V

2.1V

CPU Clock

3.16 GHz

3.16 GHz

3.3 GHz

4.085 GHz

FSB

333 MHz

333 MHz

350 MHz

430

Multiplier

9.5

9.5

9.5

9.5

2GB Corsair XMS2-8500 Dominator

DDR2 Speed

800 MHz

1066 MHz

1120 MHz

1146 MHz

Memory Timings

4-4-4-10-2T

5-5-5-15-2T

5-5-5-15-2T

N/A

VDimm

1.8V

2.0V

2.1V

N/A

CPU Clock

3.16 GHz

3.16 GHz

3.3 GHz

N/A

FSB

333 MHz

333 MHz

350 MHz

N/A

Multiplier

9.5

9.5

9.5

N/A
CPU-Z INFORMATION
Notice anything strange in the image from CPU-Z below?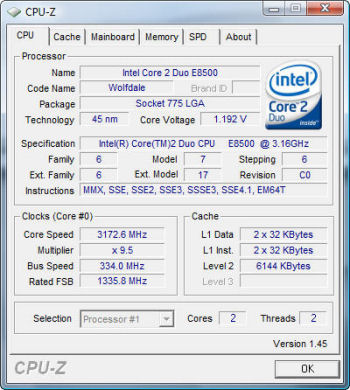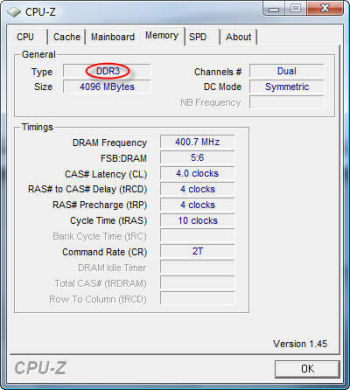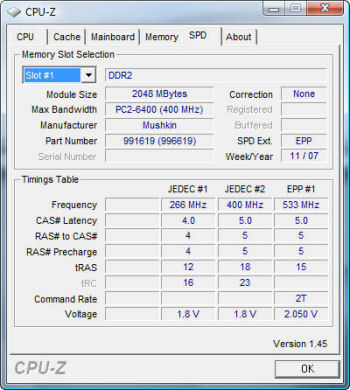 Mushkin XP2-8500 Ascent Information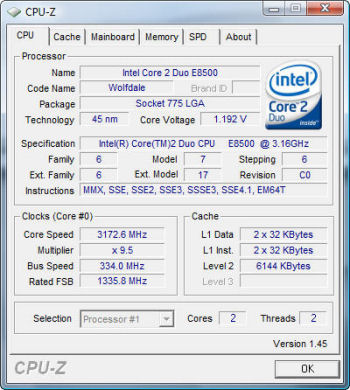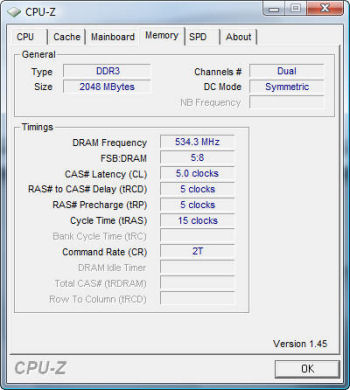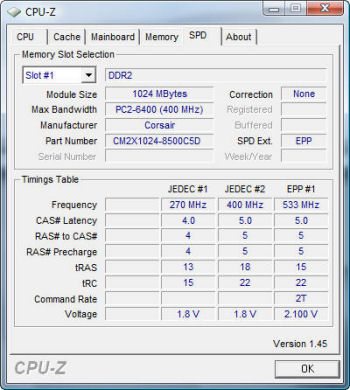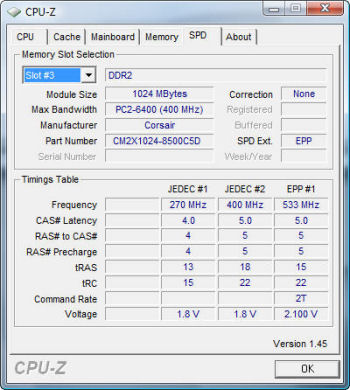 Corsair XMS2-8500 Dominator Information
For some strange reason the latest version(145) of CPU-Z is reading both of these sets of memory as DDR3 under the "Memory Tab". Notice under the "SPD Tab" they are being correctly seen as DDR2. This could be due to a number of different reasons but is most likely due to a new version of CPU-Z coupled with a new motherboard using the Intel based P45 chipset. That being said, it appears only the label is in error and not the information being retrieved.
SANDRA PROFESSIONAL
"SiSoftware Sandra (the System ANalyser, Diagnostic and Reporting Assistant) is an information & diagnostic utility. It should provide most of the information (including undocumented) you need to know about your hardware, software and other devices whether hardware or software. It works along the lines of other Windows utilities, however it tries to go beyond them and show you more of what's really going on. Giving the user the ability to draw comparisons at both a high and low-level. You can get information about the CPU, chipset, video adapter, ports, printers, sound card, memory, network, Windows internals, AGP, PCI, PCI-X, PCIe (PCI Express), database, USB, USB2, 1394/Firewire, etc."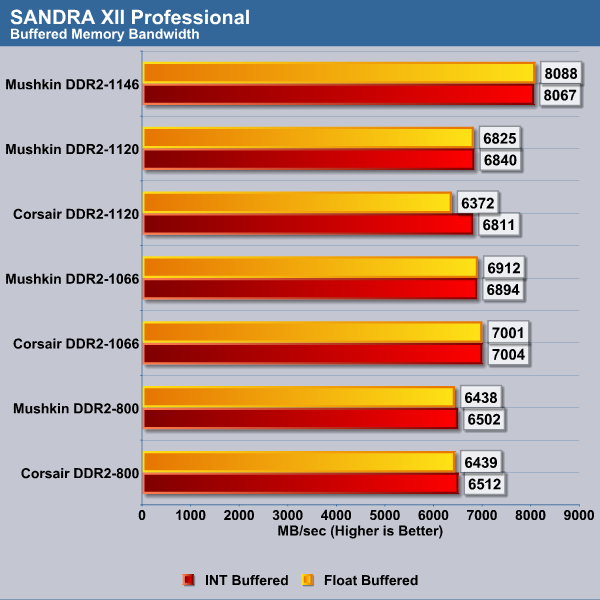 SUPERPi
SuperPi which is the "Gold standard" for many when it comes to judging system performance. We ran 2 and 4 Meg calculations again running each test three times and reporting the average of the results.
Super Pi is used by most computer enthusiasts to test the performance and stability of their computers. In the overclocking community, it provides a benchmark for enthusiasts to compare "world record" pi calculation times and demonstrate their overclocking abilities. The program can also be used to test the stability of a certain overclock speed. If a computer is able to calculate PI to the 32 millionth place after the decimal without mistake, it is considered to be moderately stable in terms of RAM and CPU. However, longer tests with other CPU/RAM intensive calculation programs will run for hours instead of minutes and may better stress system stability.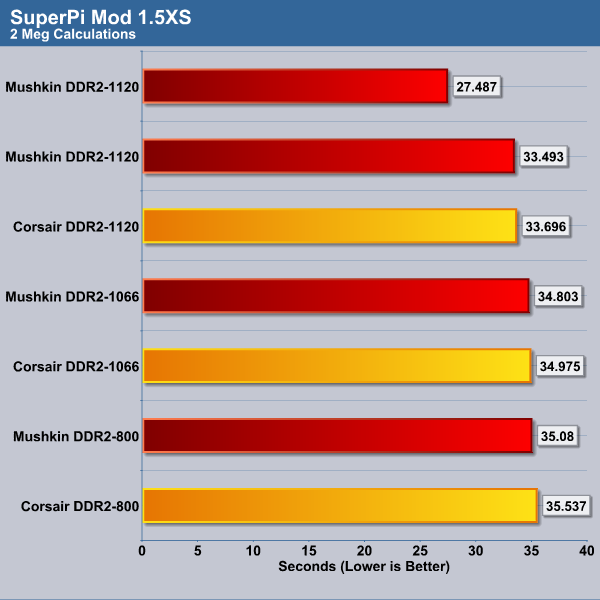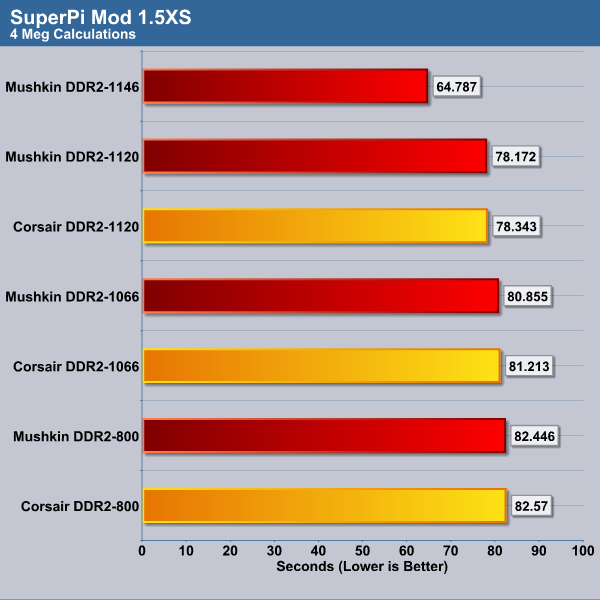 EVEREST ULTIMATE
"EVEREST Ultimate Edition is an industry leading system diagnostics and benchmarking solution for enthusiasts PC users, based on the award-winning EVEREST Technology. During system optimizations and tweaking it provides essential system and overclock information, advanced hardware monitoring and diagnostics capabilities to check the effects of the applied settings. CPU, FPU and memory benchmarks are available to measure the actual system performance and compare it to previous states or other systems. Furthermore, complete software, operating system and security information makes EVEREST Ultimate Edition a comprehensive system diagnostics tool that offers a total of 100 pages of information about your PC."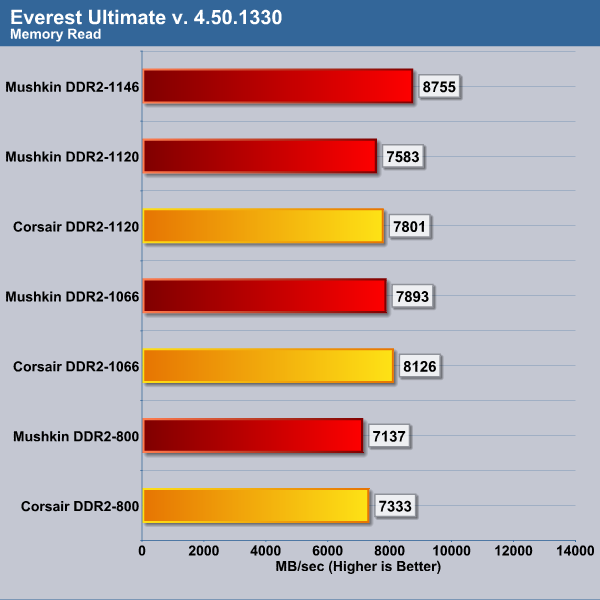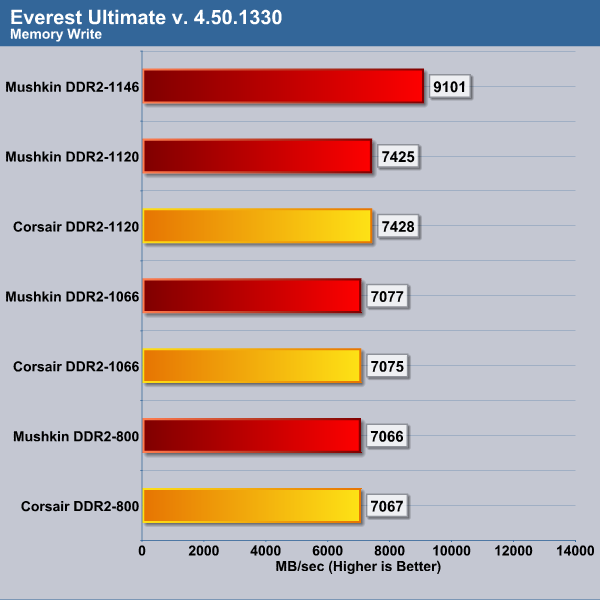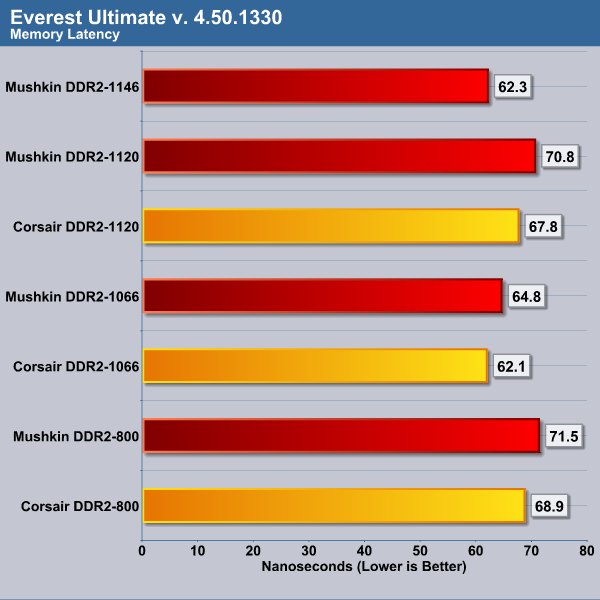 WINRAR
This module in WinRar generates random data, which contains specially introduced redundancy increasing the load to both the processor and memory. Data is the passed through RAR compression and decompression algorithms and output of decompression algorithm is compared to the source data. If any differences are found, WinRAR then reports "Errors found – Yes" in the command window. WinRAR displays a size of processed data and compression speed, current and resulting, in kilobytes per second.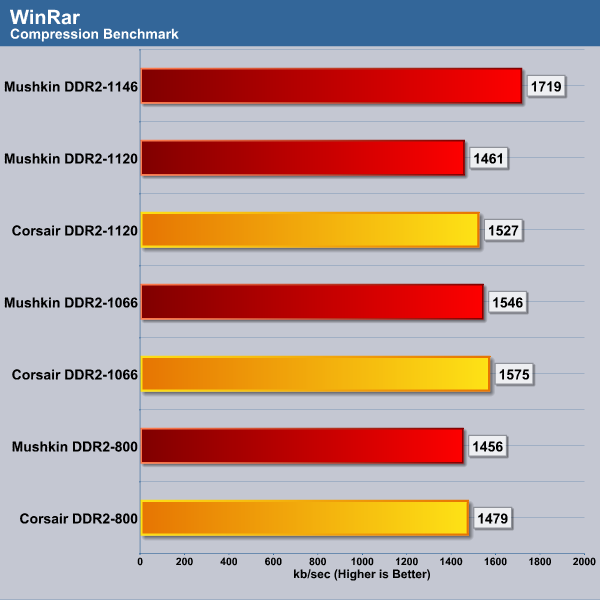 LIGHTSMARK
Natural lighting makes artificial graphics life-like. Computers get faster, but rendering more polygons doesn't add value if lighting looks faked, so insiders know that the next big thing is proper lighting aka Realtime Global Illumination. Typical workloads in realtime rendering will shift. Lightsmark simulates it. Global Illumination renders often take hours. Is your computer fast enough for realtime? Before Lightsmark, realtime global illumination was limited to small scenes, small resolutions, small speeds, and specially crafted scenes with handmade optimizations. Lightsmark breaks all limits at once, running in reasonably sized scene (220000 triangles) in high resolution (1680×1050) at excellent speed (100-400fps). Lighting is computed fully automatically in original unmodified scene from 2007 game World of Padman, not tweaked for Lightsmark and with all sorts of geometrical difficulties, with extra rooms hidden below floor etc.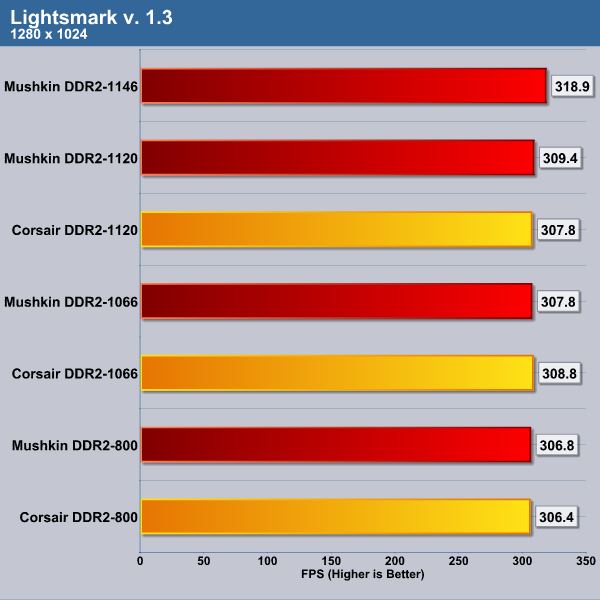 AQUAMARK 3
Massive Development, the company responsible for for Aquamark 3, is unfortunately no longer in operation. Unfortunately this means that no development team is currently working on this product, for that matter no work has been done on this excellent DX9 benchmark in sometime. Does that mean we stop using it? Well, maybe eventually; but for now Aquamark 3 remains one graphical benchmarks that is extremely responsive to almost any change to the major components of your system. Even slight component changes are effectively shown in the results and that's why we like Aquamark 3 and will continue to use it in certain review scenarios.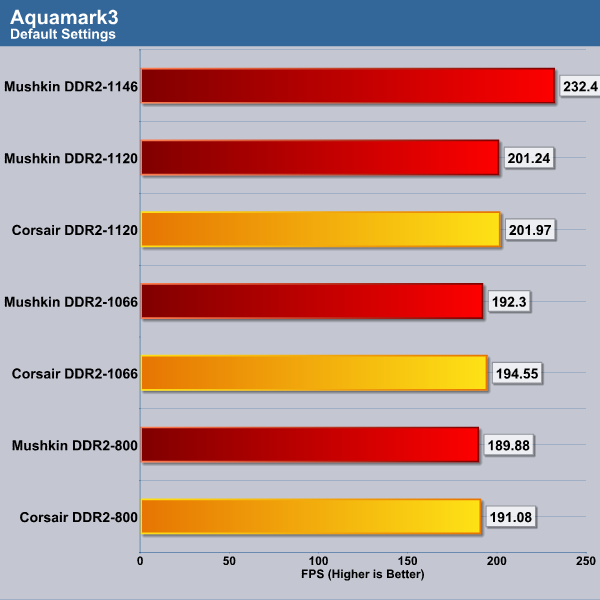 REAL WORLD TESTS
While doing our last memory review of two DDR3 memory products which also compared 2GB of memory to a 4GB kit we had an epiphany. We felt as though we should see some level of speed increase installing each of these products using 4GB as opposed to 2GB. Our hypothesis turned out to be right and we saw a significant time savings of several minutes with the 4GB kit. While we don't expect to see the level of improvement we saw with DDR3 due to the added bandwidth it provides, we thought it would be interesting to run these tests again to see what, if any improvement the added 2GB would provide. To eliminate any bias we ran both sets of memory at a frequency 1066 MHz and the processor at stock speed of 3.16 GHz. All other controls in the motherboard's BIOS were set to auto. If our hypothesis is correct we should see some improvement in the speed of these two operations. We measured the speed using an electronic stopwatch which was started and stopped manually at as close to the same point as humanly possible. Our results follow in the table below:
Memory Real World Tests

 

Load Vista 64

Load Vista SP1

4GB Mushkin XP2-8500 Ascent

19 mins 12 secs

38 mins 30

2GB Corsair XMS2-8500 Dominator

21 mins 15 secs

41 mins 32

4GB Speed Variance

+2 mins 3 secs (10.68%)

+3 mins 2 secs (7.88%)
As we expected the improvements weren't as noticeable when using DDR2 as compared to DDR3. Still the improvement in this memory intensive, laborious task was significant and saved us a few minute of valuable time using the 4GB kit as compared to the 2GB modules. We at Bjorn3D staunchly believe that when using Vista 64, given its tendency to hog memory, that more memory is definitely better and will definitely reward the user in time savings.
A WORD ON OVERCLOCKING
As we alluded to earlier we utilized a lightly different approach with overclocking this memory. We refer to it as an "SPD shootout" which means we overclocked each of the two products to the highest level possible while keeping both the memory timings and VDimm within that range stipulated by the SPD. In our testing we saw both of these products take a performance hit in benchmarking at 1120 MHz which was our next step after their rated performance level of 1066 MHz. We then moved from that level to the highest overclock we new our E8500 was capable of while still using its standard multiplier of 9.5. The results showed that the 4GB Mushkin XP2-8500 Ascent was rejuvenated and had more to offer while the 2GB Corsair XMS2-8500 Dominator was unable to even boot at these settings. Both the Mushkin and the Corsair memory tested in this review may have more to offer using looser timings and a higher VDimm.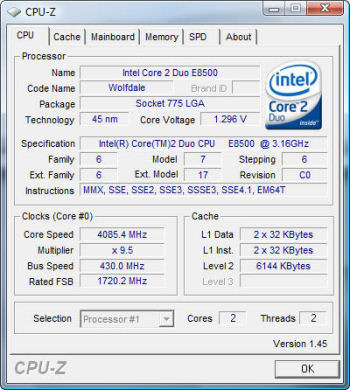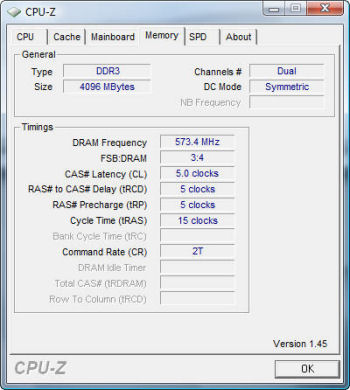 FINAL WORDS & CONCLUSION
The testing results certainly indicate that the new 4GB Mushkin XP2-8500 Ascent memory modules are worthy competitors in the DDR2 arena. The results further showed that in most tests the Mushkin product performed on a par and in some cases such as SuperPi even better than the 2GB Corsair. In the few cases where the Corsair outperformed the Mushkin the differences were minute. Does this mean that we can now put to rest what was previously true in performance advantages of 2GB memory over their 4GB counterparts? We would suggest that this is a good first step and that in the future the performance differences between the two should continue to narrow until a point where they are equal. We feel this is a necessity as with the improvement of Vista 64 and other 64 bit operating systems the day where 4GB will be the new standard is very close at hand.
As far as value is concerned the 4GB Mushkin XP2-8500 Ascent is currently showing on one etailer's site for $149.00 USD. Given the current price of DDR2 we think this is on the high end of what this product should sell for and would expect after launch for the prices to drop rather quickly to a more satisfactory price range. The fact that you are also receiving a copy of 3DMark® Vantage and an advanced licensed for the product's use softens the blow a bit and is certainly a nice addition.
We at Bjorn3D have always believed it prudent to buy as much memory as you can afford as long as there isn't a huge difference in performance. We saw the benefit of 4GB vs 2GB in our real world tests even though the test's methodology might have some room for question as with any new benchmark. For the average user that isn't into extremely memory intensive apps then the 2GB Mushkin XP2-8500 Ascent kit may be a more prudent choice. We should state for the record that neither of these two memory kits tested are the fastest DDR2-8500 we've tested. They are however the fastest two kits we've tested using the "SPD Shootout" testing methodology that we employed in this review.
While we were unable to directly test the enhanced Vapor Chamber Interface" (eVCI) for fear of disrupting the vapor copper vapor barrier we feel the design is excellent and should provide excellent cooling when pushing this or other Ascent series meroy kits to their maximum performance level. When it comes to recommending this two fine 4GB DDR2 memory kits we feel it's the best performing 4GB kit we've seen to date! If you're planning on sticking with DDR2 for a while and need 4GB then we can heartily recommend the 4GB Mushkin XP2-8500 Ascent kit.
Pros:
+  Exceptional results when overclocking within SPD parameters
+  Adding 3DMark® Vantage and an advanced user's license with the kit is a nice touch
+  Kits are hand tested and verified
+  enhanced Vapor Chamber Interface" (eVCI)
+  Lifetime warranty
 
Cons:
–  Given the current price of DDR2, the price of this kit may be a bit high for some consumers
 
Final Score: 8 out of 10 and the Bjorn3D Seal of Approval.