Mushkin is back with its fastest set of RAM ever. The Ascent DDR3-2000 with its newly designed heat sink and its enhanced vapor chamber interface is like no other kit Mushkin has ever offered. Let's see if this RAM can live up to the hype!
INTRODUCTION
I can't recall a time when technology moved as fast as RAM technology is moving today. It seems like just a few short months ago DDR3 had appeared and was grossly overpriced and rather underpowered. But in a short time the technology has advanced to such extreme levels that we are now beginning to see DDR3 be fiscally competitive with DDR2. But what about performance? Starting out at a rather meager DDR3-1333 we have seen what can only be referred to as exponential growth as today we are reviewing a kit designed to run at 2000MHz! You read that correct, RAM that is designed to run faster than some CPUs. Simply astonishing. The RAM is the Ascent DDR3-2000 and the company is Mushkin. Designed to run at extreme speeds and even more so when paired up with the 790i chipset from NVIDIA, the Ascent DDR3-2000 kit looks to take RAM to a whole new level.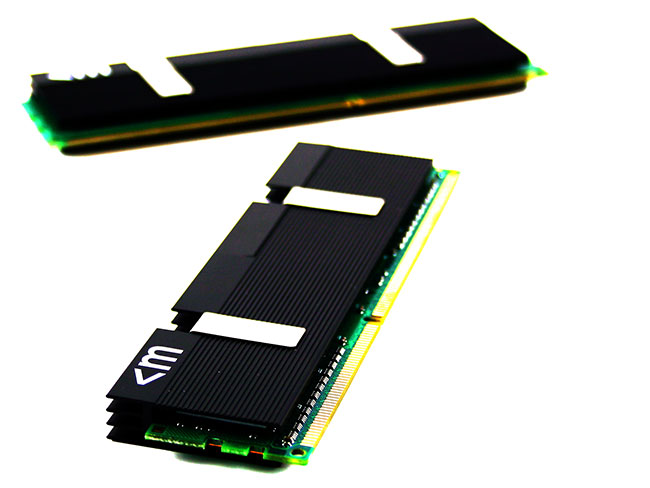 SPECIFICATIONS
Module Size: 2GB kit (2 x 1GB)
Package: 240-pin DDR3 DIMMs
Feature: DDR3-2000 / PC3-16000
Specs: 9-9-9-24 • Unbuffered • NON-ECC •1.9 – 2.0v • 128Meg x 64
As you can see this is not your ordinary set of DDR3. The applied voltage is higher even higher than the default voltage for DDR2! (1.8v). So how does Mushkin do it? Have they been able to bend the laws of physics to their will? Well, not quite but the answer is still pretty ingenious. Flip the page to find out.
NANOSPREADER™
Before we get to the photo portion I wanted to take a moment and cover the cooling technology used with the Ascent RAM kit by Mushkin. The first thing you notice about the RAM modules is the unique heat spreaders attached to them. If you stopped there you would be missing out on so much more. Typically, a thin slab of aluminum or copper would be attached to the side of a RAM module to spread the heat across a larger area and that would be it. While this may have worked well enough in days gone by, today's RAM is more punishing and demands better cooling to remain stable. That's where the Nanospreader™ comes in. Mushkin has dubbed their spread the enhanced Vapor Chamber Interface (eVCI).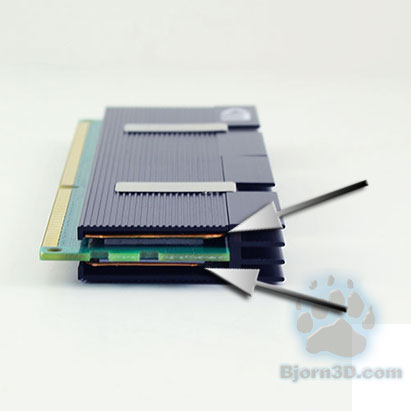 A NanoSpreader™ is a patented copper encased two-phase vapor chamber into which pure water is vacuum sealed. The liquid is absorbed by a copper-mesh wick and passed as vapor through a micro-perforated copper sheet where it cools and returns as liquid to the wick.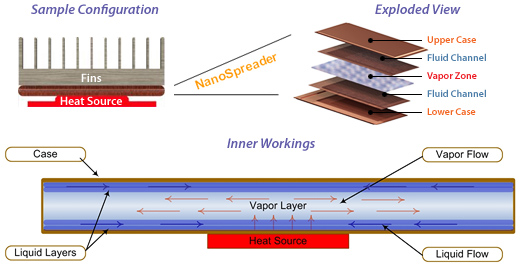 Sound a lot like a heat pipe doesn't it? Well, you would be partly correct. Where a heat pipe is installed inside a block of aluminum or copper and that block makes contact with the heat source, the NanoSpreader™ makes direct contact with the heat source. Think of it has a very flat heat pipe with loads more efficiency.
PHOTOS
The first pictures show us the blister pack the RAM comes in. Thankfully it is not of the heat sealed variety and doesn't require any power tools to open.
Click a picture to see a larger view
---
---
Enough photos let's see get to the good stuff!
TEST SETUP
All tests were conducted on the following platforms. A format of the hard drives followed by a fresh install of the OS was done. The latest drivers were then installed and all non-essential applications were halted.
Synthetic Benchmarks
SiSoft XI
Mem Bandwidth (INT, Float)
Everest Ultimate 4.0
Mem Read, Write, Copy, Latency
SuperPi Mod 1.5xs
2M
Cinebench R10
 
Games
F.E.A.R. v1.08
1280×1024 4xAA / 16xAF
Highest in game settings, Soft Shadows off
To test the performance of the Mushkin Ascent DDR3 modules I will use a variety of different synthetic tests which should show if there is any difference to be gained by the new memory technology. All of these tests are well and good but I also want to see if there will be any real world impact on gaming performance as many of you reading this review are gamers at heart. Rather than test at a very low resolution of 640×480 (Do you really play at this resolution?), I will use a more realistic setting of 1280×1024 with full IQ settings. The game of choice is F.E.A.R. which is a great game for this test since it is very CPU bound with newer video cards.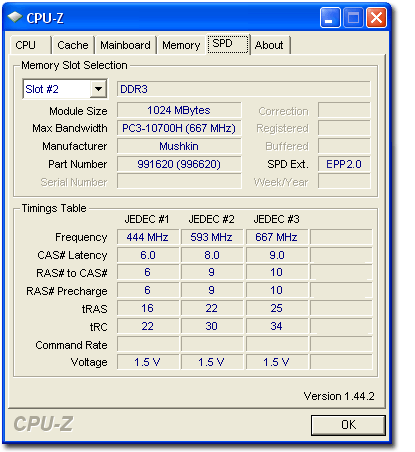 Ascent DDR3-2000 SPD settings
All tests will be performed at the following settings to ensure the best apples-to-apples comparison. The FSB will be set to 333 MHz, 400 MHz as well as 458 MHz and the CPU will be kept as close to 3.2 GHz as possible using a 9.5x, 8x and 7x multiplier respectively.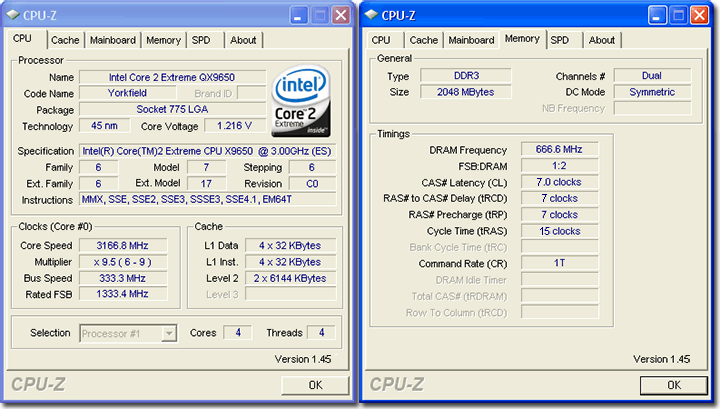 333 MHz FSB with 9.5x multiplier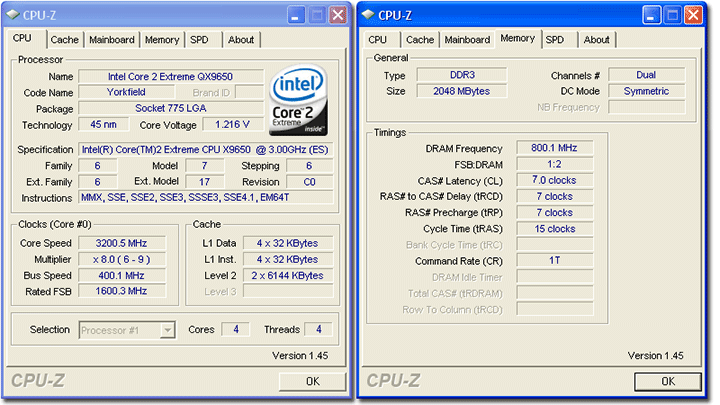 400 MHz FSB with 8x multiplier
458 MHz FSB with 7x multiplier
For the sake of being thorough I am also going to test this RAM at its fastest speed of 2000 MHz using our recently reviewed XFX 790i Ultra.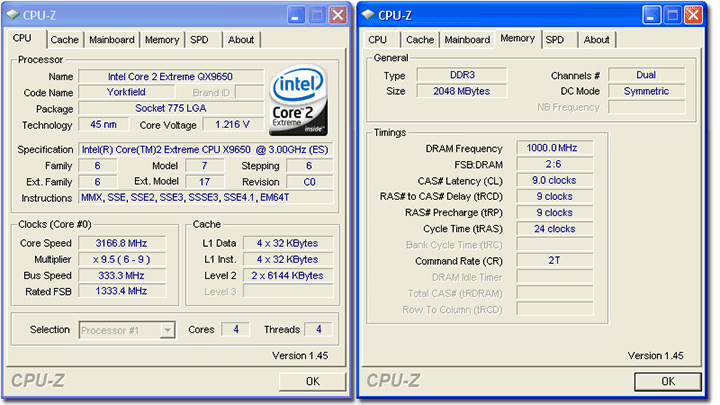 DDR3-2000 on a 333 MHz FSB with 9.5x multiplier
While it would have been ideal to crank up the FSB to 500 MHz and let the RAM stretch its legs, I am sorry to report that our test CPU can't quite make it that far. To be fair not many QX9650s have been reported as surpassing this milestone so I don't feel too bad. Our testing will consist of the FSB remaining at its stock setting of 333 MHz and using the RMA's SPD setting to achieve the 2000 MHz speed.
TEST RESULTS
Right out of the gate we notice a few things. First and foremost the Xtune RAM simply can not keep up with our Mushkin kit. It is left far behind. The other thing that jumps out is the level of performance from the RAM at 2000 MHz. The reason the RAM performs like it does is because it is not running in-sync with the CPU. In this case it is better to compare the scores from the 1333 MHz to the 2000 MHz since the FSB for each of them is the same. When we look at it from this angle we see a nice jump in performance. Of course nothing replace running the memory in step with the FSB and for those of you with the Wolfdale CPUs that can hit 500 MHz FSB you will be treated to loads of bandwidth.
SANDRA XII Lite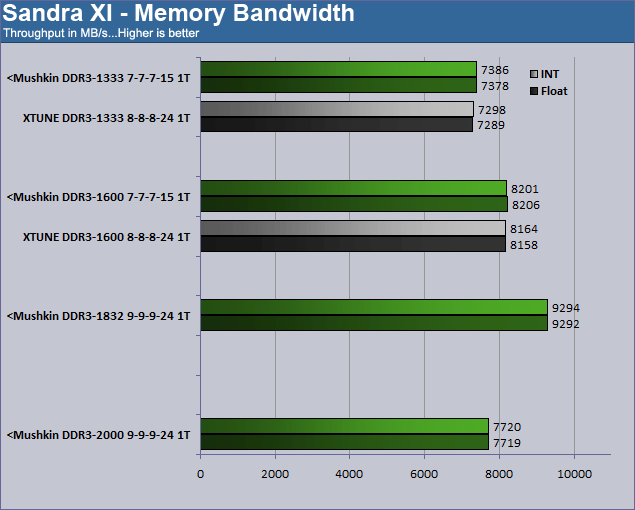 Everest Ultimate Edition v. 4.20.1170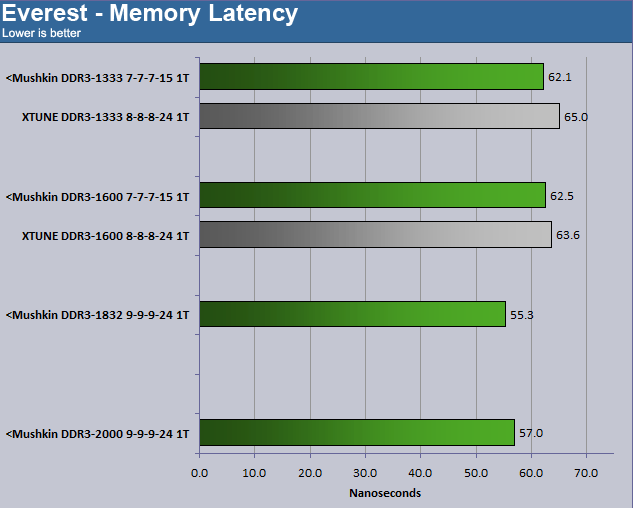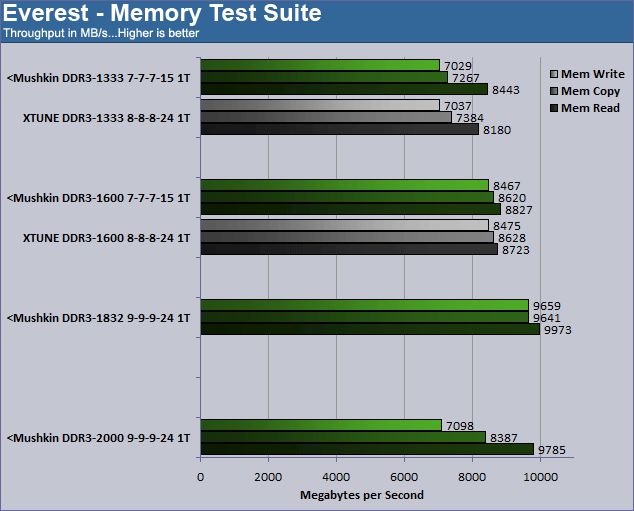 TEST RESULTS
SuperPI Mod 1.5 Xs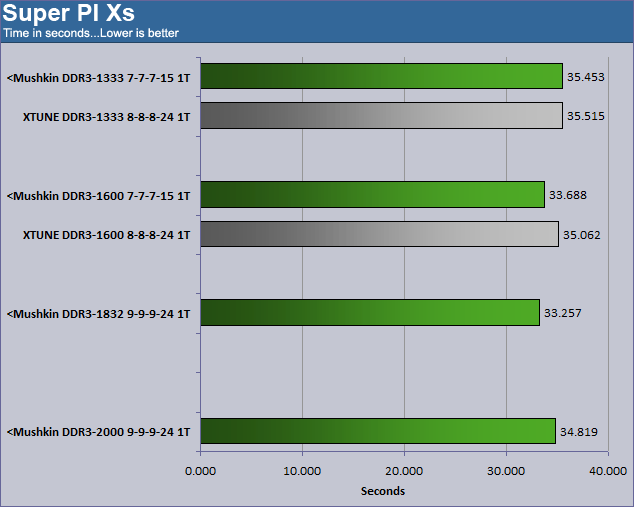 F.E.A.R. v1.08
F.E.A.R. is run at 1280×1024 with AA set to 4x and AF set to 16x. Soft shadows have been disabled and VSync has been turned off.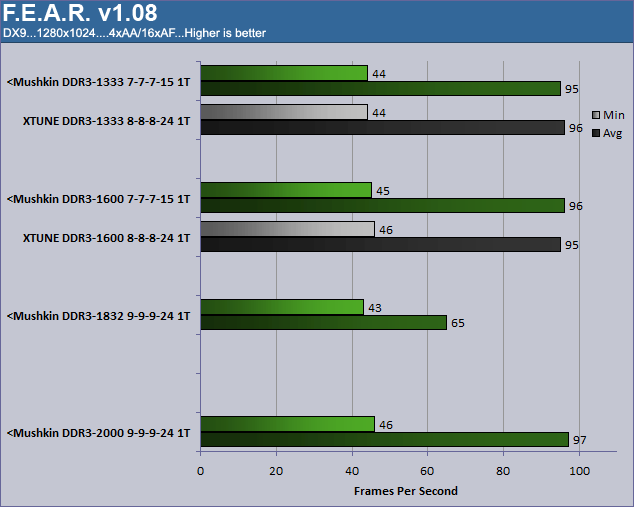 WARRANTY
Mushkin's motto is get more and with their lifetime warranty it would seem that you do in fact get more. Mushkin guarantees that any RAM purchased will be free from defect. They back this up by agreeing to repair or exchange any defective product at no cost to the buyer. It is great to see in this day and age a manufacturer standing behind their product. It says a lot about the RAM and the company as a whole. Let's wrap it all up.
CONCLUSION
To make things a bit clearer I have selected two distinct groups of people this RAM may appeal to.
Hard-core Enthusiasts
Enthusiasts with deep pockets and a need to have the very latest technologies. Also known as the early adopters who are willing to put up with technical issues for the right to brag to friends.
Performance: This RAM offers the best performance at every speed tested. For those of you able to push the limits of your FSB and hit 500 MHz then you can sit back and smirk knowing you have some of the fastest RAM available on the planet.
Value: Not that it matters since you would pay any price to have the very best but in this case you may have to wait a bit. This RAM kit is not available just yet. Be sure to grab some when it is. You won't be sorry.
Casual Gamers
You have your favorite games that you play and you play them often. You have an up to date machine but it doesn't need to have the QX9770 for you to fill the void inside. You friend brags how great it is to have DDR3 but you just chuckle inside and continue using your DDR2-1066.
Performance: DDR3 is starting to make its way into the mainstream and with performance like this it's easy to see why. While it won't give you any extra performance in your favorite video game it will be sure to keep your CPU fed with data to crunch.
Value: DDR3 as a whole has become much more afforadable as of late though if you want the good stuff you still have to pay through the nose for it. This is the kind of RAM that commands a premium and as such I would recommend holding off a little longer. The end of the year should yield some great DDR3 prices.
Pros:
+  Extremely fast DDR3 memory
+  Heatspreaders work very well
+  Memory won't need upgrading for a long time
+  Lifetime Warranty
Cons:
–  2.0 volts required to get this RAM up to speed
–  2 GB "only"
Final score: The Ascent DDR3-2000 RAM from Mushkin scores an 8.0 (Very good) out of 10