The QNAP TS-409 Pro "TurboNAS" is a mouthful of a name, but with good reason. Jam packed with both the features to appease home users and business users alike this NAS is made to please. With a low price for its enterprise-grade feature set, should this NAS be on your shortlist?
INTRODUCTION
Data assurance and security is ever an increasing issue for end users and businesses alike. It almost doesn't need to be said: drive prices as ever continue to decrease and drive capacity only increases, with drives totaling 1.5 terabytes expected by the end of this year. Even today several 1TB drives from major manufacturers are common to find at the magic 17 cents per gigabyte ($169) mark, so backing up and securing that ever growing amount of data is only going to be an increasing concern.
Business users especially tend to travel frequently and need their mission critical data to travel with them, and travel safely. Flash drives are the greatest thing since "organic" sliced bread was invented, but they are easily lost and still cost around $133 for a 32GB drive. (For those wondering, that is $4.15 per GB.) The cheap off-brand flash drives also tend to die with your precious data significantly earlier than the average name brand flash drive.
So, why a NAS?
So what does this all have to do with a NAS review? The simple fact is a NAS can provide easy data backup and data security for the home or office network, a data hub to act as a centralized source for the office to store and find the most recent versions of important data, and last but not least allowing direct access to your data from the internet while on the go. The QNAP TS-409 Pro "TurboNAS" even goes one step further by offering the ability to directly host websites, MySQL databases, web forums, FTP servers, or replace that PC you dedicate for (undoubtedly legitimate) P2P torrents.
Using an old PC as the home fileserver in place of a NAS is a great (not to mention cost effective) alternative, and the user does also have the ability to use the machine for hosting websites and providing web access to data. However there are several reasons a RAID control card would still be needed for the best data security, and a NAS happens to provide the same functionality in a much smaller, less noisy, and much more power efficient footprint. A NAS provides the same as (and better) drive security than can only be had with a dedicated RAID card, for example a cheap motherboard with Intel's RAID will not on its own automatically rebuild the array from a hot spare when a drive does fail.
It also doesn't need to be pointed out Windows Home Server made a name for itself with corrupting files under very specific situations, namely multiple drive configurations where Windows Home Server's Drive Extender must be used in conjunction with programs that write incremental file updates to open files. Because this is a underlying flaw with Windows Home Server's file system itself a simple patch will not fix the issue, and this is why Microsoft has to wait until the first "service pack" before this problem can be addressed. Perhaps this service pack will also add the missing ability to automatically backup stored files on WHS boxes.
This brings us to our review today of the QNAP "TurboNAS" TS-409 Pro NAS unit, which as the first number indicates can house up to four SATA hard drives. This is QNAP's newest, top of the line NAS device and it aims to do almost anything except serve you coffee in the morning. By the end of our review we will find out if it offers good performance, provides good data protection, and if it stands out from their competition in some way. With a name like QNAP (Quality Network Appliance Provider), you expect it to be a quality product.
 
About QNAP
QNAP Systems, INC. (QNAP) is a devoted and dominant provider of Internet Appliance products. With our solid and integrated expertise in the Linux embedded platform, QNAP has released more than 30 models for the network storage and digital network surveillance series over the past 6 years, providing our consumers with high performance and high reliability storage, backup, and surveillance solutions. Today, QNAP continues to lead the industry with our innovation in design and technology. Our products have gained worldwide recognition. For example, TS-109 Pro was honored the "The Best NAS Box" from MAXIMUMPC (US), "Lord of NAS" from Hexus (UK), and "Golden Bear Award" from Bjorn3D (US) etc. TS-209 Pro was honored "Gold Medal Award" from ComputerGEIL.dk (Denmark), Golden Award from InfoMods (France), and "Product of the Year 2007" from Hardware-TEST.dk (Denmark) etc.
SPECIFICATIONS
We will only focus on a few of the main features here, however for quick reference everything is included in one of the three tables below that are divided according to hardware, server features, and the software specifications.
So in a nutshell what is the QNAP TS-409 Pro "TurboNAS"? Well, it is a media server, a backup server, a web server, webpage server, FTP server, MySQL database server, a print server, and even dabbles as a full personal iTunes media server. I still get the feeling I left something out. The only thing it doesn't serve is a hot cup of coffee in the morning, and no JAVA doesn't count here.
The TS-409 Pro/non-Pro features several Enterprise class features that are essential for any mission critial systems where down time must be avoided. Additionally they can be quite handy for even the regularly home user. To make hot-swapping of drives an actually useful features the TS-409 supports RAID level migration and RAID capacity expansion while preserving all the original data housed on the NAS.
RAID capacity expasion consists of swapping out smaller hard disks to larger drives to increase the overall size of the array. RAID level migration allows the user to add a standalone drive to an already existing drive and create a RAID 1 array while preserving all data on the original drive. In this same fashion a RAID 1 array can be converted into a RAID 5 or 6 array, and a RAID 5 array can be converted into a four drive RAID 6 array.
If using four drives the TS-409 Pro will give you a wide variety of options for drive configurations. All hard drives can be initialized as individual standard drives, or initialized into a single massive drive otherwise known as JBOD array. The usual RAID 0, 1, 5, and 6 arrays are also available. If desired the drives may be configured into two independent RAID arrays, or one of the four drives can be used as an automatic hot-spare for a RAID 1 or RAID 5 array. 
Just about the only thing not offered is RAID 10, however if web database performance is that critical then likely that need would be better served by a computer with a fast processor, memory, and RAID card anyway and not a NAS device. In place of RAID 10 the TS-409 offers RAID 6, which is effectively the same as RAID 5 but with an extra drive used for redundancy. Four drives are required for RAID 6, and up to two of them can fail at any time without the data being compromised.
Something intriging to note is this NAS has the ability to host your personal iTunes library for easy browsing and playback over the network. Additionally the NAS can function as a Bittorrent host and/or client and supports not one but up to three printers presumeably one for each available USB port.
While the list of features is inumerable one last feature we very much appreciated was the extensive tools made available to check on hard disk health and even the NAS unit itself. Users can perform drive tests, view drive temperatures and SMART status, and even view the actual SMART data directly from within the Administration pages. QNAP also gives a full rundown on the NAS with everything from CPU temperature to CPU usage, memory usage and the list continues.
 Hardware
QNAP TS-409 Pro "TurboNAS" 
Hardware Specifications

CPU

 Marvell 5281 500MHz

256 MB DDRII (333MHz)

Flash Memory

8MB

HDD

4 * 3.5″ SATA I/II HDD, up to 4 TB
(the standard system is shipped without HDD)

LAN Port

1 * Gigabit RJ-45 Ethernet port
Status, USB, LAN, HDD 1, HDD 2, HDD 3, HDD 4

USB

3 * USB 2.0, support USB printer, disk, digital camera, pen drive, card reader, USB hub, and USB UPS etc.

Buttons

USB auto-copy button
Power button
Reset button 

Alarm Buzzer

System Warning

Form Factor

Tower

Dimensions

225 (D) x176 (W)x 188 (H) mm

Weight

Net weight: 3 kg (w/o power adaptor)
Gross weight: 4.75 kg (full package)

Temperature

0~40°C

Humidity

0~95% R.H

Power Supply

External Adapter, DC 12V

Energy-saving Design

Smart fan, sleep mode: 18.8W; in operation: 44.6W

Thermal Solution

Heat dissipation by fan

Secure Design

K-Lock security slot for theft prevention
Anti-kick power adaptor design
All-in-one Server Features
QNAP TS-409 Pro "TurboNAS" 
Sever Features

File Server

File sharing across Windows/ Mac/ Linux/ Unix and centralized management

Support data access from remote location via FTP (max. 32 concurrent connections)
FTP with SSL/ TLS (explicit) mode
Passive FTP port range control

Backup Sever

Client-side backup software-NetBak Replicator supports Instant, Schedule, and Auto-sync backup
3rd party backup software support: Acronis True Image, CA Brightstor ARCserver Backup, EMC Retrospect, Symantec Backup Exec

Printer Server

Network printer sharing via USB (support Windows & Mac platform)
Support all-in-one printer (max. 3 sets)

Remote Replication

Block-level remote replication supports instant, schedule backup management; support synchronization mode
Establish users own web page and interactive websites with editable PHP.ini, SQLite and MySQL dual support

My SQL Server

Support MySQL database server

UPnP Media Server

Support UPnP/ DLNA multimedia technology; share stored photos and home videos on TV, listen to music on Hi-Fi system via DMP
Enjoy more than hundreds of worldwide Internet radio (built-in TwonkyMedia)
Support DLNA media playing with PS3, Xbox360, PSP
Support Nokia N95 (DLNA control point)

iTunes Server

iTunes server for music sharing on your network
Support Smart Playlist for iTunes software

Multimedia Station

Image slide show and rotation (+90°, -90°)
Display photo details: dates, exposure time, aperture, etc.
Automatic thumbnail generation for easy browsing
Photo album access authority management
Multimedia files (video and audio) local playing
Automatic file categorization

Download Station

Support PC-less BitTorrent/ FTP/ HTTP download
Unique remote download control software: QGet (Windows-based application), allows you to control the download tasks of multiple Turbo Stations on one PC via LAN/ WAN.
BitTorrent download supports DHT (automatic relaying if interrupted)
Download configuration (current seed number, configurable port range, bandwidth control, download percentage, UPnP NAT port forwarding for BitTorrent download)
Download status list management (download percentage)
Support access from Mac by Mozilla Firefox
Software
QNAP TS-409 Pro "TurboNAS" 
Software Specifications

Operating System

Linux-embedded system

TCP/IP, DHCP Client, DHCP Server, CIFS/SMB, AFP, NFS, HTTP, HTTPS, FTP, DDNS, NTP, Gigabit Jumbo Frame

File System

EXT3 (Internal/ external HDD)
FAT (External HDD)
NTFS (External HDD, read-only)

Supported Operating Systems

Microsoft® Windows® 98/ ME/ NT/ 2000/ XP/ 2003/ Vista 32-bit
Macintosh® OS X

Disk Management

Single disk, RAID 0 (Disk Stripping), RAID 1 (Disk Mirroring), RAID 5, RAID 5+ Hot spare, RAID 6, and JBOD (Linear Disk Volume)
Multiple RAID, RAID Migration, RAID Expansion,
Disk usage status management
Check disk (Check Linux file system)
HDD S.M.A.R.T.
Bad blocks scan
User quota management (per user)
Windows AD Service support
User account management (max. 1,024 users)
User group management (max. 128 groups)

File System Management

Network share management (max. 256 shares)
Share folder level ACL support
Unicode support
Journaling file system
Web File Manager

System Tools

E-mail alert (SMTP authentication)
HDD standby mode
Disk usage alert
Automatic power on after power loss
System firmware upgrade
Change homepage logo
Back up, restore, reset system settings
Smart fan setting
Configurable management port
Easy IP filter management
Secure remote login by SSH connection; remote login by Telnet connection
USB, SNMP UPS support
Network recycle bin

Event Logs

Complete system logs (system events management, connection logs, current connection of on-line users)

Multilingual Support

English, Traditional Chinese, Simplified Chinese, Japanese, Korean, French, German, Italian, Spanish, and Russian

Backup Management

PC-client backup software- NetBak Replicator: Instant/ Schedule/ Auto-sync backup
Encrypted remote replication
One touch USB copy for different destination folders
Backup to external storage device
PACKAGE & ACCESSORIES
Most prominently featured on the package are the hardware specifications and the image of the NAS itself, with the remainder taken up by the exceedingly numerous listing of software features. As if the several categorized lists weren't enough there are still more features listed on the obverse side of the box with some explanations for several such as RAID migration, "smart fan", and general emphasis on security and reliability as one would expect when targeting the business market.
When it first arrived the unit was packaged inside a shipping box that was beyond massive, a small computer case could have easily fit inside. That doesn't mean it was full of the TS-409, instead most of it was in fact air and packaging inserts. So in keeping with the same philosophy the actual retail package for the TS-409 Pro Turbo NAS itself was surprisingly large in its own right, but still full of air and cellular foam block inserts. This is not a bad thing, in fact it shows QNAP is careful to ensure their product will arrive completely intact and blemish free to your door.
     Click to Enlarge
The NAS was suspended in the middle of the box with a generous amount of space on all sides, and still was packed within a thick plastic bag to protect the unit directly. This is how most expensive computer cases are shipped, but even then QNAP has trumped a few manufacturers I could mention with their almost overboard packaging design. Even the accessories are packaged separately in a small, sealed box that is securely wedged into place and not going to go anywhere, or worse spill its contents to wreak havoc.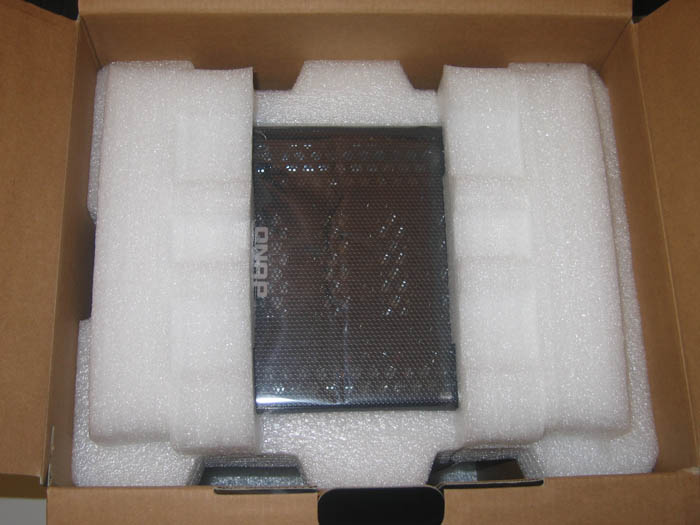 Accessories
Inside the bundle is a bit sparse, however QNAP provides a quality Cat5e cable, fold out quick installation guide, software CD, and also a bag of sixteen screws needed to mount the drives. The QIG itself is labeled in four languages, but provides easy to follow colored images for setting up the device and initial QNAP Finder software. All in all, the QIG is actually useful to follow for the preliminary software set up.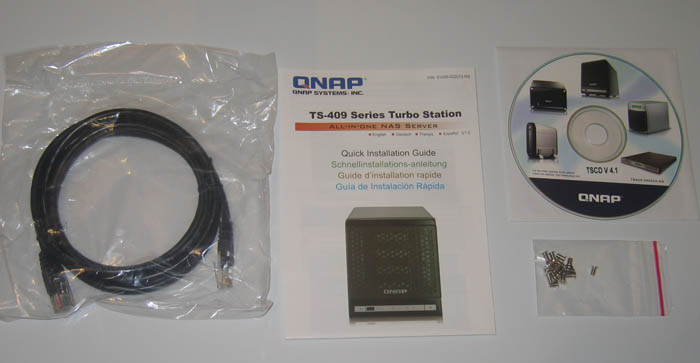 The TS-409 Pro is naturally powered with an external, if somewhat large power brick. The brick is almost as large as my 130W laptop power brick, with good reason. Surprisingly while the specifications for the TS-409 call for less than 50 watts during normal operation, the power brick is rated for a healthy 96 watts operation, more than enough to power most laptops.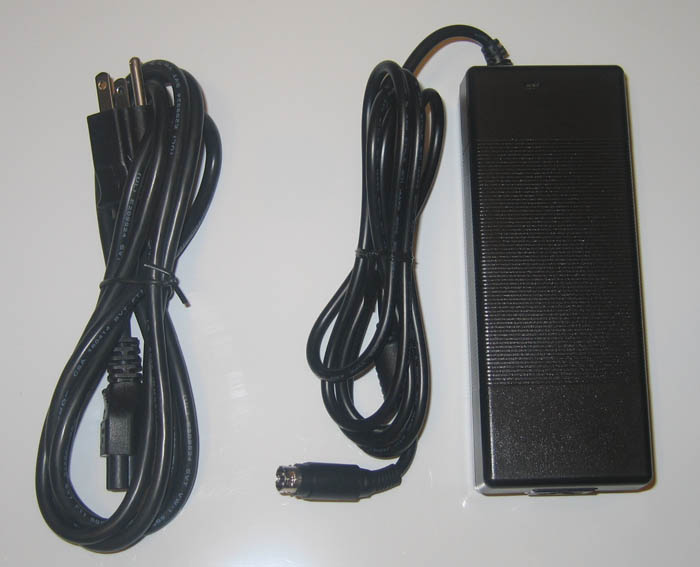 FSP Group is perhaps better known as "Fortron Source", which happens to be a very well respected name behind computer power supplies. The choice elected by QNAP to go with a much higher rating power brick than was needed from a good quality manufacturer reflects as a very promising sign of quality as to the NAS itself, if these are the typical choices made by QNAP. They could have easily cut costs by bundling a lower quality and lower rated power brick here.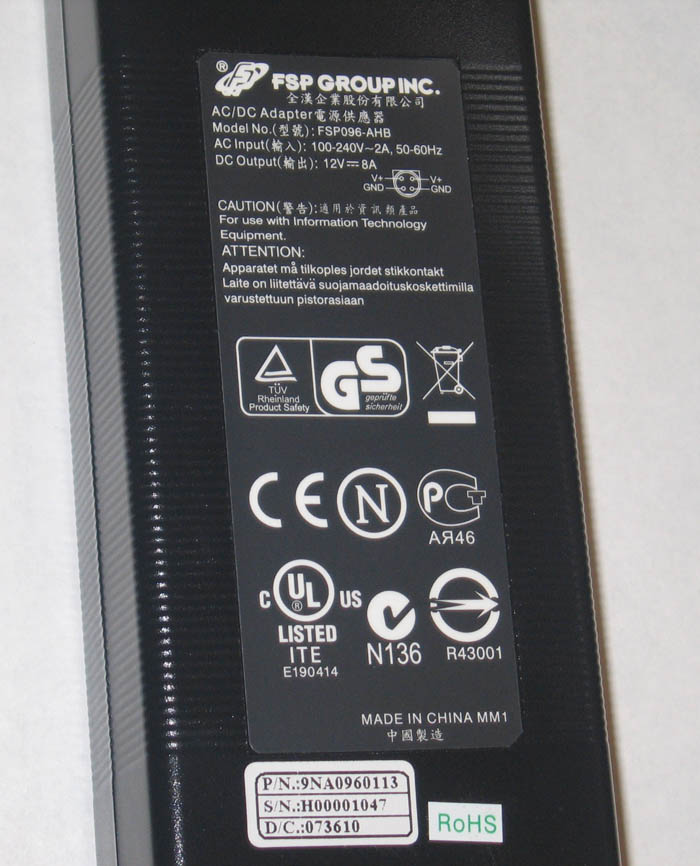 A CLOSER LOOK – EXTERIOR
The QNAP TS-409 NAS may not win any aesthetic awards, but QNAP has shown they prize quality over pure aesthetics. Therefore it is not much of a surprise to note both versions of the TS-409 are identical in appearance and would be completely at home in a business office, or even sitting on a shelf amidst other computer equipment. Unlike their competitors that sculpt their NAS devices to resemble drive racks, safes, or vaults in appearance the TS-409 is simply utilitarian and would look right at home in an office.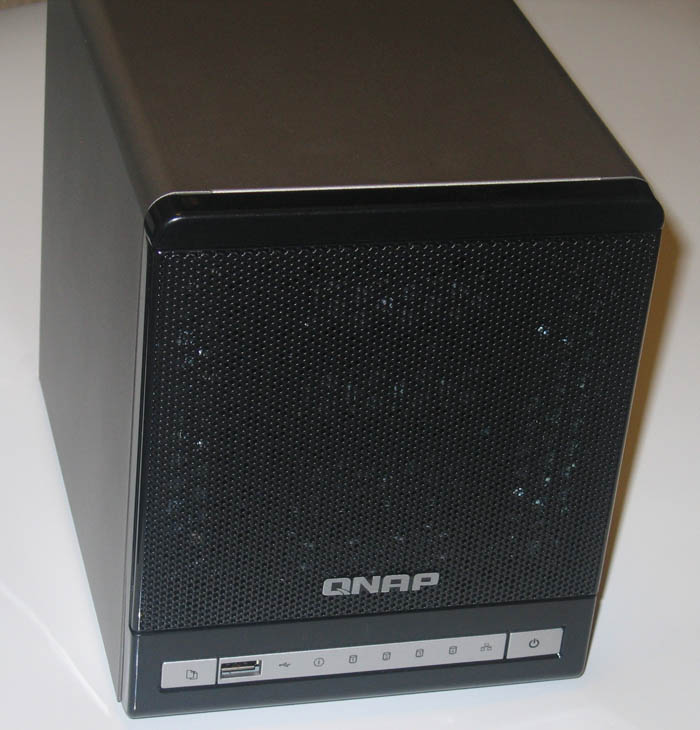 The housing is a single solid piece of gunmetal-gray aluminum, and the front is mostly comprised of a black metal mesh akin to that found on some older low-end PC speakers. The only plastic you will find on the unit is the black plastic front bezel itself. The wire mesh however does sit within a plastic door that features plastic hinges. Besides masking the interior of the unit the mesh serves to allow plenty of room for air to be drawn in evenly over the drives inside. The door also allows for quick access to the drives housed inside.
The gray strip along the front and both buttons are also plastic, but fortunately have a solid enough feel to them to not seem cheaply tacked onto the unit. The two buttons give a solid feel when they are depressed, they will be no lingering question if, for instance, the power button was not fully depressed for any reason. These buttons only require a light pressure to use, so it is a very good thing that QNAP has designed the power button to remain inactive unless held down for four seconds. This has already saved us from one unintended shutdown.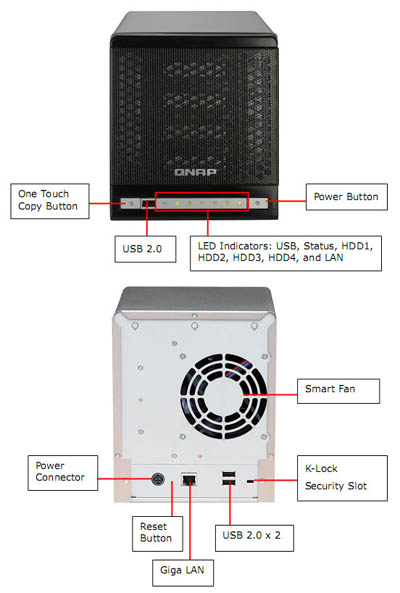 The power button needs no explanation, however the second button serves a unique purpose; there is a reason it is located beside the single front USB port. This button serves as either a single-touch "copy to" or "copy from" command for any USB storage device plugged into the front USB 2.0 port thank to a preconfigured folder on the NAS. The button will start an automatic complete transfer of data from a connected device depending on the chosen setting within the NAS configuration settings. It may also be disabled if needed.
The back of the unit presents the familiar, if conspicuous gray metal reminiscent of cheap power supplies and is overall rather sparsely populated with ports. From left to right are the power, inset reset button, Gigabit Ethernet, two USB 2.0 ports, and the K- slot for tethering down the NAS.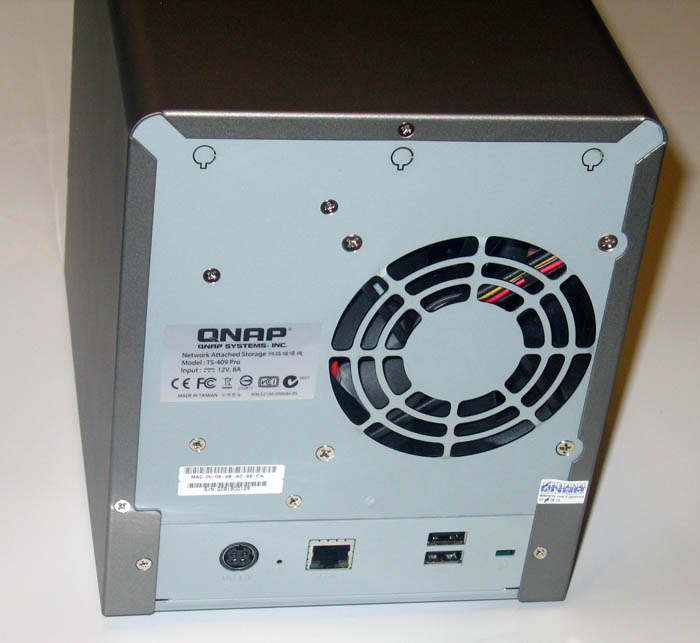 Unfortunately while the Kensington lock is a nice bonus feature it is not really practical in this situation, as there is no means and not even a key lock to secure the hard drives in place. It would doubtfully be more convenient to simply open the door and steal the individual drives than to steal the entire NAS, which would be much more difficult to hide on a person. Not to mention personal or sensitive business data housed on the drives would probably be worth more to a potential thief than the NAS itself.
Leaving no stone left unturned we flipped the NAS over to look at a often forgotton about but no less important component, the feet. Again QNAP didn't cut any corners here, these are thick rubber-like feet that grip the surface well and should help soften any potential device vibration. These feet are also solidly attached to the unit and won't be coming off any time soon.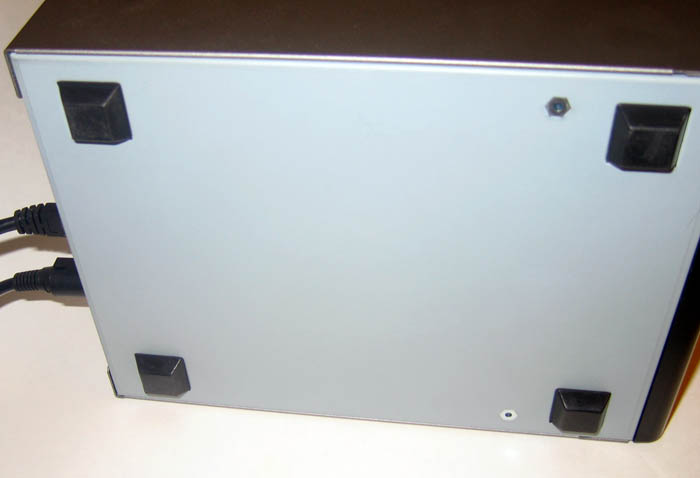 Opening up the unit reveals a completely metal interior with no plastics trays or silly locking mechanisms. The entire purpose of a NAS is to backup and secure your precious data, so this is a nice sight to see even if perhaps not the absolutely most convenient. After heavy use we can safely alleviate any concerns about vibrations with all this hard metal.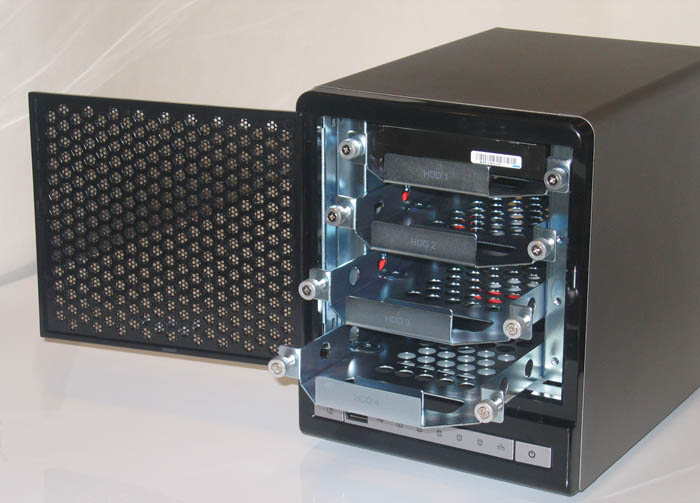 What would appear to be thumbscrews are simply self-retaining screws that remain in place after removing the drive racks. In other words this is not a tool-less design, even the manual indicates a screwdriver is still needed to remove or install the HDD racks into the NAS. However with this design choice there will be no concerns about lost screws or worse, potentially dropping a thumbscrew onto the NAS circuit board, which could be especially bad if the NAS was still operating with a hot-swap in progress!
 
A CLOSER LOOK – INTERIOR
Just as with the rest of the unit the interior drive trays are solid steel. Despite this there are no rough or sharp edges to pose any risks when handled. As mentioned on the previous page these are not quite actual thumbscrews and don't work very well as such, however they served to primarily ensure the screws stay attached to the trays. A Phillips screwdriver will be needed to properly install the drives into the trays, and the trays into the NAS.
   Click to Enlarge
Removing the drives and looking inside at the internals, the first thing that quickly caught our eye was the cleanliness of the cabling work. Looking at the SATA ports you can clearly see the SATA cables are neatly arranged with every cable being zip-tried in place to the steel framework.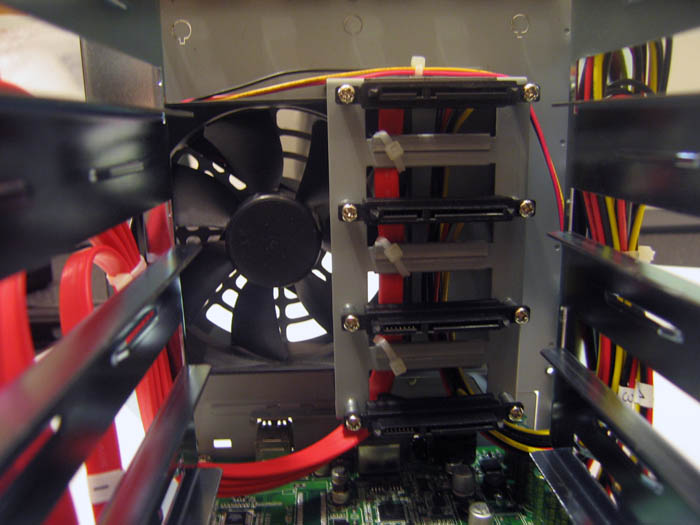 The housing is a single piece of steel that easily slides off, however a strategically placed sticker must be removed to access one of the screws clearly warns opening up the unit will void any warranty. Once inside we again noted the neat and orderly cabling work. Such attention to the little details is always a good sign. The metalwork also serves as a duct to focus airflow across the PCB and directly across each of the four drive bays.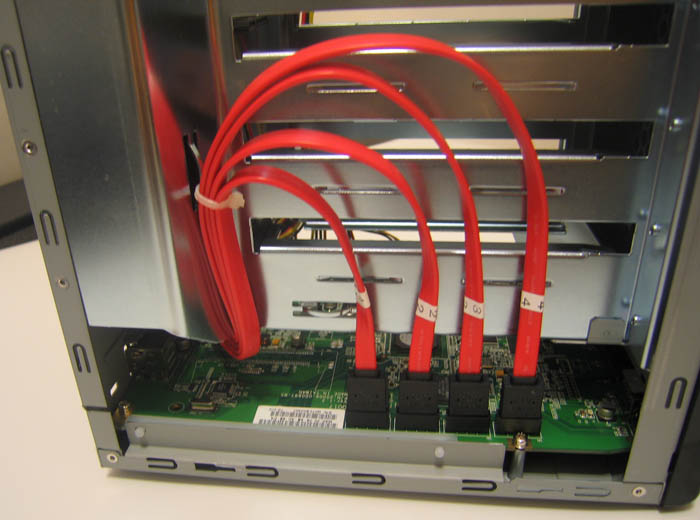 In the next image several green capacitors can be seen with a great many more hiding behind the power cables in order to supply the drives with power. These electrolytic capacitors are all produced by Sanyo which is regarded as a good quality brand, so bad capacitors should not pose any future issues here. Interestingly all of the remaining capacitors used on the circuit board are solid polymer capacitors instead of the cheaper electrolytic variety such as the Sanyo's.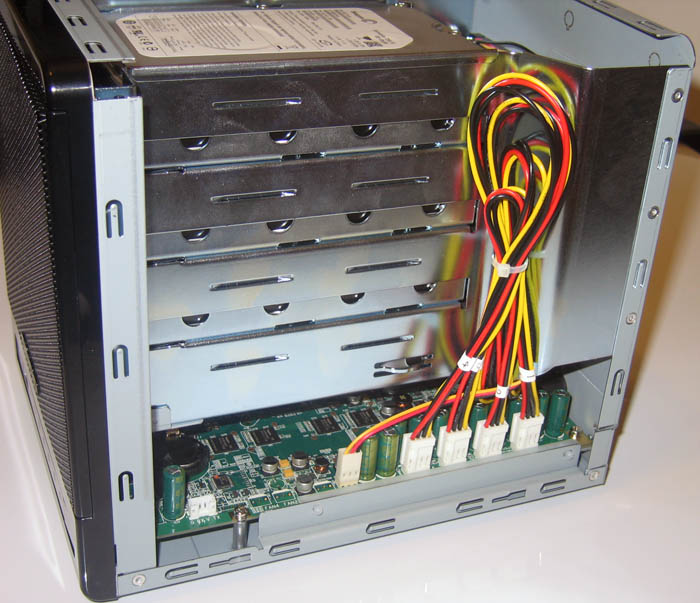 Here is another angle showing the rear 80mm smart fan with the top drive installed. There is sufficient room between the drives to ensure the fan receives a clean source of air to draw upon, and while the drive connectors partly infringe a little to close to the right side of the fan they do not block airflow.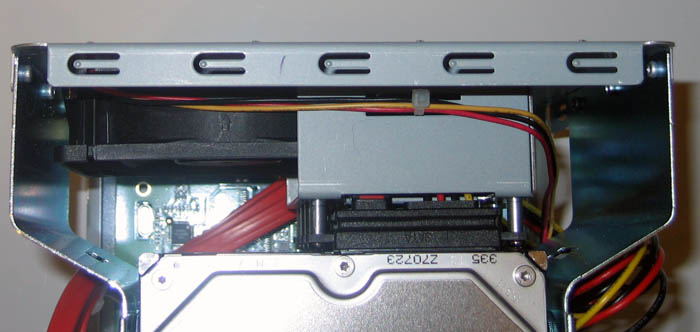 The Marvell SoC processor does not feature any heatsink, which is the first clue about the unit's power consumption. Directly above the CPU is the a miserly sized 8MB flash chip. The circuit board is Made in Taiwan and already up to revision 1.3. This PCB does integrate a PC chip speaker that can't quite be seen here.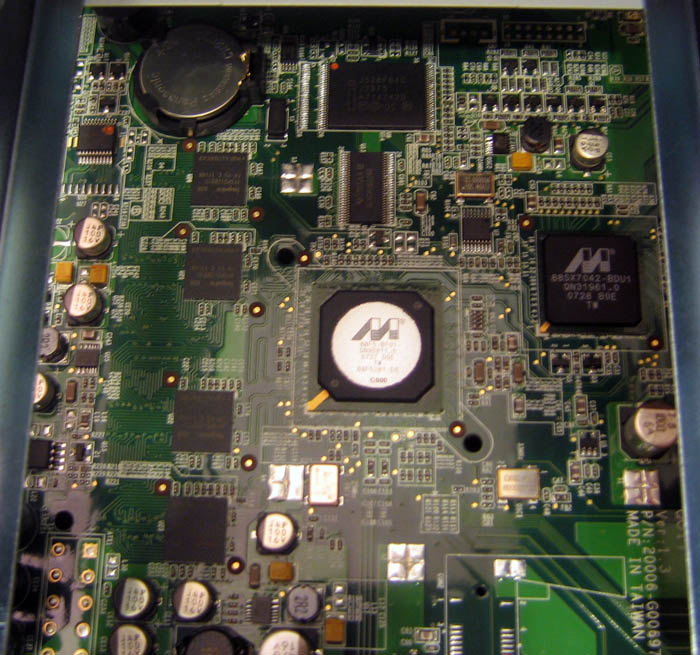 The CPU is a Marvell 88F5281 System on Chip ARM9 processor that operates at 500MHz. At first glance this is a standard chip of choice for hardware RAID cards and network storage devices. As the System on Chip implies this processor carries hardware offloading for the PCI to PCIe bridge, cryptographic engine, an XOR engine for RAID 5 and 6 operations, and the list continues. However to our surprise this CPU is the next generation version which does in fact feature a hardware floating-point unit, which will easily increase performance over any past incarnations of this Marvell controller. If you are familiar with the drawbacks of software emulation, up till now all FPU calculations would have suffered a performance hit for this very reason.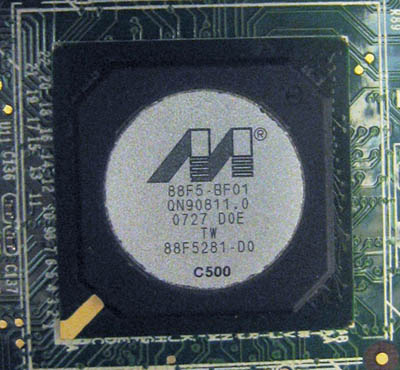 QNAP has elected to use higher performance DDR2 RAM with their unit. For those curious this RAM is definitely not upgradable. While QNAP neglects to mention the RAM frequency the RAM in question consists of four chips of Hynix HY5PS12821C FP-Y5. However a brief search and one datasheet later, the model indicates 64MBx8 for a grand total of 256MB operating at DDR2-533Mhz, and the speed bin "Y5" would indicate this RAM is operating at timings of 5-5-5 with a tCK of 3ns.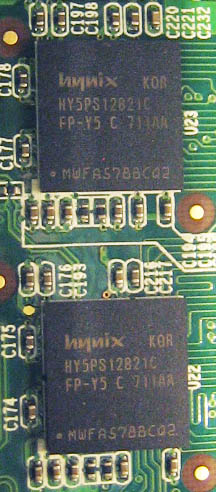 The Marvell 88SX7042 is a PCIe to Serial ATA controller chip which is commonly seen on discrete RAID cards. This chip supports four SATA drives and is fully compliant with SATA 1.0 and SATA II standards. This means in addition to the 3.0Gbit/s ability, NCQ, and hot-swapping, the ability to directly read hard drive SMART data is also included.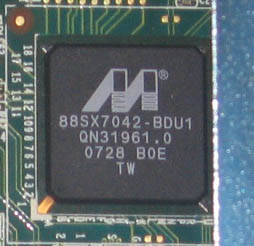 The Ethernet chip is, big surprise, another Marvell chip namely the 88E1118 which is not pictured here. What may interest you to know is that this little chip is the exact same chip featured on most 680i based motherboards to provide Gigabit Ethernet capability, in addition to more than a few notable ASUS motherboards. Suffice to say LAN performance should not be a bottleneck with this NAS!
INITIAL SETUP
Unfortunately this is the point we encountered our first of several small issues with the TS-409 NAS. Upon inserting the included installation CD, Autorun failed spectacularly, and when submitting the error report to Microsoft it also happened to open a 404'd URL to QNAP's website. Thankfully manually running the installation disc worked, at least up until the point the user selects between the Pro and non-Pro versions of the QNAP 409 Turbo NAS. After selecting the TS-409 Pro the new window was partially garbled, and clicking on the QNAP Finder link to attempt the software install resulted in the install CD software hard locking. After waiting a few minutes just to be absolutely sure it wasn't going to spring back to life we manually attempted to terminate the process, which naturally resulted in Windows Explorer crashing. Hence this is why we will not be including any screenshots of the driver CD software!
Before pointing any fingers we tried the installation CD on a different computer, and even stranger nothing happened. Any attempt to manually force Autorun or manually access the disc would both result in an "Access is denied" window, even though Windows XP SP2 recognized the disc correctly. Just for fun I tried a third system with identical results to the second. Upon a closer inspection the answer was found lurking in the system Event Viewer logs. Every attempt to access the disc would result in a CDROM device error written to the logs with the message "The device DeviceCDROM0 has a bad block". As there have been no major flood of reports from disgruntled QNAP users on their support forums it simply appears we received a defective driver disk by some random fluke, so we let this one pass.
As is always recommended regardless for any newly purchased consumer electronics devices, we manually downloaded the latest versions of QNAP Finder, QGet, and the very extensive, updated, manual directly from the manufacturer's website anyway. To our surprise QNAP Finder is primarily intended to serve as a quick means to first set up and configure the NAS, and not the main front-end for administrating or configuring the NAS, but more in a moment.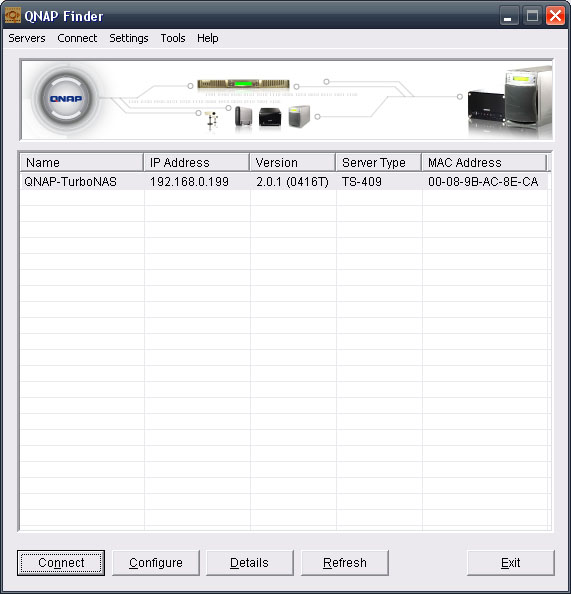 When first powering on the NAS via the front power button the unit will beep, and even though the Quick Install Guide quotes a full minute the unit only required around twenty seconds before it beeped once more signifying that it was ready to begin.
Remember what was said previously about QNAP Finder not being the front-end to administrate the TS-409 NAS? That is because there isn't any. Or to be technically correct, it's your browser window. Not only was this a pleasant surprise but it is an intelligent design choice for many reasons, which shows QNAP put some careful forethought into this product.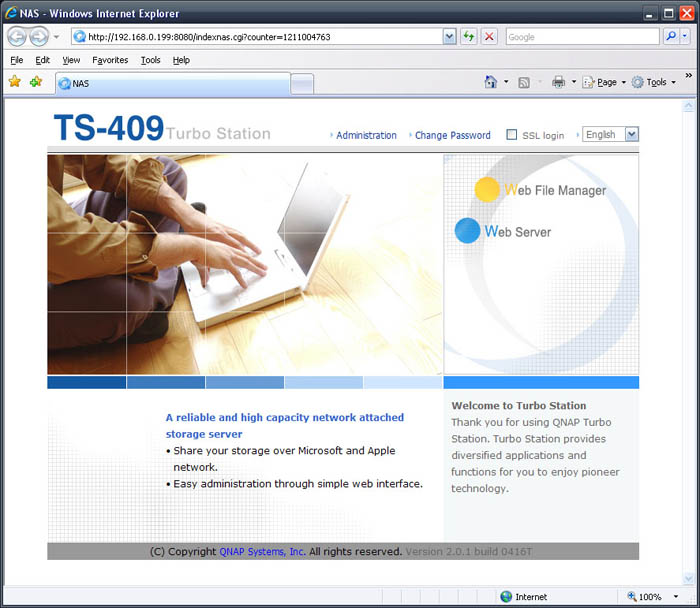 Such a design is extremely useful as you can directly control the NAS just like a network router or modem. For example you can access the device from any computer on your network regardless of software installed, or even of the operating system (the TS-409 Pro version supports NFS and Apple's TalkBack service). No actual software is required to be preinstalled on the computer to use and configure the NAS.
Users can also directly access and configure their TS-409 NAS via the internet (remember the TS-409 features a built in web server & website hosting capability), so obviously choosing a secure TS-409 login user name and password is most definitely a good idea if planning to make use of these particular features.
So where to start? Users have the choice to use QNAP Finder to directly take them to the administration/settings area, to bring up the browser window as seen above, type in the URL directly or via a bookmark, or they may simply browse the chosen network share directories as they normally would over any home network. QNAP Finder does still provide a few basic controls such as remote shutdown, restart, and of course the initial quick setup wizard although all of these are available directly from the NAS via the administration settings.
Upon starting QNAP Finder for the first time it will automatically detect the NAS on the network and give you the below prompt. Clicking Yes will result in a Login prompt, which is the point where it comes in handy to actually read the Quick Installation Guide, as the QIG is where you will find the admin name and password information (also "admin") that you are required to input. From this point the unit runs you through the customary setup wizard to configure the NAS.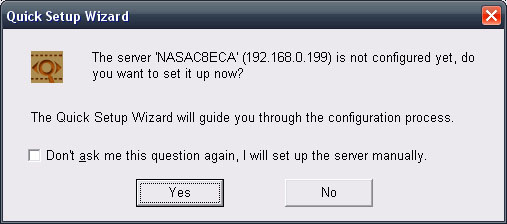 The Quick Setup Wizard is self-explanatory and surprisingly basic, and in 7 steps will have the NAS up and running. The second to last step in the quick setup wizard offers to update the TS-409's firmware, so be prepared and have the most recent file ready. QNAP's website makes it easier than most to find the correct download, but yet again we ran into an issue here. Attempting to download several of the most recent firmware editions from the US sites resulted in 404 errors of the same type first encountered with the defective driver CD. Therefore for the purposes of this review we downloaded and installed the latest 2.0.1 firmware from the European server without any further issues. 
ADMINISTRATION
After our initial experience with the TS-409 Pro we must say that the administration and configurability of this NAS is simply amazing. QNAP has taken care to fully develop the administration functions of their product and has included just about every possible thing. As such as feel this is one of the TS-409's greatest strengths and will focus on it in more detail than we otherwise would.
Serious readers looking for a well developed and easy to configure NAS should be able to find answers to most questions with the following litany of screenshots. Despite the plethora of screenshots we still focused only on the more important or useful areas, and must warn that we covered only around half of the multitude of screens and settings available to the TS-409 Pro specifically. It probably doesn't need to be said; click the images for a larger view.
The first page serves to provide not only a list of where to find specific options in the configuration screens but also can take you directly to them via hyperlinks instead of having to manually browse through several menus to reach it. Users may also browse by general category as if they were setting up a typical router. The second category allows the user to perform the same quick setup that was initially performed with the QNAP Finder software setup wizard.
Settings can be changed and modified without the need for a reboot of the device. Even with a RAID migration, rebuild, or during other activities the settings can be modified on the fly and there is no apparent lag even when the NAS's CPU is at a full load.
The Network settings section is detailed, to put it mildly. Under the TCP/IP configuration screen those users wishing to squeeze the maximum performance from their NAS and also have a Gigabit Ethernet network will need to manually adjust the Jumbo Frames setting, which is disabled by default. Keep in mind the Jumbo Frames on the individual computer will also need to be adjusted to match this value to receive the best network performance, in addition to the MTU value on the network router.
We included a screenshot of some the available AD Domain settings and the mostly empty but certainly no less appreciated Apple Networking setting which should interest the ever growing number of Apple users. That is assuming they can get past the utterly utilitarian appearance of the TS-409 Pro first however.
Here the TS-409's available NFS and FTP settings are shown, along with the multimedia settings screen.
Now we arrive at something particularly interesting, in addition to supporting AppleTalk the TS-409 has the ability to host your personal iTunes media library for playing across the local network. We included an image of the iTunes Server screen where iTunes users may configure the NAS to allow clients to access and play their iTunes media.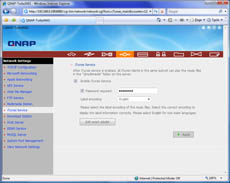 Web Server settings and DDNS service options are shown below, with the already preconfigured DDNS services shown for reference. The very last page serves as a quick one-glance check of the all of settings available within the Network Settings category.
The Device Configuration section is where USB drives, printers, and most importantly SATA disks and RAID configurations can be checked and modified.
User Management allows a fine grained control of users and user groups. Individual users or the entire NAS may have disk Quotas assigned to them and areas of the NAS defined as off limits, read only, or full access. Network Share Management controls all the folders seen over the network shared folders and is where folders can be created or removed. Note that Network Recycle Bin folders depend on the type and number of arrays in use, however they can subsequently be modified or disabled if preferred.
System Tools controls the alert notification settings, hardware settings, and things such as UPS support and temperature settings can be found.
One very much appreciated feature we were not expecting was the hard drive SMART options. Users can note drive temperatures, test their drives, view hard disk information such as drive firmware, and should they wish even view the actual reported SMART values themselves.
Finally, last but certainly not least is the System Logs area. These logs are quite detailed and show exactly who has accessed the device and done what, who is presently connected, and also general system events. The system information page details the actual CPU, memory and general health of the TS-409 NAS.
Web Server settings and DDNS service options are shown below, with the already preconfigured DDNS services shown for reference. The very last page serves as a quick one-glance check of the all of settings available within the Network Settings category.
TEST SETUP
Our critique of the QNAP TS-409 Pro TurboNAS will be split into three parts. The first part will consist of the synthetic disk subsystem benchmarking tool IOzone. The second will focus on some basic everyday real life tests, namely transferring a single massive 1GB file and also a folder containing numerous small files and directories. The third test will be the NAS unit's handling of data during RAID migrations including a simulated failure of a drive. Obviously the entire purpose of a NAS is to securely hold the data it contains, so under optimum conditions RAID migrations should not result in the loss of any data housed on the originating drive or array.
Test Platform
Processor

Intel Core 2 Quad Q6600 2.40GHz @ 3.2ghz

Motherboard (BIOS)

Gigabyte GA-EP35-DS4 (F2)

Memory

Corsair DDR2-800mh 4x1GB  @ 4-4-4-12

Drive(s)

4x Seagate Barracuda 320GB 16MB Cache 7200.10 SATA

Lite-On SATA  DVD+/-RW

Graphics (Driver)

FOXCONN 8800GTS 320MB (175.16)

Power Supply
PC Power & Cooling 750w Quad Silencer
Case

Antec P180-B

Operating System

Windows Vista Ultimate SP1 32-bit

Router
DLink DIR-655 Gigabit Router
TEST METHODOLOGY
IOzone
IOzone is an advanced command line disk testing tool. Put it this way it sounds like just another program, however a quick look at just some of the typical results that can be obtained will easily result in information overload for users trying to decipher the results! Don't say we didn't warn you.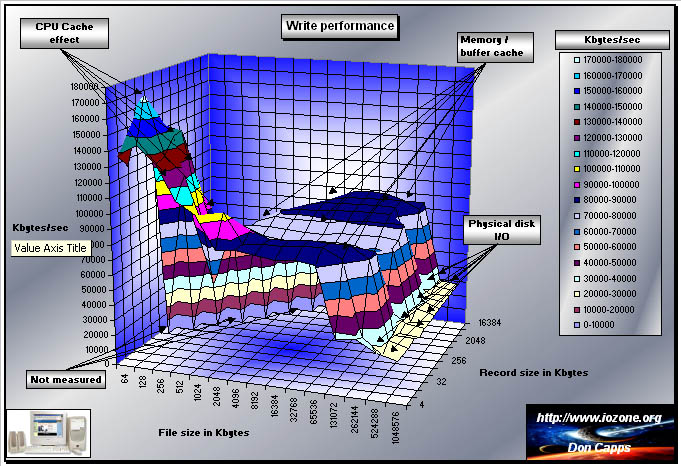 For legibility and brevity we will focus on the simplified line-graph tests using the de facto standard 64KB RAID record size while transferring file sizes ranging from 64KB to 1GB, in order to measure the throughput.
File Transfer Performance
With the two typical usage scenarios we created a single massive 1GB archive and measured the time taken to transfer the file to and from the NAS, fully deleting the original file each time.
For the second scenario we took a folder populated with 2,977 files within 249 folders. The overall size of the folder is only 876MB, much less than our 1GB test file and is filled with typical files one would expect to see in an user's My Documents folder, specifically anything from programs to JPEGs to class coursework and documents. In other words, the sort of stuff one may wish to back up regularly.
The goal here is to test the additional overhead involved in created by metadata. Metadata is extra info tacked onto files and folders, such as their size, type and any additional information describing the file contents. Typically this is part of the reason why transferring a large number of small files and folders results in significantly slower transfer rates, as opposed to if you were to transfer the same amount of data as a single solitary file. Unfortunately this also exposes one of the serious shortcomings of Vista.
Even though the 876MB test folder is significantly smaller than the 1GB file, on the first transfer attempt Vista SP1 required a whopping 9 minutes and 19 seconds to transfer the folder and its containing data. Because Vista employs a retroactive caching system to attempt to mitigate this atrocious performance, subsequent repeated transfers "only" required a little over four minutes… Four minutes is still significantly more time than 41 seconds it took to transfer a larger 1GB file! To say Microsoft is trying to reinvent the wheel and failing miserably might be an understatement, but now we are digressing.
Suffice to say the first transfer results are thrown out with the subsequent three runs then averaged, but we mention this so users wondering about the abysmal performance of their file transfers will know exactly what is going on. For those likely curious readers, Windows XP could perform the same transfer in 2 minutes, 14 seconds on the first transfer, significantly less than the over 9 minutes its much less nimble replacement turned in. To be fair all subsequent transfers fell within the 4-5 minute range, but this is still double the time XP required on it its first attempt.
 
TEST RESULTS
RAID Migration & Faux Drive Failure
The QNAP TS-409 offers the ability to migrate two drives into a RAID 1 array without compromising any data housed on the original drive. In this same fashion it can perform a migration from a RAID 1 to RAID 5 or 6 array, and can also perform a RAID 5 to RAID 6 migration. In addition to RAID level migration RAID capacity expansion is offered whereby users can upgrade the hard drive sizes incrementally in their RAID array a single drive at a time. On top of this QNAP promises that users will have full acess to their files during migration and expansion activities and that there will be no downtime.
We decided to test these claims, starting with four identical drives we placed several data files on the primary drive and proceeded to migrate to a RAID 1 array using a spare drive. We need not have worried as true enough we had access to these files and they were preserved during the migration. Despite the migration in progress and Marvell CPU pegged at 100% the NAS was still responsive and did not hamper navigation through network folders or the NAS's administration menu which is excellent to see.
In the same fashion we migrated from a RAID 1 to RAID 5 set up, then a RAID 5 to RAID 6 array. Migration times were very respectable and only several hours for the RAID 5 migration. This convenience does incur a penalty however in that a RAID 6 migration will take more than twelve hours to fully complete. Migration times are extremely dependant upon the size of the drives used.
The short answer is the TS-409 passed with flying colors. Any NAS worth its salt should offer these enterprise class features as standard, but unfortunately only the higher end models do and rarely are all of these features including hot-swapping can be found together on a NAS for less than $800, let alone at or below $600.
Deciding to test the NAS's handling of a simulated drive failure we removed one of the drives in RAID 6 while the unit was operating. The NAS promptly gave out an alert that the array had degraded and requested a new drive of the same size or larger be inserted. We reinserted the same drive we had just removed and without any user input the TS-409 began rebuilding the degraded array to the inserted drive as it should do.
Because the drive had been removed it was no longer being updated, however files on the RAID 6 array could have potentially been modified since its removal. In this case in order to preserve the user's most recent data it makes complete sense for the NAS to avoid attempting to "resume" from the reinserted drive and instead wipe the slate clean and rebuild the current array to the drive. This is the only means to ensure the integrity of the files on the array. Our files were easily accessible while the rebuild was in progress.
IOzone Performance
For quick reference here are the flags we used sans quotes to generate our results. "F11_iozone.exe -Rab Raid6.wks -i 0 -i 1 -+u -q 64K -g 1G -r 64K"
For these tests we only measured Gigabit Ethernet performance. For easy reference the purple lines indicate where the maximum potential 100Mbit networks (12,500KB) could achieve.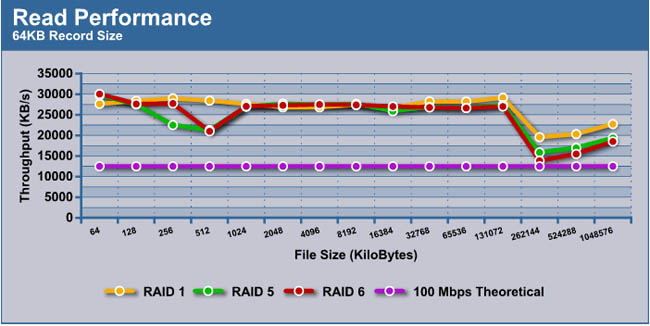 Our results are not as linear as we would like however we feel it is more of an issue with our install of Vista Ultimate and not anything due to the NAS itself. Regardless the results are quite telling and show a strong performance for all major RAID levels including even RAID 6, which is the most computationally intensive. The abrupt drop in performance at the 256MB mark is due to the file size exceeding the 256MB of RAM the TS-409 has available.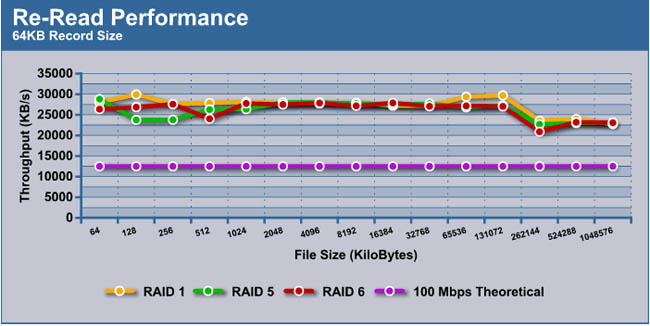 Interestingly re-read requests for greater than 256MB files shows an almost insignificant drop in performance, and is still well above the 100Mbit mark.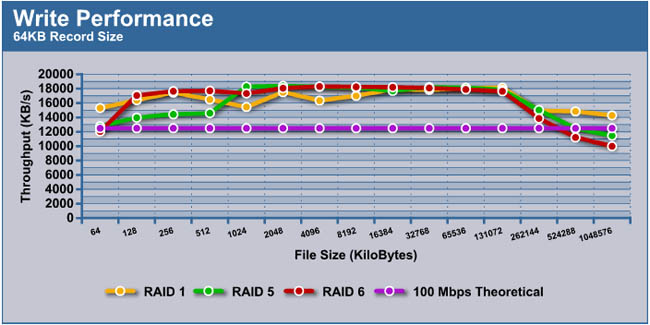 Write performance is as expected below that of read performance and again files exceeding the 256MB RAM buffer will cause a marginal loss of throughput. Here we see even the most demanding RAID 6 write performance just barely dipping below the 100Mbit mark for file sizes of 512MB and 1GB.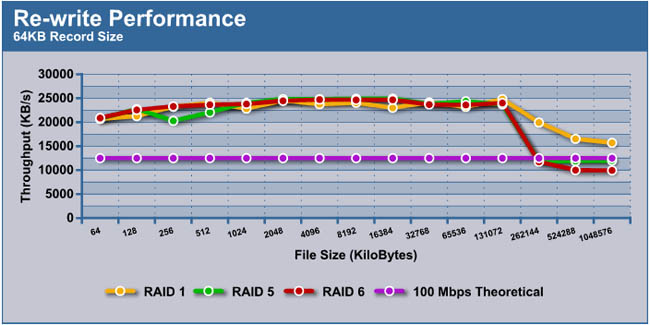 Re-write performance tests the writing of a file that has already previously been written, and generally will show better performance than on the first write. Re-write performance is higher for all RAID levels however we see the largest performance impact here for exceeding 256MB file sizes. These are very good results.
IOzone's performance tests are pretty clear on several facts. The QNAP TS-409 Pro performs extremely well. Even under the worst case scenario when file sizes exceed its 256MB RAM buffer, performance never dips more than ever so slightly below full 100Mbit speeds. It is also pretty apparent that the TS-409 will give much more performance over a full Gigabit Ethernet network, and using only a 100Mbit network will definitely hold this "TurboNAS" back!
File Transfer Performance
These results were meant to provide a more real world metric of results, however in hindsight we feel they are more constrained by the limits of the operating system used in question. As such these results should not be used to gauge this NAS's performance and are simply here to show a rough estimate between the three RAID levels. Users of XP, OS X, Linux and even Unix will most likely see better results! Those users willing to invest time in tuning their OS and network for the absolute best performance will absolutely see improved results above these.
As mentioned results were taken from tests run four times and averaged, with the first run results thrown out to adjust for Vista's retroactive caching system, as we covered in detail on the previous page.
File Transfer Time

(min:sec)

1GB File
RAID 1
RAID 5
RAID 6
To NAS
1:13

1:40

1:48
From NAS
0:41
0:43
1:15
876MB Folder
 
 
 
To NAS
4:17
3:29
3:31
From NAS
 1:37
1:36
1:37
All-in-all, the results are a mixed bag though is isn't the fault of the NAS at all. When transferring files from the NAS to the computer we are also taking the OS slightly out of the picture, and here we can see by transferring from the NAS to the computer that we receive much better performance for both the 1GB achive and the folder directory.
While the decrease in Folder transfer time going from RAID 1 to RAID 5 is a little puzzling, we can otherwise see how the more computationally heavy RAID 5 and RAID 6 levels impact the 1GB file's transfer time. Since RAID 1 is a simple mirror it holds the least overhead as opposed to RAID 5 which must calculate parity bits to stripe across the drives. RAID 6 adds a second parity bit that also must be calculated ontop of RAID 5, and in some RAID controllers this can severely hurt performance due to a weak CPU or drive controller. Despite this the TS-409 Pro does not seem to have any issues whatsoever handling four drives in RAID 6, which matches the results we saw with IOzone.
POWER CONSUMPTION & Temps
Power Consumption
One of the reasons SFF, pico, ITX and other types of "mini-PCs" have become popular are their efficient and power miserly operation. This also happens to be a good reason for choosing a NAS over using an old PC and a RAID controller card to build a NAS, as ATX computers are simply power inefficient for the task. We measured power consumption from the wall using a Kill-A-Watt P3 power meter.
Power Consumption

(Watts)

State
AVG
Idle
37
Load
41
RAID 6 Migration in progress
44
At first when we noticed the 96 watt rated FSP power brick we weren't to confident on how power miserly this powerhouse of a NAS was going to be. The worst case scenario seemed to be a RAID 6 migration in progress in which multiple drives are being written to and the Marvell CPU is pegged at 100% load. Even then the highest recorded power draw was a brief spike to 48 watts, with the average sitting around 44 watts. This is only half of the power brick's rated output! As the NAS will be sitting idle most of the time 37 watts seems almost insigificant for four hard drives and this NAS!  
The TS-409 also has the ability to control spin-down settings for hard drives, and while we measured Idle power with all four drives active, actual Idle results will be even lower with several drives turned off during long periods of inactivity.
Temperatures
As shown previously on the Administration page the unit allows monitoring of both the CPU and the drives housed within the NAS. If the drives or NAS itself reach preset temperatures the 80mm fan on the back of the unit will increase in RPM to compensate to ensure the NAS does not overheat.
Thanks in no small part to the infamous Texas heat (It broke 100oF here already) we were easily able to put the absolute worst case scenario to the test. With ambient room temperatures hovering around 85o Fahrenheit (29.4o Celsius) and during a prolonged four hours of a RAID migration in progress the unit was reporting a system temperature of 58oC and drive temperatures of 45o/46oC. These temperatures are very respectable and the fan was still not audible during this time despite the noted increase in RPMs. While 46oC is a bit warm for a standard hard drive do keep in mind the ambient temperature and that all four drives were under continuous heavy write loads for several hours which typically result in high drive temps.
CONCLUSION
So what is our verdict on the QNAP TS-409 Pro "TurboNAS"? After more than a month of use extensively testing the TS-409 we were left very favorably impressed, especially with the seemingly endless array of features and available configurations that QNAP has included in the TS-409. We simply didn't have the space or time to cover all of the features such as the QGet utility, Netbak Replicator, and a few others that may or may not be suited for your needs.
As we mentioned already performance is a harder metric to judge and award to a NAS for the simple fact that the operating system and even the means of transferring the files, such as via FTP or network share folders can and will play a huge difference. And as QNAP warns users in the configuration screen, assuming the network is Gigabit then to get the absolute best performance the user must configure identical Jumbo Frames MTU size on not only the NAS itself, but also the router and the operating system of each of the computers using the NAS.
Even so despite using Windows Vista SP1 on our test platform we received some very impressive performance results with the TS-409. Despite not under the best conditions and not on a finely tuned network the QNAP TS-409 has proven it doesn't just offer Gigabit capability, it requires it! This "TurboNAS" lives up to its name and would be hamstrung if tried to any 100Mbit network. Performance isn't everything to a business user however so we also place a high emphasis on the price, features, and quality of both the physical unit and the software design. Unfortunately for QNAP's competition, these just happens to be where the TS-409 Pro excels.
We did run into the unusual issue with the defective driver CD, not to mention at the time of review the US firmware links are still returning 404 errors (This has now been fixed), however even this is a small issue as the European links act as a mirror for downloads. All too often a company will throw something together quickly and rush it out the door, and the product will easily show it however that has not been the case with this NAS. QNAP has provided extensive product support via their website and dedicated support forums, and lastly have been steadily updating the TS-409 firmware, software, and manual since their inception and faulting them for just a few issues would amount to nitpicking.
We might be better off stating some things the TS-409 Pro won't do rather than what it can do. The TS-409 does not provide a physical lock to secure someone from stealing the hard disks, and this is likely because the access door wouldn't stop anyone from accessing the drives even with a lock in place. The TS-409 is designed for convenience and to be used in a secure environment. Additionally while this NAS supports complete RAID level migration to any RAID level while preserving all data, it does not allow arrays to be migrated downward such as a RAID 6 to RAID 5 which should be possible. We think it is safe to say this is probably not a much sought after feature, but it might be nice to have for those that want it.
UPDATE: QNAP has informed us they already have made design changes to their QNAP TS-409 models that our early review sample does not show or offer. Amongst these changes is a new physical locking mechanism. Current TS-409 units will feature a locking latch mechanism for each individual drive in order to provide physical drive security. We must say we are impressed QNAP has already addressed this particular shortcoming with the TS-409!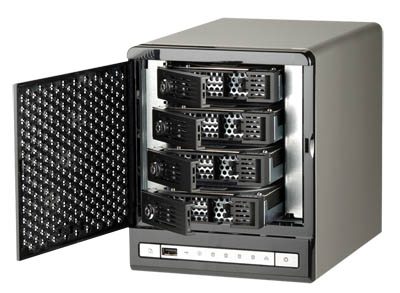 Click to View
Something we waited until now to address and some astute users will have noticed is that QNAP offers both a Pro and non-Pro version of the TS-409. The Pro edition is geared for business users while the non-Pro is targeted for home and SOHO applications. The differences are not readily apparent however the non-Pro version does not support NFS (Linux/Unix network file sharing support) and also lacks support for the Windows AD service. While NFS support is arguably not just a "business" feature and the removal of which may annoy a few potential customers, Windows AD service support is primarily a business only feature that is not supported on typical home networks. The lack of NFS support won't daunt any Linux gurus out there, and furthermore any OS with FTP software can still directly access the TS-409 via FTP regardless. As of this writing the price difference was $50 between non-Pro and Pro versions.
Final Words
We asked way back at the start of the article whether the QNAP TS-409 Pro "TurboNAS" offered good performance, data protection, and differentiated themselves from their competition. The QNAP TS-409 Pro easily sets itself apart from its competition in the almost innumerable number of features and configurations available to business and home users to meet just about any need.
QNAP's attention to the quality of the components used in the construction of the TS-409 is refreshing to see, and still they have proven quality doesn't automatically mean a higher price. At $550 for the non-Pro and $600 for the Pro version the TS-409 is priced well below most of their competitors. The TS-409 incorporates many Enterprise-grade features one would expect to see in a NAS that costs almost half again this amount, and as such literally blows away four-bay NAS solutions within its price range by offering a better value, feature set, and very strong performance.
With the features, price, and above average end user support QNAP provides and the TS-409 truly should be at the top of your shortlist for a Network Attached Storage device. QNAP once again has lived up to their name as a Quality Network Appliance Provider with yet another addition to their well received TS "TurboNAS" line of NAS products. If you are in the market we don't heisitate to recommend the TS-409 and TS-409 Pro, and perhaps most telling we ourselves would choose the TS-409 to meet our own home network needs. 
Final Score: 9.5 (Excellent) out of 10 paws and the prestigious Bjorn3D Golden Bear Award!

Pros:
+ Data safe RAID level migration
+ Solid Gigabit performance
+ Silent (Depends on drives)
+ Quick installation
+ Build Quality
+ Stands out above the competition in price and features
Cons:
–  No physical lock or means to secure drives (Update: Current models now offer physical HDD locks)
–  No "door opened" warning (for security)
–  One year warranty
–  Doesn't serve coffee