Visiontek is back again armed to the teeth with a GPU so fierce, it is set to take the mid-range to places it's never been before. All without the needed to refinance your home. Bjorn3D looks at ATI's newest offering, the Radeon HD 4850.
INTRODUCTION
How many times do you get more than you bargained for? Sure, when you're taking a risk you can end up worse of then you started. But we're talking about the other end of the spectrum. When was the last time you went shopping for something only to realize it was on sale or it was a two-for-one day? It's times like these that you really feel like you got your money's worth. In the world of computing these feelings occur even less often. Not because of lack of deals or overpriced equipment but rather the pace of innovation. What is a good deal today will be next to nothing in a few months making the decision of when to buy a daunting one.
Today Bjorn3D is looking at a video card that gives you more than you bargained for at a price that is amazing for the level of performance. The newly released Visiontek HD4850. Performance of the big boys for the price of the little guys.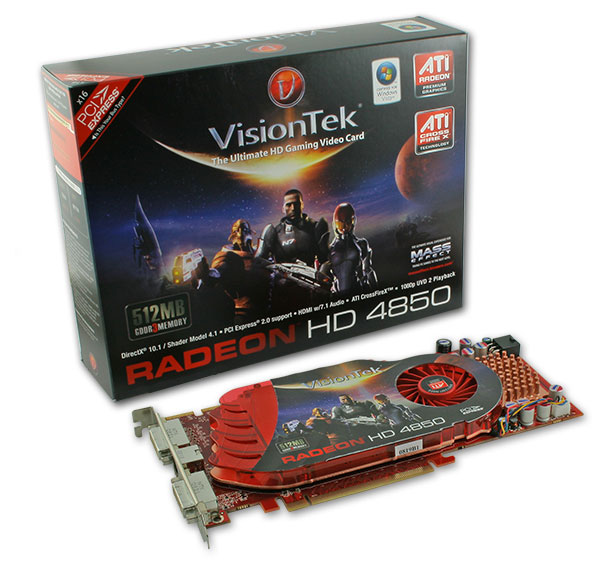 SPECIFICATIONS
To help highlight some of the physical changes that took place with this new card we compiled this short list of specs.
ATI 4850 GPU
 
ATi 4870
ATi 4850
ATi 3870
Fabrication Process
55nm
55nm
55nm
Transistor Count
965m
965m
965m
Core Clock Rate
750 MHz
625 MHz
775 MHz
Streaming Processors
800
800
320
Memory Type
GDDR5
GDDR3
GDDR3/GDDR4
Memory Clock
1,800 MHz
(3,600 MHz)
1000 MHz
(2,000 MHz)
1125 MHz
(2,250 MHz)
Memory Interface
256-bit
256-bit
256-bit
Memory Bandwidth
115.0 GB/s
64.0 GB/s
72.0 GB/s
Memory Size
512 MB
512 MB
512 MB
ROPs
16
16
16
Texture Filtering Units
40
40
16
Texture Filtering Rate
25.0 GigaTexels/sec
25.0 GigaTexels/sec
12.4 GigaTexels/sec
RAMDACs
400 MHz
400 MHz
400 MHz
Bus Type
PCI-E 2.0
PCI-E 2.0
PCI-E 2.0
Power Connectors
2 x 6-pin
1 x 6-pin
1 x 6-pin
PACKAGING
I don't want to spend much time talking about the packing and such since you aren't buying this card for the pretty box it comes in. With that said I find something absolutely misleading with the packaging Visiontek has used for the HD4850.
The box itself is rather small which is great. I was really shocked to see just how small it is. The problem with the box are the images and text plastered all over the front. Looking at this box and reading the text on the right side "The ultimate visual experience for Mass Effect" would lead me to believe that this game has been bundled with the card. This is common practice for companies to adorn their boxes with logo's and characters from the bundled game. This is not the case. Not only is Mass Effect NOT included with this card but the only place it tell you this is on the bottom of the box in very fine print. Bad form Visiontek, bad form.
Click a picture to see a larger view
---
| | | |
| --- | --- | --- |
| | | |
| Box front | Box rear | Fine Print |
---
PHOTOS
Here we see the card with its sexy single slot cooler. I had forgotten just how slim video cards can be when they don't have aerodynamically designed, dual-slot coolers to keep the furnace under control. All this performance with a simple cooler to keep it all happy. But I am getting ahead of myself.
Click a picture to see a larger view
---
---
CONTENTS
Visiontek throws in your typical bundle. Notably missing is any included software such as Mass Effect. Can you sense my disappointment?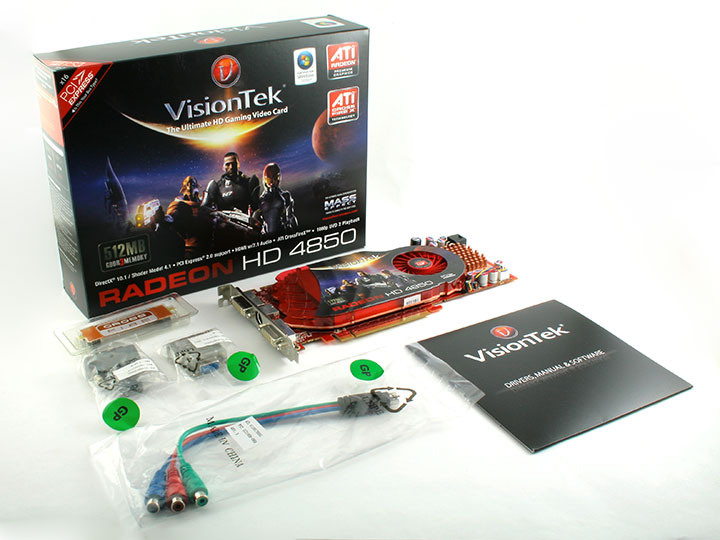 Driver CD
1x DVI-VGA Adapters
1x DVI-HDMI Adapter
Component cable Adapter
User manual
CrossFire bridge connector
TEST SETUP
All tests were conducted on the following platforms. A format of the hard drives followed by a fresh install of the OS was done. The latest drivers were then installed and all non-essential applications were halted.
Test Platform
Processor
Intel QX9650 @ 3.5GHz
Motherboard
XFX 790i Ultra
Memory
2 GB (2 x 1 GB) Mushkin DDR3-2000
Drive(s)
1 – Seagate 80GB Barracuda SATA
1 – Samsung HD501LJ SATA
Graphics
Card 1 – Visiontek HD4850
Card 2 – ASUS EAH 3870X2
Card 3 – ASUS 8800GT TOP
Card 4 – XFX 9600GT XXX
Card 5 – NVIDIA 9800 GTX+
Drivers
Forceware 177.39 – 9800 GTX+
Forceware 175.19 – 9600 GT, 8800 GT
Catalyst 8.6 – 3870X2
Catalyst 8.7 beta – HD 4850
Sound
On board
Cooling
Big Typhoon VX
Power Supply
OCZ GameXStream 850 watts
Display
Westinghouse 37″ LVM-37W3
Case
No case
OS
Windows Vista Ultimate 32-bit SP-1
All cards will be tested using a variety of games. For Crysis, we will be testing the game both without any image enhancements and then again with 2x Anti-Aliasing and 8x Anisotropic Filtering. All other games will be tested with 4x AA and 16x AF. The resolutions tested are 1280×1024, 1680×1050 and finally 1920×1080.
OVERCLOCKING
ATI has been using TSMC's 55nm manufacturing process for a couple of generations now and it has yielded decent results when it comes to overclocking. Let's see how the new HD 4850 fares. Remember, Bjorn3D's overclocking results are only one result out of many possibilities and should not be taken as the standard. Should you decide to overclock your PC be sure to research the correct methods for doing so. Neither Bjorn3D or myself is responsible if you damage or destroy your components.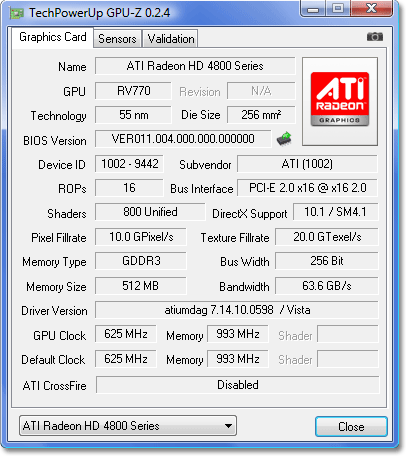 Stock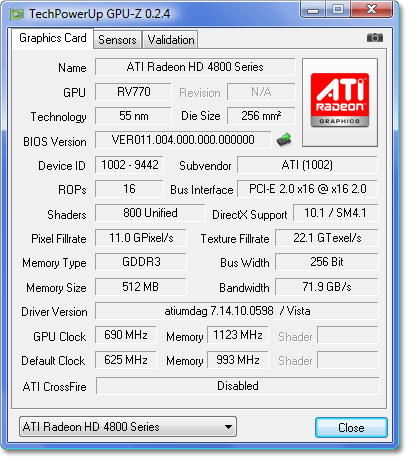 Overclocked
Not too shabby on the core but look at that memory! A 130 MHz increase over stock is a nice little boost and one that is sure to yield nice results. Ironically it would seem as though NVIDIA and ATI have swapped places when it comes to core speed. Where NVIDIA tended to have slower speeds on their GPUs and ATI had GPUs pushing 850 MHz on the core, it is now the green team that has higher speed cores and ATI who runs with lesser speeds. Not that this is a judgment on overall performance. Quite the contrary. It is simply an interesting point I noticed while running all our tests.
TEST RESULTS
3DMark2006
An old favorite of benchmarkers. 3DMark 2006 is a fun tool to have if you want to brag to your friends but when it comes to representing real world performance it falls far short of the mark. We include the scores here only to be thorough.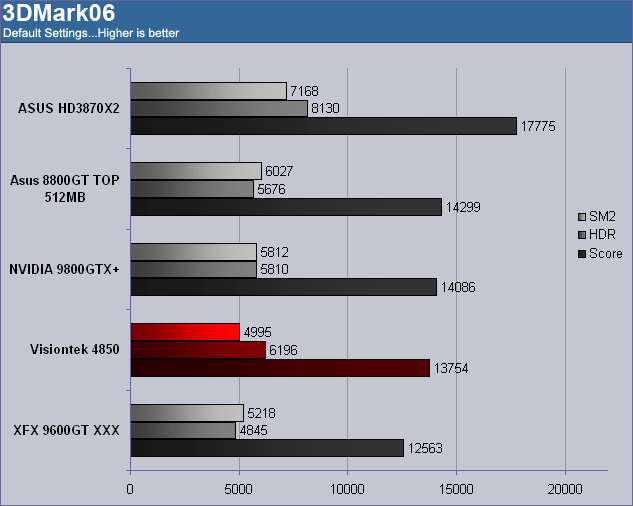 3DMark Vantage
The newest video benchmark from the gang at Futuremark. This utility is still a synthetic benchmark but one that more closely reflects real world gaming performance. While it is not a perfect replacement for actual game benchmarks it has its uses. We tested our cards at the 'Performance' setting as well as the 'High' setting.
Currently there is a lot of controversy surrounding NVIDIA's use of a PhysX driver for its 9800 GTX and GTX 200 series cards. Whereby installing the PyhsX driver, 3DMark Vantage uses the GPU to perform PhysX calculations during a CPU test and this is where things get a bit gray. If you look at the Driver Approval Policy for 3DMark Vantage it states "Based on the specification and design of the CPU tests, GPU make, type or driver version may not have a significant effect on the results of either of the CPU tests as indicated in Section 7.3 of the 3DMark Vantage specification and white paper." Did NVIDIA cheat by having the GPU handle the PhysX calculations or are they perfectly within their right since they own Ageia and all their IP? I think this point will quickly become moot once Futuremark releases an update to the test. For now you can be the judge.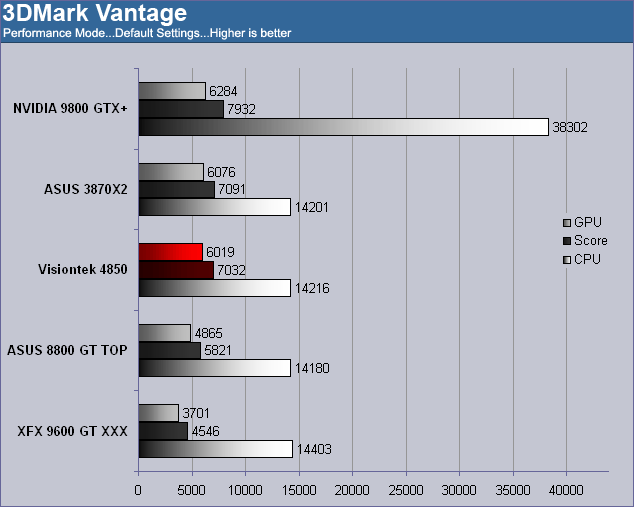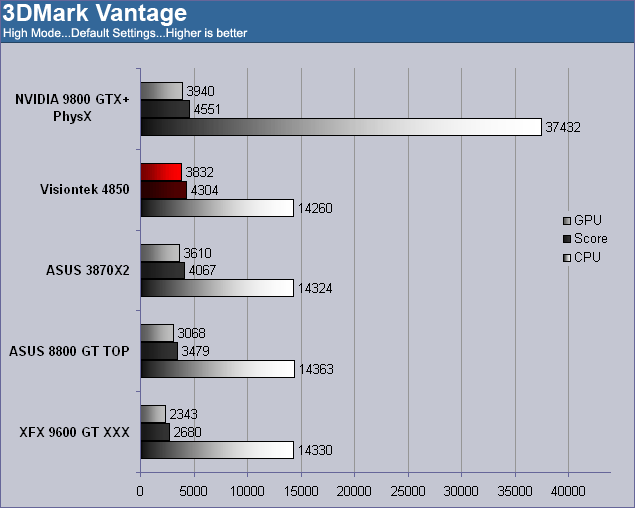 Now you can see why there is so much uproar about the test. Where our CPU normally scores about 14k, it explodes to over 37k which causes the NVIDIA cards that support this feature to score an additional 1,100 points in the performance test. Of course sometimes all it takes to even the playing field is a curious mind.
The Elder Scrolls IV – Oblivion v1.2.0416
We test Oblivion by using a manual run through and record our performance using FRAPS. I start outside the town of Cheydinhal on horse back and taking the same route each time, I travel to the Imperial City. The trip  takes a full six minutes and encompass long view distances, water, forests, Oblivion gates and NPC's. Being such a long trip, any changes from one run to the next (e.g. a wandering NPC) would have an effect equal to less than 1% on frame rate. This method gives me great insight into the real world performance of each card tested. All game settings we enabled and set to the maximum level.
All settings are maxed out and we use bloom lighting for our tests.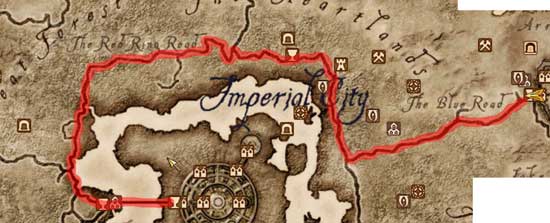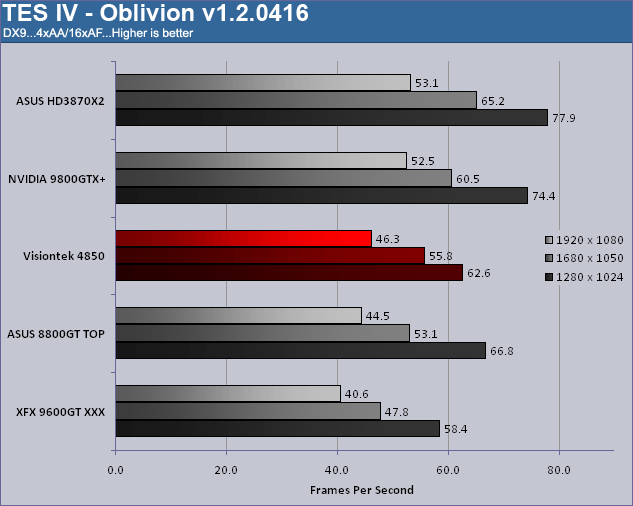 The HD4850 performs very well here and even at the highest resolution tested is very playable.
TEST RESULTS
Company of Heroes v1.71
For our CoH testing we ran the game using the DirectX 9 path and then again using the DirectX 10 path. Both runs were used with the exact in-game settings so the only difference to be noted is the render path used. In each of our graphs below DX 10 is on top and the DX 9 score is directly underneath it. Both minimum and average scores are shown for each setting.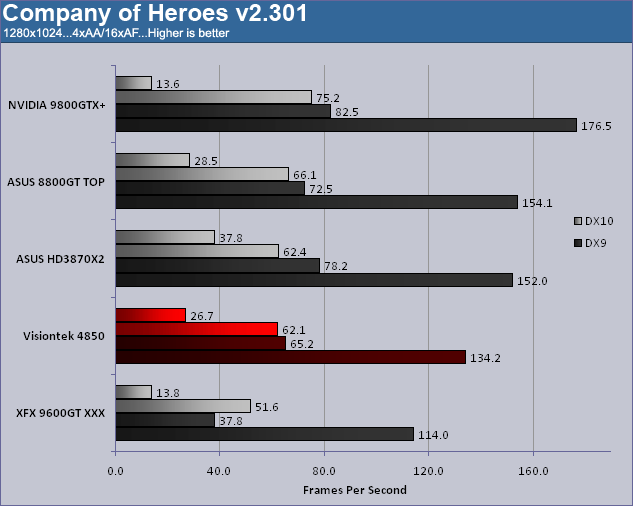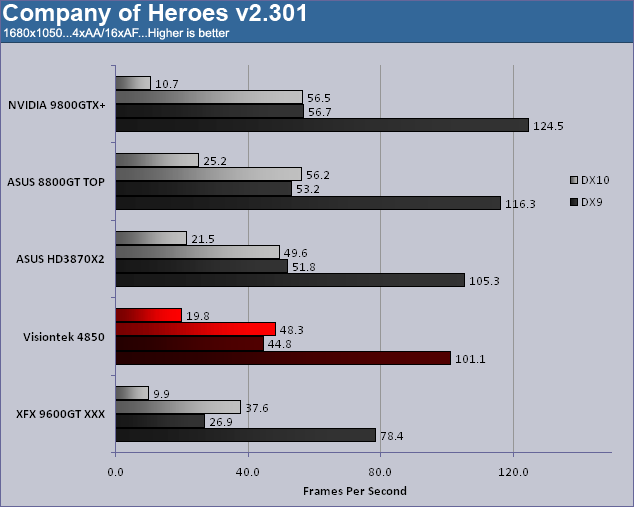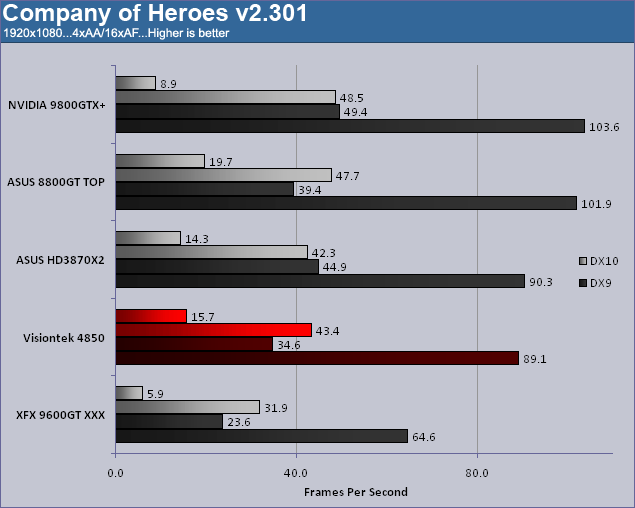 Crysis v1.21
Similar to CoH, Crysis is run in both DX 9 mode as well as DX 10. All settings were kept the exact same with the exception being which DirectX level was used.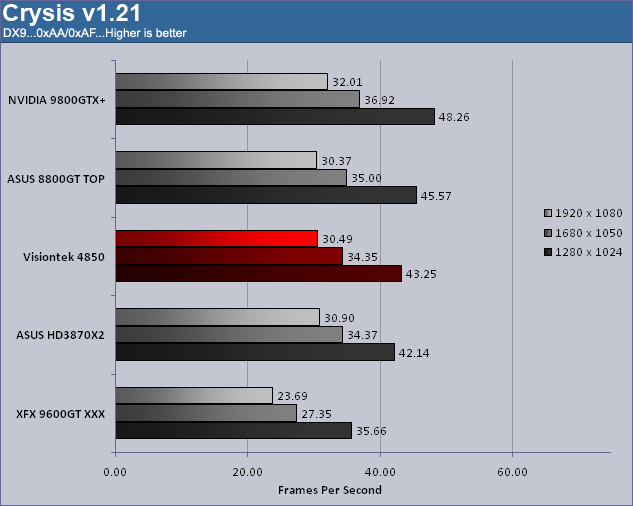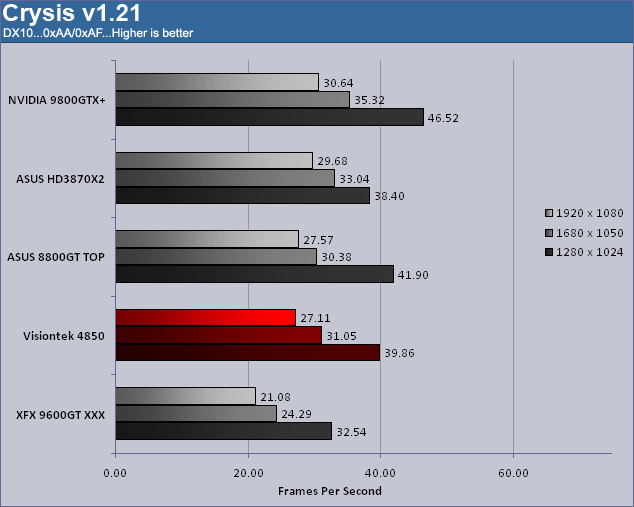 World in Conflict
For World in Conflict we would do things a bit differently. Both DX 10 and DX 9 were tested but this time for DX 10 we enabled the extra setting that is only available by using DirectX 10, Volumetric Light (aka God Rays).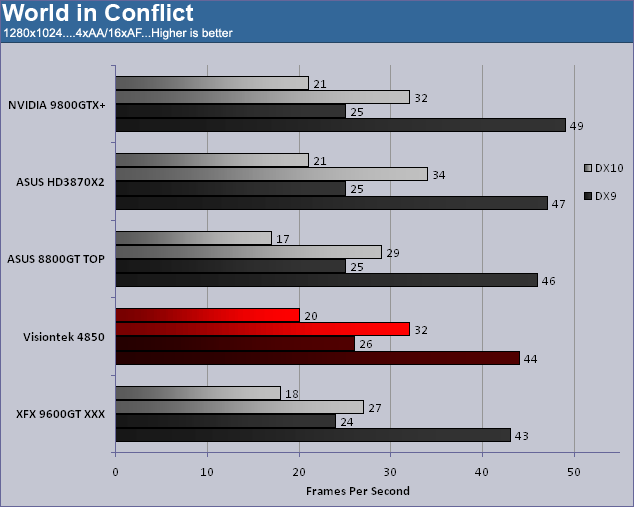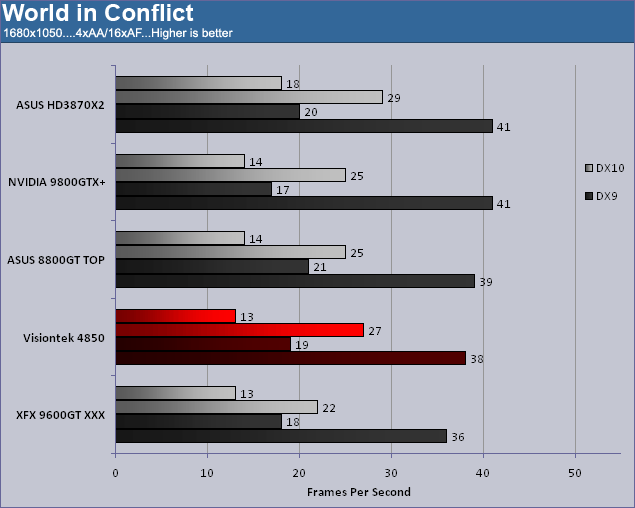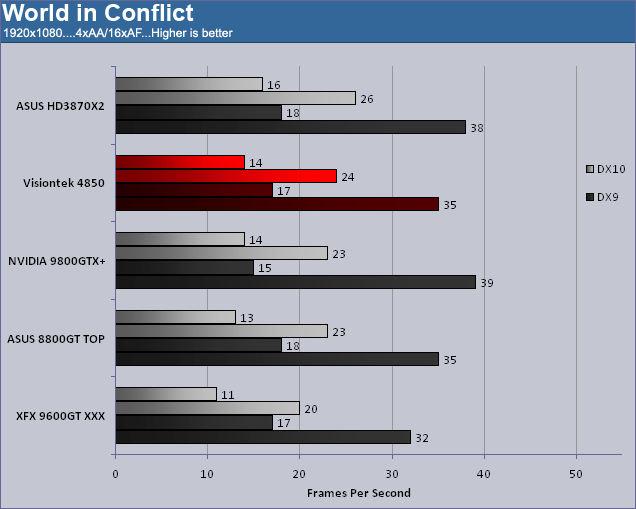 TEST RESULTS
Power
Here is where we separate the men from the boys. Sure you've seen all the great performance this card has to offer but at what cost does it come? Will you need to refinance that home of yours to keep gaming for a few more months or will solar power be enough to keep you in the game. Power levels shown below are for the entire system sans monitor.
CPU: QX9650 @ 3.5 GHz 1.35v
MOBO: XFX 790i Ultra
RAM:2 GB (2x1GB) DDR3-2000
It just keeps getting better and better. Not only does the Visiontek HD 4850 offer tons of performance for its price but it won't leave you with a huge energy bill at the end of the month. Kudos to ATI for designing such an efficient card.
Temp
Now that we have an idea about what kind of power the Visiontek HD4850 draws we can see just how effective its single slot cooler is.
Idle temps were taken after a 15 minute period of sitting at the desktop with no open windows. Load temps were recorded by using ATiTool 3D view to place a constant load on the card.
Temperature
Idle
Load
73
83
The single slot cooler seems to be struggling to maintain a reasonable temperature. The temps are a bit high at a load temp of 83º C. I would like to see them come down a bit and if you prefer you can use a 3rd party app to adjust the fan speed once they are updated to recognize the 4850.
CONCLUSION
I feel in situations such as this it is important to separate the card from the company. What I mean is that ATI has made a kick ass card. The kind of card that brings them right back into fight. As long as board partners don't damage the card through mishandeling it, it's hard to find fault with the card. It is a great time to involved in PC gaming and the mid-range market hasn't been this exciting in years.
With its 800 stream processors and 512 MB of GDDR3, the 4850 allows you to play games with the sort of high quality settings developers have in mind when they created it. ATI has really hit a home run here and I can't say enough positive things about. Even if you don't like ATI you have to be happy that they brought competition back. Don't believe me? Just look at the prices of the older 9800 GTX's out there. They have dropped dramtically in recent days, not to mention the rehashed 9800 GTX+. A card that owes its very creation to the ATI HD4850.
Turning to the vendor side of things, Visiontek has a great card on their hands though they don't due much to differentiate themselves from the bunch. In coming days we are going to see overclocked versions of the HD4850 and you can expect a few of those to come with a free game. Even if a free game isn't your thing there are plenty of vendors out there that include other items such as game pads, leather CD wallets or even vouchers for you to pick up a game of your choice. With the competition as fierce as it is I can only hope Visiontek steps up their game and sets themselves apart from the crowd. As it stands now you have a great card with a mediocre bundle.
FINAL WORDS
Performance: 9.0/10 – The Visiontek 4850 performs extremely well for a card priced under $200. It is handled everything we threw at it with grace and you can be sure this card will keep you gaming for many months.
Bundle: 8.0/10 – While Visiontek supplies the sort of bundle you expect I can't look past their misleading packaging. If they had included the Mass Effect game or had chosen a packaging that did not imply an included game the score could have been higher. Otherwise it is filled with the basics.
Value: 10.0/10 – This is probably the card's strongest point. You get performance for under $200 USD that would have cost you more than twice as much just 12 short months ago. Not to mention that some companies are already offering rebates further reducing the cost of this card down to $170 USD!
Pros:
+ Great Value
+ High-end performance in the mid-range market
+ Energy Efficient
+ Supports [email protected]
Cons:
– No included game
– Runs hot
– Misleading packaging
The HD 4850 from Visiontek scores an 9.0 out of 10 and receives the Bjorn3D Seal of Approval